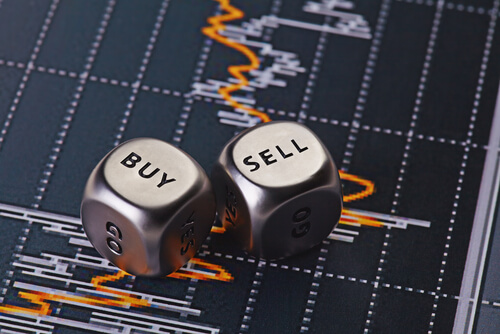 Today I'm going to take a closer look at binary options opportunity and there are two major reasons for that.
The first reason is because binary options opportunity is very popular nowadays and people are making money in this industry.
The second reason is because people are losing a lot of money in binary options and that's why I decided to write this article and shed some light on binary options in general and binary options programs in particular.
I will explore this opportunity to find out if trading binary options is a scam or legit
Binary options and reality
Over the past few months I've reviewed over 20 binary trading programs and unfortunately I have to admit that an overwhelming majority of these programs are the time wasters.
They are geared towards taking your money while giving you nothing in return but big promises about wealth and abundance.
This is really amazing that although binary option websites are many and people who stand behind them are different, claims are always the same.
All these programs promise that you can join for free which is true but they promise that you can make money without spending a dime which is not true.
This is a fact that in order to start trading binary options you need to invest your own hard earned money, in most cases at least $250. Ok, that's not a problem. The problem is that once you have invested your money, there is no refund and you part with your money forever.
Try before you buy
Some programs allow you create a virtual account and try their system with virtual money and that's good. But the truth is that this can be very misleading and even I would say deceptive.
You can make successful trade with virtual account, but when it comes to trading with real money things become much more complicated.
Without a proper education and understanding the currency market you can never make even a dime. This is a big misconception about making money in general and making money through binary options in particular.
For the most past binary options programs are either scams or low quality programs that don't provide quality support or quality training. There are too many complaints about most of them and U.S. Securities and Exchange Commission doesn't recommend to get involved in internet based binary options programs. If you're looking for a genuine make money program, allow me to help you and recommend a program I've been a member of since 2013. My recommended program is FREE to try. No obligations. No credit card required. 
How does binary options trading work?
Binary options are generally various options you can trade up or down. When you create your binary options account you normally choose a broker and then fund your account in order to start trading.
In order to trade you have to choose an asset which can be a commodity, oil, stocks, currency etc. Then you are given a graph and the time period within which you must complete certain actions.
The graph shows you the visual info about your chosen asset that goes up and down and YOU have to predict how the asset will go: up or down.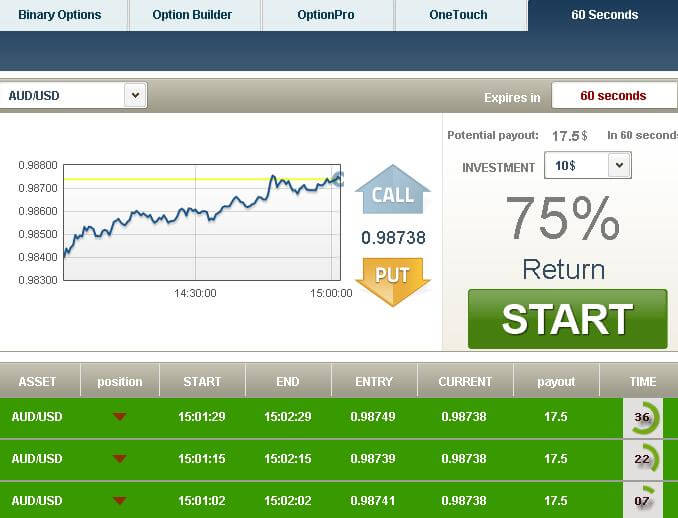 You have to decide how it will change before the given time period ends. If you are right in your predictions, you make some money and if you are wrong, you lose all your money which may be a hundred buck or a few thousands of dollars.
And that's why many people, even experts in binary options trading very often associate binary options or Forex with gambling and I have to admit that this opinion is true.
Forbes.com is of the same opinion. YOU NEED TO WORK OUT A STRATEGY AND THEN STRICTLY FOLLOW IT. IF YOU DON'T DO THAT YOUR TRADING WON'T BE DIFFERENT FROM GAMBLING.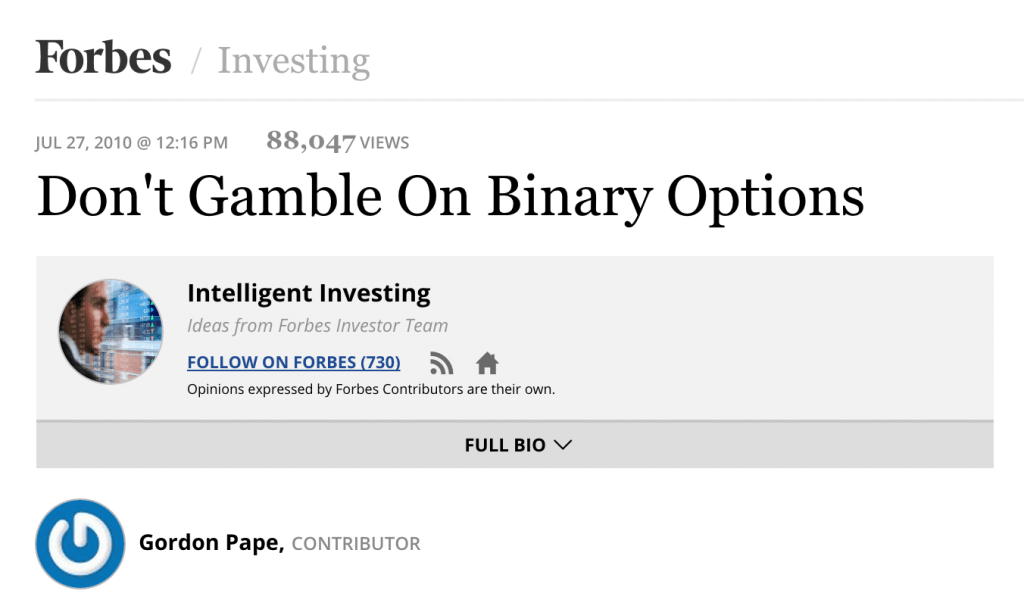 Are all binary option websites one big scam?
Of course, not all programs are scams. If you find the right one with a good mentor, quality training and helpful support then you can probably achieve some success in this field.
But your success completely depends on your expectations and if you expect to make thousands of dollars by simply clicking on the software's buttons you then are going to fail and lose all your money in the very first day upon getting involved in this business.
As a binary option trader you must win 55% of the time in order to be profitable which is not as easy as many programs explain it.
Just as an example, my bother has been involved in Forex business for over 3 years now and been trading commodities, stocks, currency etc and to this day he hasn't been able to earn enough money in order to quit his job, not to mention thousands or millions of dollars.
This is a real example that proves that making money through binary options or Forex is not about clicking on the buttons alone.
Truth about internet based binary options platforms
Organizations, such as U.S. Securities and Exchange Commission which is an agency of the United States federal government and Commodity Futures Trading Commission have received numerous complaints related to fraudulent binary options trading platforms.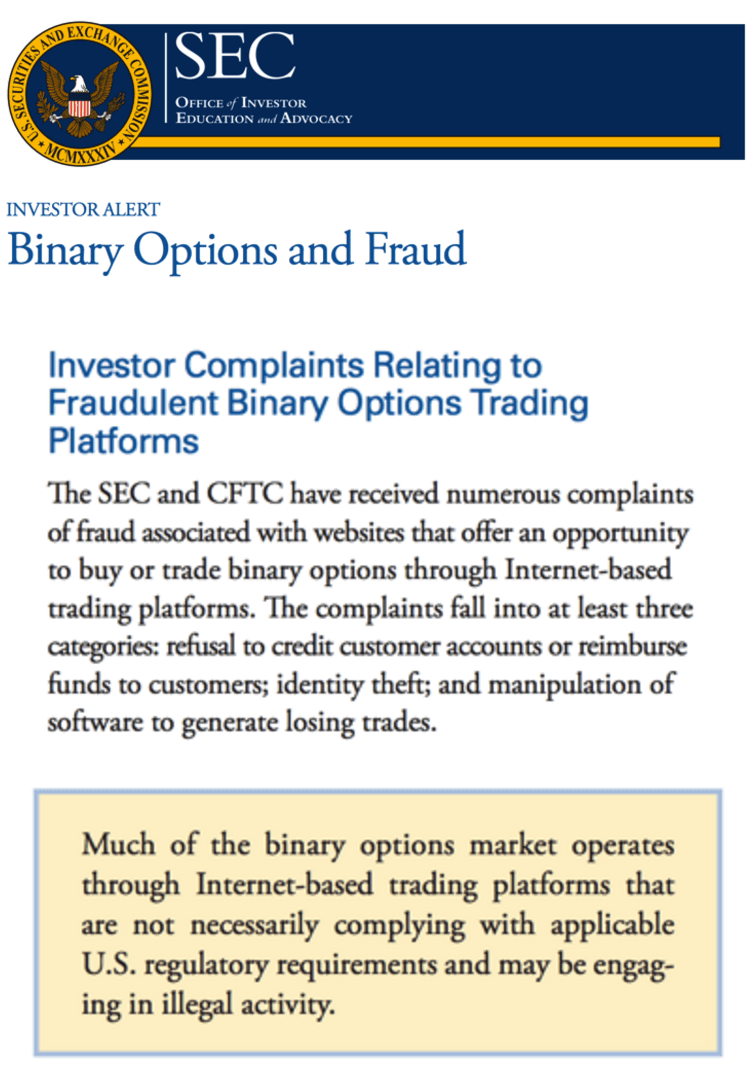 The main reasons for getting complaints are the following:
Most Binary options internet based platforms lie about average return on investment. Instead of explaining a real state of things they promise people to make millions.
Another reason for getting complaints from the users of binary option websites is due to their being unable to withdraw their deposit or the return they have been promised by the program.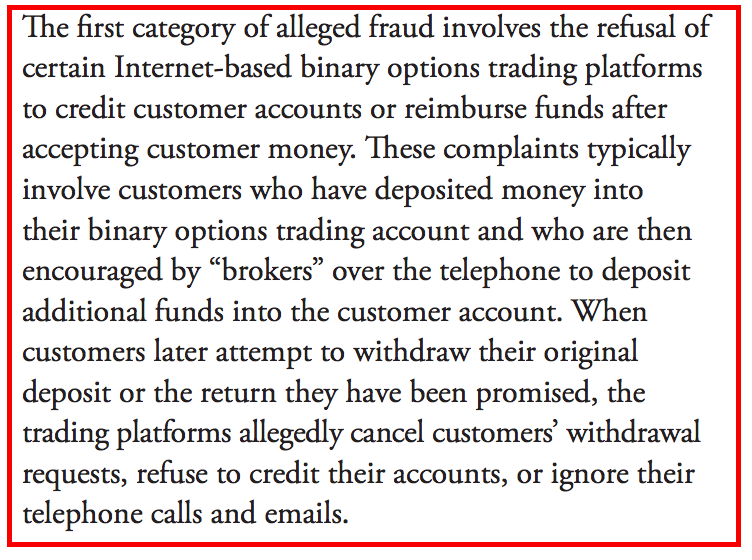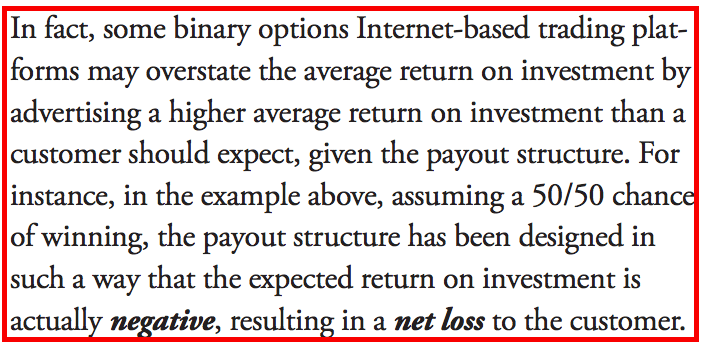 Finally, many binary options internet based platforms may be violating laws and regulations or regulatory requirements of the SEC and CFTC.
Also, many internet based binary options platforms connect you to brokers that don't have any education in a binary options field or a license to perform activity in this industry.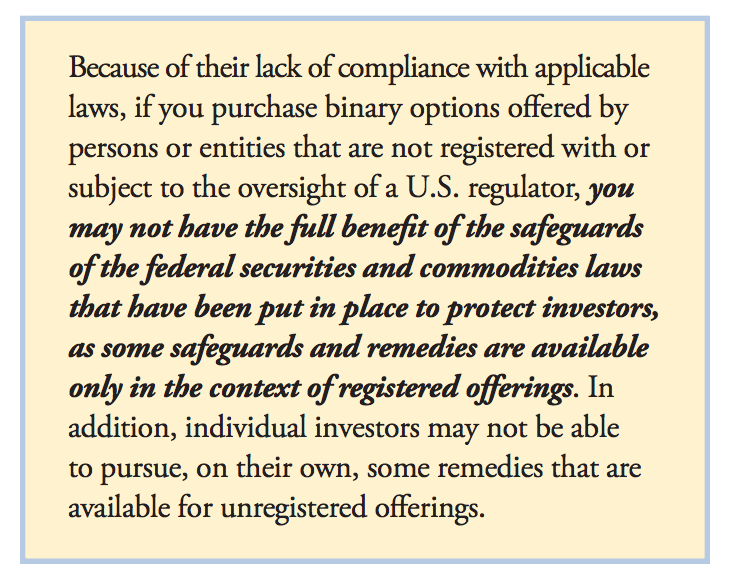 For more info read this document. BTW, legit websites such as 24option.com, goptions.com, traderush.com etc provide you with all necessary trading tools and support so you can make the best decision when trading binary options.
Binary options websites
Many binary options platforms even those that are obvious scams, such as the Millionaires Maker clearly explain in their earnings disclaimer that they don't and can't guarantee any success because trading binary options involves a high level of risk.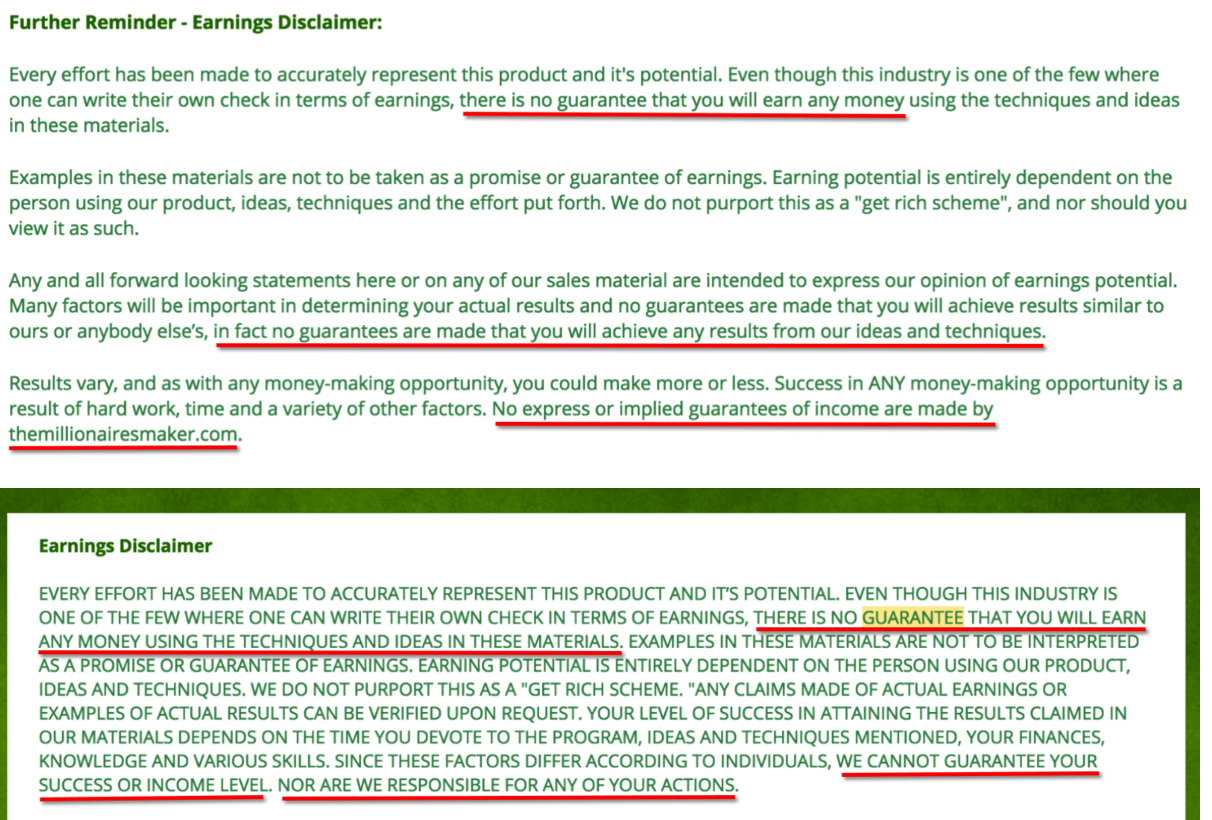 And they don't recommend to invest money if you are not ready to lose it.
Below is a list of binary options websites that I've reviewed recently and I'm going to explain what they all have in common.
What all these programs have in common:
1. They make unrealistic claims as if you could be making thousands of dollars immediately after depositing your money, or that you could be making millions of dollars and become a millionaire within 30 day or 90 days period.
2. They claim that making money through binary options is extremely easy and simple. You don't need any experience or knowledge.
3. They claim that their amazing software will do all the work for you and you just sit and relax and watch your balance grow.
4. Most of them use fake testimonials to prove as if their members are making millions of dollars while in reality all these testimonials are ordered at Fiverr.com for $5.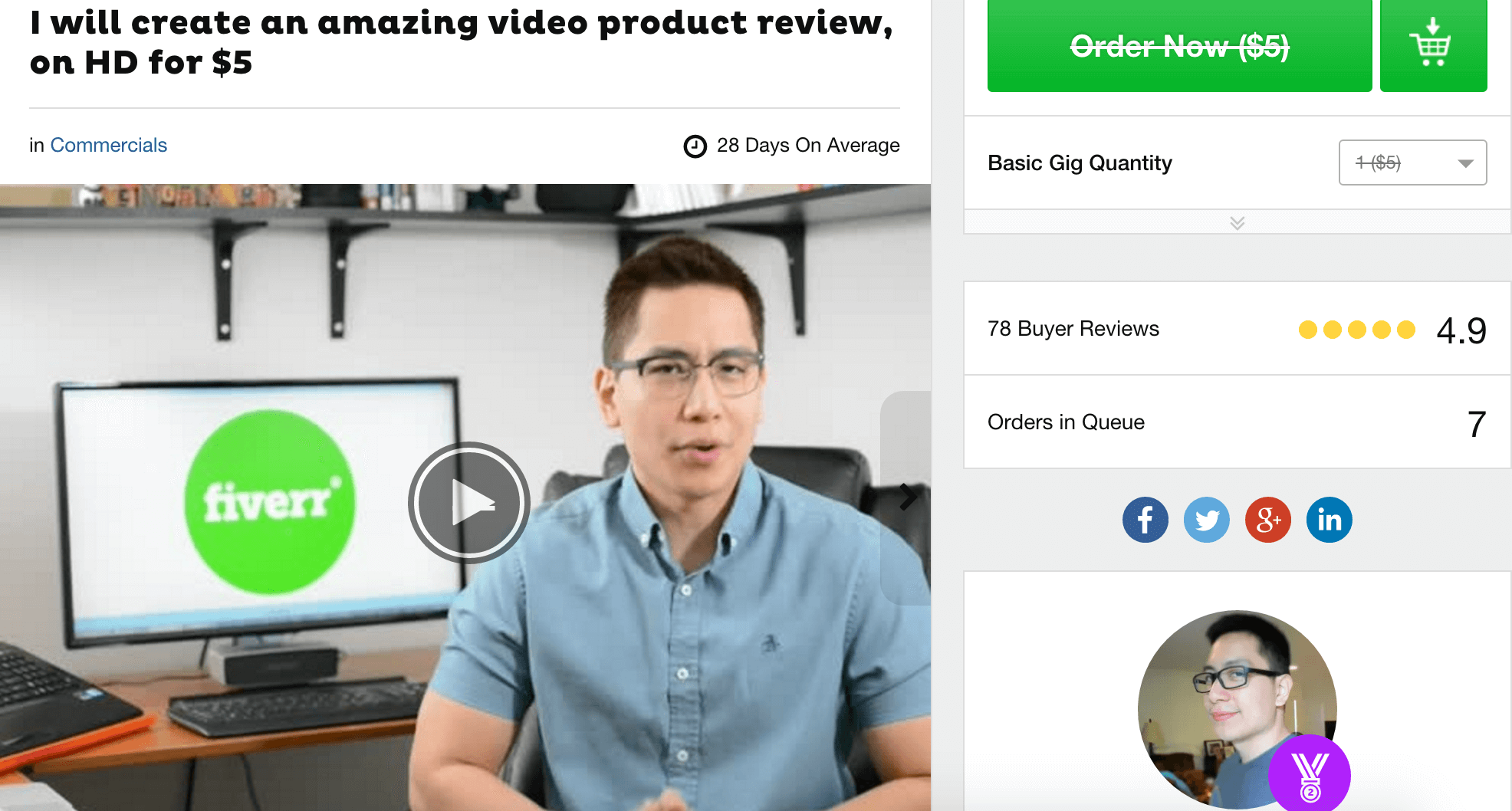 5. They all claim that their software is 100% accurate while if you read their earnings disclaimer you will notice that they don't guarantee any success and they even don't recommend spending money you can't afford to lose.
6. There is no money refund once you have deposited your money
7. There are many complaints of fraud reported by organizations, such as SEC and SFTC
8. They all claim that their program is free while in reality you need to fund your account with your own money
Final word on binary options scam
Binary options as the opportunity is not a scam. But if you think that making money through this way is much easier than through a traditional marketing then you are wrong.
Traditional marketing known as affiliate marketing is the safest way to make money online because you don't need to invest a lot of money in order to make money.
In fact, I'm making money through affiliate marketing and my yearly spending is around $400. Yes, you heard that right. And this price includes everything: education, tools, websites, support, networking with successful people already making money and learning their secrets.
The only investment I'm making is my effort and my time. There is no fear that I can invest thousands of dollars and lose it.
When it comes to binary options opportunity, it's not easy. You have to learn how to trade binary options the right way, gain some experience and yet you are not protected from losses.
You have to be in front of the computer for many hours in order to understand and feel the currency market.
If making money through binary options was easy then everyone would be clicking on the buttons and grabbing their millions.
As you can see, most of the binary options websites are scams or not recommended because of making unrealistic claims and providing zero support. They don't even provide all necessary trading tools that a trader may need.
That's why, you must understand that if you still want to make money through binary options which I don't honestly recommend then go and try it, but before that ask yourself a question: Are you ready to lose your money?
If yes then it's your choice. If you are not ready then I recommend you to try affiliate marketing for free and this is exactly what I've been doing over the past few years and I'm doing alright.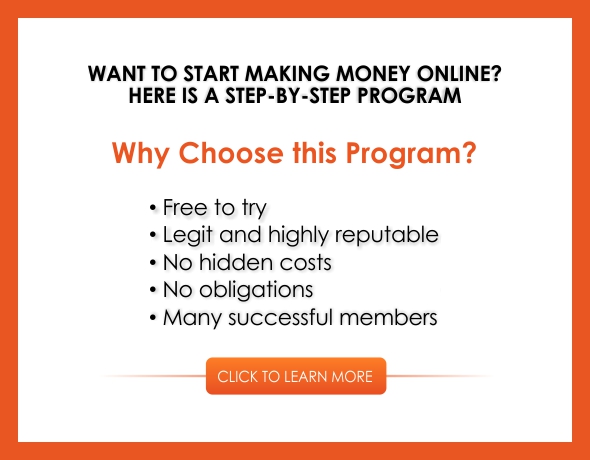 About the Author: Adam
My name is Adam. I'm the founder of Your Income Advisor. My goal is to help others succeed online, by exposing scams and reviewing top rated products. I can help you start
your own business online