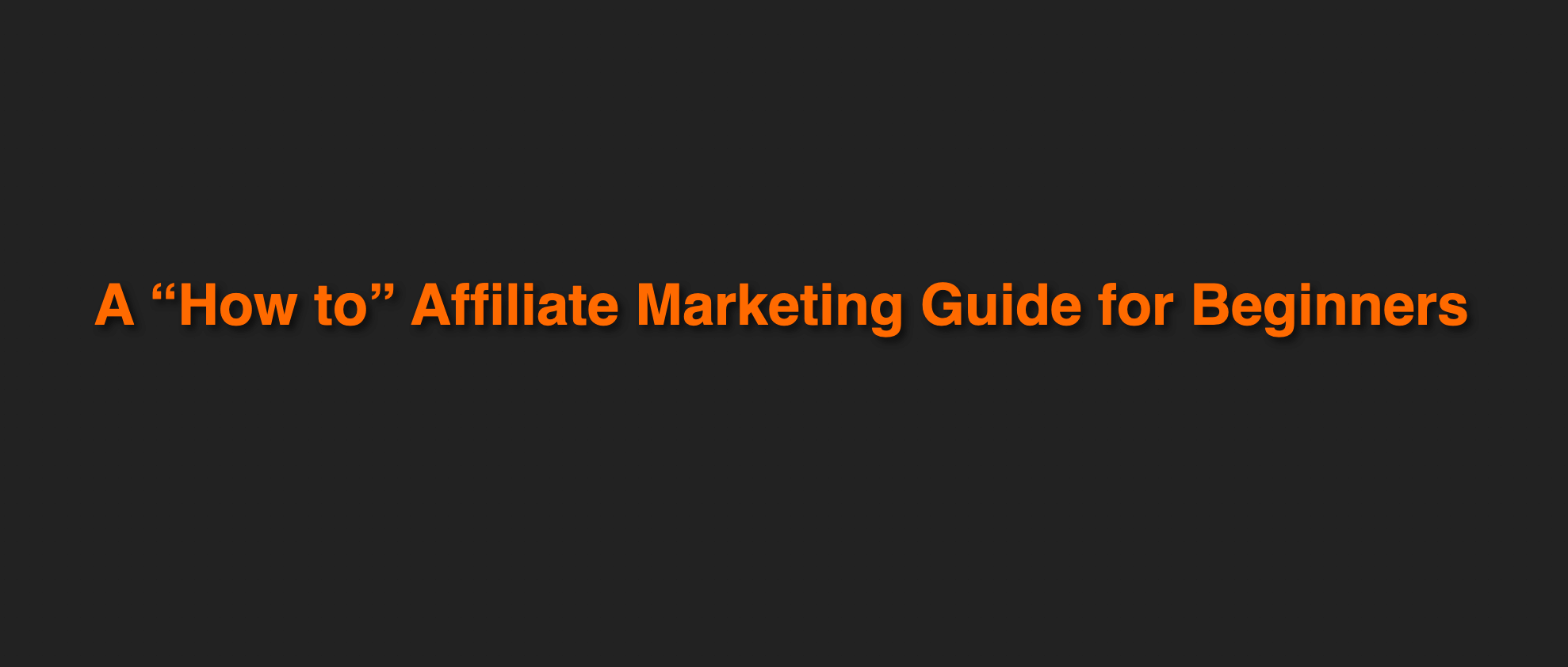 In this "How to Affiliate Marketing Guide for Beginners" I want to help you get started online in the most productive way.
I also want to explain how affiliate marketing can change your life, what affiliate marketing means and what is required from you as an affiliate marketer to become successful online.
This guide will not be too long. Because affiliate marketing includes both beginners and advanced stuff. I'm going to cover only beginners stuff.
When it comes to advanced stuff you will learn it later down the road.
I will do my best to make this guide as simple as possible so you can see how it works step-by-step.
How to make money through affiliate marketing
As an affiliate marketer you can make money in 3 ways. You can sell physical products.
For example, you can promote products from Amazon.com, BestBuy.com, Walmart.com etc.
You can do it as an affiliate or through drop shipping.
You can promote digital products of other companies. It can an ebook, affiliate tools, training course.
Finally you can create your own course, ebook and sell via your own website and keep 90% of the profit.
It's difficult to say which method is the most money maker because it depends on many aspects.
Of course, creating your own course or any other digital product is the best method because you don't pay to anyone. You keep all the profit.
If you can create such a product and deliver a valuable info then this method can be the best money maker for you.
If you can't create your own product then you better promote products of other companies as an affiliate and earn your commission per sale.
So, it's up to you what direction to choose.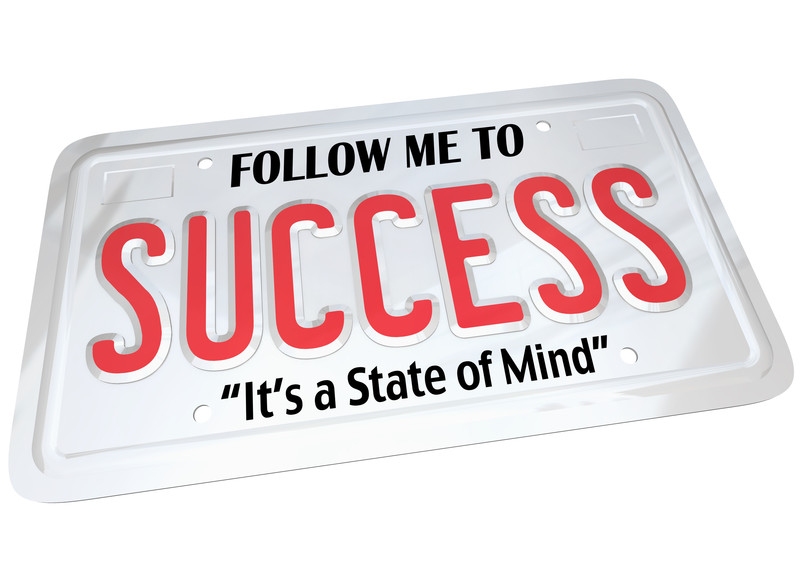 The right mindset
To start online as an affiliate marketer you need to first understand the basics of affiliate marketing.
When you start online you must be prepared to do some work and learn new things required for your success.
Affiliate marketing is not a quick fix for your financial problems.
If you think you can start making thousands of dollars in weeks you are wrong. It takes way more time and effort than you may be thinking.
Probably it will take at least one full year of hard work to start making money by the end of month 12. I just want you to have the right mindset before you start.
Affiliate marketing can seriously change your life in terms of future but it's not a quick fix for your financial problems.
I don't know of any method that can quickly solve your financial problems. It simply doesn't exist.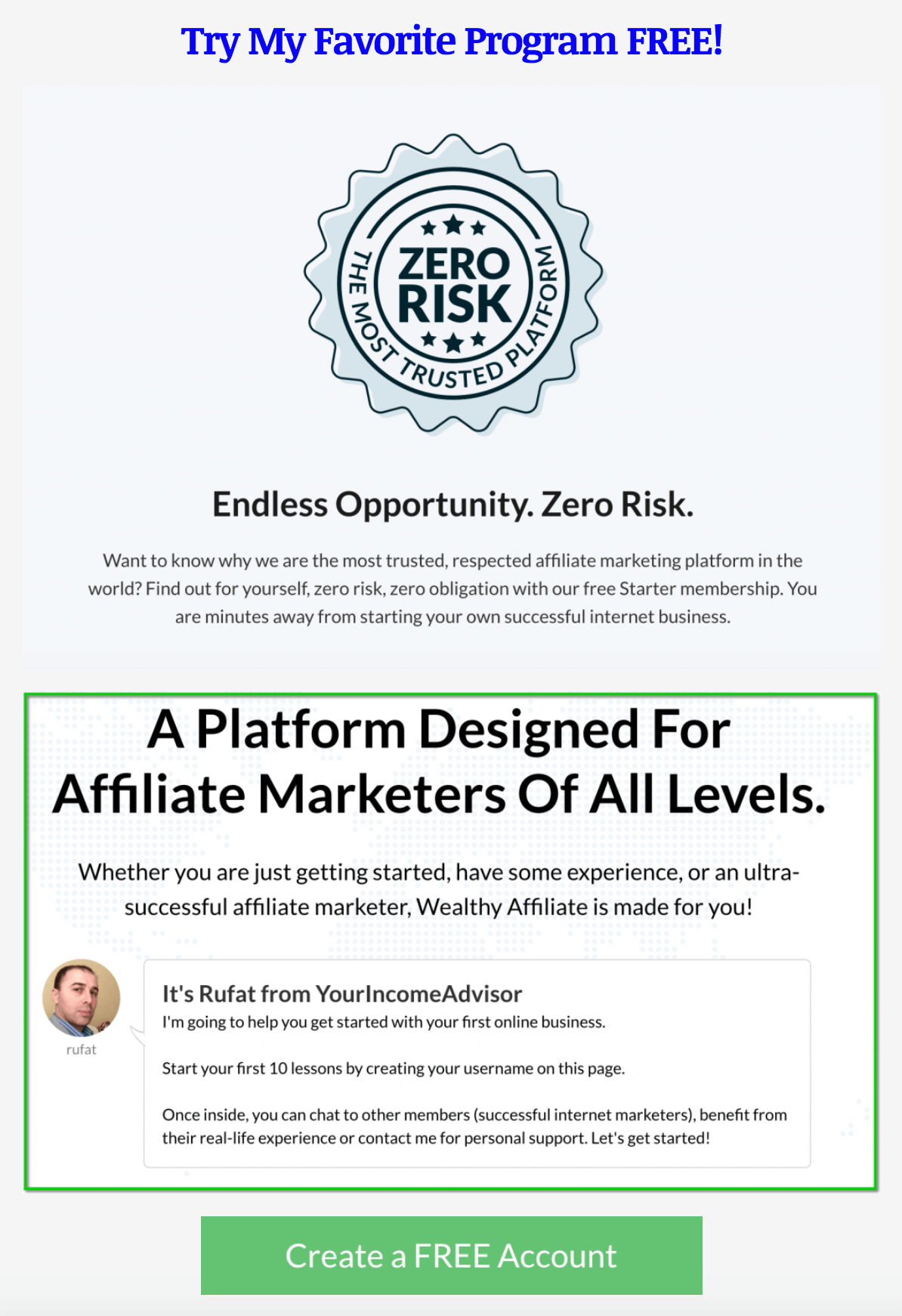 How to start online as an affiliate marketer
As an affiliate marketer you need to build a simple wordpress website. Because your website is going to be your main tool that you will be using to promote products and write content for your website.
When it comes to affiliate marketing you can find most of the information for free on the internet.
But it can be very time consuming to find all necessary info. Some info can be wrong and as a result you will be wasting your time.
It's better to take it from one reliable source. Among reliable sources I can recommend Solo Build it, Affiloblueprint or Wealthy Affiliate.
I took advantage of all these programs and I can tell they are great. My favorite one is Wealthy Affiliate.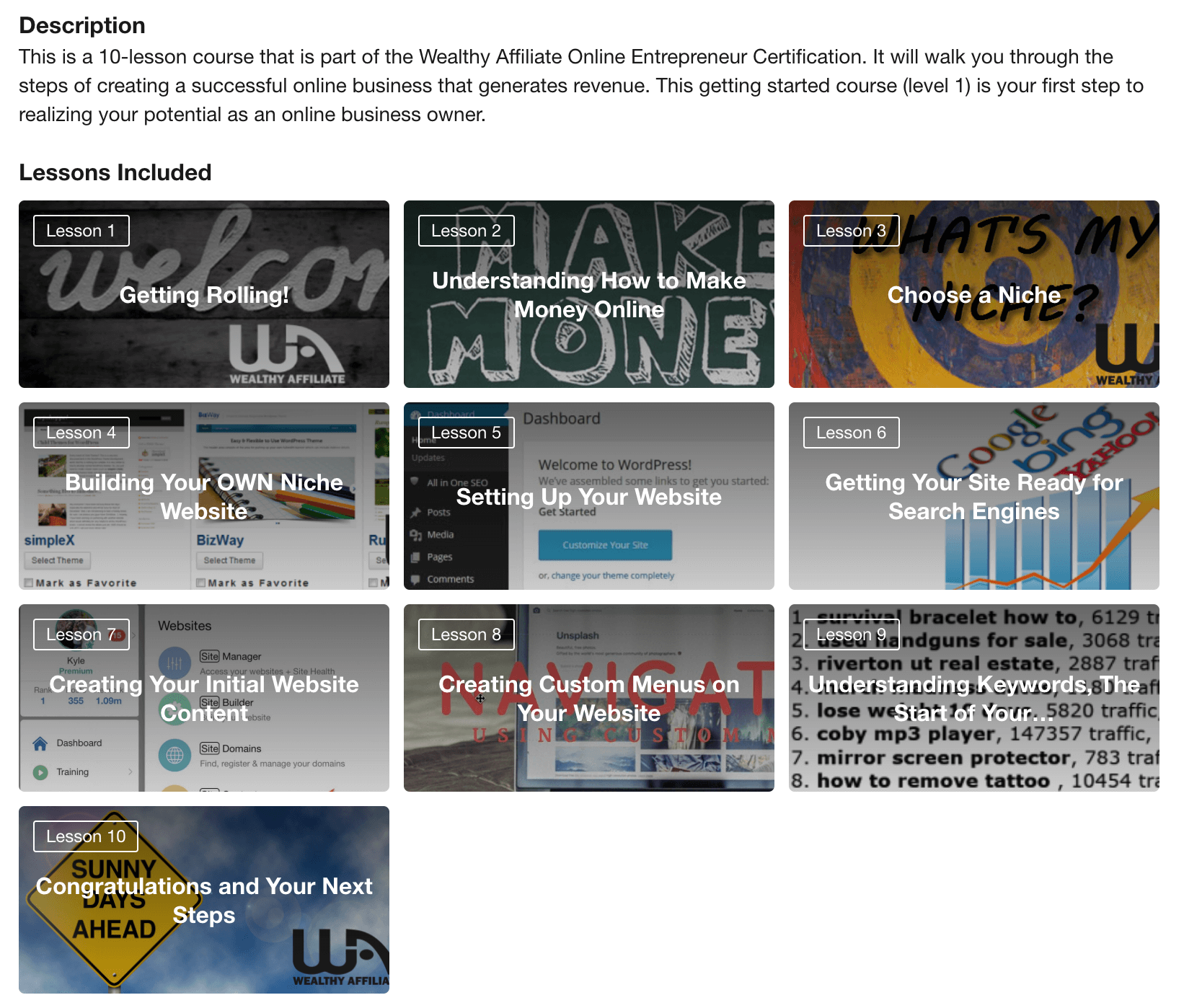 You can start with a free account and get access to 10 free lessons on affiliate marketing. First, you will get a warm welcome!
In lesson 2 you will be explained how to make money online as an affiliate marketer.
In lesson 3 and 4 you will be explained how to choose a niche (your interest, passion) and build your niche website.
In lesson 5 and 6 you will be explained how to set up your website and make it ready for search engines, such as Google, Yahoo.
In lessons 7-10 you will be explained how to create content for your website, custom menus (website navigation),
how to do a keyword research and finally what to do next so you can turn your website into a money making machine for yourself. Let's dive into it.
How to choose a niche for your affiliate website
It's not an easy process but it's not something scaring. It can take from a few hours up to 1,2 days to do a research and decide what niche to choose.
It must be your passion, interest, hobby. This is important because as an affiliate marketer you will be writing articles for your website. Why?
Because you will be educating people and helping them. You will be recommending products/services within your niche.
You are going to become an expert in your niche. You don't need to have a university diploma to become an expert.
Anyone can do it thanks to abundance of info available online.
How to build a website
Building a website is not hard at all. With the advancement of internet and technology it is now very easy.
With a few clicks of your mouse you can build a website within seconds or minutes. First, you need to create your free account.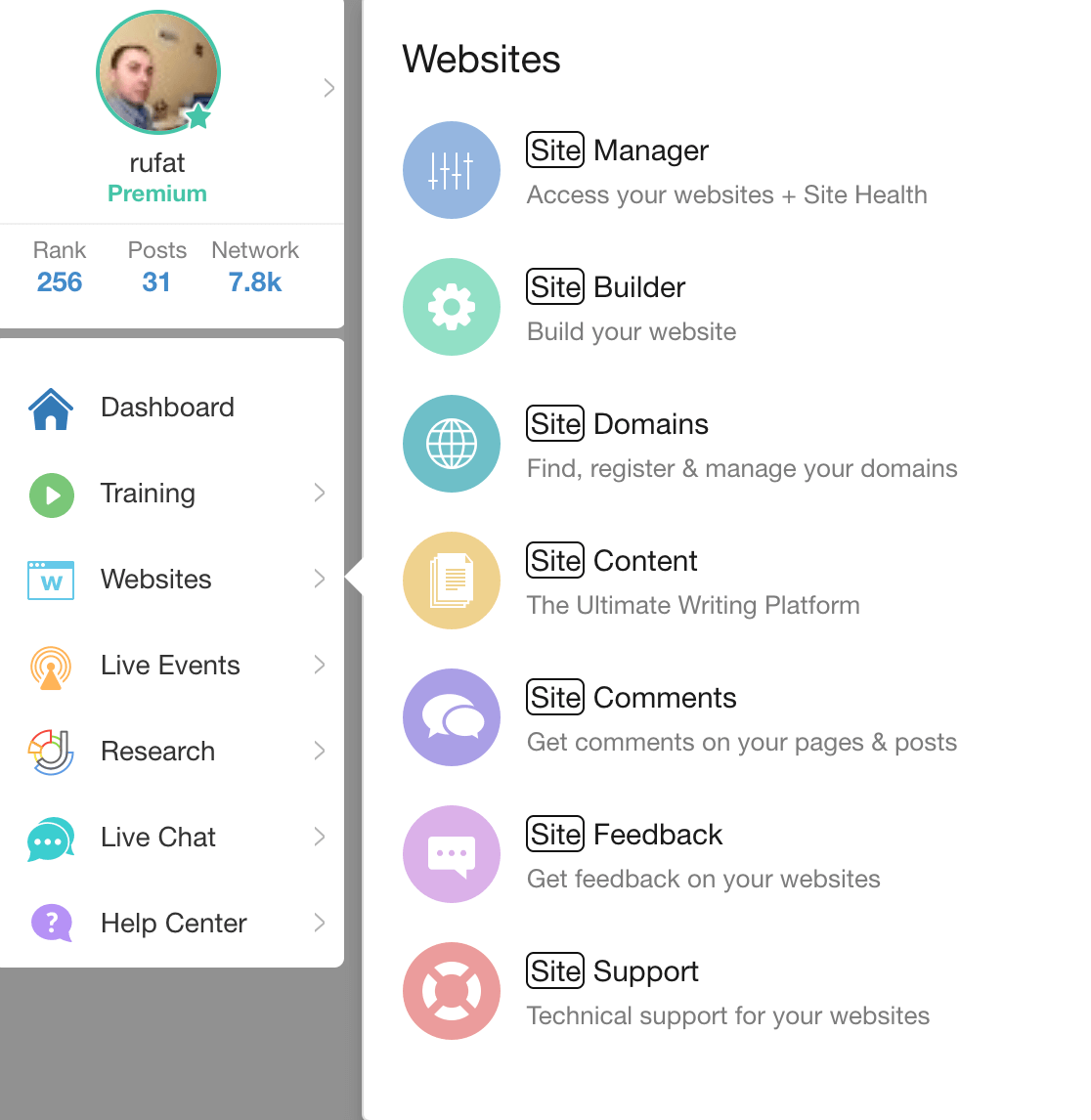 Once it's done you go to websites and choose Site Builder. Now you have 3 options:
On a free domain
On a domain I own
Register a domain
"On a free domain" means you don't have a domain and choose one for free. It will like this yourname.siterubix.com. It's not so great in terms of SEO.
Google favors sites with premium domains, such as yourname.com. Such a domain will cost you approx. $15 per year or maybe even less.
Anyway, you can start with a free domain and buy a new premium one later when you can afford it.
"On a domain I own" means you already bought a domain and now want to build a site on a domain you own.
Let's say, you have a domain at godaddy.com or namecheap.com.
You need to enter your domain settings at Godaddy.com and point your domain to WA hosting servers.
You need this info:
The name servers for Wealthy Affiliate Hosting:
Primary: ns1.mywahosting.com
Secondary: ns2.mywahosting.com
You just copy these two lines and enter them in your domain provider settings. It will take approx. a few minutes for your website to be up and running.
Finally, "Register a domain" means you can buy a domain at WA. It will cost you $13.99 per year. It includes:
Domain cost
Renewal price
Privacy protection
SSL certificate
Email accounts
Premium DNS
Flat rate guarantee
See the comparison table below and decide where to buy a domain name.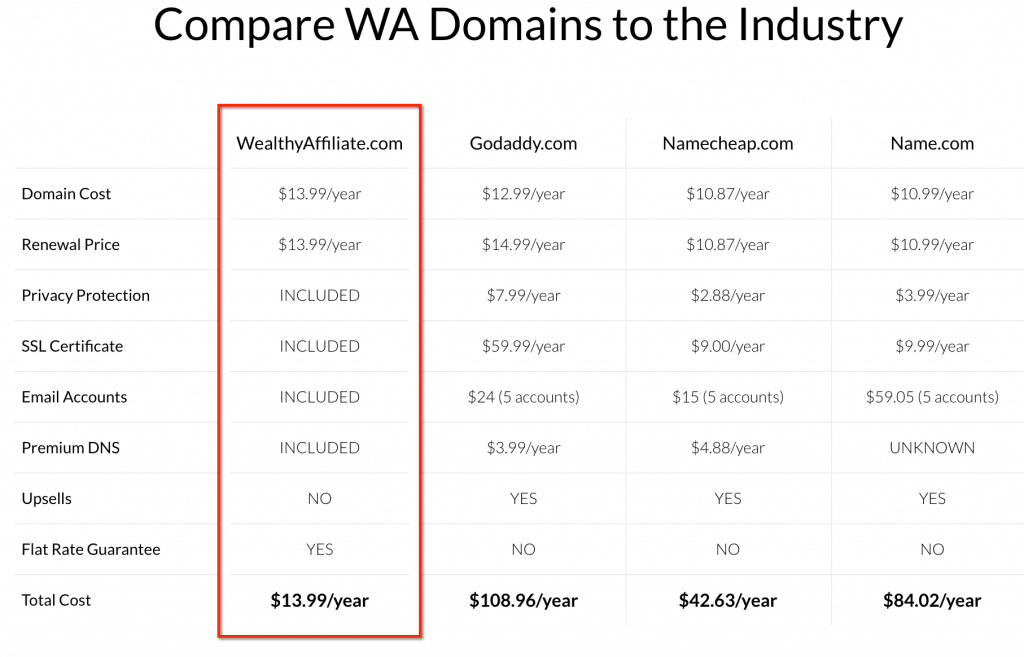 Once it's done you choose a title for your website, then design for your website.
We have thousands of high quality wordpress themes and all of them are optimized for mobile search results.
This means it's up-to-date with Google ranking algorithms which is very important for your affiliate business.
Later if you don't like free themes you can buy a premium one from Studiopress, Thrivethemes, Themeforest.
Finally you click on the button that says "Click Here to Build This Site" and your first affiliate website is up and running ready for you to make money.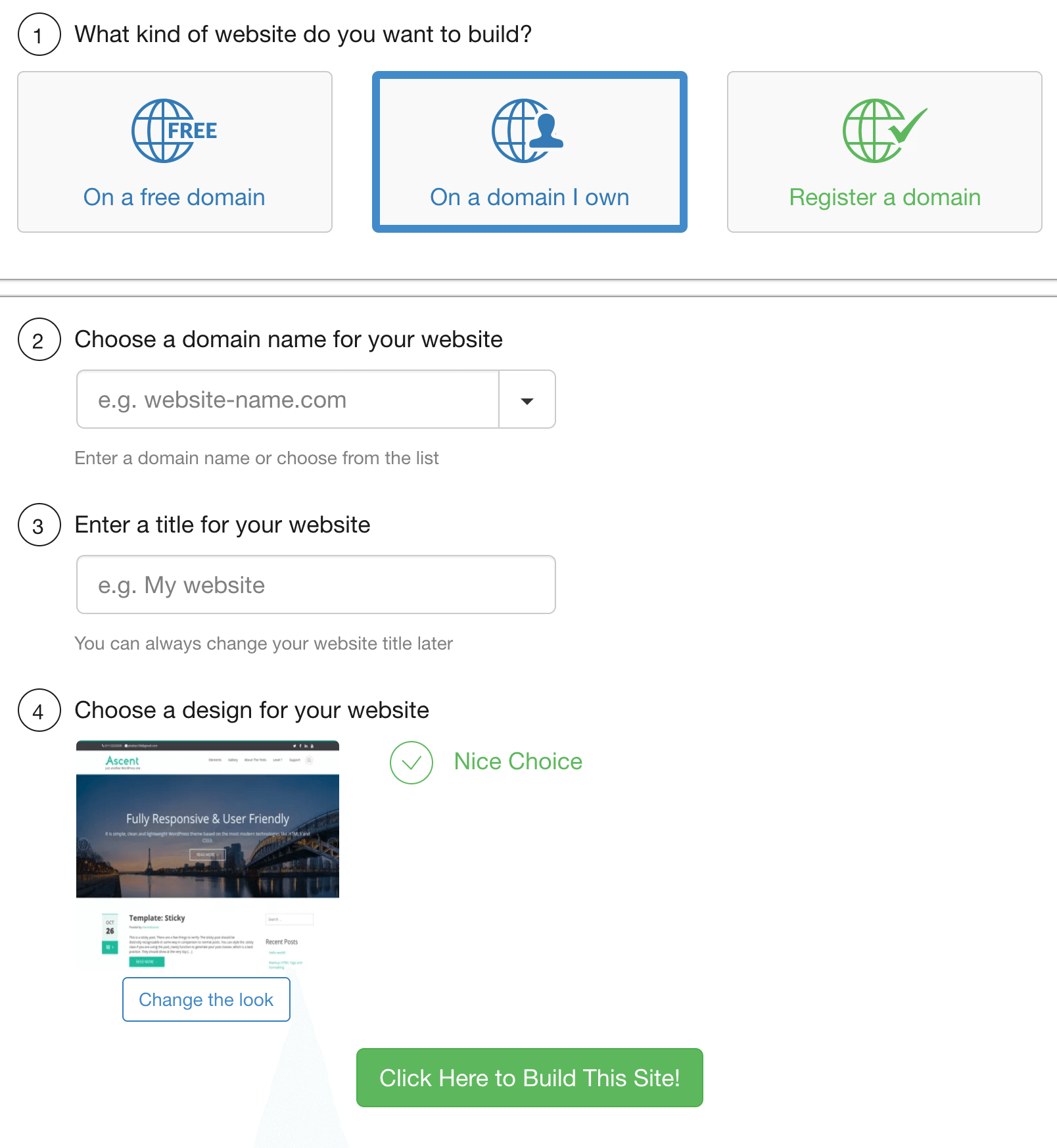 How to set up your affiliate website
Now, your site is ready. But before you start creating content for your website you need to install a few plugins that will make your affiliate life much easier and more productive.
You need to install plugins, such as All in One SEO Pack, Google XML Sitemaps, Anti-spam plugin, WordPress Importer, EWWW Image Optimizer, WP GDPR Compliance plugin, Pretty links etc.
In this post I explain what plugins you need and why. Installing plugins is not hard at all. Just install them and activate. That's it.
How to make your affiliate site ready for search engines
To make your site ready for search engine rankings and traffic is not hard.
After installing plugins, such as All in One SEO Pack or Yoast SEO and Google XML Sitemaps you need to enter some info about your website.
I use All in One SEO Pack and recommend it.
Go to General settings and enter some info about your website, such as title of your website and description.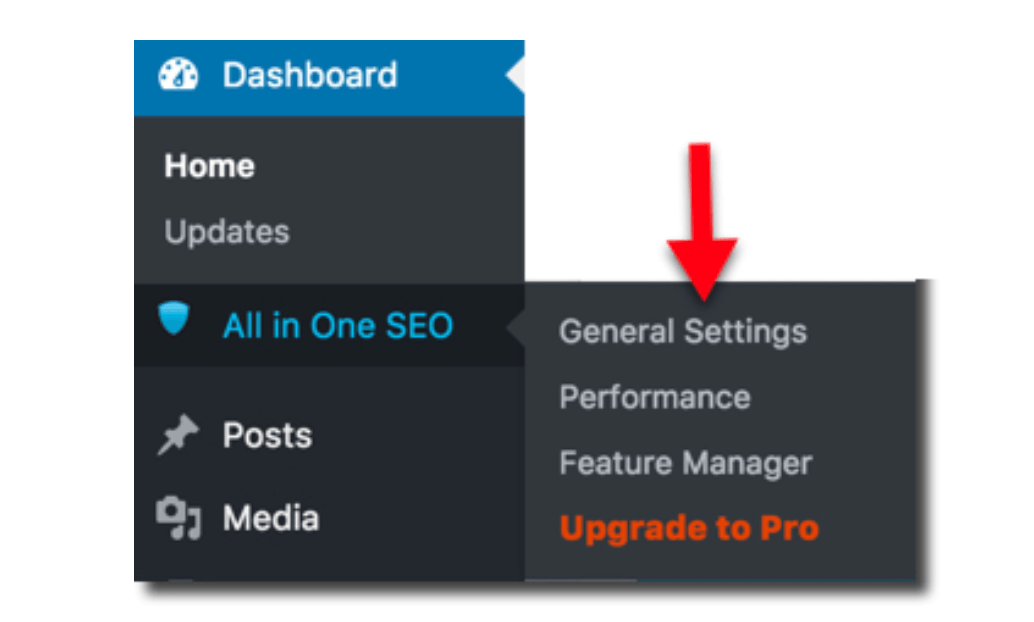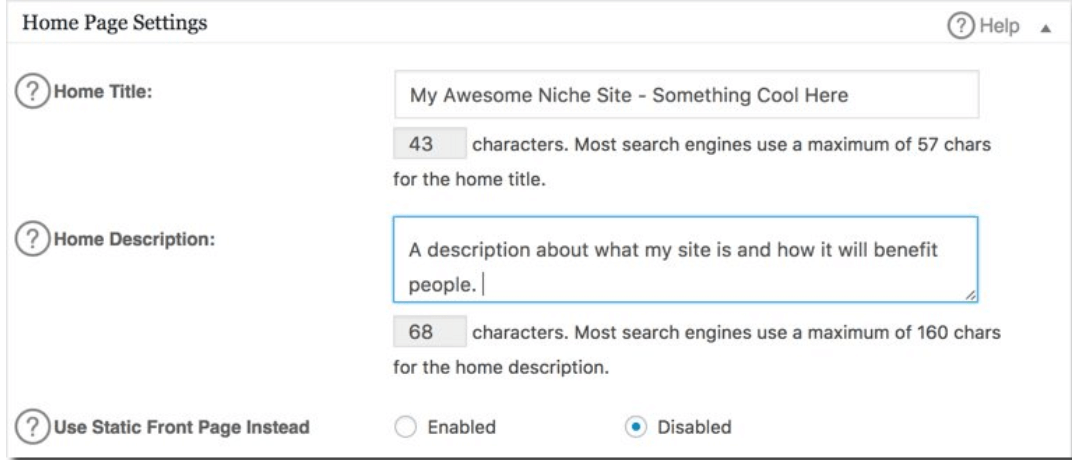 How to create content for your affiliate website
Creating content for your website is going to become your biggest challenge. In fact, creating content is not as hard as many people think.
They think they need to have some special skills to write content. They think they need to be writers, professional writers.
The truth is that you don't need to be a professional writer. To create content for your website you need to do some research on Google and Youtube on any subject you want.
It will take about 1 hour. Then you start creating your content.
You write an introduction paragraph then write your main points on the subject, pros and cons and finally your closing thoughts.
Then check your grammar, add some images, add description for your post. Don't fear to write. Over time your write skills will improve. It's very normal.
How to make your affiliate website user friendly
Now you need to make your website user friendly. In your wordpress dashboard you go to Appearance – Menus.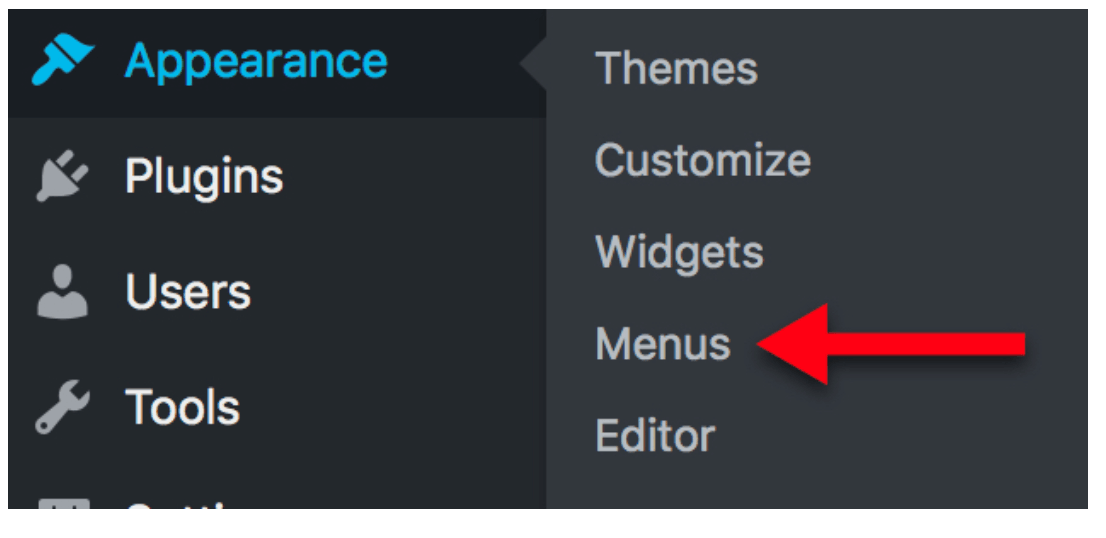 Here you can add your posts to your site menu if you want. Because by default only pages appear on your site menu.
You can watch this lesson that will explain how to create a custom menu for your affiliate website.
These two videos will show you how to create a more advanced site structure:
Lesson 1 – creating and customizing a menu
Lesson 2 – menu with drop down categories
How to do a keyword research for your content
Before creating content for your affiliate website you need to do a proper keyword research. It's critical for your business.
Each article that you plan to write will be targeting one keyword. This keyword if research has been done properly can bring a free targeted traffic to your website.
Traffic means a certain group of people interested in your product/service.
You can do a keyword research using keyword tools, such as Google Keyword planner, Jaaxy, SEMRush, Ahrefs Keywords Explorer, Moz Keyword Explorer. Google Keyword Planner is totally free. I personally use Jaaxy. I love it.
It's free if you are a member of Wealthy Affiliate. It's included in your membership.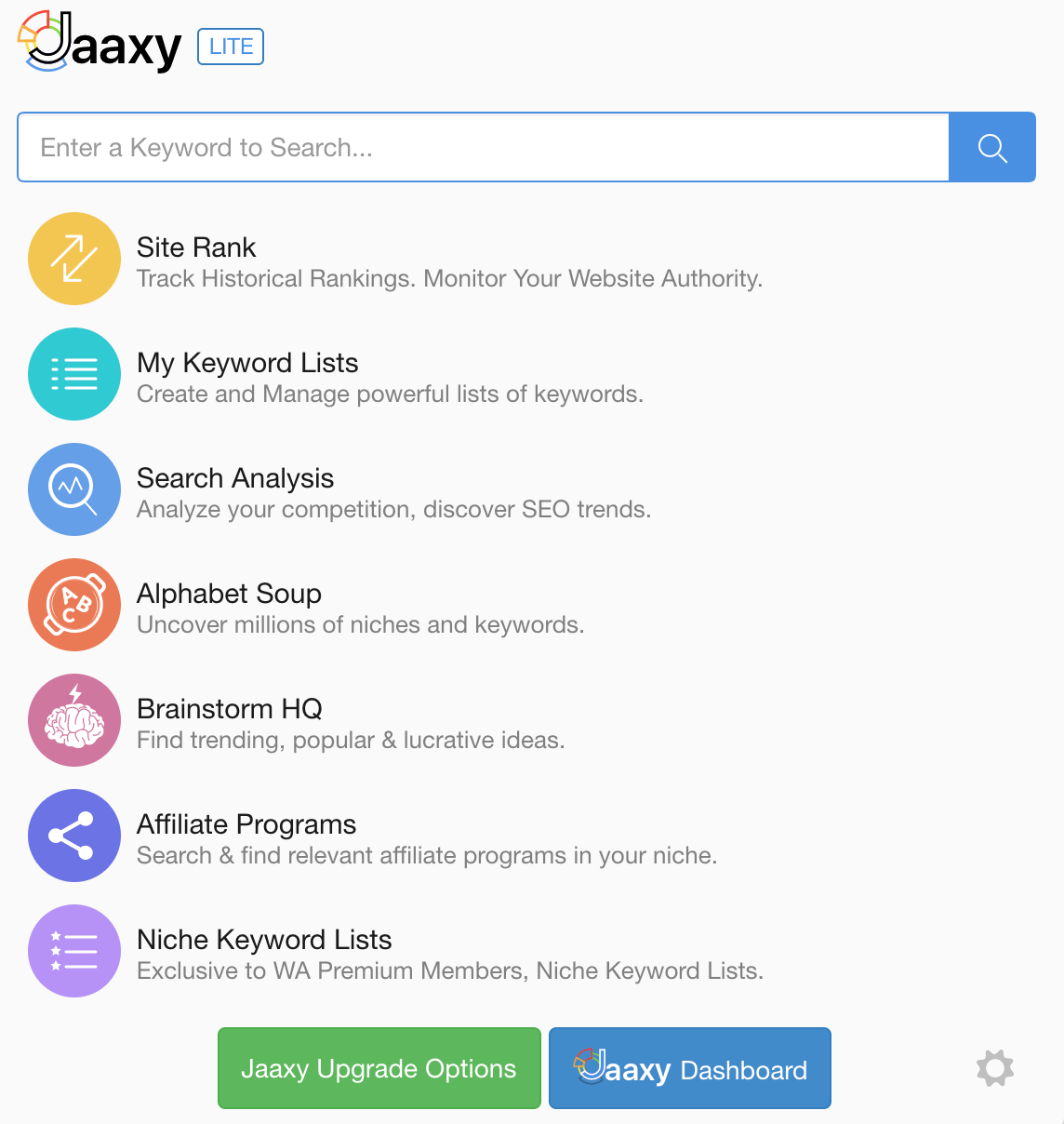 It has a lot of features. Lite version includes keyword research only. If you decide to upgrade it will cost $19 per month (Jaaxy Pro).
This lesson will explain how to do a keyword research. Alternatively, you can read my post about keyword research above.
How to start online as an affiliate marketer
Now you know how to start online as an affiliate marketer and you know your first steps.
Once you've completed 10 free lessons you need to continue producing content for your affiliate site on a regular basis.
This will be your main task as an affiliate marketer. Down the road you will learn some other advanced stuff that will help you take your business to the next level.
You will learn how to check your website traffic statistics, how to create social accounts with Facebook, Pinterest and other social networks and promote your content via those social accounts.
You will learn:
How to install Google webmaster tools
How to install Bing webmaster tools
How to install Google analytics
How to analyze your site traffic
How to optimize your site for higher conversions
How to make people trust you
How to optimize your content for higher rankings
How to optimize images for your content and why
How to captivating titles for your content
How to guest post on other blogs
How to research a new niche
How to find high traffic keywords
How to advertise on Facebook
How to become an authority in a new niche
How to get traffic from youtube
How to find affiliate programs/products to promote
How to write product reviews
How to get paid for ads on your website
How to properly use affiliate links
How to create successful PPC campaigns
How to master email marketing
How to create high converting capture pages
How to promote your Ecommerce business
How to sell websites and domains
How to do on page SEO
How to do off-page SEO
And more
All these and more other lessons is the advanced stuff that you will learn later.
First, you need to accomplish beginning level that will lay down the foundation for your successful affiliate business.
If I cover all these points in this post I will have to write another 10-15 pages of content.
I'm sure it will be boring and most of you will not read it. I tried to cover only basic stuff that is easy to understand and complete.
As you progress as an affiliate marketer your income will be progressing accordingly.
When you need support you can always leave your question within the community and get answers within seconds.
I will personally welcome you and guide you through all these levels. Just let me know if you need any assistance with your business and I will do my best to help you.
All you need to do now is create your free trial account and immerse yourself in the training. Follow the training step-by-step with on screen instructions.
You can get support via live chat too. You can get support from me personally. Later you can upgrade your account if you decide that affiliate marketing is for you.
If you want to become financially independent in one year from now you need to start today.
Let me know if you have any questions and I will be happy to help you get started in affiliate marketing.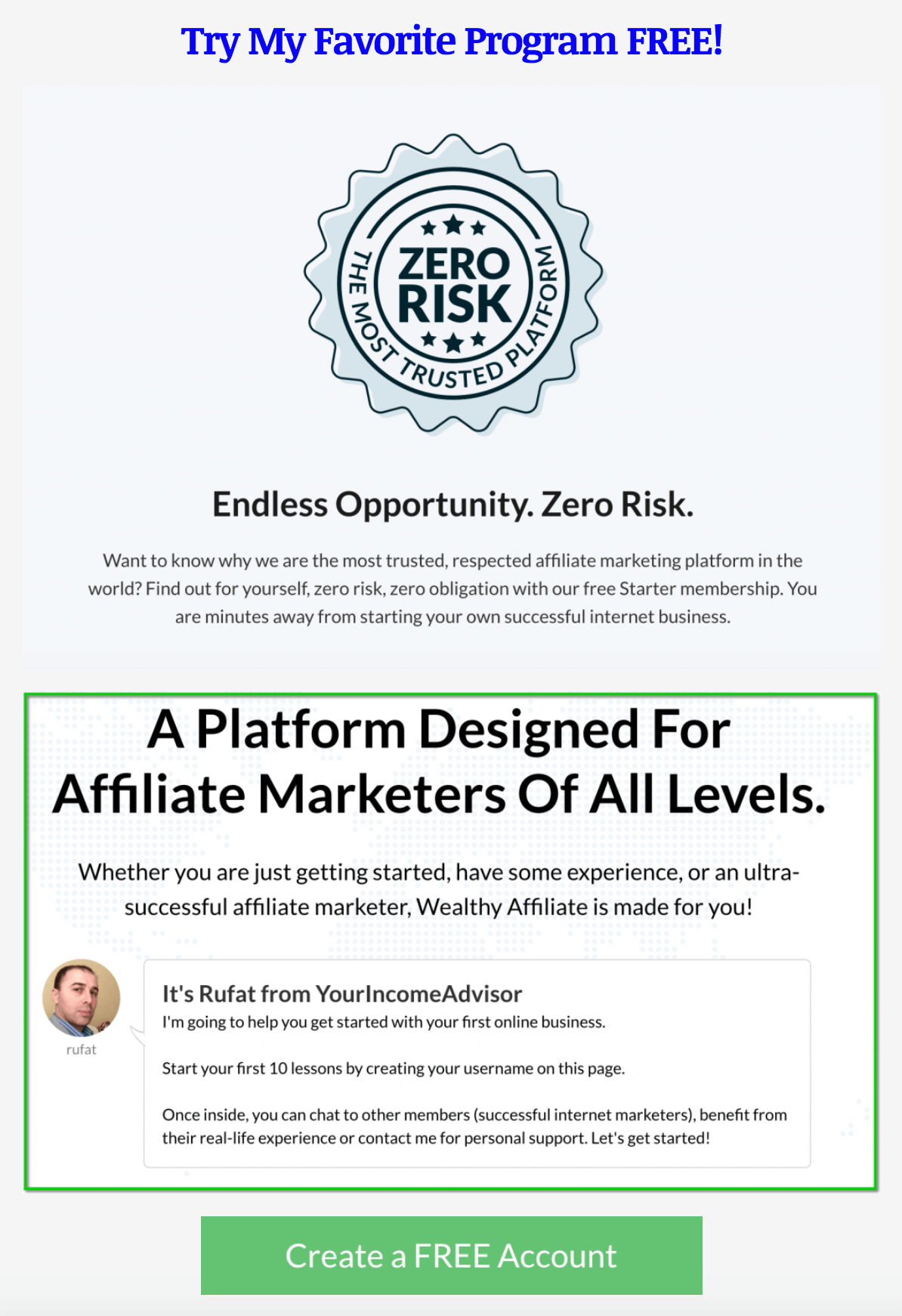 About the Author: Adam
My name is Adam. I'm the founder of Your Income Advisor. My goal is to help others succeed online, by exposing scams and reviewing top rated products. I can help you start
your own business online