Product name: Larry's Cash Machine
Product owner: Larry
Website: larryscm.com
Price: Advertised as free but actually it's not free
Verdict: Scam
Larry's Cash Machine is a new revolutionary program that promises you to make millions of dollars on complete autopilot. It's advertised as a completely different opportunity from any other opportunity out there.
In fact, Larry's amazing opportunity is not different at all because it starts with a classic promotional video to make you believe that you finally found exactly what you have been looking for…
I've seen many programs like this one and I can say that Larry's promo is really different from many others. It tells you a fantastic story about a Harvard professor who has secretly generated $38 millions in binary options profits in 3 years using a software that is so accurate that U.S. government decided to ban it!
I don't want to tell the whole story here because the rest of the story is even more fantastic and amazing and I even encourage you to watch Larry's promo. I'm sure you will love it. For now I'm going to take a closer look at this program to see if we can really make a few millions with it.

The main idea behind Larry's Cash Machine
The main idea of Larry's Cash Machine is about trading binary options which is very popular method of making money. It's popular not because it's legit or because people are making money. It's popular because of a massive advertising of this method as an easy way to make money on autopilot. This is not true! There is no such a thing as set and forget cash machine making you money on autopilot.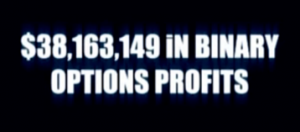 Pros of Larry's Cash Machine
Theoretically you can make money
Cons of Larry's Cash Machine
It requires investment ($250 at least)
You can easily lose all your money in no time
No money back guarantee
A risky venture (similar to gambling)
No support
Inside the program
1. I told in my other reviews that trading binary options is a risky venture and it's like playing a roulette, i.e. you never know when you win or lose. I'm not saying that you can't make money at binary options at all. If I said this it would be a lie.
The truth is that in reality you can make some money, let's say a few hundred bucks maybe but even if you make it one day you can lose your profit and even more the next day. It's very uncertain and unstable way of making money like any roulette game.
Besides that if you are a risky person you can lose all your money in no time. I know stories of many people who have lost thousands of $ both in roulette game and binary options. That's why I never recommend this method as a way to make money.
2. Another major issue with Larry's Cash Machine is that like all other binary options programs, it's falsely advertised and promoted as a free method of making money online but in fact it's not free.
Yes, it's true that you can join it for free but in order to start trading you need to add some funds to your account, $250 at least in most cases. And keep in mind that there is no money back guarantee in binary options, if you lose that's your problem.
And also remember that each time you fund your account Larry makes money off you. That's why they always encourage people like you to add more funds and promise you that the more you invest the more chances that you will make more money like that Harvard professor from the promo 🙂
3. Another major issue is that if you start making millions with Larry's software you may have serious problems with U.S. government like that Harvard professor and that's why you should keep all this info secret:)
To be serious most binary options programs have legal issues with U.S. government. If you read this document you will realize that most internet-based binary options programs are not complying with U.S. regulatory requirements and SEC and CFTC have received numerous complaints associated with sites that offer an opportunity to trade binary options and many people have lost considerable amounts of money.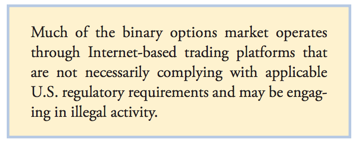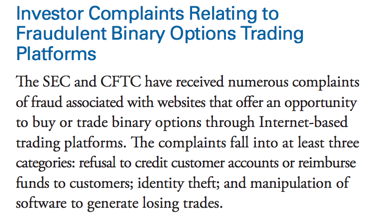 4. Like I said, you can make some money trading binary options but before that you need to get trained in the right program to understand how to use this type of software. Unfortunately, Larry doesn't provide any training and most binary programs don't provide either.
And even if you get trained still there is no guarantee that you will be always successful because even experienced binary options traders lose considerable amounts of money. My brother lost a few thousands of $ though he had knowledge and experience. Like I said it's a risky venture.
5. There is one thing common to all binary options programs, they all claim that their software is unique and different from all others because it's 99% accurate. Do you really think it can be true? I reviewed many binary programs and if you read some of them you will see that they all are "unique". This fact points to another obvious fact: they all are lying to people.
6. There is also another major issue associated with all binary options programs. The issue is about choosing a binary options broker which is very important.
Some programs work with unlicensed brokers or brokers that have a bad reputation which means that if you work with them and don't have any info you're going to put your money at risk. Since Larry is lying to you from the very start I don't think they work with trusted or reputable brokers.
7. Another major issue with Binary programs is that you have no much control over the software and you have no any idea how the software is programmed to work. Most softwares do all the work, i.e. trading for you automatically and you even don't know where the signals come from. All this means that this type of opportunity and investment involves a lot of risk.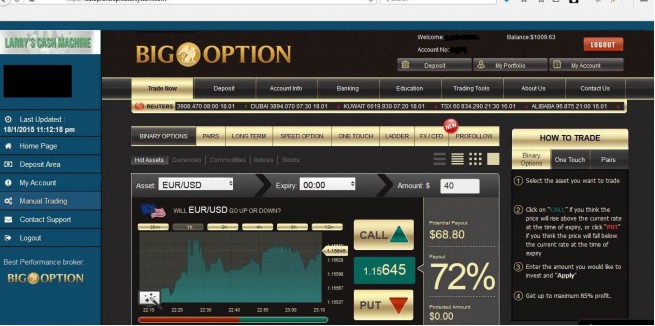 8. There are many positive reviews of binary options programs on the web including this one and you might easily get confused. Let me give you a piece of advice. I believe if you follow it you will be on the safe side.
All those sites add affiliate links to the software they review which means they promote it for the sake of making money and it's the first red flag to not trust them. As you can see I review Larry's Cash Machine and I don't have any affiliate links to his software.
I do make money too by reviewing programs and always add affiliate links too but I do so only if the program is positive and legit. I never add an affiliate link to a program that I consider a scam.
Especially I warn you against the site nancyreviews.com that always writes positive reviews on all scam programs/products and adds affiliate links to all its reviews. It looks like the owner of that site "makes" millions of dollars with all binary options programs which is not true.
9. Like I said in my other reviews, when you start trading binary options your task is mainly about market prediction, i.e. how currency pairs will change and if you make the right decision you win and if not then you lose.
There is no software in the world or a broker than can make 100% accurate prediction and this is a fact. When it comes to binary options softwares, things are even worse because they do all the work for you which means there is a high chance of wrong prediction.
Even if you trade binary options without software you still need to analyze the market, watch the news to see the whole picture. This method of making money is extremely difficult and requires a lot of knowledge, experience and probably some luck.
10. Another thing to keep in mind is that there are two types of binary options trading options available, short term and long term trade. When you choose a long term trade you can make a considerable amount of money but you need to first add that amount of money to your account and here is the catch.
The more you invest the higher is the risk of losing all your money with one single click. If it was so easy then thousands of people wouldn't lose thousands of dollars at binary options.
11. The testimonials you will see in the promo are fake and you can easily order one for you at fiverr.com for $5/$10.
12. Also when you choose a broker you should make sure that he is from a country with a strong regulatory system. If not you may have problems when trying to withdraw your funds. Also you need to check if there are any complaints about your broker before you join him.
13. I also want to draw your attention to one little detail. On Larry's website there is a website disclaimer which clearly says that Larry is not responsible for any losses related to use of his services or "amazing" software. What does it mean? I think the answer is obvious.

14. When you watch Larry's promo you will see the face of Adam, the same person who was acting in the promo of another program called emobile code. Do you see the whole picture now? I think there is a good reason to not trust Larry and forget about his "amazing" software.
Final word on Larry's Cash Machine
Long story short, I don't recommend it. But if you are interested in making money online the honest and legit way I recommend you to try my top recommended program I've been part of since 2013.
You can try it absolutely for free within 7–10 days and you even don't need a credit card. This program has helped me build my website (yourincomeadvisor.com) and finally start making money online. Let me know if you have any questions and I will be happy to help you out.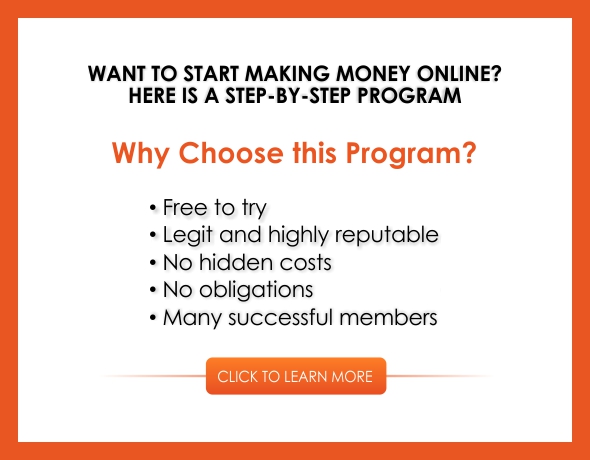 About the Author: Adam
My name is Adam. I'm the founder of Your Income Advisor. My goal is to help others succeed online, by exposing scams and reviewing top rated products. I can help you start
your own business online