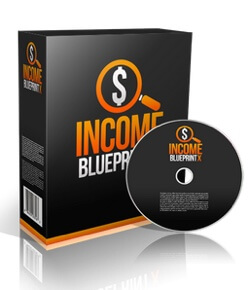 Product name: Income blueprint x
Product owner: Kory Pearman
Website: incomeblueprintx.com
Price: $9 + 2 upsells
Verdict: Recommended? Yes and No
Income Blueprint X is a new program teaching you how to make money online. To be honest, most of the products I review are craps and only 10% of my reviews are positive products and it's not because I'm a big fan of criticism.
It's because the majority of make money programs fail to deliver on their promises and in fact they put much emphasis on making a quick buck instead of providing real value. Fortunately, Income Blueprint X is not that bad and I can recommend this product but it still has some major flaws.
Though the owner, Kory Pearman has created somewhat useful product he is not free from making false promises. Let's take a closer look at Income Blueprint X.
The main idea behind Income Blueprint X
Income Blueprint X is an email marketing course that teaches you how to build a squeeze page, build your list of subscribers and then promote digital products to that list. It consists of a series of high quality videos that explain how to use email marketing to start making money.
Both beginners and experienced marketers can benefit from the course. The price of the course is affordable but there are two other upsells inside members area for $47 and $67.
Pros of Income Blueprint X
The idea of the course is legit
The price is affordable
Cons of Income Blueprint X
False promises
Two upsells
No real support
No free trial
You need to buy some other products if you want to make money with this system
Inside the program
1. The training is not bad and contains a lot of useful information though Kory doesn't cover all steps required to build a successful online business.
From the point of its price which is really affordable the course is good, but from the point of its potential I think it's incomplete because certain things such as setting up a website, getting a domain name for your website, creating quality content and some other things are not covered at all.
I think though the course contains a lot of useful info it's still not enough for beginners. The course consists of the following IBX modules:
Module 1: Obsession Scale (Picking a Niche, promoting Clickbank, JVZoo products)
Module 2: 1 Page Profits (Creating a Squeeze Page using Optimize Press)
Module 3: Hooking The Bait (Incentive)
Module 4: Instant Cash (sending your visitor to a CPA Offer)
Module 5: Linking Up (autoresponder)
Module 6: Automation & Passive Income (Email Follow Up Messages)
Module 7: $10,000+ Paydays (Using Email marketing )
Module 8 (1): Waterfalls Of Traffic 1 (Solo ads, social network sites: Facebook, Pinterest)
Module 8 (2): Waterfalls Of Traffic 2 (Forum, Google, YouTube)
Modula 9: Conclusion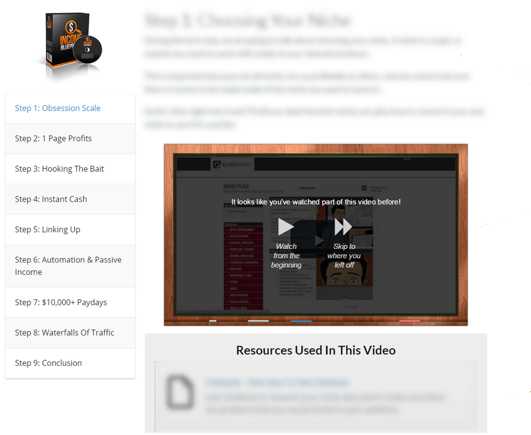 2. Whenever I see upsells inside the main product I call it incomplete product. The reason is because most people when paying for the main product normally expect a complete training course that will teach them how to make money online but if they get access to the members area and see some other "important" products they need to buy that's not good IMO.
Unfortunately, Income Blueprint X is not free from upsells too. One upsell for $47 and the other one for $67. You can get a discount on both offers. Both upsells are about giving you a done for you system that will make money for you on autopilot with minimum effort on your part.
This is a classic deceptive trick and I honestly recommend you to not fall for these empty promises. I told in many other of my articles that the idea of easy money or making money on autopilot is one of the biggest misconceptions existing on the web. This fact alone is enough to call Income Blueprint X a scam but I don't do it.

3. Even if you don't buy Kory's upsells there are some other expenses expecting you inside the members area. If you think you will buy his main product for $9 and start making money immediately then I have to disappoint you.
If you follow what this guy teaches you and apply it then you need to pay for another product called Optimize Press. They have 3 packages ( $97, $197, $297), you can choose any of them. You need Optimize Press (Module 2: 1 Page Profits (Creating a Squeeze Page) in order to create a landing or a sales page.
Also you need to pay for autoresponder service (Aweber) Module 5: Linking Up (autoresponder) in order to use email marketing which will cost you another $19 per month. The training course contains useful info about using email marketing, especially for newbies.
But as you can see, running an online business requires some more spending than just $9. This is what Kory doesn't want you to know before you pay for his main product.
4. The bad thing is that you can't try Kory's product for free while there are many other quality and much better trainings that you can try for $1 or even for free. Why then pay Kory $9 whose product though is not bad but still incomplete and requires more spending?
5. There is no quality support and if you have some questions or get stuck at some point and I'm sure it will happen you can't get timely support. This is really bad and it's a fact that most people fail online because they can't get the support they need. I think it's one of the major flaws of Income Blueprint X.
6. As I told above, though the idea of his course is legit it has some major flaws. Just as an example, Kory teaches you how to promote digital products from Clickbank, JVZoo or other digital product marketplaces through your landing pages.
But in order to promote your products you need to drive traffic to your pages which again requires additional spending.
He recommends to drive traffic through soloads but this method is not much effective because it's not your list and it will cost you money. As you can see, most of the methods Kory teaches you are not actually free.
7. I don't like that Kory shows his earnings snapshots and tells that he makes money on autopilot while he sleeps. He's just set his system once and the system continues to make him money with no effort on his part. This is simply not true.
It's a wrong and misleading approach and unfortunately many people fall for this type of deceptive promo. Trust me, behind any success both online and offline there is a hard work.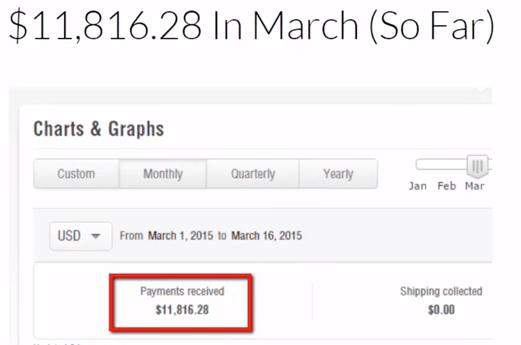 8. We all know that the main idea of building a list is building relationships with your audience in order to be able to send your subscribers useful tips and offers and possibly make money.
Most of make money products promoted at Clickbank and JVZoo are poor ones and if you promote them to your audience for the sake of making money I'm not sure you can really build strong relationships with your subscribers. As a result of it many of them might unsubscribe from your list over time.
9. As a result, after paying $9 you need to buy two other upsells (though they are optional) to use Kory's system to its full potential. You need to buy traffic, you need to pay for hosting, autoresponder, squeeze page builder, wordpress theme. Kory shows you some methods and strategies but he doesn't explain how to use them effectively.
Final word on Income Blueprint X
Though Income Blueprint X is a pretty solid course it's really and very limited. The fact is that you can't start your business by spending just $9. You need to spend much more using Kory's system.
But if you still want to make money online I can recommend you a much better program that makes no false promises and has no any hidden costs and it has been proven through years. You can try it for free within 7–10 days.
I've been a member of it for almost 2 years now and I'm making money with this program. There are over 300.000 members inside this community (Wealthy Affiliate) and it's really great to be part of it. Feel free to ask me questions if you have any and I will be happy to answer all of them.
About the Author: Adam
My name is Adam. I'm the founder of Your Income Advisor. My goal is to help others succeed online, by exposing scams and reviewing top rated products. I can help you start
your own business online