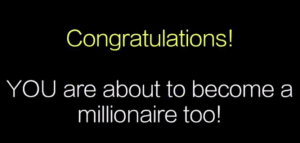 Product name: Millionaire Society
Product owner: Brad Marshall
Price: Free to join but requires investment $200+
Verdict: Scam
Millionaire Society is a scam. You can read my full review if you want, but if you don't want to waste your time on this one, I suggest that you take a look at my comparison table and try my recommended program that is free to join. No gimmicks. No credit card required. You will learn how to make money online the proper and legit way. I'm a member of this program too.
Millionaire Society is one out of many programs that promises you a lot of money on autopilot. Brad claims that he has invented a magic software and spent over $100.000 to make sure that it's fully automated and will allow you to make money even when you sleep.
In the promo on his website he shows his earnings and claims that he's made $18.000 in just a few minutes. He tries to convince you that his software has changed the way of things and now you can make as much money as you want with simple clicks of your mouse.
This is of course nothing more than convincing words with empty promises. I've reviewed many other binary options programs over the past few months and an interesting fact is that all these programs tell you similar stories about someone who has invented a secret software or a Harvard professor who has secretly generated thousands of dollars in binary options profits etc.
I believe you're smart enough to understand that all these magic softwares are gimmicks. I don't want to say that trading binary options is unlawful. No it's not. But most of the programs are scams and in this review I will show you why Millionaire Society by Brad Marshall is not worth your time.
The main idea behind Millionaire Society
It's a binary options software that allows you to trade binary options (currency pairs) and make lots of money every single day even while you sleep. This is what Brad Marshall and all other guys like him promise you and you need to act fast because if you don't do all the spots will be gone within minutes 🙂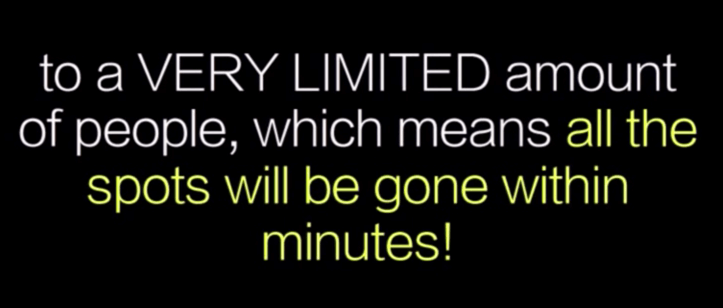 Pros of Millionaire Society
You can make some money but you can lose all your money too
Cons of Millionaire Society
No money back guarantee
Many complaints
Risky venture
Exaggerated earnings
It's not free
Inside the program
1. Like any other business it requires time and dedication if you want to learn how to make money by trading binary options. There are legit sites and fake ones too and Brad's site is not legit.
You need to gain a fundamental knowledge in this field and also gain enough experience to understand how binary thing works because even experienced traders and brokers are not guaranteed from mistakes.
Sometimes one single mistake can cost you thousands of dollars. I have a real life example in front of my eyes, i.e. my brother who had experience and knowledge and yet ended up losing a few thousands of dollars at Forex currency trading. All this means that Brad's promise about fully automated software is unrealistic.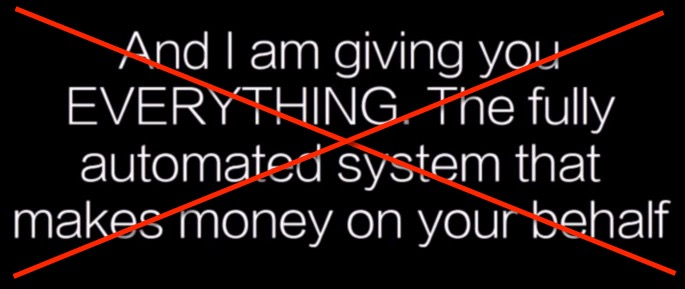 2. Most binary options programs start with a promo and you always watch a few testimonials from people that are very happy with the program and the same applies to a Millionaire Society. Brad uses fake testimonials to make you believe that his program is a real deal.
I can open this secret so you can know all the truth about Brad's program in particular and testimonials in general. The truth is that you can too have such testimonials and all you need to do is just visit Fiverr.com website and find someone who will record a testimonial for you. Take a look at the image below.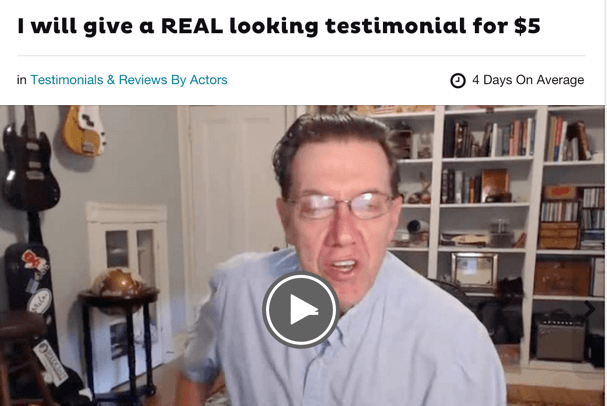 3. All binary options programs claim that they are free to use and you can make money without investing your own money. This is not true. In order to start trading binary options you need to add funds to your account, $250 at least in most cases. And the bad news is that there is no money back guarantee. If you lose your money, that's your problem.
4. Brad claims that he doesn't need your money and all he wants is to see you succeed. This is not true of course. The truth is that each time when you add funds to your account Brad will earn a small commission off you. The same applies to any other binary options program.



5. Some promoters of this program claim that with this software you do not need to worry about trading currency pairs because Millionaire Society "amazing" software will do all the work for you automatically and you will be a winner in most of your trades.
They claim that the Millionaire Society software tracks and analyzes all required data in order to predict market and profitable trades with 100% accuracy and allow you to make money on autopilot. This is not true of course.
Market is unpredictable in most cases and if someone claims the opposite they are lying to you. To prove my words I want you to take a look at some complaints that I found on the web.
All this means that Brad Marshall's amazing software is not as amazing as he claims it to be. If it was so amazing and fully automated I wouldn't come across these complaints. Note: first 2 testimonials are taken from onemorecupof-coffee.com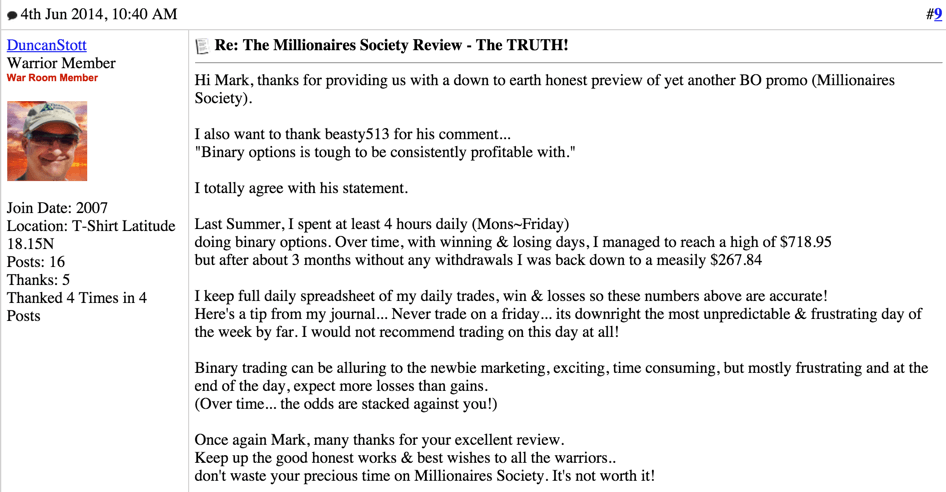 6. All creators of binary options programs, such as Walter Green, Larry, Andrew Taylor, Victor Lambert etc claim that their system is absolutely different from all other softwares available on the web while in fact it's not true. Brad Marshall's Millionaire Society is just a clone of other binary options programs and there is nothing new in the system.
7. After watching Brad's sales video you will get access to the members area where you will follow the instructions on how to sign up to the broker and start trading.
Choosing a broker is extremely important for your success and the problem is that most binary options programs work with unlicensed brokers or brokers with a bad reputation. Especially, when choosing a broker you need to find out if there were any complaints about your broker in the past.
Unfortunately I don't know how you can do it and so I can't give you any recommendations. Though this means that you are going to risk your money it doesn't mean that Brad won't earn a commission. He will earn a commission in any case even if you lose.
8. Most binary options programs are illegal and not complying with U.S. laws. Organizations, such as SEC and CFTC have received numerous complaints over the past few years. You can read the full document here.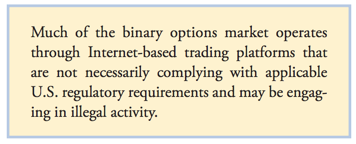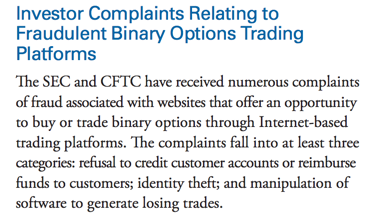 9. I don't want to say that trading binary options opportunity is illegal or a scam. It can be legal or even profitable if you do a proper research and join a legit program that provides you with a quality training but anyway it's a risky venture and requires a solid knowledge and a lot of experience that comes after years of trading.
Remember that even experienced brokers and traders lose a lot of money in this business, especially in long term trades that require serious investments.
I don't recommend to get involved in this type of business, especially if you are a risky person but if you want it badly you can continue your search and give it a try.
10. Also, another fact that I came across on the web is that most people have a problem of withdrawing their money from binary options programs. That's why think twice before you invest your money.
Final word on Brad Marshall's Millionaire Society Scam
I think after all these arguments and complaints you have seen above you won't have any questions as to join a Millionaire Society or not.
I think even if Millionaire Society appeared to be a scam it's still not the end of the world. There are many other legit programs out there that have been proven through years and are unquestionably reputable.
One of such programs is a program that I've personally tried and I've been a premium member of it for a number of years now.
The program gives you access to an in-depth training, tools, active community and supreme support that are the main factors of online success.
For now, forget about your credit card and create your free account to try my recommended program and if you have any questions just shoot me an email and I will reply within 24 hours.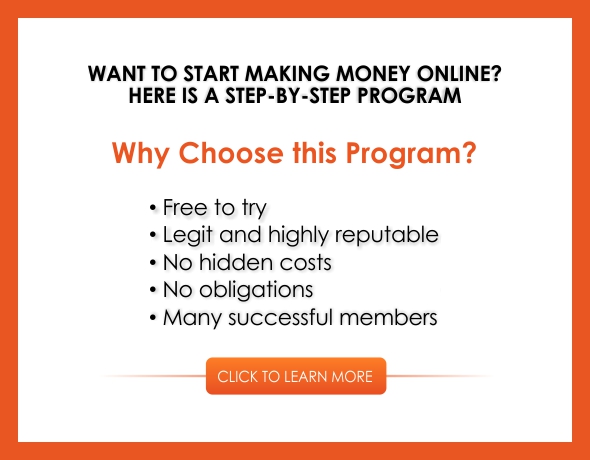 About the Author: Adam
My name is Adam. I'm the founder of Your Income Advisor. My goal is to help others succeed online, by exposing scams and reviewing top rated products. I can help you start
your own business online