Product name: Work at Home Paycheck
Product owner: Jessica Marshall
Websites:
wahpaycheck.com
wahpaycheck.com/F0002/step1
Price: Initial price $397, discount price $47
Verdict: Not recommended
There are literally countless programs that claim to teach you how to make money online and Work at Home Paycheck is one of such programs. When writing reviews I always do my best to research on a program and provide as much information as possible to help you make an informed decision.
And I always try to find every possible reason to not call a program I review a scam. In this particular case the program is really not worth your time and money. Work at Home Paycheck is almost identical to Excel Cash Flow and Home Profit System and they all are promoting the same product and even use the same fake advertising methods.
Those two promise you to make $379 a day while Work at Home Paycheck promises $1000 a day. These numbers are unrealistic and in my opinion none of these programs is worth your time, not to mention money. Anyway, I'm going to take a closer look at this "amazing" opportunity.
The main idea behind Work at Home Paycheck
The main idea behind all these programs is about posting links here and there and for this type of activity they promise you to pay generous rewards, from $379 up to $1000 a day.
Posting links is not something new and can be done, but the problem is that financial reward is highly exaggerated and unrealistic.
If it was so easy to make $1000 a day by posting links here and there then probably we all would be making it instead of working for someone else. I first would be making it instead of writing reviews like this that in most cases takes 5,6 hours of hard work and research.

Pros of Work at Home Paycheck
You can earn some extra money, I think a few bucks at best if at all
Cons of Work at Home Paycheck
False promises
Deceptive advertsing methods
No support
No money back guarantee
Inside the program
1. First off, I would like to say a few words about link posting scams. The truth is that Work at Home Paycheck is very similar to the programs I've mentioned above. If you take a look at my reviews you will see that they use the same deceptive methods, make similar bold claims.
When it comes to advertising, like Excel Cash Flow and Home Profit System, Work at Home Paycheck falsely claims that their program has been featured on renowned news channels which is not true at all.

It's true that channels like CNN, ABC, Fox News, USA Today feature work from home opportunities on their channels from time to time but they have never mentioned any of these programs. So, be careful because if a program lies to you right from the start most probably it's a scam.
2. I tried to sign up for the program and here is what I've found on their page. As you can see, it says that registration is temporarily closed.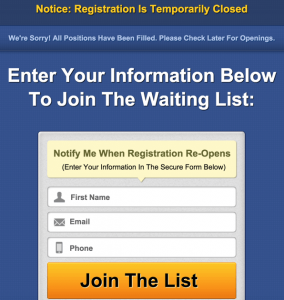 Things like this are used to make you feel pressure to sign up and once they get your email address and your phone number they will start sending you tons of spam emails or call you every week trying to sell another "amazing" opportunity.
Sometimes they can even offer you a private coaching that will cost you a few thousands of dollars. The same method is used by Home Profit System which means that Work at Home Paycheck uses identical deceptive marketing tactics.
3. Like other similar programs they promise that you will be paid generously for each posted link. Just log in to your account, grab the links, post them around the internet and then get paid. Just imagine how much money you can make by completing this simple task.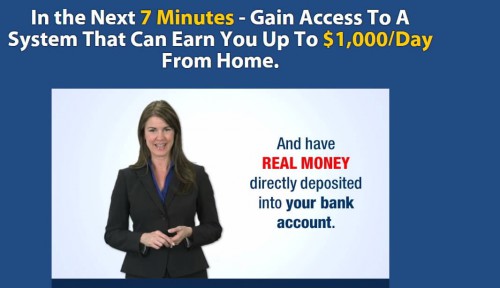 But the question is: do you really believe you can make $1000 a day? If you really believe you can the you are free to try it but to be honest, I don't think you will be paid generously for posting links. I'm sure it's about a few cents per link at best.
4. Programs like Work at Home Paycheck always tell you a fantastic story about someone who had financial problems and then thanks to a Paycheck all problems were successfully solved. You can read this type of story below.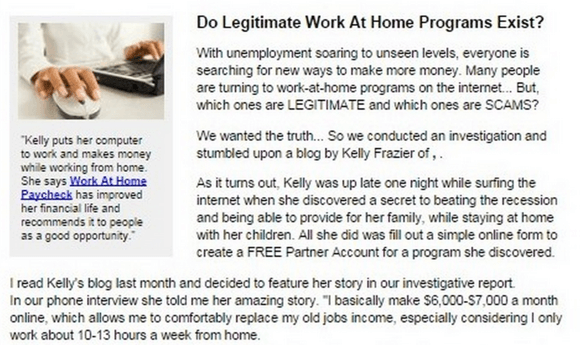 All I can say is that I'm confident it's not true because if making money online was so easy then everyone would take an advantage of this amazing program.
Just imagine that according to link posting scams explanation (ones mentioned above) you can spend approx. 15 minutes a day to post 2 links, $15 per link = $30 and earn $900 per month. If only it was so easy…
5. Another interesting thing about this program is that like I said above, if you try to create your account at their main page (wahpaycheck.com) you will see a screen that says that registration is temporarily closed.
But if you follow this link (wahpaycheck.com/F0002/step1) then you will get access to their registration form. Doesn't it look shady? I think it's very normal for programs like Work at Home Paycheck.
6. Another red flag is that this program is being advertised and promoted on a site that claims to be legit while in fact it's not and I will explain why. I opened this link in my browser (consumersfinanceguide.com/F0002/finance), it works fine.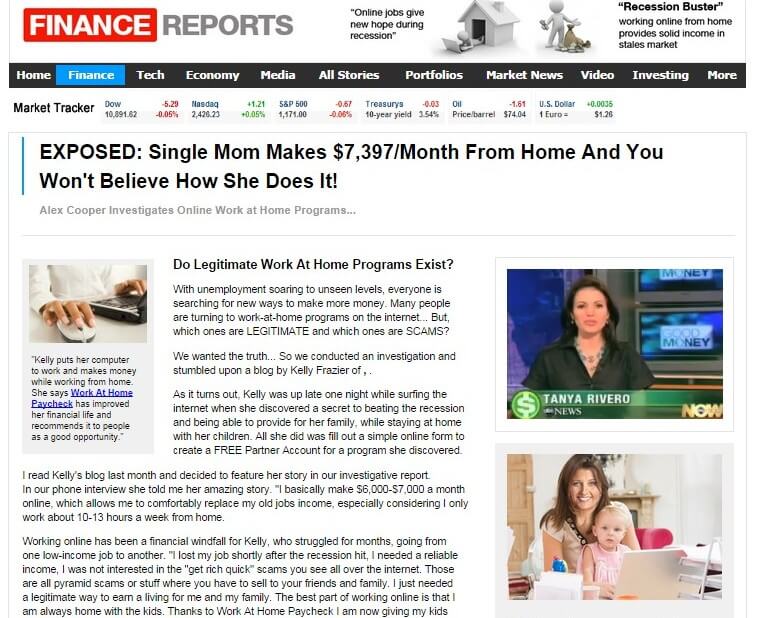 On this page you will find that Work at Home Paycheck is being advertised as a legit program. But when I opened this link (consumersfinanceguide.com), i.e through the main page it simply didn't open. Can you imagine that? I can definitely say that this site is not legit or trusted in any way.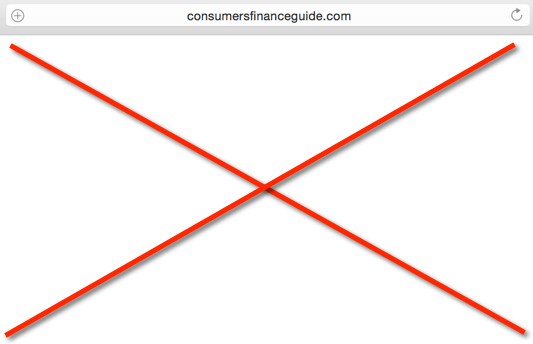 Also, note that if you scroll down consumersfinanceguide.com to the bottom you will find a disclosure agreement that says that they are not affiliated with any news organization and long story short, they are fake… and the bottom line is that Consumers Finance Guide is a fake site and you shouldn't trust them.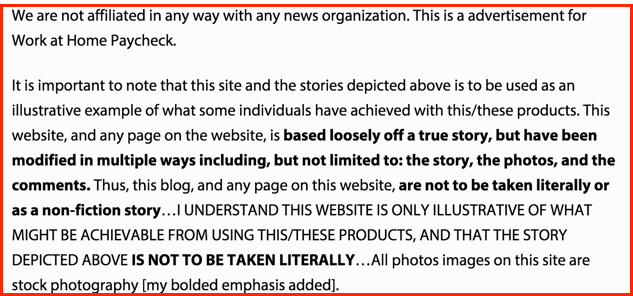 7. There is also a trusted site BBB (bbb.org) that warns you against programs that promise you quick money with little to no effort on your part. Here is the excerpt from this site. Please read it and I hope it will help you make the right decision.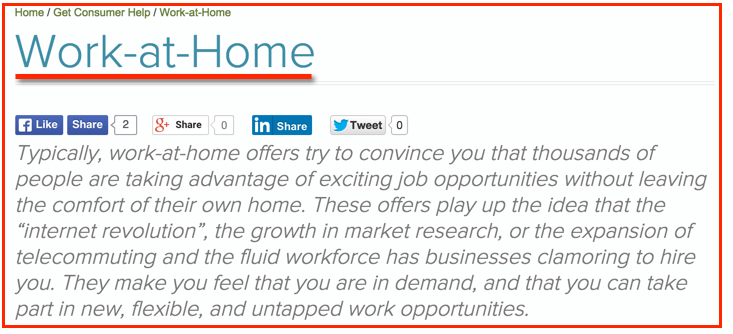 8. This is just another red flag and an empty promise from Work at Home Paycheck 🙂


9. Another red flag here is that when you get access to their website you will have to watch a long video in which Jessica Marshall will be talking about how easy it's to make money online and that after joining their system you will be making thousands of $.
Remember I told you about getting paid generously for each posted link? The truth is that when you watch a promo video you will realize that in fact they show you their affiliate accounts with Clickbank, Clicksure, CPA network. What does all this mean?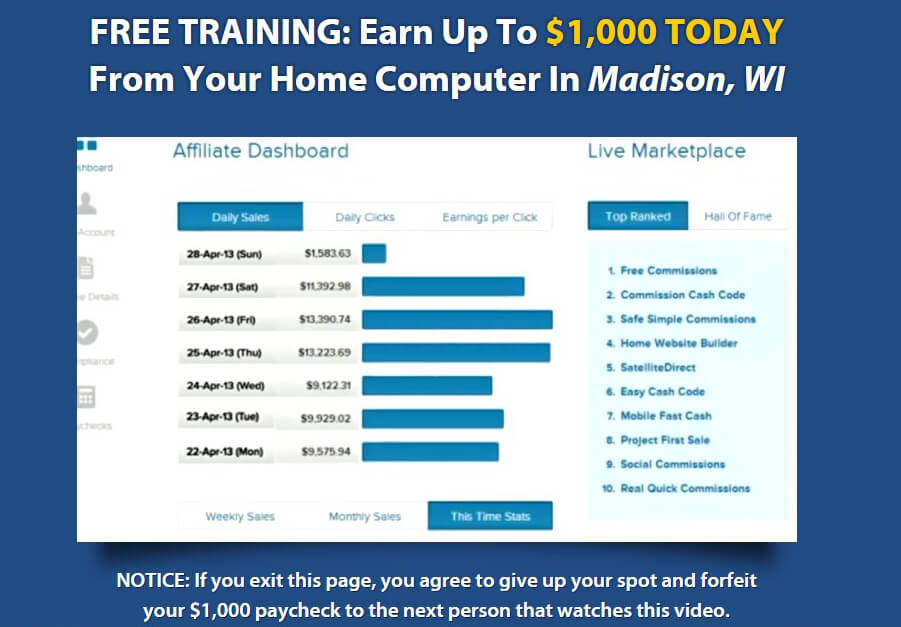 It means that you are going to make money through a traditional affiliate marketing. It's not just about posting links here and there. It's about adding affiliate links to your website, then promoting your products and finally making money.
It's exactly what I'm doing on my site and it's absolutely legit method of making money online. The question is: Does Work at Home Paycheck provide you with a top-notch training on affiliate marketing, supreme support and all necessary tools to accomplish this task? To be honest, I'm not sure they do.
10. During registration process you will be offered again link posting certification courses. If you are new to internet marketing then be aware that there is no such a thing as link posting courses and all I can say it's a waste of time and money.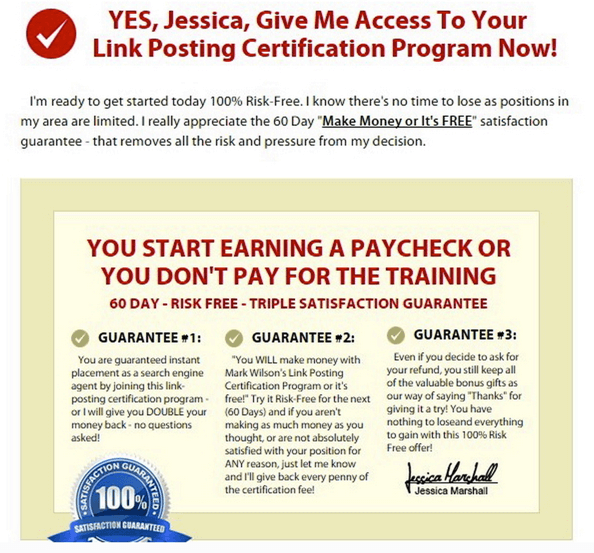 Final word on Work at Home Paycheck
With all this in mind I really and honestly can't recommend you this "amazing" opportunity but you are free to try it if you want.
Trust me, making money online is not easy. It requires time and dedication and if you are willing to invest some time and work hard towards your success you will be making money.
If you want to learn how to do it through a legit program I can honestly recommend you one that I've tried myself and can vouch for its quality. It's unquestionably reputable and its legitimacy and efficiency has been proven through years. I've been a member of this program for almost 2 years now and I'm very happy with it.
There are no hidden costs, upsells or false promises here. You can even try this program for free and no one is going to force you to buy anything. If you have any questions or concerns feel free to leave me a comment below or send me an email and I will respond shortly.
About the Author: Adam
My name is Adam. I'm the founder of Your Income Advisor. My goal is to help others succeed online, by exposing scams and reviewing top rated products. I can help you start
your own business online