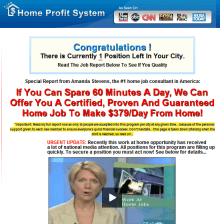 Product name: Home Profit System
Product owner: Unknown
Price: $97
Verdict: Scam
Home Profit System is just another "amazing" program that promises you a lot of money by completing simple tasks that require little to no time.
Programs like this one are very popular on the internet and many people fall victims to these scams because they promise people quick money with little to no effort.
And unfortunately, most people buy into this type of offers though if they think well before joining such programs they will easily realize that it can't be true.
If making money online was so easy and painless then everyone would be taking advantage of it instead of going to 9–5 job.
Ok, I'm going to take a closer look at this "amazing" opportunity to see if it's worth your precious time, not to mention your money.
Keep reading my review of Home Profit System and I will show you some amazing facts about this program.
Home Profit System is a scam you definitely should stay away from. This program is NOT a good start really. Allow me to recommend you a program that I've personally tried and yes I'm making money thanks to it. And I'm sure that you will be very happy to know that my recommended program is FREE to join. No obligations whatsoever! No gimmicks! No scamming! No credit card required! Feel free to join!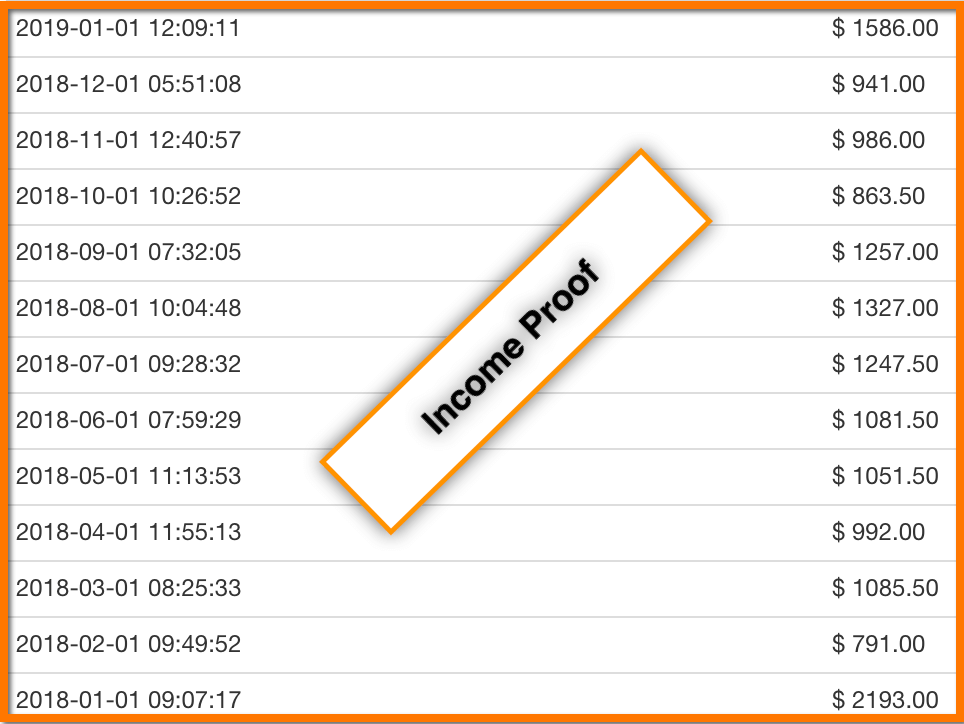 The main idea behind Home Profit System
Home Profit System is very similar to Excel Cash Flow that promises you unrealistic income for posting links. Yes, you heard that right.
Just post links here and there and you will be paid enough to live the lifestyle you have always dreamed about.
Can you believe this is real? Sure, it has nothing to do with reality.
And even if you read my review of Excel Cash Flow you will realize that Home Profit System uses the same deceptive tricks.
Pros of Home Profit System
Probably you can make a few bucks but I'm not sure you will be paid
Cons of Home Profit System
False promises
No money back guarantee
No support
Many signs of being a pure scam
Looking for Affiliate Marketing Programs?

Choose one of these two my top recommended programs: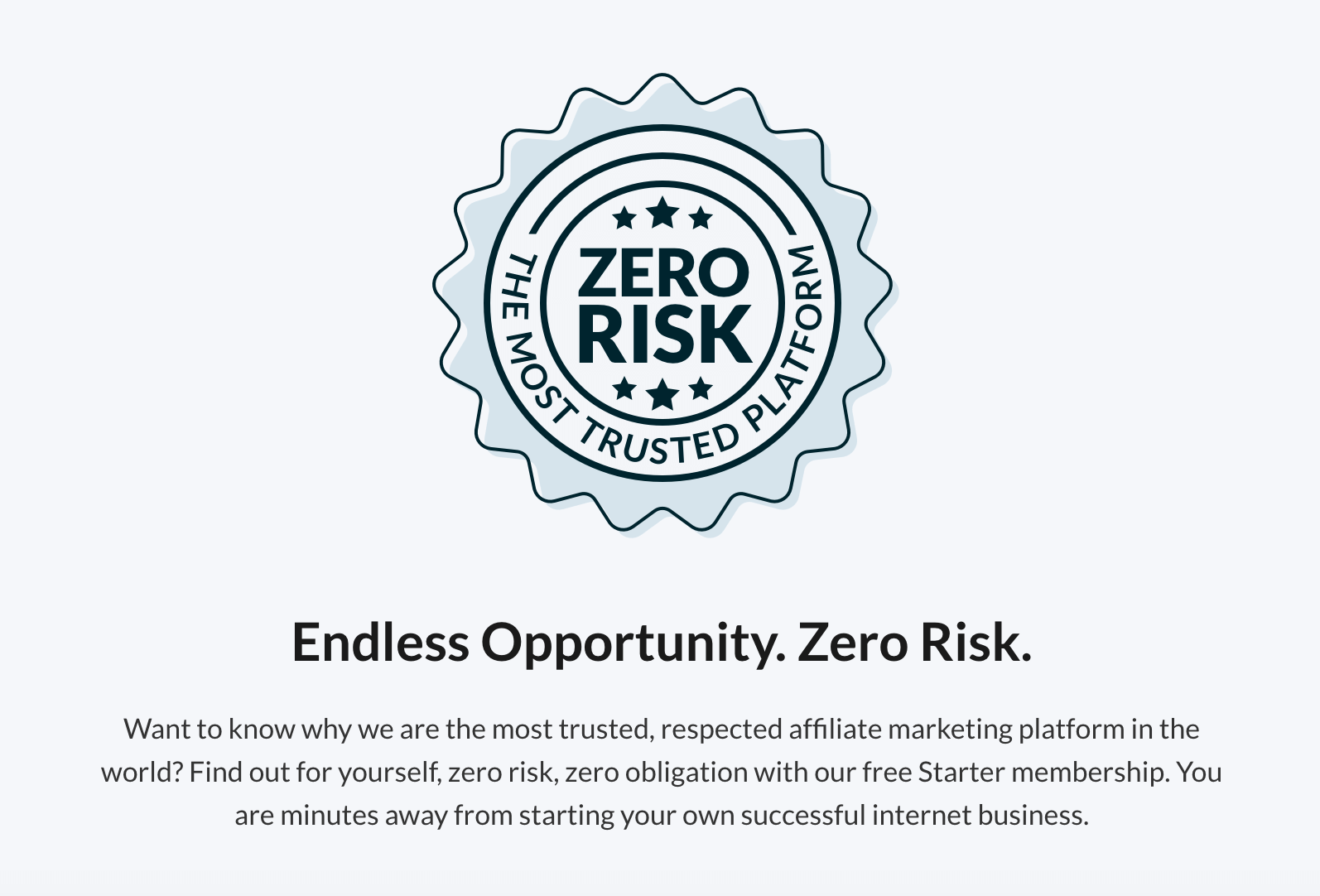 Inside the program
1. First off you need to understand that the idea of posting links here and there is not going to work in a way Home Profit System or any other similar program wants you to believe.
They want you to spam other sites with useless links that will be deleted by their moderators immediately after posting them.
If you have your own blog you probably get tons of meaningless comments with useless links and I'm sure you delete them.
Another option is to post links on social media sites such as Facebook, Google + or Twitter and if you do so your account will be either banned from those sites or even if not, no one is going to click on your links. It's a waste of time at least.
2. Programs like Home Profit System always use logos of CNN, USA Today, Fox News, ABC to make you believe that their company is legit.
They claim that their company has been featured on those channels though it's not true at all.
It's true that sometimes these channels talk about work from home opportunities but they have never told a single word about programs like Home Profit System or Excel Cash Flow. This is of course dishonest and unethical.

3. They also claim that big companies hire people like you and they are ready to pay you generously for posting links.
They explain it in such a way as if these companies didn't want to buy new offices or pay salaries because all companies always look for any opportunity to cut their expenses and that's why they are happy to pay YOU for completing these simple tasks. Take a look at the image which says that companies are desperate for people like you…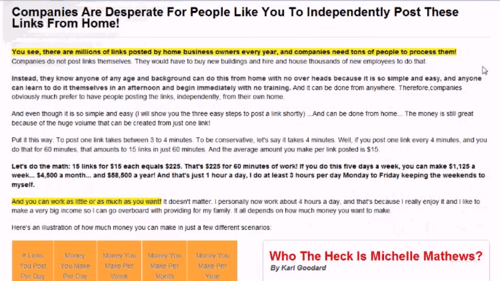 The interesting fact is that ECF uses the same deceptive trick which means that you should be very careful about companies like Home Profit System.
4. Another deceptive trick is about limited number of positions left in your area.
This is also used by most scams that I know and the truth is that this number never changes.
This is so ridiculous that I'm really surprised that some people still fall for this type of things.

5. Also keep in mind that programs like this one want to get your email and phone number and once they have this info they will start spamming you by email or phone every week trying to sell you another "amazing" program. So, think well before you submit your personal info.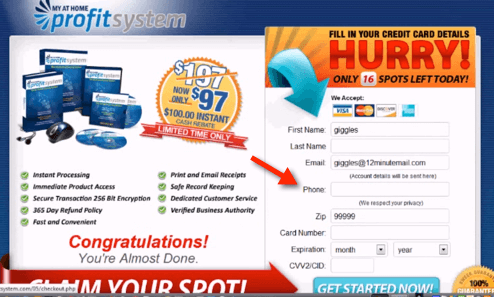 6. Programs like Home Profit System never provide any real support which means you are going to figure out many things on your own. Does it look appealing to you?
The fact is that most people fail online is because they can't get the support they need when starting online and trust me when it comes to making money online support is really important.
7. Another fact is that companies like Home Profit System after getting a lot of complaints change their domain name to a new one as it's now.
They are now redirected to another scam called Online Home Careers University. This is another amazing program that promises you to make $87 an hour.
8. With programs like Home Profit System you always see ads like this one. This is nothing more than just another empty promise and the best proof that any easy money opportunity is a scam is the excerpt from BBB site which clearly says that if a program promises a quick and easy way to make money, it's most likely a scam.

9. Another "amazing" fact is that they promise you can make $379 a day in 60 minutes and the same ad you can see on ECF site. Just imagine, two different companies use the same deceptive tricks and promise the same amount of money. Doesn't it look ridiculous to you?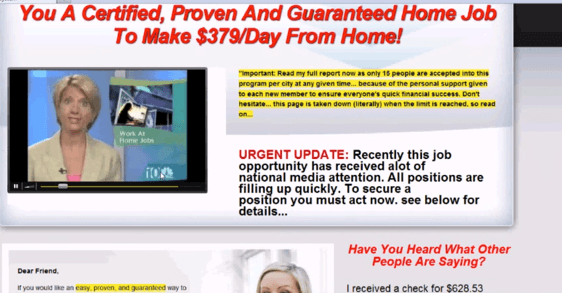 10. And of course they show you how much much money can be made with this "amazing" opportunity. The same is promised here.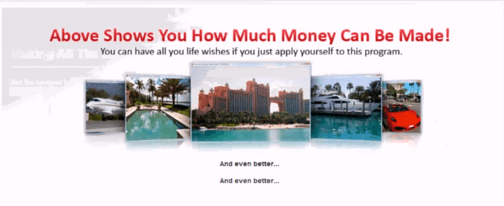 11. As you can see, these two programs have almost identical website design, make identical ridiculous claims, identical false promises, use identical deceptive methods and terrible support.
Even prices are the same. All this means that you should stay away from both of them if you want to be one the safe side.
I found a few complaints about Excel Cash Flow and since both programs are promoting the same opportunity in the same way I'm sure these complaints are valid for Home Profit System too.


12. Making the amount of money Hope Profit System promises you is absolutely unrealistic and anyone who has at least some experience in making money online will agree with me.
To make that amount of money is only possible through getting trained in the right program and working hard within a year or so. I've been making money since 2000 and I can tell you with full confidence that making serious money online by posting links is a nonsense.
13. And of course they use fake testimonials like this one. In my opinion, if you want to prove that your testimonial is real you should provide some more details about that person and if not then don't use them at all simply because it doesn't look convincing enough.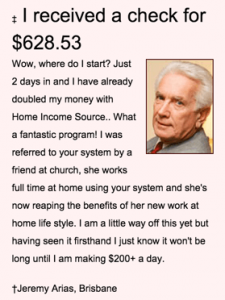 I can put hundreds of such testimonials and still it won't add any value to my claims. Just as an example, you can see my testimonials on the right sidebar of my site.
I put snapshots of real testimonials and there is no way to say that they are fake.
14. For the last 4 years I exposed over 20 link posting scams and Home Profit System is just on of many others still existing and scamming people.
The worst thing about them is that they explain affiliate marketing in a totally different way.
The truth is that you will never find a company that is ready to pay you just for posting links on the internet. No one will pay you.
Posting links is just one of many steps required to do before you start seeing money in your bank or paypal account.
It's combined with creating quality content that people want to read because of the value you try to deliver through it.
Clicking your link is the final step that can make you money.
Final word on Home Profit System
I think it's clear enough to understand that Home Profit System is not worth your time or money.
It's a waste of time and money. Programs like Home Profit System collapse very fast due to many complaints and zero value they provide to people.
I think after reading my review you understand now that this program is not going to help you succeed online.
There are too many obvious cons and reasons to stay away from it.
Let me help you with making money online.
I've been a member of a program that has been around since 2005 and in fact I started making money thanks to their training program though I made my first buck in 2000.
The program is absolutely legit and highly reputable on the internet.
It even allows you to create a free account and try it before you decide to upgrade to a premium account.
If you decide to leave it you are free to do so. But I highly recommend you to join it because they have everything you need to be successful online.
They provide quality training, tools, active community and 24/7 support.
I highly recommend it if you want to learn how to make money online and stay away from programs like Home Profit System.
Final Glance at Home Profit System
Probably you can make a few bucks but I'm not sure you will be paid
False promises
No money back guarantee
No support
Many signs of being a pure scam
Overall rank: 5 out of 100
Verdict: Scam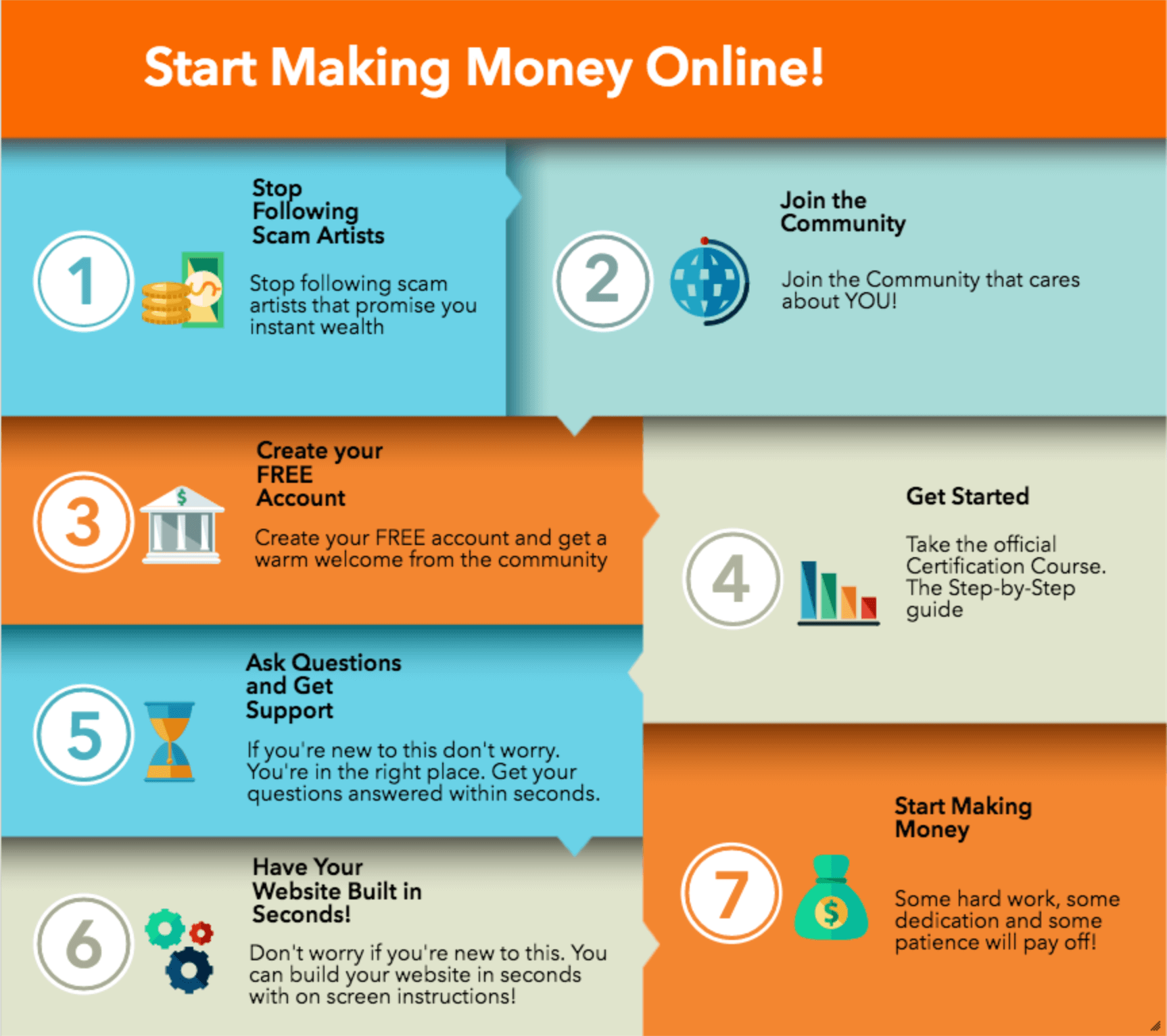 About the Author: Adam
My name is Adam. I'm the founder of Your Income Advisor. My goal is to help others succeed online, by exposing scams and reviewing top rated products. I can help you start
your own business online