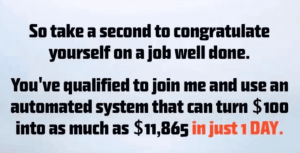 Product name: Smart Profits
Product owner: Kevin and Tom
Website: smartprofits.org
Price: Free to join
Verdict: Not recommended
Smart Profits is just another out of many other binary trading programs that promise you huge profits made every day almost on a complete autopilot. The idea is very popular and the number of programs promoting it has been steadily growing over the past few years and the process doesn't seem to ever stop.
Almost all binary trading programs claim that they will show you some sort of a secret that no one else knows, that they cracked the code and now want to help you start making tons of money.
Almost all the programs claim that their system is extremely accurate and you are guaranteed to make money most of the time.
Kevin goes as far as to promise to reveal you a method that makes him $456.018 a month. Would you believe in this? Keep reading because I'm going to reveal all the truth about binary option programs and YOU will make your own decision whether to join Smart Profits or not.


Pros of Smart Profits
You possibly can make money if you're willing to learn binary trading method from a reliable source
Live chat
Trial mode
Cons of Smart Profits
Kevin makes unrealistic promises
Kevin's guarantee is just an empty promise
Earnings are extremely exaggerated
The method involves a high level of risk
Requires investment of $250 that won't be refunded

Inside the program
Learn from others' mistakes
As I said above, all binary option programs make the same bold claims and promise you ridiculously large amount of money which in my opinion is INSULTING to anyone who has a sense of reality.
Just imagine that thousands of people are struggling online to make a few thousands of dollars per month and Kevin comes out with his amazing system and promises almost half a million dollars by simply using his fully automated system.
My brother has been involved in Forex currency trading for over 5 years now which is similar to trading binary options and lost over $30.000. He is still involved in this business because he simply can't stop.
He is a risky person and even I would say he is a gambler and this type of business is very similar to gambling. Sometimes he makes $1000 and then loses it again and it continues over and over again.
The problem of this type of business is that if you make let's say $1000 and you want to make more and invest your earned money back in the system in the hope to double your income you lose all your profit again.
And it continues over and over again until you realize that you have wasted all your budget. EVERYONE WANTS TO BELIEVE THAT THEY WILL HAVE A BETTER LUCK ONLY TO FIND THAT IT'S JUST A DREAM AND EVENTUALLY THEY JOIN THE ARMY OF LOSERS.
Is Smart Profits different from other binary programs?
The only thing that I really like about Smart Profits is that they have a live chat feature. This is really good and refreshing. They don't hide behind the system. Of course it in no way increases your chances to become a millionaire but anyway it's cool and you can at least ask questions and get support. But I'm not sure if their support is as good as it should be.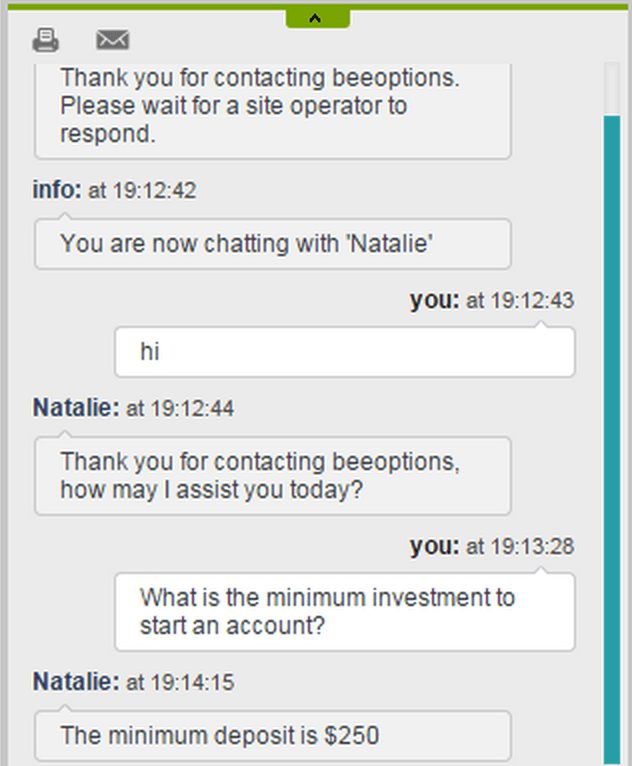 Are you ready to risk your money?
Take a look at Smart Profits' earnings disclaimer and think twice before you invest your hard earned money. Don't you think it contradicts to what Kevin has promised you in his promo video? HE CLEARLY SAYS THAT WHAT WORKS IN YOUR FAVOR CAN ALSO WORK AGAINST YOU.
Like I said you above, before investing your money Kevin also recommends to carefully consider your level of experience because trading binary options involves risking money and SMART PROFITS IS NOT RESPONSIBLE FOR ANY OF YOUR FINANCIAL LOSSES.


Binary options and fraud
As I mentioned above, trading binary options is a risky venture and EVEN KEVIN AFFIRMS THIS FACT IN THEIR EARNINGS DISCLAIMER. SEC and CFTC also warn people like you and me against investing money in this type of business opportunity.
And the reason for such warning is a high number of complaints received from people about internet-based binary trading programs. It doesn't mean that all binary programs are scams but most of them ARE. Look at the images below and you be the judge.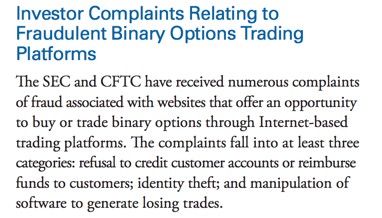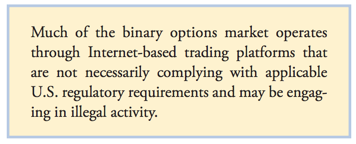 Don't gamble on binary options
According to Forbes (forbes.com) binary options is similar to gambling. Gordon Pape clearly says that binary options sites are nothing more than gambling sites.
His article is really informative and explains very well how binary platforms work.
I encourage you to read his article because as you probably know Forbes is a reliable source of information and it's mush safer to trust Gordon from Forbes than Kevin from Smart Profits.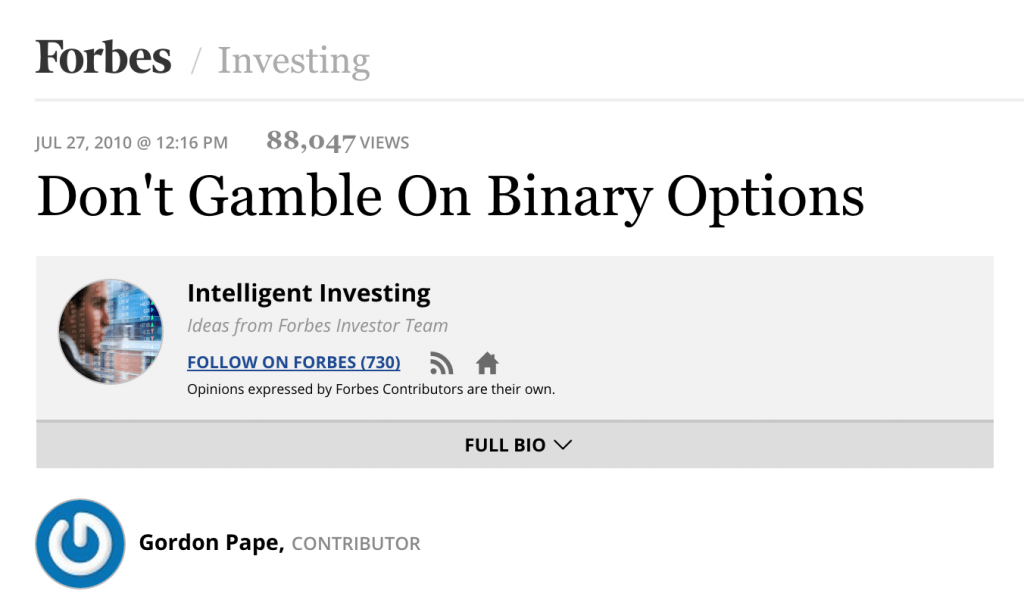 Invest more to make more
Almost all internet-based binary programs including Smart Profits encourage you to invest more money in order to make more money. The more you invest the more money Kevin and Tom will make off of you while there is no guarantee that YOU will make any money at all.
They are affiliated with bee options. It's true that you can join the program for free, but you can't make any money until you invest the minimum amount, i.e. $250. Also, you can try the system with trial account with virtual money before you start real trading.
But even if you can trade successfully using your trial account it never comes close to trading with real money. You need to be very careful.
You can win as much as you can lose too
The main problem with binary trading starts when you choose a long term trade vs short term trade because money is lost at long term trades. The more you invest the more money you can potentially lose. Long term trade can make you the most money and can lose the most money too.
Are testimonials real?
The testimonials Kevin uses on his website can't serve as a proof that their system really works and makes people a lot of money.
I can't prove that testimonials on their website are fake but I've seen many testimonials like this and to be honest I'm very skeptical that they are real.
Anyone can order a testimonial for $5 at Fiverr.com like one at the image below.
Is Smart Profits really 100% accurate and can guarantee income?
Kevin and Tom assure you that their software is perfect and you are guaranteed to make money if you follow their instructions. If it's true why do they need you as an investor? They can make millions of dollars using their own system. This means there is something wrong.
The truth is that when you join Smart Profits you need to register an account with BeeOptions and make all your trades through Smart Profits team, i.e. Kevin and Tom which means they will make money each time you invest your money.
They promise that their software is designed in a way to protect you from losses and minimize any risks of losing money. This can't be true because no one can predict market with 100% accuracy.
Can you make money with binary options without experience?
Even experienced traders lose thousands of dollars in this business, not to mention people who are just starting out.
To be a successful trader you need months or even years of experience that requires understanding the market, knowledge in the field of economics, politics BECAUSE YOUR PREDICTION OF THE MARKET IN MANY CASES IS THE COMBINATION OF ALL THESE FIELDS OF KNOWLEDGE AND EXPERIENCE.
Trading bots simply can't predict the market because successful trading REQUIRES A HUMAN FACTOR. If it was so easy then everyone would quit their regular job to become a millionaire on autopilot.
Final word on Smart Profits
1. In my opinion, Smart Profits is a controversial program and I really can't say that it's 100% a scam but there are many good reasons to not recommend it. The only positive thing about this program is that they have a live chat which makes it different from other binary programs.
2. Kevin makes unrealistic promises and claims
3. His guarantee contradicts to Smart Profits' earnings disclaimer
4. There is a warning from Forbes and SEC and CFTC
5. There is no money back guarantee
6. Kevin says clearly that binary trading involves a high level of risk
If you want to join the program it's up to you. I personally don't recommend it.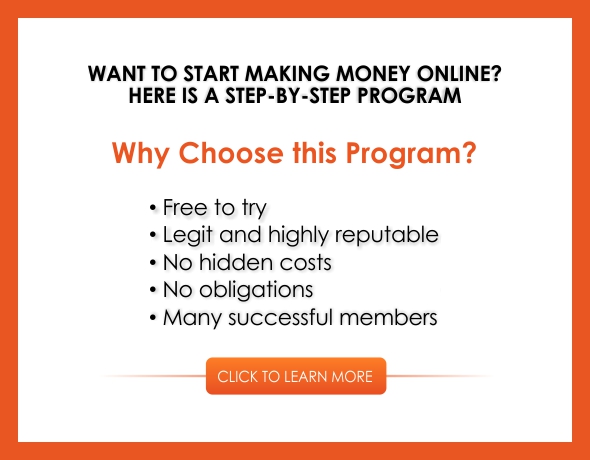 About the Author: Adam
My name is Adam. I'm the founder of Your Income Advisor. My goal is to help others succeed online, by exposing scams and reviewing top rated products. I can help you start
your own business online