Product name: 2014 Millionaire
Product owner: Mike Shah
Website: 2014millionaire.co
Price: Free to join, but requires investment $250
Verdict: Not recommended
2014 Millionaire is the program that promises to show you how to become wealthy by following simple steps, and not just wealthy, it can even teach you the secrets to making your first million. And they promise that you will never worry about money again if you follow their step-by-step instructions.
Mike even claims that some of his customers have made their first million after 5,6 weeks of joining his revolutionary program and some even made over $4 million. Let's take a closer look at this program to know if it's true or not.

The main idea behind 2014 millionaire
The whole idea behind 2014 millionaire is about binary options trading software that you can use to trade and make millions according to Mike or make just a few bucks according to real facts or even lose enough money to hate the day you've joined the program.
I reviewed many similar programs in the past and all I can say is that binary options trading is a risky venture that requires knowledge and experience before you even start trading or otherwise you will get into a big trouble.
Pros of 2014 Millionaire
Probably you can make a few bucks
Cons of 2014 Millionaire
Exaggerated earnings
False promises
Requires $250 investment to start trading
No money back guarantee
This type of business is very similar to gambling
No support
The software can't guarantee any profit
Inside the Program
1. First off, I would like to point out right from the start that if you are completely new to making money online in general and binary options trading in particular, you should know a few facts about binary options trading softwares. There is one thing common to all of them: most of them are poor products designed to empty your pockets and leave you completely disappointed.
The creators of those softwares in most cases don't have any experience in binary options trading, they just use the same code to create their software and then give it a new name, such as 30 days change, your first million, magnetic profits, push button millionaire etc.
2. The owner of 2014 Millionaire, Mike Shah claims that you can invest a few hundred dollars and make $15.000 per day and all I can say is don't fall into this empty promise simply because this is not true. Before you even can make a few hundred bucks on binary options trading, you need to go through a proper training and even then you need to try and fail to understand how the whole thing works.
Of course, Mike wants you to invest your money in his software because each time you add funds to your account and start trading, Mike makes money off you. It's so simple to understand.


3. Remember that many even experienced people lose thousands of dollars in this business, not to mention people who are just starting.
4. Another thing I would like to point out here is a sound thinking which is very important factor before making a decision. This guy, I mean Mike, promises that you can make $15.000 per day and many people, even smartest of them when it comes to the web, readily believe in this type of fantastic and unrealistic offers, though they would never believe if someone made the same offer in real life.
This is really a paradox and many people that don't believe in wonders in real life, believe in them on the web.
5. Another thing is that Mike clams that his software won't cost you a single cent to join his team and start making money. This is not true. To start trading, you need to invest $250 of your own money and you can lose your money in no time.
To be able to trade successfully at binary options trading, you need to find a knowledgeable and trusted broker, you must know market fluctuations, have some basic knowledge about economic process etc.
People that make good money at binary options have been able to rich high earnings after months and most probably years of experience. If you like this type of business, then it's good to go, but before that get the knowledge first and then do the business.

6. Also, keep in mind that if you lose your money at binary trading, no one is going to refund your invested money. And remember that if you want to make serious money at binary options trading you need to invest a few thousands to be able to make serious money.
Big money start at long term trades vs short term trades, but the problem is that at long term trades you can make more money and you can lose more money accordingly.
7. This type of business is nothing more than gambling and you never know when you win or when you lose. Even if you have experience you still can lose your money because it's really hard to predict market movements.
8. There is no support and you are going to figure out most things on your own and that's why I highly recommend you to think twice before you invest your money.
9. The software in no way can guarantee you any profit or successful trading because there is no perfect software in the world that could substitute human, his skills, knowledge or experience. That's why, Mike's promise that your success is guaranteed with this software is absolutely laughable.
10. I told almost in all my reviews of binary options trading softwares that my brother had some bad experience at Forex currency trading and ended up losing a few thousands of dollars.
11. And the most amazing part of this program is that Mike asks you to not share his site with anyone. That's really ridiculous.

Final word on 2014 Millionaire
I think you now have the whole picture of what is going on behind the scenes and you probably understand that most probably you will not be a millionaire either in 2014 or 2015. Instead of wasting your time and money on this shady program, I honestly recommend you to check my # 1 program to work at home below.
The program is highly reputable and legit and inside the members area you will find all you need to start your own business + unlimited support. You can even try it for free for the first 7 days. I'm a premium member of this program and can vouch for its legitimacy and you will never hear any false promises there.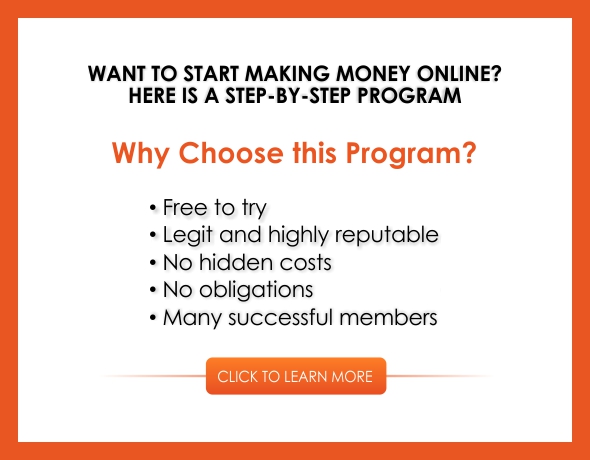 About the Author: Adam
My name is Adam. I'm the founder of Your Income Advisor. My goal is to help others succeed online, by exposing scams and reviewing top rated products. I can help you start
your own business online