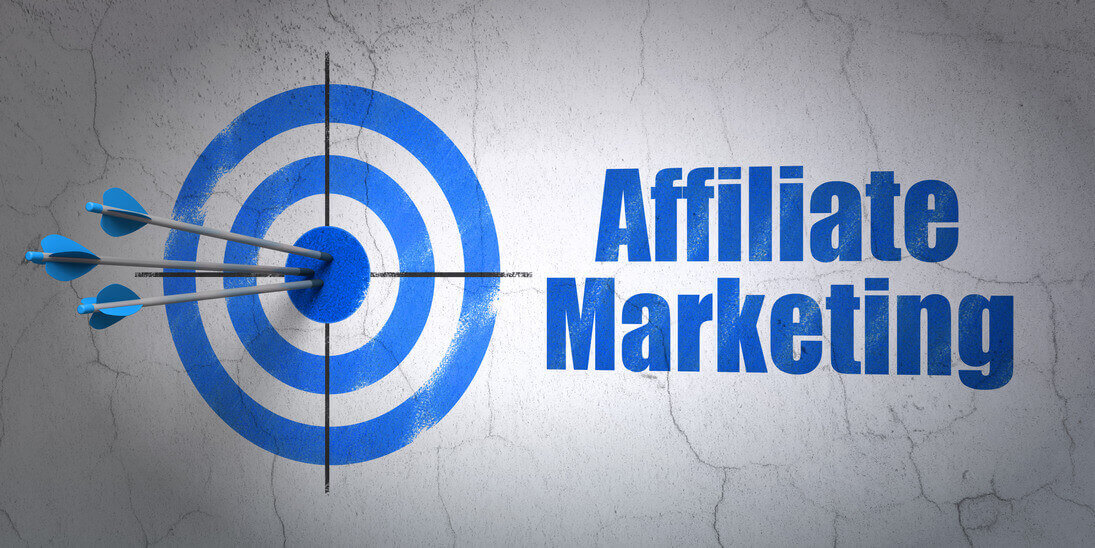 As many of you know, affiliate marketing is one of the fastest growing directions online and especially today in the time of pandemic more and more people try to get an online education in affiliate marketing and start their online business.
Even those not interested in it at all, now want to get involved in this activity.
Because affiliate marketing is a very powerful thing that if done the right way, can make you financially independent.
Among affiliate marketing courses, there are two types of courses, free and paid.
Most people of course prefer free courses because when you start, you don't want to spend money.
But paid courses are way more effective than free ones. With free courses it is difficult to build a sustainable affiliate business.
That's why I decided to write this post and describe one of the best free courses online and also I will mention some other courses just for your information.
BTW, before I move on to the main point of my post, I want to encourage you to start an affiliate marketing business.
I want you to read about both pros and cons of affiliate marketing. I believe it will give you a much better perspective and will motivate you for big projects.
It's absolutely possible to start your affiliate marketer career without spending a single dollar.
I myself started back in 2013 as a free member and once I saw the potential, I decided to invest some money and turn my online passion into a serious and sustainable affiliate marketing business. 
I'm not going to describe many affiliate marketing courses. I will mention some of them and stop on two main free sources to help you start your online business and once you feel it's what you want, you will decide whether you want to invest your hard earned money into a paid course or not.
The two main free courses (My Top Recommended Courses) that I'm going to mention here meet certain criteria that are very important in my opinion.
My criteria points are following:     
Trusted course

Free version available

Quality support

Affordable premium membership price 

Practical approach

Tools provided
So, these are my 6 criterias that are key factors when it comes to choosing an affiliate marketing course.
My two main recommended courses meet these criterias but I totally understand that some can disagree with me.
I'm not going to mention here courses that are expensive or I'm not sure about their effectiveness because I've not tried them out.
This doesn't mean I don't recommend them because they are bad. I simply recommend what I know from my experience.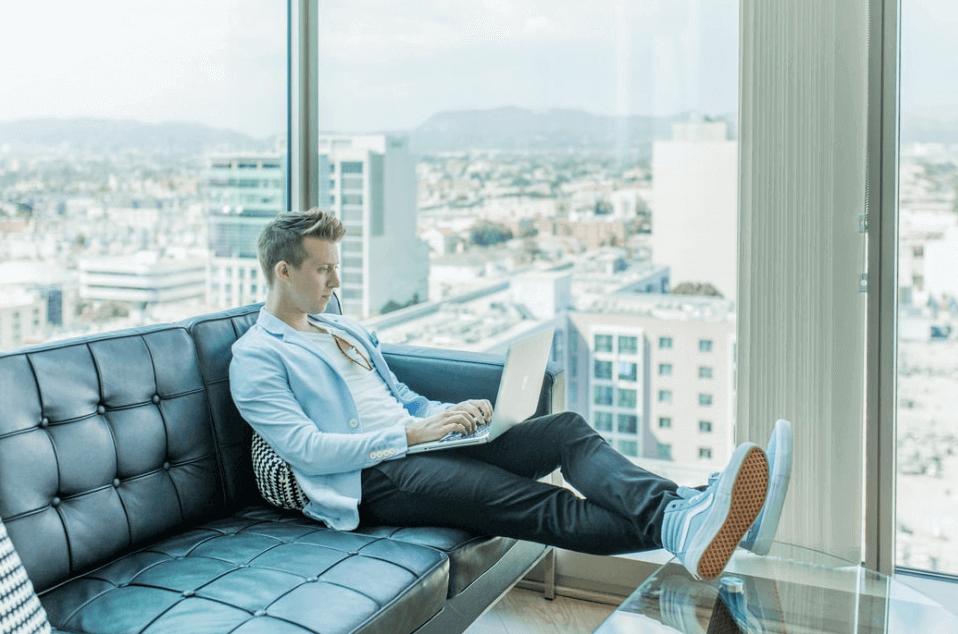 Affiliate marketing courses I recommend:
Paid Courses:
Free Courses:
Authority Hacker's Free Webinar (Free)

Miles Beckler's YouTube Channel (Free)

The Free Beginner Affiliate Marketing Course by Udemy (Free)

Ahrefs: Affiliate Marketing for Beginners (Free)
My Top Recommended Free Courses
Wealthy Affiliate

(Free Trial)

Income School (Free Youtube Channel) 

Solo Build It Mini Course (Free Trial)
Paid Courses Guide
When it comes to paid courses above, all of them are good and generally speaking, pass quality control and scam free rules. Each of them has its own pros and cons.
For more info you can read my reviews and decide which one to choose. The higher the price the better the quality. If you have free money to invest it is great.
If you are on a low budget I think you better start with the cheapest course. You don't actually need a ton of money to start your affiliate marketing business online.
All you need is an affiliate marketing course that can teach you basic things on how to earn money online.   
Free Courses Guide
Free courses mentioned above are totally free and provide very basic knowledge about affiliate marketing.
You can get some basic knowledge and probably some sort of support like answers to some basic questions of yours.
You can't expect a lot because these courses are free. Tools are not provided.
So, basically speaking, you get a general idea and understanding how to earn money online.
It will be difficult to achieve significant results with such a basic level of knowledge. But it's better than nothing if you have no money to pay for the course.
My Top Recommended Courses Guide
My top recommended course is one step further from the free courses mentioned above.
Let me explain briefly what you can expect from my top recommended free courses:
Wealthy Affiliate (Free Trial – 7 days)
As a member of Wealthy Affiliate (Age – 15 years) you get access to a great community of super active affiliate marketers, both beginners and experienced.
You get access to 10 free video and text lessons, tons of free lessons created by affiliate marketers (members of WA), keyword research tool, website builder, free domain, live chat support and more.
Here is the list of what you can get as a free member: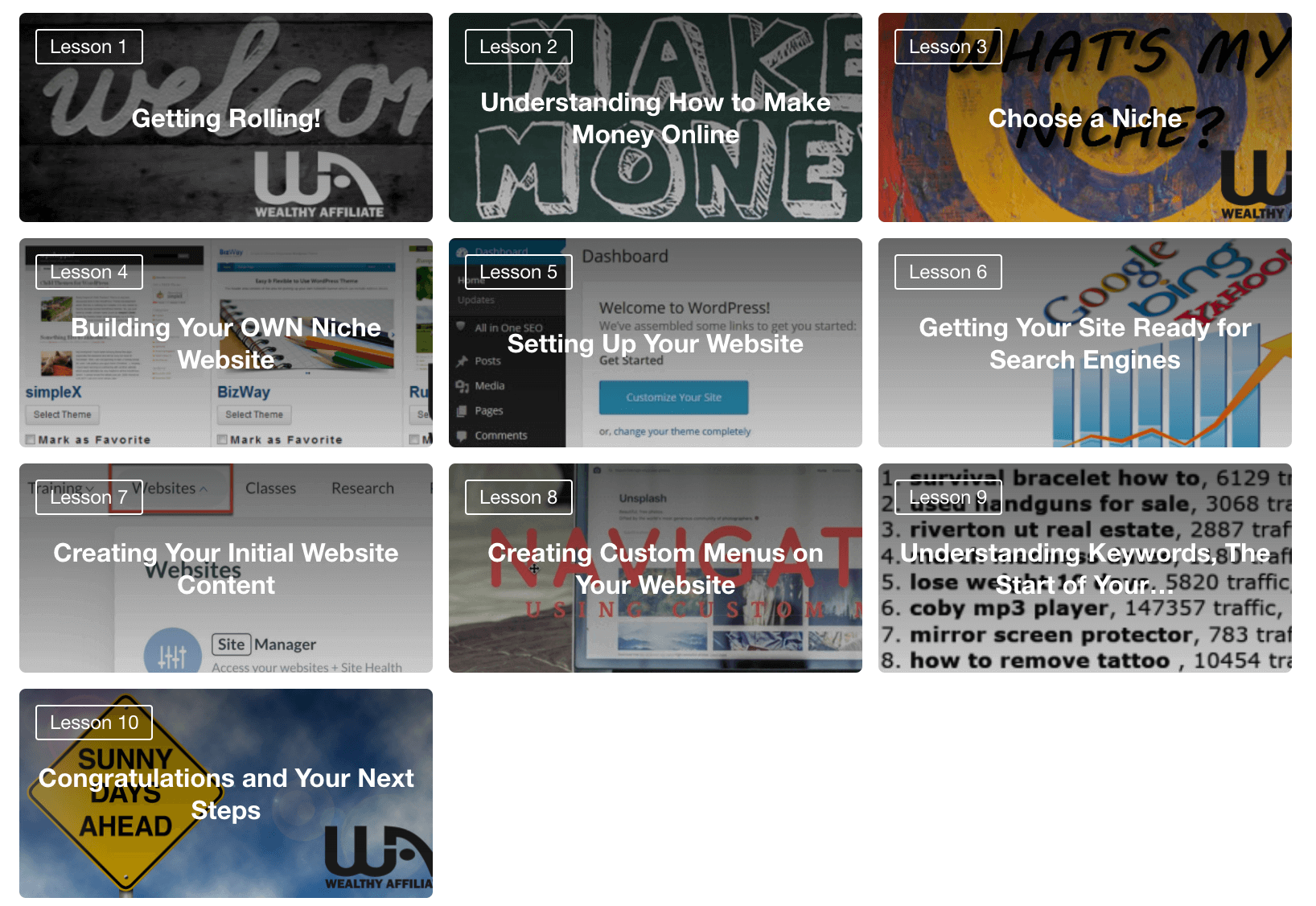 Online Entrepreneur Certification – Getting Started

Free video and text tutorials by WA members

Two free websites

Website backup

Super supportive and super active community  

Communication with seasoned affiliate marketers

WA affiliate program (promote and earn $)

Live chat support 

Keyword research tool
In fact, as a free member you can go through the first level of the affiliate course and build two free websites.
You will understand the basics of affiliate marketing and understand how to earn money online. You even can use keyword research tool to make the search process easier.
If you have answers, you can get support both, from me and other members within minutes if not seconds. Live chat is another very helpful tool for you to get new ideas and support from other members.
You can also watch and read other free trainings that will help you a lot in your online journey.
Once you feel you are ready for advanced steps to expedite the process, you can upgrade your account.
In my opinion, WA is one of the best communities for people wanting to build their online business. The best advantages of WA compared to other communities are:
Free Tools

Tons of Free Training

Quality Support 
Here is the list of 10 free video lessons you will get access to as a free member:
Lesson 1: Getting Rolling

Lesson 2: Understanding How to Make Money Online

Lesson 3: Choose a niche

Lesson 4: Building Your Own Niche Website

Lesson 5: Setting up Your Website

Lesson 6: Getting Your Site Ready for Search Engines

Lesson 7: Creating Your Initial Website Content  

Lesson 8: Creating Custom Menus on Your Website

Lesson 9: Understanding Keywords: The Start of your Content 

Lesson 10: Congratulations and Your First Steps
Income School (Free Youtube Channel) 
Income School (Age – 5 years) is another, one of my top recommended courses available online. Training is both for beginners and advanced affiliate marketers.
Income School also provides some tools like Amazon plugin, wp theme and more. They offer some tools, free and paid that are related to:
Ad Monetization

Website Hosting

Youtube Tools 

Stock images

Outsourcing Writing

WordPress Themes

WordPress Plugins

Email List Providers

Podcasting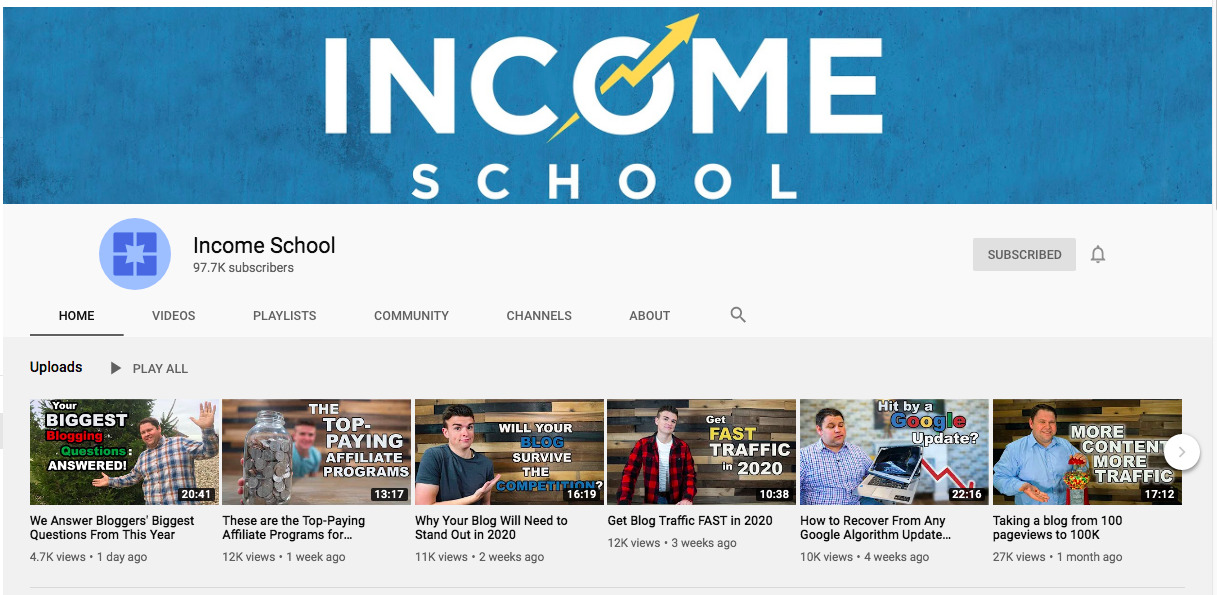 The quality of the training is very good but it takes up to 24 months of hard work to get expected results. Sometimes you can achieve your goals faster than that.
In my opinion, Income School training is one of the best that I've seen but some parts of the training still needs to be improved.
I mean some parts of it, especially related to social media, doesn't show you step-by-step how to do things. It's not friendly for beginners.
Support is good but not as good as at Wealthy Affiliate (My top recommended course).
As a member of WA you can support not only from other members (in minutes, if not seconds) but you can also get support from the owners, Kyle and Carson.
You can even get technical support with your website. This is related to Income School's premium membership which is $499 in the first year and $199 after that.
When it comes to Income School YouTube channel, it's their free source of information from which you can benefit a lot as a beginner.  
Some of Income School Video Lessons:
How to Create Content for Passive Income Blogs

How to Start an Online Business with No Money

How to Get Traffic to Your Website FAST

This Keyword Research Trick Changed Our Business

#1 Reason why internet marketers fail

How to analyze the competition for a website

How to Rank a Website in a Competitive Niche

How to Write a Viral Blog Post

A Realistic Approach to Affiliate Marketing in 2021 (Full step-by-step webinar)

6 Skills You Need to Fast Track Your Content Success

Building a Blog in Just One Hour a Day: Is it realistic?

Complete Link Building Strategy for 2020: How we build traffic fast

10 WordPress Tips Every Blogger Should Know

Don't Make These 4 Mistakes in Your First Year of Blogging

This is How Websites Make Money
Solo Build It Mini Course (Free Mini Course)
Finally, my last recommended free program is Solo Build it! (Age – 20 years) which is one of the oldest programs that I've known since 2000.
Training quality is very solid and you also get tools and support. As a free member you can get access to a mini course that includes:
A Solid Understanding of the Basics of Affiliate Marketing

A Proven Process to Success

Real Life Examples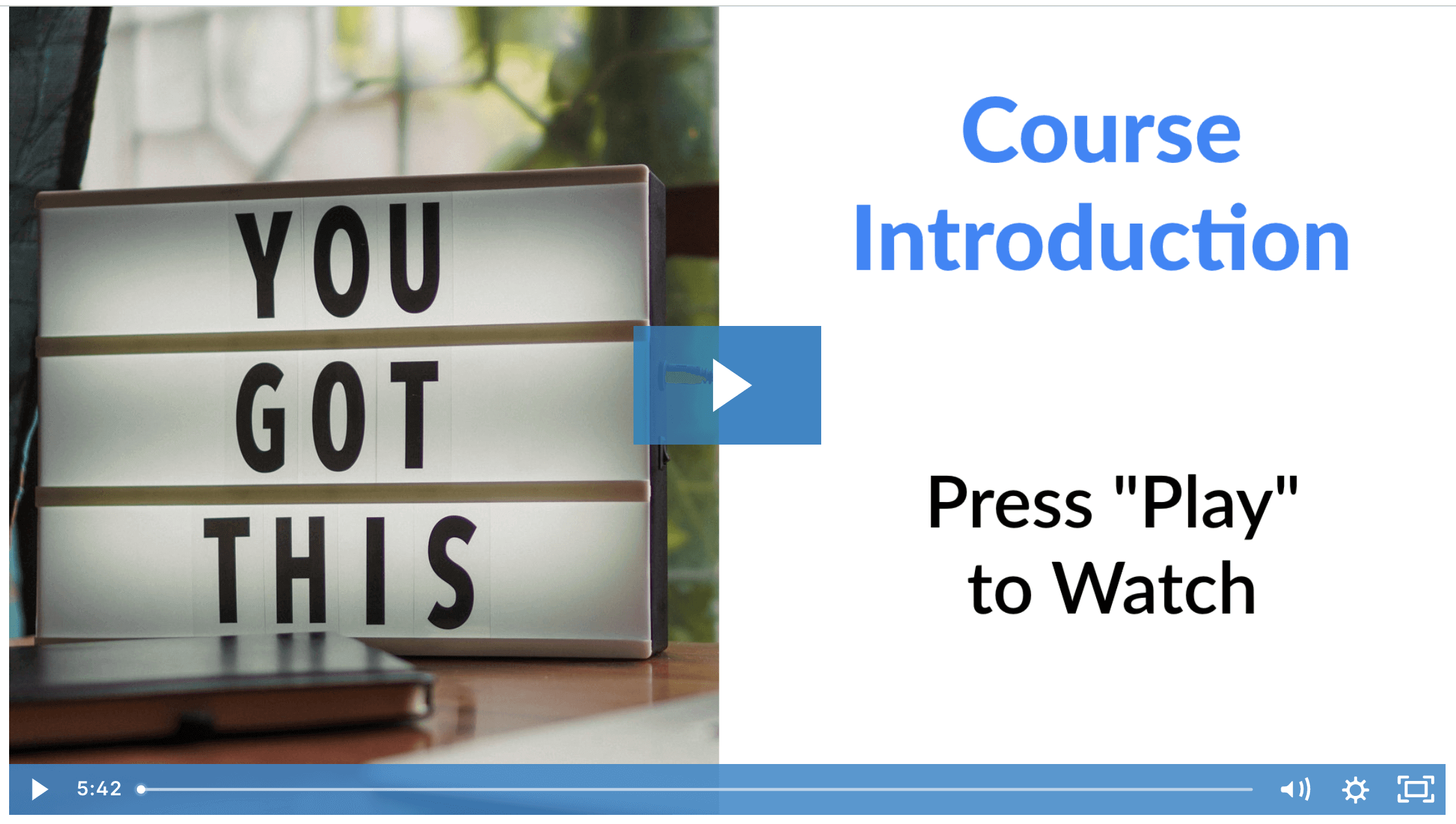 This free training will teach you the very basics of online business and how to set it up the right way.
You will learn how to choose a niche based on your interest, research it and create content.
This will lead to building trust and finding ways to monetize your affiliate website. Here is what you can get with your Solo Build It! free account:
Let's Get Started

Welcome to the Retirement Business Course

Online Business Basics

The importance of Using a Proven Process to Build an Online Business

Choosing Your Niche

Find Your Niche and Develop a Content Blueprint

How to Determine s Strong Online Business Concept or Niche

Keyword Tool Tutorial: How to Pick a Profitable Niche

Build a Content Blueprint

How to Make Money with Your Business

Monetization and Your Ideal Visitor

Build a Picture of Your Ideal Visitor

Ways to Monetize

Self Publishing Champion Mike Miller

Don't Put All Your Monetization Eggs in One Basket

Best Monetization Ideas for Your Future Business

Summary and Next Steps

What You've Learned

Why Registering Your Domain Name First is a Bad Idea (What to Do Instead)

Invaluable Benefits of a Retirement Business

Congrats and Surprise
My Final Recommendation will be this: You can get maximum benefit from these free sources so you can start your affiliate business without spending a single dollar.
Once you feel you are serious about developing your ideas and growing your online business, you can choose one of my top recommended courses above.
I highly recommend you to stick to Wealthy Affiliate because their support is amazing which is very important in your online business. As a member you will get everything in one place. 
I also recommend you to read some of my posts about affiliate marketing. I believe this info will help you get started the right way.
All my recommendations are based on my experience. I don't give you any guarantees as to how much money you can earn or when you start making money and no one can give you such guarantees.
At least you can start on the right path and the rest depends on your skills, patience and effort.



About the Author: Adam
My name is Adam. I'm the founder of Your Income Advisor. My goal is to help others succeed online, by exposing scams and reviewing top rated products. I can help you start
your own business online