Authority Site System
$997
Pros
High-quality training
Actionable steps
Good reputation
Cons
Reliance on premium tools
Too expensive course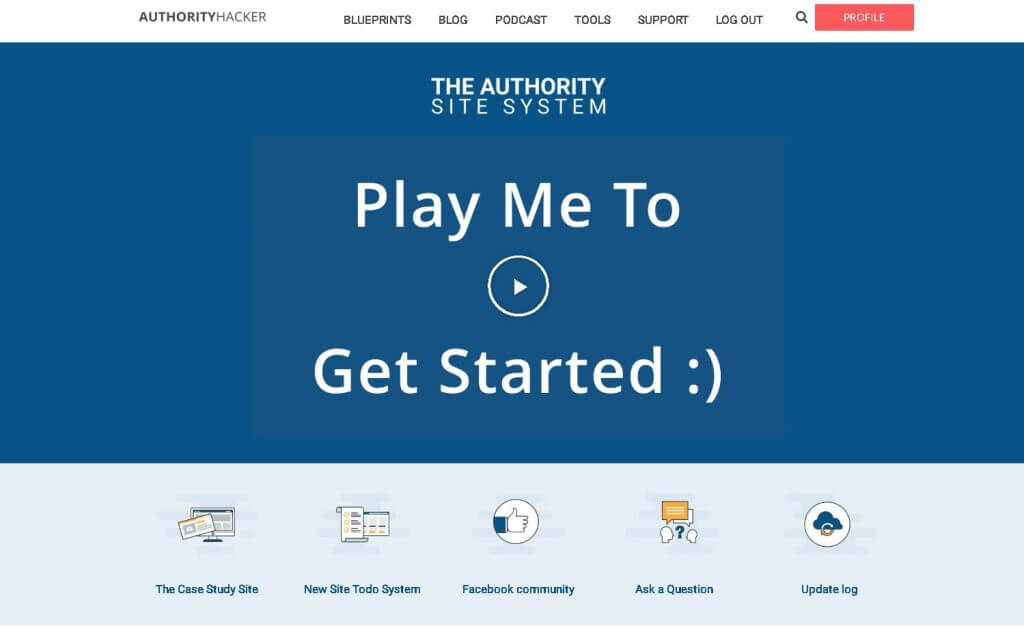 1. What is Authority Site System?
Authority Site System is an advanced system that teaches beginners and even experienced affiliate marketers how to build a website from scratch and turn it into a high traffic, profitable business and become an authority in your chosen field.
It is operated by Gael Breton and Mark Webster that has been launched since 2017. It's an actionable system based on real experience of these two seasoned affiliate marketers.
2. Is Authority Site System Different from Other Programs?
Some programs/trainings teach you things that don't work. With Gael and Mark, it is different. They teach only stuff that works because they have tried it.
Secondly, are constantly building new sites and turn them into profitable businesses.
This means Authority Site System is not outdated. You will be learning only practical things and apply to your business.
3. What is the Difference Between Authority Site System and Authority Hacker Pro?
Authority Hacker Pro is more advanced training that includes Authority Site System. It's not always open, only once per year. This training is recommended only for those who already passed through the Authority Site System course.
If you completed the Authority Site System and failed to achieve desired results, paying for Authority Hacker Pro doesn't make any sense.
Another course is Shotgun Skyscraper Blueprint which is an advanced course for affiliate marketers like Authority Hacker pro. Skyscraper is focused on building links and increasing the authority of your website. This subject is covered in the Authority Site System core training.
In short, both trainings, Authority Hacker Pro and Shotgun Skyscraper Blueprint are recommended for advanced affiliate marketers who already achieved some level of success with Authority Site System.
4. Who is Authority Site System for?
The Authority Site System was created to help people learn how to earn money online through affiliate marketing. Gael and Mark promise to teach you to earn at least $1.000 per month.
5. How Much Does Authority Site System Cost?
The price of Authority Site System is $997. It is one-time payment without recurring fees and it comes with 30 days money back guarantee. Sometimes it can be bought with a huge discount for $599.
6. Does Authority Site System Provide a Refund?
Yes, Gael and Mark provide 30-day money back guarantee which is great. It's no questions asked guarantee. If you feel the system doesn't work as you expected you can ask for refund.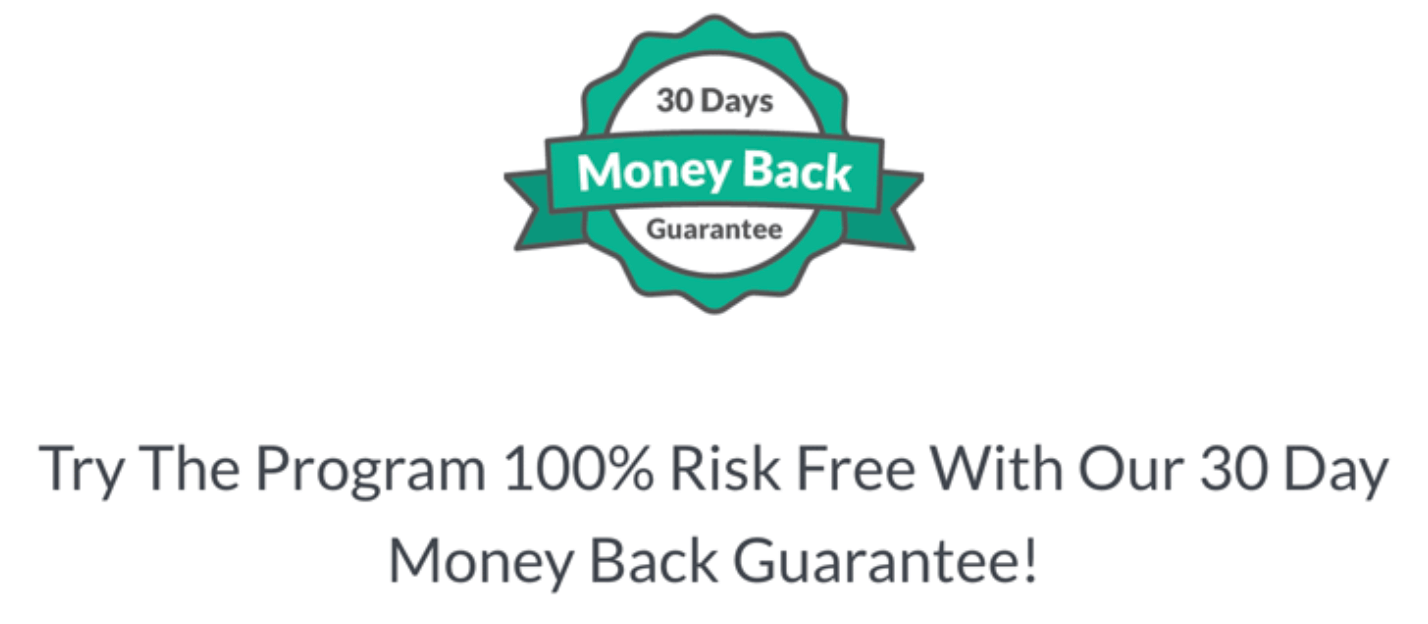 7. Are There Any Upsells or Costs Associated with Authority Site System?
There are no upsells. Unfortunately, Authority Site System is reliant on some premium tools that may cost you up to $130 per month. I think it can be very expensive for many people who are just starting.
I would say after spending $977, spending another $130 per month is TOO much and many people can't afford it. Especially considering that you will have to spend this money monthly until you start making money.
8. Is Authority Site System for Everyone?
No, it is not for everyone. First of all, if you have no money to invest in the course, $997 and $130 monthly it's probably not worth starting at all. If you have no time, at least 20-25 hours per week, it's not for you.
If you are not willing to work hard with patience, the Authority Site System is probably not for you. If you expect quick results and think the Authority Site System is a "get rich quick" program, it is probably not for you.
9. How Does the Authority Site System Work?
The Authority Site System focuses solely on building affiliate sites. Your main task will be learning how to set up a website, create high quality content and drive organic traffic from different places like Google, YouTube, Pinterest and paid traffic.
This alone is a long process that takes months and sometimes even 24 months to achieve desired results. You don't learn drop shipping or monetization through ads. For this you need to take another course Authority Hacker Pro.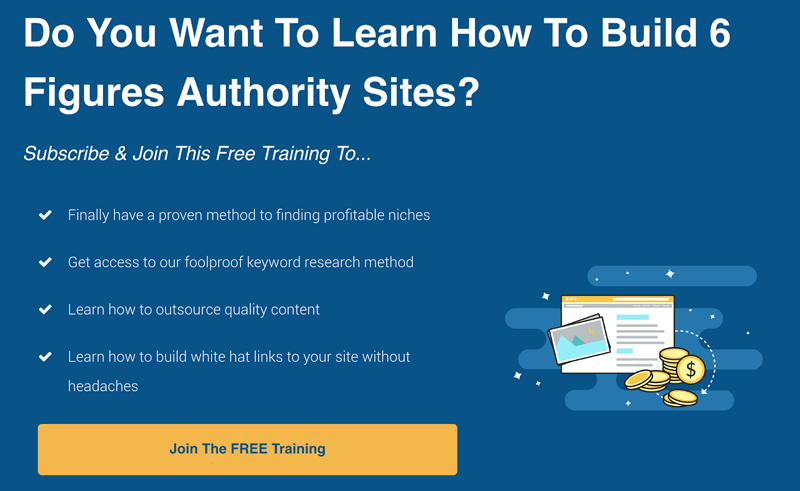 10. The Authority Site System Training
The Authority Site System training includes 6 core modules and 130+ lessons. You learn how set up a new website, how to do niche research, how to create content, how to build quality backlinks, keyword research and more.
The ultimate idea is to build a website and grow it to a point when it becomes an authority website making you at least $1.000 per month. It's called "Stage 1 Authority Website" which implies an affiliate website. Training includes both video and text tutorials.
Training is very well organized and requires hours and hours of watching, reading and applying the knowledge in the practice. Some videos are 2,3 minutes long, others are up to 30 minutes.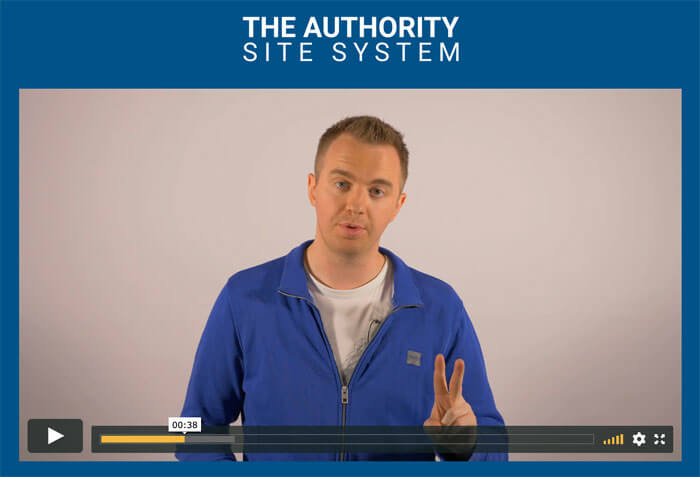 Module #0: Preliminary Lessons
Lessons included
Consistency & Expectations
Using the New Site To do System
Budgeting Your Site
Module #1: The Authority Site Model & IM 101
Lessons included
What Is an Authority Site
How Authority Sites Get Traffic
How Authority Sites Make Money
Affiliate Marketing 101
SEO 101
Module #2: Niche Research & Content Planning
Lessons included
Niches That Work Well
Brainstorming Niches
Getting Started with Market Research
Market Research (10 Lessons)
Planning Your V1 Site
Expanding Your Commercial Keyword List
Expanding Your Info Content Keyword List
Planning Your V1 Site Structure
Module #3: Site Setup
Lessons included
Picking a Domain Name
WordPress & Hosting Setup
WordPress Basic Settings
Picking a WordPress Theme
Establishing a Basic Branding
Branding Your Theme
Analytics & SEO Setup
G Suite Email Setup
Misc Plugins Setup
Contact Page Setup
Privacy Policy Page Setup
About Page Setup
Home Page Building
Custom Category Pages Setup
Module #4: Content Creation
Lessons included
Introduction to Content Templates
[Template] Roundup Review
[Template] Single Review
[Template] Info Content
Writing Your First Articles
Setting up the Amazon Associates Program
Uploading & Publishing Content
Outsourcing Content Creation
Module #5: Link Building
Lessons included
Preparing for Outreach
Target Selection
Initial Outreach & Follow Up
Negotiation & Link Placement
Link Tracking & Blacklist
Module #6: Once You're Done
11. What Kind of Support Can You Expect from Authority Site System?
As a member of the Authority Site System you can get support by sending a message to support team or by asking questions from Gael and Mark via Facebook community. The community is pretty active and helpful.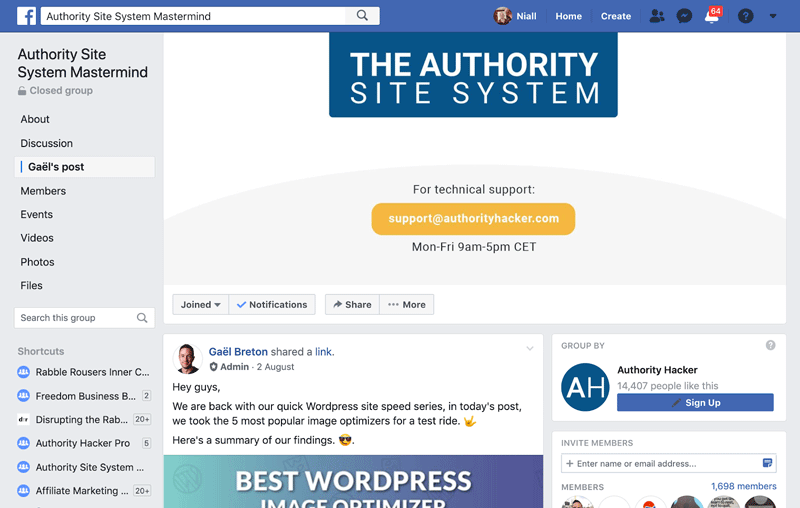 12. Can I Trust Authority Site System?
Authority Site System has built a very good reputation in online world and some big names in online world gave highly positive rating to this program. Among big names is Noah from Sumo.com, Tim Soulo from Ahrefs and some others.
13. Any Income Proof from Authority Site System?
Like any other successful program like Wealthy Affiliate, Affilorama, Solo Build it, Income School, this program has many success stories. See the screenshot of such story below. Success stories is a great thing but one thing you must keep in mind.
Any program like Income School, Wealthy Affiliate, Authority Site System have many success stories but those success stories happen out of many other fail stories. From my experience I can say that out of 100 students only 1 or 2 achieve success.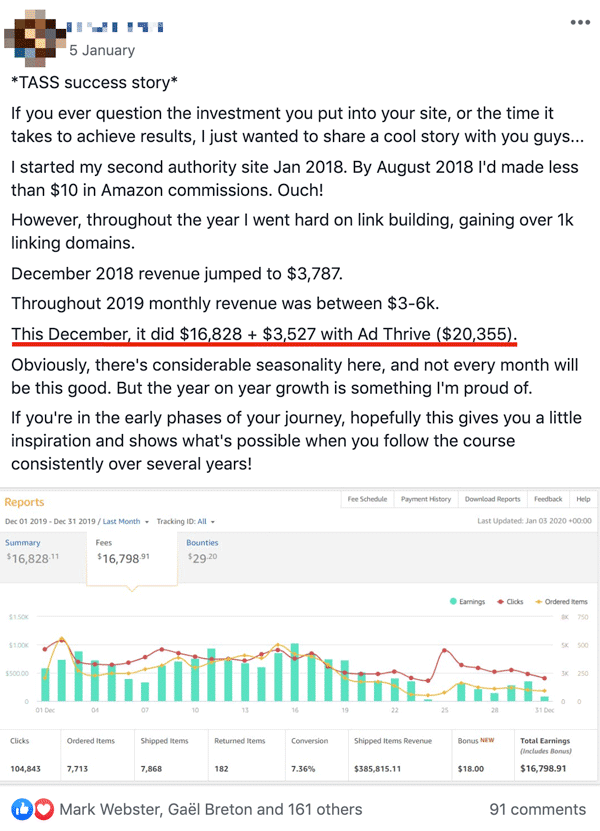 14. Is Authority Site System up to date?
Yes, Authority Site System has been released in 2017 and since then it has been updated many times. In 2019 alone it was updated 3 times, on June, August and December.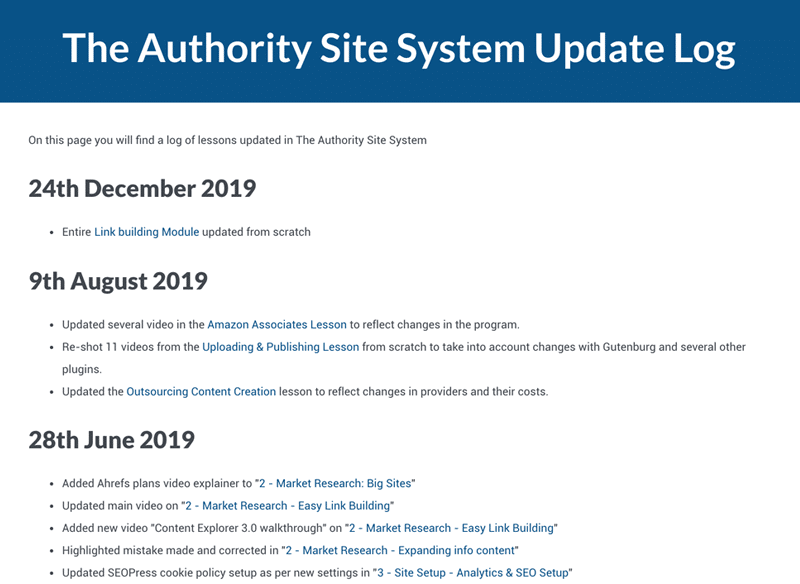 15. Pros of Authority Site System
The positive aspect of the Authority Site System is that Mark and Gael's training is really up-to-date and comprehensive.
Over the last few years some of their niche sites lost rankings due to Google major updates for some sensitive niches, such as finance, medical and health niche, animal care, baby safety, human rights, internet marketing, laws and many other niches.
These niches are very sensitive and Google will most probably not rank your website if you are a beginner and have no authority in any of above-mentioned sensitive niches. This means Gael and Mark know which niches to avoid and they will not teach you useless stuff.

16. Cons of Authority Site System
Though the Authority Site System is well organized and an in-depth training, there is some criticism about it. Some people are of the opinion that TASS doesn't cover everything.
For some questions TASS members have to go to other places to get answers to their questions. I personally think it is not a big problem because you can hardly find a course that can answer all your questions.
Another drawback is that as a member of Authority Site System after paying close to $1.000 you still need to spend over $100 monthly on various tools. Not everyone can afford to pay $1.000 upfront and plus spend over $100 per month.
Another thing I would like to note that Gael and Mark claim you need to spend 1 hour a day during 12 months to achieve serious results with the training.
I believe it's absolutely wrong because you need at least to spend 15-20 hours per week in order to see some sort of serious results.
Another questionable claim that comes from these guys is that affiliate marketing is one of the easiest ways to make money online. In fact, making money with affiliate marketing is as hard as going to 9 to 5 work.
It's not easy at all. It will become an easy way once you've started making money and it will become some sort of your passive income. But before that you need to reach to that point which will take 1 to 2 years of hard work and it is not even a fact that you can get desired results.
17. Does Authority Site System Guarantee Any Results?
No, Authority Site System doesn't give any guarantees of success. Though their training is good, Gael and Mark clearly explain that your success is not guaranteed. You can equally achieve success or fail.
Like I said above and what I've seen over the years, out of 100 affiliate marketers only 1 or 2 achieve success. Because most people either quit very soon or work hard but can't get desired results.
18. How Soon Can You Start Making Money with Authority Site System?
It is really hard to say when you can start making money using Authority Site System training. As an example, I completed two courses, Wealthy Affiliate and Income School, two highly popular programs like Authority Site System.
I built one authority website using WA training and earned $50.000. Then after Google's recent update my site was hit and lost most of the traffic. But it is still making me money. I built another website using Income School training and still struggling to get 200 visits a day.
I would say both training, Income School and Wealthy Affiliate are not much different from the Authority Site System.
By this I mean that if you take Authority Site System training it doesn't mean you will start making money after 12 months of hard work. It is absolutely possible that you will not make money at all.
19. Is Authority Site System training step-by-step?
Yes, Authority Site System is a step-by-step training showing you everything you need to build a site and grow it to make it profitable. It is not just a theory-based course. Gael and Mark connect dots and you see the whole process. But don't think it's going to be easy.
This includes watching videos, reading text tutorials, using tools, checking files. It's not just learning new things. You need to take action on what you've learned and then proceed to the next lesson. This process takes time, patience and hard work.
20. Are There Any Complaints About Authority Site System?
Generally speaking, I don't know about any complaints against Authority Site System. Because those who decide to pay for the program realize what they get into and they get high-quality training and support.
And Gael and Mark are transparent and explain that there is no guarantee that you will not fail. But I'm sure there are some complaints here like in any other program. In fact, perfect programs don't exist.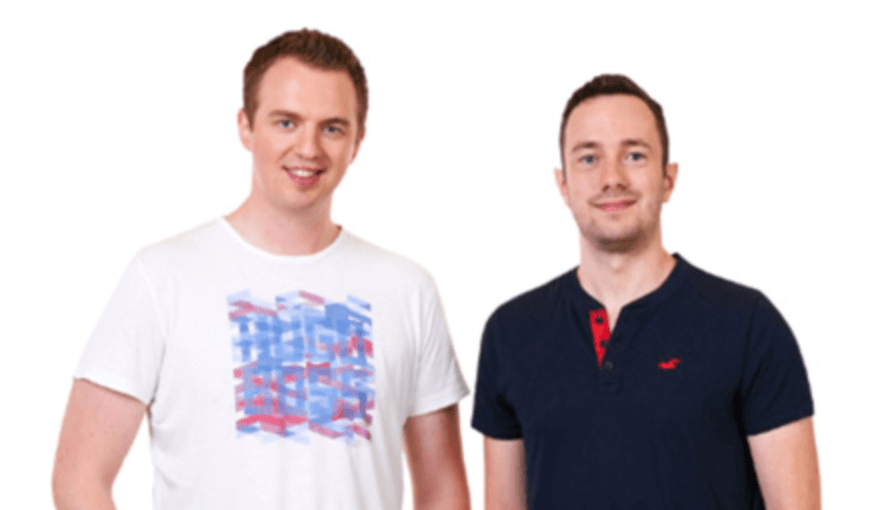 21. Can I try Authority Site System for free?
No, you can't try Authority Site System for free but you can your free account and watch a free webinar to get an idea of what you are going to get into as a member of Authority Site System.
22. How Much Can You Make with Authority Site System?
It's really hard to answer this question with any program. Generally speaking, Gael and Mark talk about making at least $1.000 per month. I know that making $5.000 or $10.000 per month is possible too.
I personally made $500 a day, $2.000 per month. I know affiliate marketers who are making $20.000 per month. I never passed $2.000 mark. So, it's hard to tell anything. Maybe you won't make any money at all. This scenario is absolutely real.
23. Does Authority Site System Work?
Yes, of course, it does work. But it doesn't work equally for everyone who tries the system. Like any other high-quality training, such as Income School, Wealthy Affiliate and the like, the work for some and don't work for others.
Because people's skills are different. Affiliate marketing requires some creativity, not just completing the training. Taking a course doesn't guarantee that you will be making money. Otherwise everyone would be millionaire upon completion the course.
24. Is Authority Site System Worth My Money and Time?
It's another question that is hard to answer. If you are willing to pay for the course and then follow it until you achieve success considering it can take up to 24 months then you can do it. If you expect quick results and are not ready to work hard with patience, I think Authority Site System is NOT for you.
25. Is Authority Site System a Scam?
No, it is definitely not a scam. It's absolutely legit program with a good reputation.
26. Authority Site System VS Wealthy Affiliate
Both trainings in these programs are good. Authority Site System's training in some aspects better than WA's training. But at WA you not only get access to the core training. You also get access to live weekly trainings and plus other trainings created by experienced WA members who are successful affiliate marketers.
You get access to live chat and other great tools included in your membership, including keyword research tool. Support at WA is amazing, better than at Authority Site System. You will never be alone there at WA waiting for hours for support. Your questions will be answered within minutes if not seconds.
Yearly price is $495. After that you can switch to $300 per year during Black Friday. In the long run it is more expensive than $997 (one-time payment) of the Authority Site System. But with Authority Site System you have to pay $997 upfront and plus approx. $130 per month for premium tools.
With Wealthy Affiliate you can choose to pay monthly, first month $19 and $49 per month after that. This allows you to avoid paying $997 upfront. If you are on a tight budget I recommend to start with WA. If you can afford to pay $997 then go with Authority Site System.
27. Authority Site System VS Income School
When it comes to Authority Site System and Income School, both trainings are amazing. At Income School you pay $450 in the first year and $199 after that.
No other expenses. I think both programs provide almost the same value. If you are on a tight budget, I would recommend to start with Income School.
Otherwise I recommend Authority Site System. When it comes to support, in my opinion, Wealthy Affiliate bits them all.
About the Author: Adam
My name is Adam. I'm the founder of Your Income Advisor. My goal is to help others succeed online, by exposing scams and reviewing top rated products. I can help you start
your own business online