Every blogger wants their blog posts to rank high in search engines preferably in top 10 or top 5 so they can get the most traffic and monetize their blogs.
Everyone wants it and many bloggers are working really hard to achieve their rankings goals. But unfortunately, very few bloggers can do it.
Most of them are doing it the wrong way. But even those that are doing it the right way still struggling for rankings and traffic.
In this short research I will share my experience in SEO for the past 5 years and show you example of two sites in different niches.
One niche is super competitive and the one niche is reasonably competitive.
After sharing my experience and knowledge and showing you some examples I will tell my opinion on search engine rankings.
I will tell you what I think and you can come to your own conclusion.
I can't scientifically or experimentally prove my arguments but my examples will give you a better perspective on how Google ranks sites.
I believe after all this info you will have more realistic expectations in terms of SEO and your blog success.
How to Get Ranked # 1 on Google
First of all, ranking on Google takes some time for a brand new site. It can take up to 6 months or even one year to get some good rankings.
I'm talking about indexing your site. Indexing takes much less time.
When it comes to some decent rankings that can bring you a significant traffic, around 100-300 visits a day, it can take around 6 months or one full year or so.
For more info you can read my post here. Since it's not our main topic I will talk about some other aspects.
BTW, you can also read my other post about 54 rankings factors that may be holding your site from top rankings.
There are WAY more reasons for that discussed on many other sites specialized in SEO like backlinko.com, searchenginejournal.com, ahrefs.com, neilpatel.com, quicksprout.com, moz.com.
In the link above about 54 reasons why your site doesn't get ranked I talk only about most important ones that impact blogs and their rankings.
Because talking about all rankings factors is not going to be useful or effective. It's too overwhelming in my opinion.
We need to know about only critical things and those 54 reasons are the most important ones.
BTW, among critical reasons that impact your blog rankings are the following reasons:
Helpful content
Relevant content
Simple language
Quality over quantity approach
Why Google Doesn't Rank Your Site – Real Examples
Many or almost all SEO experts write posts about SEO or ranking factors like sites mentioned above.
It's a great topic to get hands on top spots on Google and drive more traffic to your blog.
Of course, most of those sites discuss what they have to tell you based on the official info which is a pure theory.
Follow step #1, follow step #2 and etc. But all this doesn't mean you will get ranked in top 10 or even in top 20.
Most SEO experts try to explain why your site doesn't get ranked or get traffic by the following reasons:
Your competitors outrank you
Your keywords are low volume
Your page don't get clicked
Your Keywords Don't Match searchers' intent
Let's do some research and I will show you some real examples so you can see for yourself and come to your own decisions.
Like I said in my other SEO posts, what I'm going to share here is not applied to super popular sites.
Because super popular sites that have a lot of backlinks and thousands of social shares can't be ignored by Google. Google has to accept it.
Because huge number of social shares indicate to a site's being super popular among people. Google ranks such sites based on that. As simple as that.
When it comes to average sites like mine or most other sites Google's approach is different. This is what I see from my experience and I'm going to show you some proof.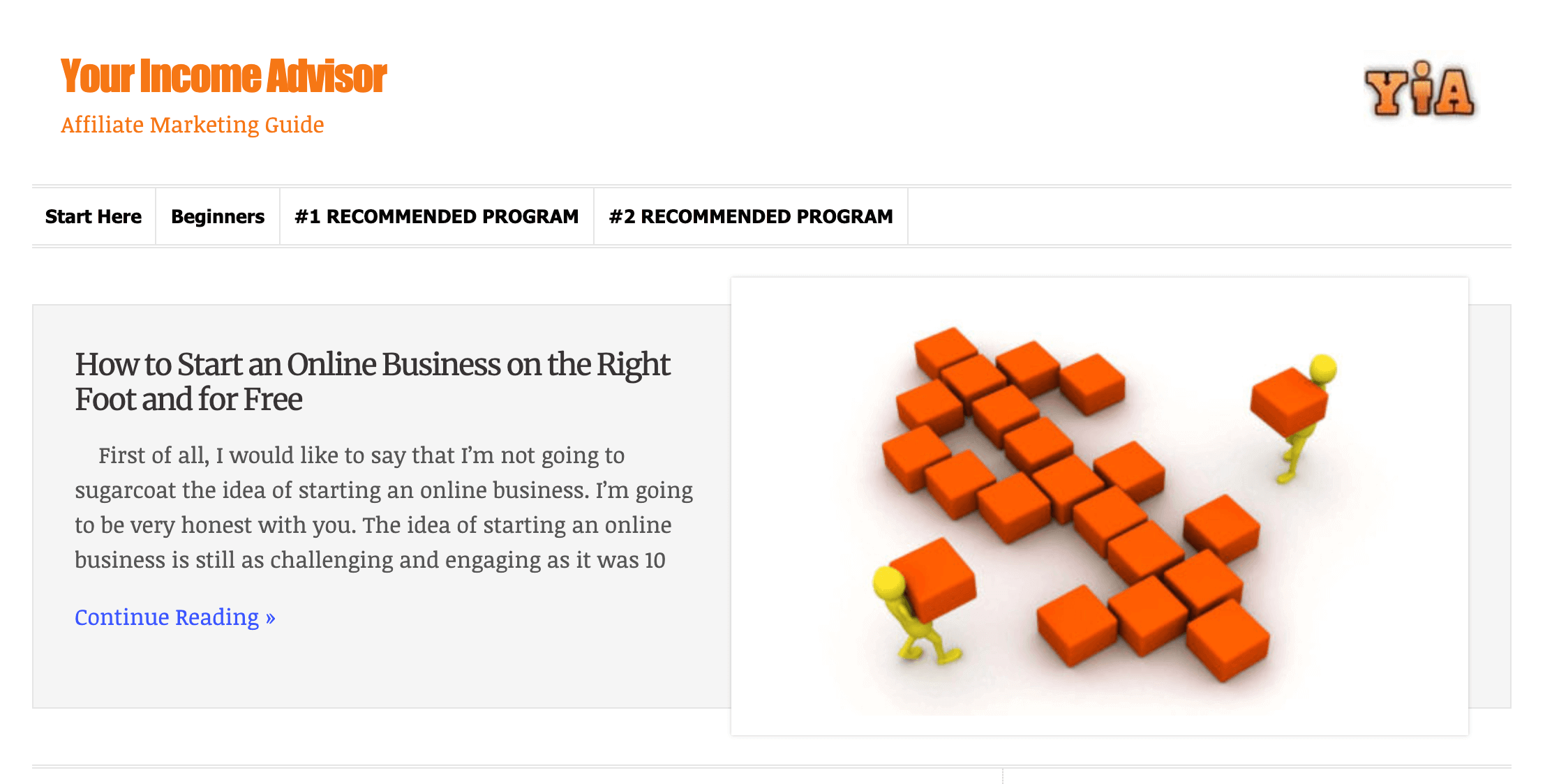 First website (MMO) "Make Money" niche – Super Competitive
Proof # 1
One my recent posts form my website is about Article Forge with the following keyword (Article Forge Review). My post doesn't even get ranked.
It was indexed but not ranked though my website is 5 years old. I have many pages ranked in top 10 or 20.
Normally, it takes a few minutes or sometimes even seconds to get my post ranked. But some pages Google doesn't want to rank.
Please do me a favor and check this keyword (article forge review) on Google. You will get some pages ranked on the first page of Google.
If you put my review and those other reviews side by side you will realize that my review is WAY more in-depth than all others ranked in top 10.
I will explain further in my review why this happens.
Proof # 2
My second post is about blogging mistakes with the following keyword (30 blogging mistakes).
This page doesn't get ranked in top 10 or even in top 20 though all other blogs on first two pages talk about 10, 15 or 20 mistakes.
Some posts are very short, not popular and yet they sit in top spots though those sites are neither super popular nor have thorough content that deserves top spots.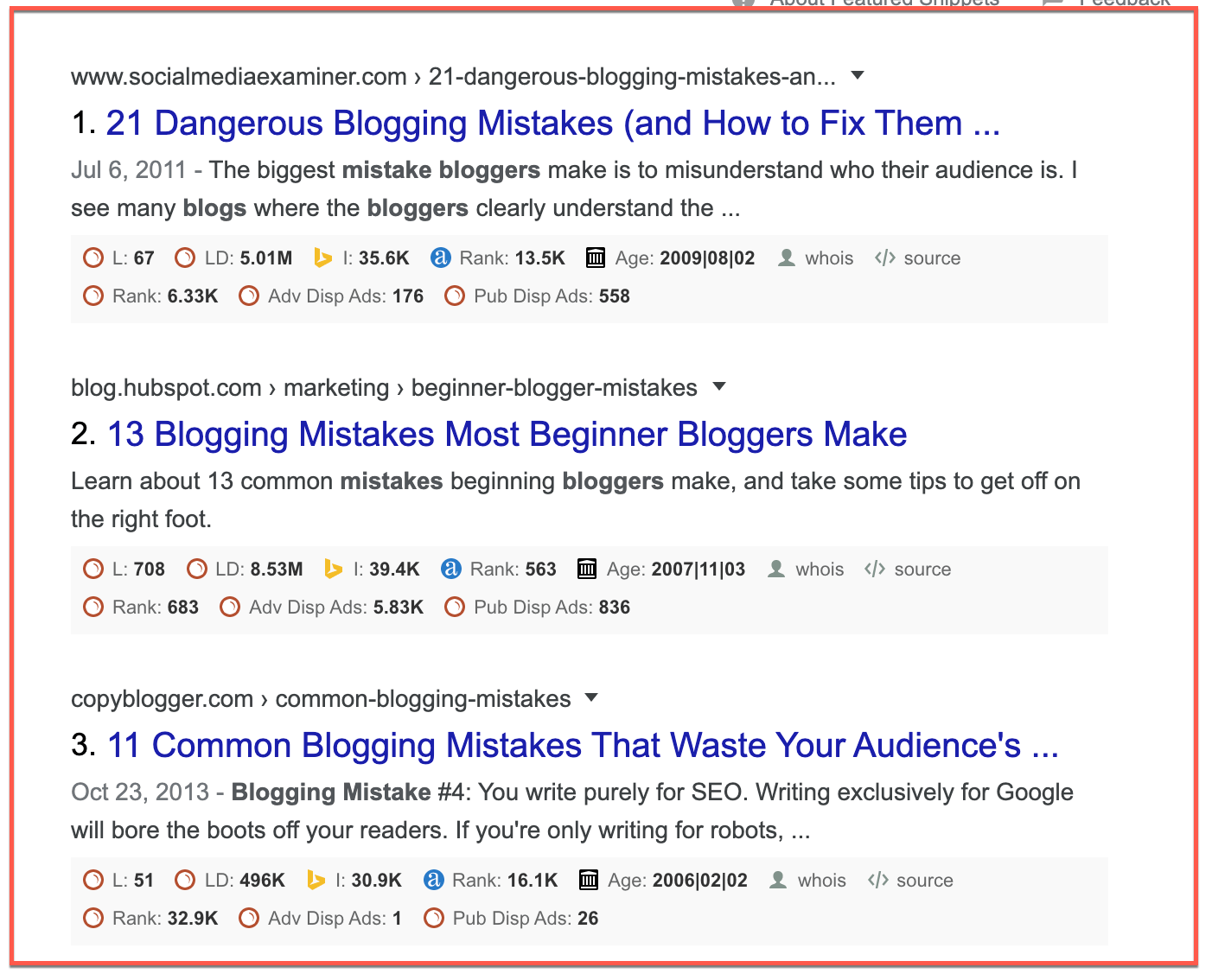 Proof # 3
My post about reasons to start affiliate marketing business online doesn't get ranked though my post covers 28 reasons.
The keyword I wanted to rank for is ( 28 reasons to start affiliate marketing). All other websites talk about 5, 10 or 20 reasons.
Some sites are not popular and their posts are not long enough but still they outrank my and many other sites.
Note, we are not talking about affiliate marketing guide on how to start affiliate marketing. For that I have other thorough posts like these four:
We are talking about reasons to start an affiliate marketing business and those who cover all or most those reasons deserve to win top spots.
Because content is KING online. Google ranks content, not backlinks or social shares.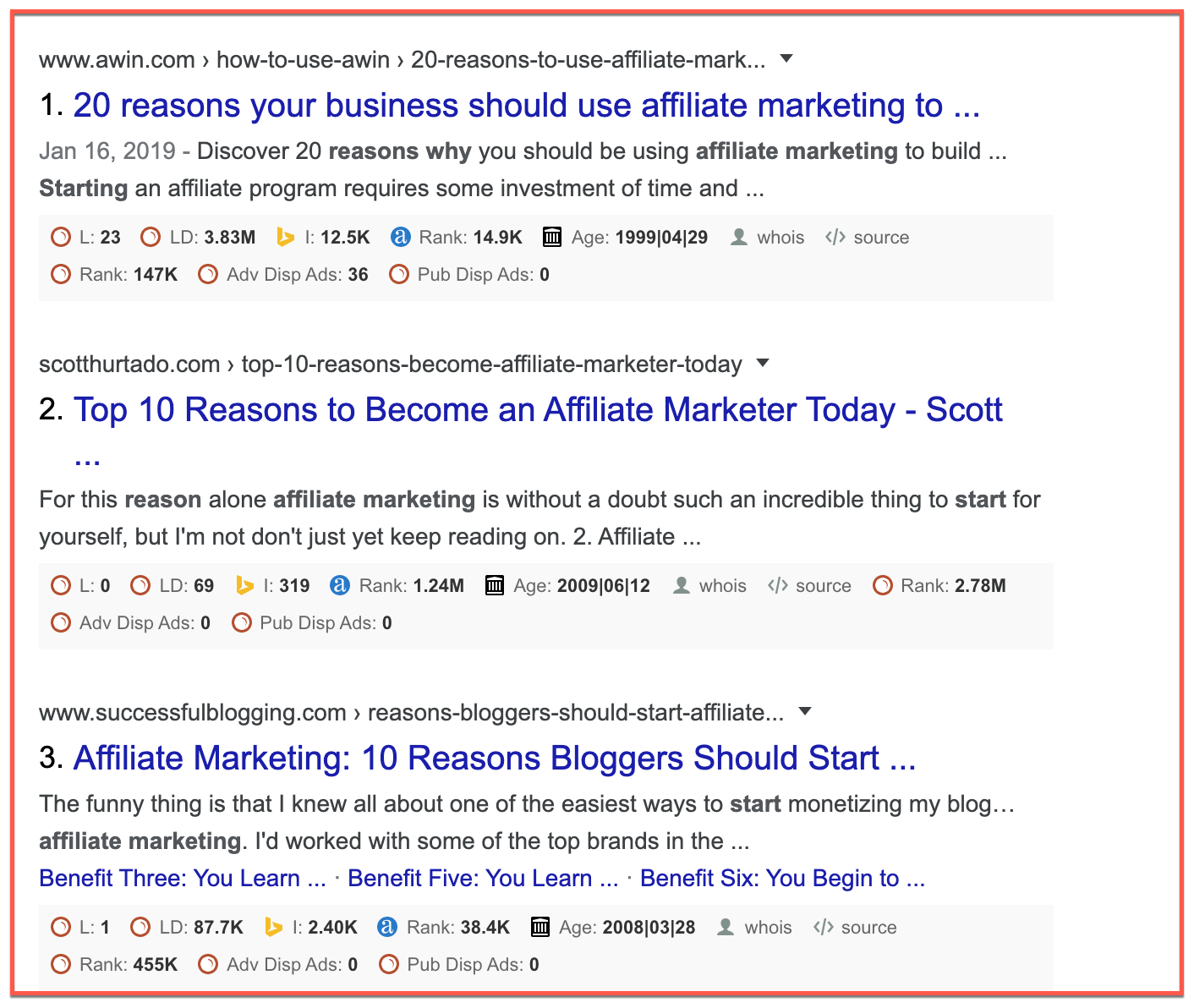 Proof # 4
Next proof is regarding my recent post about Viral Pay program with a keyword (Viral Pay Review).
My review is ranked on third page though my site is old and my review is WAY more thorough than other reviews.
Some sites are not super popular and yet they outrank me with short posts. Isn't content a king online?
One site, such as affiliatedsuccess.com sits in the first position with a very short post about Viral Pay.
Where is the logic? Where is content ranking algorithm?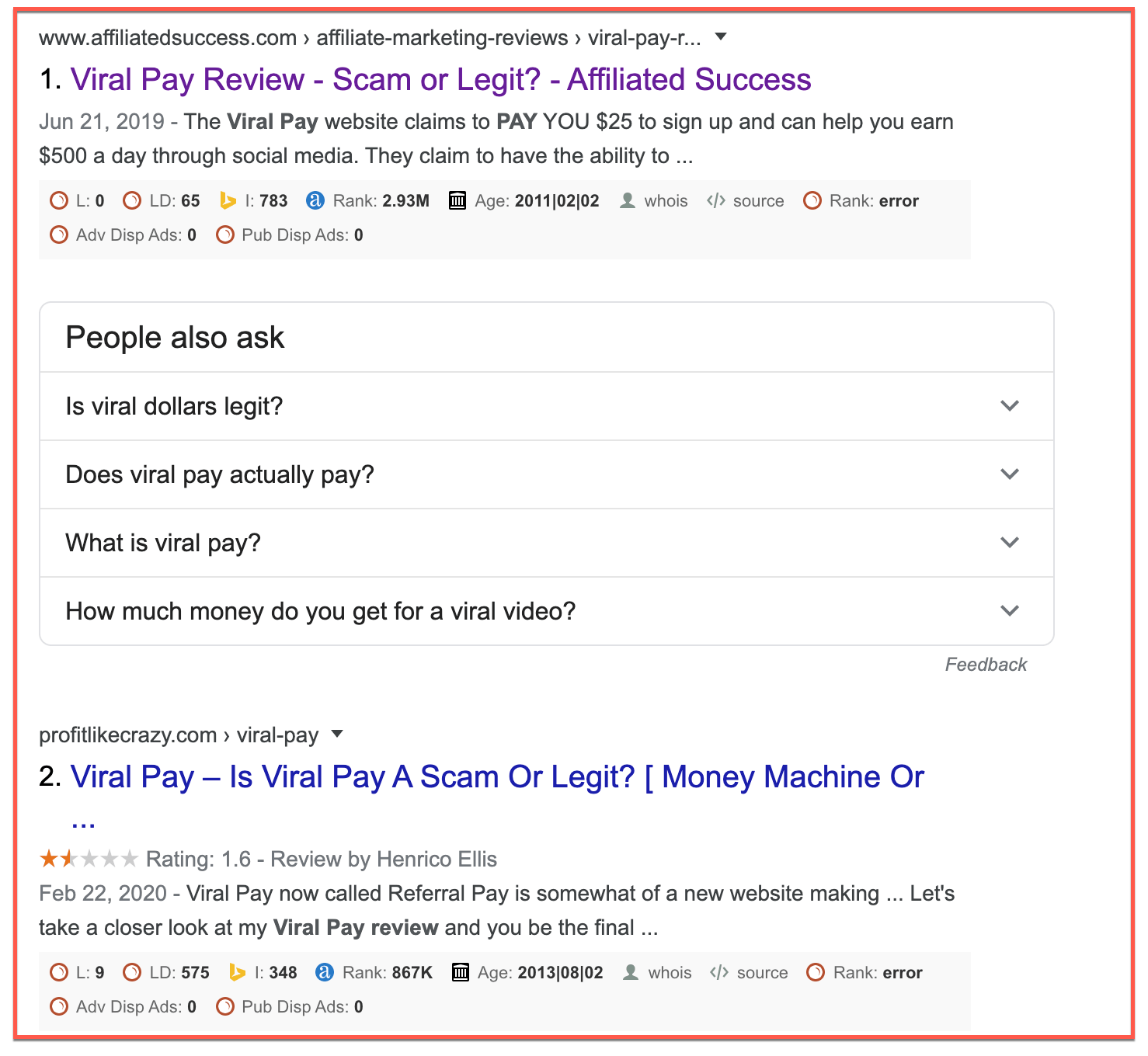 Ok, some so called experts can say that MMO (make money online) niche is super competitive and I totally understand it.
But why other younger sites with short posts and without rich link profile outrank my site? Is there any explanation? I will talk about it further in my post.
I can show you way more examples from my first site where my posts are WAY more instructive and in-depth than other sites with zero link profile and yet they outrank my old site with a decent link profile with thorough posts.
If I can continue then my proof list is going to be very long.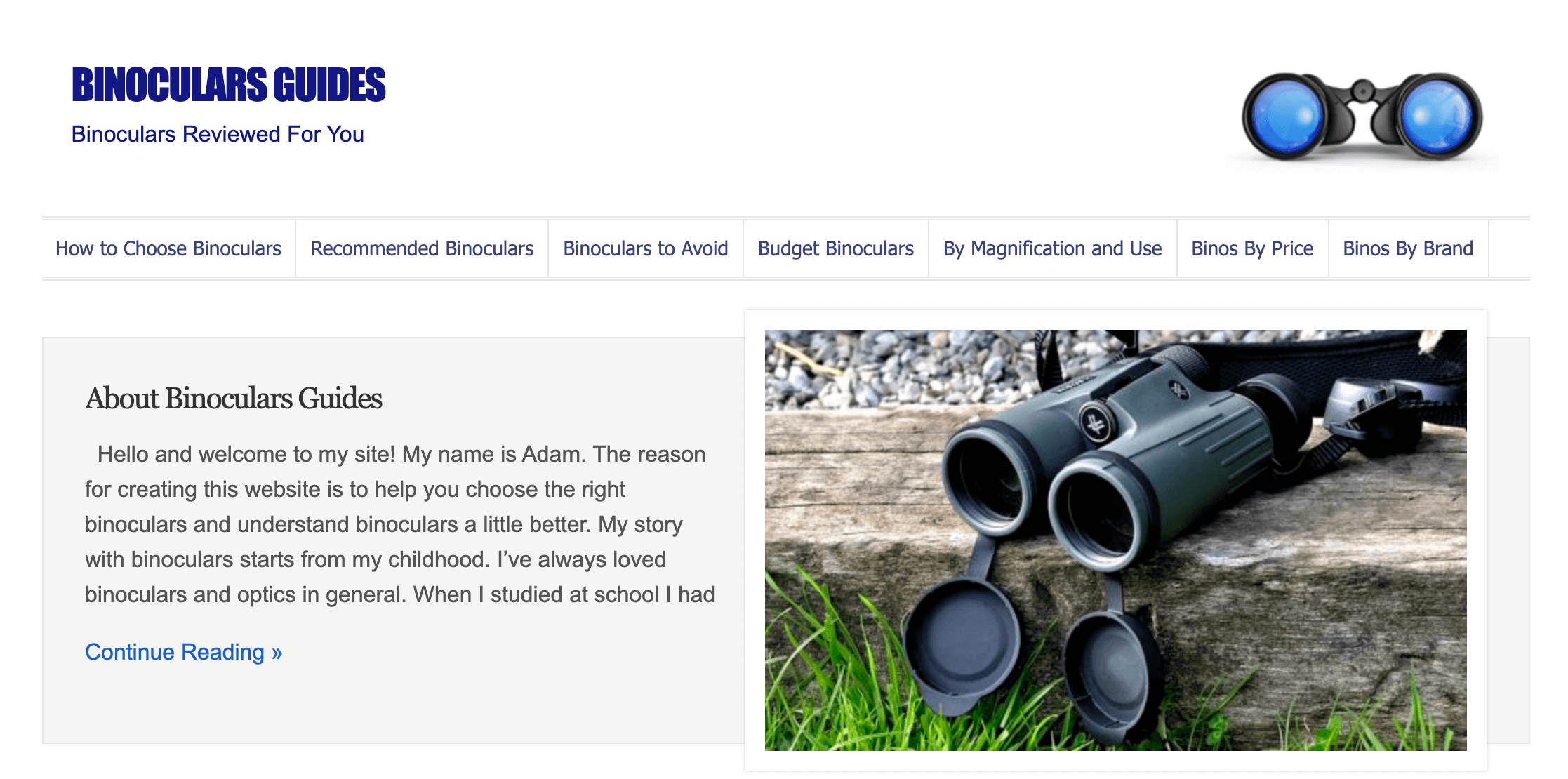 Second website (Optics) "Optics" niche – Reasonably Competitive
My second site is about optical devices, binoculars which is way less competitive than MMO (make money) niche for my first website.
My second website is 16 months old and already established and has some good rankings.
I have 55 pages of high quality content and getting around 60-70 visits a day.
It's not bad but should be getting way more. A site that has 50 pages should be getting at least 150-200 visits a day.
So, let's do some research and see what are the reasons for such a low traffic.
Proof # 5
One of my pages is about Celestron binoculars with a keyword (Celestron binoculars review). The page is about all Celestron optical devices, not just one or two.
When you check Google rankings my page is not on the first two pages which is pretty sad. Some pages sit on the first page and they deserve it.
But some pages talk about one binocular like Celestron Upclose G2 10×50 binoculars or Celestron Upclose G2 10×50 Binoculars.
Their reviews are very short and don't exactly match search results and yet they outrank my and other sites for unknown reason. BTW, their sites are not popular at all.
Where is the logic behind this type of ranking?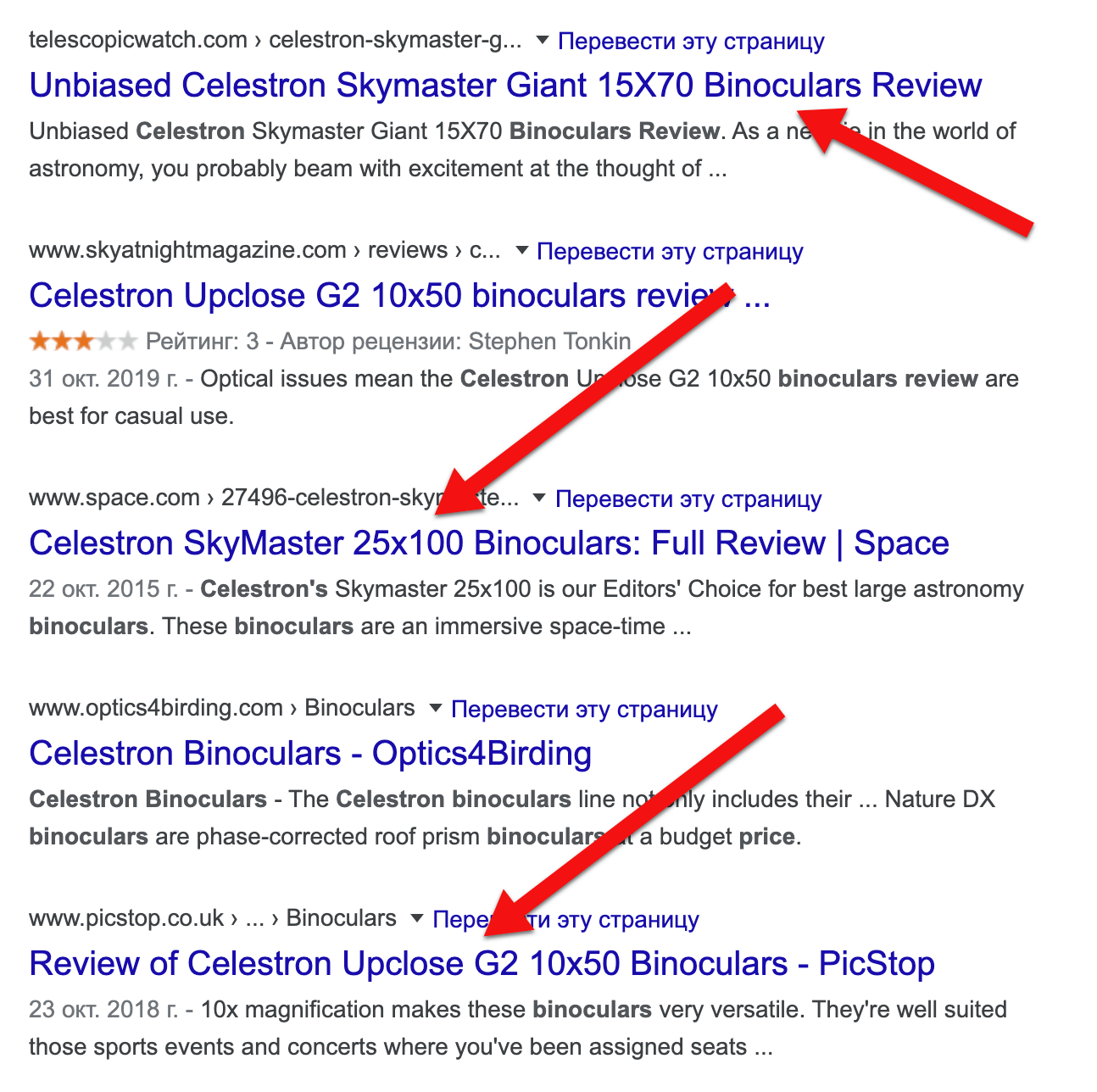 Proof # 6
Recently I compiled a huge an in-depth review of Nikon binoculars with the following keyword (Nikon binoculars review) and my page is not raked even on the first 3 pages though my review very thorough and very well compiled.
I spent 3 days to compile it. Some pages deserve first page rankings while other pages don't deserve it all.
Because their reviews are very short and they review only few Nikon binoculars and yet they outrank my in-depth review. Where is the logic? Isn't content a king?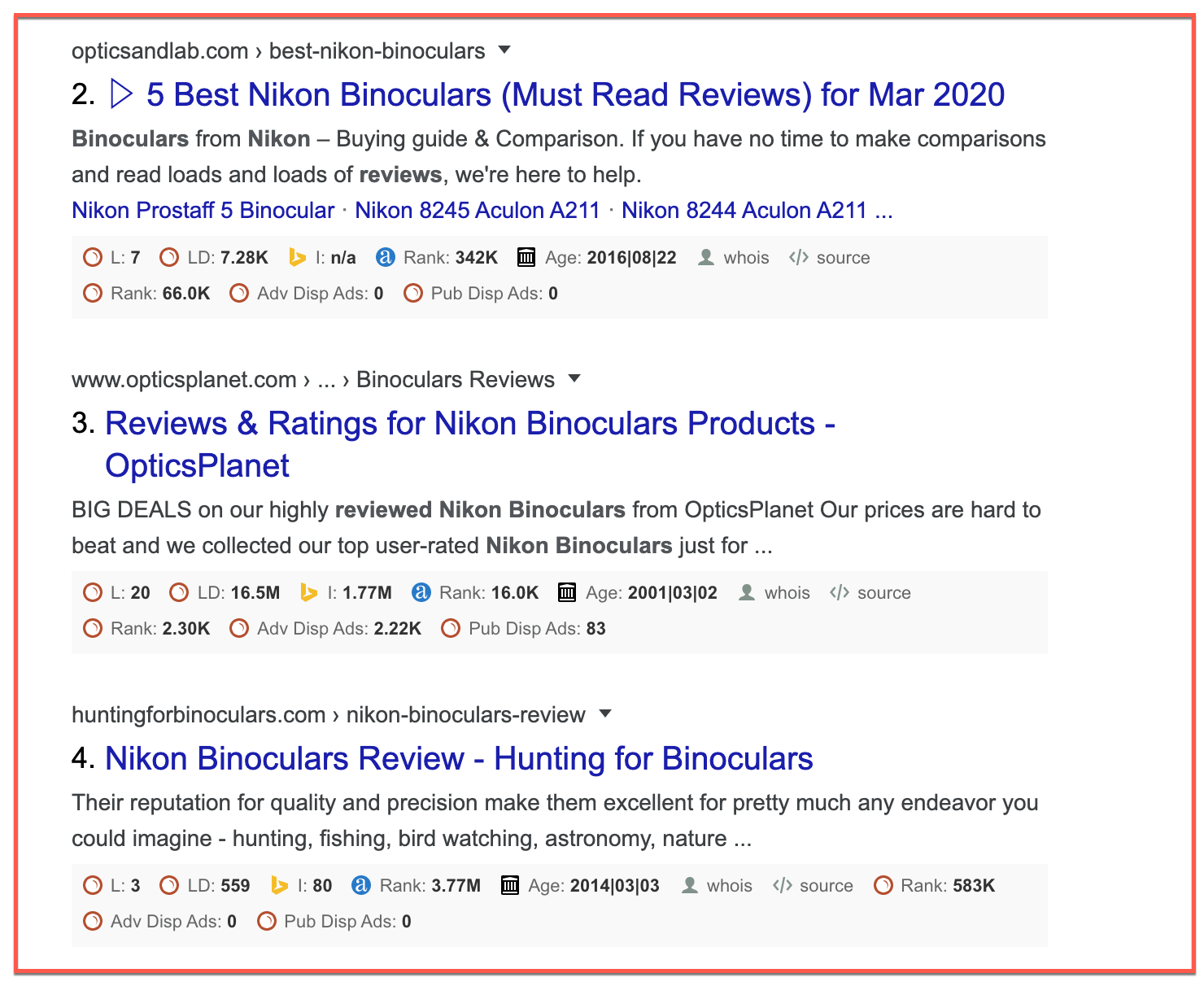 Proof # 7
My Vortex binoculars review is ranked on 3-d page of Google which is strange in my opinion.
The keyword I'm trying to rank for is (Vortex binoculars review) which is pretty competitive.
Some pages that are ranked on the first page don't deserve it because they describe only some Vortex binoculars and their reviews are very short.
My Vortex review describes all Vortex binoculars and yet those pages outrank my and other pages that review all Vortex binoculars.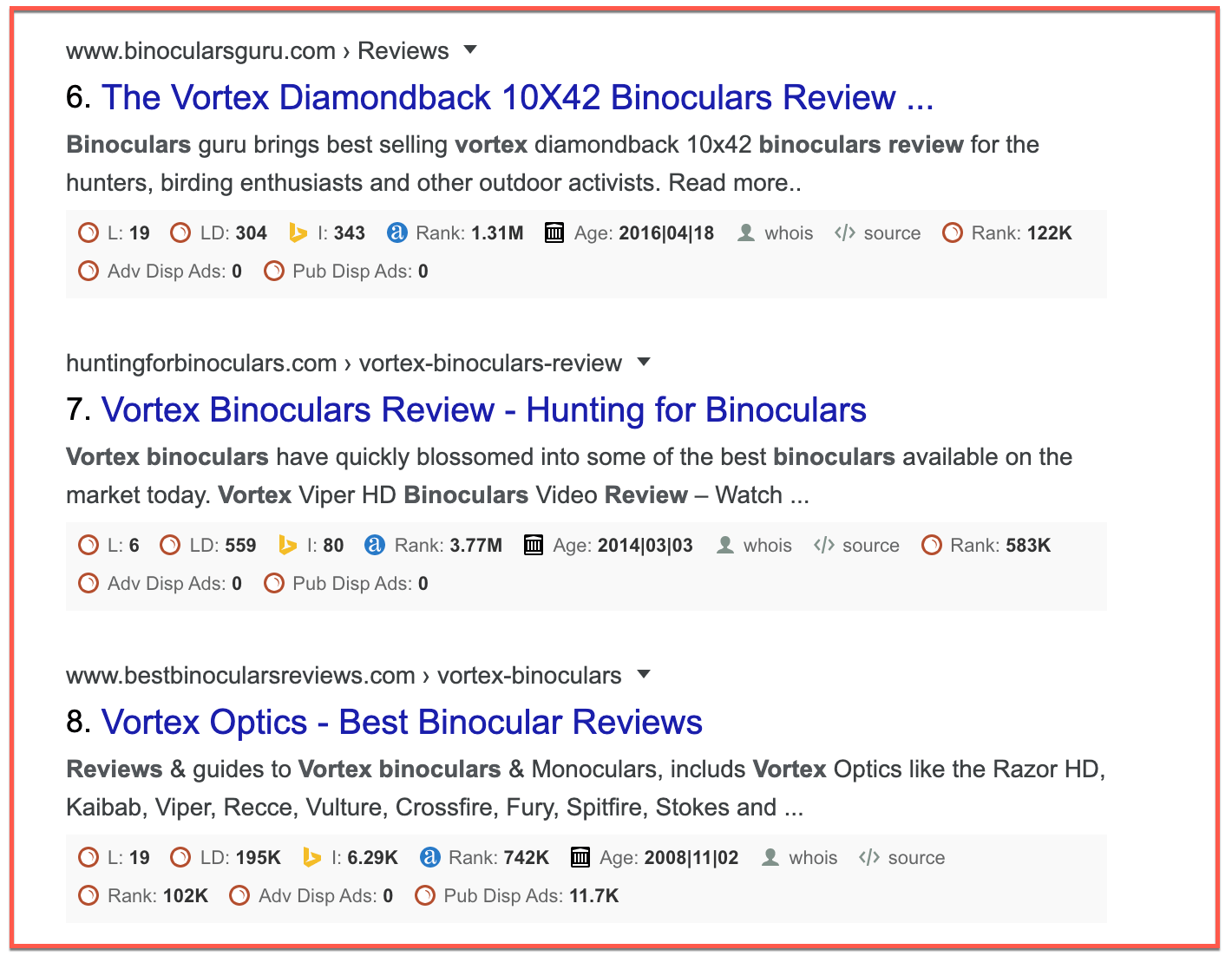 Why Google Doesn't Rank Your Site
Some blogs may have issues that affect their site rankings and traffic accordingly. There are too many reasons that can affect it but among most important are the following:
Check your site for:
Manual actions (Google webmaster)
Site speed (Slow site)
Thin or duplicate content
Site without SSL Certificate (HTTPS)
If your site has all or any of these four reasons you need to fix it to improve your site rankings.
My site has no such issues which means there are no serious reasons for my website not being ranked on Google.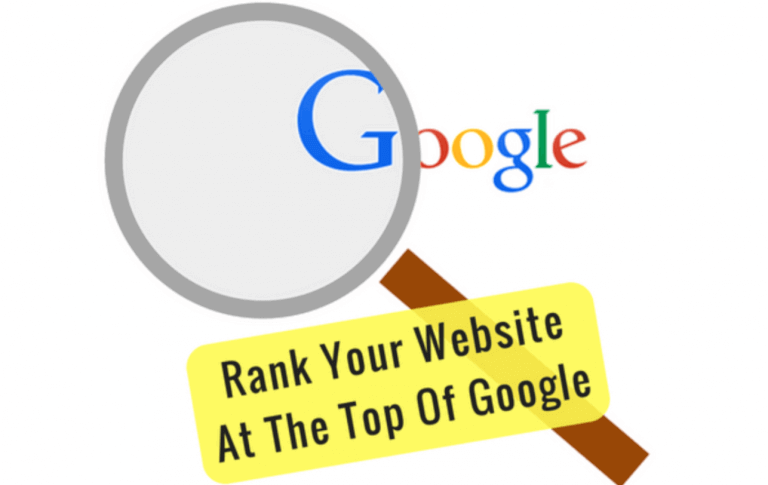 Reason # 1 Why Google Doesn't Rank or Send Traffic
Now let's talk about how Google ranks sites and what as a blogger you can expect from your online efforts.
As I showed above, not all search results match the exact search term. In my opinion, this is wrong.
Search results must reflect searchers' intent. If as a searcher I want to read about a certain topic Google must provide the best result possible to match the search term and help people find they are looking for.
Unfortunately, Google ranking algorithm is not perfect, far from being perfect.
For example, proof # 1 (Article Forge Review) my page is not even ranked on the first 5 pages though my review is better than all other reviews on the first two pages of Google search results.
Google simply ignores it. This is what I've seen in SEO all the time.
If you have a great piece of content and Google doesn't want to rank it on the first page it will be simply ignored!!
Whatever you do it will NOT help. This is # 1 reason why Google doesn't rank your site.
If Google doesn't want to send you more traffic it will simply rank other sites instead of your site even if your content outperforms theirs.
Your content will be ignored and forgotten. Even if those pages from other blogs don't match the search term they will be ranked high and your page will be ignored.
Even if you update your page and add more valuable info it will be ignored.
I believe Google uses some kind of a ranking filter that Google uses to send traffic to sites. The filter works like this
Site A – send a flood of traffic
Site B – send no more than 100 visits a day
Site C – send no more than 50 visits a day
Site D – send 300 visits a day
Site E – send no more than 20 visits a day
Maybe it looks unbelievable but this is what I've seen in SEO since 2005.
Even if your site has 500 pages of high quality content and Google put your site in the ranking filter your traffic will never exceed 40-50 visits a day.
Google will rank only those pages of your site that have no traffic potential. And the picture looks really strange.
When you check rankings you find your pages ranked in top 10 or even in top 20, but when it comes to traffic it's very limited.
I know sites that have 800 pages of quality unique content and yet their traffic is as low as 100 visits a day. It's unbelievable but this is the reality.
As we know, Google ranks content, not links alone. Best search result is a combination of many ranking factors but content is the most decisive one.
Because people want content, not our link profile. But very often I see ugly sites with thin content that outrank other sites for unknown reasons and only Google knows those reasons.
I don't think we should expect a fair approach from Google because this world is unfair.
I believe ranking a site on Google doesn't depend on Google ranking algorithm alone. All sites are approved by Google manually.
I can't prove it but I believe it works exactly as I described it here.
I can tell you a story from my personal experience with Google. A few years ago I decided to advertise my first site (MMO niche) on Google through Google Adwords program.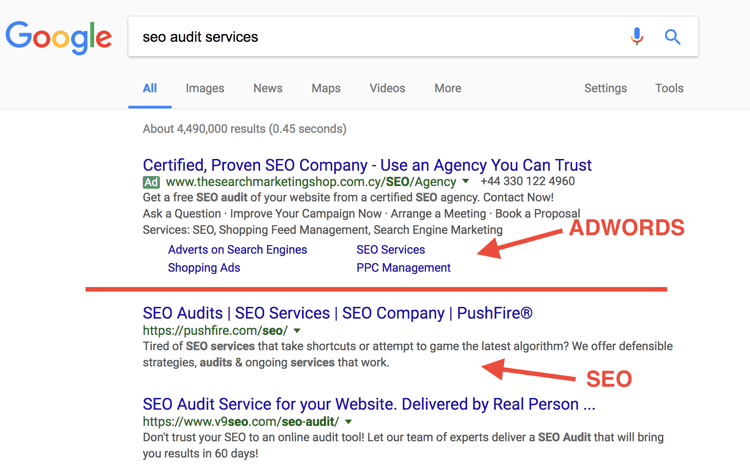 I submitted my pages and it was disapproved. I received a call from Google employee who told me that I have to do some changes to my site if I want to advertise on Google.
We had 3 or 4 phone conversations and followed all his instructions and made almost all changes as per their requests. But you know what happened after that?
When I was about to complete all the changes and submit my site for second approval I received a call from that person again and he told me that he is very sorry but my website will not be approved.
I asked him for reasons but didn't hear any reasonable explanation form him.
I told him that I made all the changes and spent two weeks for that and now you tell me that my website will not be approved because we can't approve MMO websites because it's against Google regulations.
Now I shared all this info with you and you be the judge.
Recently I've done some research online and found many people bloggers complaining that their blogs are miserably failing because of the traffic.
What I see from my research and experience it becomes more and more difficult to rank a site and get traffic from Google. Most blogs don't get traffic.
Very few blogs get a flood of traffic. It's a matter of luck. If Google likes you and your site you will get a flood of traffic.
If not, you will be struggling and results are not guaranteed.
About the Author: Adam
My name is Adam. I'm the founder of Your Income Advisor. My goal is to help others succeed online, by exposing scams and reviewing top rated products. I can help you start
your own business online