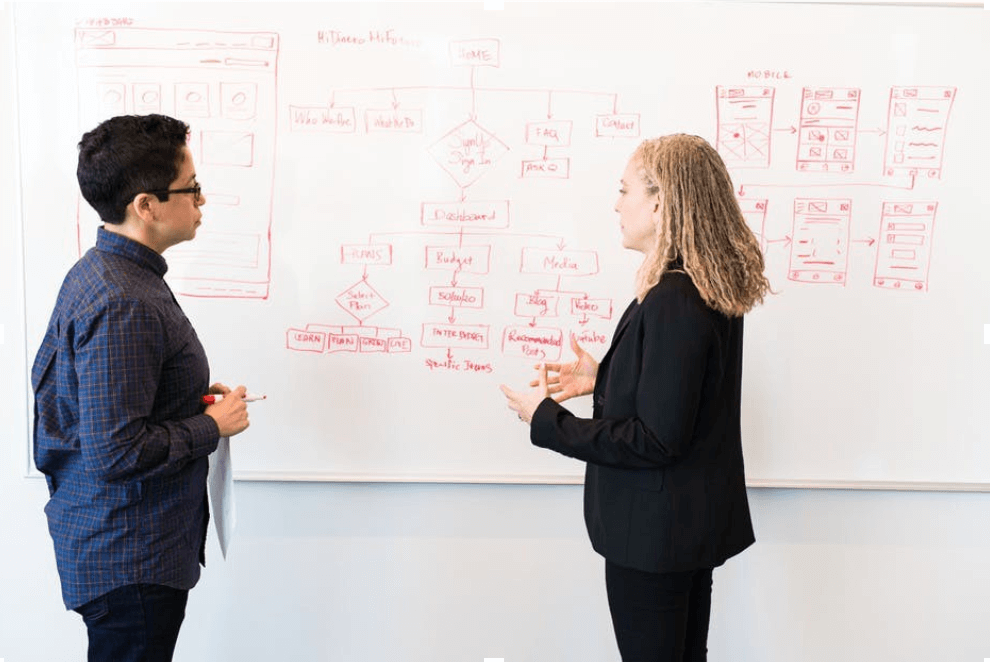 As we know user experience is one of the most critical ranking factors as of 2019 and anyone wanting to take their business to the next level should be looking into their Google analytics to see how their website performs.
Of course, user experience includes many aspects. The most important one refers to the quality of the user's interaction with a product, system or service.
In our case we are talking about interaction with a website.
Like anything in life there are always different opinions and in this short article I want to share my opinion about website user experience and what I think of it as a ranking factor.
Does it really matter? I promise the answer will not be what you may be thinking.
Ranking at the top
As you probably know website rankings depend on many aspects, such as bounce rate, average session duration.
Logically thinking these two aspects are critical because they show exactly how visitors behave on a website.
If your website is interesting and attractive both in the aspect of design and content it means visitors stay longer on your website.
Because it's easy to navigate, it's interesting to read your content.
This means visitors stay longer which means session duration is long and bouncer rate is low.
Though bounce rate doesn't exactly mean your website is not good.
It may be that visitors come to your website, read your content and get information they have been looking for. After reading it they leave your website.
Does this necessarily mean your website is not user friendly or uninteresting? No.
That's why bounce rate is a little questionable aspect that many SEO experts are talking about and have different opinions on that.
Form this we understand that Google pays a close attention to user experience and how your visitors behave on your website.
Based on that Google ranks your website and decides what pages deserve higher rankings and more traffic.
You may have 100 pages and just a few of them may be sending you as many visitors as to make you a full time income.
Content – Does it Really Matter?
Logically thinking the more content (pages) you have the more traffic you can expect from Google. But does this really happen? What is more important?
User experience or number of pages? Of course, quality content matters more than just number of pages.
But sometimes or often times you have quality content and multiple high rankings on Google though your traffic is very low.
Whatever you do nothing seems to change the situation on your website.
You continue to produce quality content, get comments on your website which means there is an interaction on your website but still Google doesn't send you the traffic you may deserve.
I know it firsthand. Some friends of mine shared similar experiences with their website.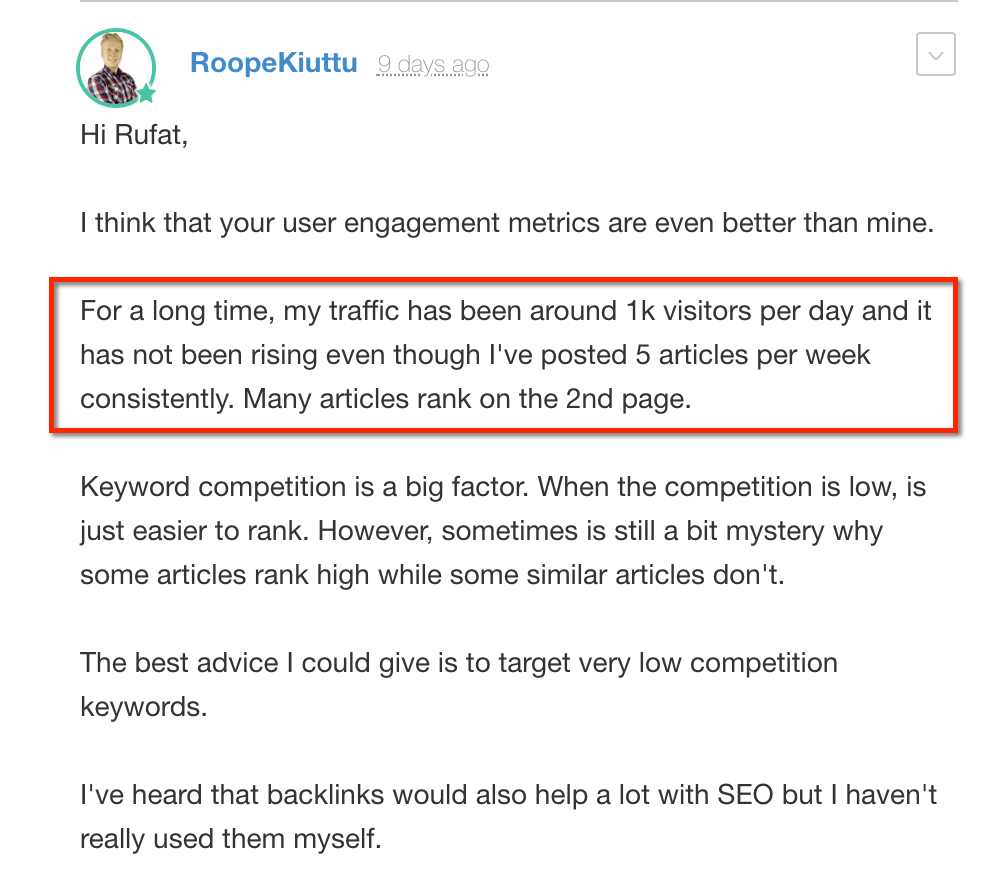 One of them was posting 5 days a week but his traffic didn't increase. Believe me, I know many similar stories. I've been making money online since 2014.
I've been consistently posting since 2014 and my traffic has never been over 270 visits a day. My best traffic day was 269 visits a day.
My question to you: Do you know how many pages I have on my website? I have 480 pages of quality content.
Sites that have so much content should be getting at least 1000 visits a day. But my traffic doesn't increase.
Many SEO experts including Brian from Backlinko also told in many of their youtube videos that creating more content is not always equal to more traffic.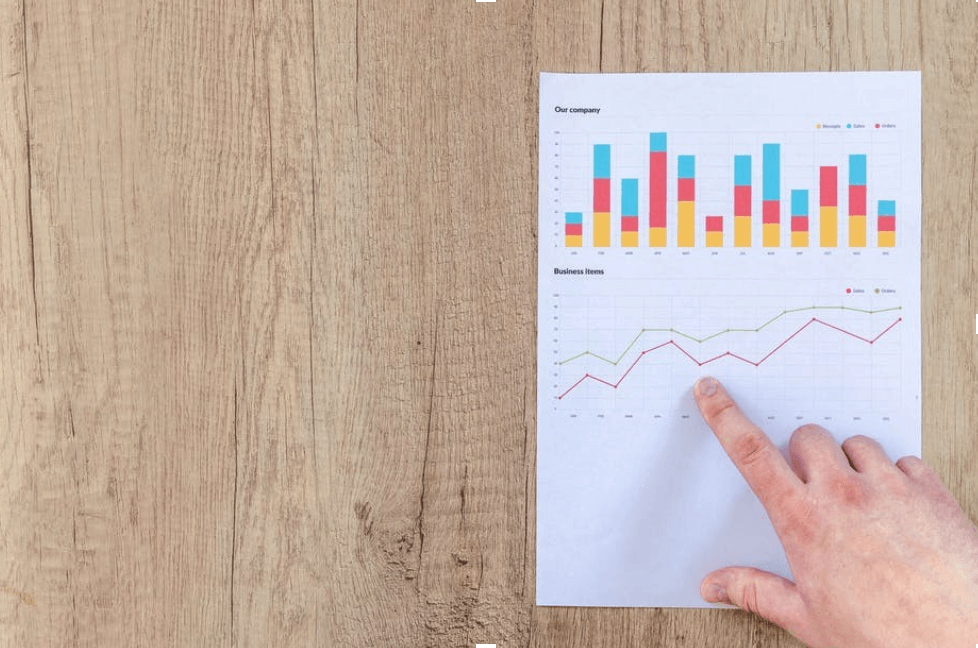 User Experience – Does it Really Matter?
Ok, let's now do some research and find out what is the reason that some sites get a ton of traffic with 100 pages while others get 100 -150 visits with hundreds of pages?
Maybe it's due to a bad user experience?
Maybe because those sites have a high bounce rate?
Maybe visitors leave their sites because their content is not interesting?
Let's do some research and find out the truth.
I know many affiliate marketers and many of them have been running a successful online business for years now.
Some of them are friends of mine. Recently I contacted some of them and asked to share their google analytics info so I could compare that info with mine.
I was very surprised to say the least. I contacted two of them. One of them has over 500 pages and the other one has 800 pages of content.
They post more frequently to be honest. But one year ago they had way less content, very close to my numbers (480 pages) and still they have been getting over 1500 visits a day while my traffic has been around 150 visits a day.
Now the most interesting part of my research is going to shock you.
I Asked to share their google analytics data from January to May 2019 and here is what I received from them. I will not reveal their site domains though.
The data from one site is very similar to my data. The first screenshot is my data and the second screenshot is the data from my friend's website.


As you can see the bounce rate, average session duration is almost the same on both sites.
This means both sites perform almost equally in the same niche. BTW our sites are all related to MMO ( make money online) niche.
In terms of user experience our sites are almost no different though the amount of traffic we get from Google is very different.
My other friend didn't send me his metrics because I didn't ask him to send BUT here is his reply to me: "Your user engagement metrics are even better than mine".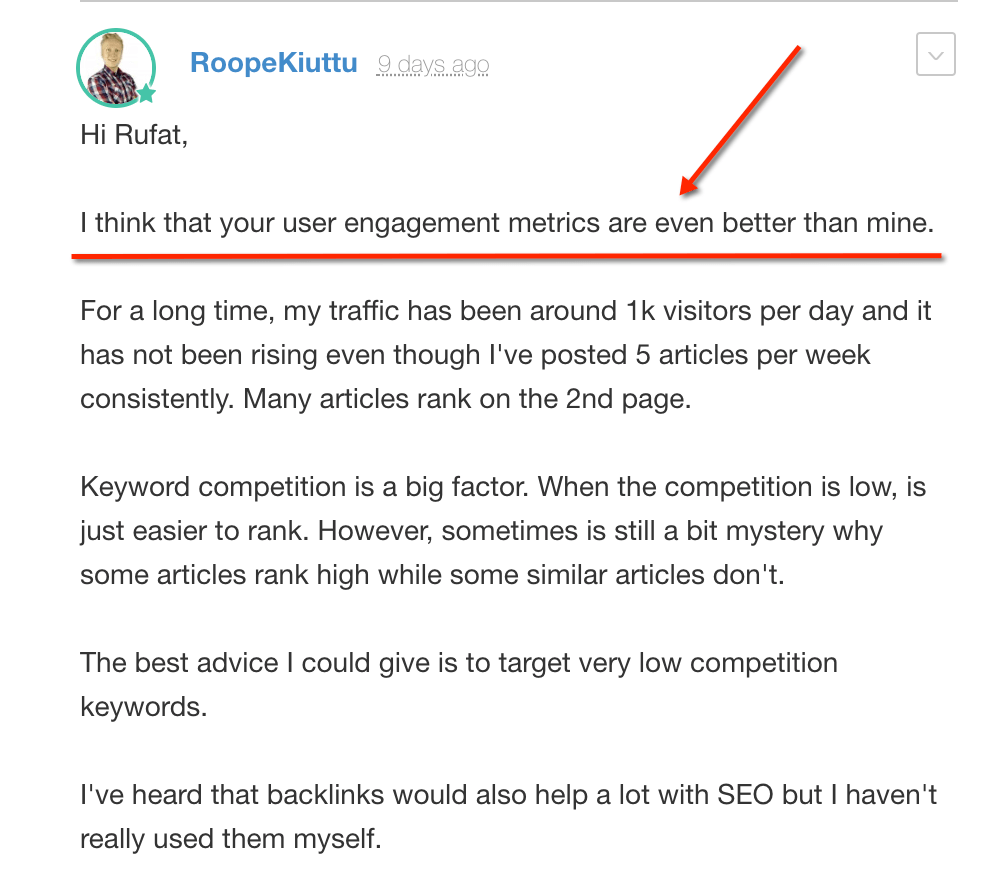 Now we have THREE sites in the same niche. Two sites perform equally in terms of user experience according to Google analytics but traffic is very different.
His traffic is around 1780 visits a day. Another site performs worse than mine in terms of user experience BUT still getting around 1200-1500 visits a day.

What does all this mean? Is quality user experience equal to high rankings and flood of traffic?
All this means that though according to Google user experience is one of the most important factors for a website ranking reality is a little different.
Even if your site performs well in terms of user experience and Google gets a signal from Google analytics that your site performs well it doesn't mean Google will flood your website with a traffic.
Unfortunately, we can do nothing because it totally depends on Google.
There is no guarantee that you will get a lot of traffic from Google even if you create quality content.
Believe me, there are so many sites online that have a great piece of content and yet other sites with less quality content outrank them for unknown reasons.
I don't want to discourage you from starting a business. I just want to show you the other side of the business.
If you create quality content I guarantee you will get traffic from Google. But the amount of traffic is totally unpredictable.
If you want to learn how to choose a niche for your website and increase chances of your success you can read my case study .
If you want to learn how create a business online I suggest that you start with a free account first.
Let me know if you have questions and I will help you get started.

About the Author: Adam
My name is Adam. I'm the founder of Your Income Advisor. My goal is to help others succeed online, by exposing scams and reviewing top rated products. I can help you start
your own business online