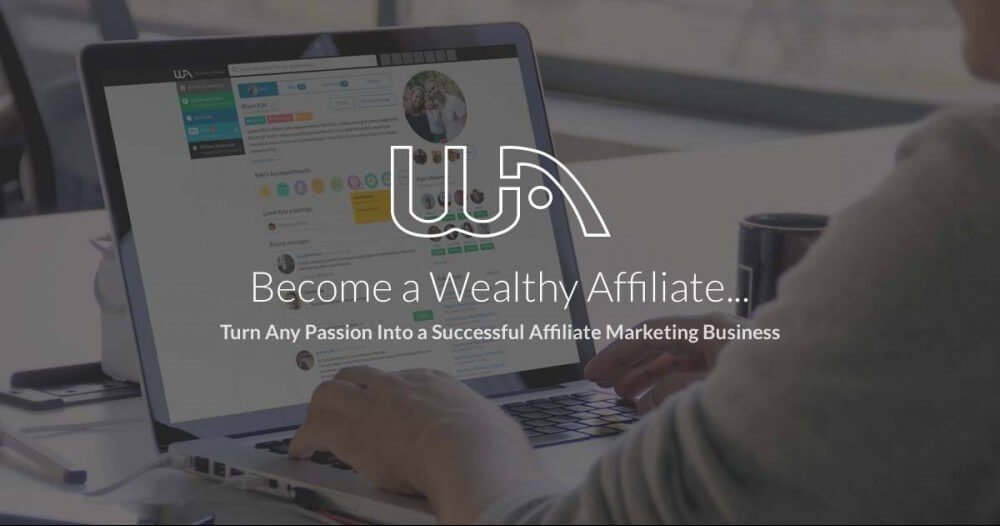 If you are looking for informative material about Wealthy Affiliate, I think you are in the right place.
I've been a member of the program for 7 years now and already wrote many different posts about Wealthy Affiliate. I will provide links further in my article.
I believe you can rely on my opinion about the program. I will show all pros and cons of Wealthy Affiliate so you can make the best informative decision.
Over the years I tried many different programs and know they work.
Some programs I haven't tried because I don't need to try every single program because I already know what works and what doesn't in online space when it comes to affiliate marketing or online business.
I will share my thoughts and experience so you can know exactly what you should expect from Wealthy Affiliate or any other similar program.
Here is a short list of my posts about Wealthy Affiliate: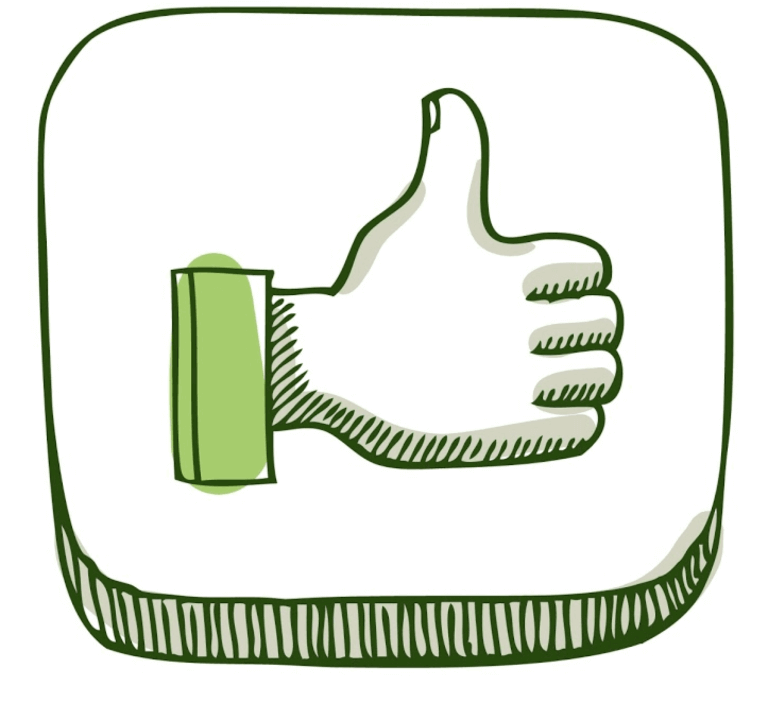 Pros of Wealthy Affiliate
Let's start our review of Wealthy Affiliate pros.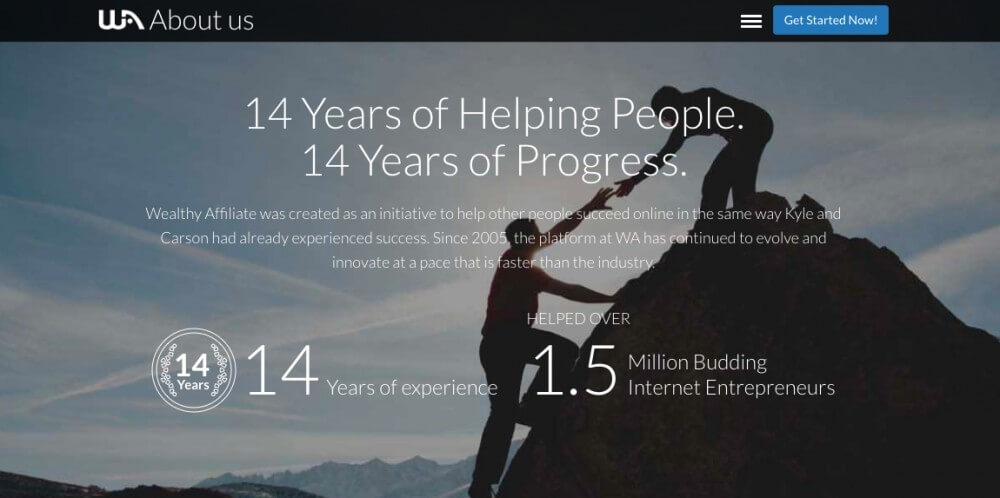 Over 14 years in online space
Wealthy Affiliate is not new in the online space. It's an established program with a good track record and thousands of members running their successful online businesses.
You can trust Wealthy Affiliate because it provides absolutely legit service. I personally can vouch for the quality of the program and many others as well.
It will take probably from 30 minutes to 1 hour to do some research on Google to make sure it's true. Wealthy Affiliate has a very high rating on TrustPilot.
You can see the screenshot below. Of course, everything was not without complaints.
Even in the case of the best program or service, there is always someone who is not happy with something.
This is fine. If you want to know about complaints, you can follow the link above. Generally speaking, Wealthy Affiliate is the program you can trust.

Affiliate Marketing Training  
Wealthy Affiliate provides high quality training in two directions. One training is called Online Entrepreneur Certification and another training is called Affiliate Bootcamp.
Also, Wealthy Affiliate provides additional training every Friday called Live Training by Jay on various topics with Q&A answered by Jay in real time.
Also, training made by other Wealthy Affiliate members both for premium plus, premium and free members.  
Training to which you should pay special attention is Online Entrepreneur Certification and Affiliate Bootcamp.
Entrepreneur course is for anyone who plans to start an online business based on their interest and passion.
Affiliate Bootcamp is for anyone who has any specific passion or interest and wants to promote the Wealthy Affiliate program to other people.
Both courses explain everything in detail step by step. You also complete tasks and can answer questions and get support. Wealthy Affiliate teaches only legit methods.
Other programs can teach you both legit and wrong methods that can ruin your business. When it comes to Wealthy Affiliate, you can be sure that all training material is legit.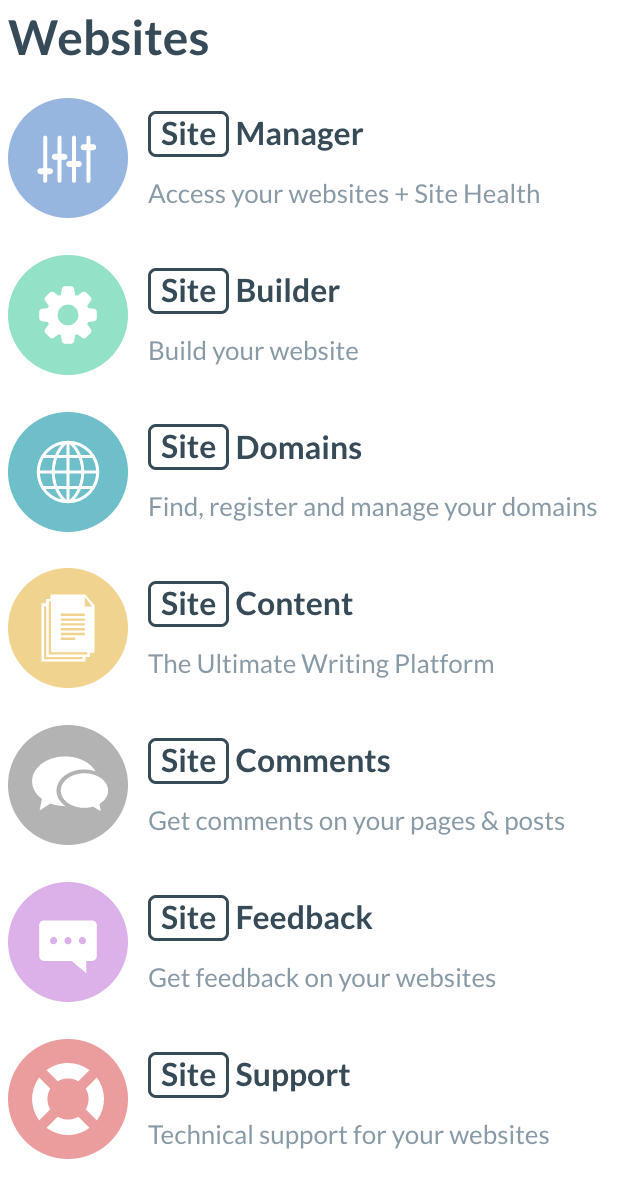 Tools
Tools is one of the most powerful side of Wealthy Affiliate that makes it different from many other programs and all these tools are totally free, i.e. included in your membership fee.
WA provides Keyword tool (Jaaxy), Website builder (SiteRubix), Website Manager, Web-hosting, Site health, SiteDomains, SiteContent, SiteComments, SiteFeedback, SiteSupport.
With all these tools you don't need to look any further. It's an all-in-one platform.
You can build a website, maintain it, buy domain for your website, write content for your website and attach free images included in Site Content, manage your website, improve your website health and speed, get comments for your posts, get feedback and improve your website, get technical support for your website, find keywords for your content.
I don't know any other platform that gives so many tools under one roof.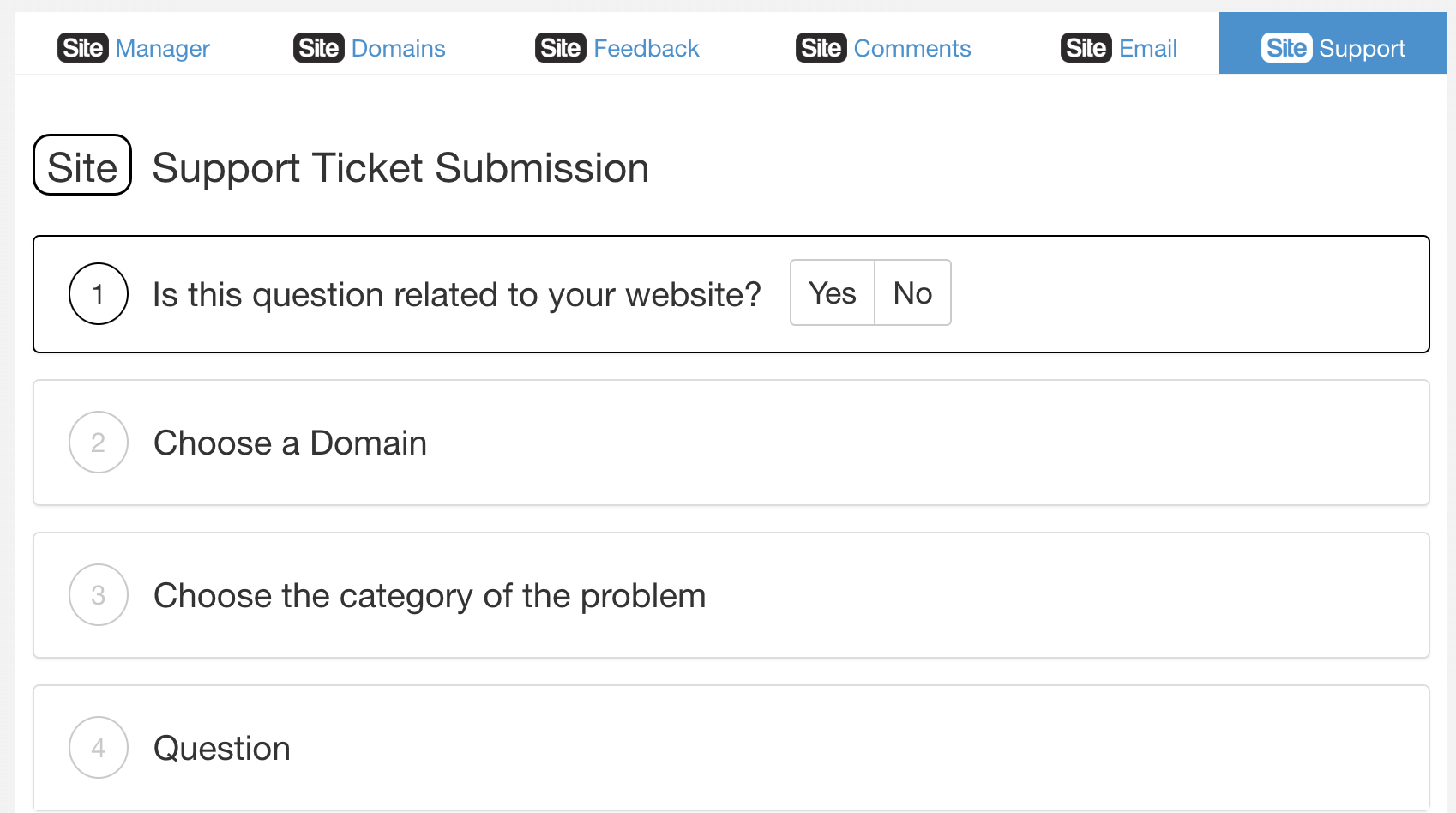 Wealthy Affiliate Support
I believe Wealthy Affiliate support is the most strong aspect of this program that makes it different from many other companies/programs on the market.
Because without quality support you can't achieve any of your goals especially when it comes to online business/affiliate marketing.
Even if you follow the best online training course, you will get stuck somewhere along the way which is why Wealthy Affiliate paid so much attention to support.
As a member of Wealthy Affiliate you have many types of support, such as private messages using which you can contact any member including CEO's of Wealthy Affiliate, ask a question and get support.
Of course, members reply within minutes if not seconds. Though CEO's reply within a few days, it's still good to get support from them. Because in many other programs you can't even contact them.  
As a member you can also post your question to the community and get support within minutes, sometimes even seconds. Every day thousands of members stay active and help other members.
There is also an option, such as live chat using which you can connect with other members in real time and get support or ask a question immediately.
Even CEO's of WA, Kyle and Carson participate in live chat almost every day helping members with their businesses.
Tech support is another strong point of Wealthy Affiliate. For example, if you have some kind of technical issue with your website, the WA support team will help you fix the problem.
They helped me many times and support was very fast. I've been a member of many other programs and have never seen the kind of support I got and still getting from WA.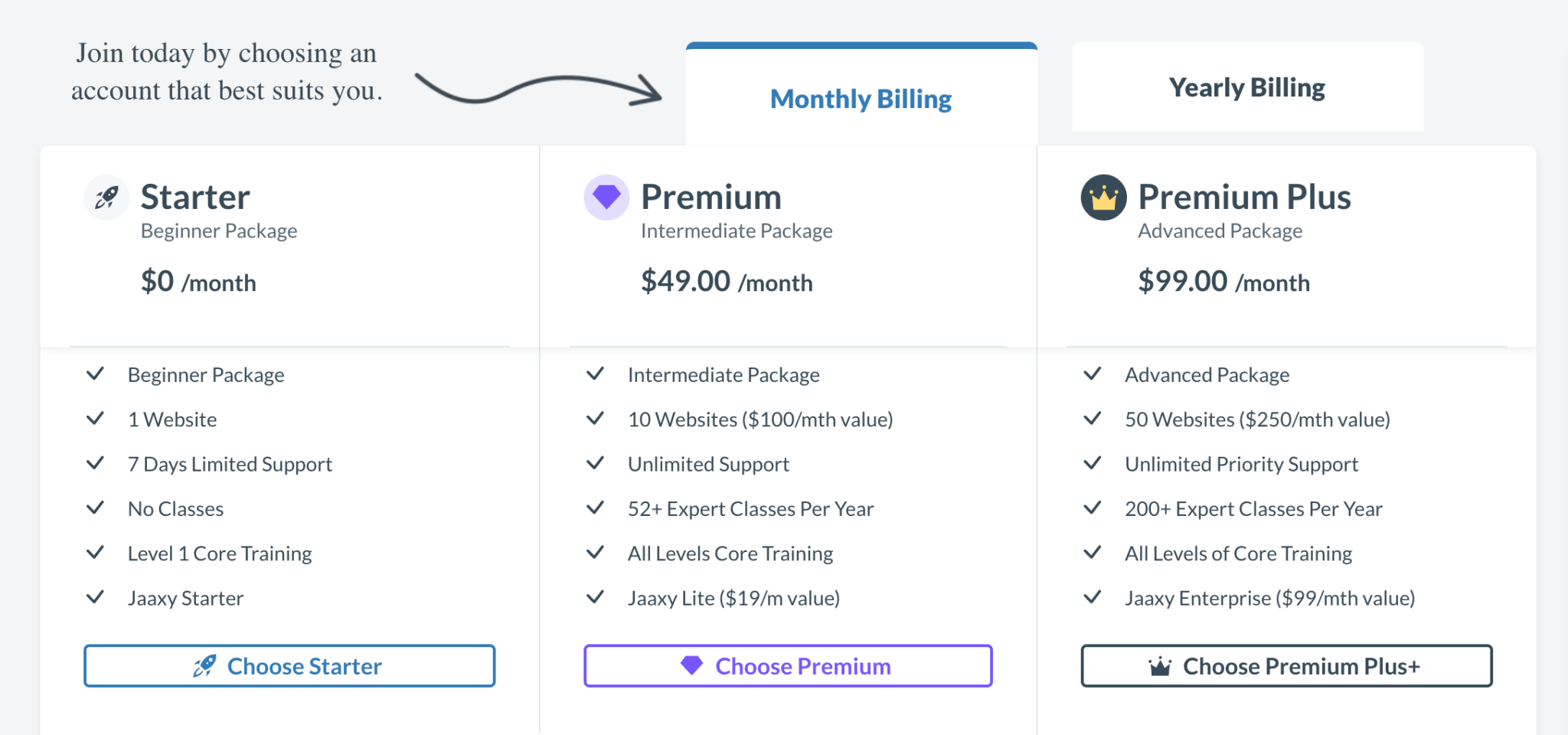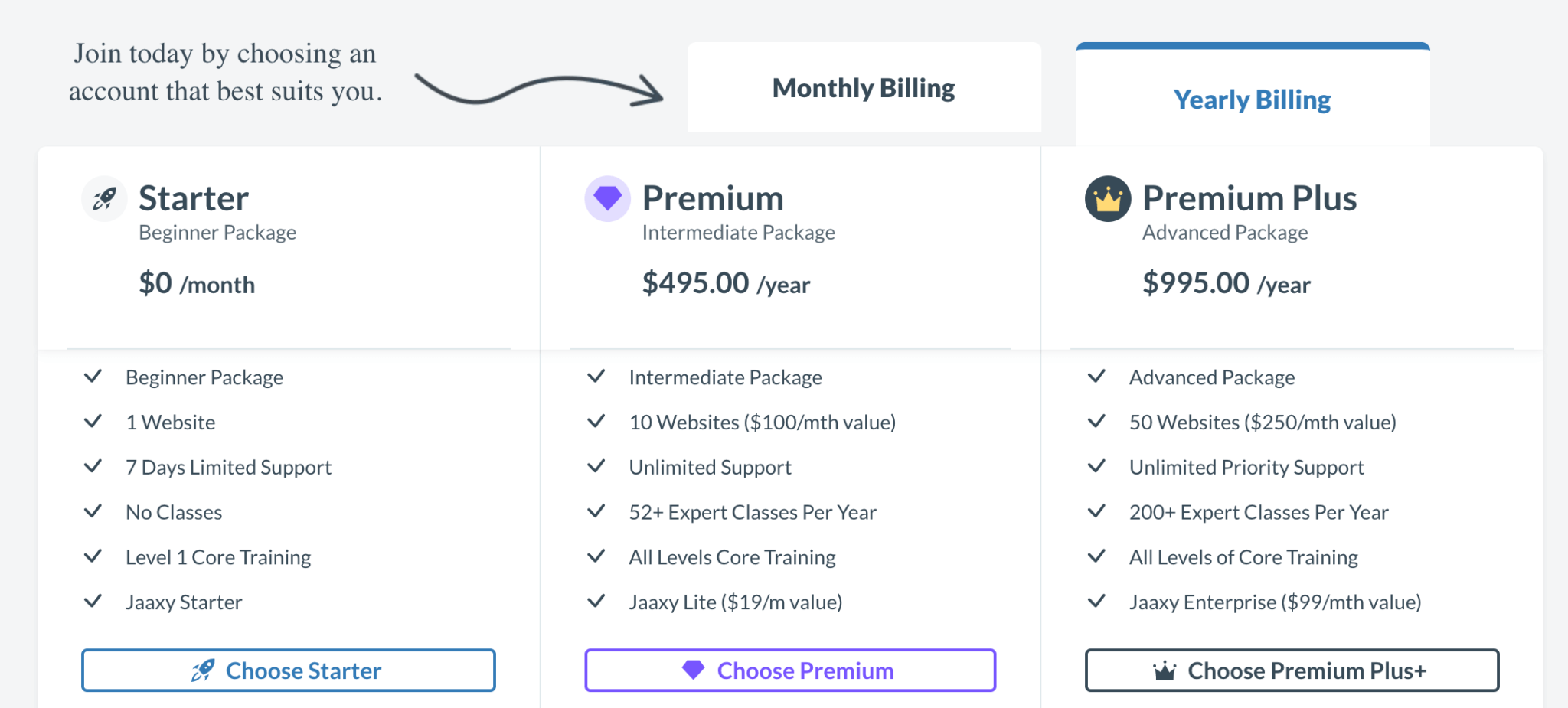 Memberships
Another pros of Wealthy Affiliate is providing several types of memberships for any budget and even free membership so you can try the program before you decide to join as a premium member.
In short, WA offers three types of memberships, starter(free), premium and premium plus. Both monthly and yearly plans. See them below.
As you can see, as a free member you get:
1 Website

7 Days limited support

Level 1 core training

Jaaxy keyword starter tool
Several types of payment plans make this program very attractive in my opinion which is why I've been a member of it since 2015.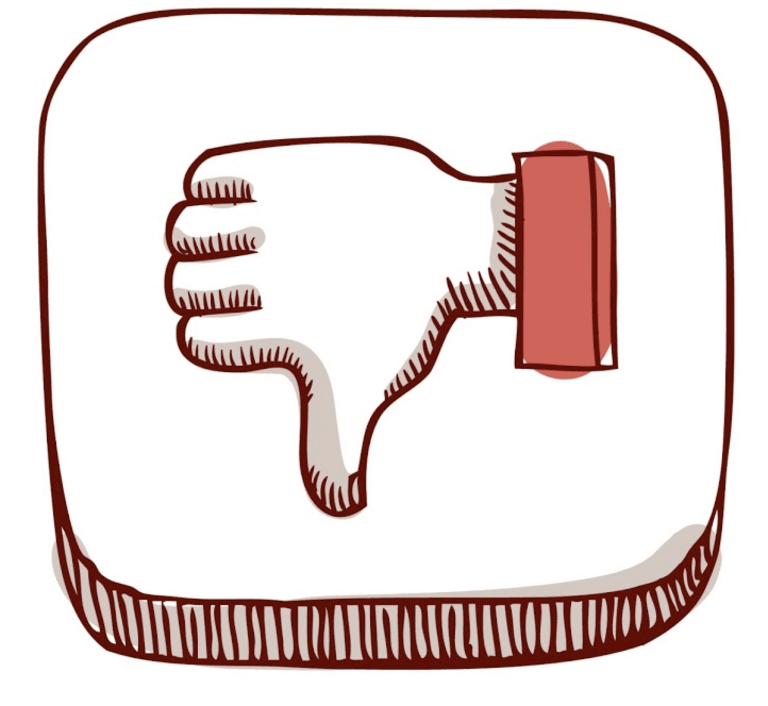 Cons of Wealthy Affiliate
Now let's start talking about cons of Wealthy Affiliate because there are no perfect programs and WA is not an exception.
First of all, before you join you must be aware that WA doesn't offer money back guarantee.
Because you can try the program for free within 7 days before you choose a paid membership plan.
Also, you pay $20 for the first month instead of $49 which is already a huge discount for you. 
Secondly, WA doesn't give any guarantees of success because it's not ethical. But Wealthy Affiliate gives you all you need to achieve your online goals, education, tools, support.
Many other programs give you guarantees that if you follow their training course you will start making thousands of dollars within 30 or 60 days.
Most of those programs are either scams or low quality programs.  
Finally, in order to achieve success in affiliate marketing business using the Wealthy Affiliate platform, you need to invest a lot of time, probably 12-24 months, stay patient and work really hard.
If you do it, most likely you will achieve your goals, but there is no guarantee that it will happen. 
Final word about Wealthy Affiliate
I hope my review of pros and cons of Wealthy Affiliate will help you make the right decision.
At least I was honest with you hoping that you will know exactly what to expect from this program.
One thing is clear: Wealthy Affiliate is an absolutely legit program, its training is high quality, the community is super active and support is amazing.
If you come across some reviews saying that WA is a scam or low quality program, it is simply NOT true. 
My Top Recommended Program

    Program # 1 – Wealthy Affiliate

About the Author: Adam
My name is Adam. I'm the founder of Your Income Advisor. My goal is to help others succeed online, by exposing scams and reviewing top rated products. I can help you start
your own business online