If you are trying to make money with no results and got tired of programs that promise you wealth and becoming rich overnight then Wealthy Affiliate Black Friday deal is what I'm going to offer you. I'm not going to promote any BS here.
The program I'm talking about has a good, well established reputation on the internet and it can change your life IF you want it and are ready to TAKE ACTION. Realistically speaking, Wealthy Affiliate can't change your life in 24 hours or in under a week or so.
It's simply impossible. But it can change your life if you are willing to invest some money and MORE important your time and effort. The more time and effort you invest the better results you can see.
In fact, Wealthy Affiliate is a solid training course that teaches you both the basics and even advanced techniques of internet marketing. With this knowledge you can start making money online and possibly quit your daily job some day if you plan so.
How much you can earn I don't know. Some people earn $100 – $200 per month. Some members earn a full time income. So, it really depends on many aspects. If you are a goal oriented person and consistent in what you learn and apply then results can be amazing.
I know members of Wealthy Affiliate who are earning $5.000 – $8.000 per month. Not everyone can achieve that level. I still can't too to be honest. But I'm doing alright.
I'm making $400-$500 per month. But I'm not the best online marketer and that's why my results are not the best results that someone can achieve online. Anyway, my business is growing and my income as well.
Wealthy Affiliate Black Friday offer
I think so far I was honest with you and now I want to tell exactly what Wealthy Affiliate Black Friday means, how you can benefit from this deal and how much it will cost you. First off, I'm myself a premium member of Wealthy Affiliate. I joined it in 2013. First I started paying $49 per month.
Then I decided to choose a yearly deal and pay $359 ( discount price) instead of $536 per year. When you pay monthly $47 and your first month will cost you $19, it comes to $536 per year. If you choose yearly, one time payment then you pay $359 and in this case each month will cost you $29.
That's a huge discount and a great deal if you plan to work seriously online, one of the best investments in your future.
This year I'm planning to choose a Black Friday deal and pay for my membership and take advantage of the great bonuses CEO of WA Kyle has to offer to all premium members who accepted his Black Friday offer.
Before I was unable to take advantage of Wealthy Affiliate Black Friday deal because I already was on a disount price. This year Kyle was very generous and announced Black Friday offer and made it possible for all WA members for which I'm very thankful to him.
And I decided to take advantage of this great offer and here I'm now a WA premium Black Friday member. I paid $299 for the whole year and this is really a huge discount.
Each month will now cost me $24.91! Can you imagine that? This is really fantastic to get access to such a great platform full of trainings, tools, support at such an affordable price.
You can continue your search to see if you can find something similar to this price with such a level of service. I believe you won't find anything close to this program.

Let's see what Wealthy Affiliate Black Friday offer means for you.
Great support
First of all, Wealthy Affiliate is an excellent and very friendly environment for anyone wanting to build an online business and start making money from their website. I don't know what kind of programs you've seen so far online, but this is absolutely possible and achievable.
You can read my review of the Wealthy Affiliate and see my income proof. So, as I said, the environment is very friendly and believe me it's really important.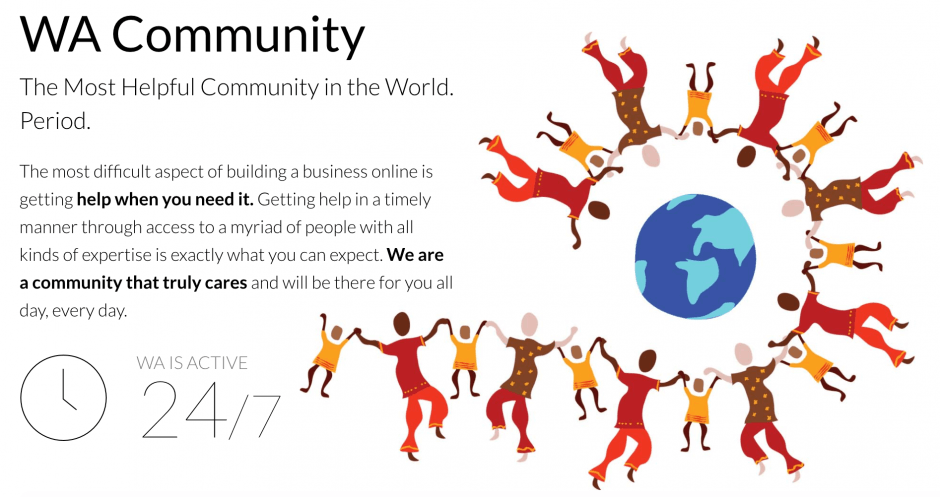 This friendly environment is alone worth the price you pay for Wealthy Affiliate membership. Because you can always get support within minutes if you need anything with your online business.
There are literally thousands of entrepreneurs within Wealthy Affiliate and you can ask questions and get answers from many of them within seconds or minutes.
So, believe me, support is a very critical aspect of any online business and fortunately, support at Wealthy Affiliate is fantastic.
Easy to use, technically advanced website building platform
Wealthy Affiliate has its own website building platform, SiteRubix that you can use to build your website within seconds.
The platform is very easy to use and you can choose how your website will look and just click on the "Build it now" button and your website is already running and ready to make you money.
You just need to put some effort to write content for your website and give your business some time until it starts growing.
Domain service
You need to choose a domain name for your website (yourwebsitename.com). You don't need to go somewhere because Wealthy Affiliate allows you to buy a domain name for your website within WA platform with all necessary options, such as domain privacy, protection.

Wealthy Affiliate platform includes full privacy and domain protection, full email accounts included with each domain purchase. Look at the image below to see how Wealthy Affiliate differs from other domain platforms.
High quality web-hosting
Once you've built your website, you need to host it on a server to make it live and accessible to other people online. You don't need to look for a web-hosting service somewhere because Wealthy Affiliate provides a high-quality web-hosting service you can take advantage of.
Wealthy Affiliate hosting includes the following:
WordPress optimized servers
The most secure hosting anywhere
Full redundancy
Daily backups
24/7 website monitoring
Fully managed
Email & forwards
Site Health analyzing
Website auto login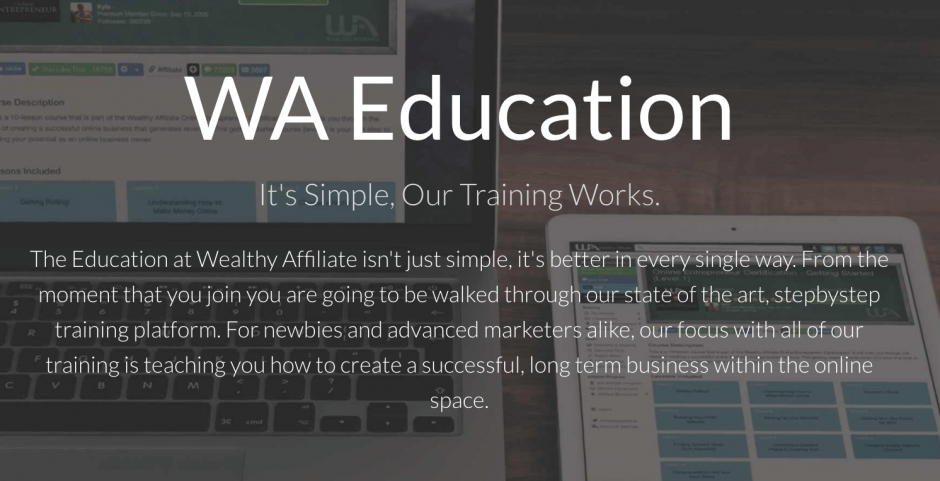 A top notch training on affiliate marketing
At Wealthy Affiliate you can take advantage of WA training course on affiliate marketing, i.e. understand how to make money online the easy and legit way. You will learn how to get organic traffic from Google, Bing and Yahoo.
Traffic means a lot of targeted visitors to your website ready to buy your product or service. Don't have a product to promote? Not a problem.
You will learn where to pick one for free. You will also get access to thousands of other free training tutorials within Wealthy Affiliate platform.
You will get access to weekly live webinars on various topics that will teach you everything you need to build and scale your online business. And remember that you will get access to online marketers that are making serious money online and you can take advantage of their experience.
Also, you will get access to ME and I can help you as well. You will get access to creators of Wealthy Platform, Kyle and Carson.
You will get access to Wealthy Affiliate live video training coach and you will able to ask him questions each Friday. That's a great investment and achievement when it comes to success online.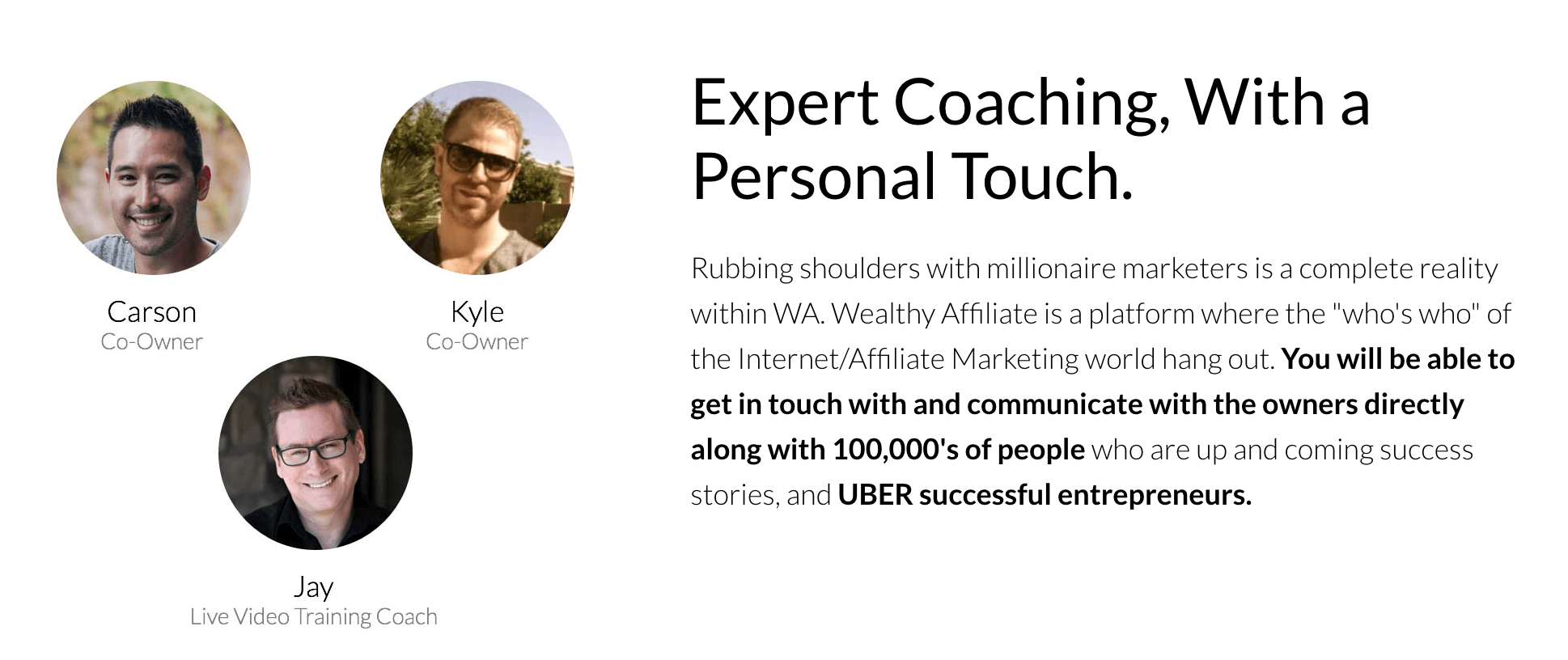 In short, with Wealthy Affiliate Black Friday deal you get access to the following:
Wealthy Affiliate wordpress platform
Website hosting
Domain service
Ability to host up to 50 Websites
Access to SiteFeedback, SiteDomains, SiteEmail, SiteManager
Keyword research tool
Live training videos
Free training videos created by experienced WA members
Access to the Online Entrepreneur Certification
Access to the Affiliate Bootcamp
One-on-One private coaching
24/7 support
Step-by-step training videos and tutorials
Private access to ME (personally)
Access to Kyle's bonuses
Wealthy Affiliate Black Friday bonuses ( Access to 4 live training webinars)

Bonus #1: Becoming an Authority Online, 2017 Style
The Fundamental Foundation of Online Success in 2017
Be Great at Something in 2017
Nailing the Formula for Success in 2017
Increasing Productive, Efficiency & Scaling Your Business in 2017
Bonus #2: Live Class: Kyle's First Day of School
Bonus #3: The Unexpected Path to Success in 2017
Bonus #4: How to be successful in 2017 (Live video by Kyle)
Black Friday 2018 Bonuses:
Bonus #1: The 7 Factor "Secret Sauce" (Live Class)
Bonus #2: The Secret Sauce, The White Paper.
Bonus #3: Creating a Lucrative Niche Website in 2019 (5 Weeks of Live Training)
Bonus #4: Early Beta Access to Yearly Members
You can watch this video on December 30, 2016 in which Kyle himself will be talking and sharing his experience on what he has learned over the last 14 years in online marketing.
The main reason for creating this awesome video is to help folks achieve success in 2017 the easiest and the fastest way possible.
In this video Kyle is going to cover several important aspects such as:
1. How to start an online business from scratch
2. Kyle's insights
3. What you can expect from your online business in terms of income potential
4. How to start a business the way that will ensure your success
5. The difference between a successful business and one that is a complete waste of time and energy and MORE
Kyle will be covering WAY more questions and also you will be able to ask questions LIVE and get the answers from one of the respected and successful online business entrepreneurs.
Remember that one thing is when you watch video lessons and the other thing is when you can see and talk to someone who is successful and can share their experience with you.
But this bonus is NOT for everyone! It will be accessible to those that plan to work seriously online. IT'S FOR ACTION TAKERS ONLY!
It will be accessible ONLY IF you take advantage of Kyle's Black Friday offer! Yes, that's a huge success to get such a deal. You are going to get a fantastic discount price and become a Wealthy Affiliate premium member for just $299.
That's a yearly subscription to Wealthy Affiliate's premium training on internet marketing and super fast support. You can take advantage of this amazing Black Friday deal until December 2nd at 11:59PM, PST.
Remember that the normal price is over $500 per year. You still can take advantage of this deal. Take action today and invest in your future. Surround yourself with successful people and success will come to you.

Why you should take advantage of Wealthy Affiliate Black Friday offer?
The offer will be live from November 25 to November 28, 2016. I think anyone wanting to achieve success online should take advantage of this amazing offer. Because:
There is no extra fee. No upsells. Premium membership at Wealthy Affiliate includes absolutely EVERYTHING that I've mentioned above.
Wealthy Affiliate is planning to offer FREE SSL to all WA members in 2017 which is really great because Google is going to pay more attention to this function in 2017. Remember that other platforms charge additional fee for this service.
Wealthy Affiliate platform and trainings are always up to date with all Google changes that happen every 4,5 months.
Here is the link to Wealthy Black Friday offer. If you come across this article after November 28, 2016 you still can take advantage of Wealthy Affiliate community and choose $359 yearly payment or choose monthly. It's up to you. Then, later you can choose Black Friday offer in November 2017.
In fact, Wealthy Affiliate training program covers all aspects of online business. This includes:
Content
Traffic
Design
Email Marketing
PPC (paid traffic)
Conversions (getting sales) and more
Finally, it's up to you to make it work. If you are really serious about building an online business, then I can honestly recommend Wealthy Affiliate as the best program that I've seen so far when it comes to making money from a website.
The community, tools, support, training are all top notch and nothing comes close to this opportunity online. This is going to be your best investment and I believe if you take my advice and join Wealthy Affiliate you will send me a "thank you" email soon after joining the community.
I'm not going to give you any false promises here nor Wealthy Affiliate does it. Your success depends completely on you and your effort.
But in order to achieve success you need the right community, the right training, the right tools and all this is available within Wealthy Affiliate.
The Wealthy Affiliate Black Friday deal is now live and you need to TAKE ACTION if you want to see the potential of Wealthy Affiliate program and how it can change your life. Let me know if you have any questions and I will be happy to help you out with your decision.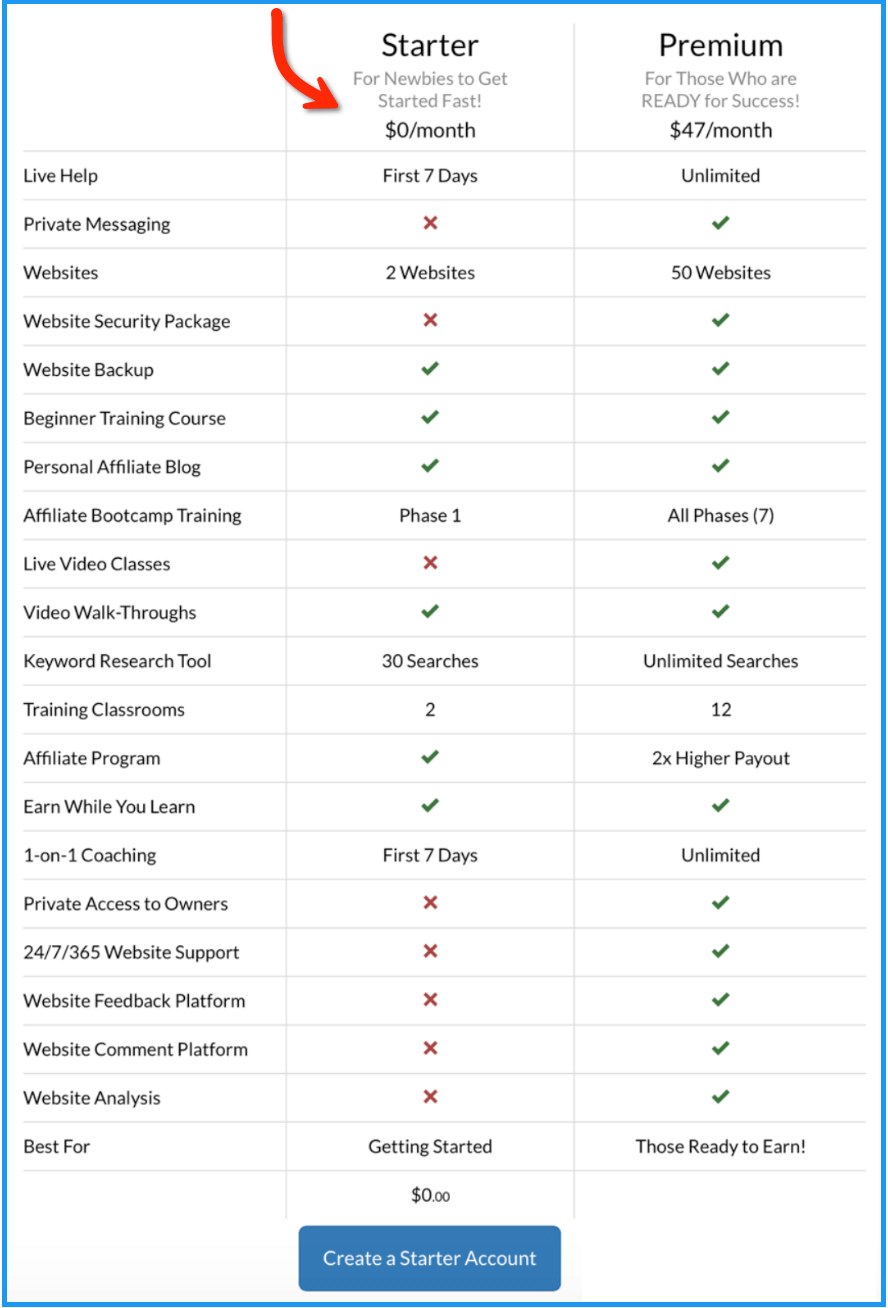 About the Author: Adam
My name is Adam. I'm the founder of Your Income Advisor. My goal is to help others succeed online, by exposing scams and reviewing top rated products. I can help you start
your own business online