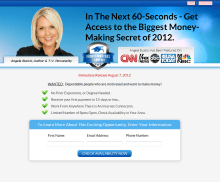 Product name: Profit Masters Academy
Product owner: Angela Bussio
Website: profitmastersacademy.com
Price: $97, after discount $47
Verdict: Scam
Profit Masters Academy though looks as a stand-alone program this is in fact a duplicate site that doesn't offer any unique product or service and like many other scams out there instead of helping people it's designed to mislead and direct you in the direction of wasting your time and efforts.
People behind this program focus basically on making more money and promoting products that can hardly help you make money online.
There are many programs similar to Profit Masters Academy that are promoting the same poor product and provide zero support and for all that they promise that you can make a lot of money by placing links and ads on the internet.
The good news is that if you are reading this review so far you are saved from falling for this scam and the bad news is that though it sounds as a great opportunity to make easy money online it's not going to happen because it's just a dream.
Keep reading and I will explain the whole thing about Profit Masters Academy.
What is Profit Masters Academy?
I can mention over 16 programs like Profit Masters Academy which you can find in this article and all these programs have received low rating on my site for a number of reasons.
Some of them promoted fake opportunity as if you could be making money by placing links and ads and after receiving a huge amount of complaints they were shut down.
Some of these programs learned from their own mistakes and changed their strategy. Some of them are now promoting affiliate and CPA marketing training, some tools etc. Though in some cases training is not bad, support is always terrible thus making this program useless.
Pros of Profit Masters Academy
Some useful training material
Cons of Profit Masters Academy
The website has been taken down by the owners of the program
The same product is being promoted by Replace Your Job and Home Internet Careers
No support
Overpriced private coaching
The owners of link posting scams never deliver on their promises
Inside the program
1. All link posting scams that I've reviewed over the past couple months make different and unrealistic claims as if you could be making a few hundred bucks a day by placing links and ads for big companies. Some of them claim that you can make $87, some claim you can make $379 a day.
Some claim that you can start making money in 5 minutes after registration. Promises are different and big but none of them has been delivered till now.
All internet marketers that I know and who are making this amount of money have spent two years before they started seeing this kind of numbers.
2. I want you to take a look at programs such as Replace Your Job and Home Internet Careers that are promoted as link posting scams and in fact they have the same website layout, images, prices and are promoting the same services.
They copy each other and whenever one of these sites is taken down the owners move their "amazing" product to another new site with a new domain name. Especially Web Fortune Master and Profit Masters Academy are an exact copy of each other.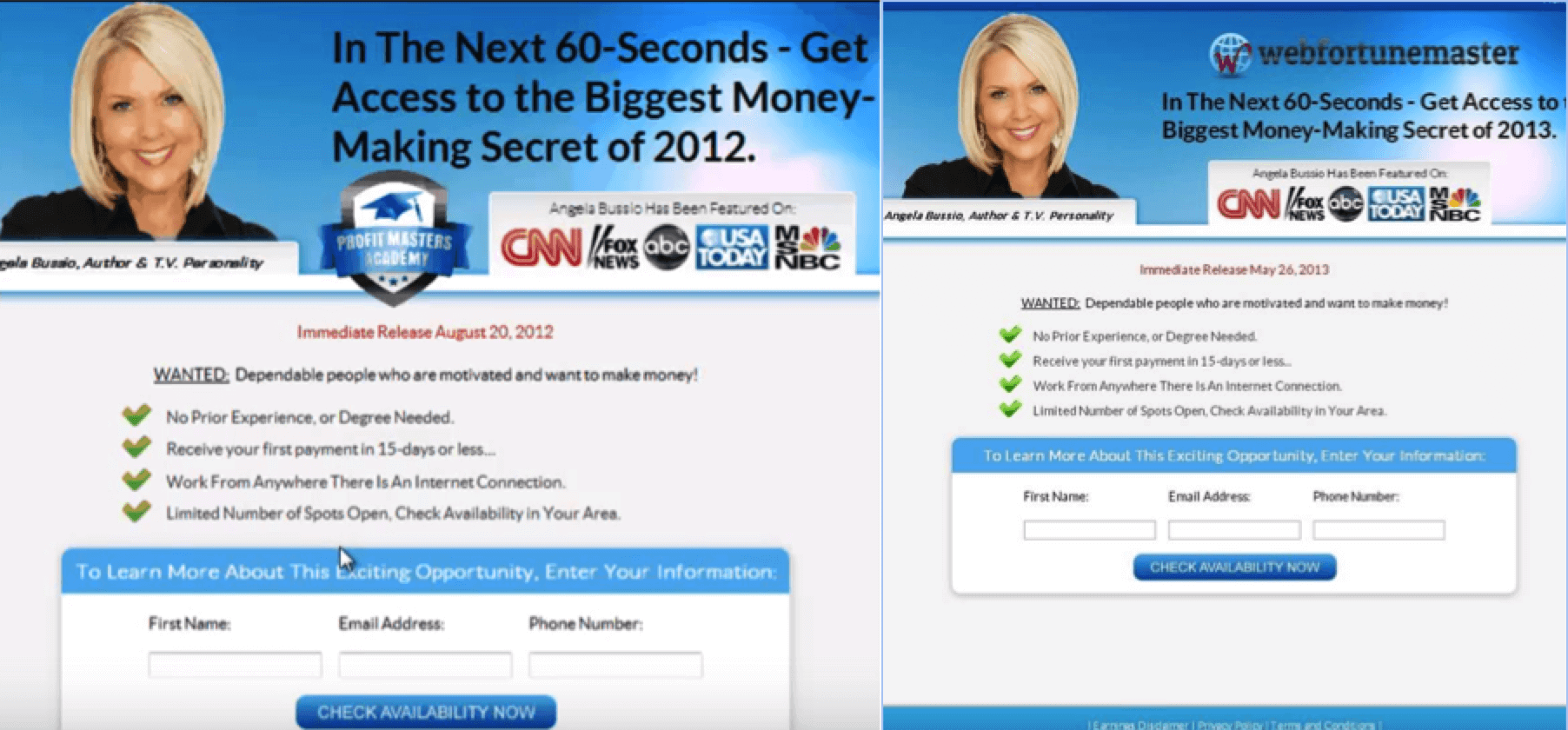 3. Angella Bussio or Mary Stevens claim that their system has been designed specifically to make the process of making money as easy as possible and to start making money you need to open an account and get your affiliate link.
Then you start promoting your link and whenever you want to know how much money you have made you just login to your account and check your account. This is how Angella explains the process which is of course not true.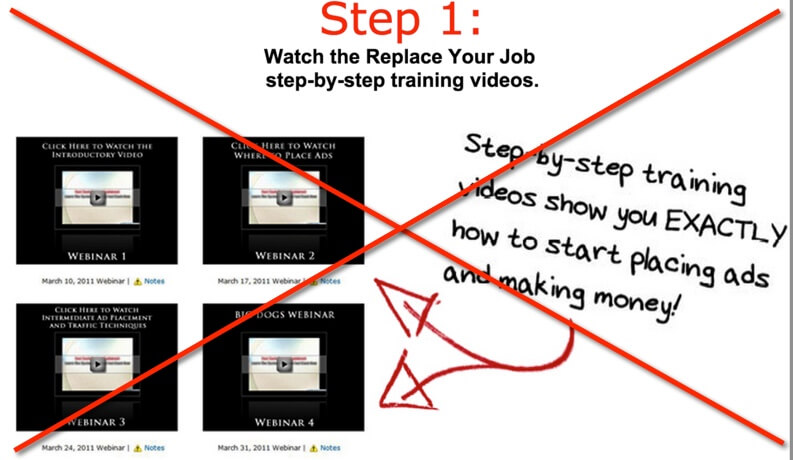 Before you start seeing any profit inside your account you need to do some work such as creating a website, writing some reviews for your products/services and then start driving traffic to your website in the hope that some of your visitors will complete the purchase and you will earn a commission.
All this means that before logging to your account to check if you have made any money you need to gain some skills and apply the knowledge. This is not a fast process and in most cases it takes a year or two to see 4 figure income.
4. There are a few upsells inside the members area that include a training on how start an online business and the same training is offered inside Replace Your Job and Home Internet Careers.
Angella who is most likely a fake person claims just like in two other programs mentioned above that quality training costs a few thousands of dollars but she offers it at a very affordable price.
In fact, it's not true at all because there are quality trainings available for under $30 per month including web-hosting and supreme 24/7 support.
5. Profit Masters Academy uses fake news report as if their program was featured in the news on famous news channel. The same trick was used by all other links posting scams which ruins trust and authority of all these programs altogether.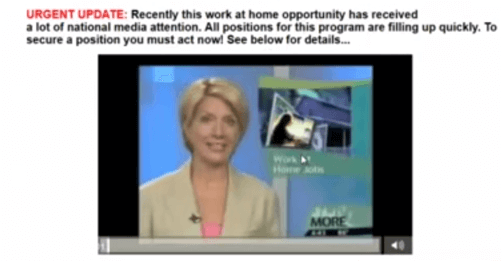 And they also use the same fake finance report website.

6. Inside Profit Masters Academy they offer a private coaching that may cost you over $1000. I don't think it's a reasonable price because you can get an excellent support for a much lower price inside Wealthy Affiliate.
7. Three programs, Profit Masters Academy, Home Internet Careers and Replace Your Job offer the same training and explain the whole process as 3 simple steps.
You are promised to have a business that will be highly targeted and highly profitable. This is not true of course because no one can guarantee you any success when it comes to making money online.

8. They use fake testimonials that have been used in all previous link posting scams. Images are taken from stock image websites and don't belong to real people.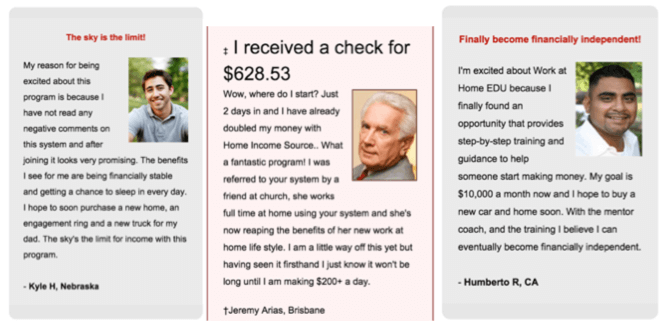 9. Finally, there are many complaints about Profit Masters Academy which is not surprising at all because there were complaints about other link posting scams too.
Online Home Careers University
Take a look at a warning from BBB from which you can easily realize that easy money doesn't exist.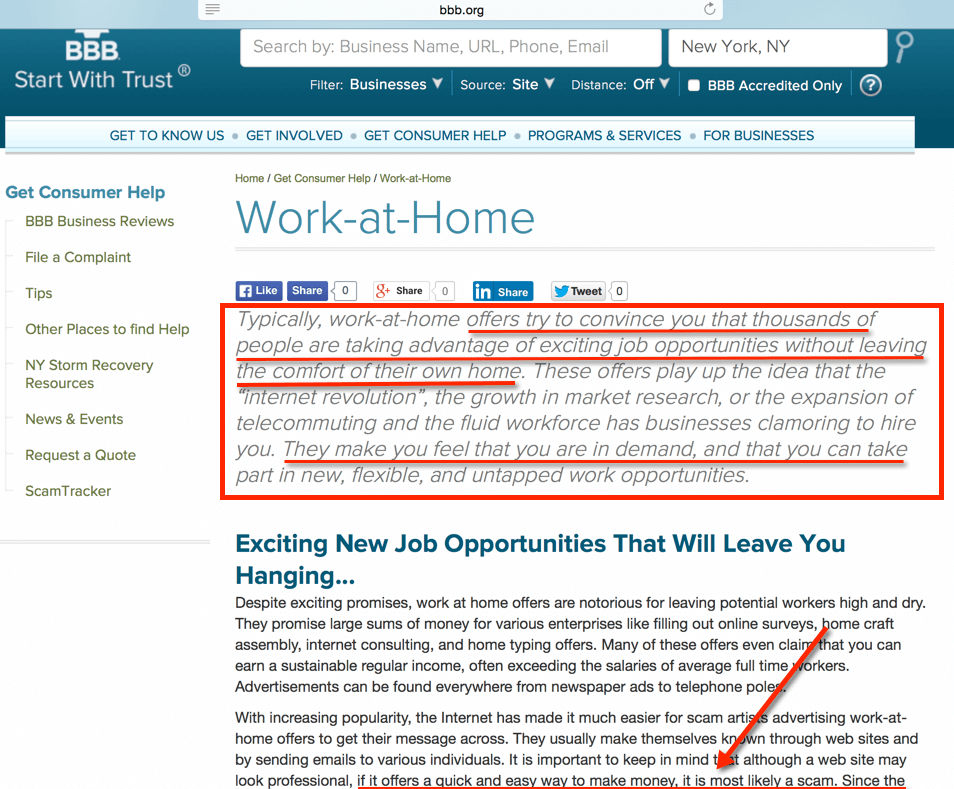 10. And of course, Angella promises you wealth overnight


Final word on Profit Masters Academy
The site is a copy paste from other link posting sites
No support
The program is not reliable due to many red flags
Many complaints about link posting scams
WA is a much better alternative to Profit Masters Academy.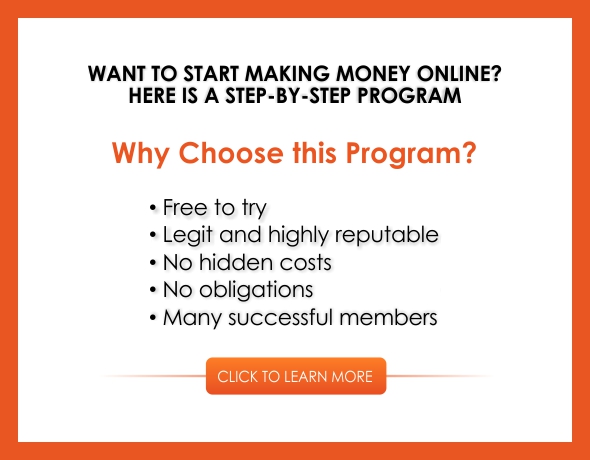 About the Author: Adam
My name is Adam. I'm the founder of Your Income Advisor. My goal is to help others succeed online, by exposing scams and reviewing top rated products. I can help you start
your own business online