Product name: Home Job Placement
Product owner: Kelly Simmons
Website: home-job-placement.com
Price: $97, after discount $77
Verdict: Not recommended
I'm going to review a new link posting opportunity and to be honest I'm a little confused. There are several programs out there and all of them are connected to each other and the whole thing looks either spammy or at least very suspicious.
Right from the start you are going to get confused trying to figure out what Home Job Placement is about.
I already reviewed over 17 link posting programs and all of them are in my not recommended list due to using shady techniques and providing little value to people.
There are too many similarities between all link posting websites which leaves no place for a firm belief that any of these programs could help you achieve your online business goals.
These similarities are all bad and prove one simple fact: you better spend your hard earned money on some other trustworthy programs, such as Wealthy Affiliate or Site Build it.
Let's go into details to find out if Home Job Placement is a scam or not.
The main idea behind Home Job Placement
The idea of Home Job Placement is not going to be any different from any other link posting opportunity. It's all about affiliate marketing, i.e. making money by promoting various products.
Though affiliate marketing is legit these link posting programs promote this legit idea using shady techniques and mislead people into believing that they can copy paste ads and links and make effortlessly hundreds of dollars per day.
Pros of Home Job Placement
Some training material
Refund
Cons of Home Job Placement
A new version of other link posting sites
Site is known under many other different names
Upsells
False promise about making $15 per link
Fake testimonials from Fiverr
Fake ads (images taken from stock image sites)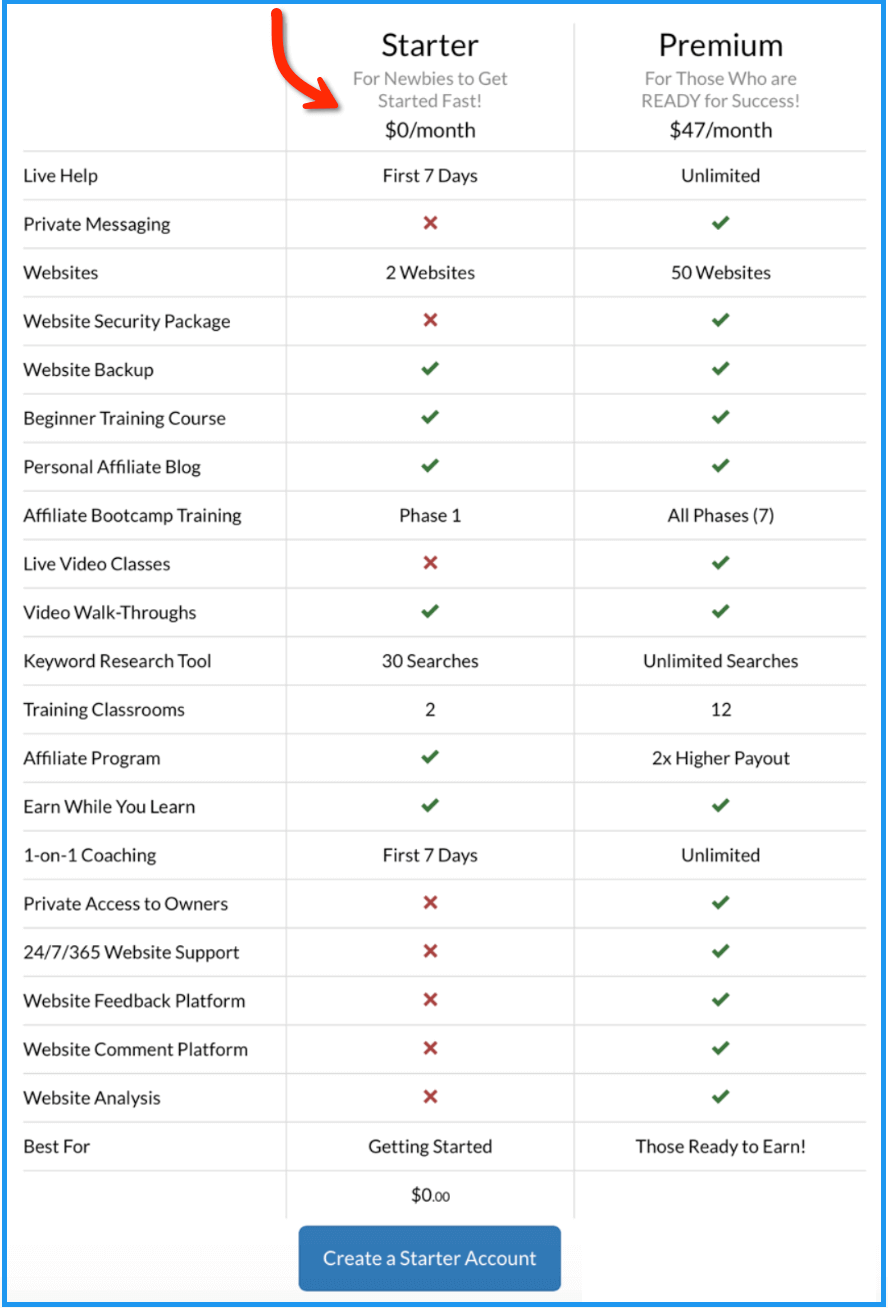 Home Job Placement reviewed – scam signals
Association with other link programs
First, I want to take an initial look at this program so you can see the whole picture. The first scam signal that I've found in this program is that Home Job Placement is associated with many other link posting programs/websites.

This is definitely wrong because I've never seen any reputable program that would be using different sites, names for promoting the same product. Home Job Placement is associated with several link programs, such as:
Online Home Careers University
Replace Your Job
37 Clicks
Home Job Source
Extreme Home Profits
Online Software Solutions
Cash from Home
Home Job Source and Home Job Placement have identical web designs. You can see it on the screenshot below. From time to time they slightly change their website design.


Spammy Redirection
When I typed this name, home-job-placement.com it took me to another site www.37clicks.com
When I typed in my web browser this name www.replace-your-job.com it sent me to this website www.online-jobs-now.com which is actually 37 Clicks.com



37 Clicks is also associated with another program called Online Software Solutions.

Home Job Placement is also available at the following web addresses:
www.home-job-placement.com/bo
www.home-job-placement.com/bo/default.cfm?qualify=yes
If you type one of these addresses in your web browser you will be taken to 37 Clicks.com website.
When you watch videos on www.home-job-placement.com website you will be taken to another product called Online Home Careers University which is another story.
I reviewed this product here. This program is a total scam. I don't recommend it at all. They use fake testimonials, many complaints, no real support. Very sad…
As you can see, there are too many scam signals in one single program. An it's only a beginning of my review. I'm going to reveal even more facts below.
5,6,9 Positions left in your area
Like all other link posting programs, Home Job Placement uses tricky techniques, such as 5,6 or 9 positions left in your area. This number never changes actually. You can refresh their page hundred times and you will always see the same number.

Fake people
They use same fake personalities to make their program look trustworthy. Look at the images below. They use the same image from stock image site while using different names, Kelly Simmons and Ellen Shepard.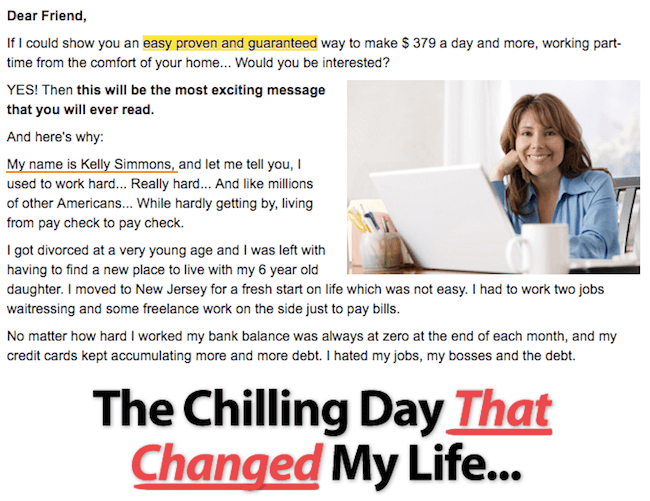 Kelly Simmons is from Home Job Placement and Ellen Shepard is from Home Income Explosion. The name of the program itself sounds very funny ( explosion 🙂
BTW, Kelly Simmons is also the owner of another link posting program known as https://home-jobs-now.com
You see how many similarities between link posting programs/websites to the extent that and the whole thing becomes very shady and untrustworthy.
$379 per day?
An interesting fact about all link posting sites is that almost all of them promise folks the same thing. By spending 60 minutes every day you will be able to earn up to $379.
This means $379 x 30 days = $11.370. Fantastic income! Sounds cool, right? Unfortunately, it's not going to happen.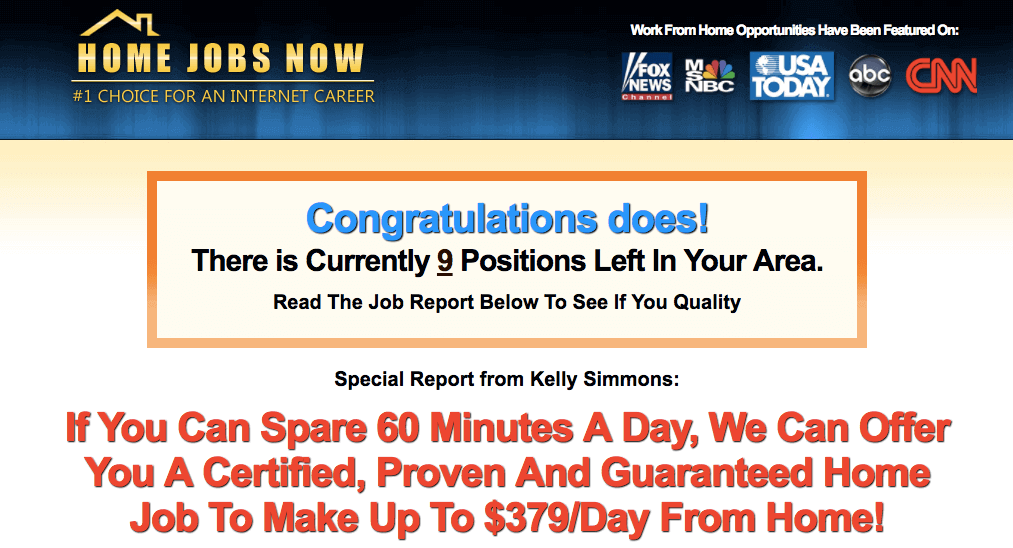 Not only you won't earn this money you are also going to buy other products (upsells) in order to achieve this level of income. But even after buying all their upsells I'm pretty sure you won't earn anything even close to that number.
Refund
Home Job Placement also offers 60 day money back guarantee. A friend of mine who purchased this program was able to get his money back.
So, it's good to know that at least you can get your money back.

But I don't really recommend to put your money at risk. Because very often when it comes to programs like this one people can't get their money back. So, it's up to you.
Link posting and affiliate marketing
Home Job Placement is promoting the idea of copying and pasting ads and links which is not new. Officially, it's known as affiliate marketing which means you pick a product or service that you want to promote.
You add your affiliate link and start to promote it through your website by attracting visitors from search engines ( Google, Yahoo) or Facebook, Youtube etc. Some people will click on your links and possibly make a purchase and you will earn a commission.
The process looks very simple but it takes time in order to get enough traffic, i.e. visitors to your website.
Depending on the level of income you aim for this process can take from 2,3 months up to one year or even 2,3 years.
Unfortunately, Kelly Simmons advertises this process in a misleading way as if you could simply copy and paste ads and make $379 per day. That's not true.
Misleading video
As I said above, they use several different links and sometimes you can watch their presentation video as if their program was featured in the news. This is not true. Though news is real Home Job Placement has never been featured in the news.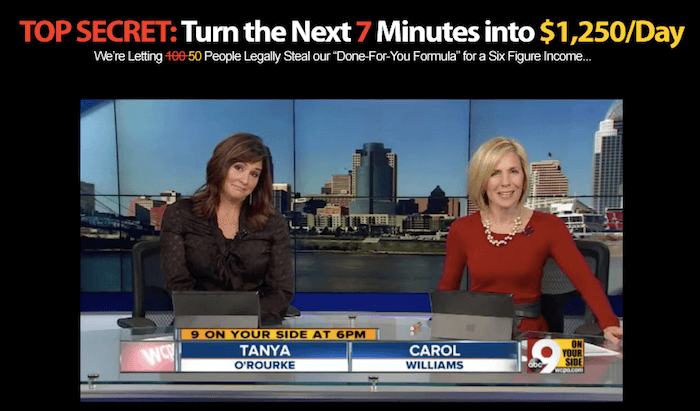 Fake testimonials
They also use fake testimonials from Fiverr.com. You can see the guy from their video and the same guy who has his profile on Fiverr and offers his services for creating professional both real and fake video testimonials for $5-$10. Sounds interesting.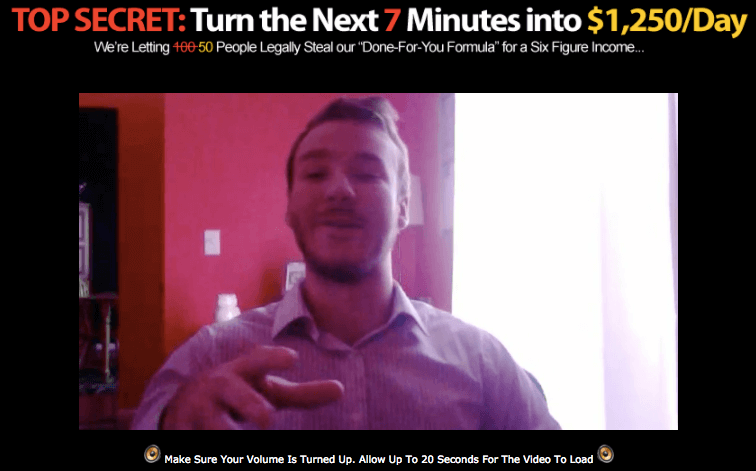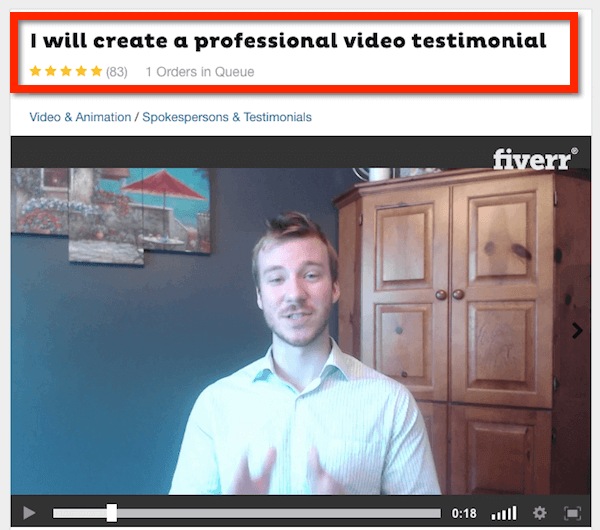 Home Job Placement = Online Home Careers University
After watching this amazing video you will be asked to pay for the training program by Online Home Careers University. The program will cost you $97. After discount $77. For more info regarding Home Careers you can click the link above.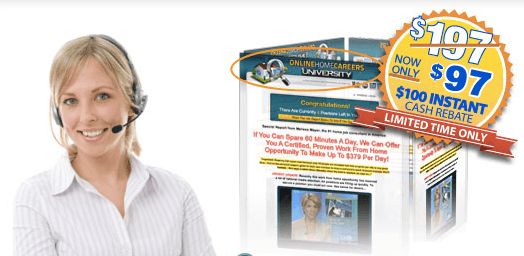 Stock images
I already showed you two images from a stock image site. Now look at two other images of the same woman but this time they changed their names. Now it's Kelly Simmons and Cynthia Sprinter.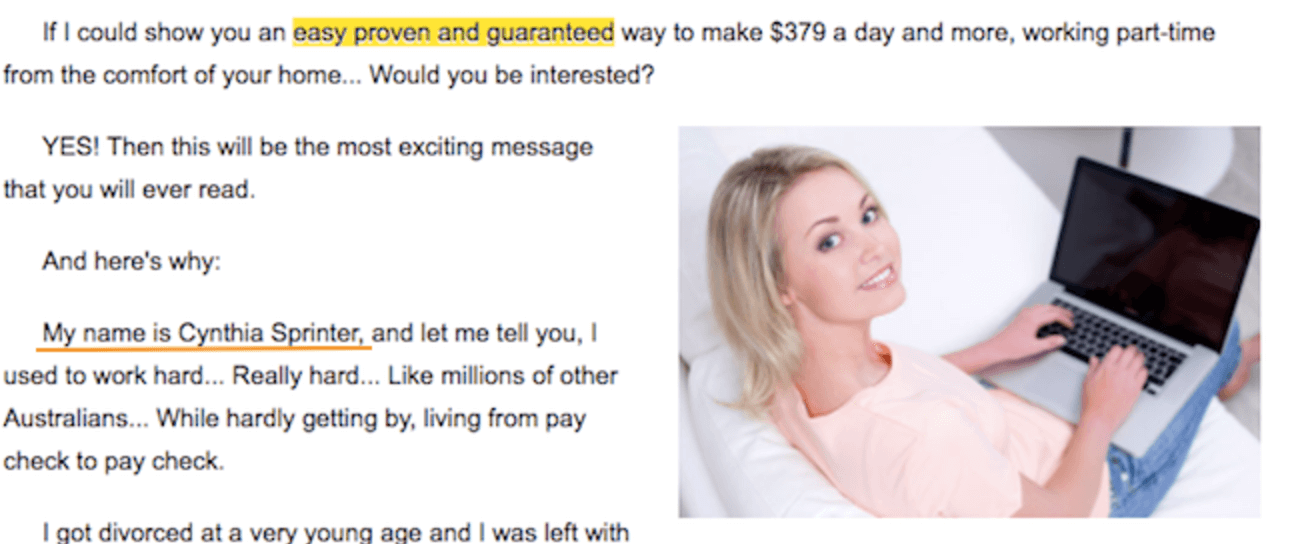 Some time ago this link
www.home-job-placement.com/bo/default.cfm?qualify=yes
if clicked would take you to another site
http://www.securebusinesssites.com/tpl/20261
which is redirected to another link posting site called Cash from Home. Same story but this time in another cover.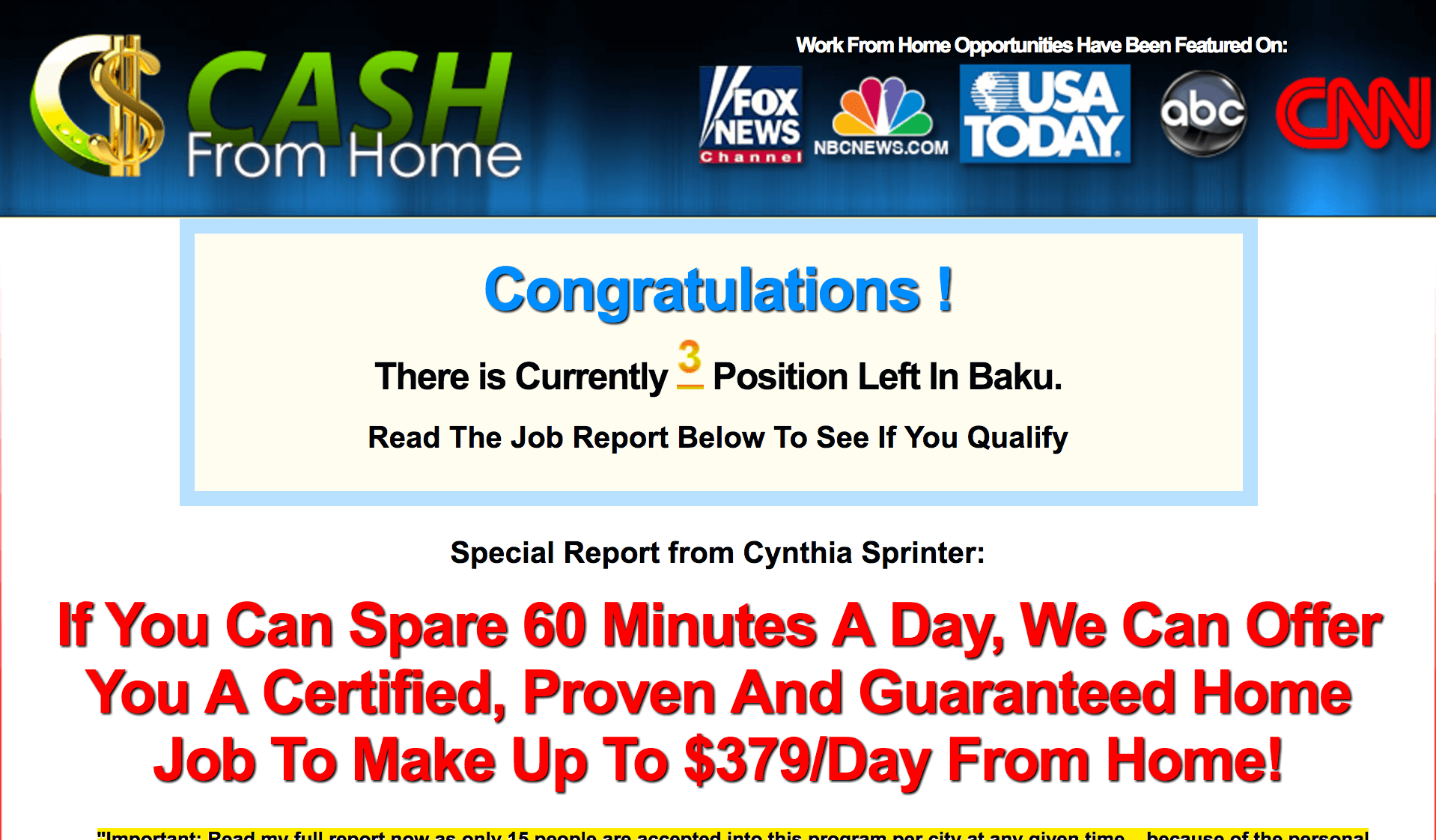 FTC
You can also find a complaint about Home Job Placement on FTC website. It looks like this program was first run by Jennifer and then Kelly Simmons became their new fictional persona.

Kelly is everywhere
It looks like people behind link posting sites love this name – Kelly. She is everywhere. Sometimes it can be Kelly Simmons or Kelly Scott or whatever else.
In most cases it's a single mom who tries to pay her bills. It looks like she is divorced and wants to prove her ex husband that she can raise her child without his help.
BTW, Kelly is associated with many other link posting websites, such as Replace Your Job, Home Internet Careers, Careers for You, Internet Careers Online
Complete list of link sites
You can get familiar with a complete list of link posting sites here. I think this list is not complete because I'm pretty sure that there are many other link posting sites like Home Job Placement or Home Income Explosion or Home Profit Explosion or any other Explosion or whatever else.
But this list grows and I will add other link posting sites if I find them.
BTW, another link posting site, Home Jobs Now, very similar to Home Job Placement is no longer existing and is now redirected to 37 Clicks.
37 Clicks is everywhere!
In fact, all programs that I've mentioned above:
Online Home Careers University
Replace Your Job
37 clicks
Home Job Source
Extreme Home Profits
Online Software Solutions
Cash from Home
Home Jobs Now
are promoting the same idea, i.e. affiliate marketing. Some of them is a complete waste of time. Some provide some training. In some cases you can even get refund.
Unfortunately, most of the time they describe this internet career as a link posting agent for search engines such as Google.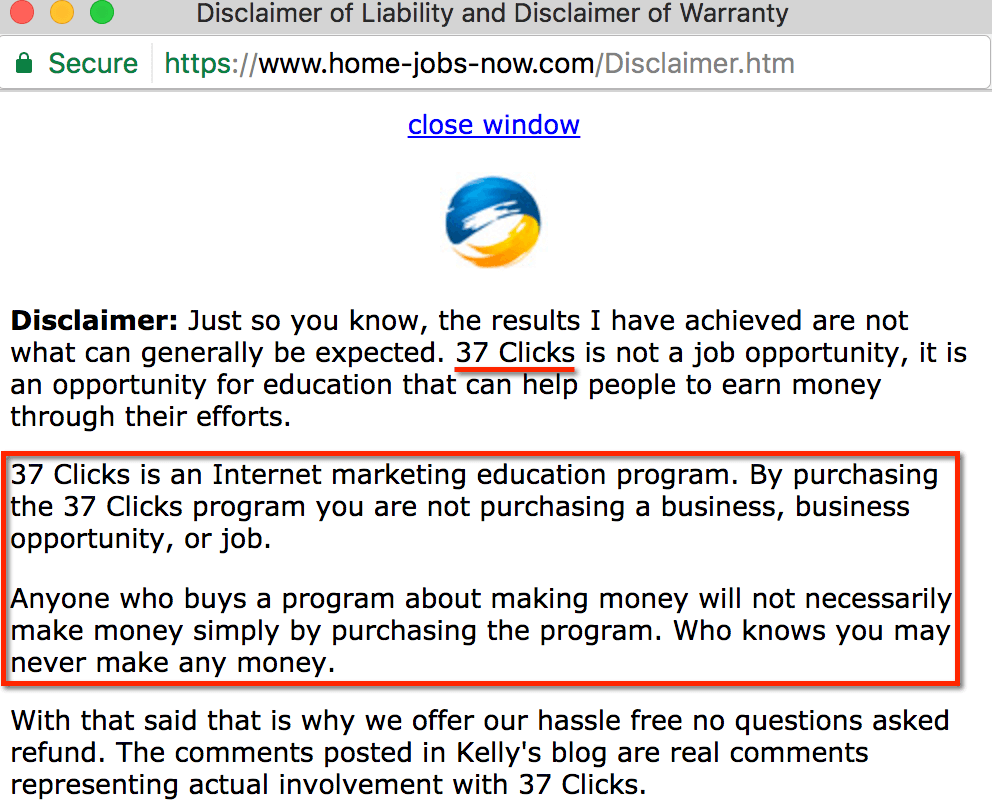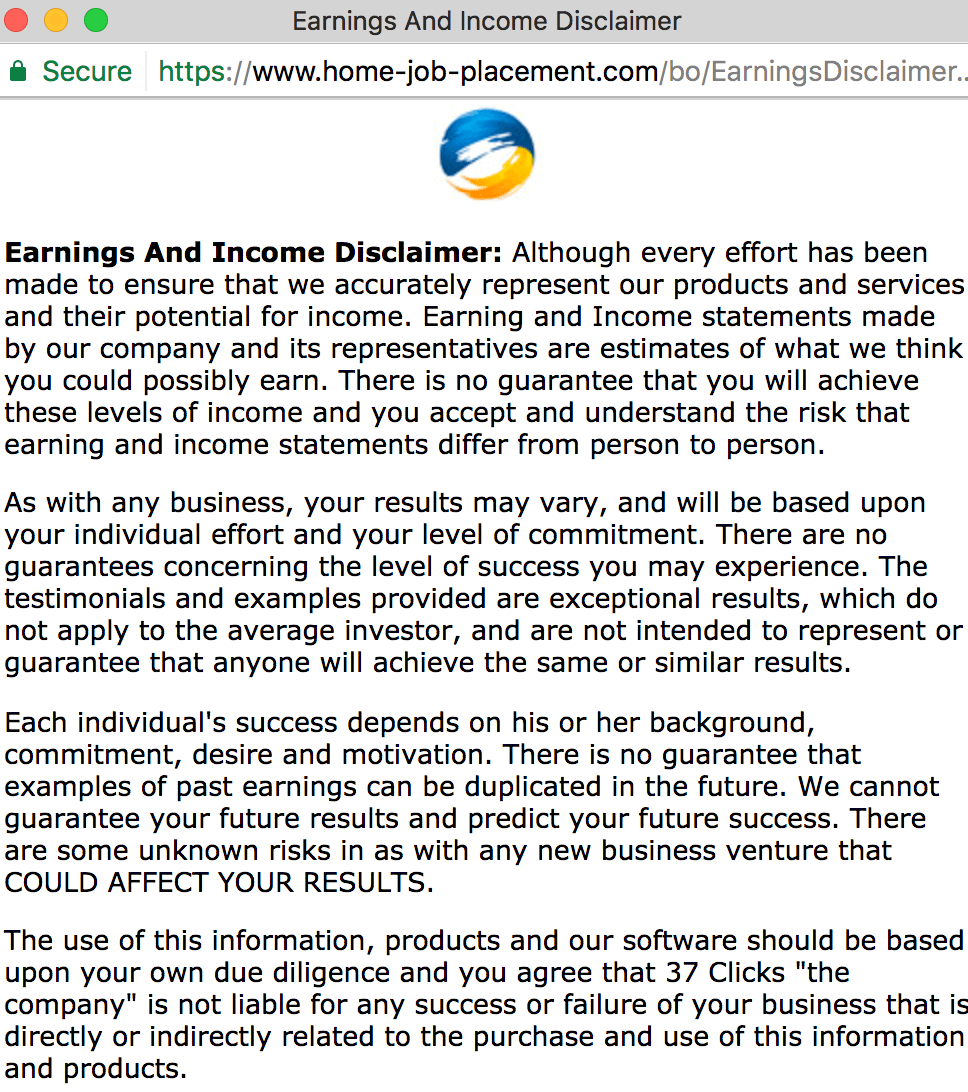 The truth is that it's fake. I believe you understand that Google doesn't need small and unknown companies like Home Job Placement in order to hire people. Google will never hire people to spam internet with links or ads.
Google doesn't need to hire anyone for affiliate marketing because Google itself is the owner, seller and provider of many types of services. It's we who buy their services.
And the bad news is that all these programs mentioned above are all in some way associated with 37 Clicks. It looks like 37 Clicks is the main headquarter of many other link posting websites.
In fact, when you pay Home Job Placement company you pay 37 Clicks. Is it good or bad? I don't know. But to me it looks untrustworthy and very strange.
How much money can you earn with Home Job Placement?
Since Home Job Placement is no longer existing and is redirected to 37 Clicks I have to focus more on reviewing 37 Clicks.
According to their income plan you can earn at least $1.500 per month by posting links. Posting a link takes approx. 4 minutes.
This means every 60 minutes ( 1 hour) you can post 15 links. But let's say you're busy and have no time. In the worst scenario you can post 5 links a day. For each link you can earn $15.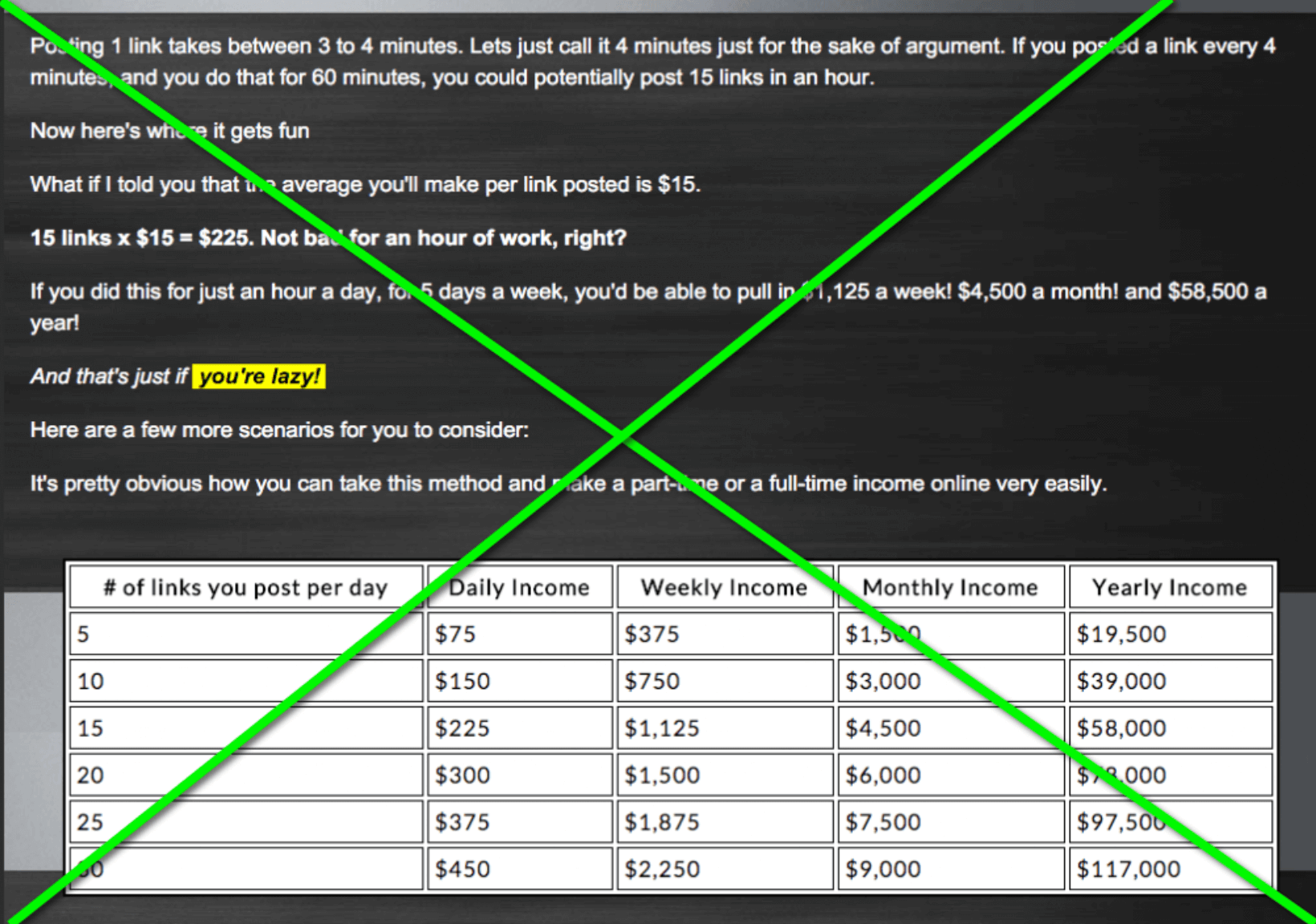 This means your daily income will be $75 a day or $1.500 per month. Sounds cool, right? Just imagine, you spend 20 minutes a day and earn $1.500 per month. This is fantastic! I love link posting idea.
I'm ready to post 50 links a day ( about 4 hours) and earn $9.000 per month! UNFORTUNATELY, this is not going to happen.
Because no one will pay you for posting links. This is just a dream, a beautiful dream.
Final word on Home Job Placement
I did my best to write an honest review of Home Job Placement. I did my research and as you can see there are several scam signals that prove that Home Job Placement is not the right choice.
They use different names and redirections from one site to another site. This doesn't look trustworthy or normal. I'm sure if you ask yourself if you believe people that stand behind this program your answer will be negative.
After learning all these facts I personally can't recommend this program to anyone. And I think you won't want to recommend it to your friends either.
Though I don't want to say that Home Job Placement is a scam. At least you can get refund which is a positive fact.
If you think you want to try it it's your choice. I can't stop you. I'm not saying that it's a scam. But taking into account all the facts mentioned above I don't think paying for this program makes sense.
You can spend your money in a much better way somewhere else.
Below you can see the button to my recommended program. I've been a member of it since 2013. I suggest that you give it a try. It's free to start.

About the Author: Adam
My name is Adam. I'm the founder of Your Income Advisor. My goal is to help others succeed online, by exposing scams and reviewing top rated products. I can help you start
your own business online