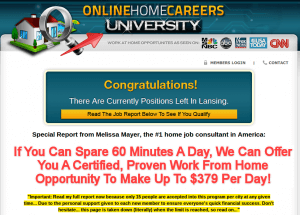 Product name: Online Home Careers University
Product owner: Melissa Mayer
Websites:
ohcuniversity.com
online-home-careers.com
Price:$97, after discount $77
Verdict: Scam
I have been writing reviews about the series of work from home opportunities for some time now and would like to point out that all these programs (there are 10 of them) are almost identical for a number of reasons.
They promote the same product, they use the same tricky methods, they make the same bold claims, even their prices are identical.
Since their promoted product is identical I decided to write an article to expose all these scams in one place and show you what they are all about. Here is my article where you can learn more details.
The main idea behind Online Home Careers University
The idea as explained by OHCU owner is pretty simple. She promises that you can stay at home and make thousands of dollars by posting links for big companies. She claims that big companies are desperate for people like you and are ready to pay you $77, $87 an hour or $379 a day for posting links.
This is of course not true. If you are new to internet marketing and want to know if link posting agent is a real thing then I have to disappoint you that such profession doesn't simply exist.
Pros of Online Home Careers University
Cons of Online Home Careers University
Misleading and tricky advertising
False promises
No training
No support
Fake testimonials
Many complaints
and more
Inside the program
1. Since there is no such a profession as link posting agent it would be safe to suppose that there is no any training from Online Home Careers. In fact, they don't provide any training material which means it's unclear what you are going to do to earn $379 a day. I really wonder what it can be?
2. If you take a look at 3 different programs, Online Home Careers University, Work at Home Institute and Work at Home EDU, you will notice that they all use the same layout and tricky methods to make you believe that you can earn thousands of $ the easy way.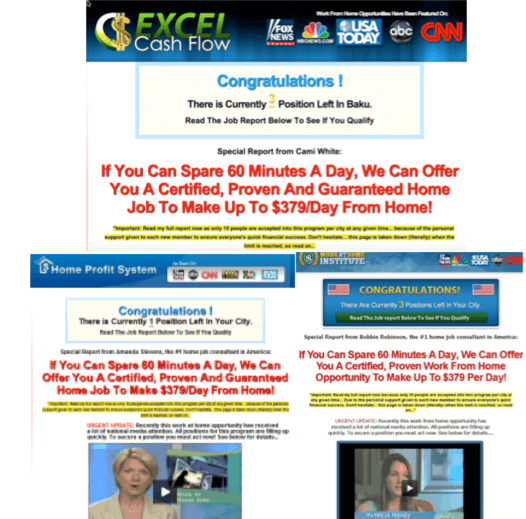 There are 3 main players here, Bobbie Robinson, Michelle Robinson and Melissa Mayer where Bobbie is the owner of Work at Home Institute, Michelle is the owner of Work at Home EDU and Melissa is the owner of Online Home Careers University.
An interesting fact is that Bobbie and Melissa have identical faces. What does it mean? Twin sisters? Maybe. And they all tell about the same chilling day that changed their lives. Amazing! isn't it?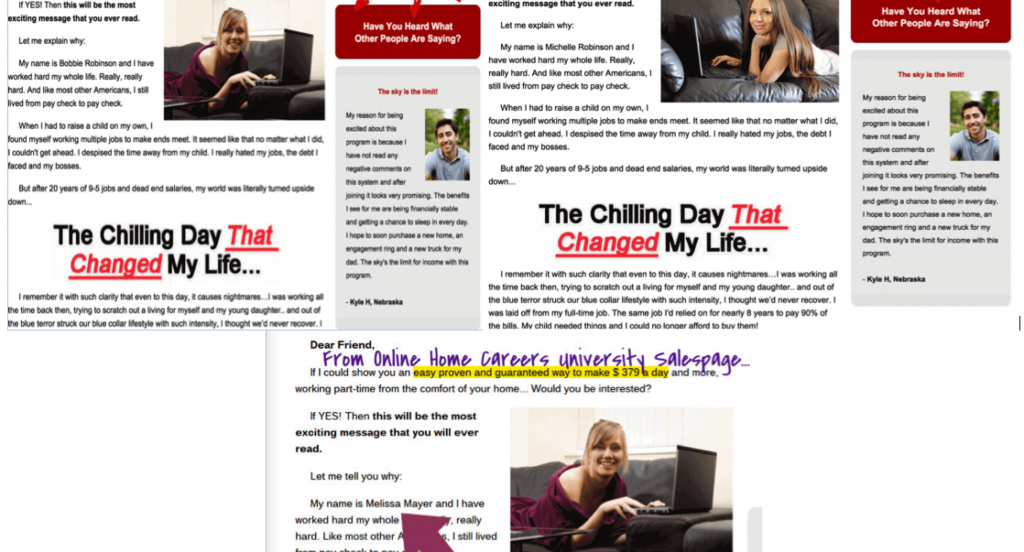 3. Another amazing fact is that all these 10 sites use testimonials of people with the same faces in most cases to prove that their program works and makes them loads of money.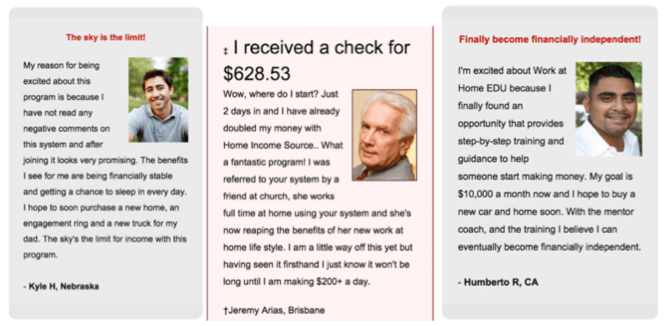 The worst thing is that they clearly state that all testimonials are true and accurate and to protect their customers' privacy their replaced their pictures with stock images.
It sounds so ridiculous! It's well known that a true testimonial should be always supported with a true picture of that person and there is no reason to use stock images. Simply amazing!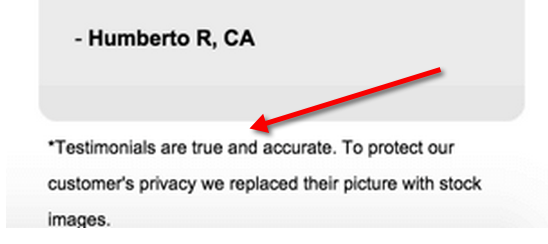 4. All these programs blatantly claim that big companies are looking for people to post links and YOU can take advantage of their amazing offer to earn loads of money by simply posting links across the web.
I think you will be amazed to know that 4 different programs have the same website layout and promise the same amount of money. Take a look at these amazing websites and you be the judge.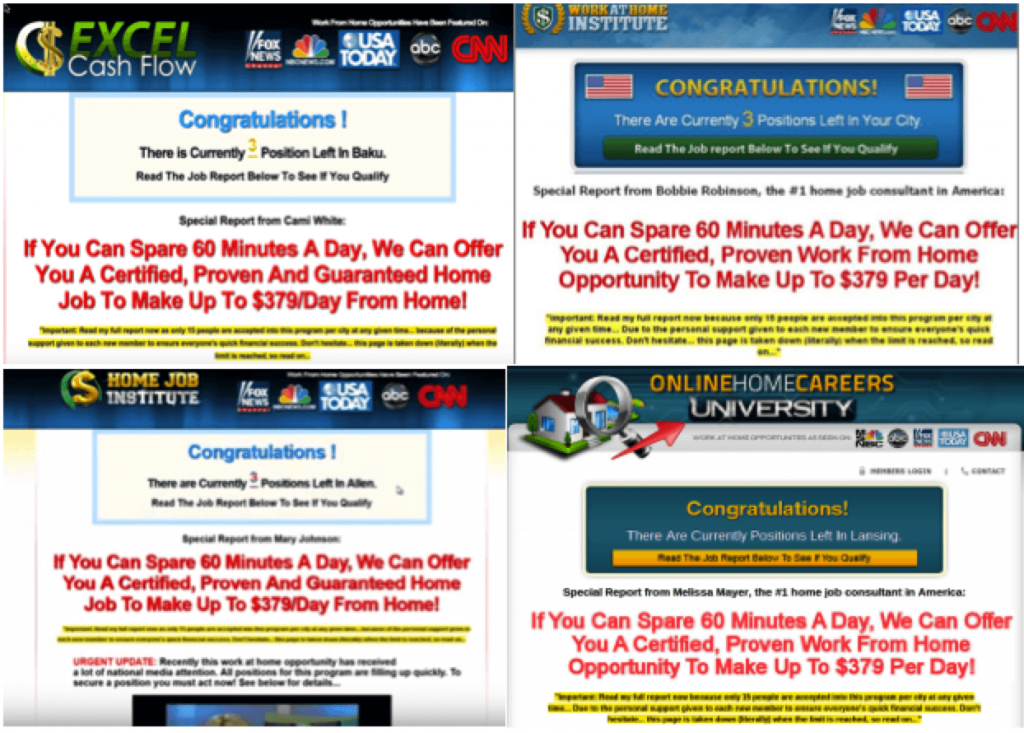 5. Online Home Careers University claims that right after joining their program you can change your life within 5 minutes and start making up to $77 an hour.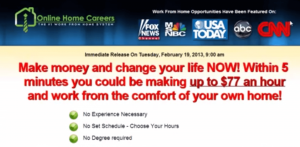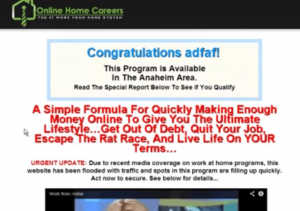 They claim to show you a simple formula for quickly making enough money online which will allow you to get out of debt, quit your daily 9–5 job and live life on your terms.
Now I suggest that you take a look at warning from a trusted source that clearly says that easy money doesn't exist.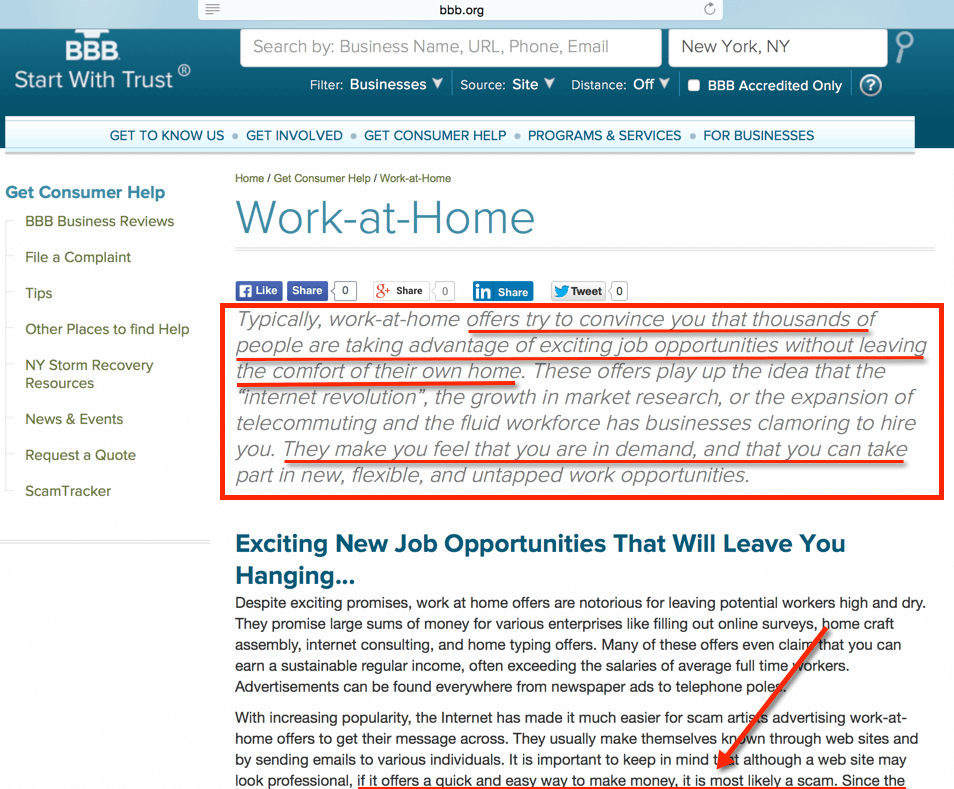 6. All these programs use the same fake finance report website (consumersfinanceguide.com) as if their program was featured there. The site doesn't even seem to be live.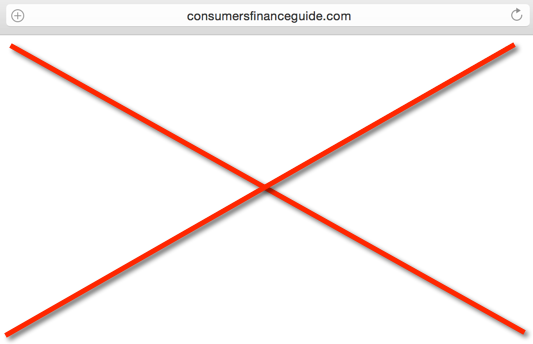 The same applies to using fake news channel. The truth is that Online Home Careers University has never been featured on Fox News, USA Today, CNN or any other famous news channels.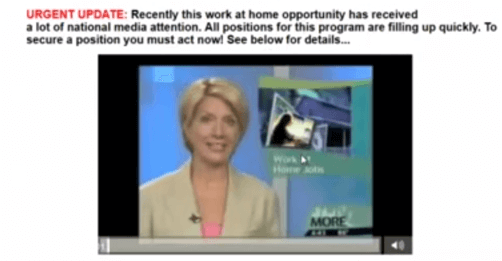 7. There are many complaints about Online Home Careers University on the internet. I think two complaints that you can see below is enough to understand that this program is a complete waste of time and money which proves again that all the facts mentioned above are true and accurate.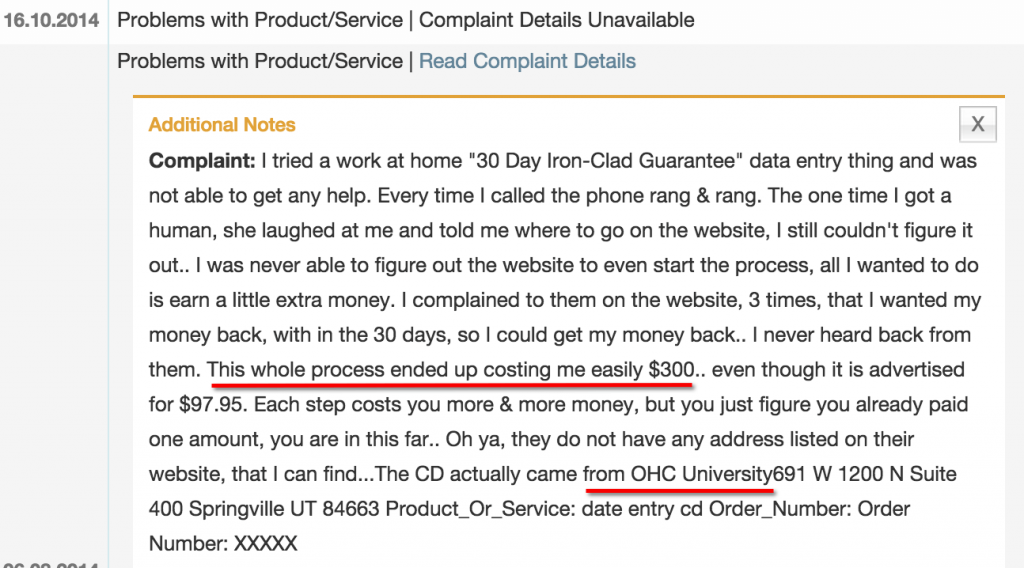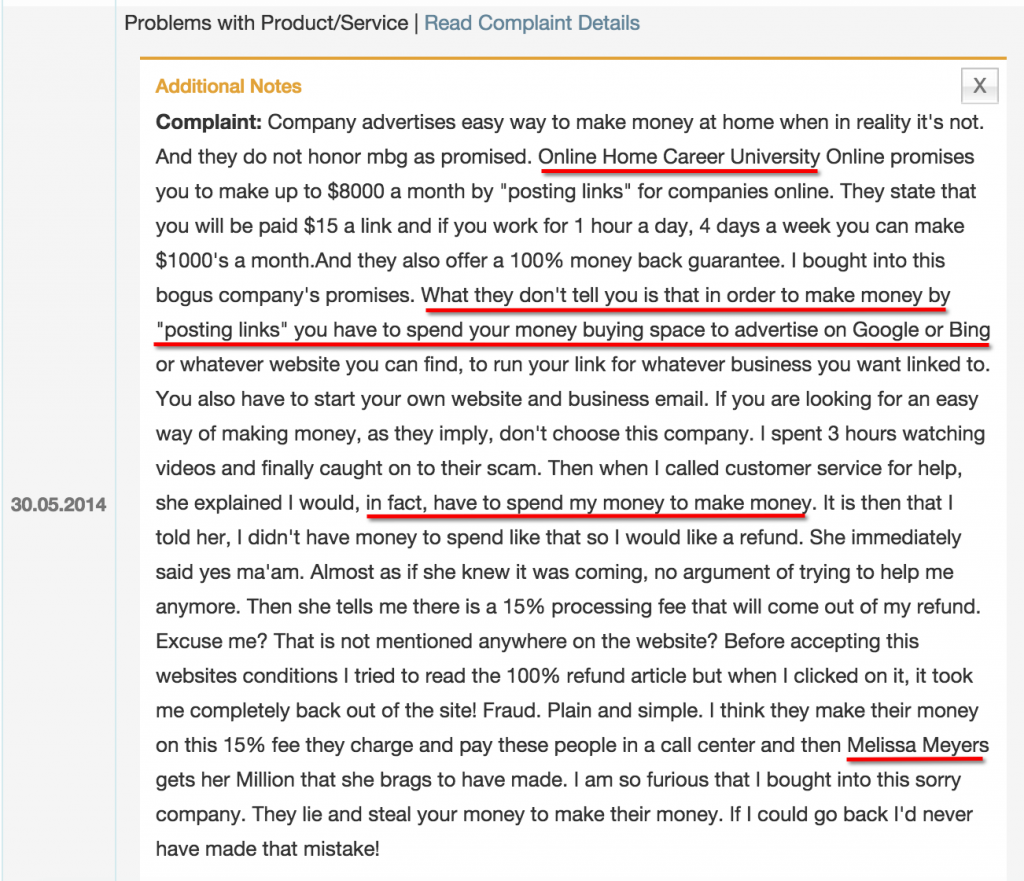 In fact, after reading these complaints you start to understand that the idea of making easy money by posting links here and there is just another dream that is not going to ever come true.
8. Another amazing fact is that number of positions in your area is always 3 and it never actually changes.

9. Most of these programs have a lot of complaints. Example: Excel Cash Flow, Work at Home Institute, Online Profit Stream. All these facts clearly prove that all these programs including Online Home Careers University are gimmicks geared towards one goal: take our money and leave us in the darkness and helpless.
10. I can still mention a few facts that are common to all these link posting scams but I'm really tired of mentioning the same facts. You can learn more facts about these programs in this article.
Final word on Online Home Careers University
If you are reading this article you are probably looking for a legit program that can help you make money online without any gimmicks, false promises, bold claims and hidden costs. If so, I can help you with that.
Here is my #1 recommended program that helped me do the same 2 years ago and now I want to help you. If you trust me I suggest that you create your free account and try my recommended program for free without any credit card or gimmicks.
This is my best recommendation out of many other programs out there and I'm sure you will love this program as many others did including myself. Let me know if you have any questions and I will be happy to answer any of your questions.
About the Author: Adam
My name is Adam. I'm the founder of Your Income Advisor. My goal is to help others succeed online, by exposing scams and reviewing top rated products. I can help you start
your own business online