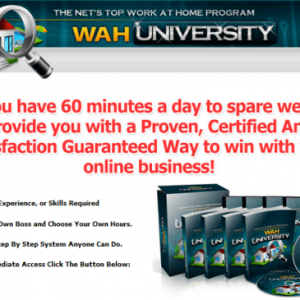 Product Name: Work at Home University
Product Owner: Michelle Withrow
Website: wahuniversity.com
Price: $197, after discount $47, plus many upsells
Verdict: Not recommended
Work at Home University is a very controversial product and I will try to describe what this product exactly is. First off, there are many reviews of this program on the internet and all reviews are absolutely different.
Some reviews describe it as a link posting opportunity, others describe it as a CPA course and some describe it as a course that teaches folks how to become an auction list agent.
As for a link posting or auction list agent these two are just a dream. Such professions don't simply exist. As for CPA business it's a real thing and if you get a proper education you can make money online.
The main idea behind Work at Home University
The idea of this program is completely controversial. The reason why this program is described in different ways is because Michelle, the owner of this program (if only she really exists) uses tricky methods and changes their product from time to time.
Even if Michelle stopped promoting fake products and now is promoting only CPA course even then I can't recommend this product because their CPA course is not good enough and the methods you are going to learn from this program border on unlawful practices.

Pros of Work at Home University
Cons of Work at Home University
Too many upsells
False promises
Tricky advertising methods
Unrealistic earnings
No real support
and more
Inside the product
1. As I said above, their CPA course is not so good though you can learn some good techniques. To be successful in CPA you need some sort of an in-depth training which this one is not. Watching a few videos is not enough.
The idea of making money through CPA is good because you actually get paid for a lead, not actual sale.
You need to have a website first, then join one or two major CPA networks, such as maxbounty.com or cpalead.com, then choose CPA offers (there are free and paid ones), i.e. products, write a description for these offers/products and start driving traffic to your site in order to make sales.
If you don't want to spend money on PPC, i.e. paid traffic then you need to choose many different CPA offers, create a lot of content and drive a free traffic from search engines to your website. This is what big experts of CPA do to make loads of money and especially they focus on PPC traffic.
As you can see from this my short explanation the whole process is not easy at all but this is how money is made on the internet and Work at Home University though it claims to be university is not going to teach you all these things. You need a much better training on CPA from experts like William Souza.
2. Another red flag is that when you register your account before you even know what they are going to sell you they will ask you to submit your personal info, such as your credit card details, your phone number etc. You know what will happen then? They will start to call you every week in order to promote another crap. Do you want this crap? I guess you don't.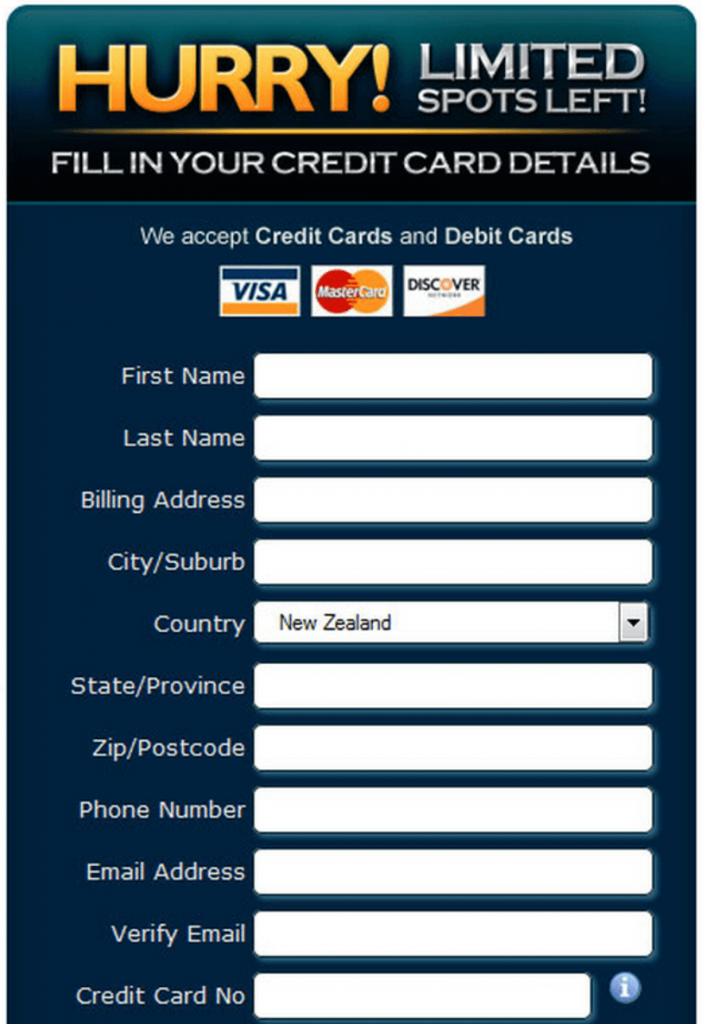 3. I would also like to point out that this program is very similar to many other programs that I've reviewed recently. Here is the list of these programs.
If you take a look at these poor products you will know that all these so called link posting scams are using the same tricky methods, the same website layout, etc.
It really looks so ridiculous that anyone who even has no any clue about making money online can easily understand that Work at Home University doesn't look like a University at all.
4. I found an affiliate site promoting Work at Home University and would like you to take a look at what the owner says. They claim that WAH's training modules will teach you the methods that will allow you to succeed in link posting and that a big part of success depends on how good and fast you are at posting links 🙂 Can you imagine this? This is a big lie!
5. Another red flag is about using the same layout which looks very suspicious. Take a look at the images below and ask yourself a question. Doesn't it look shady that 4 "big" companies are using the same style? I think this fact alone is enough to stay away from Work at Home University.





6. Another amazing fact is that Michelle Withrow, the owner of Work at Home University and Melissa Mayer, the owner of Online Home Careers University and StayAtHomeRevenue.com are in fact twin sisters 🙂 This is the only reasonable explanation of what we see on the images below. Otherwise and most likely they are liars.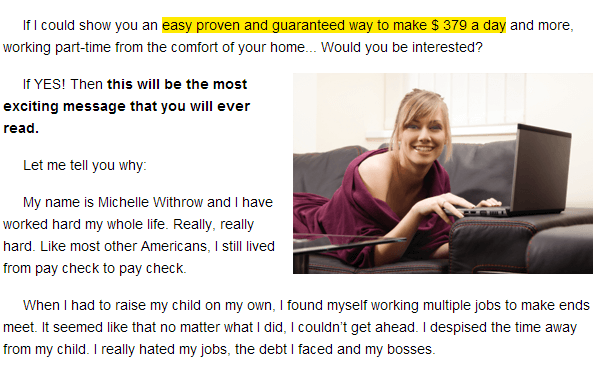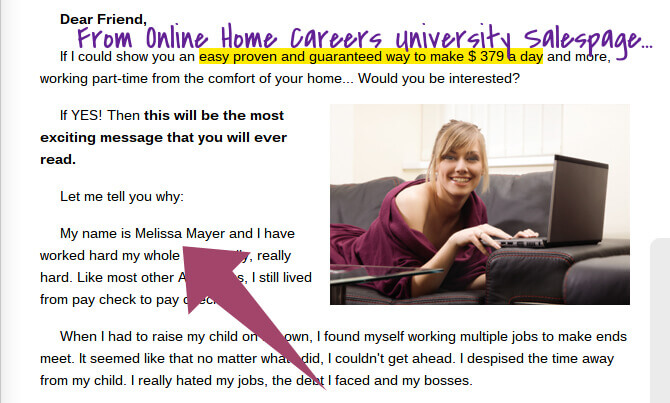 7. I tried to check their website URL wahuniversity.com and it redirected me to another site WAH EDU – another link posting scam which is another red flag to watch out for.

8. And of course Work at Home University has all characteristics of being a poor product because all red flags it has are common to all other programs that you can find in this list.
Common red flags are: a calculator that can help you calculate your profit and according to which you can make believe it or not 🙂 up to $6000 per month, number of positions left in your area is always 3, being featured on USA Today, CNN etc. Total crap!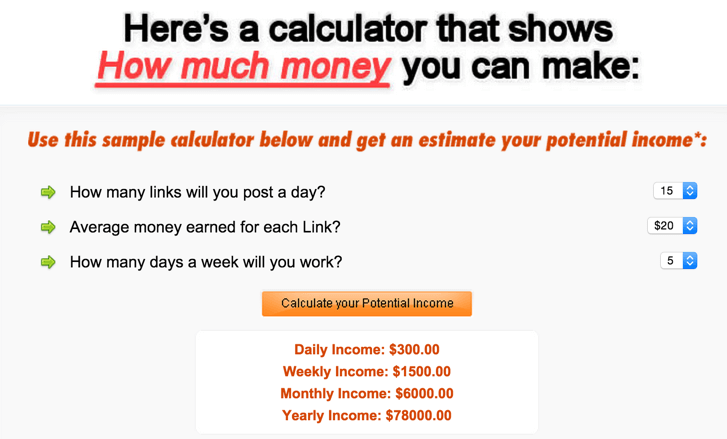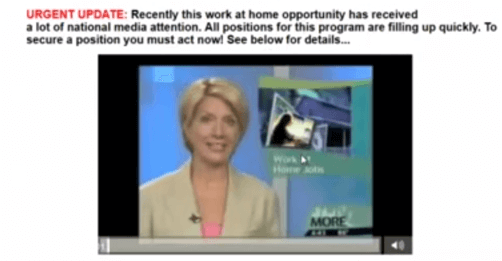 Final word on Work at Home University
Of course my recommendation is stay away from this program and save your money, time and energy. If you want to learn how to make money online legit and honest way I can help you with that. Here is my recommended program that helped me avoid scams and start making money from home.
I honestly recommend you to read my review and create your free account to try the program within a week. It will teach you all you need to start making money on the internet.
If you like it and I believe you will love it, you will need to upgrade your account to get access to all training modules. If you have any questions feel free to contact me and I will respond shortly.
About the Author: Adam
My name is Adam. I'm the founder of Your Income Advisor. My goal is to help others succeed online, by exposing scams and reviewing top rated products. I can help you start
your own business online