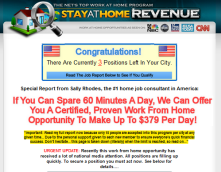 Product name: Stay at Home Revenue
Product owner: Michelle Withrow
Website: stayathomerevenue.com
Price: $97, after discount $47
Verdict: Not recommended
Link posting opportunity has been promoted on the web for a few years now. The number of sites promoting it is over 10 and the number is still growing.
I even decided to write a separate article to list all these link posting scams in one place so others can know and spot them easily and this way it's much easier to help folks understand what all these link posting scams are all about.
All these programs make the same outrageous claim that you can make $77, $87 an hour or $379 a day by posting links for big companies by spending 60 minutes a day and they claim that companies like Walmart, Amazon, Google, Bing, Yahoo are their link partners.
And believe it or not but you are going to become a certified link posting agent 🙂

Pros of Stay at Home Revenue
Cons of Stay at Home Revenue
Over 10 sites promoting the same crap
Link posting agent profession doesn't exist
No information about the product
Outrageous lie
No real support
Inside the product
1. The first sign that points to all these programs being the same link posting scam is that they all claim that their certified work from home opportunity has been featured on and supported by such giants as CNN, USA Today, MSNBC etc.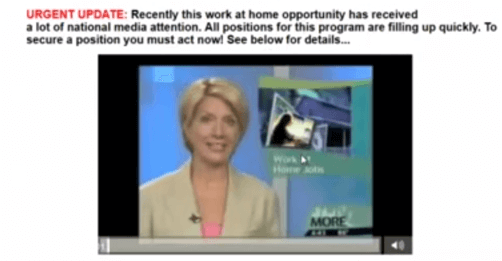 It's true that the amount of people making a good living from the comfort of their homes has grown dramatically in recent years and this number is still growing and it's because internet allows them to earn enough money staying at home and doing what they love to do.
And it's true that these news giants feature work from home opportunities in general, but they have never featured any of these link posting scams mentioned in my article above. BTW, look at the screenshots taken from these sites.
They all use the same video to prove that their program has been mentioned there. And here is the exact same video from YouTube. Please watch it for yourself and see if any of these link posting scams have been mentioned in the news.
I think this fact alone is enough to make a decision regarding Stay at Home Revenue scam.
2. Another problem as I said above is that all these link posting scams are in fact copy paste sites that are absolutely identical and if you look at the images and have a sense of humour you will admit that the whole thing really doesn't look good. It's ridiculous, silly and even I would say insulting.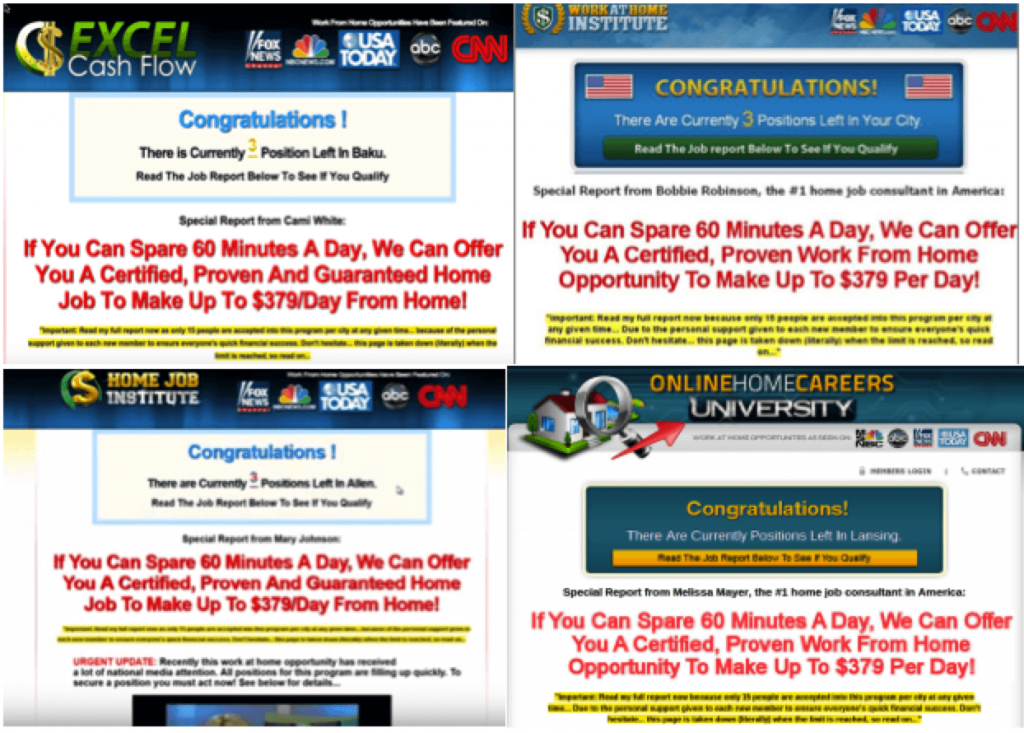 3. Another interesting fact is that you are always promised to make the same amount of money as a certified link posting agent by spending the same amount of time and by doing the same type of activity. Just imagine, how can it be possible?
4. Another red flag to watch out for is regarding the actual product that they all promote on their websites. It's not clear what they promote, no explanation, no description, simply nothing.
Some of these programs claim that you will post links and get paid immediately, up to $20 per link, some claim that you are going to be an auction list agent.
The latter one is just a nonsense. Some of them though advertise the same opportunity but in fact once you get access to the members area you will realize that they teach you affiliate marketing or CPA courses.
As for affiliate marketing it's a legit business model and all you have to do is create your own website, choose products available online, for example Amazon.com products, write some content for your products, i.e. description, add your affiliate links and start promoting them and make money.
As for CPA, it's almost the same but in this case you don't need to sell products. Just promote them, get your visitors to click your links to complete some actions, such as filling out forms, or downloading a software and then get paid by CPA networks. Though it looks easy, it's not easy at all.
It takes time and effort to create a website, write content for it, promote it across the web in order to drive traffic, i.e. visitors to your website and finally make money. It's a long process that takes one full year in most cases to see real results of your online efforts.
5. Though some of these programs promote legit business model such as affiliate marketing or CPA, their training material is not as good as it needs to be to provide you with all the required skills, knowledge and support to be successful online.
Besides, keeping in mind tricky methods they all use and a lot of false promises they make I really can't recommend any of these programs.
6. The idea of easy money has been very popular on the internet and many folks still believe that as opposed to the real world internet allows to make money on autopilot with a few clicks of a mouse and programs like Stay at Home Revenue and the like take advantage of this idea to make more money off of naive people.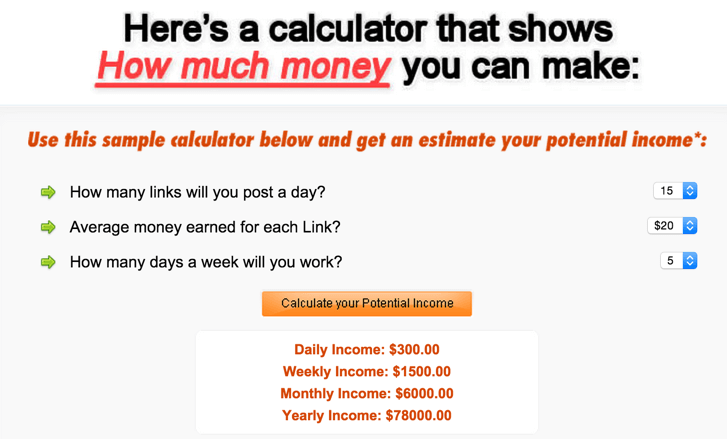 They want you to believe that by spending 60 minutes a day you can post 15 links, $20 per link and make $300 a day. Looks very appealing and easy. And now please take a look at the screenshot from BBB, a nonprofit organization protecting people from craps like Stay at Home Revenue.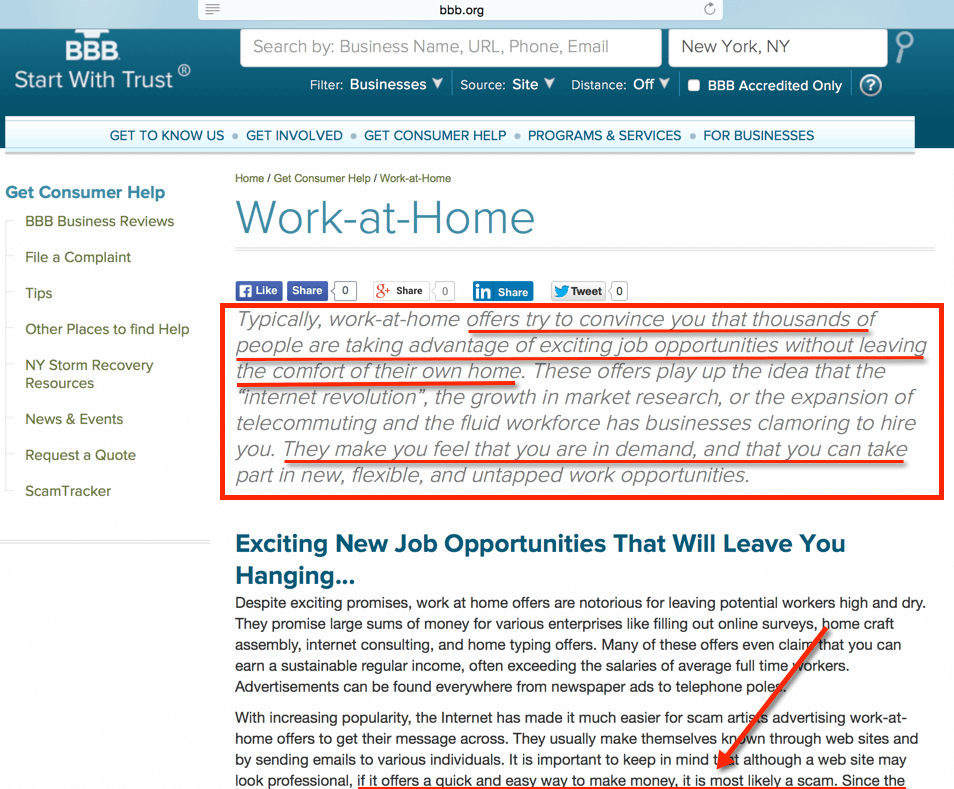 7. Michelle who supposedly stands behind this program is the owner of other link posting scams which makes things even worse. She also stands behind programs such as Work at Home University, Work at Home Authority. I've done a little investigation and here are the results.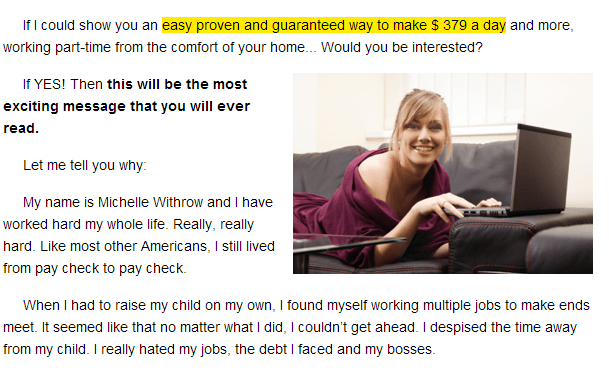 Stay at Home Revenue scam – Michelle Withrow, Work at Home University – Michelle Withrow, Work at Home Authority – Michelle Withrow, Work at Home EDU – Michelle Robinson, Work at Home Institute – Bobbie Robinson
It looks like a whole family stands behind this link posting project.
8. And finally there are always tons of complaints about these link posting scams. To name a few of them will be enough to see the whole picture behind this link posting scam. Please open each review and scroll down to see complaints. Since promoted product is the same in most cases complaints are true for most of them too.
Online Home Careers University
Final word on Stay at Home Revenue
My final word is stay at home and you will be safe 🙂
If you want to be safe from this type of scams and learn how to make money from a reliable source that doesn't make any false promises to anyone and people are happy with it, I can honestly recommend you a program that has been around for over 10 years and I've been a member of it for almost 2 years now and I'm already making money thanks to this program.
Let me know if you have any questions and I will be happy to help you out.
About the Author: Adam
My name is Adam. I'm the founder of Your Income Advisor. My goal is to help others succeed online, by exposing scams and reviewing top rated products. I can help you start
your own business online