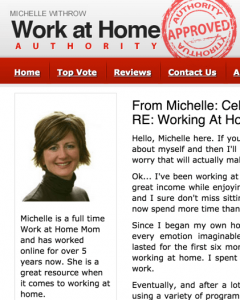 Product name: Work At Home Authority
Product owner: Michelle Withrow
Website: workathome-authority.com
Price: WAH EDU – $47, Paid surveys -$34.95
Verdict: Not recommended
Work at Home Authority has been around since 2009 but it looks like nothing has changed and they still continue to promote poor products and at the same time claim that they offer the best products available on the web designed to help you make enough money to quit your 9–5 job.
Michelle Withrow seems to be the owner of this product now though according to some resources it was Michelle Owens in the past. I think it doesn't change things a lot because the product itself is not good and even Michelle's product itself changes from time to time.
This is very normal when it comes to poor products like Work at Home Authority and let's take a closer look at it to see if Michelle really offers something worthwhile.
The main idea behind Work at Home Authority
The idea of Work at Home Authority is promoting poor products such as Work at Home EDU and Paid Surveys opportunity. Both programs are promoted as top voted programs while in reality they are not.
Here is my full review of WAH EDU and here is my full review of Paid Surveys.
WAH EDU is a link posting scam that I don't recommend at all while Paid Surveys is a legit opportunity but it does have some issues too. Below I'm going to briefly elaborate on both of them.

Pros of Work at Home Authority
You can earn some extra money by taking online paid surveys
Cons of Work at Home Authority
False promises
Both opportunities are very limited
Misleading claims
Testimonials are most likely fake
Work at Home Authority doesn't own any products (both products are sold through affiliate links)
Inside the program
1. As I mentioned above Work at Home Authority promotes two different products. The first one is Work at Home EDU – a link posting scam. It's a clone website that is being promoted under different names and websites such as Online Profit Stream, Work at Home Institute, Home Job Institute etc.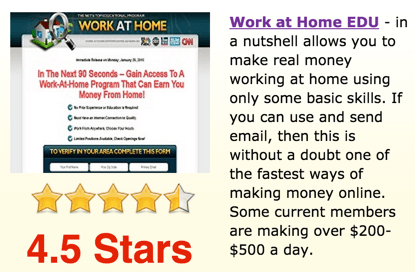 Some of them promote a link posting opportunity which is a total scam because legit companies never pay anyone to post links here and there.
Some of them (programs mentioned above) promote affiliate marketing which is a proven way to make money but they promote it in a deceptive way, i.e. make you believe that you will be paid just for posting links in various places on the internet. This is of course not true.
2. Work at Home EDU uses fake testimonials on their website. Very often you can see the same faces on different sites mentioned above. It appears that all these people are making a lot of money with a number of programs at the same time 🙂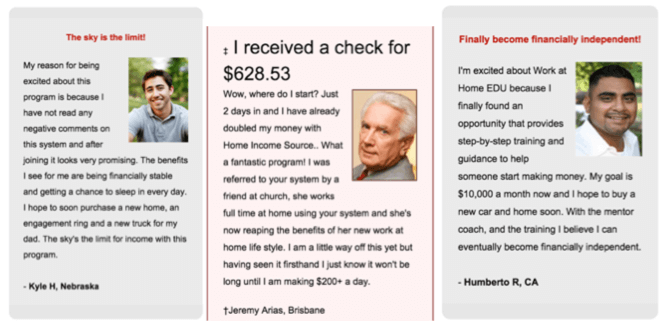 3. Work at Home Institute and Work at Home EDU are promoted on the web as two separate programs while in fact they are just one big scam. Michelle Withrow, the owner of Work at Home Authority promotes WAH EDU whose owner is Michelle Robinson which is very suspicious in my opinion.
The owner of another similar site, Work at Home Institute is Bobbie Robinson. I think all this link posting thing doesn't look trustworthy at all. I'm not 100% sure but to be honest I think Michelle Withrow is not a real person.
4. Look at two different programs that have the same layout and ask yourself a question: Do you think it's normal or looks trustworthy? It's the same program that is voted as # 1 program at Work at Home Authority website 🙂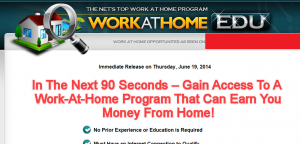 5. Both programs promoted at Work at Home Authority use unethical methods to sell their product. If you decide to buy WAH EDU immediately you will pay them $97 and if you stay at their site for some time, probably a few minutes, you will get a discount price $47.
The same applies to Paid Surveys which is sold for $44.95 and after discount for $34.95. Do you think it's an ethical approach?
6. If you read my full review of WAH (link provided above) you will learn more amazing facts about this program.
7. The next program is Paid Surveys which is another poor product. Let me explain it in a few words. First off, paid surveys opportunity is a legit opportunity and it's true that you can take paid online surveys and make money.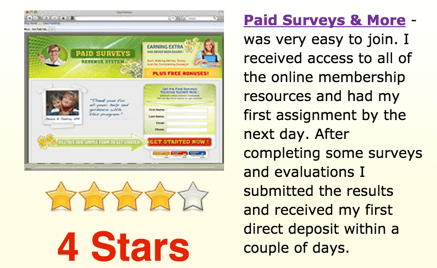 BUT the opportunity is seriously exaggerated in terms of the amount of money you can earn by taking online surveys. Michelle claims that she makes more than $1800 a month which I don't think is true.
I can prove that she is not honest with you and I can explain why. She tries to sell you access to paid surveys for $34.95 while survey companies are free to join and you don't need to pay anyone to participate in these surveys.
There are many websites online that sell this product to naive folks. I can give you access to all survey websites for free. Here is the link. Can you believe that Michelle really makes over $1800 a month after this fact alone?
8. Another fact is that only major survey companies pay cash for taking surveys. Some survey companies are not trustworthy and that's why you should work only with reputable surveys companies.
Also, you should know that the number of surveys is very limited and that's the reason why you can't take enough surveys per month to make enough money.
Many survey companies pay a few cents per survey which in many cases takes 15–20 minutes to complete. Some surveys are very specific and in order to be qualified for that type of survey you need to have certain qualifications. You can also read my review of another survey scam.
9. Also, you need to know that Work at Home Authority has never been featured on Yahoo, Forbes, AOL or USA Today. It's the same deceptive trick used by link posting scams mentioned above. If you take a look at my reviews (links provided above) you will see the whole picture.

Final word on Work at Home Authority
You know all the truth now about Michelle's program and I think you can make the right decision. If you still want to make money online the honest way and still trust at least some people I can help you.
The program I'm going to recommend you has been around for almost 10 years and I'm finally making money thanks to this program.
It's free to try within the first week and you can ask any questions before you make your final decision. Read about this program below and let me know if you have any questions.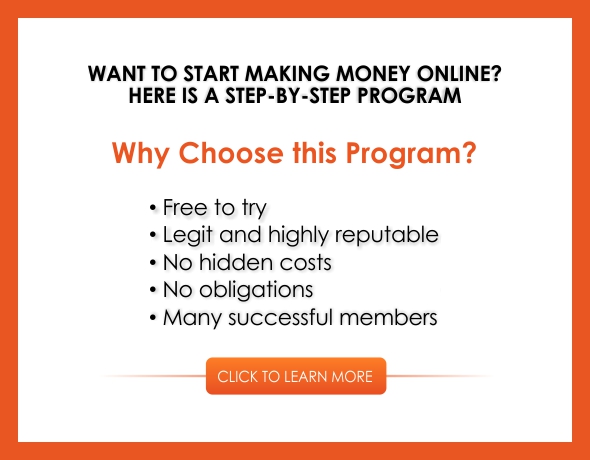 About the Author: Adam
My name is Adam. I'm the founder of Your Income Advisor. My goal is to help others succeed online, by exposing scams and reviewing top rated products. I can help you start
your own business online