Product name: Paydays at Home
Website: www.securecashathome.com, www.paydaysathome.com
Price: $97 for 6 months
Owner: Unknown
Overall rank: 10 out of 100
Verdict: Not recommended
There are countless programs on the web that promise you to get paid while staying at home and Paydays at Home is one of those programs too. I came across this program a few days ago and decided to do some research for two reasons.
First, if this program is good then I can help my readers find something that can really help them make a solid income online. Second, if it's not a good program then I can help my visitors and save them from another useless program.
And 5 minutes of research was enough for me to get an idea of what Paydays at Home is all about. The bad news is that this program is unfortunately belongs to a Link posting scam family.
The good news is that you're saved from falling for this one and I'm going to show you another program that is FREE to join and doesn't require any payment in the first 7 days.
You can try it absolutely for free. Anyway, for now, I'm going to look into Paydays at Home and explain what this program is about in my review.

Pros of Paydays at Home
Cons of Paydays at Home
The site resembles other link posting scams
No money back guarantee
No real support or active community
No website and hosting included
No live chat
Website is very suspicious
No free trial
Paydays at Home Review
First, when I came this program I thought it was something genuine that can help folks learn how to earn an income online. But since I have reviewed over 200 programs on my site, I already know many of them.
I have a few years experience in internet marketing and know how to make a buck online and it's very easy for me to find out if the program is a real deal or a waste of time. When it comes to Paydays at Home, I immediately recognized it when I visited their website.
By recognizing I mean that Paydays at Home is very similar to other programs that I've reviewed in the past and you can find a long list of link posting scams in this article. If you visit each of the websites listed in this article you will notice that all of them are promoting the same idea of easy money.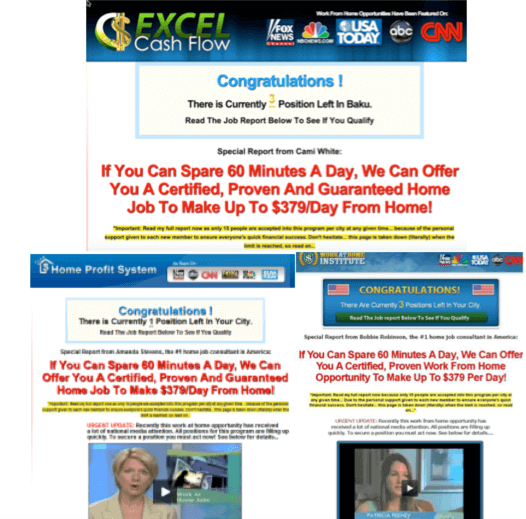 To be exact, all these programs can be divided into two categories. One group promotes the idea of easy money made through posting links on the internet for companies like Google, Yahoo, MSN etc.
They claim that they are partnered with these big companies and that they are desperate for people like you and ready to pay you cash for simple tasks, such as posting links here and there.
This is not true of course. Google or Yahoo don't need any partners because they are the main providers of web traffic. Second group of companies provide a mediocre training on affiliate and CPA marketing which is good.
BUT the main problem with them is that they use the same website layout and use pretty similar methods and even describe their program using the same sentences.
By this I mean that though the second group of websites provide a mediocre training, their association with other scam sites leaves a really bad impression and stops me from recommending it to anyone.
An endless redirection
Another clear signal pointing to Paydays at Home being untrustworthy website is that their website domain www.paydaysathome.com is no longer working which is really ridiculous. They moved their website to another domain www.securecashathome.com.

First, you need to fill out the form on their website in order to be verified. One filed asks for your phone number and to be honest, I don't recommend giving them your phone number.
Because I'm pretty sure that once they've got your number, they will be calling you from time to time trying to promote some other useless stuff. I really don't recommend it.
After filling out the form you will be redirected to another website called Online Home Cash and then again you will be redirected to paydaysathome.com, i.e. www.securecashathome.com.


As you can see, from the very start this kind of redirection looks very suspicious and I don't think it's normal.
Association with another copy paste site Work at Home EDU
On their website they have a short disclaimer that says that you agree to be contacted by EDU Direct which is another clear signal that Paydays at Home is untrustworthy website. First of all, there is no such a website as EDU Direct.

There is a website called Work at Home EDU which is another poor quality website with a bad reputation. If you want to learn more about Work at Home EDU, you can read my article above.

If you read it, I'm sure you'll understand that it's not worth your effort and time. Anyway, as I can see, they are trying to manipulate people and I'm sure you will be safe if you stay away from all of them altogether.
Upsells
An essential part of programs like Paydays at Home is throwing a bunch of upsells on their members once they have paid for the main product and this is exactly what awaits you in the members area of Paydays at Home.
Since it's a copy paste site of another poor product called Work at Home University, it's no wonder at all that they try to make more money off you through upsells.
Fake testimonials
All these programs use the same trick, such as fake testimonials to lure people into buying their program.
If you take a look at the programs listed in the article mentioned above you will realize that all these programs use the same faces claiming that they are making thousands of dollars online.
When it comes to Paydays at Home, their testimonials really look ridiculous. Take a look please and ask yourself: Do they look trustworthy?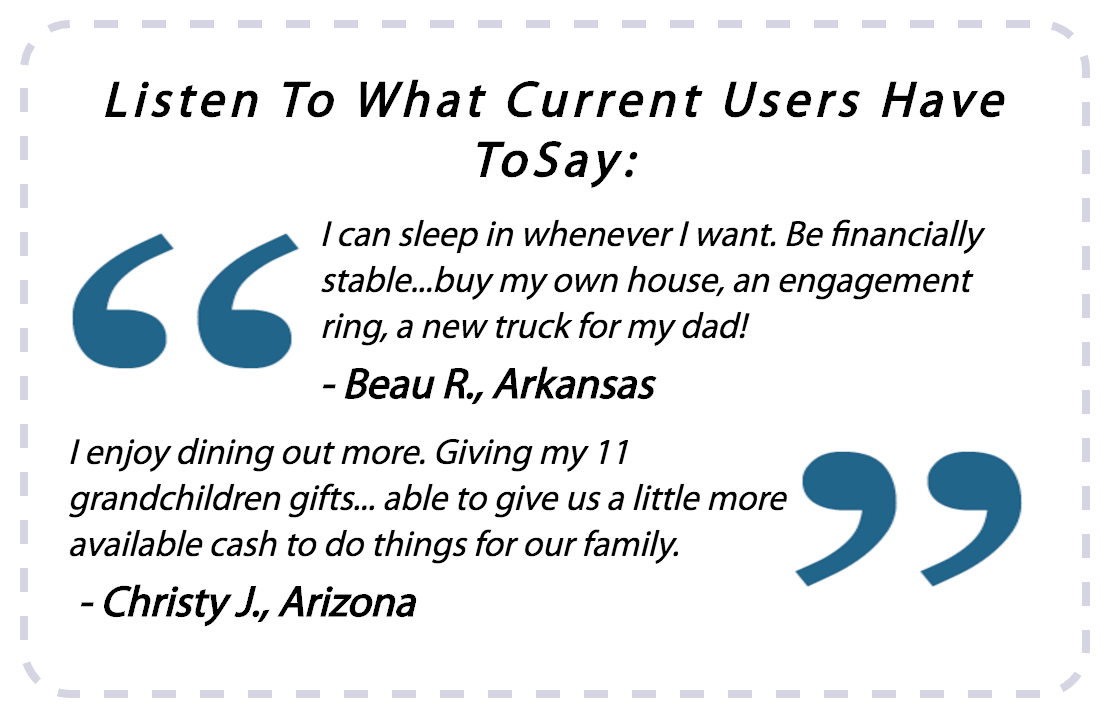 Paydays at Home training
On their main page they clearly tell that they will teach you both affiliate and CPA marketing which is really good. Their training includes:
Social Media
Article Marketing
Search engine optimization
Pay per click
Video marketing
Media buying
But I've seen many trainings and to be honest, most of them are useless and won't make you a single dollar. Yes, it's true that affiliate and CPA marketing is a proven way to make money online, but it can be worthwhile only if training is of high quality and explains everything step-by-step.
Taking into account the fact that Paydays at Home is associated with other poor programs and untrustworthy websites, such as Work at Home University, I really don't think that their training can help you achieve any of your financial goals.
I'm sure that people that stand behind these programs, Paydays at Home, Web Fortune Master, Work at Home University and Work at Home Paycheck are the same people and since there are many negative reviews about these programs on the internet, I don't think Paydays at Home is much different from them.
The good part of Paydays at Home
The only positive thing about Paydays at Home is that after a lot of negative reviews about link posting scams that are listed in my article mentioned above, websites such as Paydays at Home have finally changed their strategy.
If before on their websites they were talking about link posting opportunity, now they are talking about their training program without making bold claims like you can make up to $379 a day by posting links here and there. So, it's really refreshing.
But still they use their 60 minute magic formula like you can see on the images below. BTW, they changed it now from 90 to 60 minutes 🙂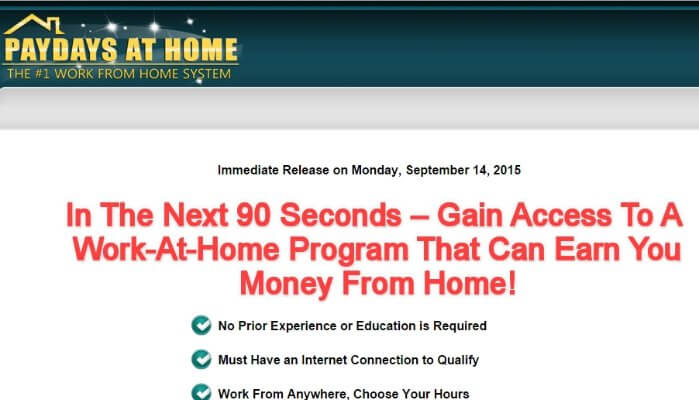 Support at Paydays at Home
I've seen many programs for affiliate or CPA marketing and know from my experience that any program without active community never provides quality and timely support.
I'm pretty sure that programs like Paydays at Home don't have community and their support is normally outsourced to a third party which means support is very weak or useless.
The same applies to Paydays at Home. Without quality support you will never achieve any of your dreams or financial goals online.
How much is the membership to Paydays at Home?
The price is $97 for six months which comes to $194 for one full year. In my opinion, it's not cheap at all taking into account the fact that there is no money back guarantee and there are much better programs out there.
Just an example, I pay $350 per year for my membership to Wealthy Affiliate which is awesome program that provides a high quality training, tools, websites, web-hosting, keyword research tool, support, live chat and more.
It's a proven and legit online business community. When it comes to Paydays at Home, there is no any clear evidence that this program is reliable.
Final glance at Paydays at Home
A mediocre training
The site resembles other link posting scams
No money back guarantee
No real support or active community
No website and hosting included
No live chat
Website is very suspicious
No free trial
Overall rank 10 out of 100
Verdict: Not recommended
About the Author: Adam
My name is Adam. I'm the founder of Your Income Advisor. My goal is to help others succeed online, by exposing scams and reviewing top rated products. I can help you start
your own business online