Legendary Marketer
$9 - $30.000
Pros
Quality training
Support
High affiliate commissions
Money back guarantee
Cons
Too expensive
Too much focus on paid traffic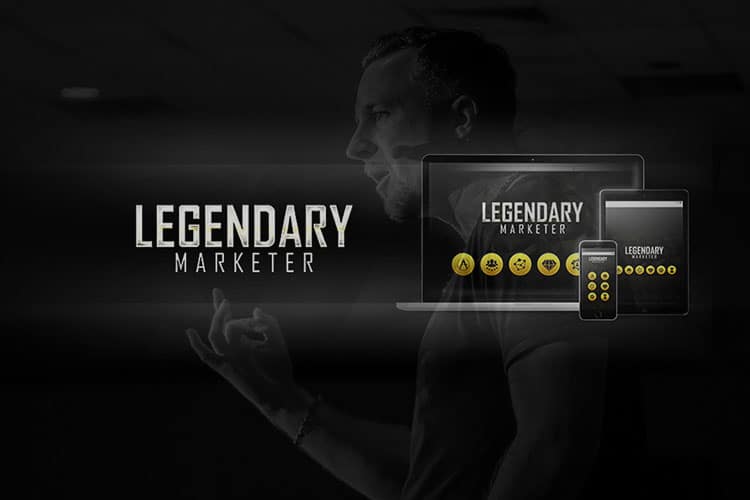 Legendary Marketer Price: From $9 up to $30.000
Founder: David Sharpe (former founder of Empower Network)
Type of product: Affiliate Marketing
Rating: 6 out of 10
What is Legendary Marketer?
Legendary Marketer is an affiliate marketing system created both for beginners and advanced affiliate marketers. It's a pretty new system created by David Sharpe.
He was a co-founder of Empower Network that collapsed about 2 years ago after 5 years of scamming people. Fortunately, he left Legendary Marketer before its collapse.
Anyway, active participation and membership to this bad program is not so good for his reputation in my opinion.
Legendary Marketer includes various products from $1 and up to $30.000. The more you spend the more chances that you will make money and the more chances that you will waste your money.
Is Legendary Marketer Different from Other Programs?
I can't say Legendary Marketer is very different from other high-ticket programs like Six Figure Mentors, The Profit Shortcut, Awol Academy, My Super Affiliate Mentor,
The Prosperity of Life Network and the like. Like those programs, you are invited to join it through their cheap starter package and then upgrade to a way more expensive package that can cost a few thousand dollars.
I personally don't like this kind of approach though it is legit. For this reason, some affiliate marketers/bloggers that write their reviews about Legendary Marketer give this program a low score which is totally understandable in my opinion. I can't disagree with them.
Who is Legendary Marketer for?
The Legendary Marketer was created to help people learn how to earn money online through affiliate marketing.
They have cheap package, around $30 per month and expensive packages, from $997 and up to $30.000.
This system is for beginners and experienced affiliate marketers. So, it fits anyone's budget.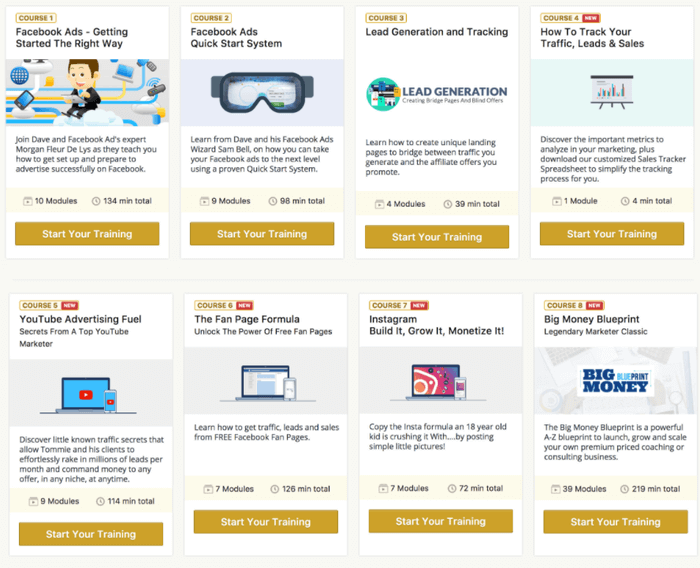 How Much Does Legendary Marketer Cost?
Legendary Marketer offers different packages for all types of budgets. Packages are listed below:
15 Day Online Business Builder Challenge – $7/one-time payment
Legendary Marketer Book – $9.95/one-time payment
Legendary Marketer Club – $30/month
Legendary Pro Affiliate Account – $29.95/month
Traffic Rolodex – $247/one-time payment
Affiliate Business Blueprint – $2.500/one-time payment
Digital Products Business Blueprint – $2.500/one-time payment
Events & Masterminds Business Blueprint – $2.500/one-time payment
Coaching & Consulting Business Blueprint – $2.500/one-time payment
Marketer Mastermind – $8.000/one-time payment
Entrepreneur Mastermind – $12.000/one-time payment
DFY Brand Builder – $10.000/one-time payment
DFY Brand Builder & Mastermind Bundle – $15.000/one-time payment
Legendary Leadership Group – $30.000/one-time payment
In my opinion, any package over $1.000 is geared toward making your life more difficult rather than easier. Expensive packages don't increase your chances of success.
It's simply impossible to guarantee success when it comes to making money online. But they considerably increase your chances of disappointment in case of failure and chances of failure in affiliate marketing are high.
Does Legendary Marketer Provide a Refund?
Yes, they provide 30-day money back guarantee. As I know this refund is applicable to monthly packages only. When it comes to one-time payments, I don't know.
You better ask Legendary Marketer support before paying thousands of dollars.
Are There Any Other Upsells or Costs Associated with Legendary Marketer?
Yes, there are many upsells in the program. First of all, you can try the program called 15 Day Challenge which includes 15 lessons teaching you affiliate marketing.
It will cost you only $7. The main idea of this course is to show you how to sell high-ticket programs and earn fat commissions.
And of course, another hidden idea is to get you to buy more expensive packages that cost anyway from $1.000 and up to $30.000. Here is the list of all upsells in Legendary Marketer: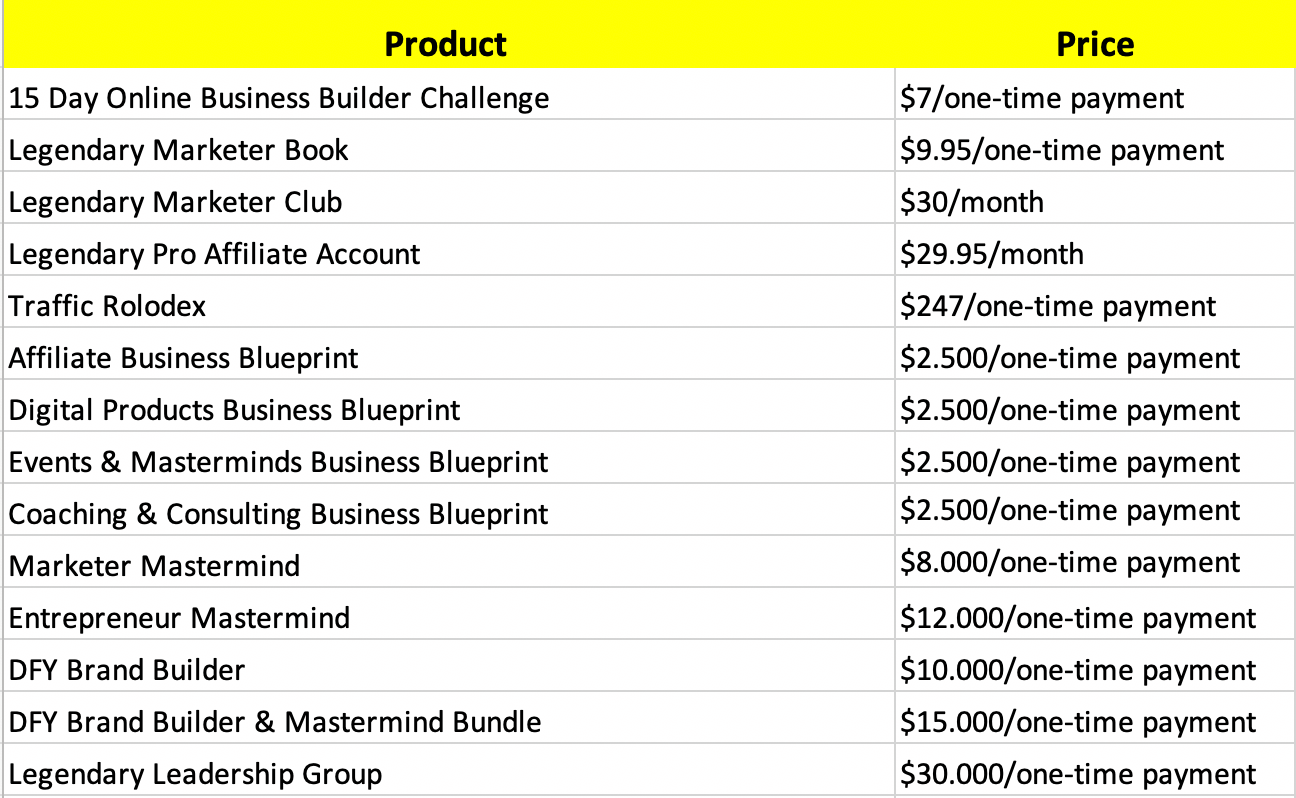 Is Legendary Marketer for Everyone?
Generally speaking, I think only cheap packages of Legendary Marketer can be for everyone. When it comes to expensive packages, they are not for everyone at all.
Let's be honest, who can pay thousands of dollars for a course supposed to teach you how to make money online considering that there is no guarantee that you will make any money at all?
I believe we must be very careful when choosing Legendary Marketer packages. You can easily waste your money and get disappointed.
How Does the Legendary Marketer Work?
The Legendary Marketer works exactly like any other affiliate marketing course. The only difference is that Legendary Marketer has many different packages (upsells) and I personally disagree with such an approach. Because most people can't afford it.
Plus, members of Legendary Marketer are supposed to promote those upsells to other people which means many people will be most likely in a difficult situation.
By difficult situation I mean that it's not easy to spend so much money upfront without no guarantee to make money. It's always better to offer your product at an affordable price especially for beginners.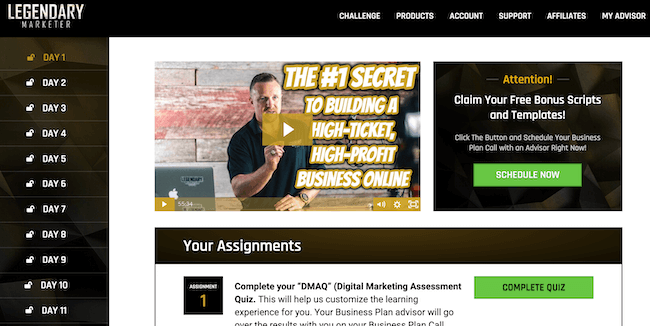 The Legendary Marketer Training
Legendary Marketer training teaches you not only affiliate marketing. David also gives you sales funnel and other tools to help you promote his product to other people.
In fact, it means you just need to follow steps and pocket commissions. The reality is like always quite different.
Following steps doesn't mean you will earn easy affiliate commissions. David is also known as Duplicate Dave in online space.
One thing you must keep in mind that Legendary Marketer training focuses mainly on paid traffic which is a major drawback of the program.
This means after paying thousands of dollars for David's digital products you still need to spend hundreds and thousands of dollars on paid advertising.
What Kind of Support Can You Expect from Legendary Marketer?
As a member of the Legendary Marketer you can get high quality support considering that you pay so much money for the program.
You won't be left alone as a member of Legendary Marketer. If you get stuck somewhere along the way David's team will help you.
Can I Trust Legendary Marketer?
Generally speaking, yes, you can trust David though he was a co-founder of Empower Network, the biggest scam in the last few years.
Through his program he provides quality support and training which is why I believe we can trust him.
But the biggest problem with Legendary Marketer is that it's like Empower Network. Again, we see expensive packages like in MLM programs.
I don't like the idea of high-ticket programs because people lose their money.
A friend of mine was a member of Six Figure Mentors and spent $7.000 as a silver elite member and lost every bit of his money.
I'm sure the same is happening and will happen to Legendary Marketer members.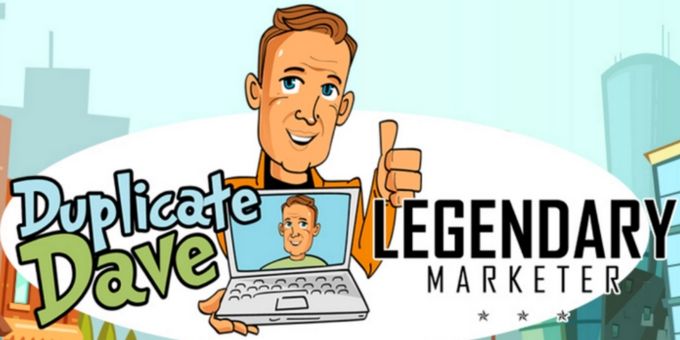 Any Income Proof from Legendary Marketer?
I don't know about anyone making money thanks to following Legendary Marketer training. But I know that some people are making money.
From my 6-year experience in affiliate marketing I can confidently tell that those making money with Legendary Marketer are doing it thanks to their experience in affiliate marketing, not because of Legendary Marketer.
Is Legendary Marketer up to date?
Yes, it's always up to date. It was updated in 2019 and then in 2020. So, with Legendary Marketer you are never left alone with outdated training.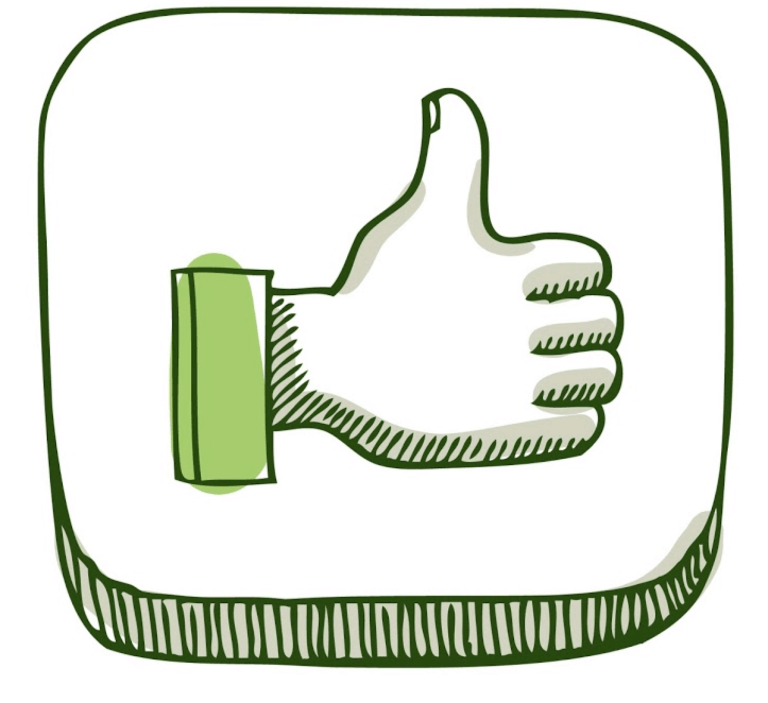 Pros of Legendary Marketer
For around $30/month you can get valuable membership and start your affiliate marketing journey.
You will never be left alone as a member of LM. Support is always around
You can earn high affiliate commissions up to 60% per sale
Legendary Marketer comes with 30-day money back guarantee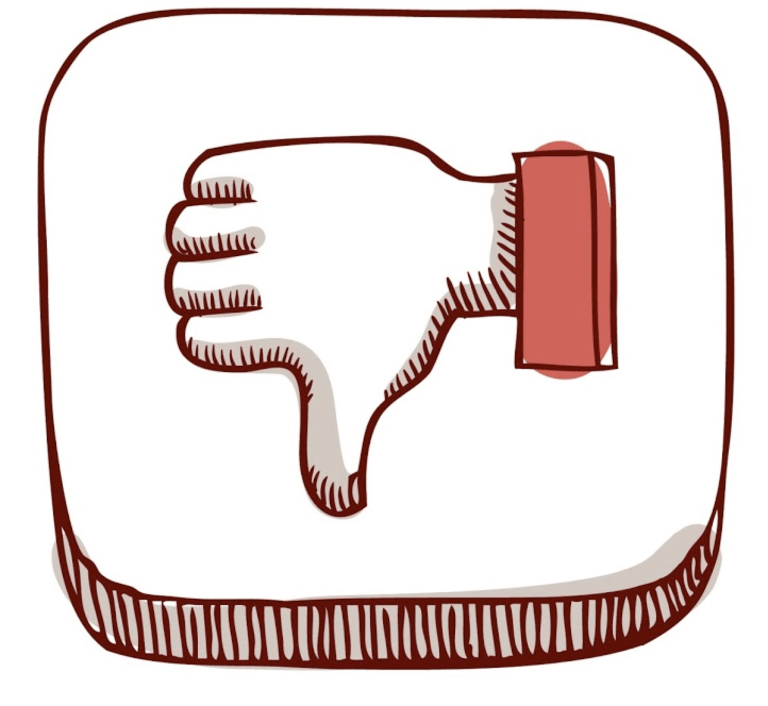 Cons of Legendary Marketer
There are some drawbacks in Legendary Marketer I want you to know before you decide to join it.  First of all, though David offers high commission payout, in fact you won't be able to earn it if you stay on starter membership level.
In order to earn high commissions, you have to buy super expensive packages that start from $1.000 and go up to $30.000.
If you choose $30/month membership you can earn only $18 commission. I personally don't like such approach.
Secondly, Legendary Marketer packages are extremely expensive and I'm pretty sure most people can't afford it. It may be affordable for seasoned internet marketers but definitely not for beginners. Because chances for beginners to fail are very high.
Third, Legendary Marketer puts too much focus on paid advertising which can be another major problem for beginners that don't have money to invest in paid ads.
Without paid traffic you can't do anything. And even if you spend money on ads this doesn't mean you will earn money.
This means Legendary Marketer requires a lot of budget to pay for the course and allocate budget for advertising. I think it's too risky for an average Joe.
On Legendary Marketer's disclaimer page, it says that average annual income for affiliates is projected between $500 and $2.000.
Considering that you spend so much money here your chances for success are very slim. The reason is because you spend too much and income is not guaranteed.
Does Legendary Marketer Guarantee Any Results?
No, Legendary Marketer doesn't give any guarantees as to how much and when you can start earning money as a member of Legendary Marketer.
No legit company can give such guarantees.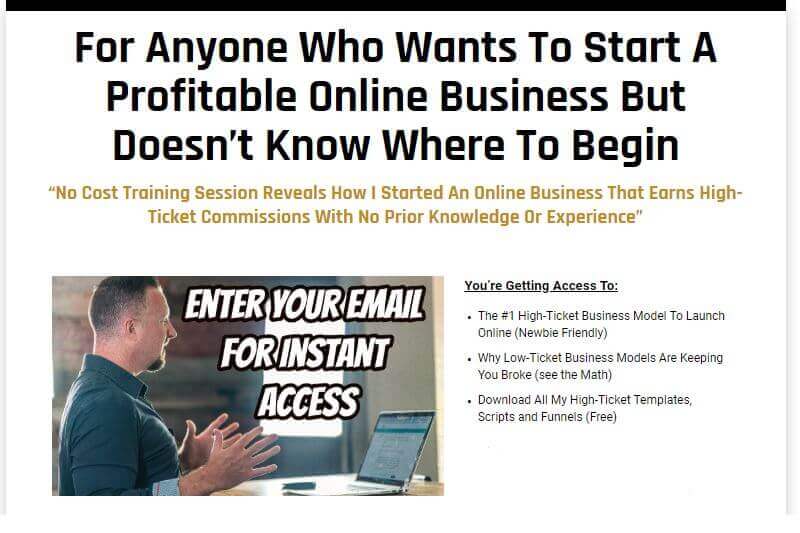 How Soon Can You Start Making Money with Legendary Marketer?
There is no any promise on when you can start making money with Legendary Marketer. Generally speaking, beginners start making money after 1,2 years of hard work.
Some people if they are lucky can earn their first dollar even after 6 months and start earning a significant amount of money by the end of 12 months.
With Legendary Marketer any projections are hard to give because you first need to return your invested money and then become profitable.
Is Legendary Marketer training step-by-step?
Yes, Legendary Marketer is a step-by-step training that includes not all, but many key aspects of affiliate marketing.
By following the training, you can start making money. Support is also in place that won't let you get stuck.
Are There Any Complaints About Legendary Marketer?
Generally speaking, I don't know about any complaints against Legendary Marketer. But I'm sure once the number of their member grows there will be complaints.
There are always complaints even against good programs. But those programs that sell high-ticket products always have way more complaints.
Because people spend thousands of dollars and when they can't earn money, they feel frustrated and start complaining.
Example of other expensive programs that have a lot of complaints:
Can I try Legendary Marketer for free?
No, you can't try Legendary Marketer for free but you can buy their cheapest package for $7 known as 15 Day Challenge. This package is good but the main idea is to convince you to buy their expensive packages.
You can try this package if you want to get the idea of what you are going to get into. If you decide to continue you can buy their another, package for $30/month.
But be careful. As I said, the main idea of all their packages is to sell you their high-ticket products which is not but may be a starting point of your biggest disappointment in affiliate marketing.
How Much Can You Make with Legendary Marketer?
It's really difficult question. David promises that the more expensive is your membership the higher commissions you can earn.
But it's only a theory. In fact, with Legendary Marketer you can earn thousands of dollars per month and you can earn $0 too. I have no an exact answer to this question.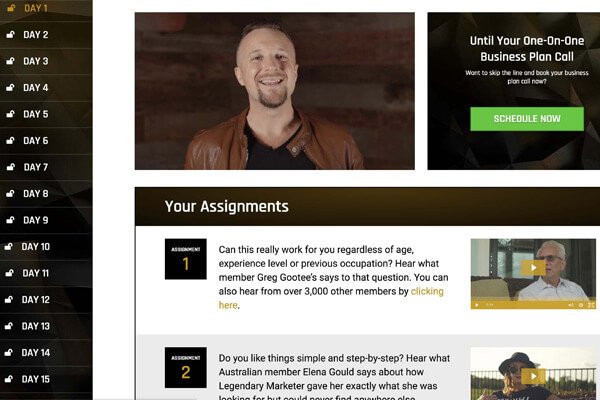 Does Legendary Marketer Work?
Yes, of course it does work but as I said in many of my other reviews, it works for some people and doesn't work for others.
I would say like with any other affiliate marketing program, Legendary Marketer doesn't work for most people. Not because Legendary Marketer is bad.
It's because affiliate marketing doesn't work for most people. It depends on your knowledge, experience, skills, your budget, willingness to work hard, self-discipline and patience.
Is Legendary Marketer Worth My Money and Time?
It's another difficult question. I think if you plan to buy only cheap packages, then you can try it.
If you plan to invest thousands of dollars in their products and paid advertising then I would say it's a high-risk zone.
Is Legendary Marketer a Scam?
No, it is definitely not a scam. But considering the idea of selling high-ticket products, I think Legendary Marketer is a questionable product.
If you buy cheap packages only, it's ok. Otherwise I would recommend to be very careful.
Can anyone join Legendary Marketer?
Unfortunately, or fortunately, not all countries can join this program. Here you can find the full list of blocked countries.
I think these guys have gone crazy and included countries that shouldn't be on that list. I would mention only a few of them: Azerbaijan, Georgia, Malaysia, Russia.
Legendary Marketer VS Wealthy Affiliate
I believe though Legendary Marketer provides more tools in its expensive packages and more opportunities, Wealthy Affiliate has a more realistic approach.
It's less risky because requires way less money. The most expensive package at Wealthy Affiliate is $995 per year (Premium Plus membership), with discount for $795.
Less expensive is a standard premium membership for $495 or you can get the same on Black Friday for $300.
Monthly memberships: $49/month standard or premium plus for $99/month. You also get tools and awesome support.
I think for beginners Wealthy Affiliate is better than Legendary Marketer.
Legendary Marketer VS Income School
When it comes to Legendary Marketer and Income School, both trainings are good.
Income School will cost $450 in the first year and $199 after that.
No other expenses, no upsells. Support is not as awesome as at Wealthy Affiliate but training is amazing.
Final Rating of Legendary Marketer
Rating 6 out of 10
My final opinion:

If you plan to join Legendary Marketer you are free to do so.

I personally recommend Wealthy Affiliate or Income School. Both programs are way less costly and their approach is more realistic.
or
About the Author: Adam
My name is Adam. I'm the founder of Your Income Advisor. My goal is to help others succeed online, by exposing scams and reviewing top rated products. I can help you start
your own business online