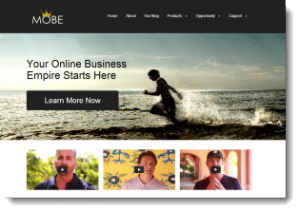 Product name: My Online Business Empire
Website: www.myonlinebusinessempire.com
Price: $49/ ($19 mth)
Owner: Matt Lloyd
My online business empire is one out of many programs promising people to help them build their own online empire. Yes, the empire! But let's see if this is true.
To know if any particular program is legit or a scam is not an easy task if you are completely new to internet marketing. The right and the easiest way to know if a program is a scam or not, is to find out if it can deliver on its promises or not, and that's what I'm going to explore in my present review.

The main idea behind My Online Business Empire
The main idea behind My Online Business Empire is focusing on teaching you how to sell overpriced products to others for the sake of high commission. Once you've become a member of MOBE your task will be buying more of high ticket items and then promoting it to others.
You need to buy those overpriced products in order to get the right to promote them. But if you choose affiliate marketing vs MLM you don't need to buy any product in order to promote it. You are not going to learn how to build a business and invest in your future.
So, the main idea is that in order to make money with MOBE you need to spend much more than actually can earn. If you don't have enough money to invest in MOBE this program is definitely not for you.
Pros of My Online Business Empire:
Good training (only part of it)
High commissions
Cons of My Online Business Empire:
The program is mainly focused on recruiting affiliates but not teaching people how to create a real business
Too many upsells within the program
Lack of quality customer support
False promises
Unrealistic claims
Many unhappy customers
Another MLM  scheme
The program is actually an MLM (Multi-level-Marketing) scheme that is trying to get you inside and then throw tons of upsells on you which are mainly high ticket items.
The program doesn't explain you what internet marketing is all about, how to find a niche you have interest in or build a business around that niche. The only thing you can learn is how to promote their program to other people.
The initial price you are expected to pay $47 can be very misleading at first glance if you don't know about full list of products you are expected and required to buy after joining the program. Most people realize it only after they have made their first payment. You will be offered many other products until you finally understand that you've wasted your time with the program.
Why MLM is bad?
1. My Online Business Empire is actually a classic MLM scheme similar to other MLMs such as Empower Network, Wake up Now, Pure Leverage etc. The main problem with most MLMs is that in most cases their customers are unhappy because of the requirement to buy more products in order to promote them. Normally they leave MLM programs soon after joining them because they feel get ripped off.
2. According to statistics most MLMs are shut down due to common reasons:
Legal issues
A large number of complaints and unhappy customers
They are unprofitable
3. There is always a supervisor involved in MLM scheme and they are always interested in pushing you more products simply because they want to make more money off of you and not because the products they are trying to promote are good.
4. MLMs have a complicated compensation plans
5. If you want to earn more you need to invest more, in most cases a few thousands of dollars.
Too many upsells in MOBE
There are different products in the program:
"My top tier business" teaches you how to promote the system to other people and it promises you that it is very easy to earn your first $1000/3000/5000 commission. They are trying to convince you that a lot of folks are making a lot of money with the system and that you are missing out staying away from the program.


Of course they are lying to you.  Very few people are making serious money with MOBE and it is those that have a good experience in internet marketing. They explain that the secret of success is in selling expensive products, so that you can earn high commission.
This is what you can see on the snapshot on their website. The reason they explain it to you is because they want to convince you to promote their own overpriced products. The truth is that selling high ticket items is possible but it's really hard.
In fact, both products either cheap or expensive one is hard to sell online. But higher the price the harder is the selling process. This is only possible through email marketing, i.e. to your loyal readers.
To build a list takes time and effort and this is exactly what MOBE owners are not going to tell you until you buy their initial product.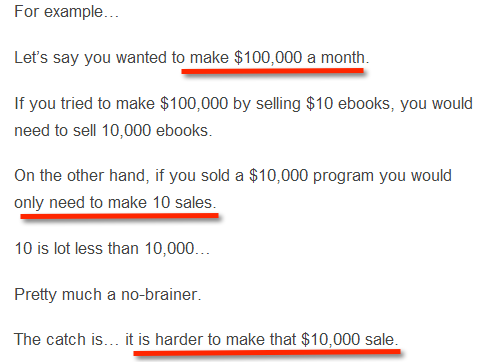 Actually, they don't teach you a real business model. Additionally, they prepared a special offer FOR YOU, i.e. they promise to bring traffic to your promotional website, in return for your money which is called paid traffic. So, as you can see, you are expected to spend a lot of money to make a "lot of money" 🙂
"Inner circle" is a daily and weekly audio training lessons, tutorials, videos and monthly newsletters for their members.
"License University" as explained by Matt himself is the "hidden" secret to making millions. I hate that kind of secrets. Trust me, I have seen many of those secrets and they are just another shiny objects.
"License rights" (90% commission) is a partnership program with Matt himself, i.e. you buy resell rights from Matt for his program for which you have to pay him $1197. Are you ready for that? Or you divide this payment into 4 payments, $597 each.
Anyway, it's too expensive in my opinion. The other problem is that you have to spend this amount of money upfront and you don't even know when you can make your first commission.
This package includes the following:
MOBE Licensee Course
My Online Business Empire
Funded Proposal
Affiliate Bonus
OPT formula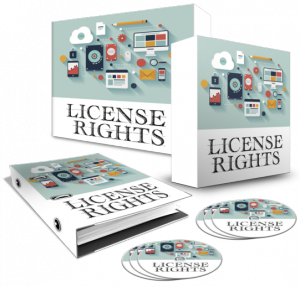 "Home business summit" is another opportunity to spend money instead of earning them. The owners of the program organize the summit to let people like you, meet experts, and learn from their experience. This is a good idea in itself but to learn, you actually don't need to travel and spend money. And before travelling you need to earn money first and then pay for your travel expenses.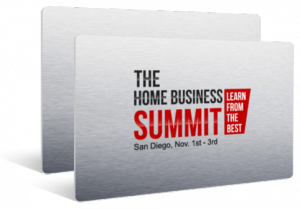 I'm a premium member of WA – # 1 online business community in the world with thousands of successful active members and trust me, I'm learning a lot, literally every day and I don't need to travel for that. And I'm running my successful business thanks to that community.
The problem is that MOBE doesn't have an active community that you could benefit from on a daily basis and that is why they organize summits to fill in the gaps within their system.
And again, they promise that you will learn the secrets of making 6-figure income after visiting those summits. I personally know those secrets and can give you that information for free. You don't need to travel and spend money for that. I know all the secrets of making 6-figure income online but I can't make 6 figure myself because very few people can achieve it. All these 6 figure talks is just a noise.
"Super charge seminar" is another upsell within the program that promises to teach you how you can quadruple your income within 30 days! However, do you really believe in that type of promise? I personally do not. They are going to teach you how to quadruple your income with the MOBE license resell rights program.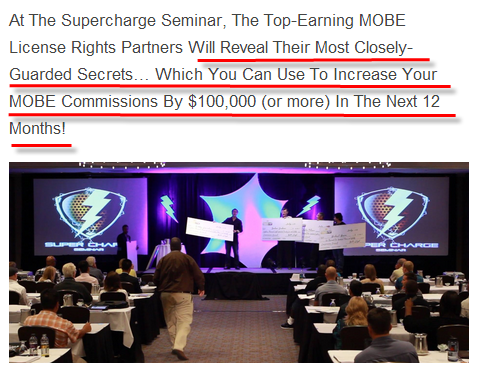 Again, you need to travel, i.e. spend your money instead of earning them. Just look at this snapshot and ask yourself: do you really believe their promise is real?
"Titanium mastermind" is similar to previous one, i.e. "home business summit" and "super charge seminar".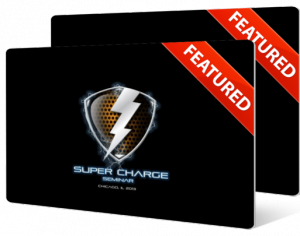 "Platinum mastermind" – same story but this time accommodations and food are paid for. Besides that, you are promised to earn $5000 commission per sale.
MOBE commission scheme works as follows: Products with a 90% commission rate will cost you starting from $97 monthly, and products with a 50% commission rate will cost you from $997 up to $8997!!!
Want more products? Here is the list
As I mentioned above, you need to buy more products in order to make more money and the amount of money you are going to spend is astronomic. Just take a look at the products for which you can get paid as much as 50% commissions.
But there are two problems here: First you have to pay Matt to own any of these products and second you have to sell the same products to others in order to get paid.
Not so easy or promising in my opinion especially when it comes to MOBE products that come without real support.
$1997 – 10,000 Leads in 100 Days
$997 – Online Income Revolution
$997 – The 90 Day Challenge
$997 – Six Figure Coaching Secrets
$997 – Add the Nitrous
$4,997 – Diamond Coaching Program
$8,997 – Titanium Mastermind
Unhappy Customers of My Online Business Empire
Take a look at this complaint and ask yourself if you are ready to spend thousands of dollars on a program that can't deliver on its promises. If you continue the search you will find more complaints.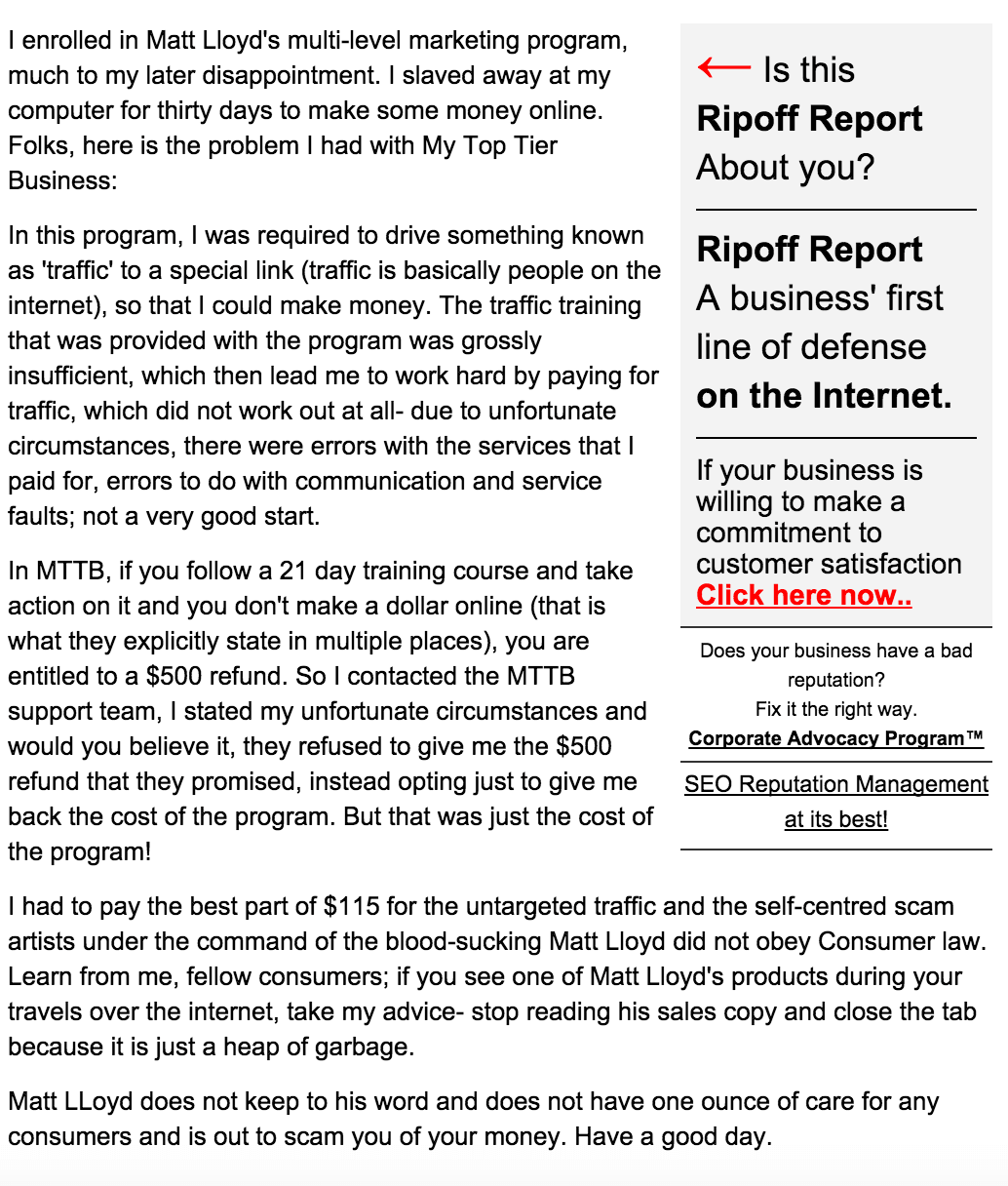 Final word on My Online Business Empire
1. If that info is still not convincing for you to stay away from this ponzi scheme then you should know a little more about the support you can expect from MOBE team.
They have their Facebook page and you may get some kind of support there. But it's not as effective as you might be expecting. And remember that you are going to spend thousands of dollars with MOBE.
To be honest, I wouldn't recommend this type of program.
2. I can't agree with their policy to teach you how to sell high ticket items to other people like you. They promise you high commissions (50-90%) in return.
3. And you're expected to spend a lot of money (thousands of dollars) to be able to promote and sell their expensive products.
4.  They make false promises
5. The make unrealistic claims
6. There is a good number of unhappy customers
I personally don't recommend you to join this program but anyway it's up to you. You are free to try it.
I highly recommend you to read my review of Wealthy Affiliate – absolutely legit program that will show you how to make money online through a simple step-by-step program. If you still have any questions feel free to contact me or leave your comments below.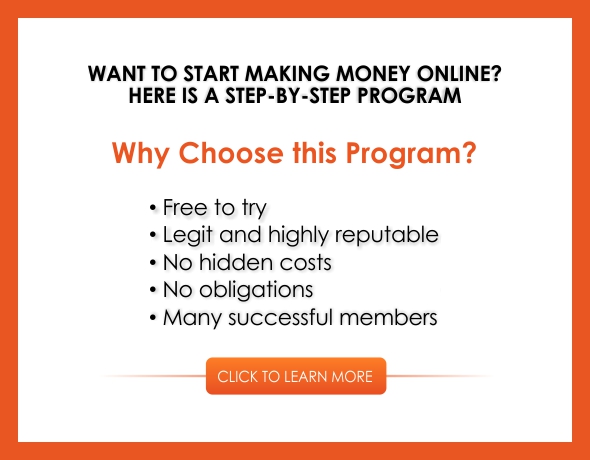 About the Author: Adam
My name is Adam. I'm the founder of Your Income Advisor. My goal is to help others succeed online, by exposing scams and reviewing top rated products. I can help you start
your own business online