Name: Rory Ricord
Website: roryricord.com, brunettemarketing.com
Owner: Rory Ricord
Price: $97 or $67/ plus quarterly payments $28,95
Overall rank: 35 out of 100
Rory Ricord is a very specific program due to its specific approach different from many other programs. Though in fact, it teaches you affiliate marketing.
Rory does it slightly in a different way. He talks about "link post blogging". In my opinion, it doesn't make any sense at all.
It's just a combination of words without clear meaning. But that's ok. It's Rory's right to choose the way how he wants to promote his business idea.
After all, the quality of your program is what matters first. Right? It's not so important how you name it.
The most important thing is how you treat your visitors, customers. Do you provide quality service? Are people happy with your service?
Do they achieve their goals using your service? Finally, we need to find out – Is Rory Ricord a scam? Let's find it out.
Short review of Rory Ricord
Rory Ricord is all about affiliate marketing but explained and delivered in a specific way. You will learn how to build a website/s and make money from it.
There are both positive and negative reviews about this program online. Is Rory Ricord a Scam? No, I don't think so.
Pros of Rory Ricord
Training on affiliate marketing
Support and coaching
Cons of Rory Ricord
Advertising budget required
Negative reviews
Complaints
No SEO training
Upsells (Rory Ricord Fast Track Training) up to $1500
Rory's promise to pay you $500
Association with other low quality link posting programs
Try My Favorite Program FREE!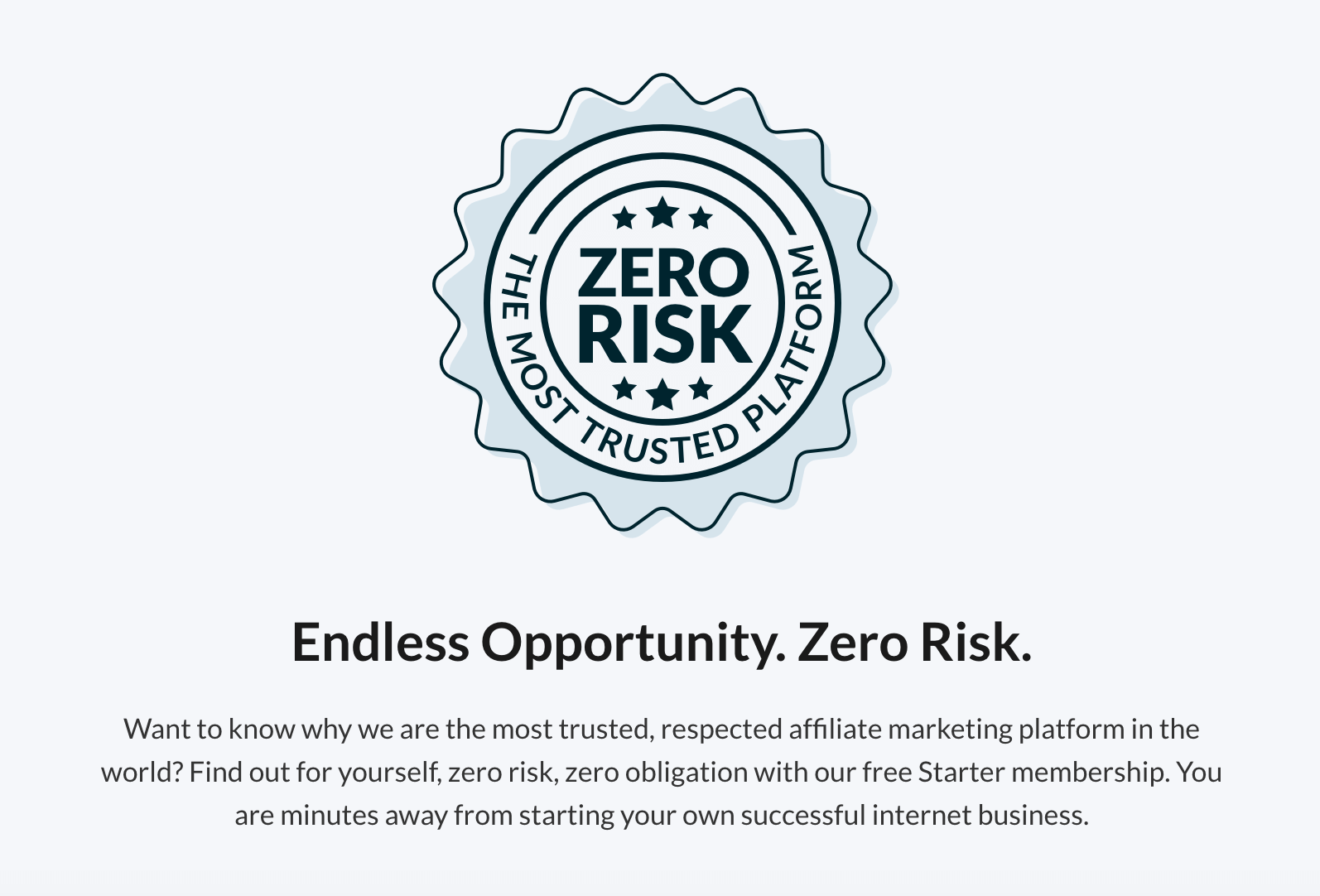 Rory Ricord review
First of all you need to be aware of the fact that Rory Ricord website is running by Rory and his wife Tanya. They also own a company/website called Brunette Marketing.
When you visit the site brunette marketing.com it will redirect you to RoryRicord.com website. This is strange in my opinion.
As I said in many of my reviews on this website and so far I've reviewed over 400 programs, I've never seen any legit company that would be promoting its product using different websites and names.
For example, my website yourincomeadvisor.com has only one name. I don't need multiple websites for promoting my website. It's wrong and misleading and it looks illegitimate.
Once you've paid $97 and got access to Rory Ricord system you will watch training videos that will explain how the system works.
As I said above, Rory Ricord is all about "Link Post Blogging" which means you will learn how to set up a website, add different products to it, write some content for your website and start promoting your website on places that can send you visitors, i.e. traffic.
When you watch training videos you will be shown an example of "Link Post Blogging" website, such as homewithtanya.com.
BTW, you can find many videos created by Ricord on youtube. Watch as many of them as possible so you can get an idea of what you are going to get into IF you decide to join Rory Ricord program.
As it's seen from this example website you don't focus on specific niche or product.
Your task is to fill your website with various products, links, images, banners and that's it. Create menus, add categories. Once it's done you can promote it.
In my opinion, creating such a website doesn't make any sense at all. It includes categories, such as fiction, apparel, business, beauty, arts, dating, education, employment etc.
This type of site is called a site about everything and about nothing.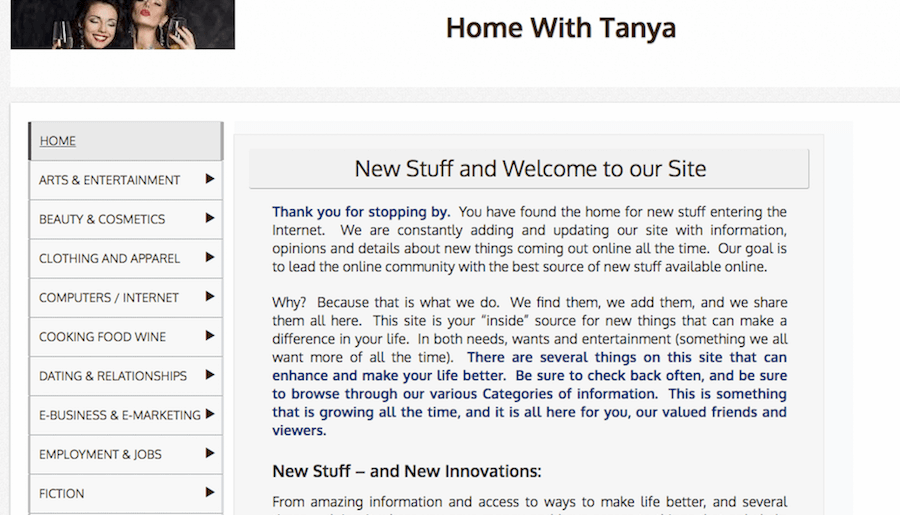 I mean a website about everything means nothing. When it comes to affiliate marketing, all legit affiliate marketing courses teach how to create a website and focus it on one specific niche, one type of product.
Or some programs teach how to create an eCommerce site and sell various physical products like Amazon.
I've never seen sites selling everything. Amazon or Ebay can do it because they don't care about competition.
You MUST care if you want to create a profitable niche website. Otherwise you won't be able to get traffic to your website using free method, such as SEO.
Or you have to spend a ton of money to drive paid traffic to your website. Do you have enough money for paid traffic?
I believe most people don't. Unfortunately, Rory Ricord doesn't teach how to get free SEO traffic to your website. It's a major con of this program.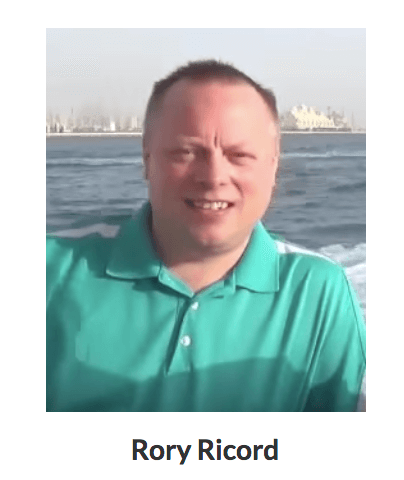 Rory Ricord's training includes useful tips:
ClickBank training
Creating a blog with affiliate links
Adding AdSense to your website
Finding affiliate products
Leveraging social media for your business
The training is not bad. It covers things related to affiliate marketing. It's well known that affiliate marketing is a legit method of making money online.
The main thing is what type of approach you choose. Depending on your approach you can be successful or unsuccessful.
When you register with Rory Ricord's system you will get a website on a subdomain which is bad in terms of SEO.
Subdomain means a website name with a secondary name added to it using slash. For example, roryricord.com/mynewwebsite.
This type of website never get high rankings in search engines which means you won't get traffic to your website. No traffic means no money. The only way is to buy traffic.
BTW, Rory shows you how to buy traffic from sites, such as advertigo.com, classifiedsforfree.com.
I've never bought from these sites and can't say anything about quality of their service. You need to post ads on those sites and pay for it.
I can say only it's extremely hard to get the results you might be expecting. I have experience with Facebook, Yandex.
I spent a good amount of money but have never got positive results. I don't want to discourage you. Not at all.
I just want you to clearly understand what you can expect from paid method and how easily you can waste all your budget without making a single buck.
I also found it a bit confusing when it comes to Rory Ricord's pricing policy. It's not clear how much you have to pay if you decide to join his program.
Some people pay $67 while others mention $97. So, it's not clear. Maybe it was $97 and now $67. But there is also another payment, $28.95 every 3 months.
Some people report about Rory's team calling them back and promoting expensive upsells through coaching (Rory Ricord Fast Track Training).
This type of coaching is never cheap. I don't know the exact price but based on my experience it's over $1000 most of the time.
So, if they call you make sure to ask about their price before hand.
What I like about Rory Ricord
Rory Ricord "link post blogging" is not that bad. Though Rory stands behind some suspicious programs he does provide a mediocre training on affiliate marketing as well as support and mentoring.
There are mixed comments and reviews of Rory Ricord online.
Some people recommend avoiding this program while others are happy with the quality of Rory's service. Anyway, the program is not bad compared to other low quality programs.
The good thing is that Rory talks about making money through Google Adsense which is great. I'm still a member of this program but I no longer use it.
Simply because in order to make a solid income from Google Adsense you need to drive a TON of traffic to your website.
My average traffic is 200 visitors a day. With such traffic I'm still making a solid income per month. But it's NOT from Google Adsense.
You need at least 1000 visits a day to start making some good money from Adsense. If you buy traffic you won't make money because you will be spending money.
And believe me, I have a good experience in buying traffic from Yahoo and Google. It's extremely hard to become profitable.
I mean though Rory tells about Google Adsense and how much money you can make from it, it's not as easy as he is trying to show it.
What I don't like about Rory Ricord program
Some people complain that they could get a refund from Rory for the initial purchase but couldn't get a refund for the upsells.
This is really bad because Rory's upsells are quite expensive.
Some people complain that Rory is rude, others complain for threatening them via Skype. There are various reasons for complaints.
But there are some positive reviews too.
Here is what I have found:
Rude
Threat
Billing issues
Refuse to refund
Problems with Product/Service
Advertising/Sales Issues
Guarantee/Warranty Issues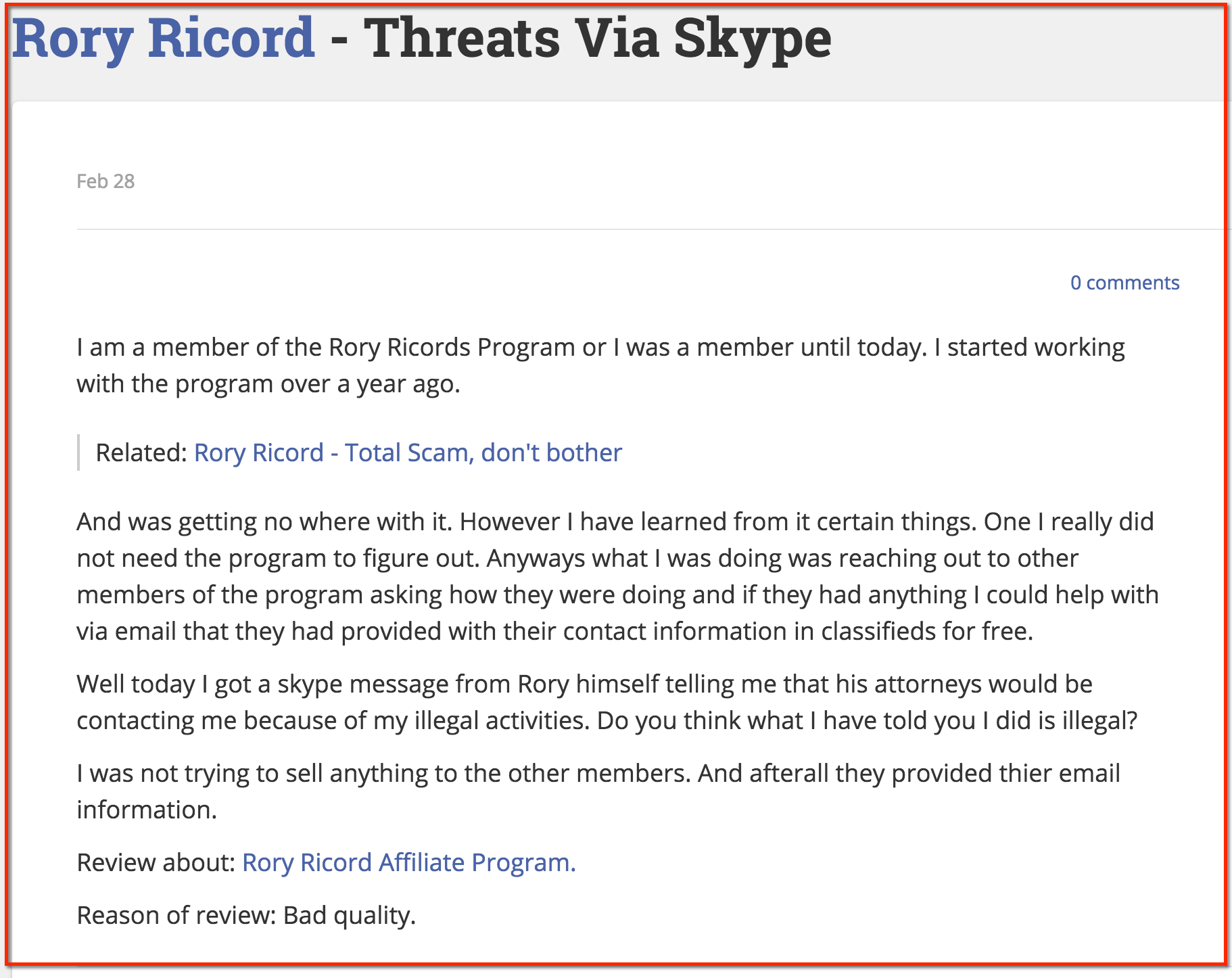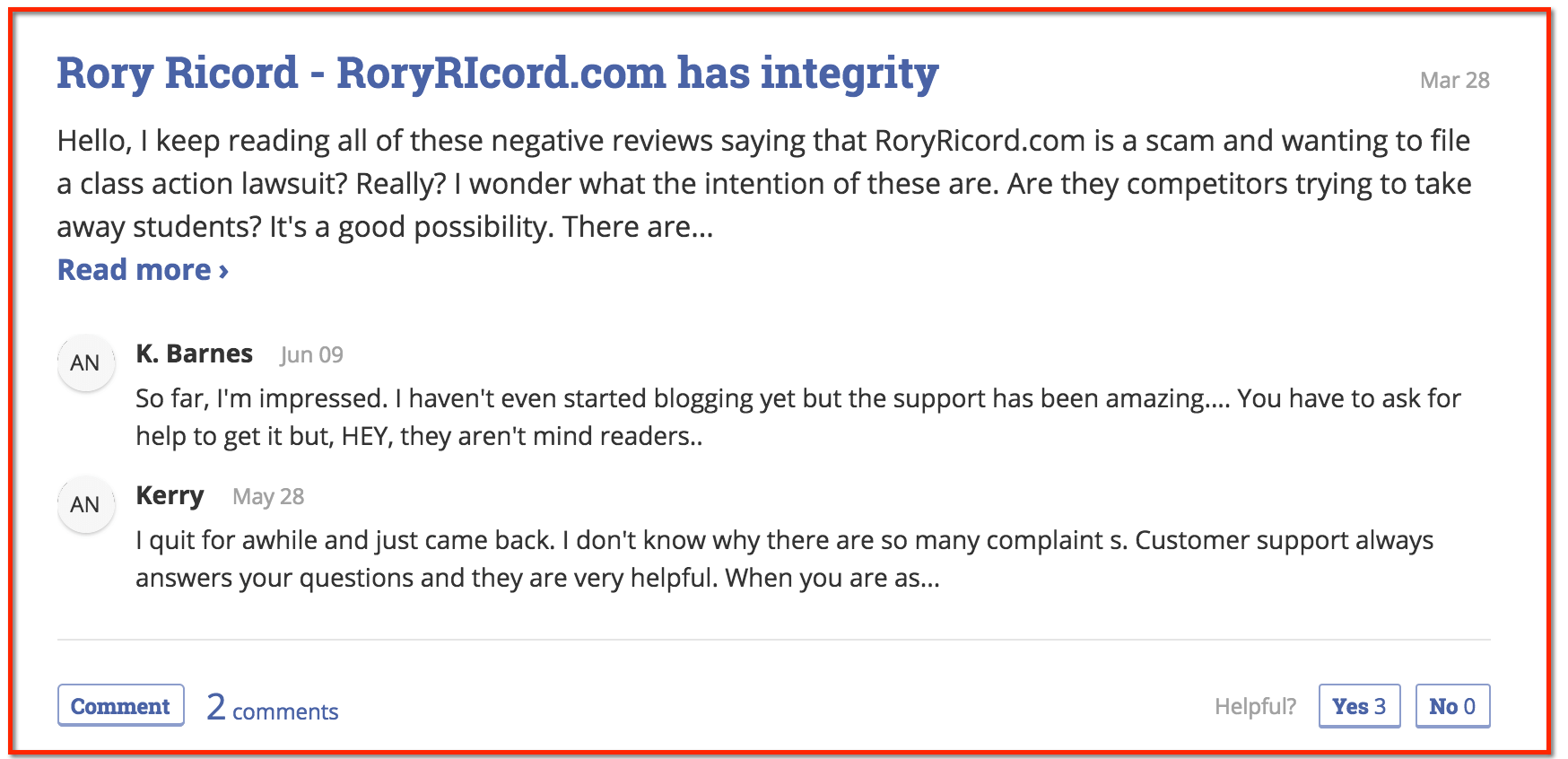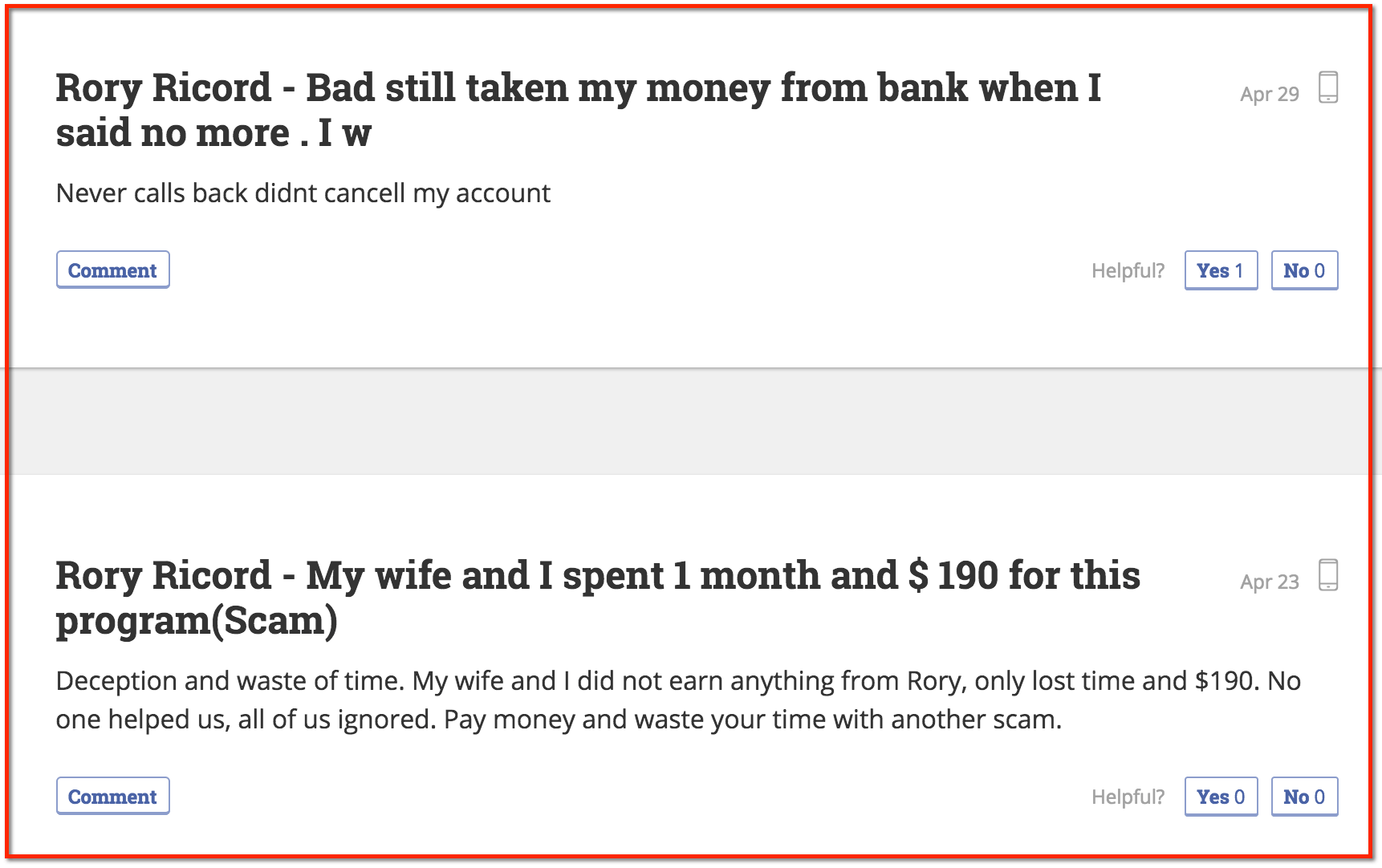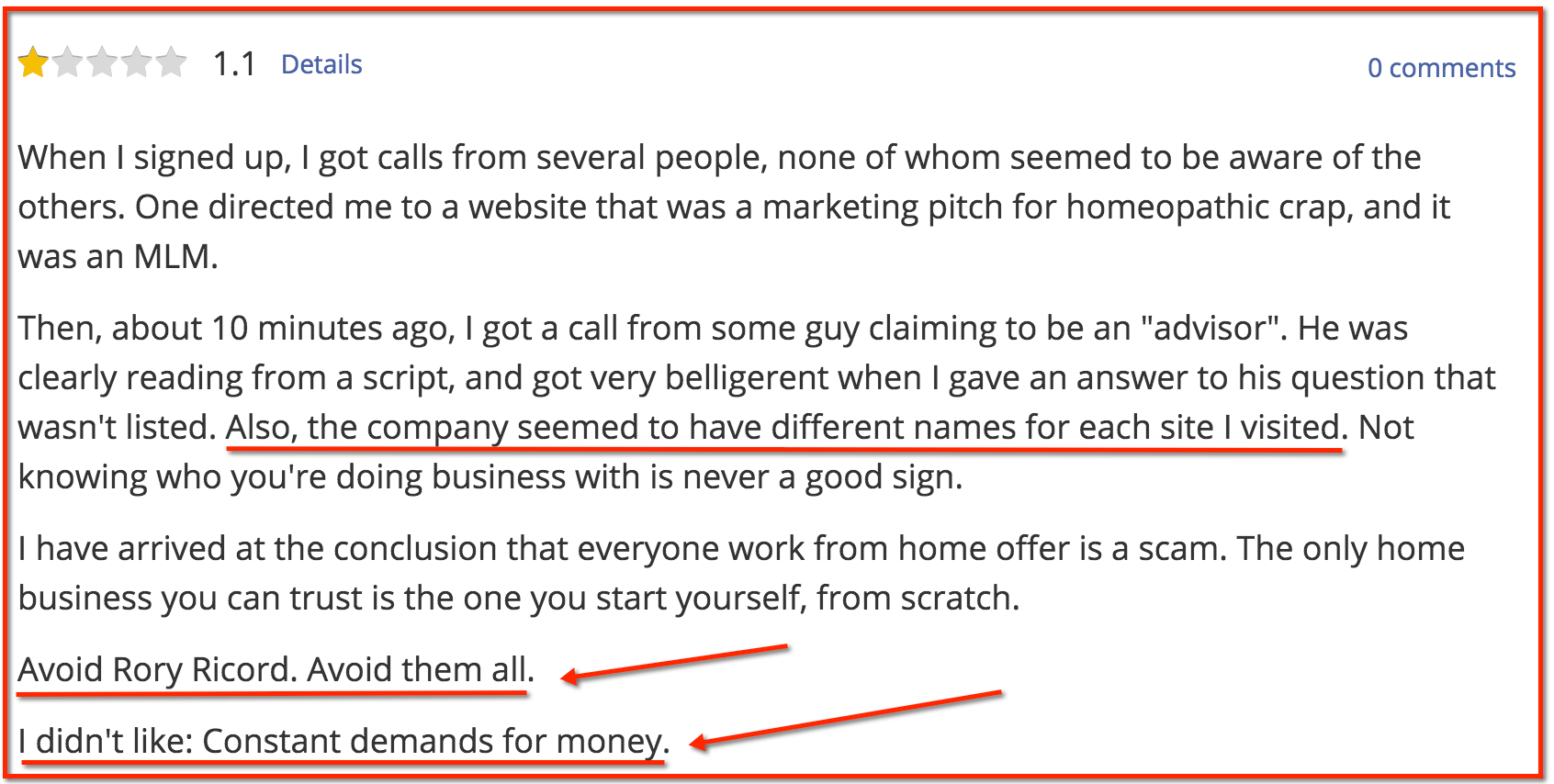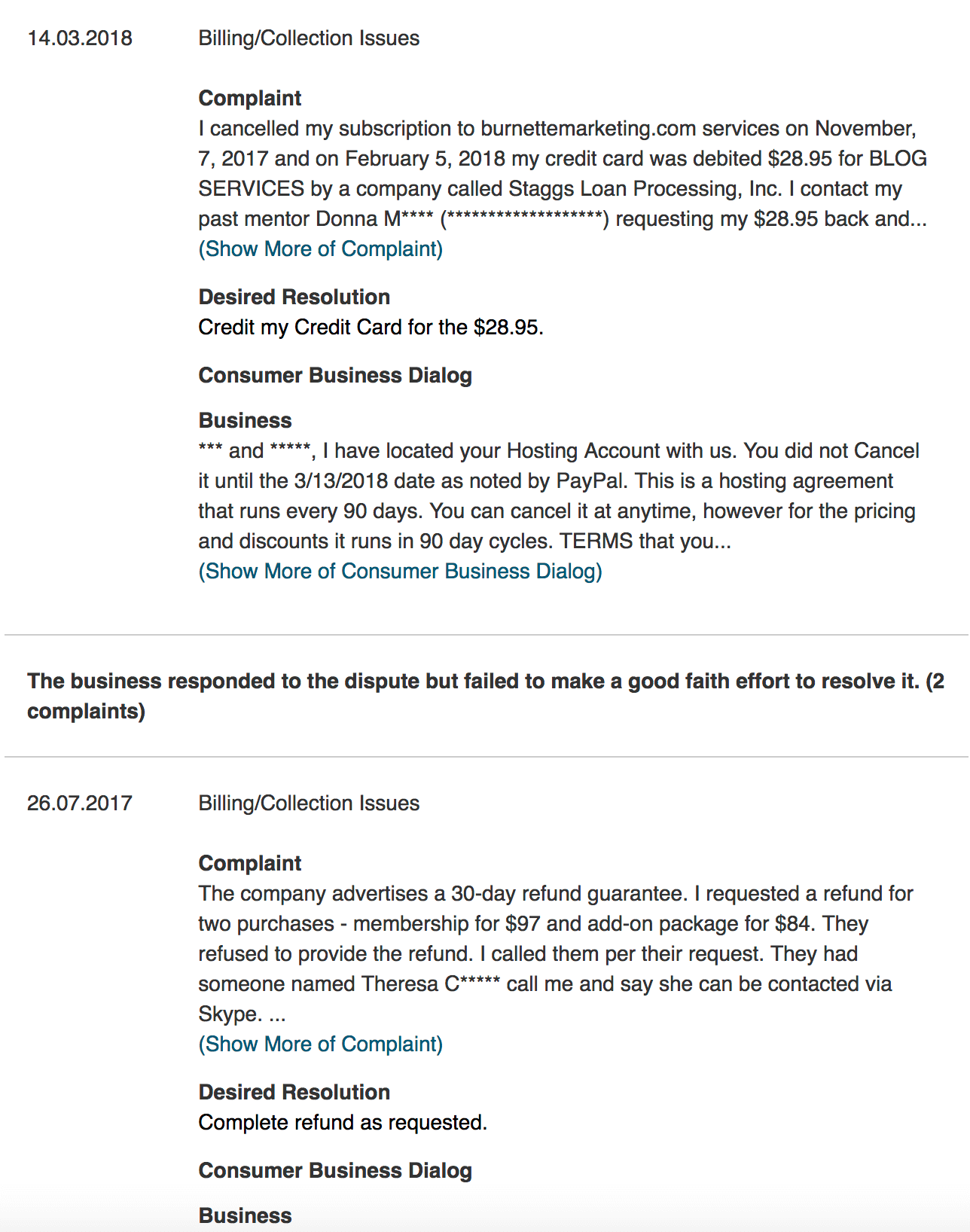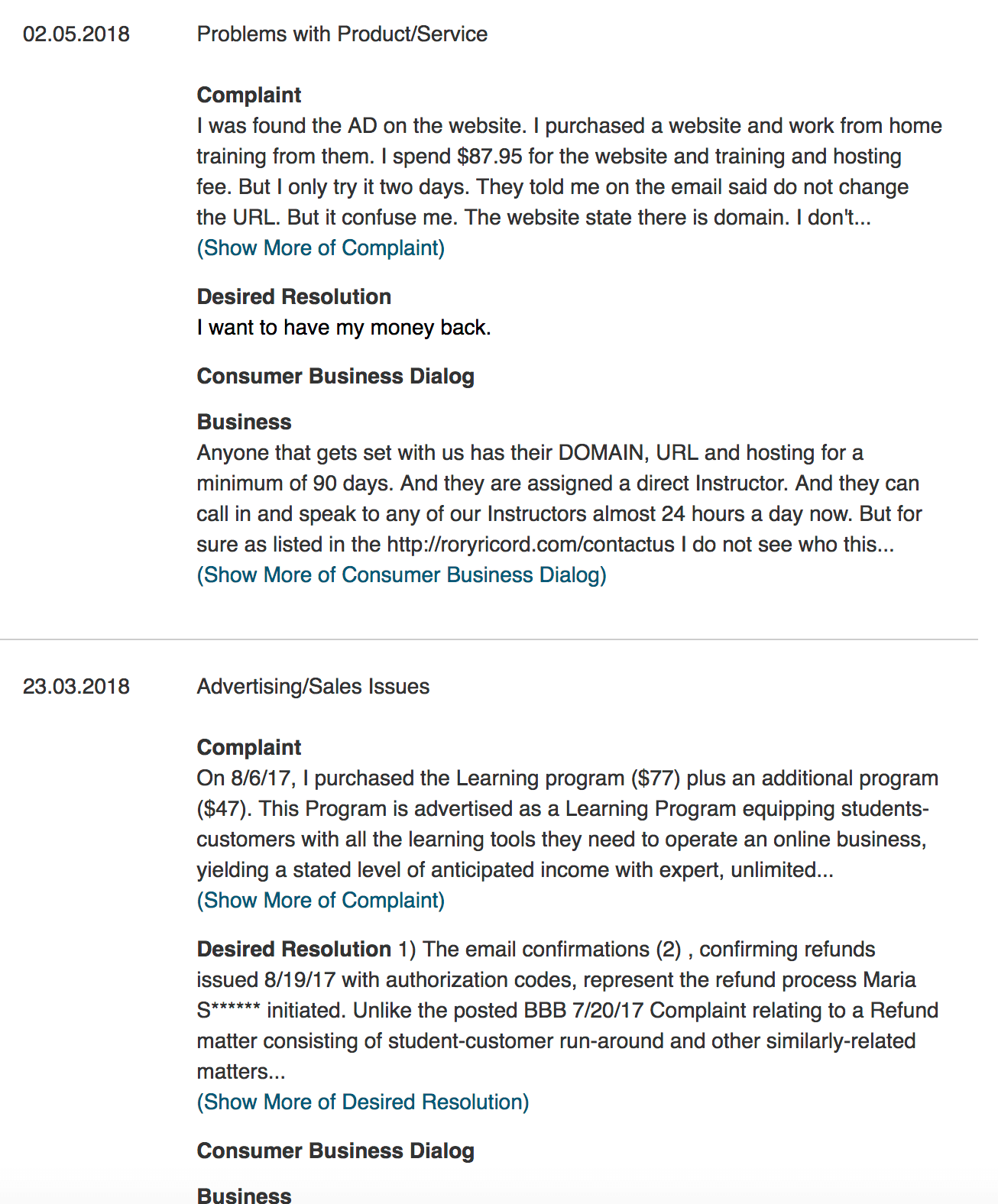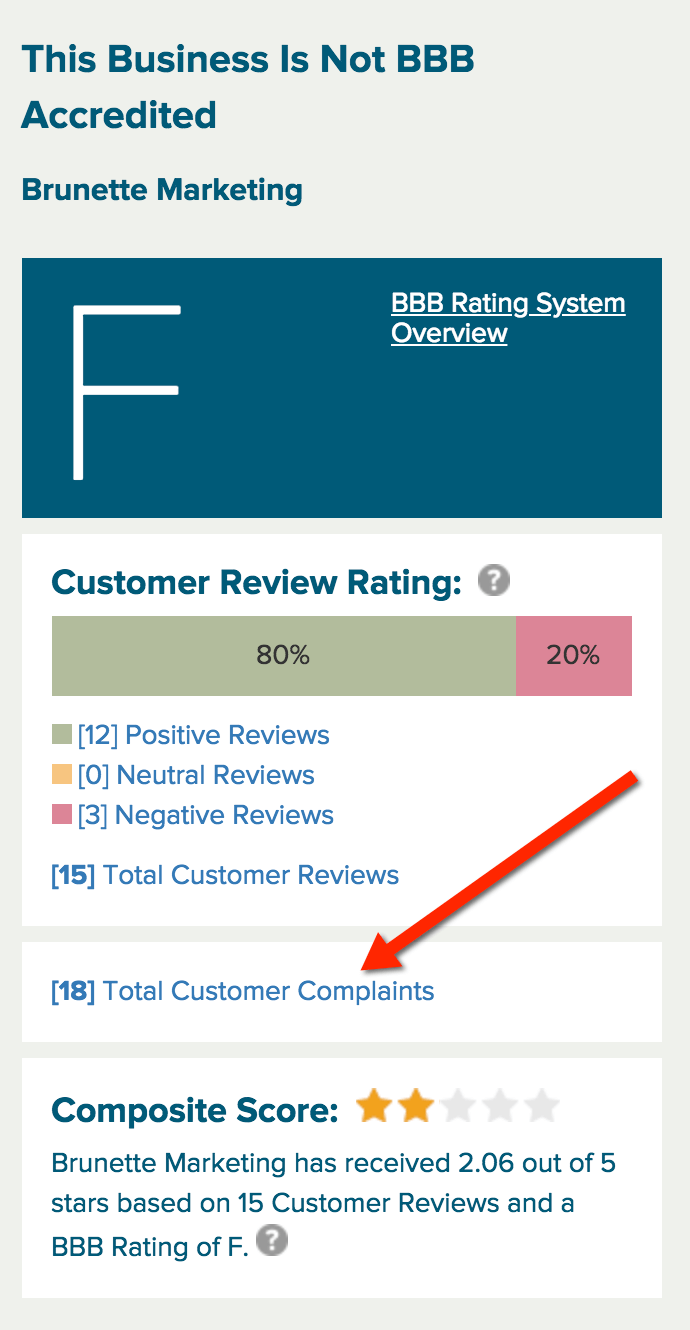 As you can see, I found many complaints from real people. This is not my fantasy. This info was taken from other sites. From blogs, review sites, BBB.org site.
You can read all complaints below. I provided screenshots. I know from other bloggers that Rory is very rude when he finds other sites with negative reviews about him and his program.
I think this must serve as a motivation aspect for Rory for improving his program and changing his approach to his business and people.
Rudeness doesn't solve problems. It creates new problems instead. Anyway, I provided all the screenshots so you can read the complaints and make your own decision.
Another thing that I don't like in this program is that it requires a solid budget to run campaigns and get traffic to your website.
If you don't have a budget it's going to be a headache for you. Rory doesn't teach you how to get free traffic from SEO (Yahoo and Google).
Getting traffic from search engines takes time and effort but it's worth it. Because it's free and it's highly targeted.
There are upsells in Rory Ricord program and some of them are expensive. You can't expect to pay one fixed price and get everything.
The price is not all-inclusive. Especially, one of his upsells is the most expensive one (Rory Ricord Fast Track Training).
From my research I know that this upsells may cost you up to $1500.
There is also an information going around that Rory Ricord stands behind programs, such as The Work at home institute, Profits Master Academy, Home Job Placement, Leads Stream, 37 Clicks.
All these programs have a bad reputation in online space. I reviewed most of them already. You can read my reviews to make sure that I'm not lying to you.
If you still doubt you can continue your research and read other blogs/websites.
Rory gives his personal guarantee that if you don't make money within 90 days he will pay you $500 out of his pocket. Do you really think he will pay you?
Of course, he will NOT pay. I've seen many other programs with a similar claim and all of them were either complete scams or low quality programs.
I also don't like the way Rory tries to name his program like "link post blogging". It reminds me of link posting scams that promote the idea of affiliate marketing using "link posting" idea.
They try to convince people that making money online is very easy.
Just put links here and there and start making money. This is wrong and misleading.
I don't know why Rory uses such a misleading method like "link post blogging" instead of talking about affiliate marketing.
Anyway, I disagree with his approach.
Can you become successful with Rory Ricord?
This is the main and the most important part of my review. I've done my research of Rory Ricord. I visited many blogs, review sites.
I didn't try Rory Ricord myself because I don't feel it's safe enough to get a refund. There are many complaints in online space.
Based on my research of Rory Ricord and my personal experience in affiliate marketing for the last 4 years I can tell Rory Ricord is not a scam BUT there are some major issues here.
Can you become successful with Rory Ricord or not is a big question. When it comes to his affiliate marketing training and support it's not high quality.
But it's not terrible either. When it comes to Rory's reputation it's not good. I'm not saying he is a scammer. No.
But if you read all the comments by other people provided here in the screenshots you will realize that Rory Ricord program is far from being perfect when it comes to the quality and reputation.
There is some chance that you can achieve success with Rory Ricord.
There are some positive comments too. When it comes to my personal recommendation I would join some other programs that have a much better reputation.
Examples of such programs can be found here (see the link below). I tried many of them.
Final word on Rory Ricord's link post blogging
My final word on Rory Ricord's "link post blogging" is that the program is not terrible. It's not a scam. In my opinion, it's a very controversial program.
There are both positive and negative comments about it. There are more negative comments than positive ones. There are also complaints about Rory.
It's really and honestly hard to say that Rory Ricord is an excellent choice. I would recommend to find something better than this one.
There are also some expensive upsells in the program. I don't like upsells. Availability of upsells means the program is incomplete. The program is not perfect.
Because the price is not all-inclusive. Plus you need to spend a good amount of money for advertising and getting traffic to your website.
All this makes Rory Ricord NOT so attractive as I wished it to be. Is Rory Ricord a Scam? No. It's not a scam. Do I recommend it?
I recommend to try my favorite program that is FREE to try. No credit card required. And I've been a member of it since 2013.
Let me know if you have any questions and I will be happy to help you get started online on the right foot.
Once you register I will personally welcome you and answer all your questions.
Final glance at Rory Ricord
Advertising budget required
Negative reviews
Some complaints
No SEO training
Upsells (Rory Ricord Fast Track Training) up to $1500
Association with other low quality link programs
Rory's promise to pay you $500
Overall rating:

35 out of 100
About the Author: Adam
My name is Adam. I'm the founder of Your Income Advisor. My goal is to help others succeed online, by exposing scams and reviewing top rated products. I can help you start
your own business online