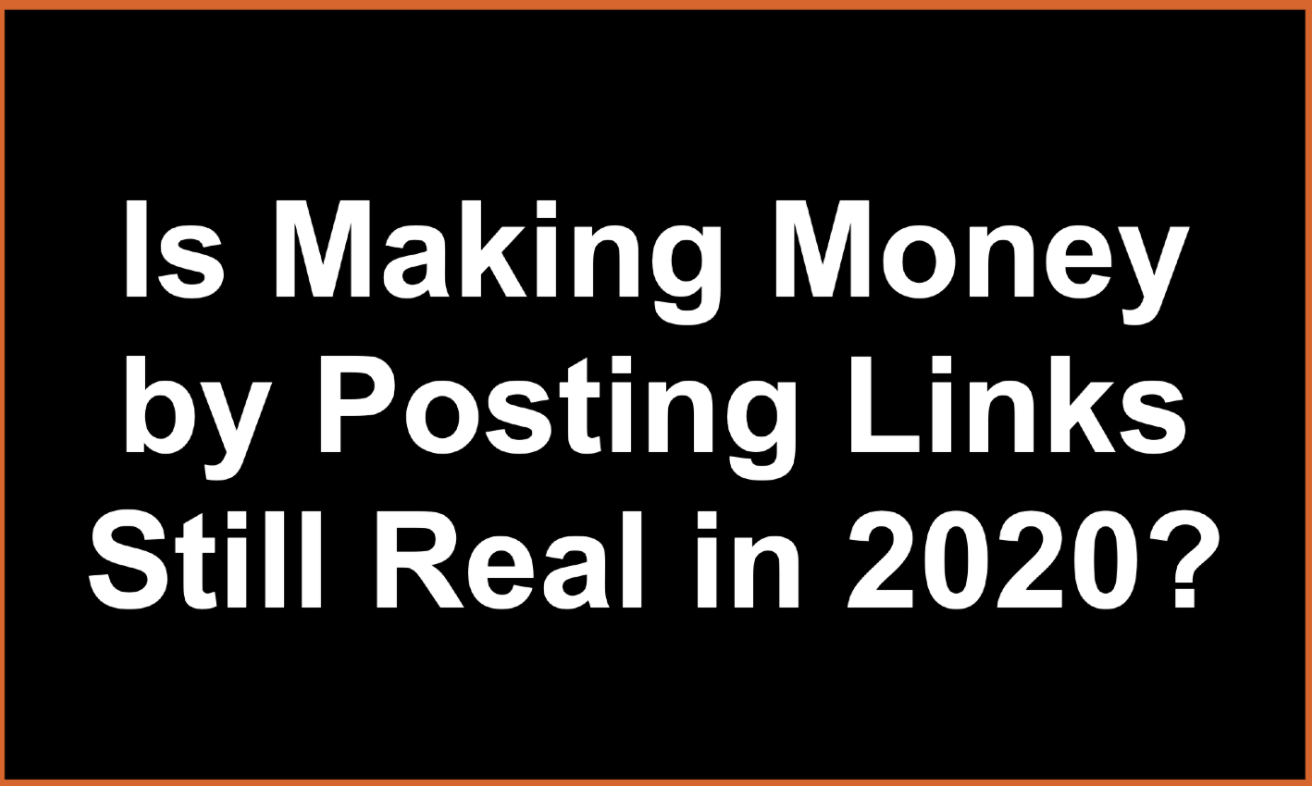 My research shows that even today in 2020 a lot of people are still searching for this kind of information online trying to find an easy way to make money.
There are really many ways you can do it, such as affiliate marketing, making money blogging through ad networks, such as Google ads, Mediavine, Medianet, creating a Youtube channel, drop shipping, MLM marketing, freelancing and more.
And one of the most popular way is of course by posting links and ads. Is it still real today in 2020?
Because if there are so many people are talking about it especially on Quora.com that means there is a way and today my task and mission to separate lies from truth.
Let's find out if making money by posting links still real in 2020.
Misconception About Link Posting
My research shows that the audience is big. Hundreds of people search for this info every single day using various keyword combinations, such as posting links, posting links google, make money online by posting links, can you make money posting links online, work online posting links and many other keywords.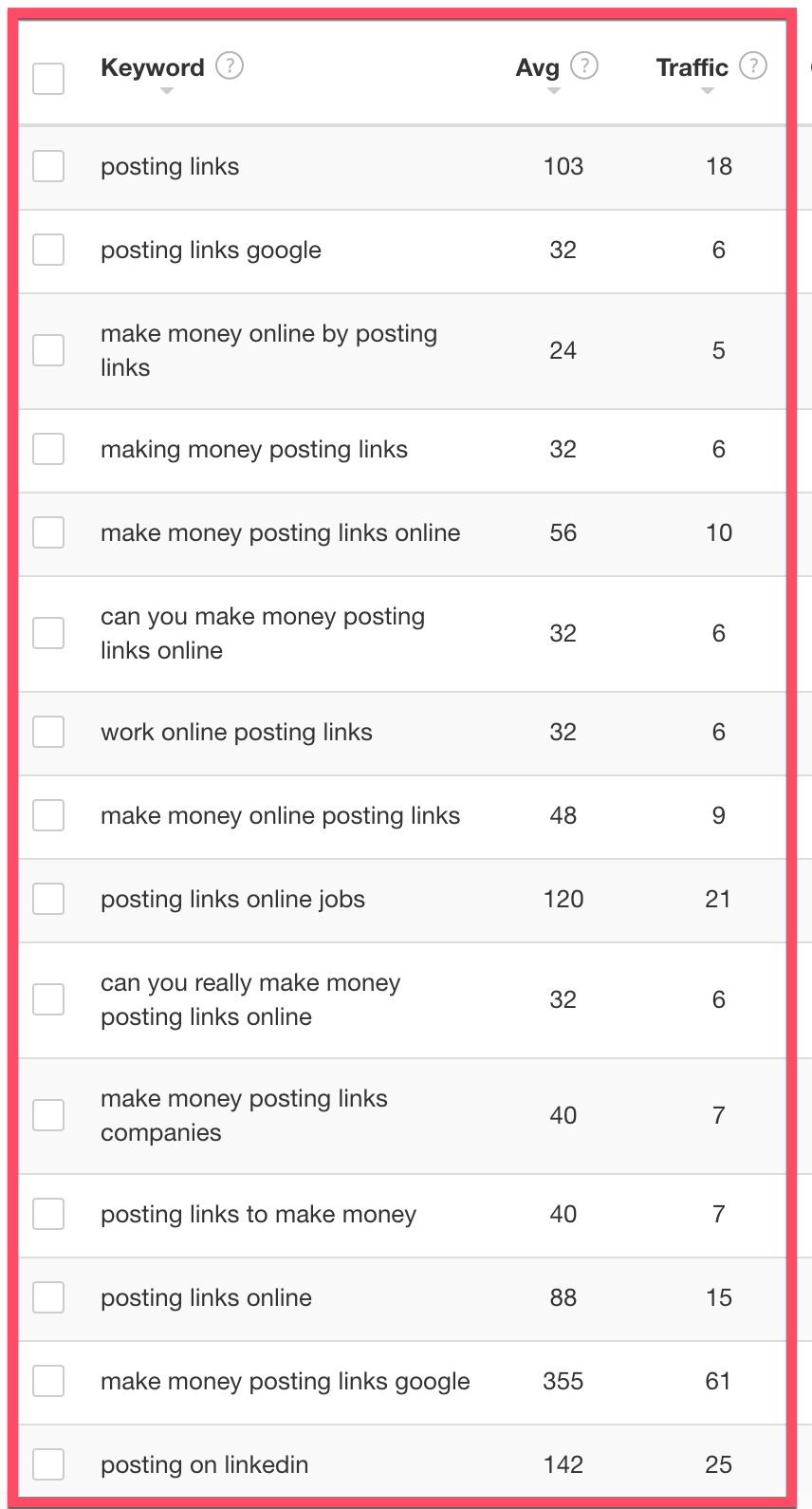 Even sites ranked on the first page of Google talk about link posting sites and the link posting industry as $6.8 Billion Dollar Industry.
There is some misconception here and some misleading info going around. There is no such a thing as link posting industry or link posting sites.
Sites like Amazon.com, WalMart.com, or Target.com are very often described as link posting sites which is wrong and misleading.
They are NOT link posting sites. They are big e-commerce sites making a lot of money by selling products online.
How to Start Making Money with Links?
Can you join those e-commerce sites and make money? Yes. It's called drop shipping or affiliate marketing.
Generally speaking you enter into an affiliate agreement with any of those sites and get your affiliate tracking ID (your affiliate link).
Once it's done, you set up your affiliate website, write product reviews, response posts or add videos to your site and add use your affiliate links in every piece of content you create.
When your affiliate website starts getting visitors from Google, Youtube, Facebook, Pinterest, Instagram or any other traffic source, you can start making money.
When someone clicks on your affiliate link and complete the purchase you will earn your commission from Amazon, Walmart or any other website you enter into affiliate agreement with.
How Much Money Can you Make by Posting Links?
This question is really difficult and the answer is going to be very painful.
Yes, this is true that many people are making thousands of dollars every single month by posting links or ads (aka affiliate marketing).
Some are making thousands of dollars every single day.
But those many successful people stand out among many more losers. This is our reality that many people don't want to hear.
But it's better to know this truth right from the beginning before you decide to start building your online business.
Answering the question in the title of this section, you can make from $0 up to thousands and thousands of dollars online every single month.
There is no guarantee as to when or how much you can earn from affiliate marketing. Some people are simply more lucky than others.
Your income directly depends on the amount traffic/visitors/viewers to your blog or channel.
How Fast Can Link Posting Make You Money?
This is another difficult and painful question. Link posting aka affiliate marketing does work but differently for different people.
For some people it makes wonders and they start earning a solid amount of money within 6-12 months.
For some people it takes 2-3 years to achieve some sort of solid results.
Unfortunately, most people never achieve any of their goals because they either don't take action or quit too soon.
Because it's not just about posting links here and there. It's about learning how to become a successful affiliate marketer which requires knowledge and skills.
Success includes 3 components: hard work, creativity and some luck.
How to Know Link Posting Scams
As I said, there is a lot of misconception about link posting.
On many websites you can find information about so called companies that are ready to pay a lot of money for link posting activity.
An Example of Fake Income Claims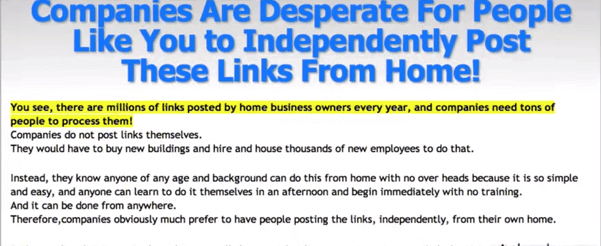 This works in the way as explained above with companies like Amazon.com, Walmart.com, Bestbuy.com etc.
But the way it is explained by scam websites is going to make you zero $.
They explain it in a way as if companies are ready to pay you hundreds of dollars per hour for posting links online. Many programs such as
37 Clicks
Work at Home EDU
Home Profit System
Online Home Profits
Online Income at Home
Online Profit Stream
Excel Cash Flow
Internet Cash Income
Home Internet Cash
Online Home Careers
Extreme Home Profits
and many other programs claim that companies pay $379 per hour for link posting activity.
There is a ton of link posting work to be done and there is a room for everyone. Even Google and Yahoo pay for link posting.
This is how it is explained by programs mentioned above. If you want to know the truth, none of this is real.
Google and Yahoo don't hire anyone for this kind of work.
For example, programs like At Home Income Package claim that you can earn $379 per day working for Google and Yahoo.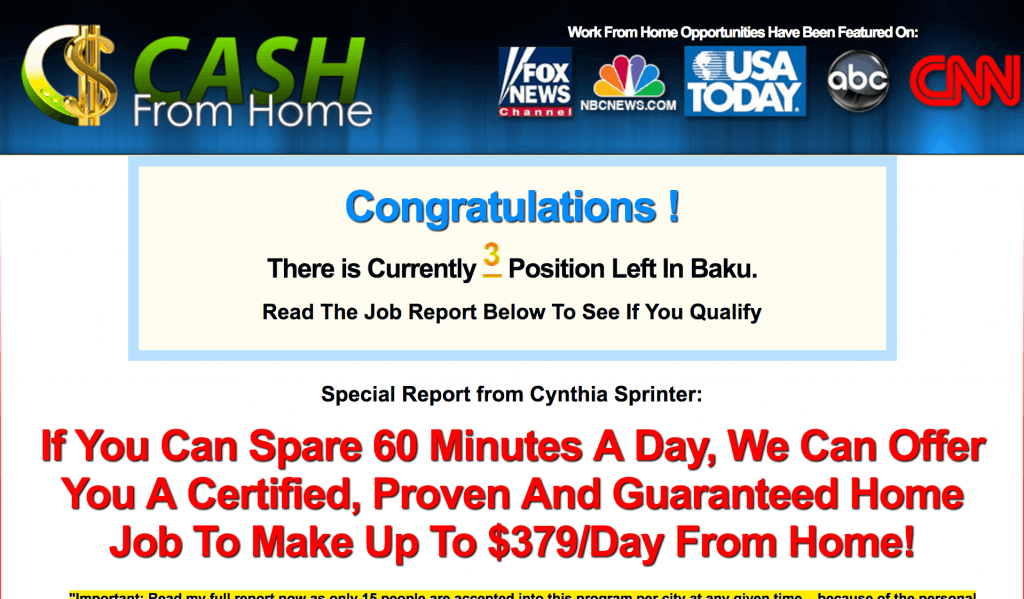 An Example of Fake Ads
Programs like Work at Home Institute claim companies are ready to pay $15 per link, Work at Home Institute claim they pay $20 per link.
Imagine if you can get paid so much that means if you post 10 links per day for 30 minutes you can earn $200 per day or $6.000 per month.
This sound like a dream and it really is.

Once you see such claims (see the screenshot above) immediately turn away from such programs and look for something more legit that never give quick income promises or easy money.
Once you see a program that claims you can build a successful online business spending 30 minutes a day is the one you must avoid.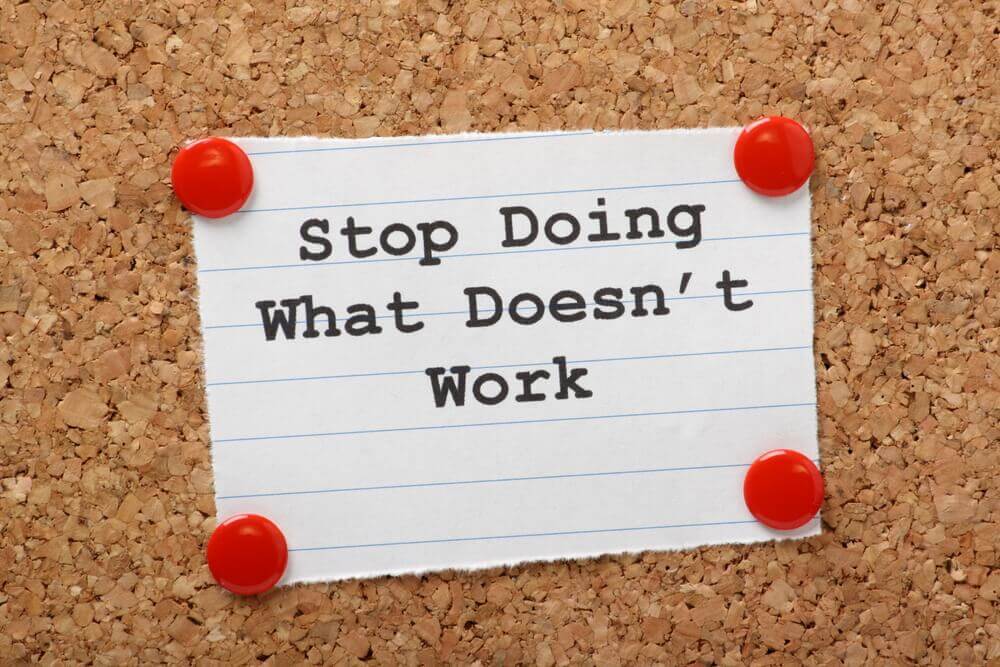 When Link Posting Doesn't Work
Link posting is often described as a super easy way of monetization.
Such an opportunity is often described and advertised in fake TV or newspaper news that you can see on the screenshots below.
An Example of Fake News
It is also advertised through fake testimonials created by fake millionaires from freelance sites.
Those freelancers can record such a testimonial for $5-$10 for anyone. They do it for the sake of money.
They don't care that this type of video will be used to scam people like you and me.
In short, below you can read about methods that won't make you money. This type of activity is totally useless.
If you see somewhere an ad that promises you to get paid for
Leaving your links when commenting on other blogs, Youtube videos,
Sending your links via emails
Spamming social networks, such as Facebook, Instagram, YouTube, Twitter, forums with your links
the end result of doing this type of link posting – Your accounts will be blocked and you will NOT earn a single $.
When Link Posting Does Work
If you want to earn money by doing so called posting links activity there are various ways for that.
For example, you can do affiliate marketing through blogging, YouTube channel, Instagram channel, ads.
There is a super popular idea going around about earning money by posting links for Google.
As I said, Google doesn't hire anyone. But it is true that you can earn money through Google ads.
This works as follows: You build a blog (website) and sign up for Google AdSense program.
Then you drive traffic to your blog and every time someone clicks on one of your Google ads you earn money.
This program is super popular but in order to make a solid monthly income you need to drive a massive traffic to your blog, probably at least over 1.000 unique visits a day or even more.
When it comes to Youtube, you need to get thousands of views every single day.
Plus, your income depends on the type of niche you choose for which Google can pay from a few cents up to a couple dollars per click.
The amount of money you earn depends on the advertiser contracted with Google.
In fact, you don't even need to sell anything online.
You just need to create a super helpful informative website on a specific topic and drive as much traffic as possible to monetize it through Google Adsense.
This process looks and is very often described as link posting or ad posting. In fact, it in is a long process that includes steps, such as:
Choosing a niche
Building a website
Creating content
Posting ads
Driving Traffic
Monetization
Most profitable niches for Google Adsense are the following:
Insurance
Online Education
Marketing and Advertising
Internet&Telecom
Legal
Online Banking
Beauty&Skincare
Cryptocurrency
Travel
You also need to understand that Link posting and ad posting are very different.
If you plan to do link posting, i.e. make money through affiliate marketing then you need to remove ads from your blog.
Because your ads will be distracting for your audience. If you don't plan to sell anything then you need to focus solely on ads and optimize your blog for maximum conversions by placing ads in the best way possible to get as more clicks as possible.
All ad networks, such as Medianet, Mediavine, Ezoic, Monumetric, Google Adsense help you optimize your blog for maximum conversions so you can earn the most from your website ads.
If you have a blog you can join Google adSense once you have some content. I think it is the easiest network to join.
For other networks you need some traffic before you can join. For Mediavine at least 50,000 visits per month, for Monumetric at least 10,000 visits.
When it comes to YouTube and Google Adsense you need at least 4,000 watch hours and 1,000 subscribers before you can start monetize your channel through ads.
Some people still have questions regarding posting links on Instagram, Pinterest or Facebook in order to make money. Is that possible?
For this you need a profile on those social networks to be able to share some valuable info with people and invite them to your website where they click your affiliate links.
This is a long process that takes time and continuous efforts. Doing it without a website is the hardest thing and very FEW people can successfully do it.
Legit Link Posting (AKA Affiliate Marketing) Programs
If you plan to start your affiliate marketing business and start doing link posting the right way, I can recommend two programs.
These two programs will teach you everything you need to know about posting links and ads.
You will gain knowledge, tools and the right vision as to what you can expect and when in terms of income.
Program #1 – One week free trial account/Premium Yearly – $495
Program #2 – $450 Premium Yearly then $200 each year after that
About the Author: Adam
My name is Adam. I'm the founder of Your Income Advisor. My goal is to help others succeed online, by exposing scams and reviewing top rated products. I can help you start
your own business online