Easy Retired Millionaire
$47
Pros
Decent training
Money back guarantee
Cons
Video is highly misleading
False profit claims
Fake video testimonials from Fiverr (by paid scam actors)
No supportive community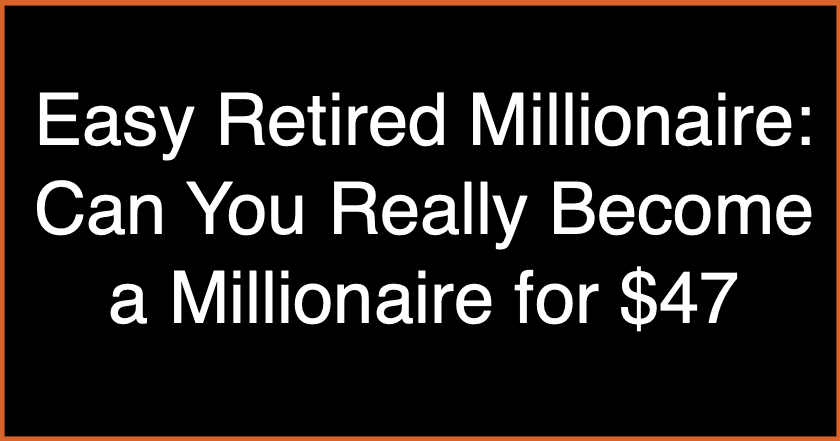 Product name: Easy Retired Millionaire
Website: easyretiredmillionaire.com
Founders: Chris and Kathy
Price: $47
Overall rank: 2 out of 10
Clickbank is full of digital products – a digital marketplace since since 1998. So, it has been in the business for 22 years now.
It's one of the most popular internet retailer in North America. The site united over 1,500.000 affiliate marketers and is still operating.
But the quality of Clickbank products is continuously diminishing and Easy Retired Millionaire is not an exception this time as well.
If you want to know the short and simple answer: Is Easy Retired Millionaire a Scam?
My answer is as follows: It's a borderline scam. For my detailed answer read the rest of my review.
Short Review Easy Retired Millionaire
Easy Retired Millionaire is a program that claims to teach you to make money on autopilot or it is also called automated profits.
The price of the program is only $47 which is affordable for most people.
The main issue with the program is that it teaches you how to become a millionaire for $47.
Sounds great but it is very far from reality.
Pros of Easy Retired Millionaire
Decent training
Money back guarantee
Cons of Easy Retired Millionaire
Video is highly misleading
False profit claims
Fake video testimonials from Fiverr (by paid scam actors)
No supportive community
My Top Recommended Programs

    Program # 1 – Wealthy Affiliate

  Program # 2 – Income School

Easy Retired Millionaire Review
First of all, let's see why Easy Retired Millionaire was created and launched.
To help people and teach them how to make money online or mislead them and waste their money?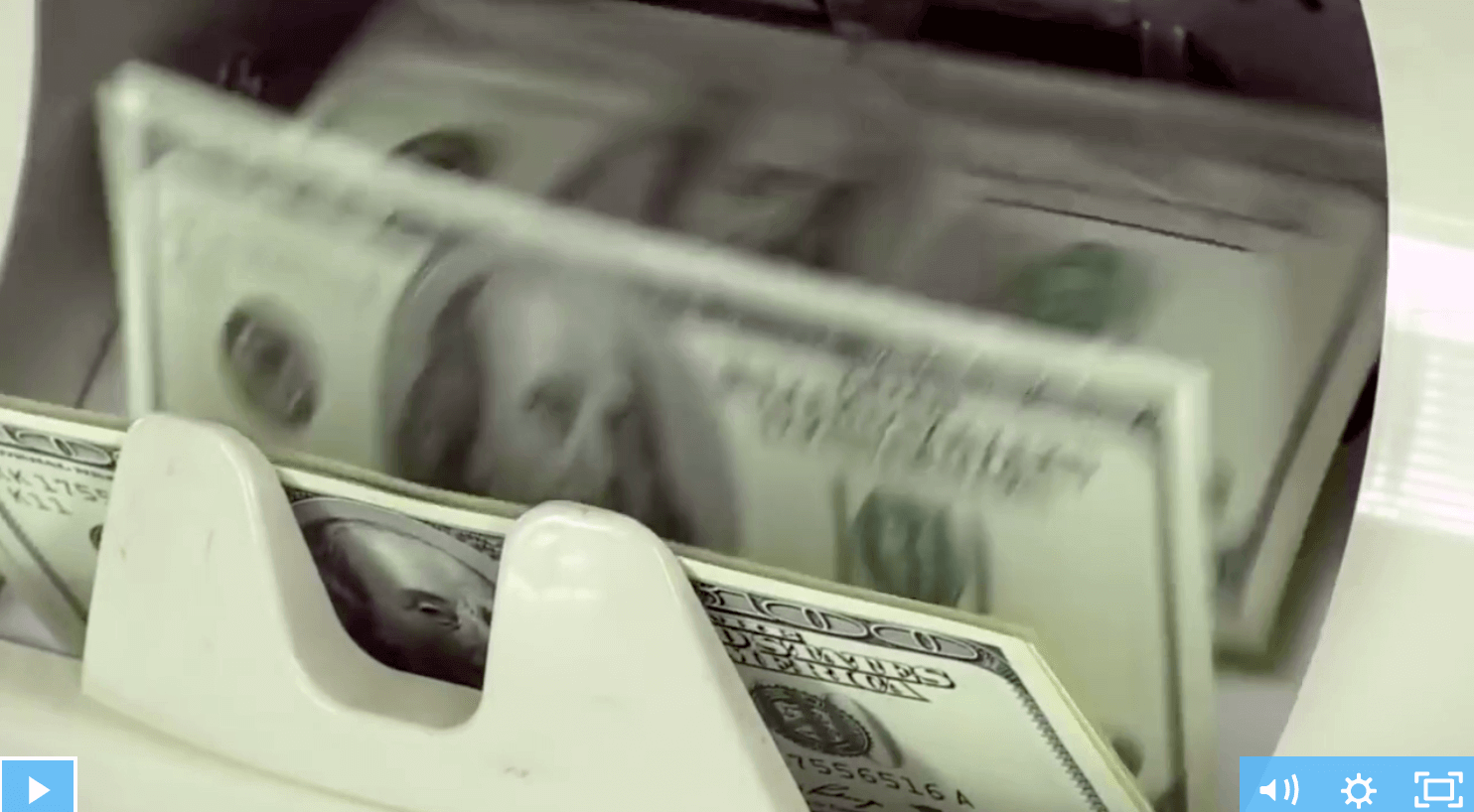 The video starts showing you dollar counting machine because this misleading method works very well.
And from the very start creators of Easy Retired Millionaire give you false promises like showing you how to make a lot of money without spending a dime.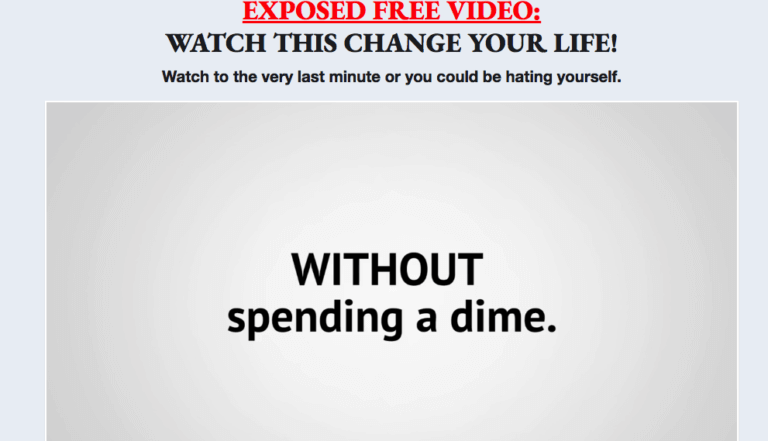 This is the first lie because the cost of the program is $47. It's not free.
Why are they lying to us? I don't know.
They promise that you receive money every week nonstop and they are talking about thousands of dollars.
The next lie is even worse than the previous one.
All the money can be made with 12 clicks of your mouse without any extra work.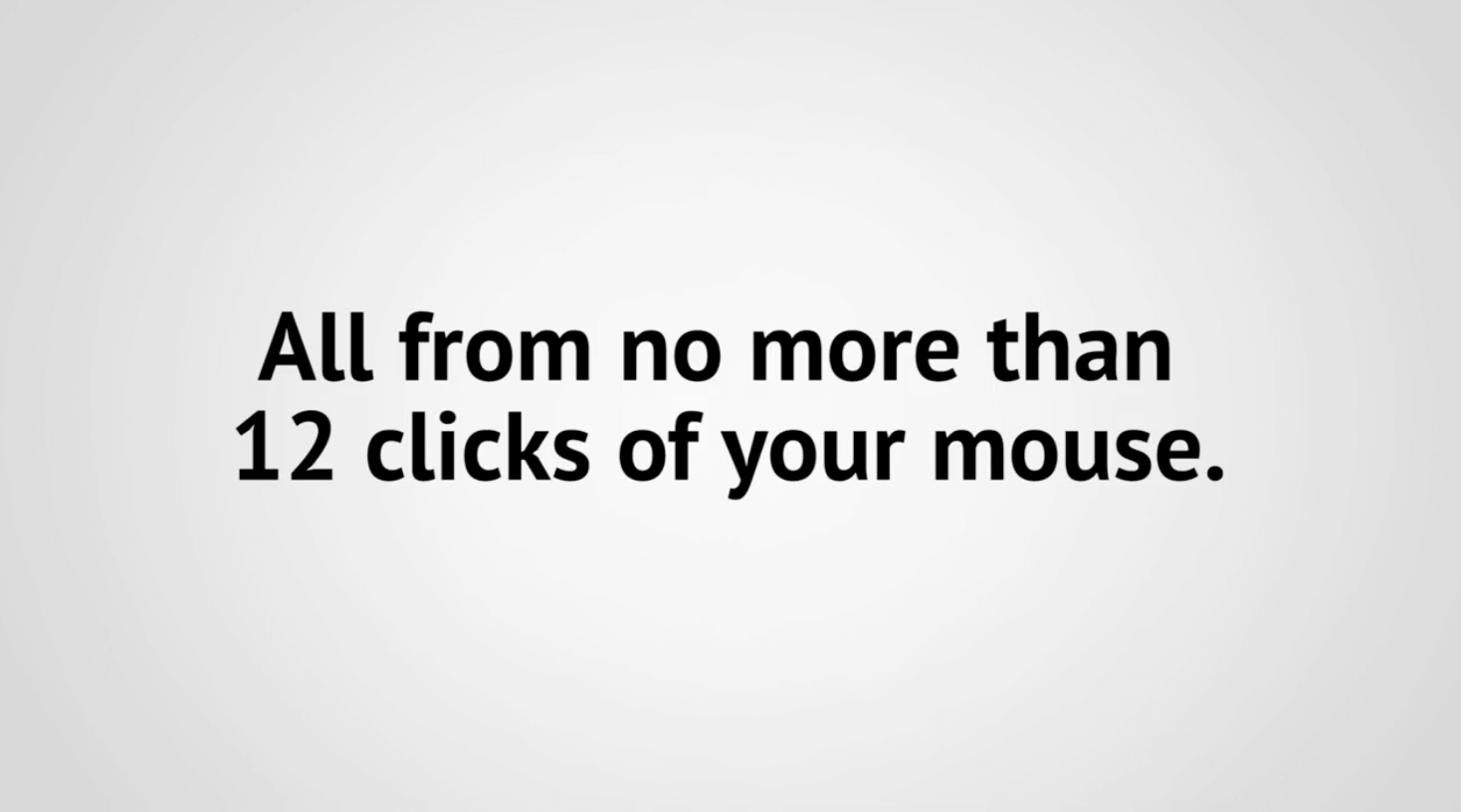 The founder of Easy Retired Millionaire even promises during the video that he will create an income-generating account for you live while you watch the video.
Once the video finished you can continue generate your income every single day without extra work.
The system is going to take care of everything for you. And the system is 100% automated.
Believe me or not, but this is what you will see in Easy Retired Millionaire introductory video.
Let's see the full list of Easy Retired Millionaire Ridiculous claims and see if you can trust them.
Here is the list of Easy Retired Millionaire (ERM) claims:
ERM will create an income-generating account for you live
You continue to generate income every single day
The system is going to take care of everything
You will generate an income with 12 clicks of your mouse
You will generate an income without extra work
ERM system is 100% automated
The system lets you click and sit back
Paychecks will be mailed to you every week nonstop
The founder of Easy Retired Millionaire is lying so much that even claims that his goal is not to get you addicted to his cash-generating accounts.
This magic founder calls himself Chris during the video.
BTW, if you decide you want to watch ERM video, do me a favor – stay on this page watch the video.
It's 2 minutes long.
Before you invest $47 in Easy Retired Millionaire
Some of the info in the video is true. So called millionaire Chris says that many people are making the switch to making money online which is true.
Because brick and mortar stores are dying. As I said, this is true. But what does it mean to you?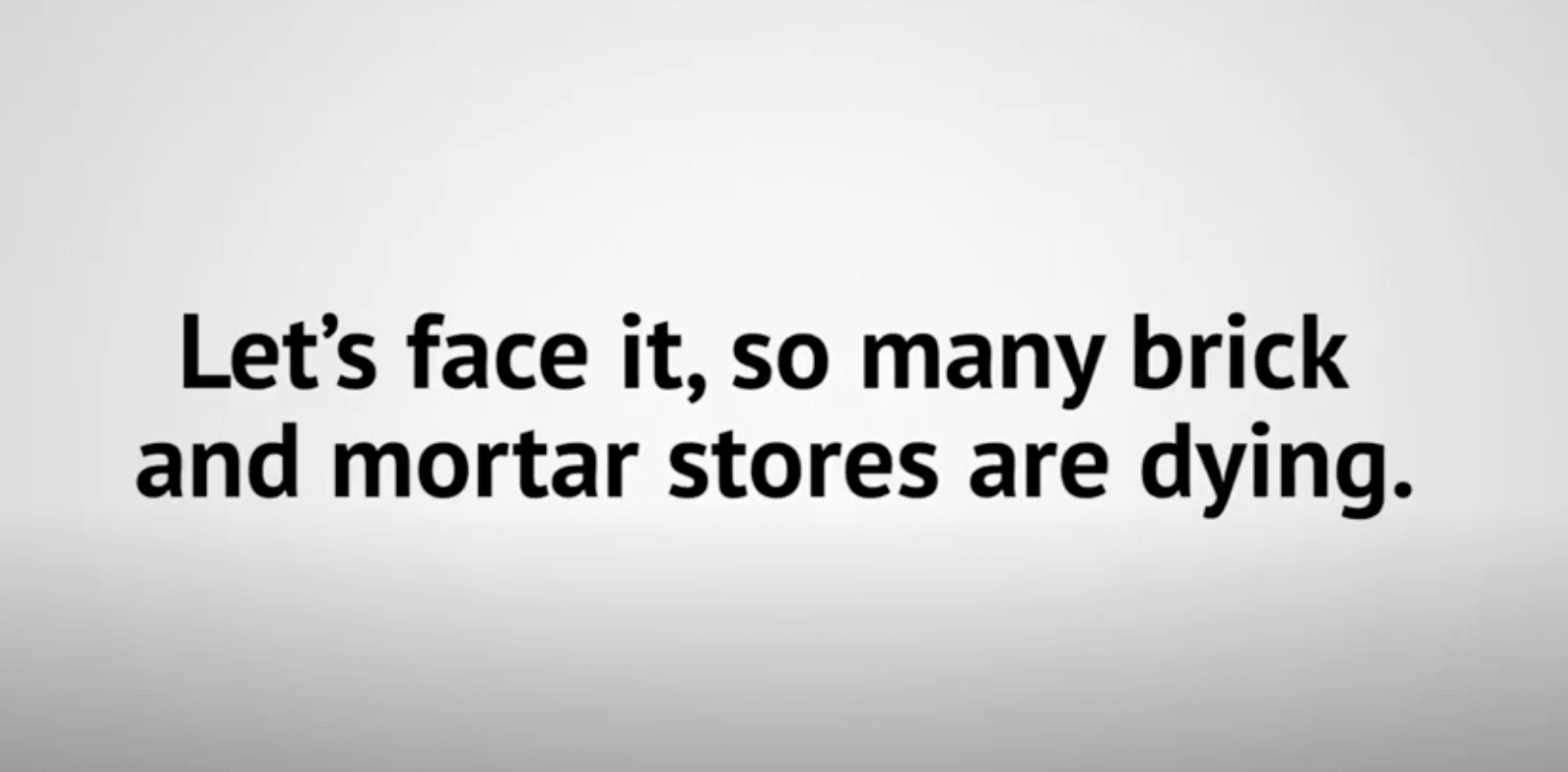 Does it mean money is flying on the internet and anyone can take as much as they want?
NO and NO! Yes, making money online is easier than in real life to some extent.
You don't need to pay salaries, you don't need to rent the office. That's true.
In this sense making money online is way easier.
But it doesn't mean the process is super easy and all you need to do is click and sit back as Chris explains the process.
This is not true. To make affiliate marketing work for you and start generating income will take 12-24 months for most people.
For some people it may be even less than 6 months and some 3-4 years.
There is no an exact recipe for everyone. This is what I want you to know before you invest $47 in Easy Retired Millionaire.
This is very different from what Chris tries to get you into.
Easy Retired Millionaire Training
Inside Easy Retired Millionaire you get access to:
Ebooks
Tool&Updates
Knowledge Base
Step 1: The Emergency Cash Generator
Emergency Cash generator video 1
Emergency Cash generator video 2
Bonus: Copy this EASY method for $100/day income
Forgotten traffic plans
Effective list building blueprint
Clickbank takeover part 1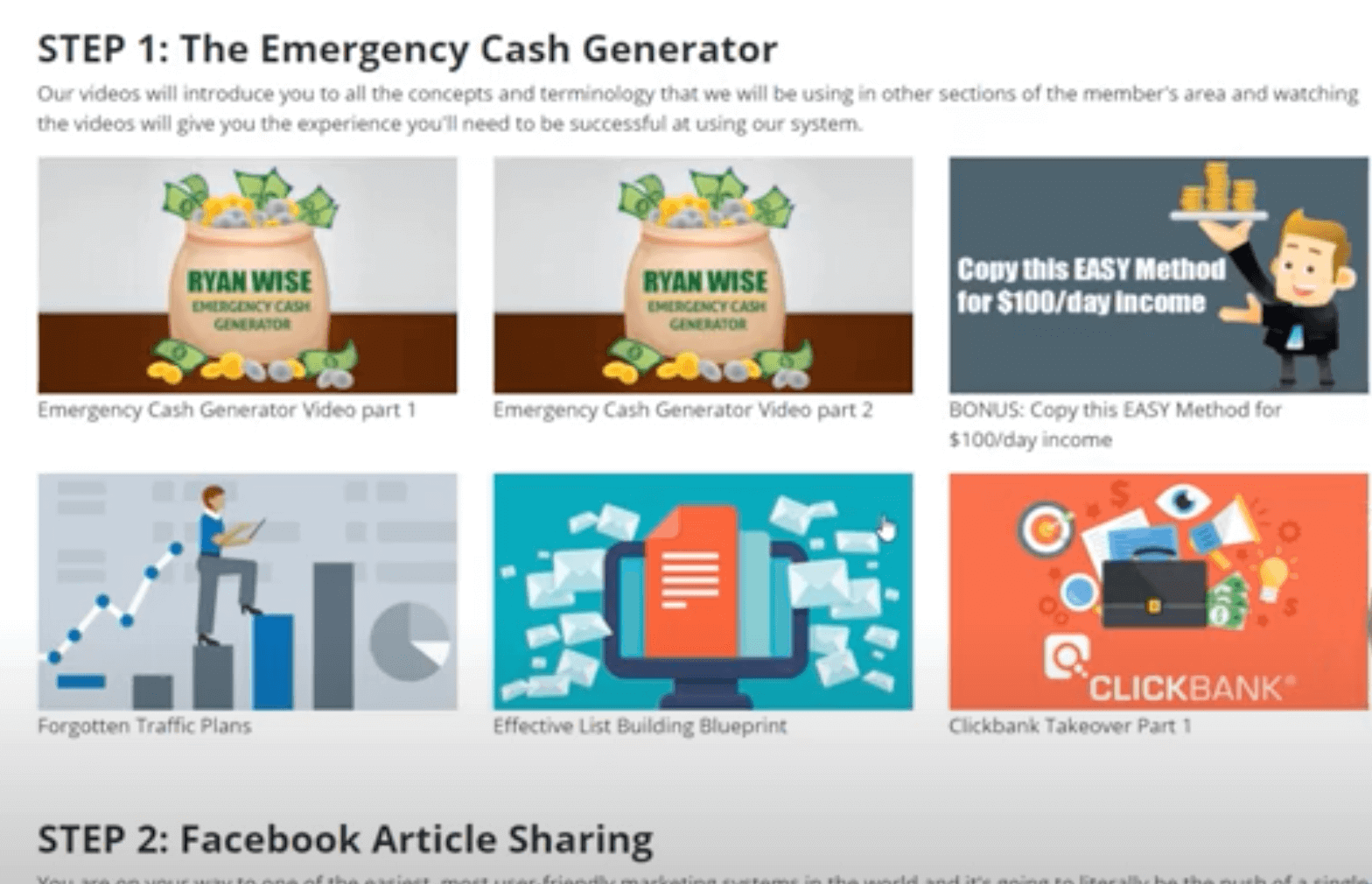 Step 2: Facebook Article Sharing
Promoting your affiliate links through Facebook
Inside the Easy Retired Millionaire member's area you will see some info by Kathy Graham regarding affiliate marketing as follows:
Secret # 1: Pre-sell the product
Secret # 2: Build your own targeted opt-in list
Secret # 3: Use a redirect or cloaked link
Secret # 4: Always track your promotional efforts
Secret # 5: Create and use your own ads
Secret # 6: Write articles and a mini ebook
Secret # 7: Use screen capture videos
Bonus secret: Test multiple affiliate products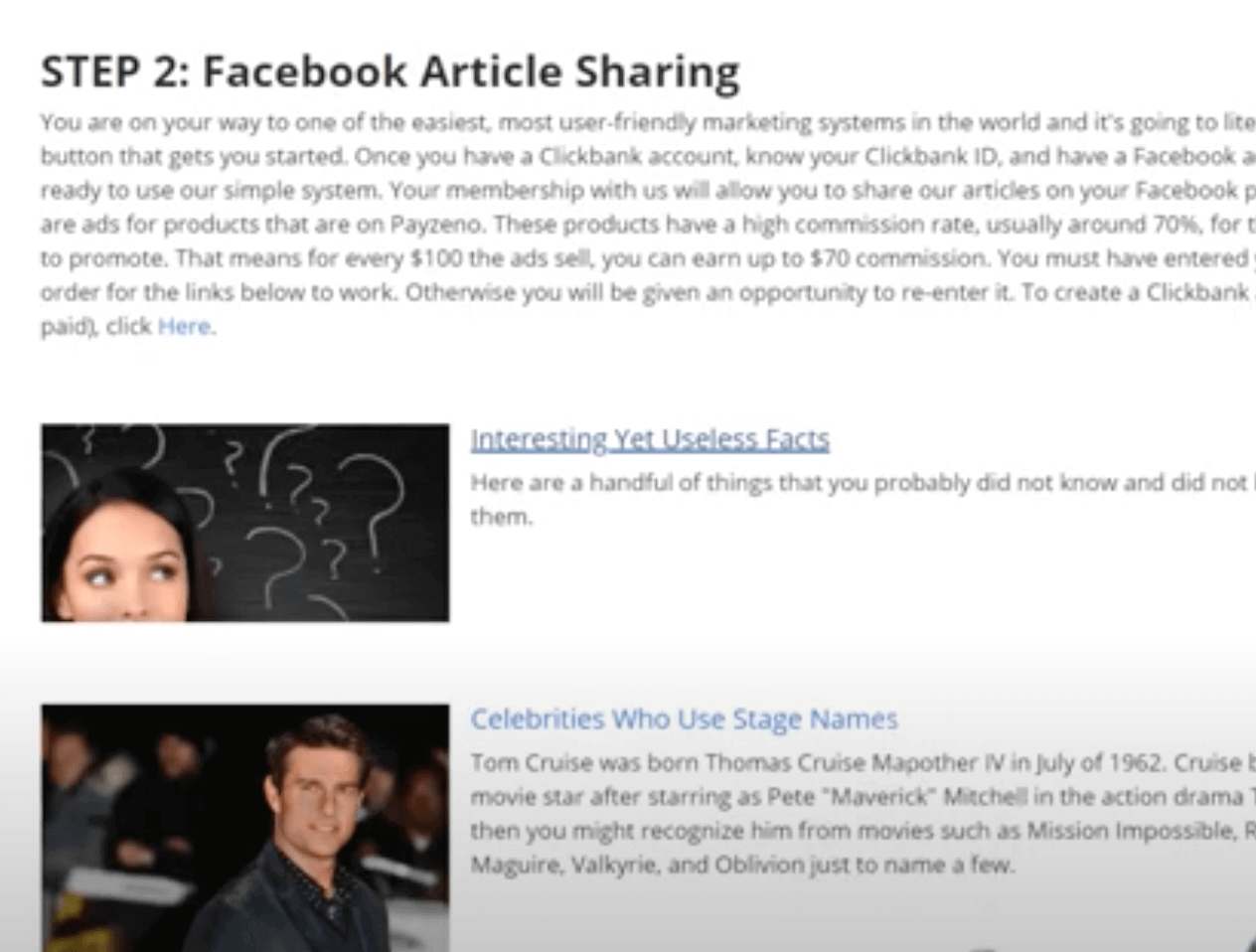 Disorganized Training Modules
In this training some videos teach you some income methods that are not affiliate marketing.
You simply learn how to complete some small tasks and earn some little income.
This can be very distracting and misleading for most people who are new to affiliate business.
Some video teach you spamming sites like Craigslist which is not going to work at all in 2020.
Some videos teach you so called forgotten traffic methods that don't work in 2020.
My Top Recommended Programs
    Program # 1 – Wealthy Affiliate
  Program # 2 – Income School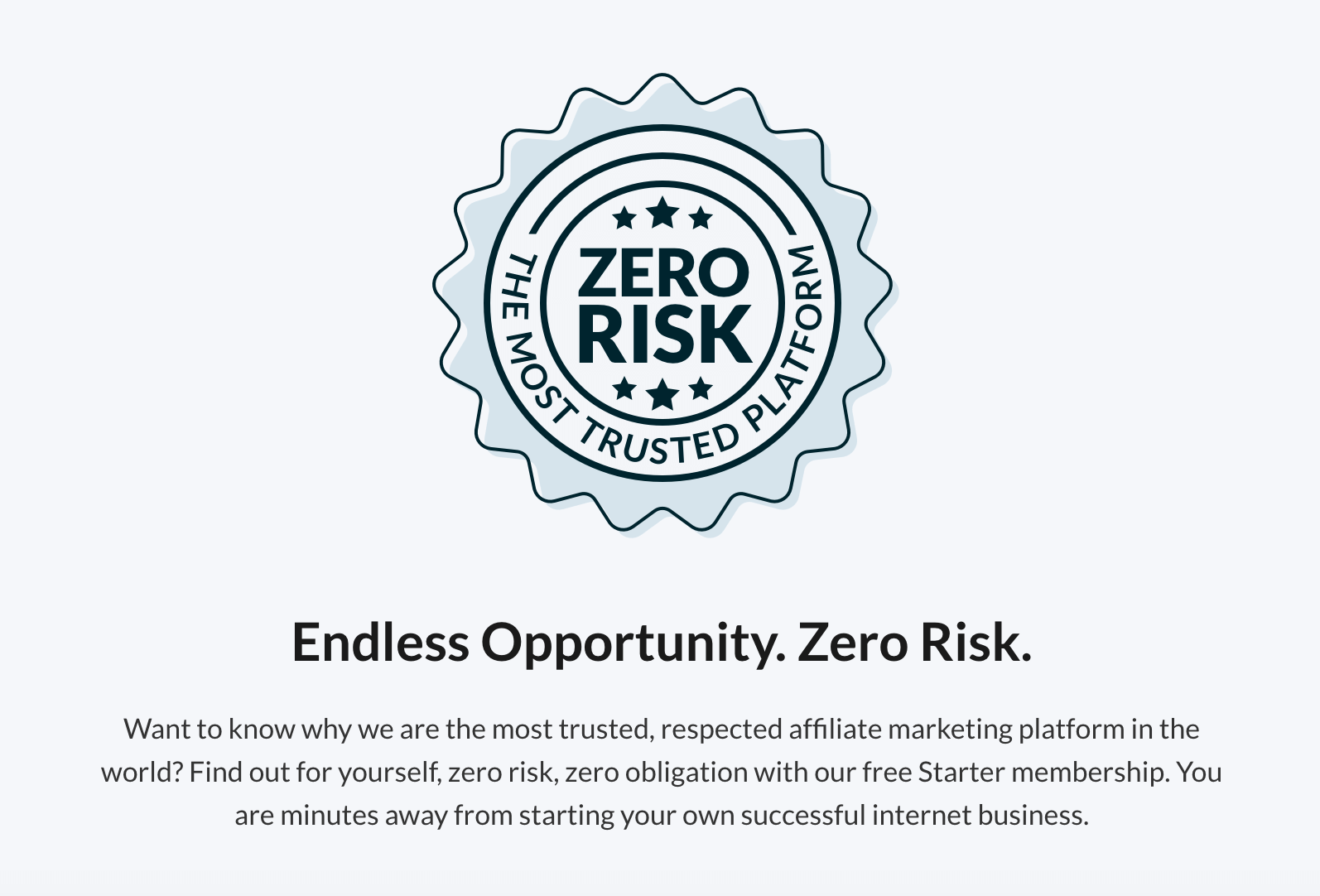 Online Surveys
Some videos show you methods like completing online surveys which is not so profitable. You have to complete a ton of surveys to earn at least $50-$100.
Number of surveys is also very limited which means even if you want to complete many surveys to increase your income you won't be able to do it because the opportunity itself is very limited.
CashCrate Module
Another video shows how to make money using CashCrate which means you will be making money by completing surveys and other tasks like people to on websites like SwagBucks.
Again, the opportunity itself is limited though you can earn some money, just some side money, not full time income.
Keyword Research
Some modules are true regarding keyword research, choosing long-tail keywords with high search volume and with a low competition.
But the trick here is that high search volume keywords can't be low competition keywords. I've never seen such keywords in my 6 year experience.
Article Submission
Submitting articles to article directories such as EzineArticles or Squidoo is absolutely misleading, wrong and outdated.
It can even destroy all your business due to Google penalty.
Chris also tries to teach you how to share articles on Facebook and drive traffic to your blog or promote your affiliate links there which is outdated and not going to work.
It's already well known fact that Facebook doesn't send traffic to blogs.
Many online entrepneurs already turned away from Facebook and promote their business through Instagram, Pinterest.
Because Facebook's goal is to keep people on its platform instead of sending them to your blog.
List Building
The only part of the trining that contains some value is regarding building list of subscribers.
Yes, it's valuable and important for your online business.
But is the value if you can't generate enough traffic to your blog?
If you don't get enough traffic, somewhat about 500 visitors a day you can hardly get subscribers in order to grow your affiliate business.
Clickbank
One video talks about Clickbank which actually advertises this marketplace as if it's reliable and the biggest place of digital products for your business.
In fact, Clickbank is full of low quality products and everyone today know about it. Plus many affiliate marketers including myself don't like their payout policy.
You need to generate at least 5 sales from 2 different payment methods to be able to withdraw your money.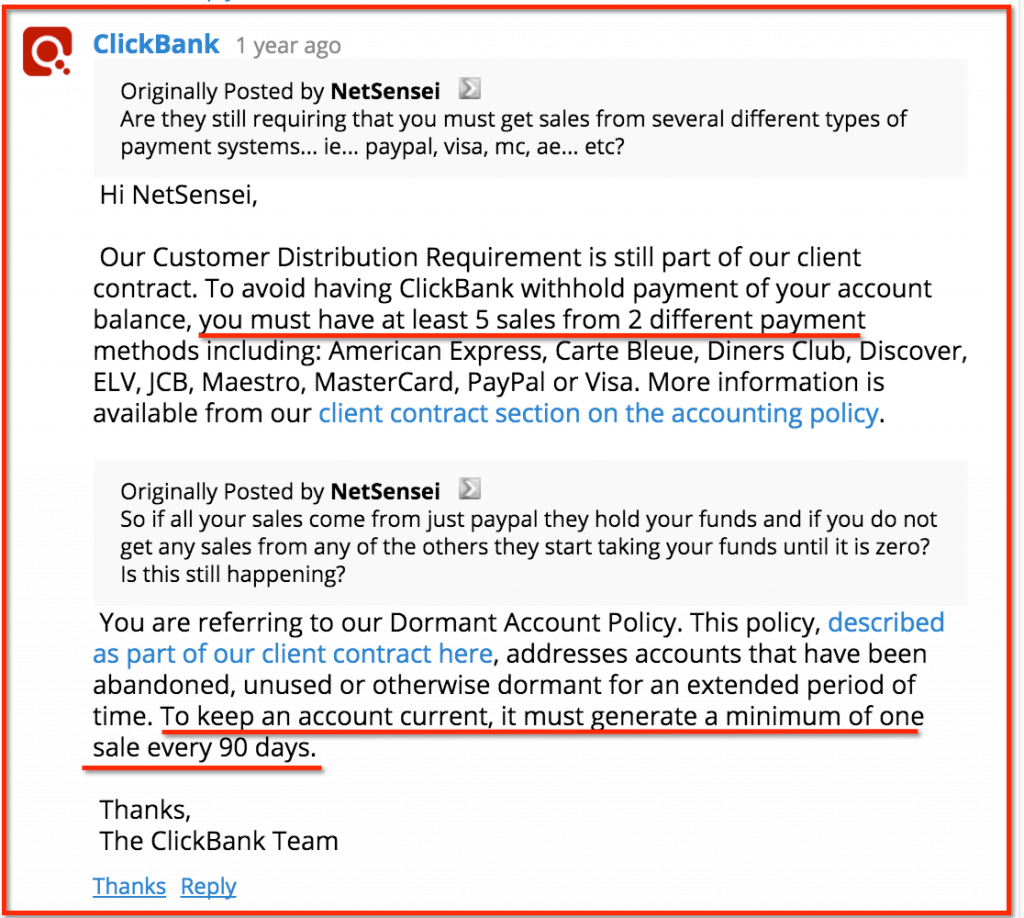 Plus if you can't make a sale every 3 months your account will be terminated.
On top of that, if you don't generate sales within 90 days your account will be charged $1 per day. I don't think most people will like it.
Forgotten Traffic Methods
This training module is outdated too. It teaches so called forgotten traffic methods, such as commenting on other blogs, submitting articles to directories, using Weekly and Blogger services.
First of all, commenting on other blogs or even sites like Quora.com is not going to solve your traffic problem.
Submitting articles to directories is against Google's Policy and rules. At worst Google can panelize your website. At best Google will ignore all your article submissions.
List Building
The part of the training regarding list building is outdated too, but still has some valuable tips.
You will learn how to use
Solo ad method
PPV/CPV List building
Exit Popups
Affiliate list cross promotions
Buying ads
Ad swaps
Reverse opt-in forms
and more
Some methods are still effective while other methods are extremely difficult to implement in order to get desired results.
For example, I don't recommend doing solo ad methods at all. This methods doesn't work for most people.
Very FEW people can actually implement this method successfully.
This method requires very serious investment, probably $500-$1000 per month with no guaranteed results.
That's why I really don't understand why this training was included in Easy Retired Millionaire if most people fail with this method.
Effectiveness of Easy Retired Millionaire Training
Most training modules are totally misleading because they are simply outdated.
It looks like Chris compiled this info during a weekend and now wants to make a buck online.
I'm doubt he applies this info in his own business if he has a business at all.
Chris also has a section in the members area that looks and sounds really ridiculous.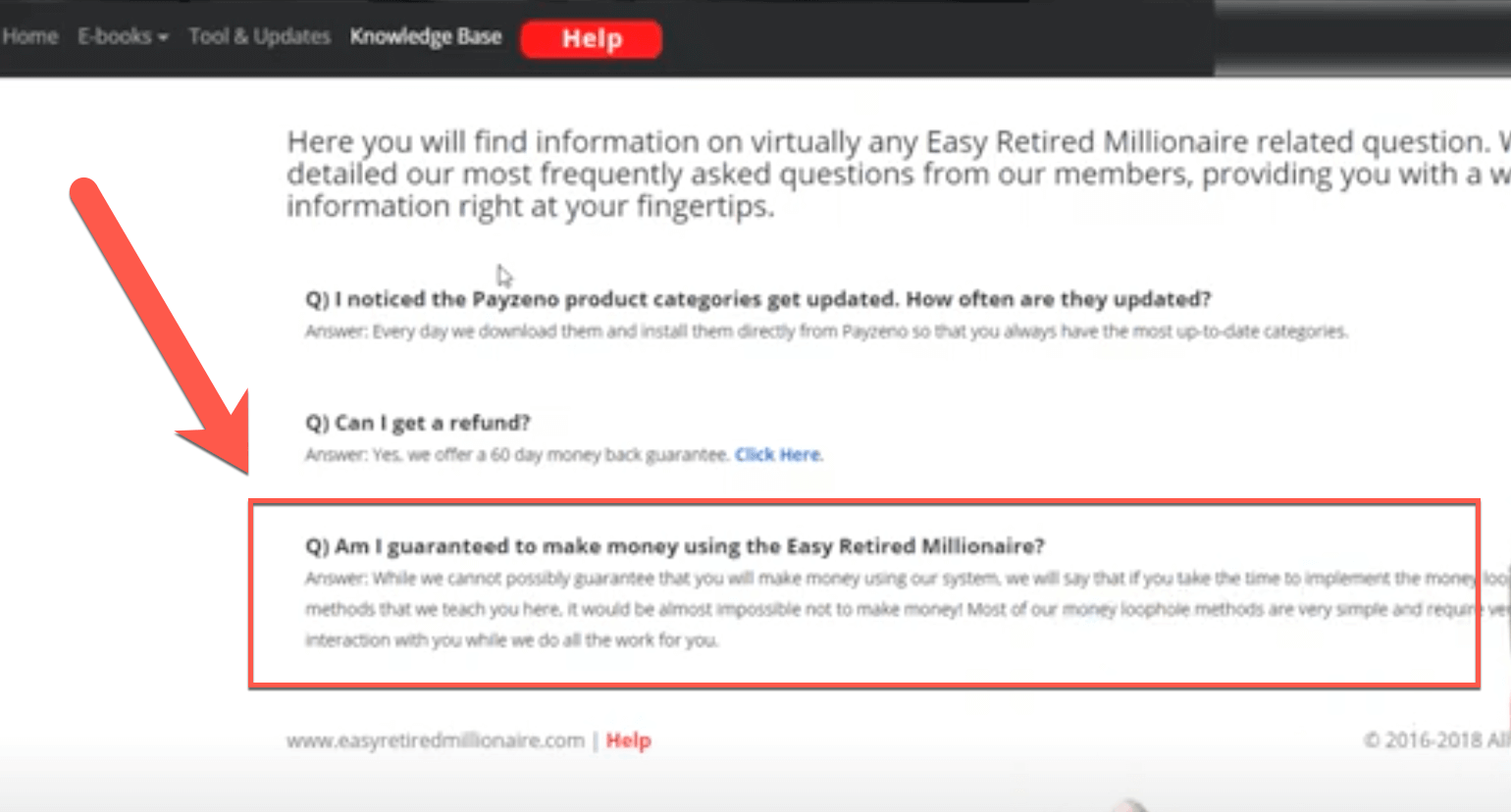 Answering the question: AM I guaranteed to make money using Easy Retired Millionaire?

Chris answers as follows:

While we can't possibly guarantee you will make money using our system, we will say that if you use our methods it would be almost impossible not to make money.

I would say it's TOO exaggerated IMO. I would say using these methods it will almost impossible for you to make money.

Because most of the material is simply outdated.
Why I Gave Such a Low Score to Easy Retired Millionaire?
Chris though claims that many people have achieved success with Easy Retired Millionaire program, he can't show real success stories.
All his stories are from Fiverr.com made by scam actors.
The first testimonial comes from a woman who claims Easy Retired Millionaire changed her life. But how changed? She doesn't explain any details.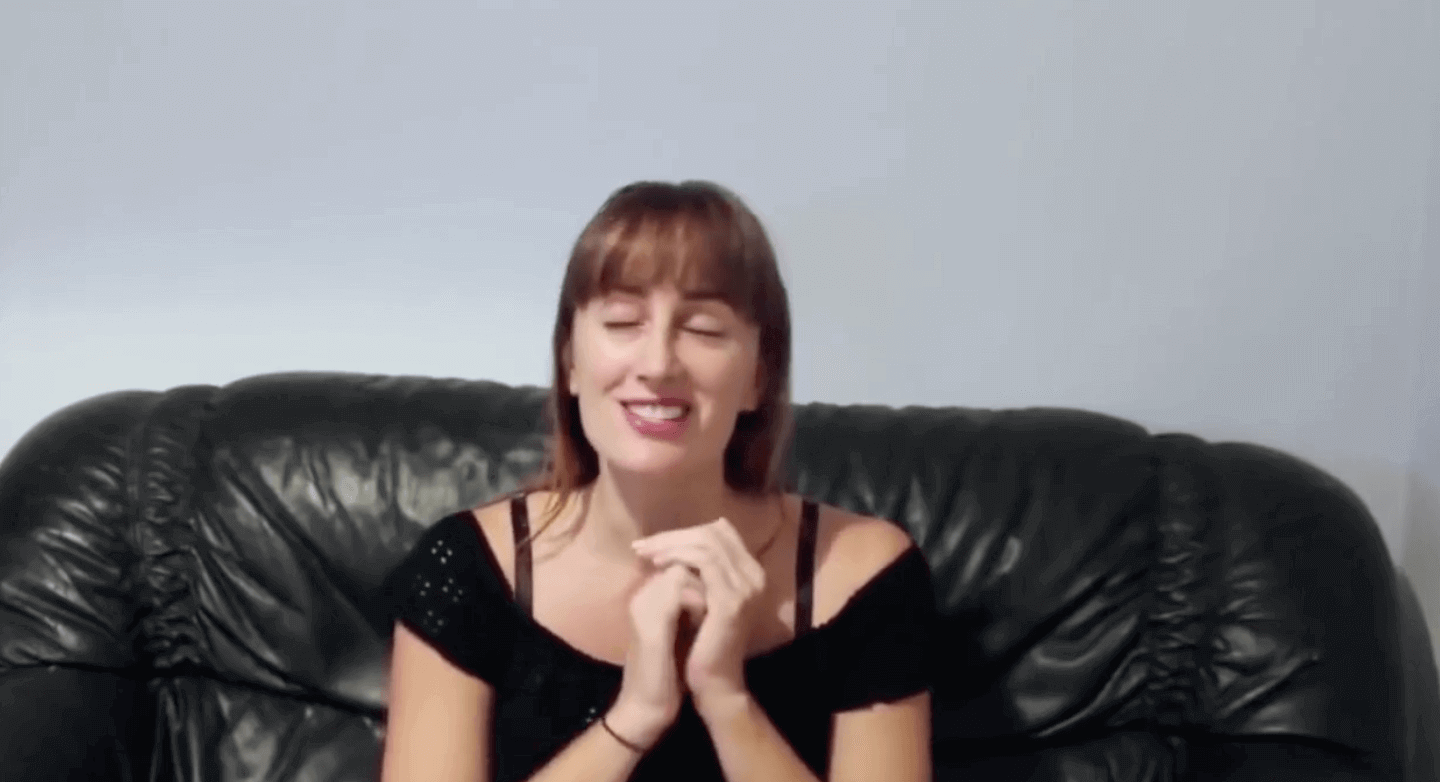 The second woman claims she made over 3 thousand dollars in the first week.
The next man claims he made $19.320
So, Chris is talking about a Community of Millionaires and shows only 3 fake personalities. I think this is definitely wrong approach.
Even Chris himself and his probably wife Kathy are fake personalities.
The image you see below is a paid stock image taken from Shutterstok.com. You can see the same couple in the video on Easy Retired Millionaire website.
What can you expect from a program that shows you fake millionaires from Fiverr and fake founder from Shutterstock? I think you know the answer.
Chris and Kathy from the Easy Retired Video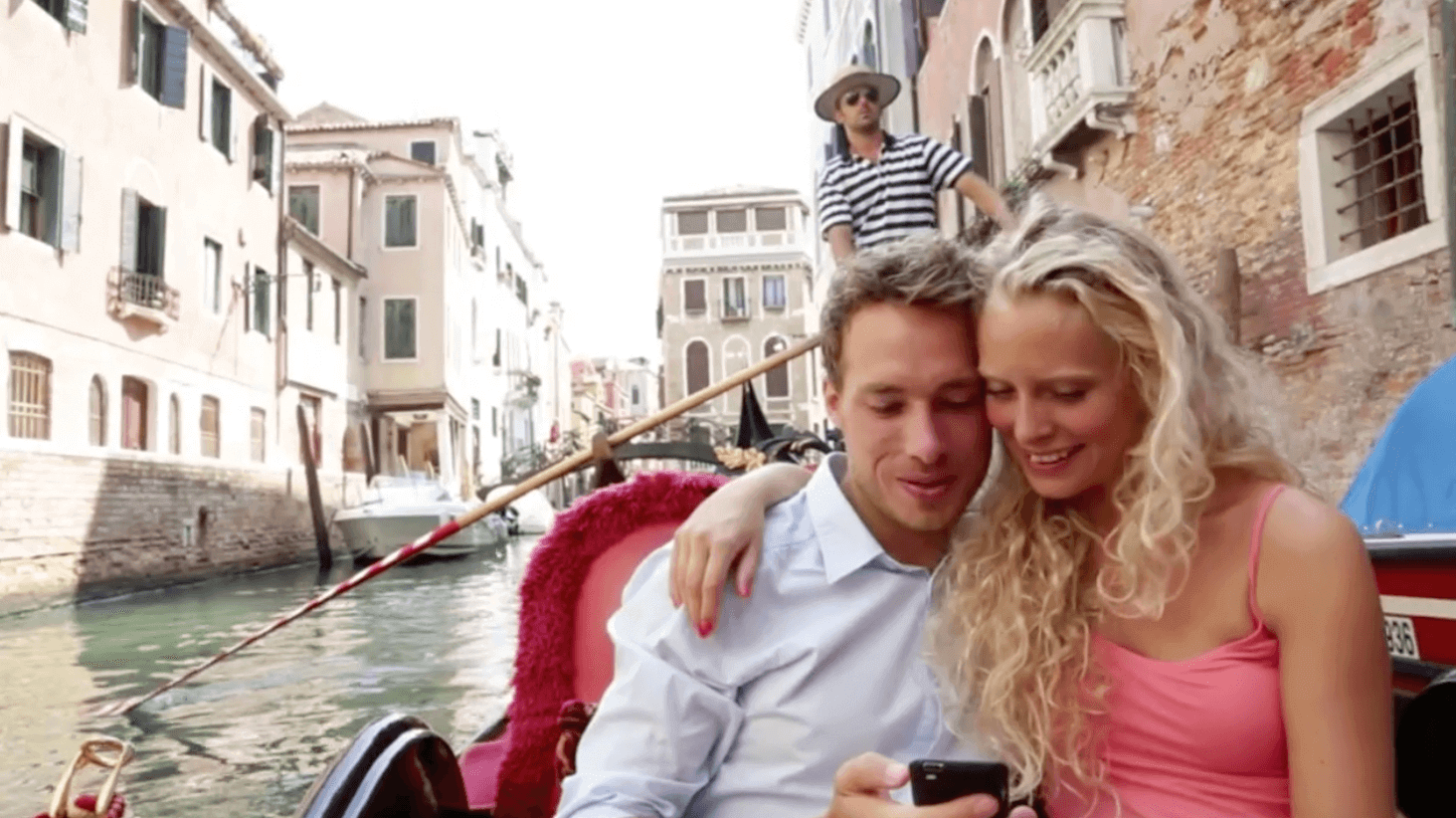 Chris and Kathy from Shutterstock.com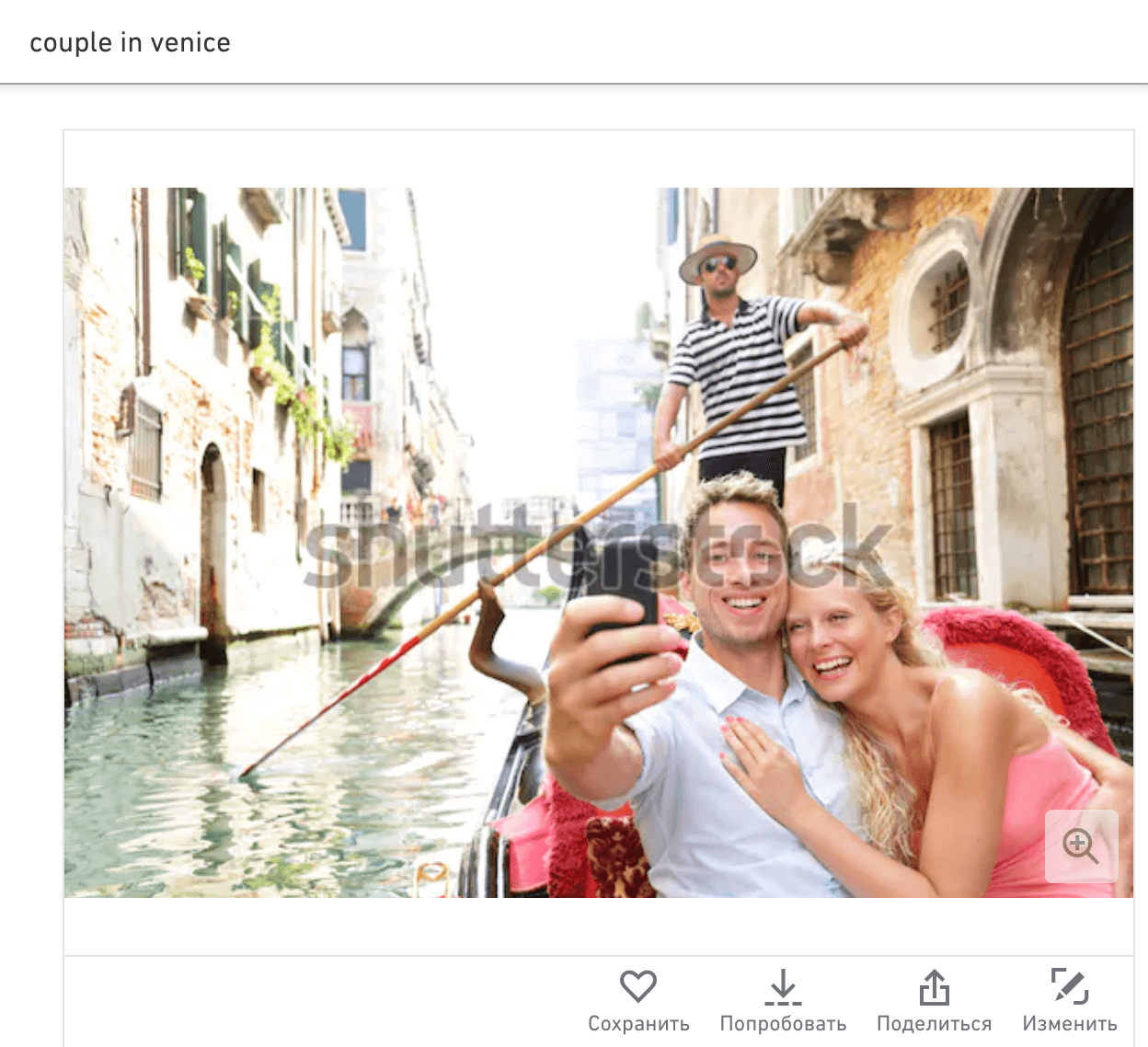 Is Easy Retired Millionaire a Scam?
In fact, Easy Retired Millionaire is not new. It is a new version of an old program called Instant Payday Tricks.
It's the same program with the same training but with slightly different introductory video and different website layout.
I think there is certainly some inconsistency here. Chris claims to be a millionaire but his training is a combination of free materials and some PLR stuff.
This training doesn't look like quality training created by a millionaire.
This means this training was not created by Chris himself. Does this mean Easy Retired Millionaire is a scam?
Not exactly a scam because it provides some valuable info.
But considering the quality of the material, exaggerated income claims and fake video testimonials I believe Easy Retired Millionaire is a borderline scam.
Unfortunately, Clickbank is still full of such low quality products and you really need to be careful when browsing Clickbank for make money programs/products.
Many have already been removed from this marketplace and many will be removed soon. I'm sure this one will be the next one.
If you purchased Easy Retired Millionaire and want to get your money back click on this link and complete steps from 1 to 10 to get a refund.
The refund will be issued within 19 days according to Clickbank refund procedure.
Final review of Easy Retired Millionaire
Decent training
Money back guarantee
Video is highly misleading
False profit claims
Fake video testimonials from Fiverr (by paid scam actors)
No supportive community
Overall score:

2 out of 10
Any Legit Programs Better than Easy Retired Millionaire?
Yes, there are legit programs that are WAY better than Easy Retired Millionaire.
In my opinion, Easy Retired Millionaire is a waste of time.
For legit programs I recommend two my favorite programs that provide
Program #1 – One week free trial account/Premium Yearly – $495

Program #2 – $450 Premium Yearly then $200 each year after that

 
Quality training on affiliate marketing
Quality and timely support
Tools for your business
I believe if you stick to any of these programs, take action and give it some time, you will be successful.
About the Author: Adam
My name is Adam. I'm the founder of Your Income Advisor. My goal is to help others succeed online, by exposing scams and reviewing top rated products. I can help you start
your own business online