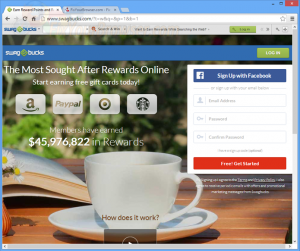 Website: www.Swagbucks.com
Price: Free
Verdict: Legit
I had no any idea of what the Swag bucks was, yet after reading that some folks were making money at it, I decided to dig deeper and write my own review.
I haven't tried it myself but what I'm going to write is based on the experience of my fellow member of WA.
We are the members of WA –online business community and I know him as honest guy. If I write a review for specific product that I haven't tried myself, I always ask the information about it only from people that I trust.
So, if you ask me: "Can I really make money with Swag Bucks", I will answer: Yes, you can. With so many scams on the internet it is hard to believe that there is a real program somewhere you can make money with. The best part is that the program is absolutely free to join. You can join and start making money today!
The good side of the program is that the program owners don't make any false claims or promise their members to become rich or make millions overnight.
Inside Swag Bucks
Ok, how does Swag Bucks work? It is very simple and you are not required to have any skills. Swag Bucks pays you for a search done through their search bar, same, like Google's search box.
The only difference is that Google doesn't pay you and the Swag does. You shouldn't worry much about their search results, because Swag's search uses Google's engine and you will get the same search results that you get from Google.

By searching through Swag's search bar you will earn credits (swag bucks), which you can turn into real money via PayPal or exchange your earned credits for a prize. But one thing you should keep in mind – don't expect a lot of money from this program.
You can earn something around $50 per month or maybe a little bit more. Not too much. But if you do it continually, you can earn extra $600 per year or even more and that is not bad.
But it is not the only way to earn credits with Swag Bucks. You can also earn them by:
Watching video (you need to install Swag's application for android) – very limited version.
Purchasing any products on the internet
Completing offers (they are free)
Participating in daily polls. It takes a few seconds
Playing games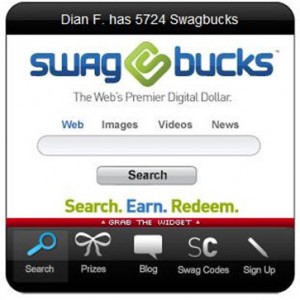 Participating in surveys (there are many of them and this alone can earn you $50). Just complete your profile, take surveys and earn your swag bucks.
Survey dashboard is updated on a daily basis and there are always new offers available.
Using Trade in feature – you can send them your old stuff that you don't need, such as old phone, book or a game. But they don't pay much, something around $10.
Participating in referral program (if you refer someone to Swag you will earn credits)

In regards to Swag's search bar, just imagine that you install that search bar and do all your searches through it and make money each and every day you navigate online and turn it into cash by the end of year. Unfortunately, Swag is not supported in all countries and their search bar doesn't show search results in some of them.
Also, some users say that search results done through swag's search bar are not the same as Google's. I was unable to check it because Swag doesn't work in my country. So, check it by adding a Swag's search bar plugin to your browser.
You can also install Swag bucks widget on your website and get the latest news from Swag's blog or you can put swag's banner on your website to promote it, and at the same time, if any of your visitors sign up for a Swag's account you will earn more credits.

Does the Swag bucks provide any support?
Support is also available on Swag's site. You can contact their customer support by email or ask a question from fellow members on their Facebook or Twitter page.
Final word on Swag Bucks
As you can see, there are many ways to earn credits and turn them into cash using Swag's program. If you want to use this program as an extra cash opportunity and have enough time for that then there is a good reason to join Swag. It is an ethical and legit program.
Finally, I suppose, if you plan to join Swag Bucks program you can do it without any hesitation. It is absolutely free and you have nothing to lose.
I found that some people were unhappy with the program and you possibly can come across such opinions on the web. I don't take them seriously because they have no any real proof while most people are happy with the program.
As I said above, you can join Swag using this opportunity to make extra cash on the side, however, don't expect a lot from it.
If you want to build a real business online and start making dollars instead of pennies, then read my review of the Wealthy Affiliate – #1 program on the web that can teach you internet marketing. Wealthy Affiliate is my # 1 program to work at home and I hope will become yours as well if you know what it is.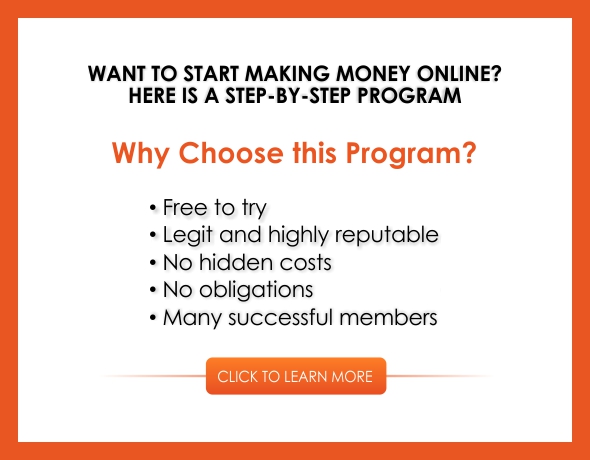 About the Author: Adam
My name is Adam. I'm the founder of Your Income Advisor. My goal is to help others succeed online, by exposing scams and reviewing top rated products. I can help you start
your own business online