Product name: Visalus
Website: www.visalus.com
Price: $37 per month/upsells
Owner: Blake Mallen, Ryan Blair, Nick Sarnicola
Overall rank: 35 out of 100
Verdict: Not recommended
Today I'm going to review a program called Visalus which is a MLM company that sells weight loss products, drinks, supplements.
The company has been around for several years already and as I know, weight loss products are in a huge demand on the market. Many people buy them because of their weight problems.
I already reviewed many other MLM programs and now Visalus caught my attention and I decided do some research.
Many people online are doing their research to get an idea of what is Visalus? or what is Visalus scam? They want to know exactly: is Visuals a scam or legit opportunity?
My review will be a little long but my goal is to show you exactly how Visalus mlm business can help you achieve your financial goals.
I will try explain every aspect of this program so you can decide if Visalus is really what you have been looking for or it's a waste of time for you. Keep reading and I will do my best to help you.
Short review of Visalus MLM
Visalus is not the worst and not the best MLM program out there. Visalus sells weight loss products and invites people like you to promote their products and earn some money through their compensation plan.
If you want to learn how to make money online from your home, I think Visalus is not exactly what you are looking for.
It's primarily for people who have a budget to buy Visalus products and then sell them to real people in real life, not online.
This means it's highly advisable to have an experience in sales industry. If you do not then I think Visalus is not for you.
Pros of Visalus
You can benefit from their compensation plan
You can make money if you are a sales person
Cons of Visalus
You need an experience in selling physical products
Some warnings from SEC regarding MLMs
Visalus' imploding business reports
There is always a pressure to buy more or to pay more
Complaints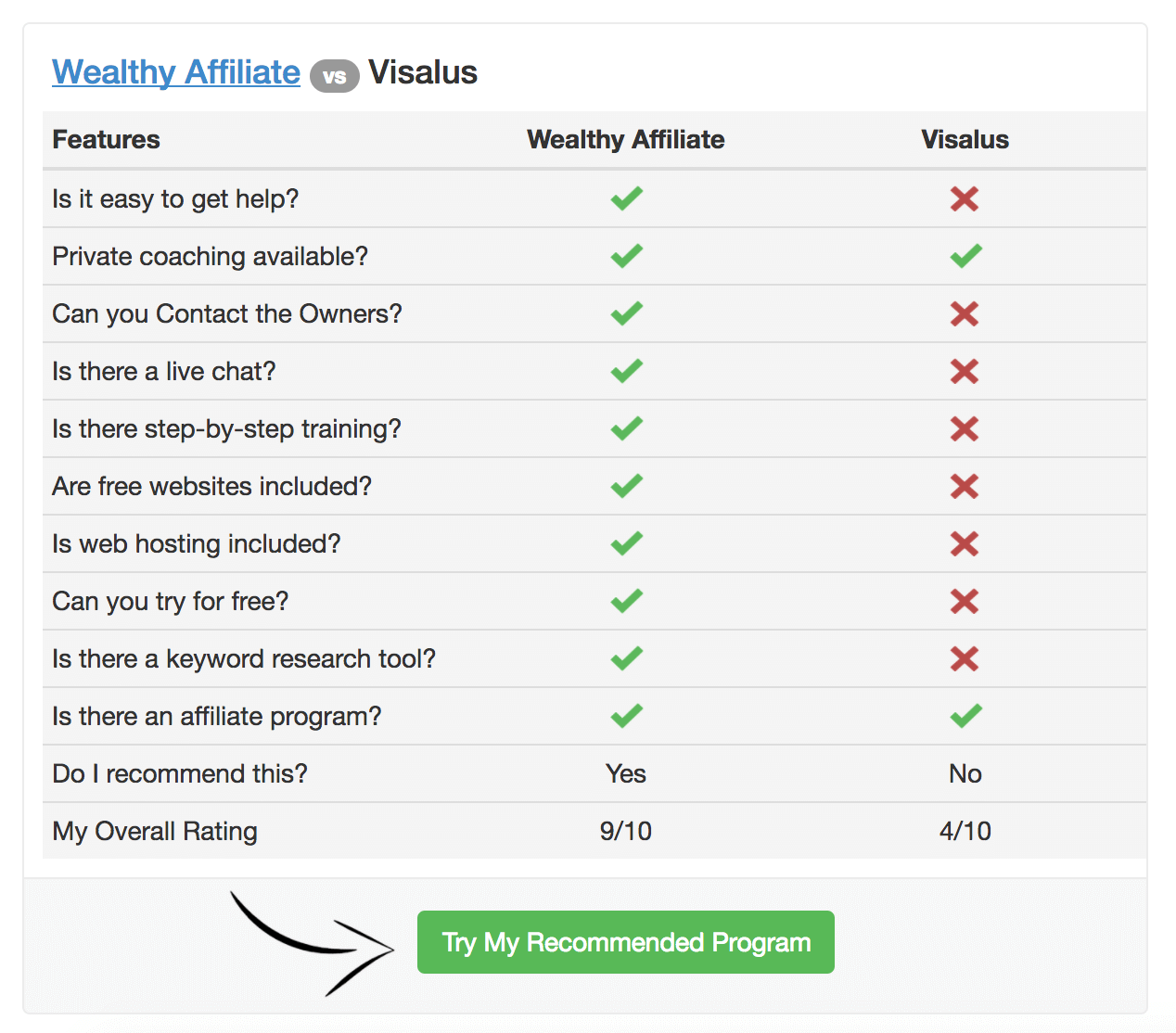 Note: Live chat available.
Visalus Review
I review many products every month and most programs go straight to my scam or not recommended list. And it's not because I'm too strict.
It's because most programs make unrealistic claims regarding the amount of income people can make.
There are mainly two types of programs online when it comes to making money online: MLM and non MLM.
I'm not talking here about opportunities, such as binary options trading or online survey or paid to click sites. It's another story.
Visalus is a classic MLM scheme designed to promote Visalus products and earn money through Visuals compensation plan.
But the truth is that most people involved in MLM schemes fail to earn even a decent income.
Like I said, Visalus is not the worst and by far not the best opportunity available online. If you love this type of business and you are a goal oriented person you can achieve success with it.
As a Visalus promoter you will be promoting drinks, supplements, weight loss products, snacks, meals etc.
In order to promote them successfully it's always recommended to buy products and try them to see all their benefits so you can promote them with knowledge.
Maybe you won't like them at all. You can successfully promote them only if you like them.
And Visalus teaches folks to follow this method: Live it, Love it, Promote it! It's simply impossible to promote something you don't like or know that it doesn't work as promised.
I think you know that weight loss products are never cheap and especially when it comes to MLM products they are always way more expensive than other similar products available on the market.
This means it won't be easy for you to promote Visalus products. That's why you need to buy them, try them and then decide if they are worth promoting or not.
MLMs attract people through their multi-level compensation plan where people can earn money on many levels, like a pyramid scheme. But most of the time it doesn't work as it's promised.
Also, keep in mind that you need to be very active and maybe a little annoying in order to persuade other people that Visalus products are really worth trying out.
Plus you need to explain to them why Visuals expensive products are better than other products available on the market. Is it easy? No. Is it possible? Yes.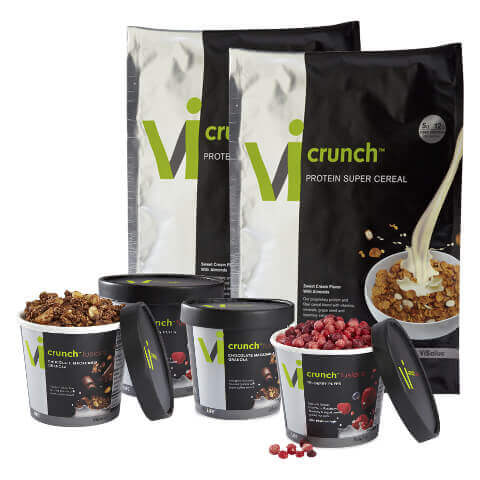 Visalus products:
Visalus Kits:
Featured kits:
Fitness kit
Build your own
Weight loss kit
Lifestyle kit
Drinks:
Neon
Neon Organic
Visalus Go
Visalus Pro
Visalus Neuro
Vi-Defy
Meals:
Vi Crunch Fusions
Shape-up Health Flavors
Vi-Shape Superfood
Vi-Shape Nutritional Shake Mix
Vi Crunch Protein Super Cereal
Supplements:
Vi-Slim
Vi- Trim
Vi-Pak
Omega Vitals
Vi Kids Gummy Multivitamin
Snacks:
Nutra-Cookie
Nutra-bar
Vi Bites (four flavors)
When I wrote my first review of Visalus in July 2016 for my other website I encountered some tech issues with Visalus website.
I clicked on the "Buy" button and the page didn't open. Because Vi.com website was not functioning properly. I got the error you can see on the screenshot below.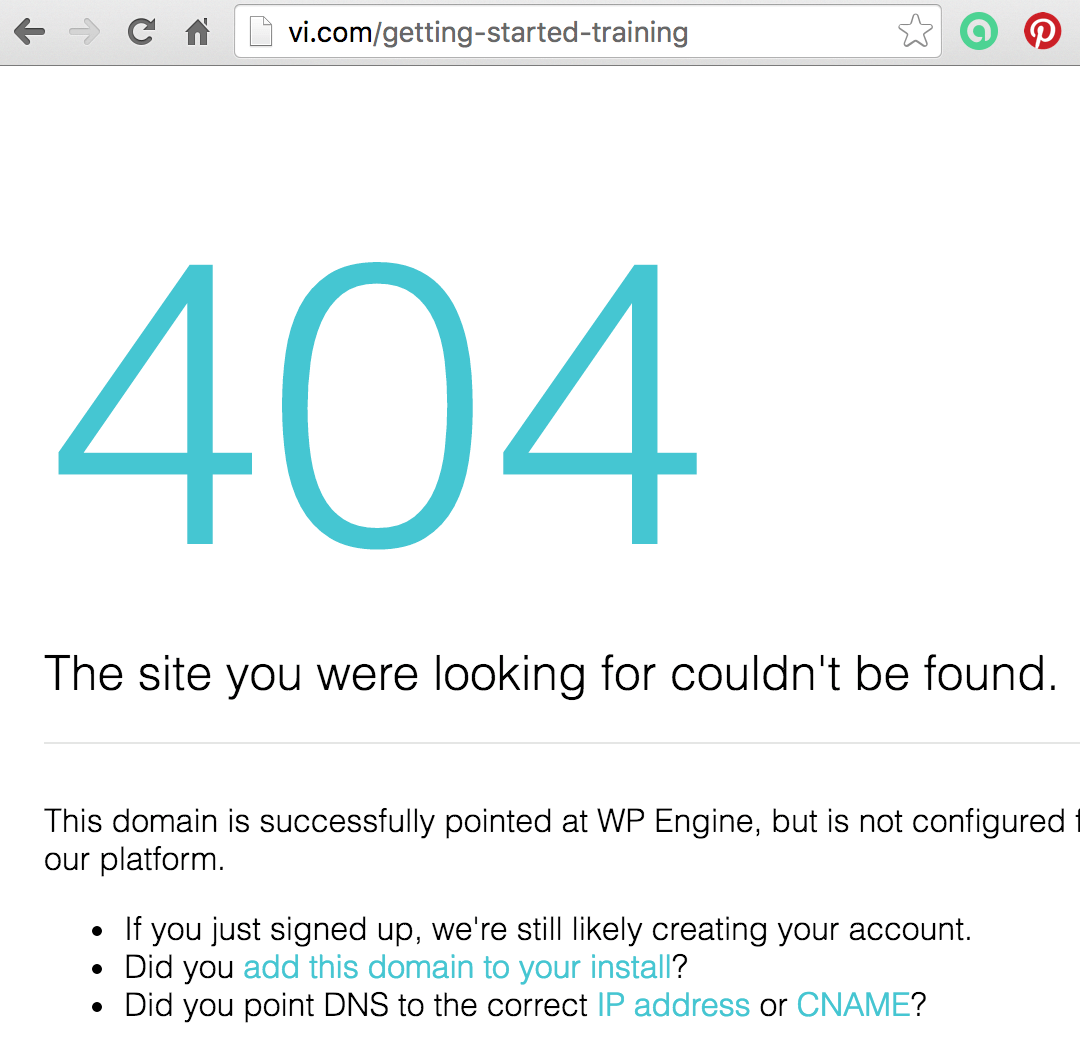 I don't think it looks solid for a company of such size. At least they already fixed this tech problem and now their site is working well.
Anyway, like I said, Visalus products are not cheap and you really need to work hard in order to successfully promote them.
Not everyone can afford to pay $99 for the kit on a monthly basis. Some kits will cost you even $299. I think it's too expensive.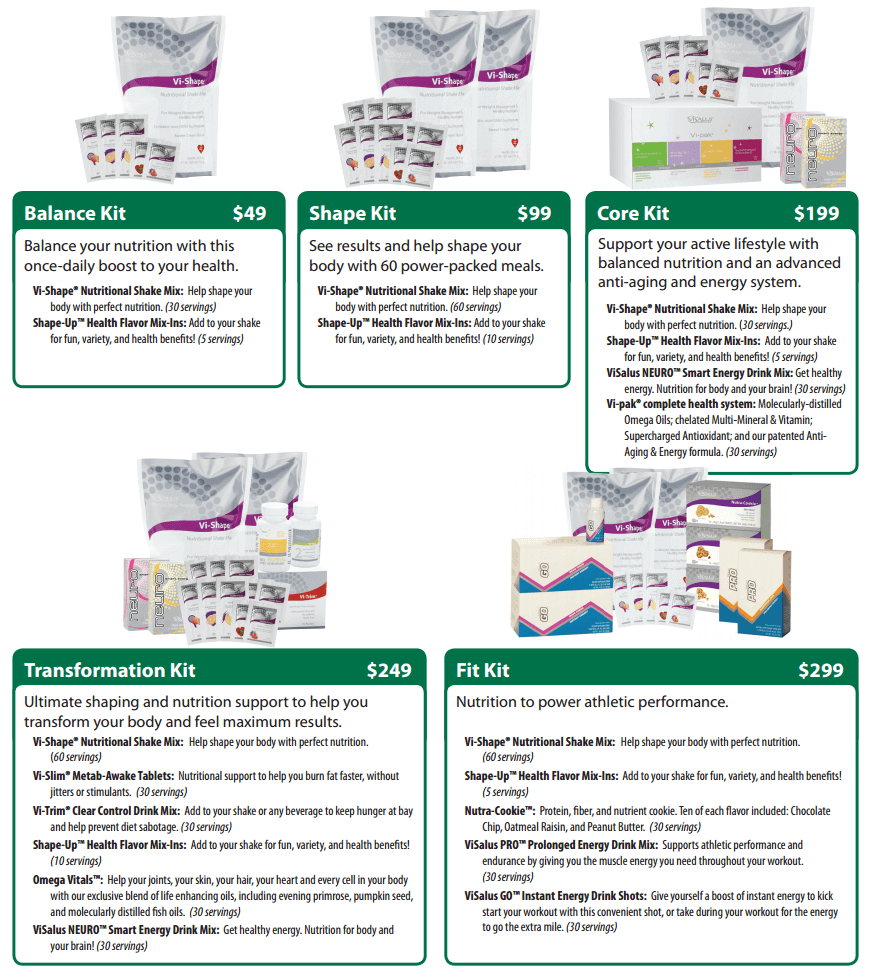 And there is a ton of videos on YouTube on how to lose your weight using traditional methods. I don't think paying so much money for the products you can find way cheaper is reasonable.
Visuals business cards and apparel
Visalus also provides business cards so you can use them in your promotions. Some other products for your personal use in your business.
But it will cost you some money. See the screenshots.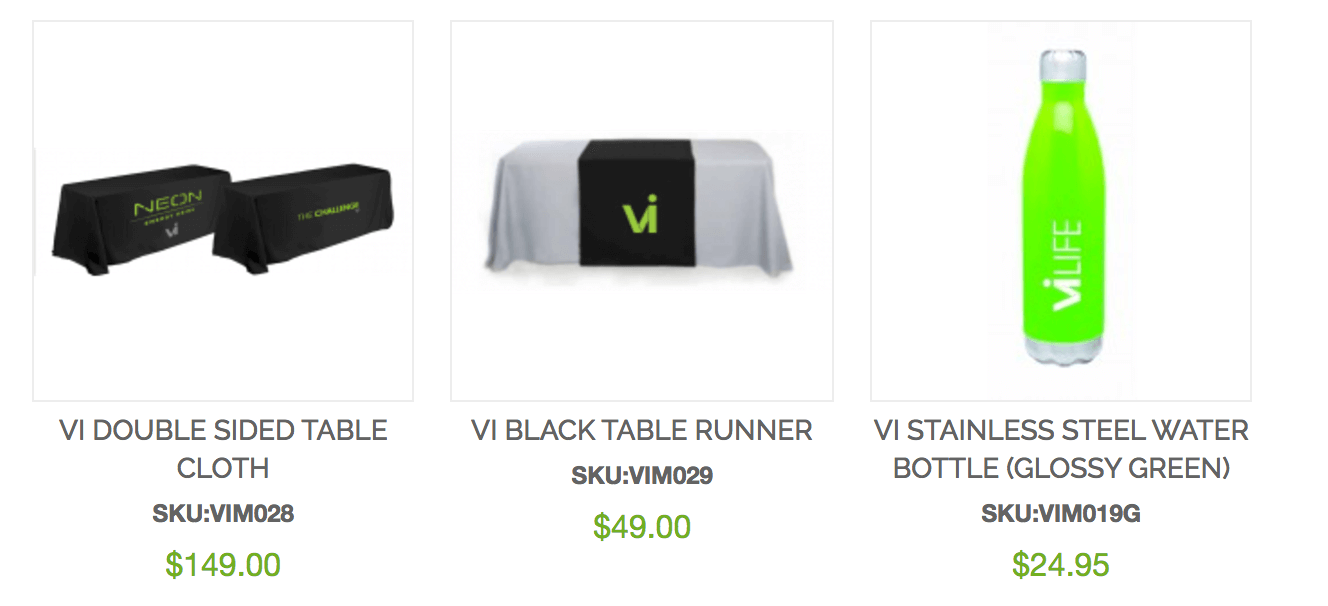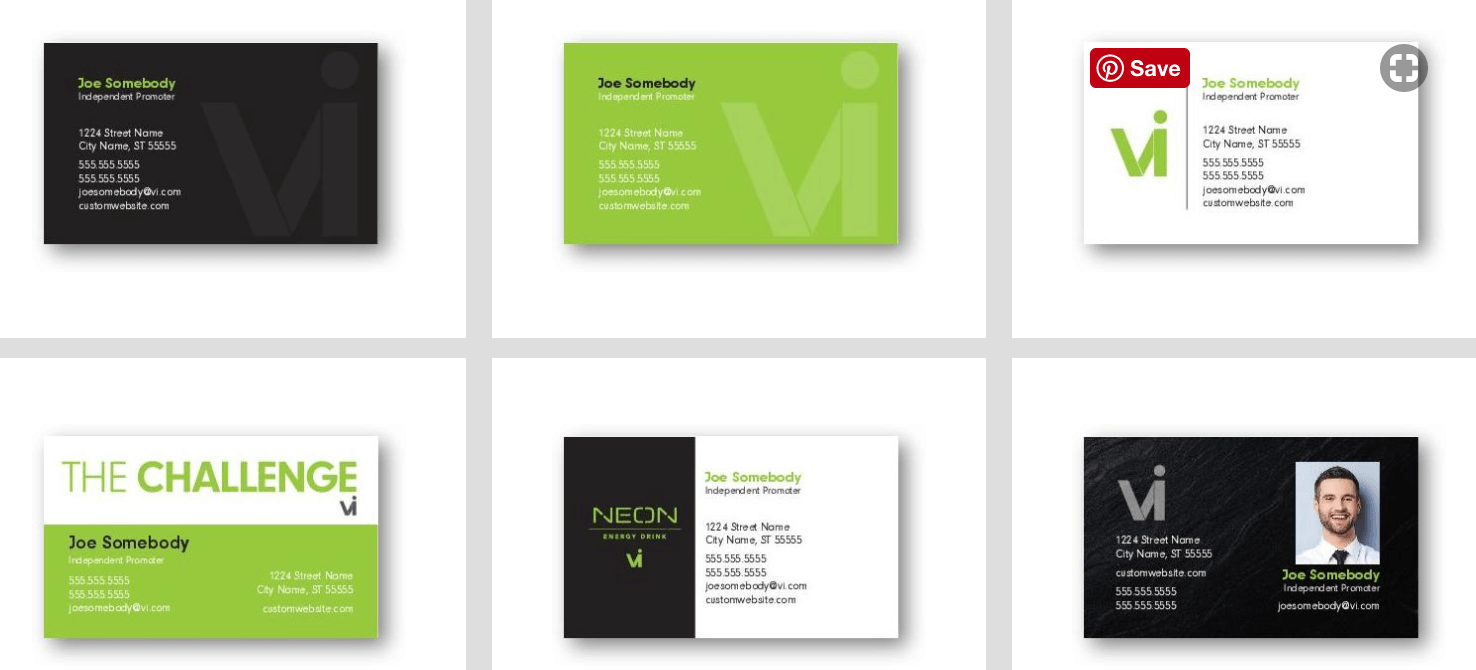 Also, men's and women's apparel, prospecting cards that can also be used in your promotions.
Visalus compensation plan
MLM programs or how they often called MLM pyramid schemes exist thanks to their compensation plan. They are very different from a traditional business model.
Traditional model works as follows: You sell products and earn a commission. In MLMs it's different.
You earn when you sell products and you also earn when people whom you invited to join MLM sell products too. This allows you to earn way more than in a traditional business.
And that's why MLMs have some major cons and often times they collapse very fast. And that's why their products are always overpriced. And that's why most people in MLMs don't make money and fail.
When it comes to Visalus, like any other MLM, they have a referral program which means you can earn from every person who will join Visalus through you.
If you can bring 3 people to Visalus and they will become paying members you will earn Visalus kit for free.
Visalus offers several programs for new members. The first program – 7 days challenge. Second program – 90 days challenge.
After 90 days, if you complete this program successfully you will become a Director.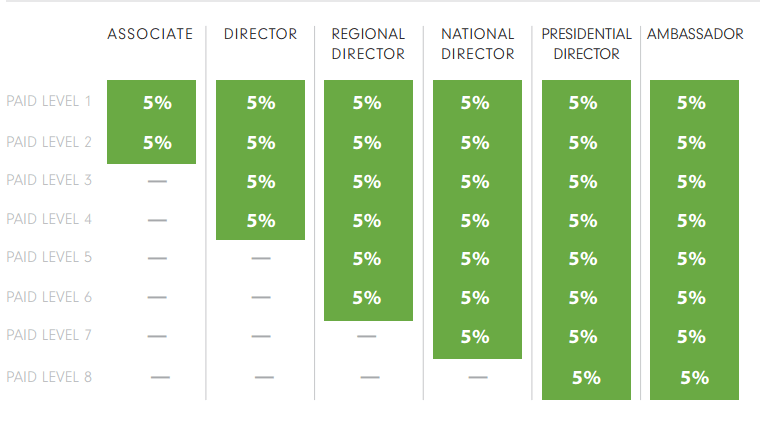 MLM programs are different. MLM program is not for shy people. It's for people who always have a lot of friends everywhere.
It's really important so you can meet people every day and show them Visalus products. You need to talk to them, share your experience with the products.
Explain to people the benefits of Visuals products etc. It's a long process.
If you can persuade someone to make one purchase it's good. If you can persuade someone to buy products on a monthly basis that's excellent. This is what you must focus on.
Only monthly sales can make you a lot of money. If you can invite someone to join Visalus and they will become active promoters of Visalus products it will make you even more money. But it's not easy.
BTW, when I wrote my first review back in July 2016, their training page was not accessible. Now it's back to normal but I still can't find their training page.
The next step to achieving success with Visalus is through following Visalus party program. In this program they will teach you how to promote Visalus products at home parties.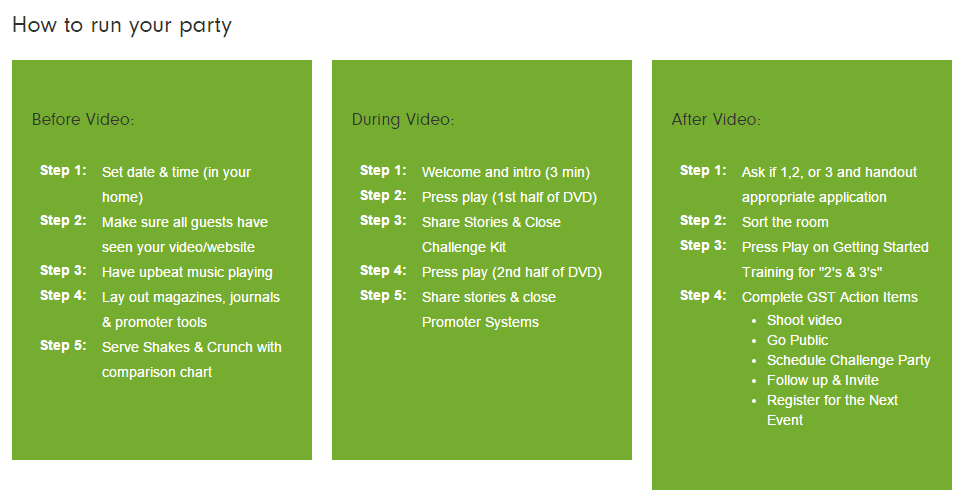 They provide all the materials that you can use in your promotion activity. They explain how to organize parties at home, how to welcome guests, how to tell stories to persuade people to buy Visuals products.
And you need to organize such parties as often as possible in order to make enough sales each month. I personally don't like such methods and that's why I never recommend MLMs.
But if you feel you love it then feel free to create a Visalus account.
Visalus commission payouts are not so great in my opinion. They pay from 10% up to 25% and in order to qualify for 25% you need to sell Visalus products for the amount of $2.500.

Compared to this payout structure you can easily promote many other products online through Amazon.com and earn up to 10% without achieving any sales volume.
Many other programs pay up to 50% commission. I personally prefer promoting for 50% instead of 10%. Same efforts but with higher payouts.
Also, keep in mind that MLM compensation plans work work well only for someone who can invite a ton of people and get them to join the program.
Plus you need to help your invited people and train them so they can learn from you and invite others. Only this way you can build your team.
Otherwise MLM compensation plan doesn't make any sense at all. This is a long process with big goals that not everyone can achieve. Most people give up too soon.
As a Visalus associate member you can earn up to 5% commission on different levels within Visuals compensation program. If you reach a Director level you will earn from 4 levels.
Ambassador can earn from all levels. For example, a regional director can earn on 6 levels only if his team can hit $12.000 in sales.
As you can see, it's not easy to just sit back and earn a lot of money from Visalus.
You need to work hard in order to achieve a high level of affiliate commissions. It's not about promoting Visalus products. It's about doing it with knowledge and experience. This requires years of hard work and dedication.
Like all other MLMs, Visalus obliges you to buy their packages, levels, you name it, in order to qualify for commissions.
I mean promoting MLM products is not enough and I totally disagree with such an approach. This is common to almost all MLM programs.
For example, you need to choose any level within their program.
Basic level – $49
ECS level – $499
ESS – $999
I don't really understand this approach. Why should I pay extra money to have the right to earn more money? Why?
I totally disagree with this approach. And if you buy one of their packages you won't be able to get your money back.
Also, in MLM programs, sponsors always try to persuade people to buy more products for the sake of earning more commissions.
And most of the time they will be telling you that their products are selling like crazy.
In fact, almost in all MLMs there is always a pressure to buy more products or to pay more for higher levels designed to "make you more money".
Finally, many MLMs are labeled as pyramid schemes by SEC due to many complaints received by ex-members of MLM programs.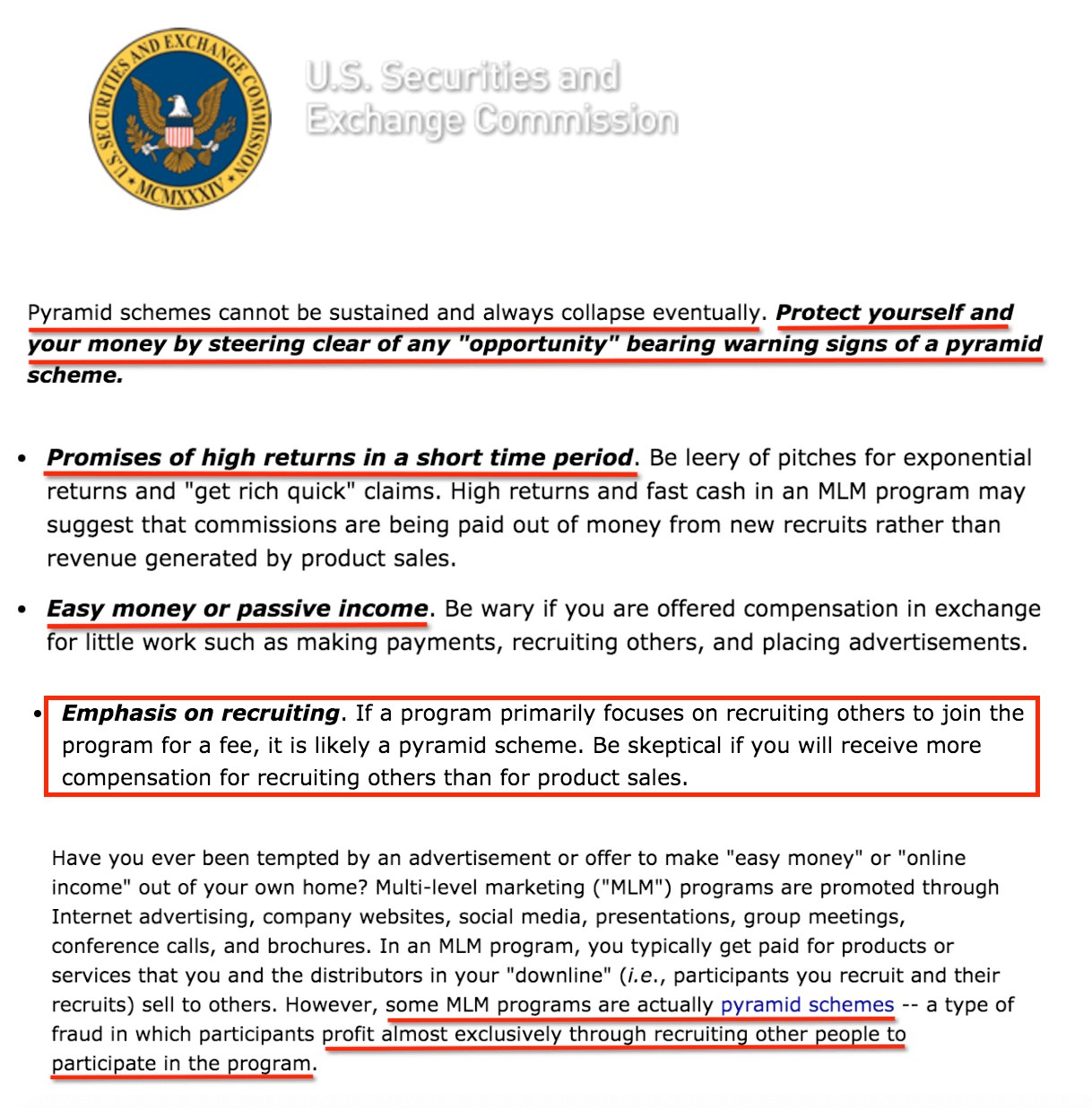 Is it really important to buy Visalus products?
I can't deny the fact that products like Visalus help some people lose their weight or in some other purposes the products were created for. I can't deny that.
But honestly speaking, I'm not sure a lot of people are going to pay $99 or $299 for the kit monthly.
Simply because not everyone can afford it. First, because there are other products on the market for a lower price.
Second, anyone can find a ton of tutorials, video lessons on how to lose weight or any other thing on YouTube or Vimeo.
Also, keep in mind that people before buying products first read product reviews that they find in Google search and plus watch videos on YouTube.
What I know exactly is that there is no super magic power in Visalus products which means you will need to work really hard in order to promote their products not to mention make sales consistently on a monthly basis.
But it's absolutely possible to sell several kits per month. Regarding selling a lot of Visalus products I'm not really sure.
Can you become successful with Visalus Pyramid scheme?
Like with any program that I've seen online you can become successful to some extent. To some extent doesn't mean you will achieve what you want to achieve.
The more realistic approach the program has, the more tools they offer or the more competitive the products are the higher will be your chances for success.
When it comes to Visalus MLM pyramid scheme, it's by far not the best opportunity out there. MLM programs have a team that will be helping you down the road.
But like I said, their sponsors always force people to buy more products or pay for higher levels. I already said, I disagree with such an approach.
If you plan to work from the comfort of your home, I mean making money online then I think you better start with this program. I got my start in this program too back in 2013.
Visalus MLM is a different business model where you first buy products and then sell them to people in the real world, not online.
If you think this business model exactly falls to your interests then Visalus is the program that can help you achieve your financial dream.
When it comes to my recommendation, I don't recommend Visalus or any other MLM business and I already explained why.
Not all, but most people fail in MLM business. Please also read some reports about Visalus' imploding business.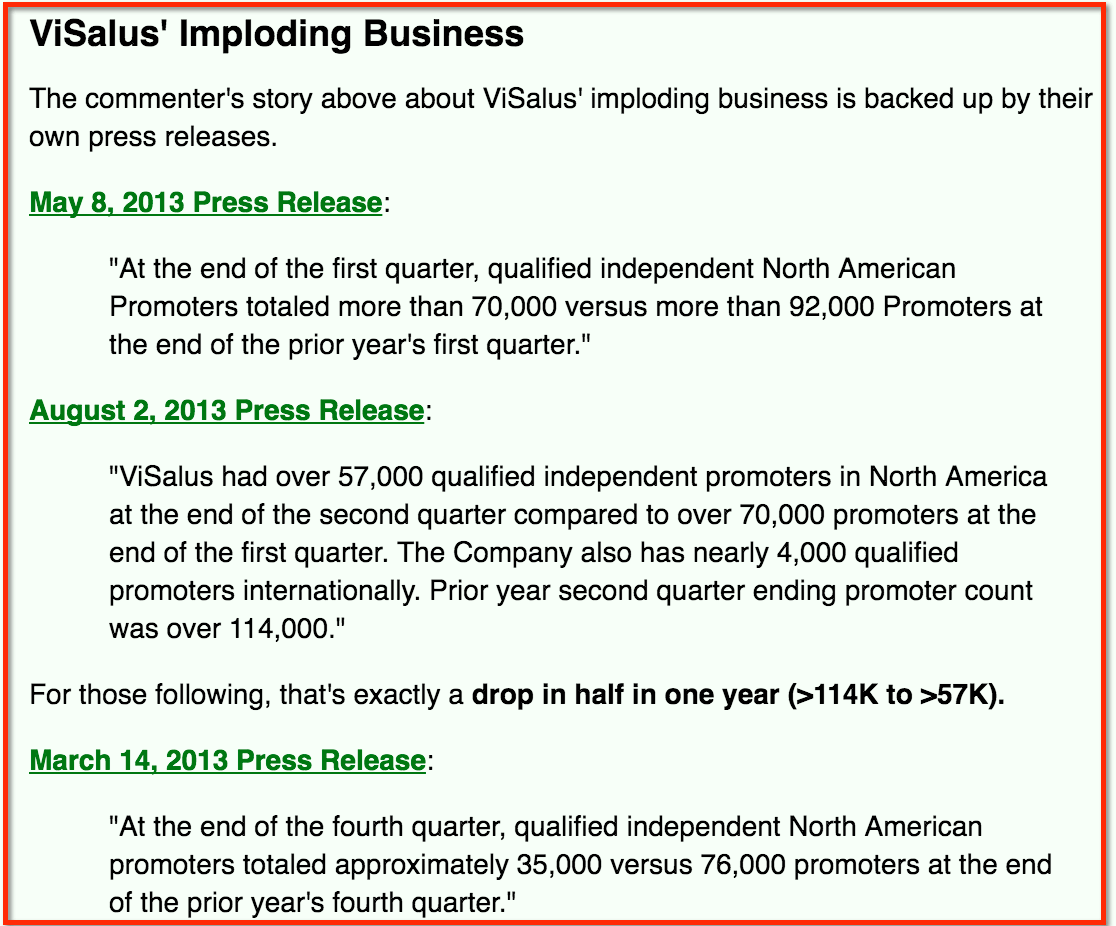 Visalus Bimmer Club
Visalus also offers another program called Visalus Bimmer Club. Not every member of Visalus can participate in this program.
Only those members who can achieve regional director level. But don't think you can win BMW just doing nothing.

If you qualify for this bonus you will be paying for this BMW from your commissions.
If something goes wrong and you can't make enough sales in any given month then you will be paying for BMW out of your pocket. But Visalus team says you will get a paid BMW.
If you read complaints below you will realize that paid BMW is not a true statement.
Complaints about Visalus
Almost all programs get complaints from their members and Visalus is not an exception. Some people complain that they can't get their money back or receive their order from Visalus.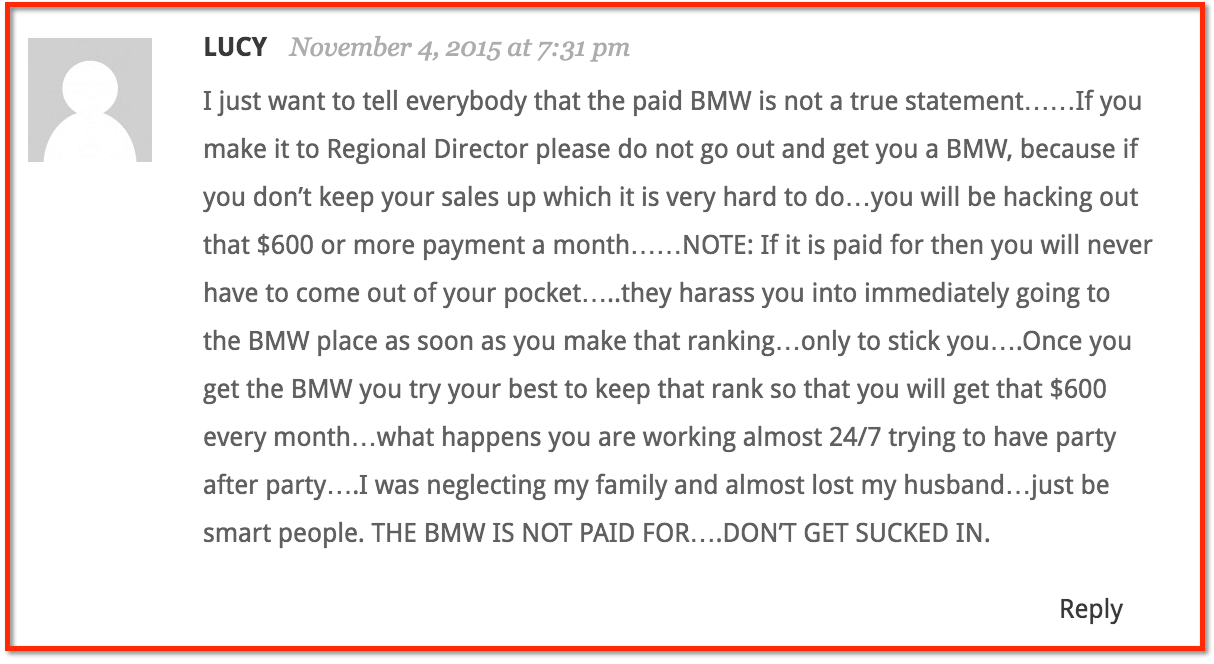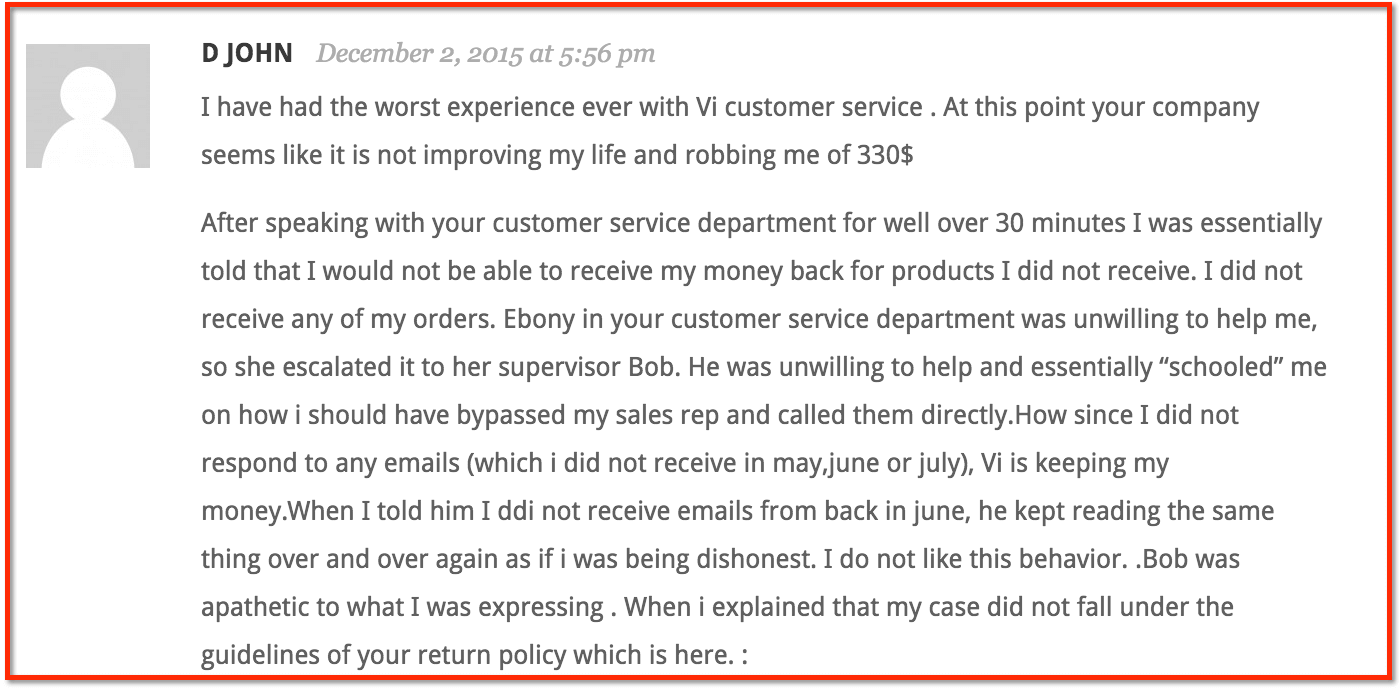 Others complain about Visalus Bimmer Club program or Visalus customer service.
Does it mean Visalus MLM is a scam? No, I don't think so. But it's definitely NOT the best program out there that I can recommend to everyone.
Final word on Visalus
If you think of this opportunity as someone who already has some experience in sales then you can achieve success with Visalus to some extent.
Though I can't say anything about the level of your success. You can make a lot of money, you can make some money or you can make zero.
Most people fail with MLMs and SEC reports show it clearly. I don't like their Bimmer Club program.
I don't like being under pressure to buy more or pay more for higher levels within the program. You can't get your money back once you've paid for Visalus level packs.
And finally, there are some complaints about Visalus. MLM compensation plans are designed in the wrong way only for the sake of higher payouts and they look like a pyramid scheme.
All pyramid schemes collapse sooner or later and Empower Network is the best example of that. It has been promoted for over 5 years and finally collapsed.
I think two questions: What is Visalus MLM? or What is Visalus Scam? were answered in the best way possible. Technically speaking, Visalus is not a scam.
But it's by far not the best program I can confidently recommend to everyone interested in making money online. It's definitely not in my list.
Final review of Visalus MLM
You can benefit from their compensation plan
You can make money if you are a sales person
You need an experience in selling physical products
Some warnings from SEC regarding MLMs
Visalus' imploding business reports
There is always a pressure to buy more or to pay more
Complaints
Overall rank:

35 out of 100

Verdict: Not recommended
About the Author: Adam
My name is Adam. I'm the founder of Your Income Advisor. My goal is to help others succeed online, by exposing scams and reviewing top rated products. I can help you start
your own business online