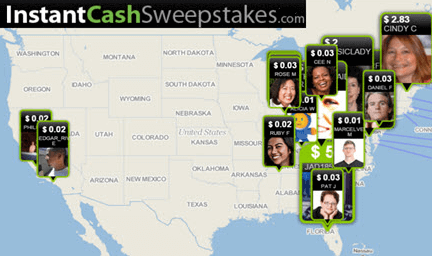 Product name: Instant Cash Sweepstakes (ICS)
Website: www.instantcashsweepstakes.com
Price: Free
Overall rank: 40 out of 100
I know Instant Cash Sweepstakes sounds very cool and I guess you think you've finally found a program that can help you make some cash instantly.
This is true to some extent. Instant Cash is legit program and can make you some money.
But I think it's not going to meet all your expectations. Honestly speaking when I review programs I give positive verdicts in rare cases. Not because all programs that I review are bad or scams.
It's because they mislead people by giving them exaggerated promises. When it comes to Instant Cash, the good news is that the program is legit. And I even can recommend it to some people.
I mean some people because most people go to 9 to 5 jobs and have tight schedules. Only some people may have some free time and want to find a program that can make them some extra cash and this is exactly why ICS was created.
There are many sites, such as Instant Cash Sweepstakes but most of them are a waste of time. Thankfully, ICS is not bad and I added it to my recommended list.
But keep in mind that ICS is not going to make you a lot of money. Just some extra cash at best.
If you want to know how it works and how much you can make with it keep reading My Instant Cash Sweepstakes Review and I will give you more info on this opportunity.
Short review of Instant Cash Sweepstakes
Basically, it's an online survey, poll website. You will be notified by email when they have new polls or surveys and upon completing them you will earn some cash, tickets, coins. The idea is not new.
There are many other sites like this one. Some of them are fake and don't pay at all. Instant cash Sweepstakes is legit and has been around for many years.
In fact, Instant Cash Sweepstakes is the sister company of Paidviewpoint. I personally participated in Paidviewpoint surveys but didn't like it at all. Because they pay cents, not dollars.
I don't want to waste my time with this kind of program. There is also a lottery ($50) that you can win. I hate lotteries because it's a waste of time and money.
Pros of Instant Cash Sweepstakes
You can make some extra money
You can cash out if you have a PayPal account
You can join ICS for free
Cons of Instant Cash Sweepstakes
You earn cents instead of dollars
Not all countries have access to PayPal
Some Complaints
For USA only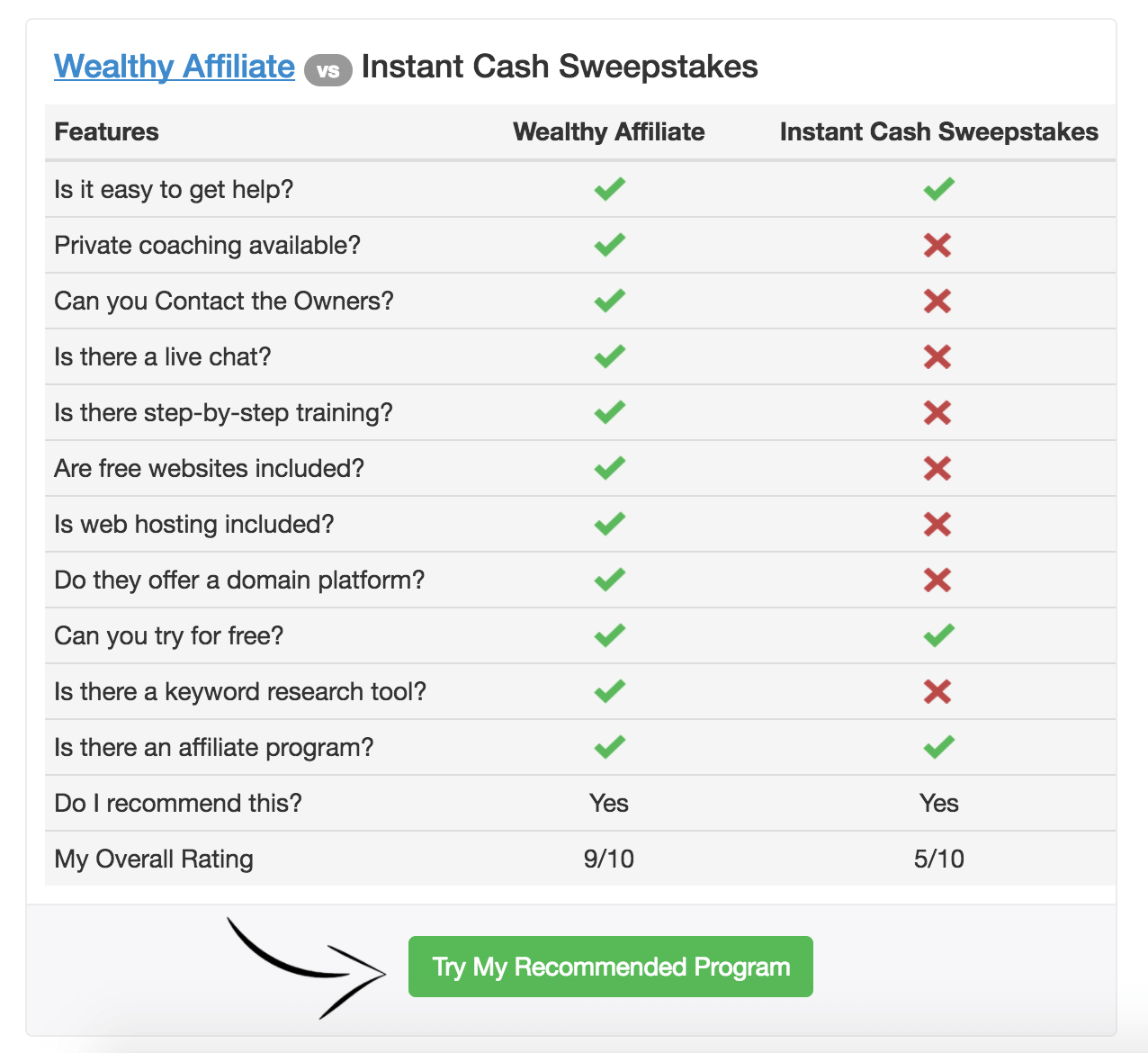 Instant Cash Sweepstakes Review
First and most importantly is that sites like Instant Cash Sweepstakes don't require any membership fees. They all are free. Once you've created your ICS free account you can start completing free tasks.
The more time you can dedicate to this activity the more cash you can earn. But don't have too much expectations in terms of the amount of money. Just a few cents per survey.
Thankfully, ICS surveys and polls don't take much time. For completing these tasks you can win tickets, coins and cash.
There are many companies on the market that want to know what is people's opinion about their products.
And here websites like Paidviewpoint, ICS, Toluna come into play and pay you for your opinion or simple tasks.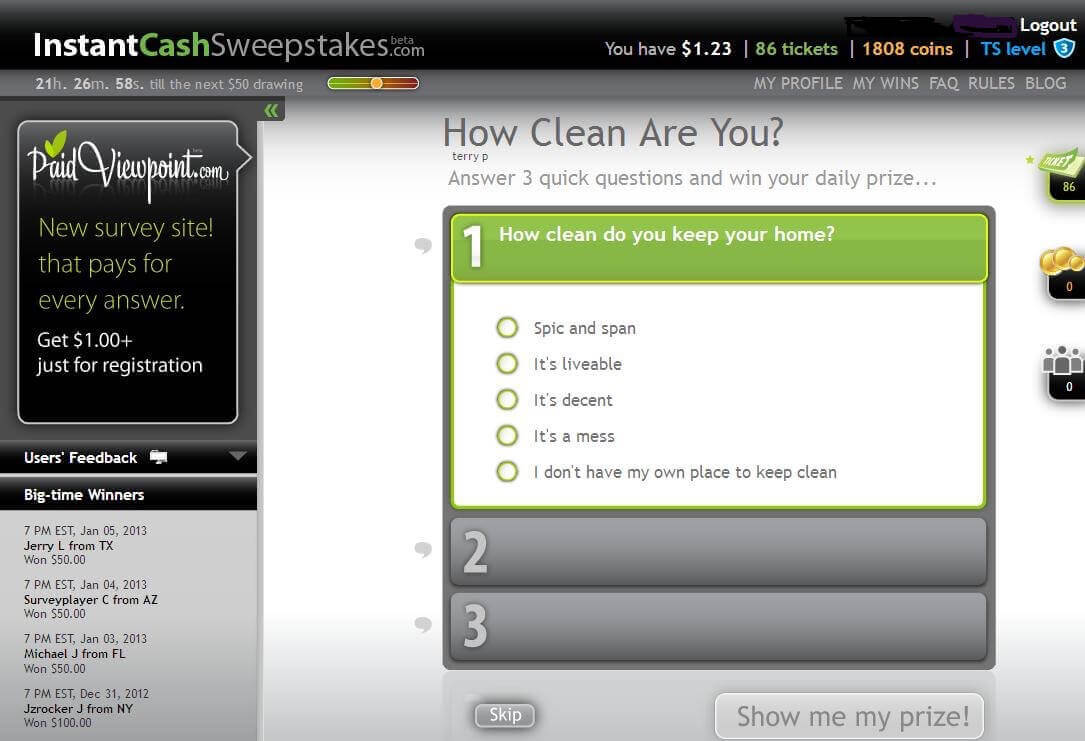 So, your first step is creating your free account at ICS website. Upon completing this first step you will complete your first online survey and answer 7 questions.
This simple task will earn you your first $0.50. After that as I said above, you will be receiving emails from Instant Cash Sweepstakes regarding new polls and surveys.
If you participate you will earn some money. Normally, they send email notifications every day or every other day. This is great in terms of making some money.
When it comes to many other online poll and survey websites they send such invitations once a week or maybe two times a week.
What I like in Instant Cash Sweepstakes
The good news is that ICS polls and surveys are very simple and you don't need to have any specific knowledge or experience in order to complete such tasks. This is good and bad at the same time.
It's good because you can participate in many tasks and earn some money.
It's bad because your reward will be very small. Just a few cents per survey/poll.
For example, when it comes to other survey sites, for some surveys you can earn even $50 but such survey need specific knowledge and qualifications.
If you don't qualify for such a survey you won't be able to participate in it.
What I don't like in Instant Cash Sweepstakes
I don't like Instant Cash Sweepstakes because it's a little different from other sites in the same niche. Every day Instant Cash Sweepstakes has $50 drawing (lottery).
As I said above, for completing surveys and polls you earn cash, tickets and coins. When you earn tickets you can participate in this lottery and possibly win $50.
I really don't understand why they want their members to participate in this lottery game. I don't like it at all.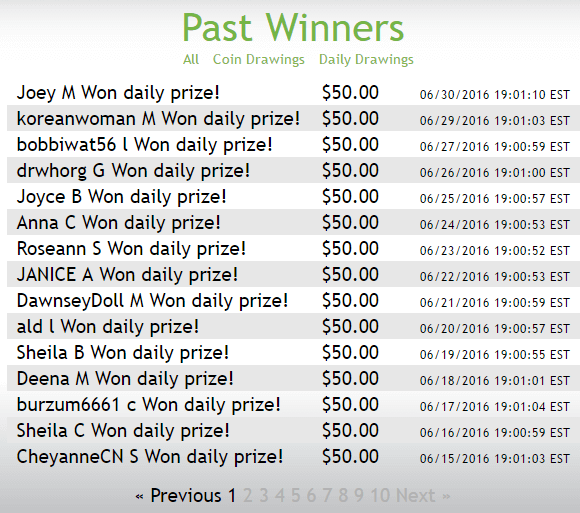 It's a well known fact that an overwhelming majority of the participants of any lottery game never win anything.
They just waste their money on useless things instead of working hard towards changing their lives.
I believe playing lottery is for people with a loser mindset. As a proof to my words I know a person who participated in ICS lottery and won nothing.
I think this Instant Cash Sweepstakes lottery program is a kind of fool. Because their members participate in ICS surveys and polls, earn money and then redeem their points for ICS tickets in order to participate in this lottery.
At the end of the day they waste their points/coins because they never win anything. I totally disagree with this method of making a fool of people.
Another method to earn money with programs like Instant Cash Sweepstakes, Paidviewpoint and the like is through their affiliate referral program.
But it's for experienced online marketers only. Because only experienced internet entrepreneur knows how to drive traffic to their website and get a lot of sign ups to Instant Cash Sweepstakes program.
If you can invite a lot of people and persuade them to join Instant Cash Sweepstakes you can earn more money. Some programs have generous payouts, others pay less.
I don't know exactly how much you can earn from each person you invite to Instant Cash Sweepstakes.
Can you become rich with Instant Cash Sweepstakes?
No, you can't become rich with programs like Instant Cash Sweepstakes even if you want it badly. It's simply impossible because the program is very limited in its potential.
You earn cents, not dollars. Imagine in how many polls and online surveys you must participate in order to earn $100 per month.
And remember that almost all online poll and survey sites have limited number of such tasks.
Even if they claim that they have thousands polls and surveys each and every month it's not true in most cases. In fact, your income is limited due to a limited number of surveys and polls.
Considering low payouts by ICS I think if you spend several hours a day, 7 days a week then maybe you can earn between $100-$150 per month. Maybe even less. You must give it a try to see how it works.
ICS referral program is a good option to earn some money. But you must learn strategies on how to invite people and get them to join ICS in some other legit programs like this one.
It will take some time until you can build a team of referrals. Anyone who will stay in the program will earn you some money. Whatever they will complete of ICS tasks you will get a commission.
When it comes to ICS referral program, by money I don't mean real cash. For referring people you can only earn tickets or coins and then participate in their lottery program.
Instant Cash Sweepstakes has also a video poll program. For each video poll you can earn $1 which is pretty good.
If you know how to record your own video you can do one and earn 100 ICS tickets and then participate in ICS lottery program. But like I said, lottery is a waste of time in my opinion.
If you have the right mindset in regards to programs like Instant Cash Sweepstakes and understand that you can't become rich then you can participate in their program.
I personally stay away from such programs because I know much better ways that can earn me dollars instead of pennies.
How to get your earnings?
Before you can cash out through PayPal you need to earn $2 from Instant Cash Sweepstakes.
Unfortunately, cash in and cash out through PayPal is available to some countries only.
Who can participate in Instant Cash Sweepstakes program?
Only people living in the United States can participate in Instant Cash Sweepstakes program. Is it good or bad I don't know.
I think it's because cashing out is through PayPal only and only USA and Canada and some other countries can use this PayPal feature.
Plus their lottery program is for USA only. And their polls and surveys are USA focused too.
Complaints about Instant Cash Sweepstakes
Over the past 3 years I reviewed over 400 programs so far and I now realize that there is no perfect program that everyone would be happy with. The same applies to Instant Cash Sweepstakes.
I found some complaints about Instant Cash Sweepstakes. But people are always unhappy with everything and there is always someone to complain about something.
Still it doesn't mean Instant Cash Sweepstakes is bad. From my experience I can say that if you visit a website first check if there is a Frequently Asked Questions available on that site.
If yes, then make sure you look it through to find answers to the questions you may have. This is good both for you and for the company you want to join.
The same applies to Instant Cash Sweepstakes.
I did some research and found some complaints about ICS. ICS is not a fly-by-night company. It's well established in the industry.





But still I want you to read some complaints to get an idea of what kind of problems you can encounter with ICS.
I don't think these complaints make Instant Cash Sweepstakes a scam. It's just for your information. If you feel after reading these complaints you don't want to join Instant Cash Sweepstakes it's up to you.
For example, one complainer says that they want to get paid for each survey they complete instead of winning lottery and I totally agree with such statement.
I think lottery is a kind of making a fool of people. Some complaints are more serious in my opinion.
That's why I'm not a huge fan of sites like Paidviewpoint or Instant Cash Sweepstakes and that's why I never join or recommend them.
Update on Instant Cash Sweepstakes
The site is now closed. If you visit Instant Cash Sweepstakes website you will see this announcement. The site has been operating for almost 9 years.
I don't know the real reason why it was closed but this anyway happened. They now send folks to their main site which is Paidviewpoint.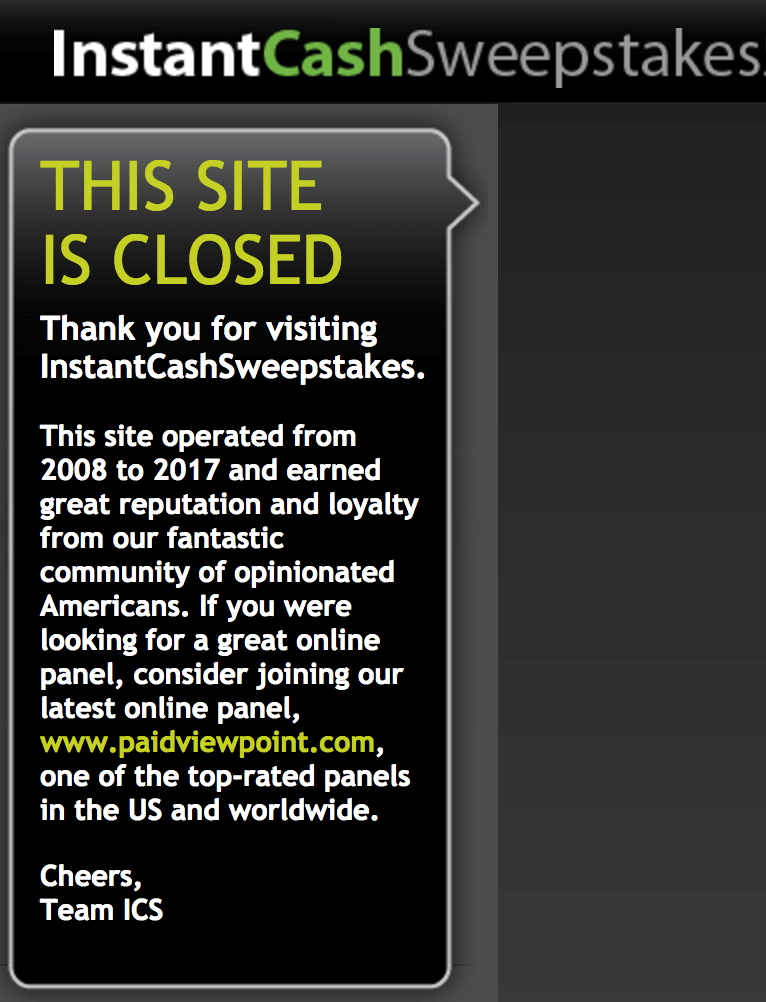 Final word on Instant Cash Sweepstakes
Considering that you earn pennies instead of dollars I think joining Instant Cash Sweepstakes is a waste of time in my opinion.
For some people it may be a great opportunity to make a few bucks per month and it's completely fine. If you love it then do it.
But I don't like the idea of lottery at all and who knows may be it was one of the reasons for shutting down ICS website.
It also caused many complaints which left its trace on the image of the company. I tend to think Instant Cash Sweepstakes is not a scam.
Anyway, Instant Cash Sweepstakes is closed now which means if you want to try it you should go to Paidviewpoint website.
I don't know if they have some kind of a lottery in the program. The payouts are still low.
I think my recommended program can help you make way more money than Paidviewpoint or Instant Cash Sweepstakes or any other survey company.
I think instead of making pennies and wasting your time in this program it would be better to invest your time in a proper education and learn how to make money online from your own website.
It's rewarding and opportunities are countless. See the link at the end of my review.
Final review of Instant Cash Sweepstakes
You can make some extra money
You can cash out if you have a PayPal account
You can join ICS for free
You earn cents instead of dollars
Not all countries have access to PayPal
Some Complaints
For USA only
Overall rank:

40 out of 100
About the Author: Adam
My name is Adam. I'm the founder of Your Income Advisor. My goal is to help others succeed online, by exposing scams and reviewing top rated products. I can help you start
your own business online