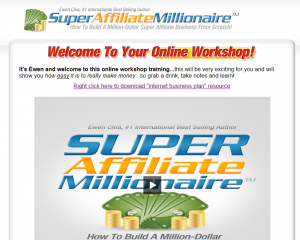 Product name: Super Affiliate Millionaire
Product Owner: Ewen Chia
Website: samillionaire.com
Price: $297
Verdict: Not recommended
This is my review of Ewen Chia's another super product called Super Affiliate Millionaire. As I told in my other reviews, this guy has created a number of poor products and though he himself is probably making money, I don't think anyone is making any money at all.
He is known for creating products like Autopilot Profits, Commission Money Machine, Copy Paste Income and it's a fact that none of these products has ever delivered on the promises. In this new product Ewen Chia promises to reveal the secrets behind a million-dollar super affiliate business and how YOU can clone it immediately.
He claims to show you real tactics how you can earn thousands of $ every single day with little efforts on your part. Let's take a closer look at his Super Affiliate Millionaire product to make an informed decision before you purchase it.

The main idea behind Super Affiliate Millionaire
In this program Ewen Chia is going to teach you affiliate marketing and not only that. He claims to show you how to make thousands of dollars and become a super affiliate millionaire in a matter of a few days.
Though affiliate marketing is one of the proven ways to make money online, the truth is that Ewen Chia's program won't make you a millionaire.
Because in order to achieve success as an affiliate marketer you must have certain set of skills, knowledge and timely support at least at the beginning stages of building your online business. This is exactly what Ewen Chia is not going to provide you with his Super Affiliate Millionaire.
Pros of Super Affiliate Millionaire
Some useful info for beginners
Cons of Super Affiliate Millionaire
False promises
Exaggerated earnings
No free trial
Some outdated techniques
No real support
Inside the program
1. First off, I would like to say a few words about affiliate marketing and how Ewen Chia can help you. Affiliate marketing is a proven way to make money online and I know many successful affiliate marketers that are making real money with it.
I'm making money too with affiliate marketing and made my first buck in 2000. Affiliate marketing is very popular because you don't actually need to own any product of your own.
Just choose a niche you have interest in, find a product, add your affiliate link to that product and start promoting it on your own website. Once a sale has been made you earn an affiliate commission. As simple as that.
But though it sounds pretty easy and simple it's not so in reality. Though some affiliate marketers that I know are making thousands of dollars, others are making a few hundred bucks and some are even making as much as a few dollars per month.
Yes, you heard that right, some are making a few dollars per month because making money online is not as easy as Ewen Chia wants you to believe it's.
Like any other business, affiliate marketing requires time, hard work and patience until you can reach the numbers Chia promises you and the truth is that most people never reach or see those numbers because they quit very fast at the beginning.
Seeing those numbers requires hard work and time, 1 year for decent numbers and 2 years for higher earnings. The problem of Chia's approach is that he promises that you can clone his success immediately which is not true. It won't happen.


2. Ewen Chia had a good reputation in the past and created a number of good products but then he started creating poor products like ones I mentioned above and most of which contain the same info he is trying to sell under different covers.
3. In his promotional video you will see his bank statements and the idea of showing you all this stuff is absolutely clear. He wants you to believe that you can repeat his success in no time and that making money through affiliate marketing is very easy. This is not true.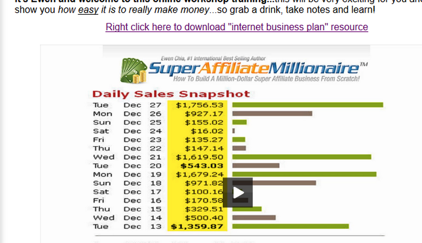 4. This is a well known fact that Chia is using outdated techniques and that's why his products are no more popular on the web. For example, he teaches to use article directories, article spinning (PLR content), backlink strategies.
To be honest, all these techniques used to work well in the past, but not now. Using article directories for better rankings on search engines was a good idea until 2013 and due to massive abuse it doesn't work anymore.
Article spinning is absolutely ridiculous because if used, can kill all your rankings on search engines and you will lose your entire business. Backlinking strategy won't help get higher rankings too and is useless.
5. There are many complaints about Ewen Chia's overall approach to internet marketing and his Super Affiliate Millionaire in particular. Here are some complaints that I've found on the web and I'm sure if you continue the search you will find more complaints.


6. You won't find any secret info inside his Super Affiliate Millionaire training. He tells about general things that are known to anyone.
His main idea regarding affiliate marketing is about finding people who have a problem, then finding a product that solves their problem and then selling that product to that group of people. Nothing new. And I don't really think you must go through his training to understand this simple fact.
7. I tried to create my account on his website and here is what I've got.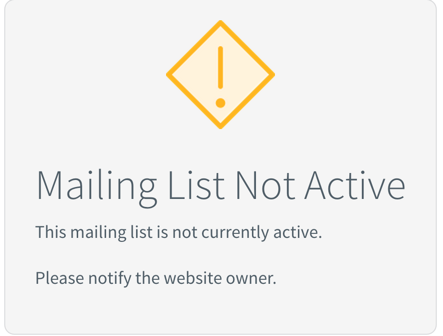 8. Another thing that I don't like about Super Affiliate Millionaire is that Ewen Chia puts too much emphasis on email marketing which I don't think is important at all if you are just starting online. Email marketing can be very profitable if you know how to use it properly.
But before you start implementing this technique, you need to know the basics of internet marketing, build your website and write some quality content for your website.
Once you have quality content and start getting visitors to your website, you will be able build relationships with your visitors through email marketing and possibly make more money.
So, you need to know the basics of IM, have a website and steady traffic first. Because if you don't have traffic there is no sense to implement email marketing. Besides that, email marketing is not an easy way to make money because it requires certain knowledge and experience.
If you do it wrong and most people do it wrong you will have zero results accordingly. I'm of the opinion that email marketing is not for beginners.
9. In order to use this method you need to have an autoresponder account (preferably Aweber) which will cost you $150 per year. Finally, if you want to learn email marketing the proper way, I recommend you the best training course such as Autoresponder Madness.
10. The main traffic source for any online business owner is free search engine traffic and this is a fact.
To be able to get that traffic you must know how to write quality, original content for your site because if you try to game search engines they will penalize your site and you will lose all your site rankings and the traffic accordingly.
What I know exactly is that Ewen Chia is not going to teach you all this stuff in his Super Affiliate Millionaire training.
11. I think that Ewen Chia's product Super Affiliate Millionaire is way too expensive for what he offers. Compared to his course, you can pay 350$ to Wealthy Affiliate (one time yearly payment) and you will get ALL you need to create a successful online business, including live chat, supreme 24/7 support and two free websites.
Actually, WA wins my top recommendation since 2013 and it has helped me build my own online business.
12. Ewen Chia doesn't provide any real support and in most cases it takes a few days before you get a reply from him if at all. Affiliate marketing is not about set and forget system and you have to work on your site on a daily basis.
You will certainly have many get stuck points and no one is going to help you. Just sit and wait for a few days until you get a reply from Chia for every question you may have is not a good option.
Final word on Super Affiliate Millionaire
After all these facts, I don't think it's reasonable to buy Chia's Super Affiliate Millionaire though it contains some useful tips. I personally don't recommend it.
But if you are serious about starting your own online affiliate marketing business I can recommend you to try my top rated program for free for the first 7 days. It's absolutely free, no credit card is required.
I'm sure you will like it because thousands of other people tried it and they were very happy with it. I'm a premium member of this program and can vouch for it. Let me know if you have any questions or leave your comments below and I will respond shortly.
About the Author: Adam
My name is Adam. I'm the founder of Your Income Advisor. My goal is to help others succeed online, by exposing scams and reviewing top rated products. I can help you start
your own business online