Product name: Copy Paste Income
Product owner: Ewen Chia
Website: copypasteincome.com
Price: $37 + many upsells
Verdict: Not recommended
I've already reviewed some of Ewen Chia's products and can say that this guy though himself might be making money, but he always creates poor products like Autopilot Profits and Commission Money Machine.
In his autopilot Profits he promised that you could make money before you go to sleep and in Commission Money Machine he promised to reveal the secrets to making boatloads of money. Both products are poor ones and have been added to my not recommended list of products.
His new product is unfortunately not much different from the previous products and in my Copy Paste Income review I'm going to explain in details why buying this product is not a good idea.
The main idea behind Copy Paste Income
The main idea behind Copy Paste Income is pretty simple. You are not going to build a real business online. You just need to create mini ebooks and sell them online. The idea is not something new at all and I don't really think that someone needs this product to create an ebook.
All you need to create an ebook is have some knowledge in specific field, write your book as people normally do it and then using specific software create a PDF file. Then, you need to add a payment form on your website through payment processing companies like checkout.com and that's it.
Pros of Copy Paste Income
It contains some useful information
Money back guarantee
Cons of Copy Paste Income
Fasle promises
Exaggerated earnings
Too many upsells
Poor support
No free trial
Inside the program
1. First off, I would like to point out that Ewen Chia's reputation is not so good due to creating poor products in the past. As for Copy Paste Income, the situation doesn't seem to improve because of Chia's false promises and outrageous lie.
He starts his message saying that if you can copy and paste, this is exactly what you need to start making money, up to $6000 in one weekend. Then he shows you his earnings to prove that his system works and you can do the same.

The truth is that it's not as easy as you might be thinking. I'm sure all those numbers are fake and even if they are not fake, it doesn't prove or mean that you will be making money too. I have enough experience in internet marketing and can say that theory and practice are not always the same.
What works for me might not work for you or even if it works for you, you might not make as much money as I do. If making money online was as easy as Chia tries to convince you, just copy and paste and grab the money then everyone would quit their job. That's why, Ewen Chia's claims are not realistic and he is simply lying to you.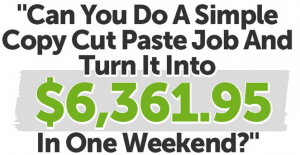 2. Inside the members area you won't be confused. Everything is arranged in a clear and accurate way. You will get access to 7 video modules such as:
Profitable niche ( General info, not so much useful)
Affiliate product ( Find a product on Clickbank, there are tons of poor products there)
How to find keywords ( Not so good though it contains some useful tips)
Create a mini ebook (He doesn't teach you to create your own original content. Just copy the info from other places on the internet. Very bad)
Promote your ebook (He teaches you how to promote your "amazing" ebook using outdated techniques, not a single word about search engines. Very bad)
Build a list (No real strategies on how to build a list. Very bad)
Training modules are not so good, though you can find some really useful info. The overall quality is not bad.
3. As I said above, though Ewen Chia's Copy Paste Income training is not so good, but it contains some useful info. He teaches you how to create an ebook and sell it which is a good idea. Having your own product is a good thing because you keep all the profits instead of earning small affiliate commissions when selling someone else's product.
He recommends you to do an extensive research of the market to get an idea what type of ebook to create so you can provide info people really need. He also recommends you to use Google trends to know what people search for most on the Google.
He also recommends you to use a Google keyword planner to find some good keywords to rank for. And he also recommends to use social media and forums when doing niche research. All these strategies are good and though the info he gives you is very basic, it's still useful to anyone just starting online.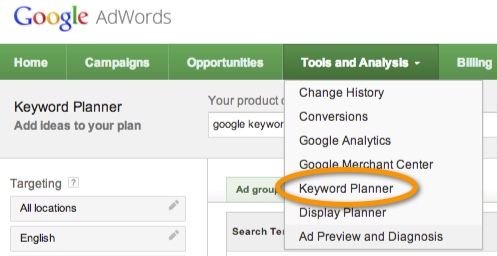 4. As for the price, $37, though it's not that much compared to many other poor products, it's still not the best option if you want to start your own online business. Compared to Ewen Chia's Copy Paste Income, you can try for free Wealthy Affiliate training within 7 days and then if you like it (and I'm sure you will like) you can buy a premium membership for $19 for the first month.
If you are serious about starting an online business then I highly recommend to stay at WA as long as possible until you achieve success online because WA community provides a great value you won't find anywhere else. But if you're on a tight budget, you can pay for the first month only and you will get a MUCH BETTER alternative to Ewen Chia's Copy Paste Income.

5. Unfortunately, like many other poor products that I've seen online, including Ewen Chia's other poor products mentioned above, his Copy Paste Income is also full of upsells designed to make as much money off you as possible.
All this means that Ewen Chia focuses more on making money off you rather than helping you. Inside the members area you'll find only 4 links related to his main product and all other products are upsells at different prices, up to $117. All this is not good at all, at least not in favor of Chia's product.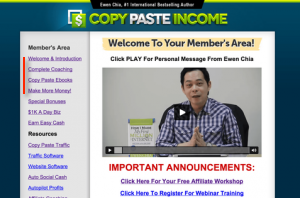 6. If you are completely new to internet marketing I honestly recommend you to not pay attention to his sales pitch filled with tons of false promises, outrageous lies and bold claims, such as: "You don't need to do anything, just hit the button, copy and paste and let other tools do all the work for you and then grab the money". This is not true! HE IS LYING TO YOU.


7. There is good news though because this guy is selling his "amazing" product through Clickbank which means that if you don't like his product you can ask for refund and you will most probably get your money back. Also, keep in mind a well known fact that though Clickbank is a notorious digital product marketplace, they are selling tons of poor products and pure scams.
8. Another major problem with Ewen Chia's Copy Paste Income is that there is no real support and if you get stuck at some point and it WILL happen, you won't get timely support. Only through email or help desk support which don't respond well. Many people wait for Ewen Chia's reply for 5,6 days.
There is no live chat or active members forum to get assistance if you need it. You should know that most people fail online because of lack of support and it seems that with Ewen Chia's Copy Paste Income you are going to fail if you buy it.
9. At the bottom of his website you will find his earnings disclaimer in which he clearly states that he doesn't guarantee any income though on the same website he promises that if you can copy and paste you will be making tons of money. Doesn't it look ridiculous to you?

10. Also, in one of his videos he encourages you to use PLR content which is very bad. After Google latest updates, if you follow his recommendations you will be penalized by Google.
Final word on Copy Paste Income
Copy Paste idea is absolutely ridiculous and even if you can copy Ewen Chia's strategies you will most probably not be able to paste his success. But not everything is so bad. As I said you above, you can try my # 1 program within the first 7 days and I believe you will be very happy with the program.
Because thousands of people just like you and including me have already tried it and we all are happy with it. I'm a premium member of it since 2013. If you still have any questions, feel free to contact me and I will be more than happy to help you out.
About the Author: Adam
My name is Adam. I'm the founder of Your Income Advisor. My goal is to help others succeed online, by exposing scams and reviewing top rated products. I can help you start
your own business online