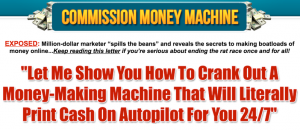 Product Name: Commission Money Machine
Website: commissionmoneymachine.com
Product owner: Ewen Chia
Price: $17 and upsells
Verdict: Not Recommended
Unfortunately, today I'm going to review another relatively new, revolutionary "amazing" money-making machine that can help you make a lot of money. And I forgot to mention that you you're promised to make as much money as you want.
At least, the owner of the program, Ewen Chia makes this big claim and on his website he clearly states that he's going to reveal the secrets to making boatloads of money online and EVEN his amazing money-making machine will be printing cash on autopilot for you 24/7.
The main idea behind the program:
The main idea behind the program is simple enough. You watch 13-part video series, read his 56-page ebook and all this will teach you the secrets to creating a profitable website to sell digital products and make a lot of money on autopilot. Besides that, there are upsells in the program and no real support.
Pros of the program:
Basic training
Price to join is affordable
Cons of the program:
Exaggerated earnings
Not as easy as you might be thinking
No active community where you can get help and support
No real support from the owner of the program
The program is by far not the best opportunity on the web
False promises
A number of upsells
No free trial
Inside the program
1.The training is very basic and though it's not bad, in reality it can't serve as a good starting point for newbies. Some tips are useful but the information is NOT enough to start your own business online because a lot of things are simply not covered in the training.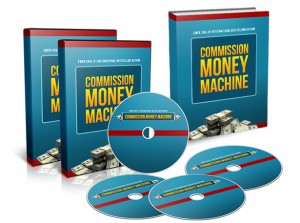 2.What I don't like the most about the program is that from the very start Ewen makes big claims and false promises. Besides that, his promotional video is misleading too.
In general, I don't like his approach because when you make false promises about your product, people start to think that once they buy your product they will be making a lot of money.
Unfortunately, in most cases, only after completing the purchase they realize that it was another empty promise.
3.Another big problem with Ewen's product and the main reason I don't recommend it or like is that there are a number of upsells inside the member's area.
Initially, you pay $17 and think that you're done, you now can start making boatloads of money BUT $17 is your first payment and you NEED to make some other important purchases to be able to use his program to its full potential.
Actually, there is no any real potential in his program because his main goal is to get you into the program and upsell afterwards.
4.The basic video training that Ewen has to offer you isn't good at all. This is simply a slide show presentation and not a real video you might be expecting. And I forgot to mention that instead of real voice you're going to listen to a robotic voice reading a script.
5.Another thing I would like to mention is that Ewen is promoting the same product on two different sites: Commission Money Machine (www.commissionmoneymachine.com) and Fast Track Cash (http://fasttrackcashsystems.com). And the prices are different ($17 and $27). I don't think it's an ethical approach and I don't think you will like it.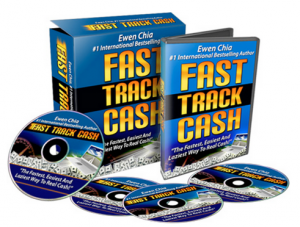 6.Another thing I would like to mention and think is important about his ebook on Amazon "How I Made My First Million on the Internet and How You Can Too!: The Complete Insider's Guide to Making Millions with Your Internet Business".
He tries to convince you that if he was able to become a millionaire, you can too repeat his success by just following his recommendations laid out in his book. I can tell you that this is not true. You can find similar books on Amazon like ones on the image below.


Do you really think and believe you can make a lot of money simply by following recommendations laid out in his ebook? I'm an experienced internet marketer and can tell you from my own real life experience that it won't happen.
You can maybe make a few dollars but when it comes to making serious money on the internet, it requires some skills, knowledge and experience. Besides that, you need to go through good training and learn the basics of internet marketing, interact with other successful internet marketers and ask for support to benefit and learn from their real life experience.
7.There is no real support from the owner of the program, i.e. Ewen Chia. Internet marketing strategies when applied in real life, cause some difficulties or questions and you simply can't be successful without good and timely support from real successful internet marketers. Trust me, no support = no success.
8.There are two upsells inside the member's area:
upsell # 1 – CPA Money Machine – $47
You will learn how to drive paid traffic to your website (CPA Marketing, called cost per action). It's expensive and not the best way to drive traffic to your website. The best traffic is free traffic through SEO methods what Ewen isn't going to teach you.
upsell #2 – The webinar – motivational training that promises that you can make $300 per day. This is just a promise and the main idea behind that upsell is to sell you more other products.
9.Another thing I would like to mention is that Ewen however isn't a scammer like many others and on his page he clearly states that if you believe in instant wealth, "push-button" software and you're not willing to take action…. then his product is NOT for you.

If you think you can pay $17 and you will get and learn all you need to successfully accomplish the task of building a successful business online then you're wrong. This will NOT happen though Ewen's product is NOT that bad.
Though Ewen clearly states on his website that his product is NOT a push button software he however makes false claims afterwards.


Final word on Commission Money Machine
Finally, if you ask me, can I recommend this product to you, my answer would be NO. And not because Ewen is a scammer. He is NOT a scammer though the way he presents his product on his website is a bit misleading.
His training is NOT that bad BUT not enough to be successful online. I don't like upsells inside the member's area. He hasn't mentioned those upsells on this page.
He makes some false promises on his page and tries to be honest at the same time which seems a bit misleading and contradicting to me. And without support you CAN'T be successful and there is no free trial.
I can't recommend it simply because I know another program which is absolutely reputable and well known on the web. That program is Wealthy Affiliate – # 1 online business community in the world.
I'm a premium member of that community and know the program from inside. If you're looking for a real way to build your online business and start making real money on the internet, then I recommend you to try Wealthy Affiliate for free.
Read my review of Wealthy Affiliate below and if you have any questions, feel free to contact me and I will be more than happy to help you out. Or leave your comments below and we will discuss it further. I'm always available within 24 hours.

About the Author: Adam
My name is Adam. I'm the founder of Your Income Advisor. My goal is to help others succeed online, by exposing scams and reviewing top rated products. I can help you start
your own business online