Website: https://wakeupnow.com/
Product Owners: Kirby Cochran Jason Elrod,
Philip Polich
Advertised price: $24.95, $64.95 (per month), $99.95 (per month)
Verdict: Scam
Wake up Now is a new program and is being falsely advertised as a program that helps you wake up and start making a lot of money on the internet. The program has been aggressively advertised and promoted for some time on Facebook, Twitter and other social networks.
They have good looking website and if you visit it, you will probably say WOW! It's very cool, I will join right now and start making thousands of dollars like thousands of others are already doing it.
In my review, I'm going to show you what is happening behind the scenes and if you read my full review, I promise, I will show you some amazing facts about this "amazing" program.

The main idea behind Wake up Now
Wake up Now business opportunity is not a real business model. It's a classic network marketing type of business.
You're expected to pay a monthly fee to get discounts on different products and services and then you need to recruit 3 more people under you before you start making money.
And each of your recruits must recruit 3 other people and… so on, a classic pyramid scheme.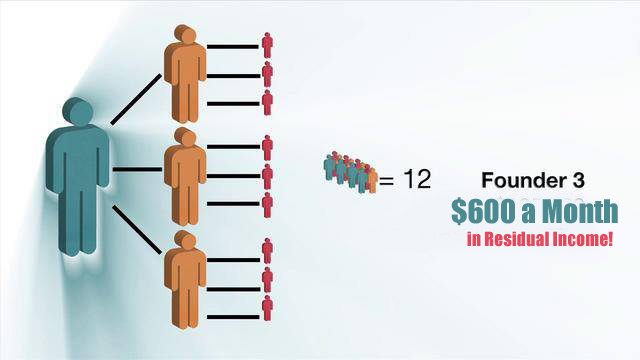 Pros of the program:
An illusory chance to make tons of money
Cons of the program:
False promises
Exaggerated earnings
No active forum where you can get help or support
No quality training
The only hope to make some money is through aggressive method of recruiting other people in the hope that your recruits will be able to recruit other people
Many complaints at BBB.org about the program and their website has been given a low reliability rating.
Inside the program:
1.Wake up Now is not much different from other similar programs that make big claims. Wake Up now promises that you will be making tons of money, but if you look at their chart, you will realize that you won't be making any money until you become director 3.
Once you reach that level, you will start making $1200 per year. Not that much. And before you reach that very decent number you need to buy their platinum package. And even this alone isn't enough to reach that decent number. YOUR recruits, i.e. people that join under you, must buy platinum package as well.
2.Another thing you MUST know before you join their program is that according to their chart, only 1% of all their active members make over $8000 per year. And this fact isn't in their favour at all.
Most of their active members (IBOs), i.e. 80% aren't making a dime. 15% of their active members are making $1200 per year. Very decent number and I don't think you will be happy with that kind of earning.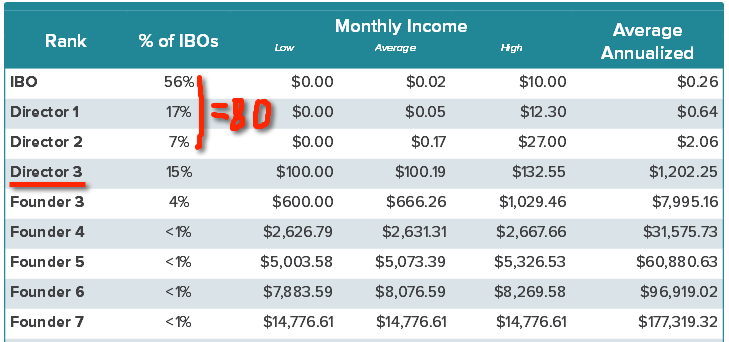 3. I think you remember that at the beginning of my review I mentioned that you needed to to pay a monthly fee to get discounts on different products and services. Let's discuss this "amazing" offer from Wake up Now. I can only say that this offer is absolutely useless and makes no sense at all.
It does make a sense to the owners of the program only. So, this package allows you to get discount if you: travel, buy antivirus software, buy energy drinks etc.
The question is why would I buy software, drinks or any other product from Wake up Now or use their travel service if I can do it the other way I like and prefer?
Just, as an example, when I travel, I book my reservations through reputable sites, such as, Priceline, Orbitz or Hotels.com.
If I need an antivirus software, I use avast (free program). Or if I decide to buy one, I will buy from reputable company such as, Avast, Norton etc.
If I need to buy energy drink, I will buy it from many other places for a cheaper price. Why would I pay Wake up Now for products that are very overpriced? It doesn't make any sense, to me at least.
4. As you can see, there is no any real business model you can learn from that company. You just need to spend money, i.e. make monthly payments and the minimum monthly payment is the silver package $24,95. If you fail to recruit other people, you will be wasting your money.
If you want to learn real method how to start making money online through building a real business online I highly recommend you to read my review of the program # 1 to work at home in the end of my review. The program that I tried and know that it works.
5.Wake up Now offers you 3 types of membership packages and the main problem here is that you can start making money only if you buy their platinum package. But that means you're expected to pay $100 monthly. Do you really want to pay $100 per month to get an illusory chance to make money?
The only way to start making money is through spamming people here and there on Facebook, Twitter or Google Plus in the hope that you will be lucky to hook someone. There is a high chance that your accounts will get banned.
6.There are also many complaints about Wake up Now which is a red flag. Their business has been given a low reliability rating by other sites and this is another red flag.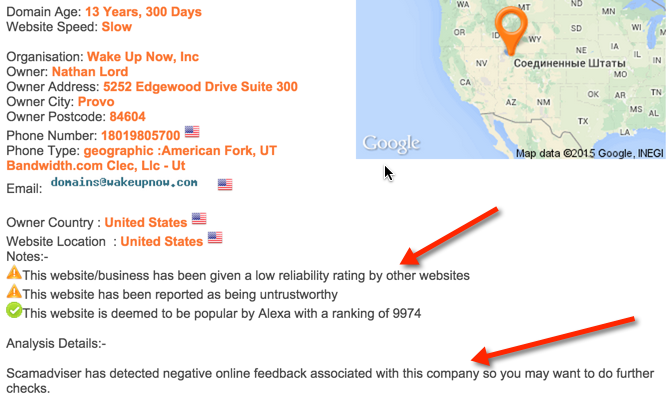 7.Another major problem with Wake up Now is that there is no real support. Online success requires patience, time and hard work and anyone who is just starting online is going to face many things he doesn't know. There is only one proven way to be successful with any program out there and that way is through getting real and timely support.
8.Wake up Now doesn't provide any real training and if you're planning to join their program then you need to understand that no one is going to support or teach you along your way. Do you really believe you can be successful without training and knowing how to apply things with that program?
9.The only proven way to be able to achieve success with their program is through getting as many people as possible to join under you. Do you know how to build a website, how to rank your site on Google, how to drive traffic, i.e. visitors to your site?
Without all this knowledge you won't be able to achieve any level of success and Wake up Now is not going to teach you all this knowledge. And even if you learn all this, do you really want to recruit other people under you to this "amazing" program? I personally DO NOT.
Final word on Wake up Now
I hope you now understand that this program is absolutely useless and a waste of time and energy and most probably you won't be successful with them even if you drink their energy drinks 🙂
This is not a real business model and you will never be able to build a real online business. But if you're interested in starting your very own business online I can honestly recommend you the best program that I know and where you will be able to go through 10 lessons for free and try it before you pay for your membership.
The program I'm talking about is Wealthy Affiliate – # 1 online business community in the world. I'm a premium member of that community and know the program from inside.
At that community you will have all you need to build your business and start making real money online, i.e. training, websites, fantastic support from the founders of the program, support from real successful internet marketers, support from me.
Trust me, I don't lie to you, I don't give you any false promises. Wealthy Affiliate is absolutely legit and reputable company on the web.
I'm sure, you will not find any bad reviews of Wealthy Affiliate on the web. Read my honest review of Wealthy Affiliate and if you have any questions, feel free to contact me. Or leave your comments below and we will discuss it further.
WAKE UP NOW WEBSITE IS NOT FUNCTIONING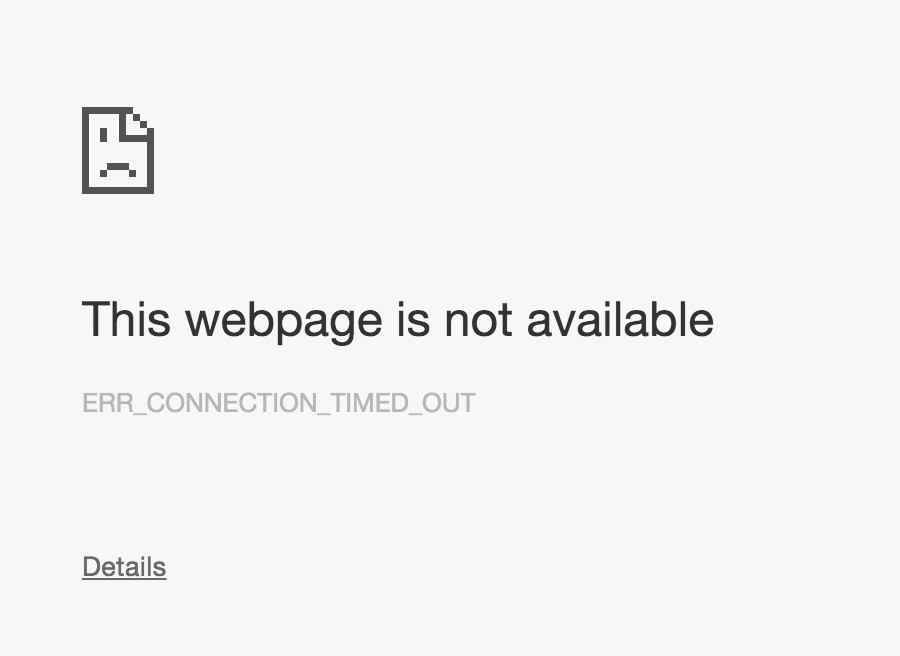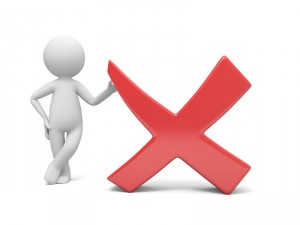 About the Author: Adam
My name is Adam. I'm the founder of Your Income Advisor. My goal is to help others succeed online, by exposing scams and reviewing top rated products. I can help you start
your own business online