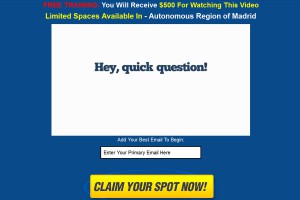 Website: http://doneforyouprofitsystem.com
Program owner: Matt Lloyd
Price: $49 + many upsells
Verdict: Not recommended
Done For You Profit System is a relatively new revolutionary program that allows you to make thousands of dollars staying at home. The program owner claims that no previous experience or technical skills are required. But the most "amazing" part of this program is that once you have it set up, the system will run on autopilot.
As you can see, the claim is really bold, but the question is does it really deliver on its promises? So, in this review I'm going to show you and prove that Done For You Profit System is another revolutionary new system trying to scam you and other honest people.
The main idea behind Done For You Profit System
The main idea behind the program is very simple. Matt claims that his system has been created specifically for newbies that don't have any skills or experience so they can easily make a lot of money by following and applying simple steps.

Pros of the program
There is a 21 step training
Initial price is affordable to most people
Cons of the program
False promises
Exaggerated earnings
No active forum where you can get help
Many upsells within the program
MLM Pyramid scheme (Bad reputation)
Looking for Affiliate Marketing Programs?

Choose one of these two my top recommended programs: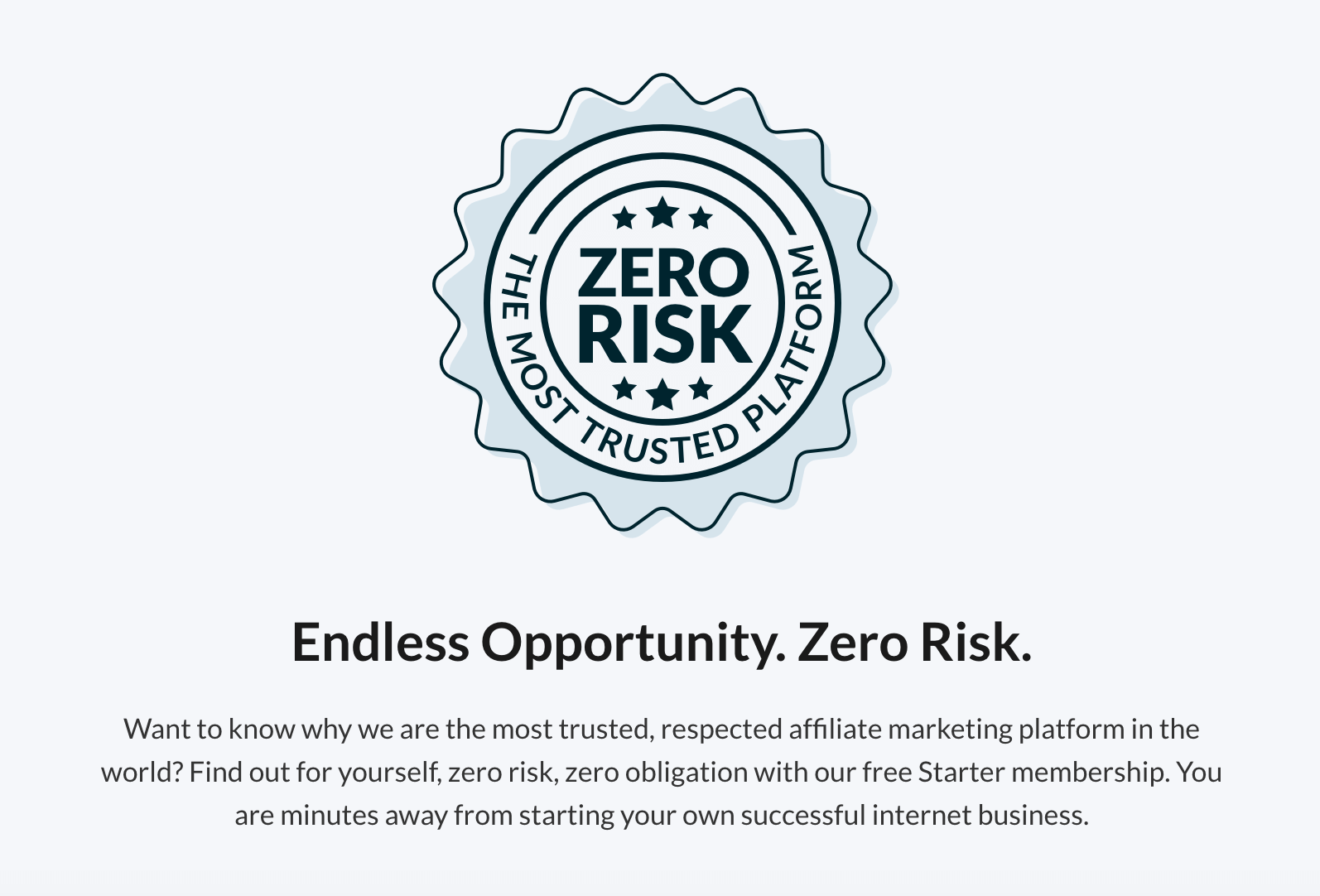 Inside the program
1.The main problem with this program and the reason I'm writing this Done For You Profit System review is because it's not a real website that has a real business offer. It's just a domain name and it redirects you to a different site www.mttbsystem.com (My Top Tier Business).
And after completing the form on that website you will be asked to buy another revolutionary program called My Online Business Empire. As you can see, the way they promote their products is very misleading and deceptive and I don't think you or someone else will like it.
2.Once you visit their website http://doneforyouprofitsystem.com and enter your email, you will be redirected to another page with promotional video. And this "amazing"video is the next step to make you believe that you are very lucky to land on that page. The video starts in such a way that any smart person can easily identify the program being a scam. It starts as follows:


I think it is the first read flag to leave that page right away.
3.The main idea behind these programs is network marketing (MLM). The problem with most MLM programs is that they have a bad reputation and there is a reason for that. Just as an example, you can read my reviews of Empower Network and My Online Business Empire to understand what MLM business is all about. Once you read my review of My Online Business Empire, you will realize that there is one person who stands behind all these programs and that person is Matt Lloyd.
4.If you think you can pay $49 and start making money then I'm going to disappoint you. This is only your first payment and then you need to invest much more, up to $2000 to get involved in the program and still there is no any real promise as to when you can start making money.
5.If you plan to join the program and use it to the maximum then you're going to spend $25000 plus $299 per month. I don't think you're ready to spend that amount of money with no guarantee to make any money with that system.
6.There are many complaints about these programs on the web. Just look at the image below.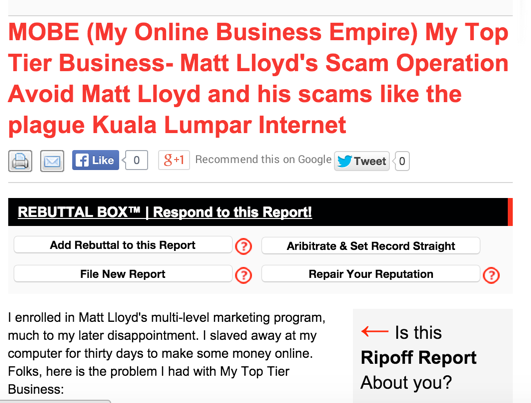 This is another proof that this revolutionary system is an obvious scam and fails to deliver on its promises. And not only that. You won't even get your money back if you want to leave the program.
7.They promise that you can earn high commissions with their program, BUT you must know that this is another deceptive method to get you into the program. Their program consists of 21 steps. So, on step 6 you're required to buy their product (upsell), a MOBE License for $1997. If you don't buy it, you can't expect any high commissions. Just keep it in mind..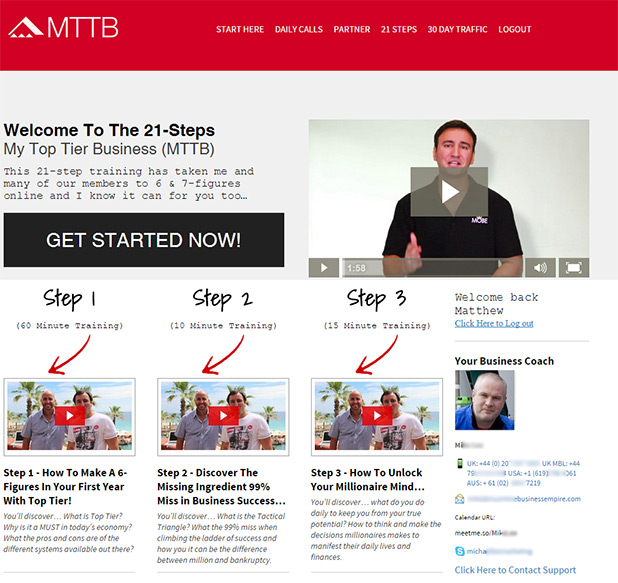 8.They claim that they have a 21 step training that will teach you all necessary strategies you can apply and start making money on the internet. This is not true. Among the steps are: How to make money without any additional work, How to get a new Mercedes Benz paid for every month, How to get $5,000 commissions with no extra work, How to get $3,000 commissions with no extra work, How to unlock your millionaire mind, How To Make 6-Figures In Your First Year With Top Tier! etc.
As you can see, there is no real strategies you can use to achieve success. They don't teach you any real methods to grow your business, they don't teach you the basics of internet marketing, they don't tell you the truth about making money online. THEY DON'T WANT YOU TO KNOW THAT MAKING MONEY ONLINE IS NOT AN EASY PROCESS OF SITTING BACK AND COLLECTING YOUR COMMISSIONS. Making money online isn't much different than making it offline. It requires patience and hard work.
9.You need to understand that if you want to earn high commissions (50%) with this "amazing" program you need to invest a lot of money (from $297 up to $4997)
10.The most expensive product is the Platinum Mastermind that will cost you $14,997 plus $299 per month. I'm sure you're not going to buy that crappy product.
My final word on Done for you Profit System
With all that being said here I can honestly say that this program is absolutely and definitely another stay away from one. The biggest problem with Matt's revolutionary system and his approach is that there many upsells in the program and the bad part of it, is that he doesn't mention it before you sign up to his "amazing ultra secret system".
If you're not satisfied with my review and still not sure whether you want to join this program or not, you can read other reviews on the web and I highly recommend you to read as many reviews as possible because that way you will be able to learn more "amazing" facts about Matt and his revolutionary, done for you, sit back and grab your commissions system.
I've been involved in internet marketing since 2000 and know how internet marketing works and I know how to spot scams. If you want to join legit program, build your very own business online and start making serious money on the internet, I can honestly recommend you the program that I tried myself.
The program is Wealthy Affiliate – #1 online business community in the world that helped thousands of people across the globe to build their very own businesses online and it helped me to build my very own business.
The program is absolutely free to join for the first 10 days. You can join and go through 10 lessons for free to understand how internet marketing works and then, if you want, you can upgrade to a premium account.
The program is legit and highly reputable on the internet. I highly recommend you to read my honest review of Wealthy Affiliate below before you join it so you can make an informed decision and if you have any questions, feel free to contact me. Or you can leave your comments below and we will discuss it further.
About the Author: Adam
My name is Adam. I'm the founder of Your Income Advisor. My goal is to help others succeed online, by exposing scams and reviewing top rated products. I can help you start
your own business online