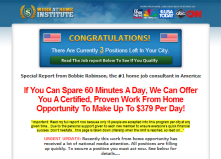 Product name: Work at Home Institute
Product owner: Bobbie Robinson
Website: wahinstitute.net
Price: $97, after discount $47
Verdict: Not recommended
Work at Home Institute by Bobbie Robinson has been around for a number of years now and to be honest in my opinion it's a very controversial opportunity for a number of good reasons and below I'm going to explain my position.
First off, there are many programs on the internet that are promoting the same product, i.e. one promoted by Work at Home Institute and an interesting fact is that they all use the same advertising methods. Among these programs I can mention Excel Cash Flow, Home Profit System, Online Profit Stream, Work at Home Paycheck etc.
All these websites look so much alike that they can be easily called copy paste websites which of course leaves a bad impression about them all and undermines their authority and trust.
So, keep reading and I will take a closer look at this "promising" opportunity so you can make your informed and independent decision.
Work at Home Institute is not a good start really. A complete waste of time and money. Allow me to help you and recommend a genuine program that has been around for 10 years now. I'm actually a member of this program. You can try it for FREE. No credit card required. No obligations whatsoever.
The main idea behind Work at Home Institute
As I said above, Work at Home Institute is a copy paste site that is very controversial and shady in my opinion. In fact, it's being advertised as a program that helps folks make money on the internet through a job known as link posting agent.
Though some legit programs can pay you for posting links and it's about a few cents per link at best, I can tell you that such profession doesn't exist and this type of advertising is misleading.
They describe it as an easy to complete and get paid immediately opportunity for which you can earn $20 per link or $379 a day. And a lot of folks fall for this type of promise because most of them have no any clue about making money online and any opportunity may seem real to them.
Pros of Work at Home Institute
Cons of Work at Home Institute

Inside the program
1. All these programs mentioned above advertise the same opportunity and try to convince folks that their program is reputable and has been mentioned in the news on CNN, USA Today, Fox etc.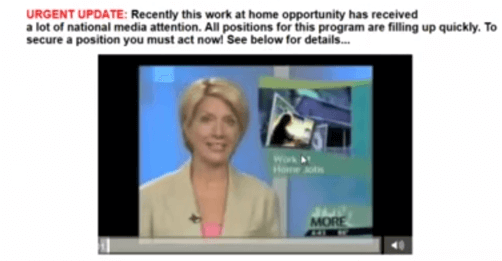 In fact, Work at Home Institute has never been mentioned in the news but what was actually mentioned were legit work from home opportunities and there were hundreds of them.
There is no any proof that WAHI is legit. There are no any real testimonials from satisfied customers. I think this is the first red flag to watch out for.
2. As I said above, there is no such a job as link posting agent as they try to persuade you. There are some legit programs that can pay you to post links but this opportunity is very limited and is not worth the time you spend completing these useless tasks. You can earn a few cents per link in the best scenario.
Work at Home Institute wants you to believe that you can be paid $20 per link which is not true.


I can tell you with full confidence that there is no such a program that will pay you so much money for posting links.
Can you really believe in this type of offer? It would change the whole industry and all people would quit their regular jobs if it was really that easy and possible.
I can tell you the truth about posting links offered by WAHI and let me explain the process. If you don't want to read my explanation you can skip to the next point # 3 below.
In fact, they teach you affiliate marketing which is a legit opportunity and they do provide training and their training is not bad though it's far from being perfect and if you are new to making money online this training is not a good option and even if you pay for it you will still have a lot of questions.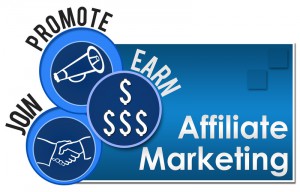 They don't provide any real support and there is no active community where you can post your question and get the answer. It's really bad. Affiliate marketing is the process of earning revenue by promoting products you don't actually own.
It's very popular method of making money online and I'm doing the same on my website. It's absolutely legit. In short, it works as follows:
You choose a product, write a description for your product, put this info on your website, then drive traffic, i.e. (visitors) from Google and when they read your product descriptions and click on your affiliate links you earn a commission.
In fact, it means that you post your affiliate links on your own website and make money which is a legit model.
The other way is to post links here and there, i.e. (spamming folks) in the hope that someone will click on your link and you will earn a commission. This model is not good because spamming folks is not good.
Talking about legit model, i.e. posting links on your own website doesn't mean that you will make money immediately because it takes time to write descriptions for different products and drive traffic from Google.
It takes a few months at least to start getting a few hundred visitors a day in order to start making money because the more visitors you have the more chances that some of them will click on your links and you will earn a commission.
I hope you see the whole picture now and understand that Work at Home Institute in fact uses manipulative method to make you believe that you can be paid $20 per link.
In theory and technically it's true but in fact it's not true because they want you to believe that you can just post a link and get paid $20 immediately. I believe you now understand that they are lying to you.

3. Another red flag is about making you believe that you can easily earn $379 a day by completing "simple" and "easy" tasks. Take a look at these 3 images below from 3 different programs:
Excel Cash Flow, Work at Home Institute and Home Profit System. I'm sure it can leave only a bad impression and anyone can easily understand that it's not normal.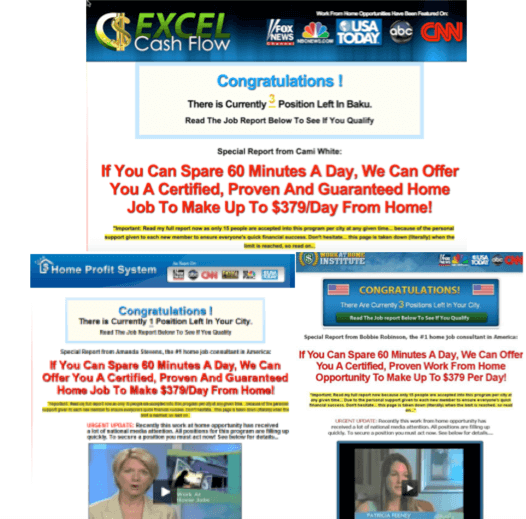 4. Another red flag to watch out for is about limited spots for this "amazing" opportunity. All this is designed to make you believe that you HAVE to ACT FAST or all positions will be gone.
I mean all these programs use the same method and the number of spots never actually changes. I think 3 is a magic number for all these programs 🙂

5. The next red flag for WAHI is this: All programs mentioned above use the same deceptive tactic by making you believe that thousands of companies are looking for people like you to post links and you can work as little or as much as you want because it doesn't really matter. No, sorry, it really does matter!

And of course they didn't forget to mention that all those companies are desperate for YOU 🙂 Take a look at these two images taken from two different websites. They are identical but there is a little difference: one font is blue and the other one is black.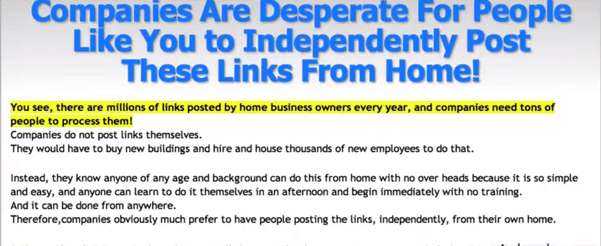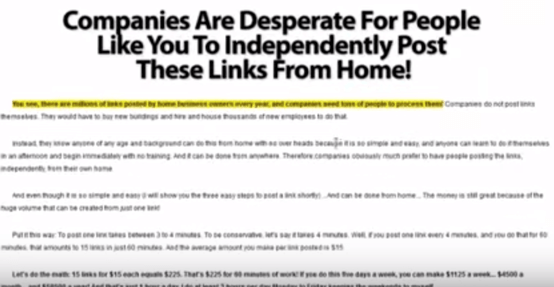 6. A magic calculator is another thing common to all these programs. It's just to help you have a better idea how much money you can make with Work at Home Institute. Take a look and think how much you want to earn. This magic calculator is the guarantee of your success.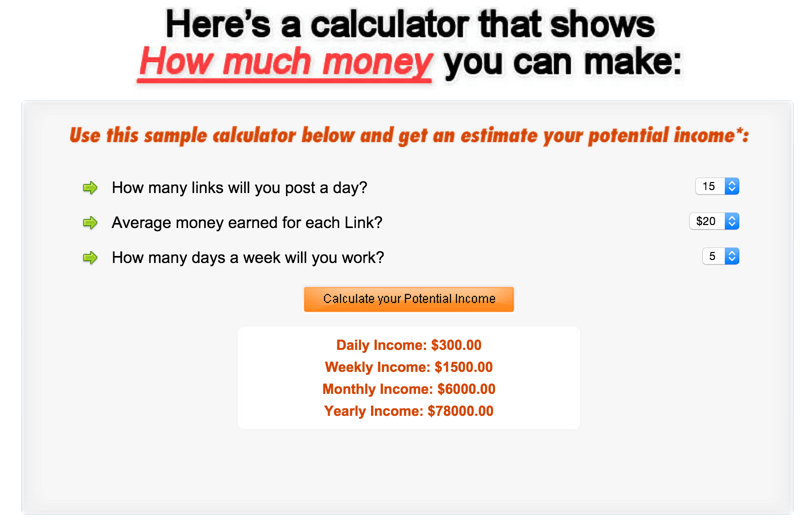 7. Another red flag to watch out for is that like all other programs mentioned above, Work at Home Institute asks you to submit your phone number during the registration. If you submit it then expect spam calls every week or every other week with ridiculous offers designed to empty your pockets.
8. Another red flag is that all link posting scams mentioned above have been shut down and only two of them are still live. Excel Cash Flow and WAHI. I think these two will disappear soon too.
9. A warning from a BBB.org is one of the major red flags to watch out for.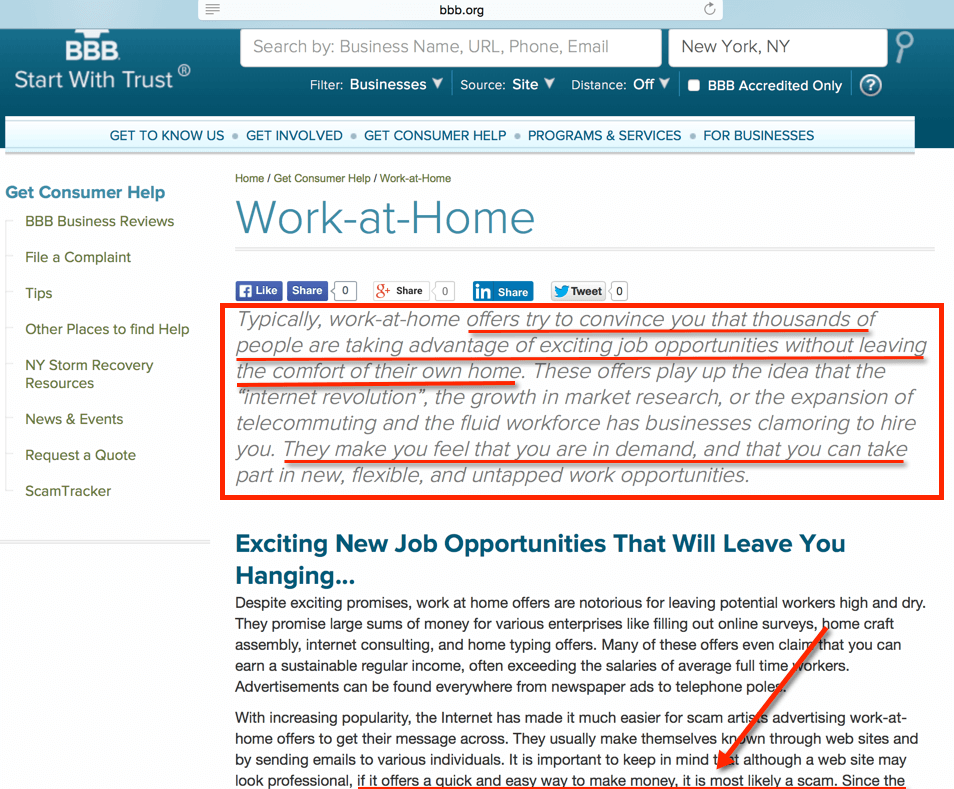 BBB warns you and explains how to know if a program is a scam. It's a scam if it
Offers you an exciting job opportunity
Promises easy way to make money
Makes you feel that you are in demand
10. Fake testimonials is another alarm signal to stay away from Work at Home Institute. Take a look at two images from two different programs and you be the judge.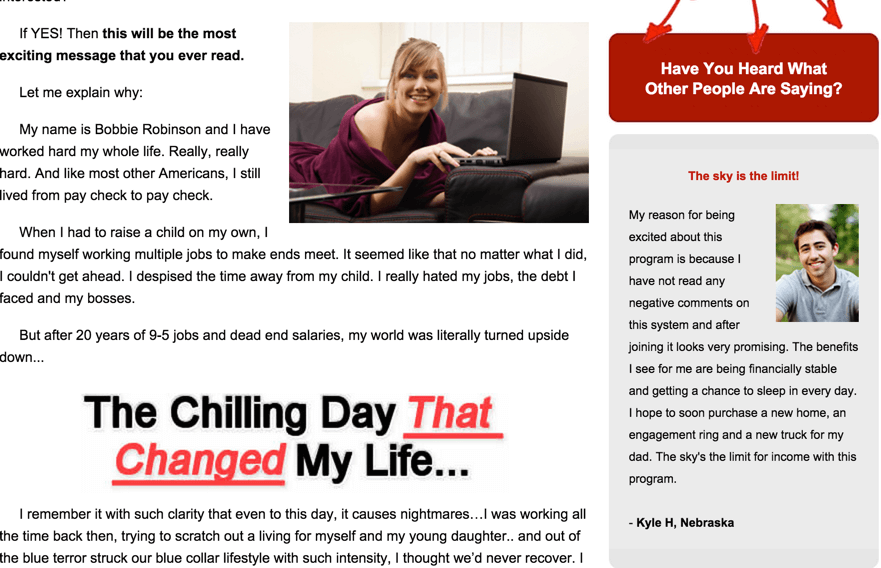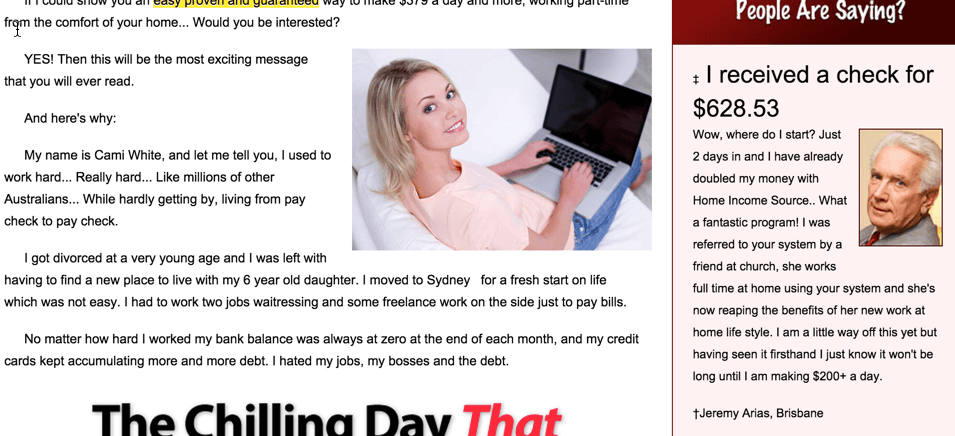 11. Look at some complaints that I found on the web about Work at Home Institute. I'm sure there are more of them out there if you continue to search the web. Some of the complaints are taken from ripoffreport.com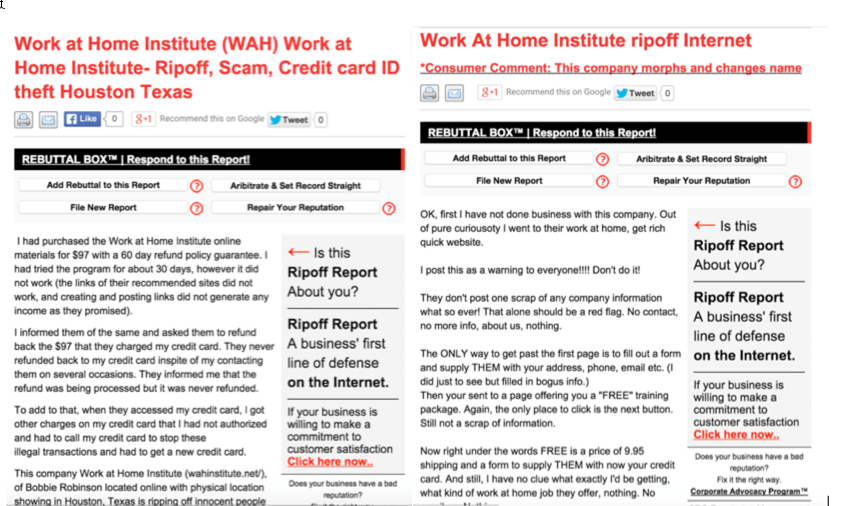 Final word on Work at Home Institute
I believe with all these red flags there is no way to trust Work at Home Institute though their training is not bad. If a program invents so many lies I think there is a good reason to not expect either a quality service or support from them. At least if you want to know my opinion I can't recommend it.
If you want to learn how to make money online the honest and legit way there is a program I've been a premium member of for almost 2 years now and yes, I'm making money from my website by posting links 🙂 thanks to this program by which I mean affiliate marketing.
It's absolutely legit and trustworthy program and it's been proven through years to teach people how to make money online. I never lie to my readers because I'm in the business and I respect my readers. I recommend only programs that I know are good and legit.
The program I'm talking about is free to try within 7 days and you even don't need a credit card to create your free trial account.
I honestly recommend you to read my review of this program called Wealthy Affiliate and create your trial account. You can ask me any questions and I will be happy to help you and answer all your questions.
About the Author: Adam
My name is Adam. I'm the founder of Your Income Advisor. My goal is to help others succeed online, by exposing scams and reviewing top rated products. I can help you start
your own business online