Product name: Alliance In Motion Global
Website: www.allianceinmotion.com
Price: No info
Owner: Eduardo Cabantog, Francis Miguel, John Asperin
Overall rank: 40 out of 100
Alliance in Motion Global 2020 Huge Update
According to revenue data Alliance in Motion Global is still a profitable company and there is a room for everyone who has experience in selling MLM healthy products.
But as I said, there is a room only for experienced sellers. If you have zero experience in selling face to face, you can hardly benefit from this opportunity.
If you are good at it, you can try yourself with AIM Global.
Revenue 2015: $180 million
Revenue 2016: $195 million
Revenue 2017: $220 million
Revenue 2018: $238 million
Revenue 2019: $238 million
AIM Global has hundreds of distributors and only a small group of them are top earners.
I don't know is it because AIM Global is the wrong company or is it because MLM system is bad.
There are many opinions among which is the opinion of Jon Taylor in his book "Multi-level Marketing Unmasked" where he says that 99.7% of people who join MLM business lose their money.
I think for the most part, it's true for most companies, not only for Alliance in Motion Global. Most AIM Global distributors are making less than $300 per year.
This doesn't mean if you join some other programs you will be making millions of dollars immediately.
But affiliate marketing or online freelancing is way more profitable than MLM business and you can't argue with that.
You will not find books that describe affiliate marketing as failing model while when it comes to MLM model, you will find a lot of negative info, comments, reviews etc.
Can you make money with Alliance in Motion Global in 2020?
The cost of starter package is $120 which I believe most people can afford.
But it's not just about $120 alone. You have to invest more and more money to buy AIM Global products and then sell them.
They are not free. If they were free that would be a great opportunity to make money. Unfortunately, MLM doesn't work that way.
You have to invest, buy and then sell. If you can sell products for which you need to have a lot of friends and be super socially active, you can make some money.
You also must be 18 years old to be able to join AIM Global.
Though AIM Global is advertised as a unique opportunity that can give you a financial freedom, it's far from reality.
This completely depends on your knowledge, experience and personal skills.
Considering cover-19 pandemic in 2020, I think your opportunity to make money with AIM Global will be very limited because of social distance problem.
I believe this will affect not only Alliance but all other MLM programs where face to face contact required.
Even considering all future pandemic problems, I think you better focus on choosing non MLM programs where you can easily perform all your activity online.
When joining AIM Global makes sense to you?
If you have enough money to invest in AIM products, probably at least $1000.
If your age is 18
If you have good communication skills
Good selling skills
Sign AIM Global distributor and application form
If you have AIM office in your country you need to submit Application Form to their office or if there is no office you can do it online.
AIM Global Benefits and Advantages
As a member of AIM Global you get in $228 package:
25% discount on all products you purchase from Alliance
Starer Kit ( Video CD, Insurance Certificate, Scholarship certificate)
Free medical check up
AIM Global Training to help you get started and become a successful AIM distributor
You can return the product if it is in good condition and expiry date is over 8 months and if it is defective
Your AIM webpage along with 24/7 support
How can you make money with Alliance?
You can purchase products with 25% discount and sell to others with your profit margin.
If you invite someone and they will buy AIM package you will earn a commission
The more people will join AIM through you and make money the more money you will earn from those whom you invited ($15 per referral)
You can also earn through match sales bonus, 1,200 points (approx. $40) from members you invited to AIM.
You can make money through your affiliate links, up to 15% per sale. In my opinion, this is the best way to make money if you have zero selling skills.
From each Global package you can earn $22.
From each repeat order you can earn 5%-10% from your invited member
As a Global ambassador your commissions can incurs up to 30% per sale
Alliance in Motion Global Major Issues
The major problem with Alliance in Motion Global is that as a member of AIM Global you are not allowed to join other networks like AIM Global or promote products of other companies like AIM Global. This is really a huge problem because this limits you seriously in your opportunities. You are a partner, not a slave to AIM Global in my opinion.
Another problem is that if you don't purchase products or can't make sales within 6 months you account will be terminated.
Since my last review compiled in 2016 where I pointed out to some technical issues on AIM Global website, it looks like not all issues have been fixed. See the screenshot.

Alliance in Motion Global worldwide branches
Alliance in Motion Global has branches in many countries, such as Brunei, HongKong, Japan, Kuwait, Pakistan, Philippines, Singapore, Taiwan, UAE, Saudi Arabia, Qatar, Africa, Fiji, Hawaii, Papua New Guinea.
I don't know the real reason but for some reasons products of AIM Global are well promoted and sold in countries other than USA, Canada, Europe, Australia. I have no time to go deep into details. I just leave it to your judgement.
Alliance in Motion Global Support
Hotline: +639774624361 Support Team: 8am – 10pm Mail: admin@aimglobalhq.com
What other people are saying about AIM Global
There are both positive and negative reviews.
I will not comment positive reviews because positive are positive.
When it comes to negative reviews they come down to following issues:
Products are overpriced
Image of AIM Global is not so good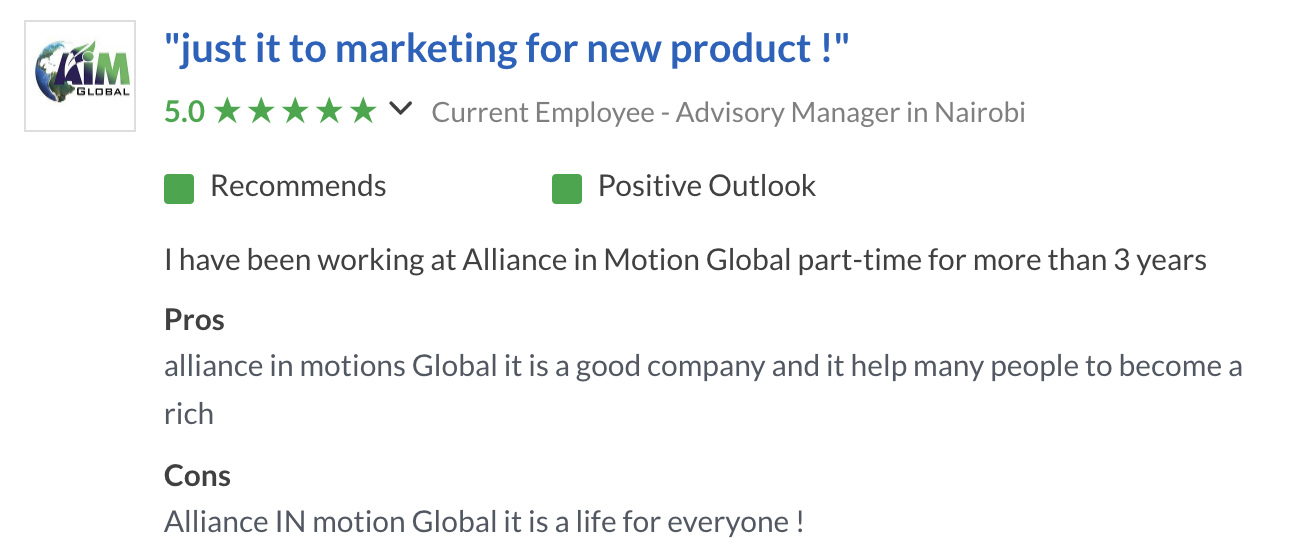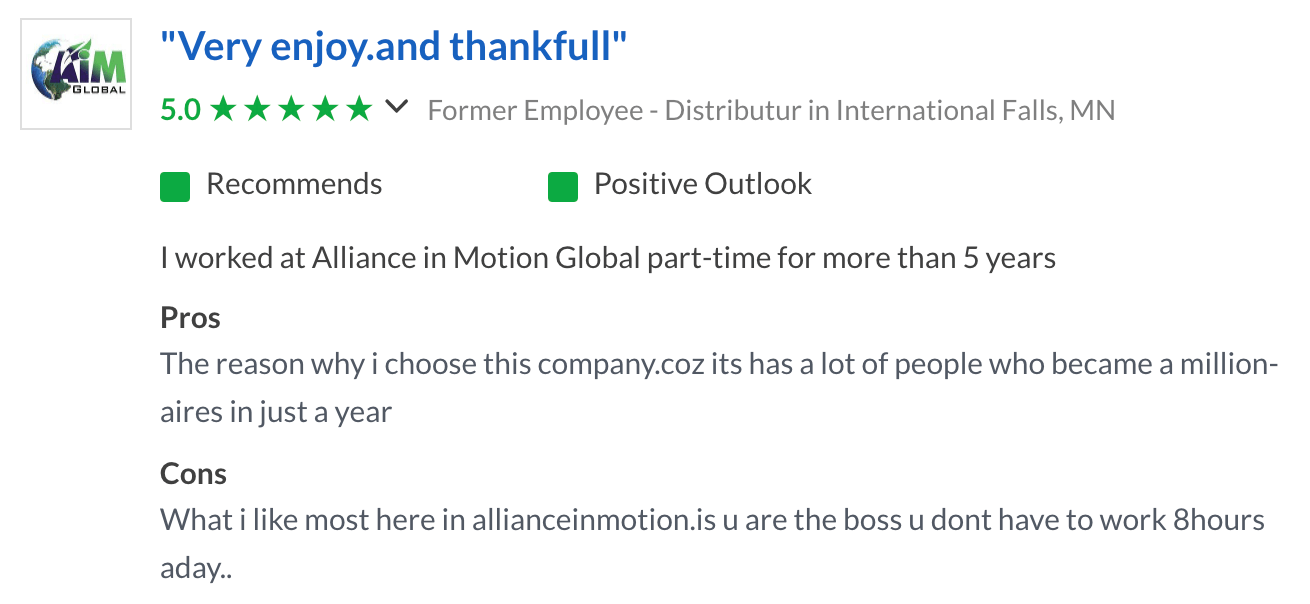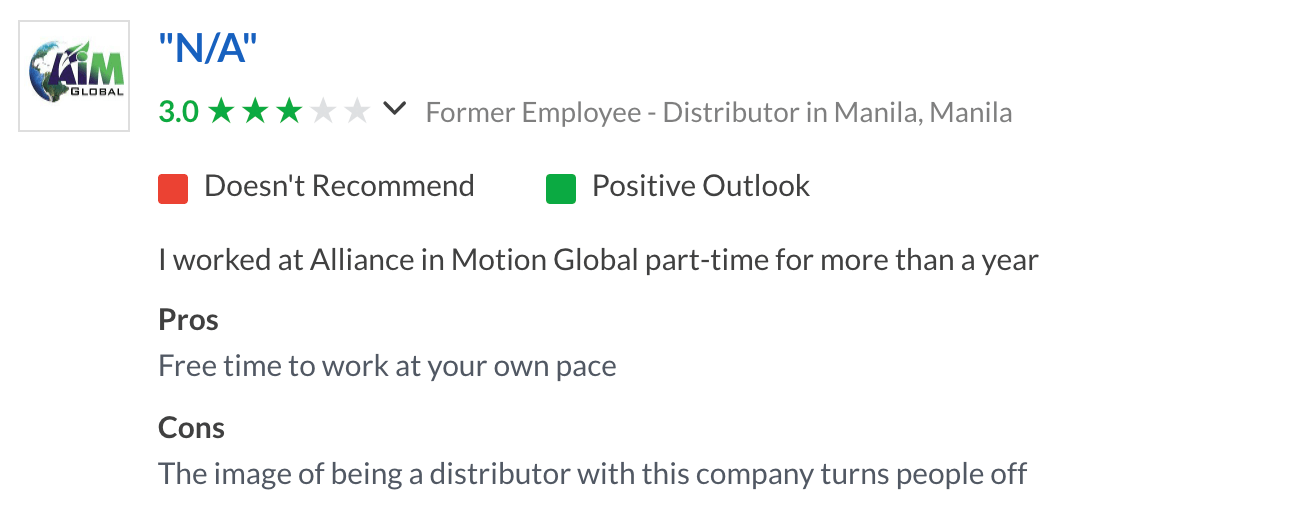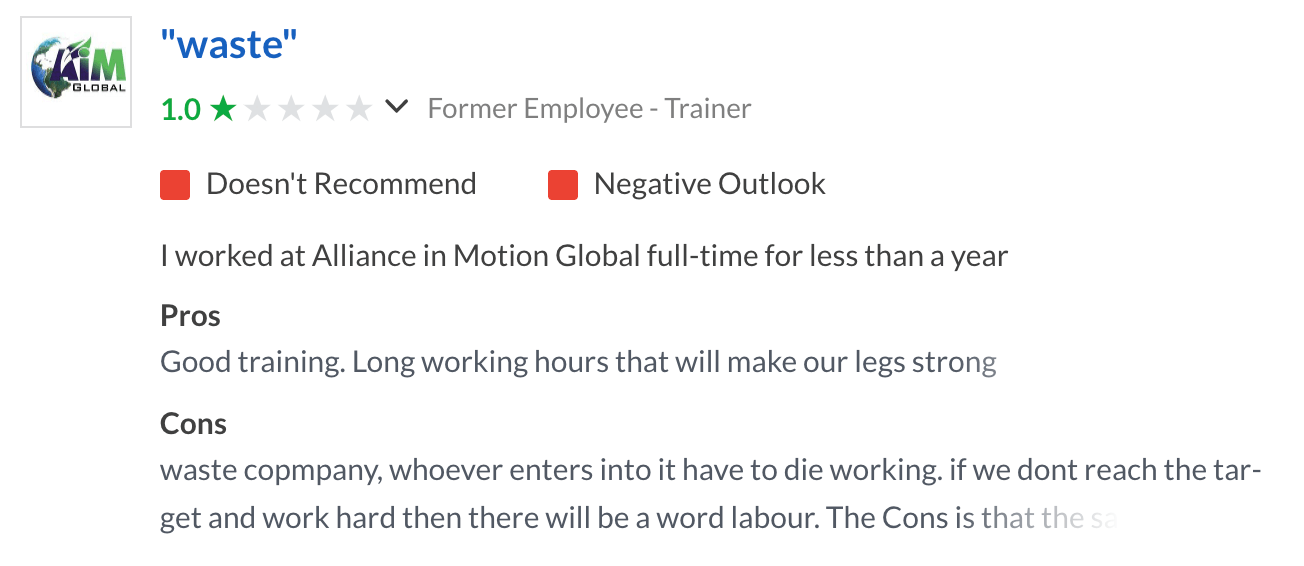 Alliance in Motion Global 2020 Verdict
The program is really controversial.
On the one hand, if you have experience in such an MLM activity and feel you can meet Aim Global 6 months (actual sales, purchase, referrals) requirement there is an opportunity for you to make money here.
AIM Global is not a scam. But like I said, there are some issues like:
You can't join other networks
You need to be active or your account will be terminated
AIM Global works well mostly in third countries
Most people fail in MLMs
COVID-19 pandemic is limiting your face-to-face activity
Even if you plan to Jon AIM Global I think you should mainly focus on affiliate marketing business model.
I think affiliate marketing can make you money without AIM Global.
Because with AIM Global you have to focus on promoting AIM Global products only.
Without AIM Global you are free to use affiliate marketing for promoting anything you want based on your passion and interest.
I think AIM Global limits you as an internet/affiliate marketer.
AIM GLOBAL Review
Alliance in Motion Global is one of those programs that make big claims and promises, but fail to deliver on even half of them. But don't expect me to say that it's a scam. No, it's not a scam.
What is the problem then? The problem is that they claim to be # 1 MLM company in the world, but in reality it's not. I don't know in which world they are # 1 MLM company, but in the world I live in, this company is not # 1 MLM.
Plus they make another ridiculous claim that they have a system in place that can help people like you and me become rich in a short space of time.
They claim they can help you achieve your dream and become financially independent and live a stress free life. And of course, they can help you achieve all of that because they have revolutionary products which is their another unsupported claim.
There is nothing revolutionary about their products because all MLM companies make pretty much the same claims and Alliance in Motion Global is not different from others.
Anyway, let's see if Alliance in Motion Global is worth your time and effort.
The main idea behind Alliance in Motion Global
Alliance in Motion Global is a classic MLM company founded by Eduardo Cabantog, John Asperin and Francis Miguel in 2005. The company sells food supplements manufactured by Nature's Way USA which is a very well known company.
They also sell products like cosmetics, male and female washes, multivitamins, premium blended beverages, chocolate drinks, toothpaste.
Alliance in Motion Global is a direct sales MLM company that requires from their members strong selling skills. If you are not a sales person, Alliance in Motion Global is not for you.
Pros of Alliance in Motion Global
Compensation plan
You can make money if you have selling skills
Cons of Alliance in Motion Global
False claims about being # 1 MLM company
You need a solid budget to buy AIM products
Requires direct face-to-face selling skills
Exaggerated claims about exaggerated benefits of AIM products
Requires you to recruit an army of other people so you can make money
Products are expensive like any other MLM products
Confusing compensation plan
Alliance in Motion Global is a classic MLM program. It's not a scam, but I can't recommend it either due to many reasons you can learn about in my review. If you are looking for a genuine money making program, allow me to help you and recommend a program called Wealthy Affiliate I've been a part of since 2013. It' FREE to join. No credit card required.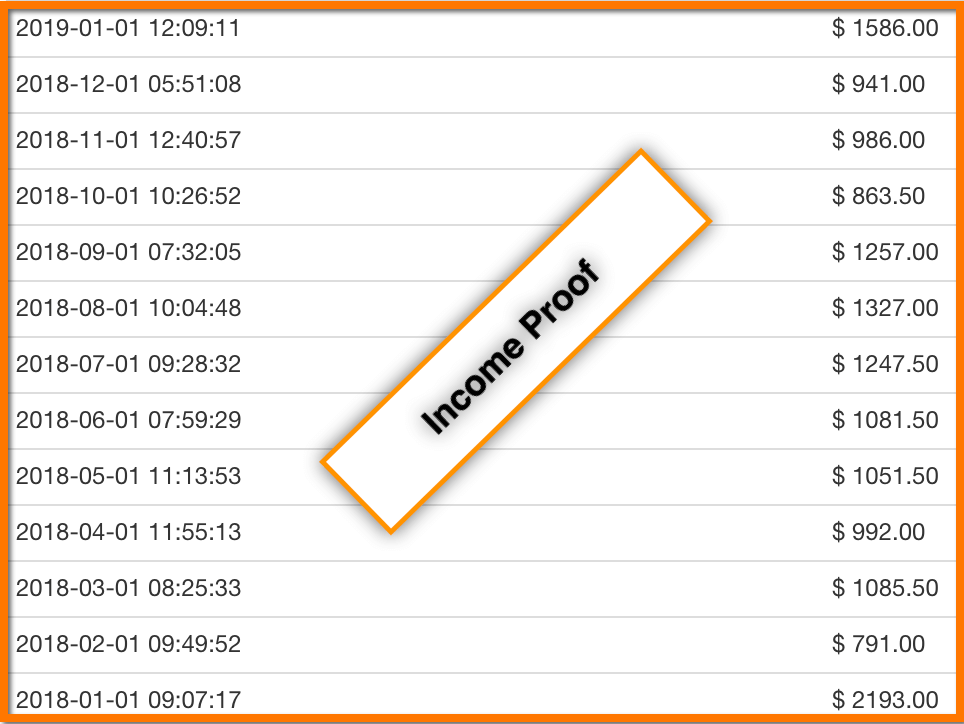 Alliance in Motion Global claims
First of all, I would like to say a few words about Alliance in Motion Global products. My main issue with MLM companies and their products is that they always make unrealistic claims about their products being super products and able to solve all your health problems.
It's a pretty standard claim common to almost all MLMs. But unfortunately, they can't provide any evidence that their products are really what they are claimed to be. If you take a look at the long list of the benefits of Alliance in Motion Global products you will be simply amazed.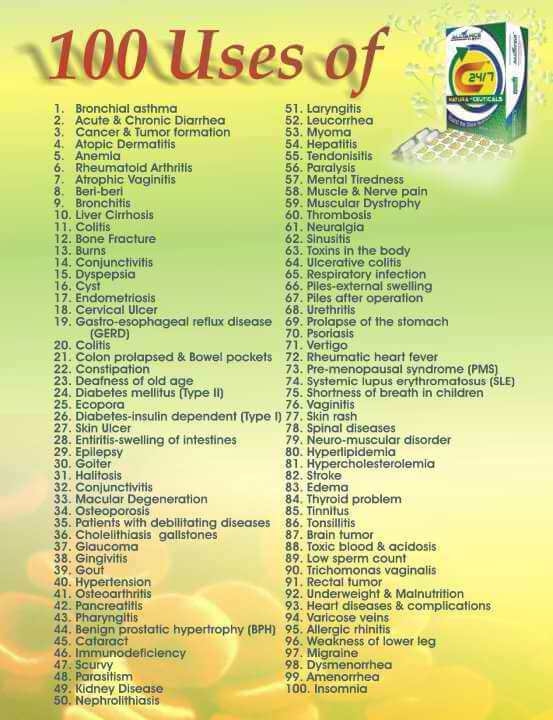 I've seen the same claims with other MLM companies. Some of them even claim that their products can cure you from such diseases as cancer. And the amazing fact is that MLM products can do what other products can't. This is a paradox.
And I don't really believe all it is true. And they always recommend to use their products over the course of a few months because this way they will be able to make more money out of you.
Plus their prices are always high and compared to other similar products it does look ridiculous and unrealistic in my opinion. I think you should take all such claims with a grain of salt.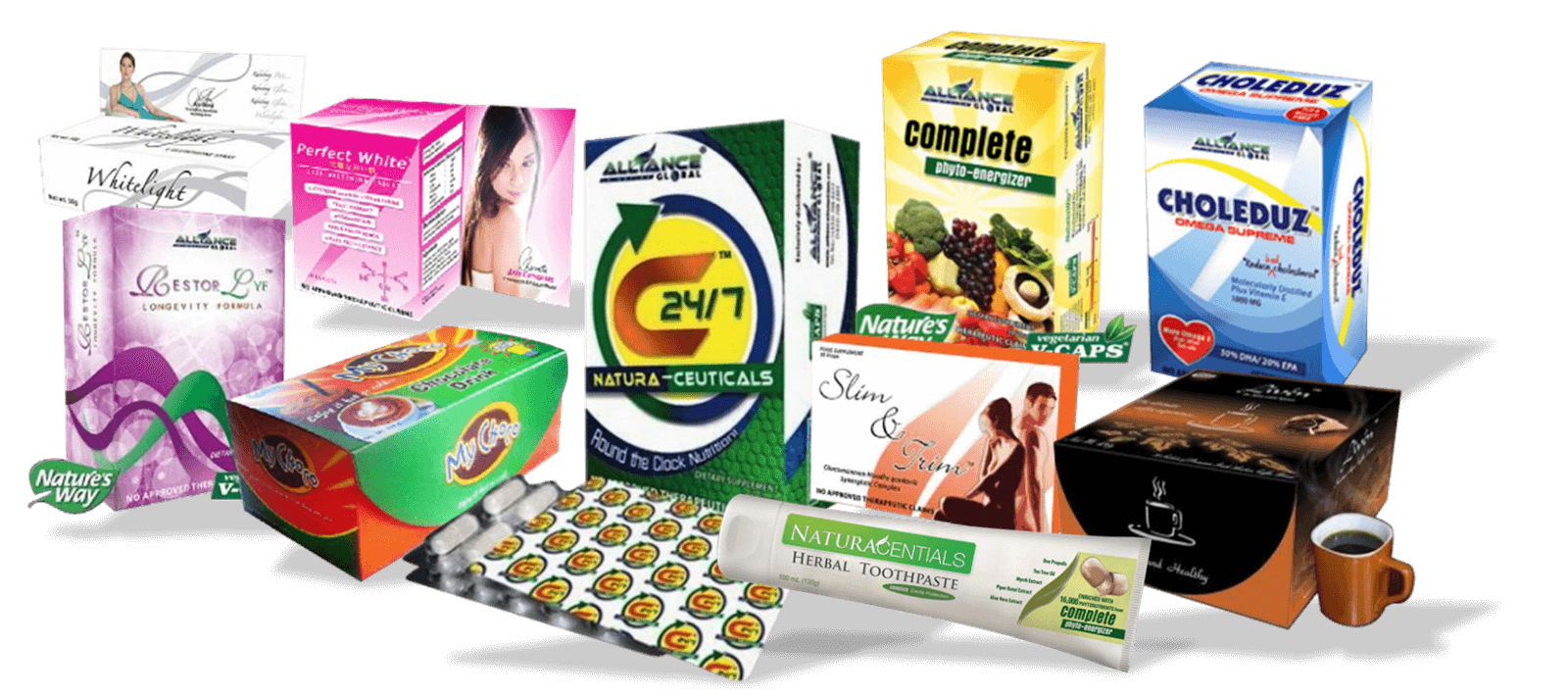 Alliance in Motion Global products
Another interesting fact is regarding Alliance in Motion Global claim that they are # 1 MLM program in the world. First off, they are not operating in all countries which means they can't be # 1 MLM company.
They have offices in Philippines, Singapore, Korea, Taiwan, Hawaii, Dubai, Nigeria, Ghana, Brunei, Kuwait, Malaysia and Indonesia. They are not operating in the largest markets, such as United States, Canada, Europe or Russia.
Of course, they have less competition, but it doesn't make them # 1 MLM company in the world. Anyway, their claim regarding being # 1 is based on the Online Poll made by a MLM Observer by the name of Mr. Ted Nuyten.
They have various products, such as chocolate drinks, coffee and many other drinks. For example, they claim that their drinks prevent degenerative diseases, reduce the risk of developing type 2 diabetes, prevent Parkinson's disease, enhances immune system, rejuvenate the skin etc.
They also sell skin whitening tablets designed mostly for asian people, but I can't really believe it's possible to whiten your skin using whitening tablets. How can it be possible?
I think it's possible if you are an MLM fan only. Because one of their slogan says: "Everything is possible." I don't think it is possible even with this slogan.
It proves my statement and ridiculous fact that what is impossible with other products becomes possible with MLM products. Anyway, here is the list of AIM products:
Products:
Nutritional products
KIDDI 24/7 Nutragammies
Restore Lyf
Slim & Trim
C 24/7 Nature-Ceuticals
Choleduz Omega Supreme
Complete Phyto-Energizer
Beverages
Liven Coffee (Sugar Free)
VIDA Cardio Vascular Drink
Alkaline Chocolate Drink
Liven Coffee (Cappucino)
Liven Coffee (Original)
Liven Coffee (Latte)
Nutritional CosmeCeuticals
Perfect White
White Light
NaturaCeuticals
Naturacentials Feminine Wash
Naturacentials Masculine Wash
Naturacentials Toothpaste
Naturacentials Whitening Soap
Another big problem with Alliance in Motion Global products is that you can buy them only in combo packages. Is it good? Sure, it's not. Because some products are popular while others are not.
Why should I buy products that I can't sell? Does it make sense? Remember that you are going to invest your own money into AIM products and if you fail to sell any of them that's your problem.
As I know, there is no money refund within Alliance in Motion Global program. But you can contact their support and ask if they have refund policy in case you can't sell their products.
You won't be able to find prices for their products on their website which is another major con because you can't even have an idea of how much money you are going to invest into Alliance in Motion Global products. They only show the value of their combo packages, but they don't show their real prices.
Also, you should keep in mind that Nature's Way USA is the manufacturer of Alliance in Motion products which means some of AIM products are identical to Nature's Way USA products. Instead of paying more for AIM products, you can buy similar products directly from Nature's Way USA.
How to become a member of Alliance in Motion Global?
To become a member and start making money with Alliance in Motion Global, you have to first buy one of their combo packages and then start promoting it.
When you buy their products, they suggest that you buy positions within their compensation plan. They have positions as follows:
1 position – $179.57
3 positions – $583.53
5 positions – $899.57
7 positions – $1256.57
This means the program is designed in a such a way to make more money out of you, not helping you.
As a distributor of Alliance in Motion Global you can have 25% discount on all AIM products. This allows them to sell AIM products at a higher price, but not less than SRP (Suggested Retail Price).
The difference of Alliance in Motion Global from other MLMs is that you can't simply recruit an army of other distributors and make money. You have to keep the balance when selling and recruiting.
This is regulated by their Flush-out system. To be honest, I hate MLMs because their schemes are always confusing.
Upon joining Alliance in Motion Global you pay $265 and get your business package which includes:
5 24/7 single packs
Video presentation CD
Startup sales kit
Registration form
An Alliance In Motion Global website
Insurance and scholarship certificate
Recruitment in motion
Like any other MLM company, Alliance in Motion Global success hugely depends on the number of people their members can recruit into the program.
And of course, they have a good compensation plan in place to encourage you to make an effort. Yes, it's true that they pay on many levels so you can make more money. But it doesn't make the process easier.
In order to be successful with MLM program in general and with Alliance in Motion Global in particular, you have to be equally successful in your recruiting and sales efforts.
If you can't make enough sales you can't make a big buck. Is it easy to make enough sales each month?
Of course, it's extremely hard. You also need to recruit other people into their program. The more people you recruit the more money you can make.
BUT you can make money thanks to your referrals ONLY IF they stay active, can make enough sales and recruit other into the program. This means when it comes to MLM programs, your success hugely depends on your referrals.
Otherwise you can't benefit from a MLM amazing compensation plan. AIM offers various levels, such as distributor, silver executive (10% commission), gold executive (20% commission), global ambassador (30% commission).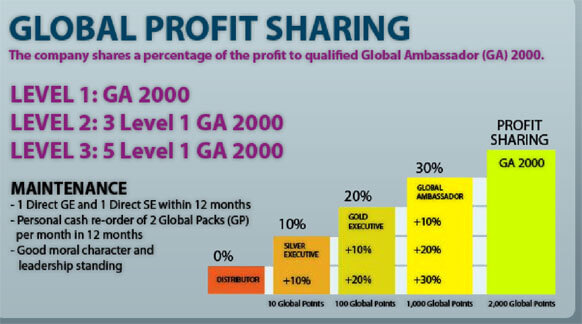 Another major con of all MLMs is that you are not free to promote what you want to promote. You only have ONE option. You have to promote certain products that you believe are super products. But what if you don't believe that they are really super.
It's very hard to promote something you don't believe is good enough and this of course will be one of the biggest obstacles on your way.
Compared to MLM model, when you join other programs, non-MLMs, you can promote anything you are passionate about. This is of course a game changer.
And remember that when you join non-mlm program, you can promote their products for free. When you join MLM programs like Alliance in Motion Global, you have to first buy their products and then promote them.
I think it becomes pretty clear that non-MLM has many obvious advantages over MLM type of business.
Some technical issues with Alliance in Motion website
I tried to enter AIM site and all I can say I wasn't impressed at all. First if all, I visited their product page and encountered some tech issues. Please take a look at their site.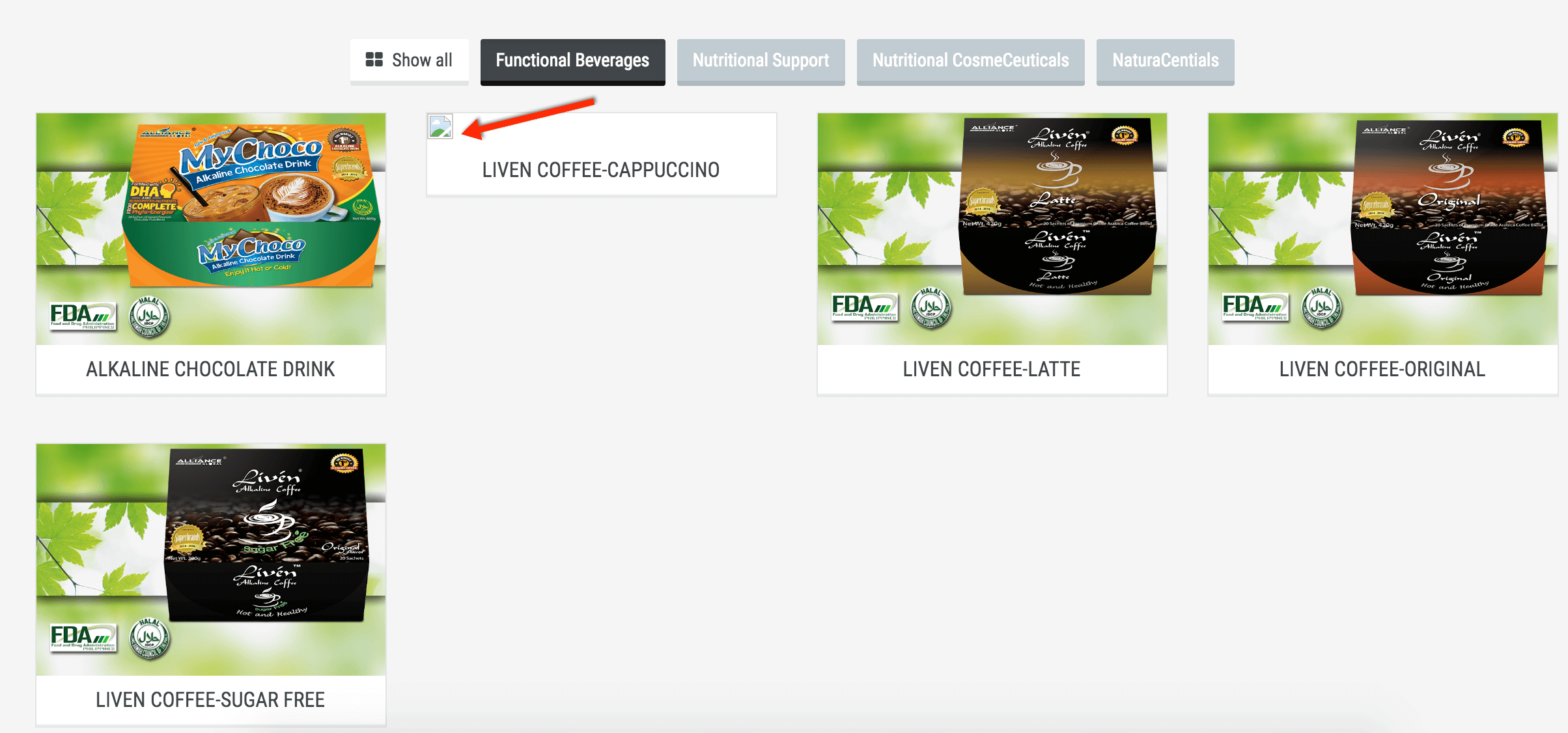 Some images are either broken or can't be loaded for some reason. I also encountered this. Take a look at the image below. I don't think successful company should have such issues on their website.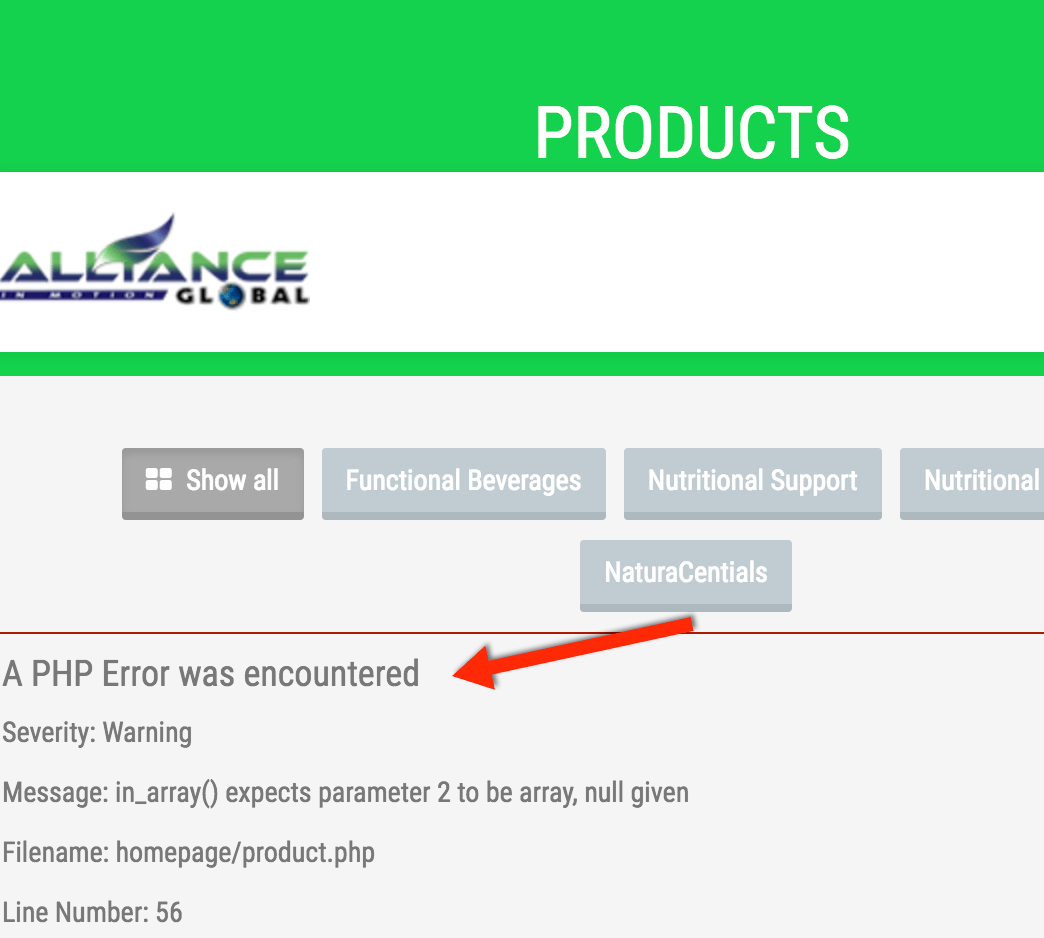 Can you really be successful with Alliance in Motion Global?
I would say YES and NO at the same time. Yes, because it's true that some people who have strong selling skills have been able to achieve success with Alliance in Motion Global.
But most people fail with MLMs because according to official organisations, such as FTC, most MLMs are pyramid schemes. You can read the document below if you want.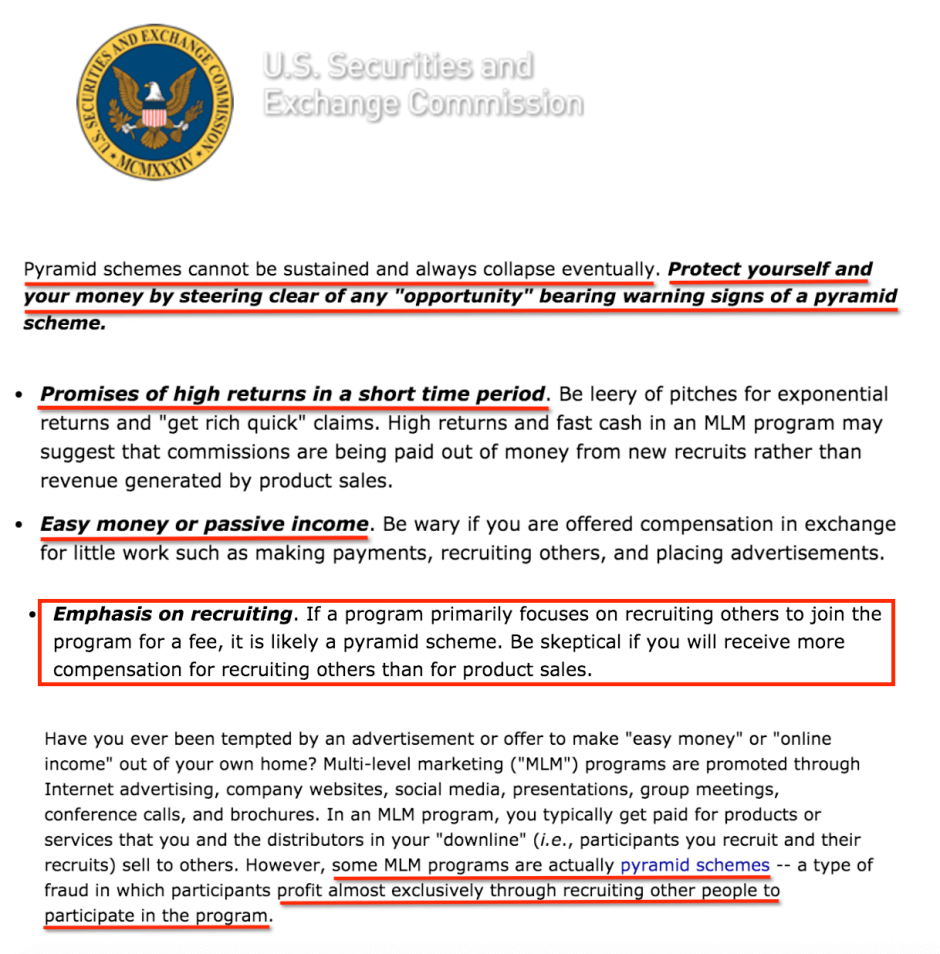 As you can see, in the warning below it's said about emphasis on recruiting and easy money and passive income idea which is the case with most MLMs, including Alliance in Motion Global.
Final word on Alliance in Motion Global
I think after reading my review it becomes absolutely clear that Alliance in Motion Global is NOT a scam, but it's just my opinion.
Many websites that review MMO products, are of the opinion that Alliance in Motion Global is a scam. In order to make the right decision let's summarise some facts about Alliance in Motion Global.
They claim that AIM products can prevent you from degenerative diseases, such as arthritis and rheumatism, reduces the risk of developing type 2 diabetes, prevents parkinson's diseases, enhances strengthens the immune system, enhances sexual vitality and more.
You can see the long list of the benefits above. I think some benefits are real, but I'm pretty sure others are not.
As I said in my other reviews of MLM products, it's pretty standard situation because all MLM make similar ridiculous claims regarding magic power of their products.
AIM is definitely not # 1 MLM program in the world. Their products are being sold the way that is not appealing at all. You have to buy one of their Global Packages or combo packages which makes things even worse for you.
If you are not a sales person, AIM is definitely not the right program for you.
You have to be really pushy in order to sell overpriced AIM products. And the people you recruit have to follow the same way in order for you to make a buck.
If they fail to apply the same strategies you won't make a big buck in this program because you won't be able to benefit from Alliance in Motion Global compensation plan.
This is the nature of almost all MLM program and that's why I never recommend MLMs to my website visitors and loyal readers.
Final glance at Alliance in Motion Global
Compensation plan
Mediocre products
False claims about being # 1 MLM company
You need a solid budget to buy AIM products
Requires direct face-to-face selling skills
False claims about exaggerated benefits of AIM's products
Requires you to recruit an army of other people so you can make money
Products are expensive like any other MLM products
Confusing compensation plan
Overall rank: 40 out of 100
About the Author: Adam
My name is Adam. I'm the founder of Your Income Advisor. My goal is to help others succeed online, by exposing scams and reviewing top rated products. I can help you start
your own business online