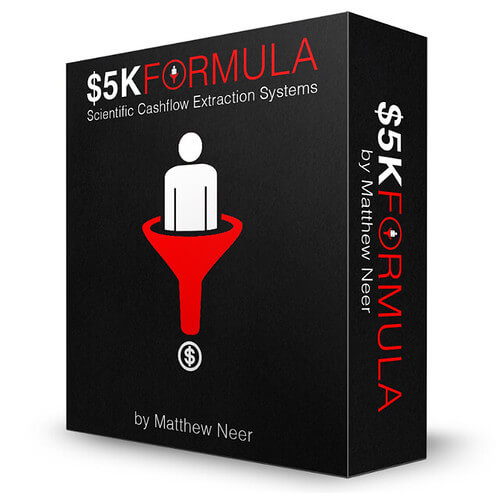 Product Name: $5K Formula
Website: 5KFormula.com
Founder: Matthew Neer
Price: $39.99 and other hidden costs
Overall score: 3 out of 5
Matthew Neer from 5K Formula has recently launched a program and claims to show you how to make $5K easily on autopilot.
He doesn't provide any proof though in the video he claims he does. His product is sold via Clickbank, a marketplace of digital products.
Many people still believe if a product is sold via Clickbank it means you can trust it. In fact, it's not the reality.
Clickbank is the place of many junk products and you really need to be careful when you plan to buy something from that place.
Our mission today is to find out if $5K Formula is worth your money or not. Let's start our research. Is $5K Formula a scam or legit? Let's find it out.
Short review of $5K Formula
$5K Formula by Matthew is the program that claims to teach you how to make money the easy way.
It means you don't need to create any product or think how to sell it.
All this was already done by Matthew. Now it's your turn to copy his steps and start making $5K per month on a complete autopilot.
This is what Matthew promises to show you. Is that true? Let's find it out.
Pros of $5K Formula
30 day money back guarantee
Basic training
Cons of $5K Formula
Unrealistic income claims and promises
Hidden costs (upsells)
Reliance on paid traffic
Looking for traffic or want to build an online business?

Choose one of these two my top recommended programs:
$5K Formula Review
The main problem with 5K formula is that like I said, what works for someone doesn't necessarily mean will work for you.
My funnel may work for me but I can't guarantee that it will work for you.
Because even if you have the best funnel in the world your income depends on the type of traffic you can bring to your sales funnel.
I don't know, maybe Matthew has a budget to buy traffic but I'm not sure about you. I have enough experience in buying PPC traffic from Bing and Google.
I know how it works. First of all, it's not cheap. For good results you may need $500-$1000 per month at least and results are not guaranteed.
You can easily waste your budget and get zero sales. You have to keep it in your mind.
Since you are going to promote specific product, sales funnel it means you don't have any content to be able to drive traffic from search engines.
You have to only buy traffic from search engines (PPC) or solo ads. Both will cost you money and as I said, results are not guaranteed.
That's why I hate all those "done for you" systems. Most of them are waste of time and money.
$5K Formula includes:
Live training by John Crestani
Orientation video
7 entrepreneurs success secrets
Traffic methods
Webinar by Crestani
Clickbank account set up
Getresponse account set up – $12.95/m
ClickMagick account set up – $12/m
Traffic Rotator set up -$19.95/m
Viral list builders set up
Solo ads – a few hundred $ per month
Done for your system -$94 (campaigns and squeeze pages)
Webinars -$97
License rights -$495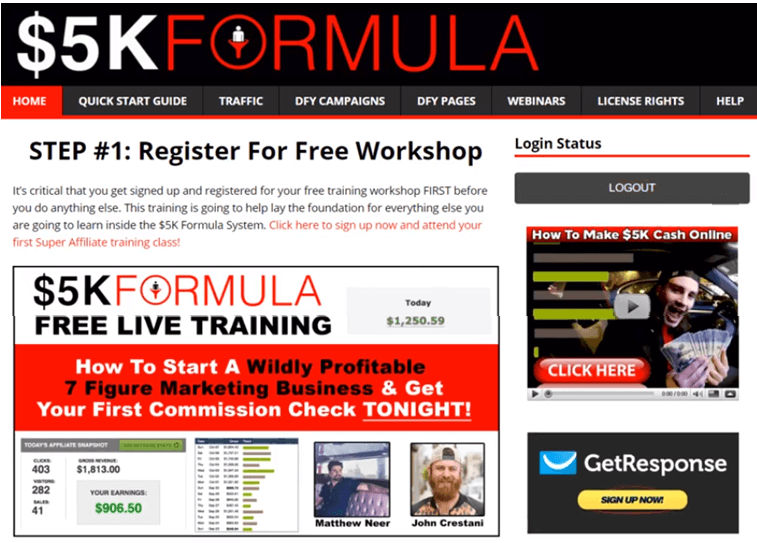 As a 5K formula affiliate you will be buying traffic from Instagram, Classified ads, solo ads, Click Trades, Lead Magnet, free traffic hangout, viral list builders.
For most of this you have to spend money. From my experience I can tell you that getting traffic to your business is the hardest thing in your business and # 1 key to your success online.
Most business online fail because they can't get traffic to their business. Free traffic requires a lot of time and effort and it can be unstable.
Paid traffic requires a lot of money and results are not guaranteed.
Considering that Matthew promises you to make $5K per month means you have to spend $1000-$2000 per month at least to get some decent results with $5K Formula.
It's hard to imagine how much you have to spend to earn $5K per month.
Inside $5K Formula members area you will be watching videos, reading some material and completing steps to make the system work for you.

Matthew also pushes some other products, such as Super Affiliate system by John Crestani.
You will learn how to set up your email campaigns, how to set up your autoresponder service, how to set up tracking service to track your email campaigns.
As I said, getting traffic will your hardest thing to set up because it requires a lot of money.
For example, solo ads will cost you approx $150 per one campaign. One campaign means you will get 200 clicks.
If you plan to run such campaign every week it will already cost you $600 per month. But I'm sure it will not be enough. You need at least double it to get some decent results.
This means only one strategy will cost you $1.200 per month.
But there are still many other strategies that Matthew teaches you, such as autoresponder service, ClickMagic, traffic sources, Traffic Rotator, webinars, squeeze pages, done fo you stuff.
Can you imagine how much money you need to spend?
Who is $5K Formula For?
$5K Formula is for those who don't want to do anything and still make a lot of money. Is that possible? Matthew claims it is possible and even very easy.
Unfortunately, it is far from reality. If you want to lose your money then join $5K Formula immediately.
If you want to save your money then continue reading my review.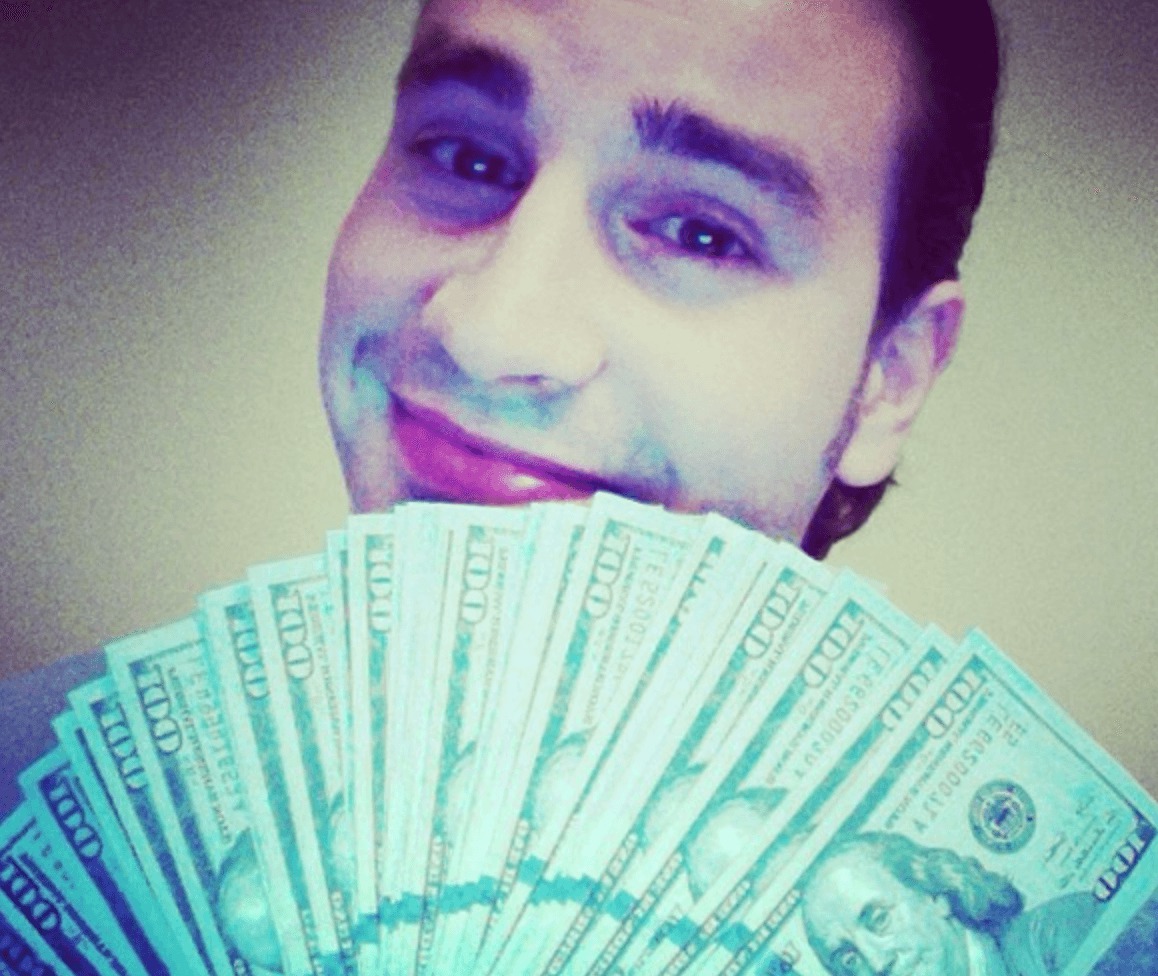 How Does $5K Formula Work?
$5K Formula works only for those who have money to invest in paid advertising. It's going to cost a lot of money.
It's not enough to pay $39 for the product. You still need to buy other upsells and invest in paid traffic.
Support
You can ask for support via email and wait for the answer for up to 2,3 days. With this kind of support I don't think you can achieve anything online.
It reminds me of two other internet marketers, such as Anthony Morrison (Success with Anthony) and George Brown ( Google Sniper).
Pricing policy
I think from my review and approach it's crystal clear that I don't like Matthew's pricing policy. It's geared towards making more money off you instead of helping you get started.
He simply doesn't care whether you are new or advanced. All he wants your money and fast.
Refund policy
Thanks to $5K Formula being on Clickbank marketplace you can ask for refund if you don't like the product.
Anyway, to avoid headache and problems I don't recommend to pay and then ask for refund.
I already explained what $5K Formula is all about.
5K Formula Upsell Machine
As I said, there are Manu upsells here:
$19.95 – Traffic bonus
$24.95 – "Done for you" stuff
$39.99 – Email swipes
$97 – Access to motivational videos
$495 – License rights

Other than these upsells you still need to pay for GetResponse – $12.95 per month. For Clickmagic – $12 per month. Traffic Rotator – $19.95 per month.
Solo ads will cost you a few hundred $ per month. Done for you campaigns will cost you $47 per month. Can you imagine it?
You are going to spend all this money and you don't even know when how much you are going to earn with $5K Formula.
Are you willing to join Matthew in this project? Can you afford it? I personally wouldn't.
For example, one upsell for $97 – videos includes videos, such as:
Online Wealth Formula
Power Profit Pulling Forum
Marketing Fantastic 4 Money Intensifiers
How To Flip Domain Names For Thousands
Internet Marketing Conspiracies
Internet Marketing Commandments
Why Blogging Sucks With Special Guest And SEO Guru
Content Is Cash
License rights for $495 is not a good idea at all in my opinion.
On one hand it's good that own the product and keep all the profit but it doesn't mean you can profit from it.
As I said, you need traffic without which you can't make a single dollar online. For traffic you need money to invest continuously.
If you can't do it then forget about this product.
What I like about The $5K Formula
I like the idea Matthew is promoting here about giving you a "done for you" system.
With systems like this one you have almost nothing to do other than spending money to buy traffic and send to your offer.
But very often if not always systems like this work well for their creators and don't work well for those who tries to copy it. $5K Formula is not an exception here.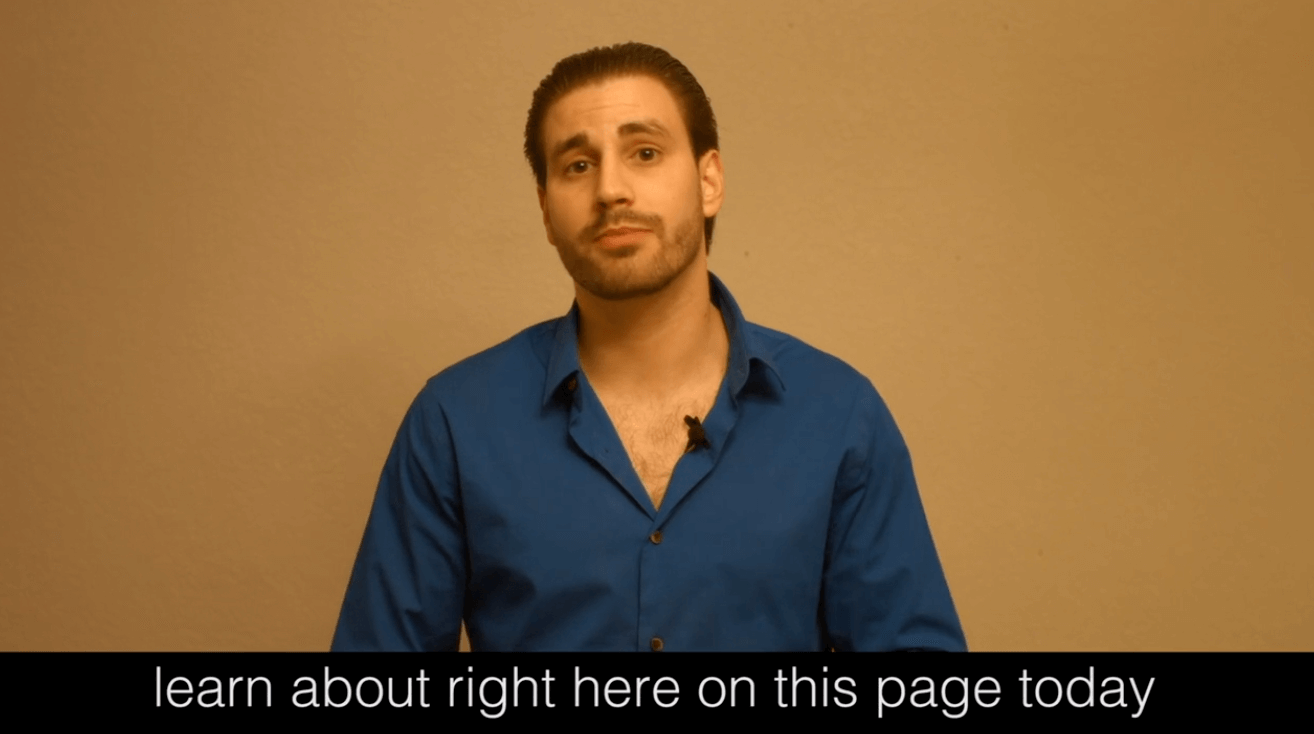 What I don't like about $5K Formula
There are a few things I don't like about $5K Formula. On one hand it's very normal when you don't like something about any program.
On the other hand, it looks shady and untrustworthy when you find too many or a few but serious negative aspects about the program under review.
In this specific case when you watch a video on the sales page of $5K Formula Matthew goes to to bank to withdraw $5 that he earned as a result of following $5K Formula.
Many bloggers including myself are of the opinion that this can't be a proof to Matthew's earning from 5k Formula.
Anyone can go to the a bank and take a loan or withdraw his savings. It doesn't mean Matthew made this money from 5K Formula.
Matthew doesn't show any real proof unfortunately. In my opinion it looks untrustworthy and deceptive.
Especially, if you look at the screenshot below you will see that Matthew claims you can make $5,000 for free. Is that really free? Of course, he is lying to you.
It can't be free simply because he teaches you paid traffic methods. But in the video he says multiple times that his system is free.
I really can't understand why he is lying. It's so obvious.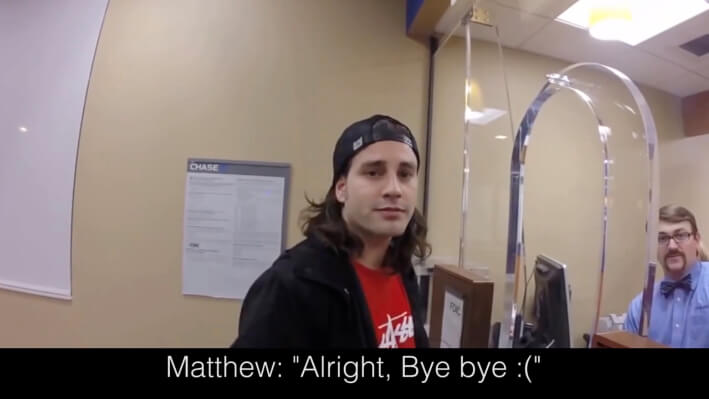 There are programs online that teach folks legit business model which means setting up a business based on your passion and interest.
This is the very foundation of making money online through affiliate marketing.
And there are programs like 5K Formula that don't teach anything other than copying their steps and for doing it they promise you a lot of money on autopilot.
They have a sales funnel that works for them and now they want you to join their sales funnel and make it work for you.
Sales funnel is a combination of marketing strategies or steps designed to catch someone's attention and convince them to make a purchase.
Such methods work for their creators and often times don't work for people like you and me.
That's why I don't like 5K Formula and the like because instead of teaching you legit affiliate marketing strategies they try to get you into the funnel and then convince you to do the same for other people.
This type of business doesn't work very often.
Another negative aspect of 5K Formula is that it doesn't offer any new approach or product.
Like many other programs I've reviewed this program is designed to take your money through a chain of multiple products (upsells).
It is when you buy an initial product and then realize that you still have to buy a few other products to unlock the full potential of the program. I don't welcome such approach.
Matthew also claims he has a done for your system that will do all the work for you if you pay more to Matthew. I'm really full of this type of done for you offers that don't work often times or almost always.
The worst thing about $5K Formula is that in this thing Matthew doesn't teach you anything worthwhile related to affiliate marketing.
The only thing he does is trying to convince you to copy his steps and spend money for traffic.
In fact, you are going to join $5K Formula and start immediately promoting it to other people to do the same.
I mean there is no real value in this system. It's not about building a business. It's all about copying steps.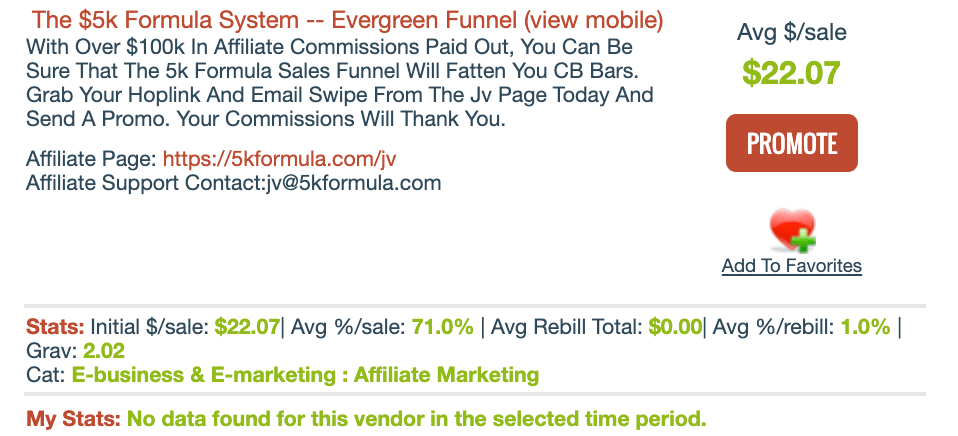 I checked $5K Formula on Clickbank and it has very low gravity 2,02 on the marketplace.
This means it is not sold like hot cakes though Matthew claims his product is a great sales funnel that you can easily promote and make a lot of money.
Matthew shows in the video luxury cars, houses. It's an old and outdated strategy to be honest but it does work.
They always show this kind of stuff to catch people's attention. Don't fall for it.
In the video Matthew also talks about how difficult it may be to set up your sales funnel properly which is true to some extent. But it's super difficult to be honest.
You don't need to be a programmer though Matthew claims you have to be.
The only reason he advocates this idea is to convince you to pay more money for upsells or so called "done for you" stuff.
Can you really profit from $5K Formula?
Theoretically speaking, of course you can profit from $5K Formula. Anyone can do it. The idea of having a sales funnel to make money is absolutely legit.
But this idea works if you do things properly. If you really try to help people by teaching them legit strategies and giving them valuable info.
In case with Matthew I don't see any value other than pushing his product to others through people like you and me using paid methods.
As Matthew says all you need to be successful with his done for your system is to follow 5 simple and easy steps:
Login to your $5K Formula account
Connect your commission link
Select your traffic source
Point traffic source to your commission link
Sit back, relax and make commissions
Believe me, it's not going to so easy. I'm sure you will not get same results that Matthew can achieve.
In order to make a lot of sales you need to lie to people exactly Matthew does it. You need to have deceptive and misleading sales pages like Matthew has. And in fact, he has it.
If you copy his steps maybe you can make some good money with his system. But for this to happen you need to invest money in paid traffic.
Is $5K Formula a Scam?
$5k Formula is not a scam. I don't like products like $5K Formula because of their shady nature.
Though the product looks legit the creator is surrounded with suspicious actions.
He claims his product is like a digital ATM or it's a scientific cashflow extraction system.
Things like that are normally done by scammers. Though $5K Formula is a legit product I don't recommend it.
What will be the future of $5K Formula?
An overall feel of $5K Formula sales page is not good in my opinion. It looks like many other scams that I've seen in the past 5 years.
I don't mean $5K Formula is a scam.
I mean the page has too many deceptive images of Matthew showing money and fancy houses. It looks cheap.
I don't like such programs and internet marketers. It doesn't look trustworthy at all.
I don't know what will be the future of $5K Formula for people like you. I don't expect anything good to be honest.
When it comes to Matthew's future and his product $5K Formula I don't think it will be bright.
As I said, there are too many deceptive strategies in the program and gravity rate on Clickbank is very low.
Though Matthew claims he is making a ton of money there is no proof to his product being super popular on Clickbank marketplace.
Final review of $5K Formula
30 day money back guarantee
Basic training
Unrealistic income claims and promises
Hidden costs (upsells)
Reliance on paid traffic
Overall score:

3 out of 5
About the Author: Adam
My name is Adam. I'm the founder of Your Income Advisor. My goal is to help others succeed online, by exposing scams and reviewing top rated products. I can help you start
your own business online