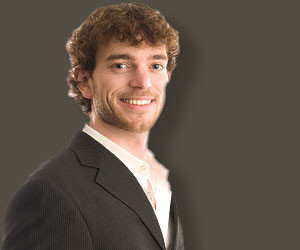 Anthony Morrison's products:
Success with Anthony
Partner with Anthony
Fast Traffic Formula
Who likes Money
Inbox Inner Circle
Anthony Morrison is a young internet entrepreneur who has become an internet millionaire at the age of 24 and he has been featured in CNN, Los Angeles Times, FOX9. That's true. He is also an author of two books, "The Hidden Millionaire" and "Advertising Profits From Home".
You can find a lot of information about him on the internet and to be honest, one can get confused very easily for not being able to figure out if this guy is the real deal or just another time waster.
But it's true that he has been making a lot of money for a few years now and has his own company which is very successful. He has released various money making courses and has been selling his products successfully over the past few years now.
But I have to admit that he is not a scammer though some of his marketing methods are not completely ethical in my opinion. There are many complaints about him and his products on the internet and anyone can find them through Google search.
Especially, one of his products called "Success with Anthony" was removed from a Clickbank – online marketplace for digital information products. Normally, Clickbank removes products due to a high number of refund claims and I suppose this is what happened to Anthony's product.
In my present review I'm going to briefly review some of Anthony's products so that you can understand what this guy can offer you and then I will share with you some of my thoughts about Anthony Morrison in order to help you come to the right decision on whether you should buy his products or forget them completely.
Anthony Morrison's products: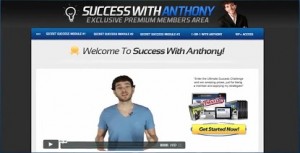 Success with Anthony
Success with Anthony is a money making course that consists of PDF guides and videos that can teach you how to make money online and all the information is based on Anthony's personal experience.
This course contains a lot of useful information on SEO (search engine optimization), using social media sites, such as Facebook, Twitter, Youtube etc, email marketing and paid advertising.
The price is $67 or you can make two payments of $49. Plus, there are several upsells within the members area. Many traffic methods that Anthony teaches you are not actually free you have to pay for them.
If you have money to spend that's ok. If you don't have money, that's bad. You won't be able to use this course to its full potential. In order to take advantage of Anthony's email course which is a part of "Success with Anthony" program you need to sign up for Aweber service that alone will cost you $228 per year (up to 500 subscribers).
Of course, email marketing is a proven method in an online business but it takes a considerable amount of time to build a list of subscribers. Social media course contains a lot of good strategies and it will also take time before you start getting traffic from social sites.
In SEO course Anthony Morrison suggests that you pay for the traffic (webfire.com) and this alone will cost you $41 per month.
In general, the main problem here is that Anthony Morrison claims that once you buy his course you will be able to apply the knowledge and become another success story which is not true.
I'm not saying that Success with Anthony is a waste of time. No. The program is good, but when you watch Anthony's promo video you may think that it's so easy to become a millionaire, just buy the course, apply the knowledge and enjoy the millionaire lifestyle only to realize that it's not going to happen.
To be honest, if you apply the knowledge you can get from this course, you can make money, but it's not about millions of dollars. And even when it comes to making a few thousands of dollars, you need to work really hard before you can see some even decent results of your online efforts.
Plus, the main problem of this product is that Anthony doesn't provide any real support. You can contact his support desk, not Anthony himself, and get some support. In my opinion, email support is not enough in order to succeed online.

Partner with Anthony
Partner with Anthony is an email course that will teach you how to use email marketing to scale up your online business and take it to another level. The product is not a scam and contains a lot of useful information.
But in order to take advantage of Partner with Anthony which is $67 BTW, you need to pay for the autoresponder service, such as Aweber which will cost you $228 per year. Inside the members area of Partner with Anthony not everything is free either and some services will cost you a buck.
The program though consists of videos and PDF files. You will also learn how to use solo ads which means you need to pay in order to get your ad in front of someone else's email list.
In this case you don't need to build your own list of subscribers which is good. But solo ad method when talking about quality and responsive list is not cheap.
I mean if you think you will pay $67 for Anthony's Partner with Anthony course and start making thousands of dollars, this will not happen because applying this knowledge will require time, effort and investment. And you may not and most likely won't get the results Anthony promises in his promo video.

Fast Traffic Formula
Fast Traffic Formula is a training course that will teach you how to benefit from paid traffic method called PPV or CPV (pay per view or cost per view). Compared to PPC (pay per click) where you pay for the actual click, in case of PPV or CPV you pay for getting your ad viewed by others which is similar to Google adsense.
PPC traffic is much more effective than PPV or CPV, but the latter is much cheaper too. The method Anthony Morrison teaches you in this course is not bad but the problem is that you again need to invest money in order to buy traffic.
Also, inside the members area you still need to buy some other products (upsells) in order to benefit from the course. There is no guarantee that you will make any money with this method. Some people invest in paid traffic and can't get the results they expect and then quit.
That's why, this method is not for everyone and if you don't have money you can afford to lose on paid traffic then you would better first focus on free methods, such as SEO and then move on to paid traffic.

Who Likes Money
I think Who Likes Money is the worst product from the desk of Anthony Morrison because it teaches you unethical practices, such as stealing email addresses from Facebook users and then sending them offers based on their interests.
Using this method you probably can make a few sales, but when it comes to making thousands of dollars Anthony promises you, I'm sure it's nothing more than a hype. He even promises you to make $5000 in 72 hours.
I hate when I see someone making such big claims because in most cases they are simply not realistic. I'm sure, most people will simply delete this type of message. I want to ask you a question: Have you ever purchased something from someone you have never subscribed to?
I think Who Likes Money is not worth your money, but still I can't say it's a scam. Just don't expect to get the results Anthony does promise you.

Inbox Inner Circle
Inbox Inner Circle from Anthony Morrison is about teaching you email marketing method. As I said in many of my articles, this method is legit and has been proven through years. The problem with Inbox Inner Circle is that Anthony guarantees you success and even promises to build your list of subscribers for you.
Like with all other Anthony's products, after buying Inbox Inner Circle you still have to buy some other products and spend around $400. Coaching program with Anthony is very expensive. In order to use email marketing you need Aweber which requires investment too.
Anyway, the product is not bad, but it requires more and more investment. If you can afford it then it's up to you. But don't expect thousands of dollars in your bank account right away.
Is Anthony Morrison a scammer?
The question is: Is Anthony Morrison a scammer? No, he is not a scammer although you can find many negative reviews about him on the internet. He created several products based on his experience and we have to respect him for the efforts he put in creation of these products.
They are not useless. They contain a lot of useful information and good strategies. I can't agree with all his strategies though, but if you apply the knowledge you can get from his courses you can achieve success. But it will take months or even maybe years before you will see good results.
The bad thing about Anthony is that he makes false promises he fails to deliver on. There are many upsells in each of his products and this is bad because it requires investment you don't expect when buying his product. I think this is a little dishonest. Anyway, he is not a scammer, but very controversial person.
What kind of support can you expect from Anthony Morrison?
Support is VERY important when it comes to starting an online business and I told about it almost in all my articles. Support is CRITICAL for your online success. I've seen many people quit due to being unable to get support when they needed it. I see it almost every day.
Unfortunately, Anthony doesn't provide any real support. Only by email which is not effective. The worst thing is that you can't get support directly from him. He is simply unreachable. The only way is through a private coaching which will cost you a buck.
Can you succeed with Anthony Morrison and how soon?
The question is: Can you really succeed with Anthony? It really depends on many factors. Yes, you can IF you have tons of patience, are willing to WORK HARD and have enough money to invest in all products Anthony Morrison tries to sell you.
But all this becomes a little unrealistic with the kind of support he provides. And private coaching is not something everyone can afford.
Are there any complaints about Anthony Morrison?
Yes, unfortunately, there are many complaints about Anthony Morrison which is really bad for his reputation. I simply can't investigate all those complaints to find out exactly reasons behind every complaint. Anyway, they are and there are many complaints.
My little investigation shows that it's because he makes false promises and can't deliver what people expect from him based on his own promises. And he doesn't provide timely support.
I see these two reasons for which Anthony Morrison is responsible himself. Take a look at some of the complaints I've found on the web and here is the discussion about Anthony Morrison on dslreports forum.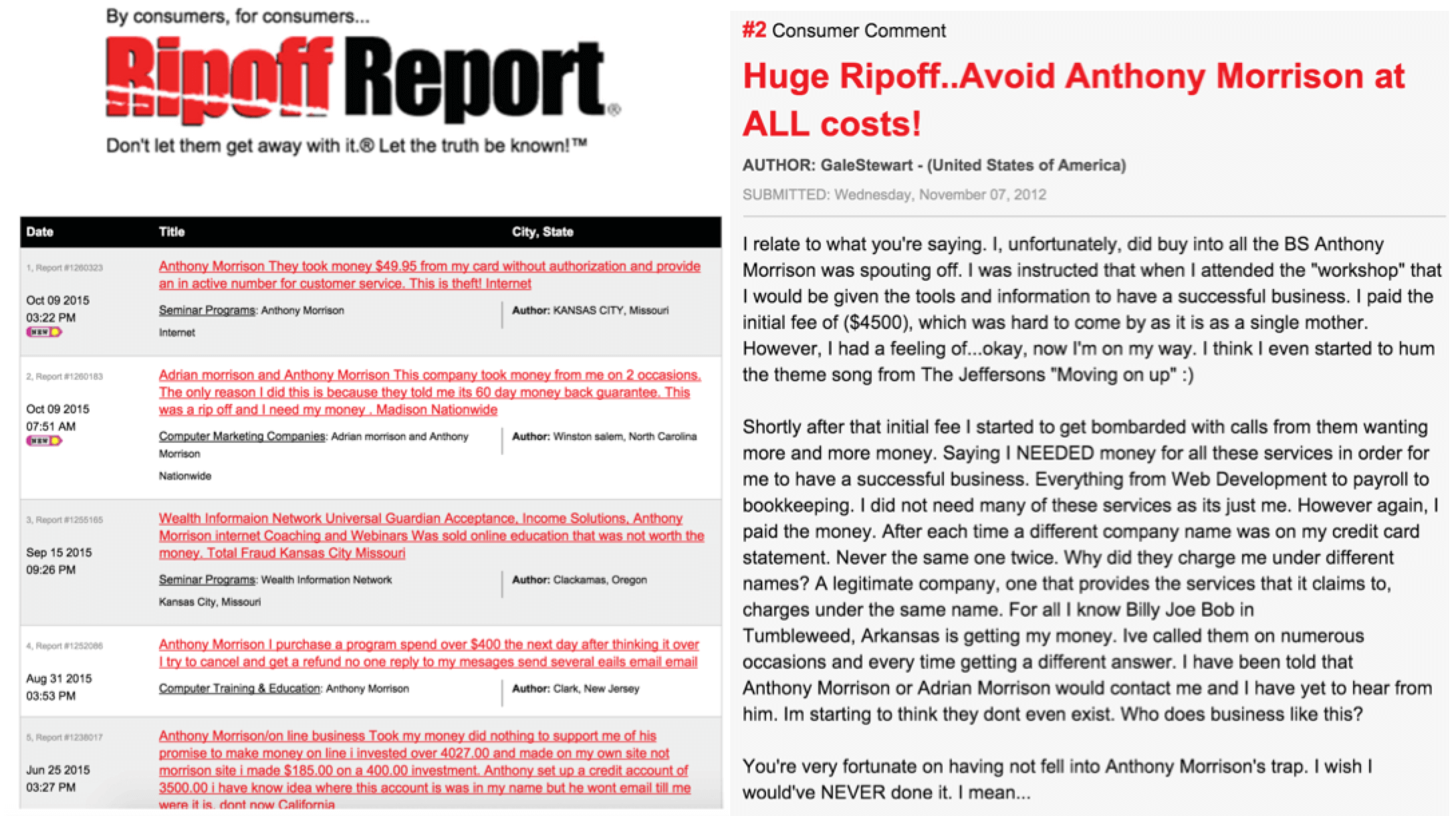 Final word on Anthony Morrison
As you can see from my review, I was very honest with you. I see many reviews in Google or YouTube and most sites are not completely honest. They call every program a scam only for the sake of promoting their own product.
I really did my best and tried to explain exactly what each of his products is about and what you can expect from Anthony Morrison. As you can see, most of his products require additional investment and not everyone can afford it.
The worst thing is that he never tells anything about upsells in his promo videos which is very bad because people don't expect these upsells.
Support is the major issue with all his training courses which is very bad because online success is the combination of quality education and support. Fail to get any of these two and you will fail.
Finally, if you are looking for a money making program that has been proven through years and provides quality support, I can recommend you a program that is absolutely free to try.
And I've been a member of this program over the past two years and have no plans to ever leave it. Feel free to contact me if you have any questions and I will respond within a few hours. Most of the time I respond within minutes.
A few quick questions and final verdict on Anthony Morrison
1. Does Anthony Morrison deliver on his promises? Unfortunately, he doesn't.
2. Can you contact Anthony himself to get support from him directly? No, you can't. The support is outsourced to support desk. Anthony is simply unreachable.
3. Is it easy to get help? No, The only way is via email.
4. Is Anthony's training up-to-date? No, some strategies are outdated.
5. Does he provide a money back guarantee? Yes, but it's very confusing. He offers 60 and 365 day money back guarantee at the same time.
6. Do his products include everything? No. You still need to buy many other products (upsells) in order to use his program to its full potential.
7. Are people happy with Anthony Morrison's products? He is a very controversial person and his products are not the best products available online though they are not scams.
8. Do I recommend his products? I can't confidently recommend because they are by far not the best courses on the web.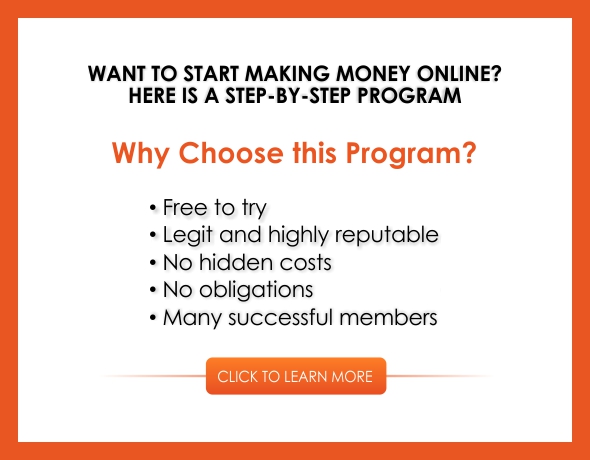 About the Author: Adam
My name is Adam. I'm the founder of Your Income Advisor. My goal is to help others succeed online, by exposing scams and reviewing top rated products. I can help you start
your own business online