Product name: Who likes money
Product owner: Anthony Morrison, DC Fawcett
Website: who-likes-money.com
Price: $49, after discount $7
Verdict: Not recommended
Who Likes Money? Everyone likes money 🙂 This is just another program from the desk of Anthony Morrison, a notorious online scammer. His name is very well known on the web due to creating a number of products that theoretically should help you make money, but in reality they fail to deliver on the promises.
Anthony Morrison has created products like Success with Anthony, IncomeEdu, Inbox Inner Circle. You can read about his products here. The major problem is that though Anthony himself is making money he doesn't seem to want to create a product that can really help folks learn how to make money online the honest and legit way.
If you read some of my reviews of Anthony's products you will understand what I'm talking about. Unfortunately, it's very normal for most internet marketers that I know.
As for Who Likes Money, nothing has changed and Morrison again tries to teach folks how to make money through unethical methods and in my review I'm going to reveal some facts so you can make the right decision.
The main idea behind Who Likes Money
The idea of Who Likes Money is pretty simple. You have to use Anthony's software to steal emails from Facebook users and then send them product offers based on their interests and make money.
Technically, you can do it and probably make some money, but it's not going to work long because it's unethical and you will be banned very soon. Besides that, don't expect desired results simply because most people don't take action when they receive a product offer from someone's email they haven't subscribed to.
Pros of Who Likes Money
You can probably make a few bucks
Cons of Who Likes Money
Anthony has a bad reputation
Unethical practices
Poor support
False promises
Inside the program
1. Ideally, you can make money through email marketing or Facebook advertising and in this sense Anthony is not lying to you. But practically, even if used, you shouldn't expect as much money as Anthony and Fawcett promise you.
Their advertising tactics are absolutely misleading and I honestly don't recommend their program. The main problem is that collecting emails in the way Anthony teaches you is against Facebook's Terms of Service and if you follow Anthony's instructions you will be banned from Facebook very soon. It's not a long term strategy.
2. I know internet marketing from my personal experience and can guarantee you that even if you follow Anthony's recommendations and apply unethical methods he teaches you, you won't get as good results as you expect.
Email marketing is legit method used in internet marketing and is very effective when you send a product offer to your own list because your subscribers know and trust you. When it's done the way Anthony teaches you it's not going to work because you steal emails and those people won't trust you.
In the best scenario very few people will respond or take action when they receive your email and you can probably make a few bucks. It's not a business.
3. They use some deceptive tactics in their sales video, such as promising that you can make a few thousands of dollars in a day or two. This is not true.
Fawcett claims that you can make as much as over $5000 in 72 hours from Facebook traffic. I'm saying that it's not true. Only few internet marketers out of thousands can do it. That's why, their promise is misleading.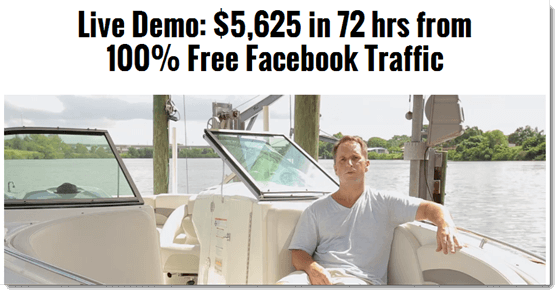 4. They also claim that Facebook owners don't want people to know of the secret method these two guys claim to teach you. This is not true of course. Instead, Facebook wants to make more money by creating more opportunities for advertisers.
5. You should also know that DC Fawcett is a notorious scammer and has created many poor products over the years. Long story short, both guys have a bad reputation for creating poor products with poor support.
6. As I said above, Who Likes Money is about teaching you how to create a Facebook fan page and then building your list of subscribers through getting likes. So, it works as follows: you create a Facebook fan page (you will be explained it in the members area) and start using Anthony's software called "Who Extractor".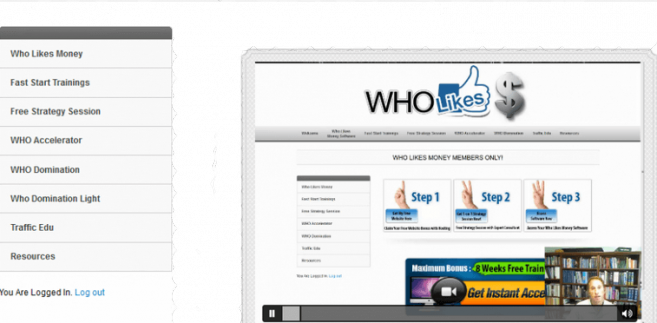 The software allows you to do search for specific topics discussed on Facebook and related to the topic of your fan page and then the software finds all people's profiles that discuss and are interested in the same topic. Once it's done, you can steal those emails (from people's profiles) and add them to your own fan page.
After that you can start spamming folks in the hope that someone will buy your promoted product. Anthony has already used similar tactic in his another poor product called Predator. As I mentioned above, it goes against Facebook Terms and your account will be banned very soon.
7. Also, when you start sending emails to "your" subscribers without their permission, I'm sure that most people will mark your emails as spam and that's really bad because your autoresponder account may be banned too.
8. Besides that, these two guys are not going to teach you how to write emails effectively which is very important to be successful with this method. You must learn some basics to understand how email marketing works and the best course I can recommend you is Autoresponder Madness.
9. There is no real support which is very normal for Anthony and Fawcett based on what I know about them and the series of poor products they've created in the past. Without support you can't get anywhere!
I personally haven't purchased this software, but some of my friends who have purchased it couldn't get access to the software even after contacting Anthony. This is really interesting.
After all this information, do you really think you can expect anything positive from these two guys? To me, it's a waste of time and money.
Final word on Who Likes Money
Though their software is called Who likes money, I think no one is going to like it.
If you are serious about learning how internet marketing works and making money online, I can recommend you the course that I personally used to start my own business online. The program is absolutely legit, has supreme 24/7 support and never makes any false promises to anyone.
I've been a premium member of this program since 2013 and have no plans to ever leave it. You can ask me any questions and I will be happy to help. You can even try the program within a week before you make your final decision.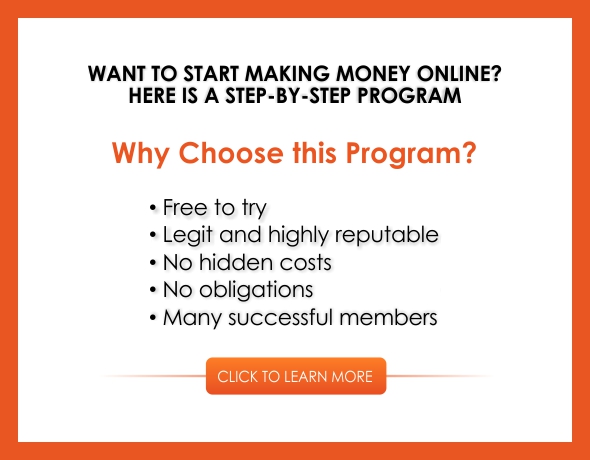 About the Author: Adam
My name is Adam. I'm the founder of Your Income Advisor. My goal is to help others succeed online, by exposing scams and reviewing top rated products. I can help you start
your own business online