Product name: IncomeEDU
Product owner: Anthony Morrison
Website: incomeedu.com
Price: $49 per month, $1 trial
Verdict: Not recommended
I have come across IncomeEdu a few days ago and decided to write my review because Anthony Morrison is an amazing guy who himself though is making money and knows how internet marketing works, but till now hasn't created any product that could help other people make money too.
I don't know the reason, but I tend to think that there are two reasons for that. One reason is because he wants quick money and creating quality training or program requires time and hard work and the second reason is because he is not good at teaching people.
It's very normal because many people have some knowledge and experience but very few are really good at teaching other people.
When it comes to Anthony, it's not good because people pay him real money in the hope that he can help them, but like many other self proclaimed gurus he doesn't seem to care much about people or his own reputation. In my review of IncomeEdu I'm going to explain why you don't need to join IncomeEdu.
The main idea behind IncomeEdu
IncomeEdu is a membership site that offers people "quality" marketing services and is mainly a set of internet marketing products designed to help you make money online.
Though Anthony Morrison claims that IncomeEdu has a clear mission of providing cutting edge high quality marketing content, it's not clear at all what their mission is all about.
Taking into account Anthony's reputation for creating a whole line of poor products, I don't expect anything great in his new product IncomeEdu.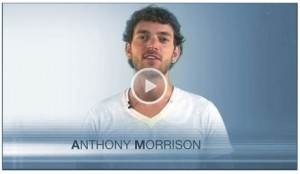 Pros of IncomeEdu
Trial for $1
Some good products
Cons of IncomeEdu
Monthly payment is way too expensive for this type of product
Anthony has a bad reputation on the web
No step-by-step training
No real support
Inside the program
1. First off, Anthony has a bad reputation on the internet and is a notorious scammer. I reviewed a few of his products and none of them seem to work as well as Anthony falsely claims it to. All his products have major flaws and if you buy one you will be left on your own to figure out how things should work.
If you still are a bit skeptical about my words you can read my reviews and learn some facts that will open your eyes to Anthony's approach to product creation. Once you read my honest reviews you will realize that you can't expect a lot from this guy.
2. Once you pay Anthony $1 for a trial and get access to the members area you will be offered to pay for another product (software) supposed to help you automate the whole making money process and this one will cost you $97.
Of course, all this is done for the sake of making more money off you, not helping you. There is no such a software that can automate the process of making money online. This is absolutely a ridiculous statement.
3. Some internet marketing products Anthony offers you are useful while many of them are old enough and using them is not a good idea. I don't like the idea of this product simply because if you are new to internet marketing you will get confused with all this stuff thrown on you.
Normally, newbies need a step-by-step training, both video classes and text tutorials in order to get trained in internet marketing. This is exactly what you won't find inside IncomeEdu.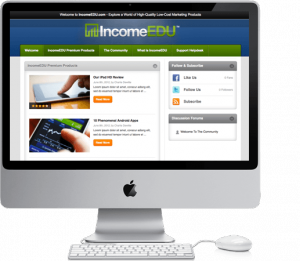 4. On IncomeEdu site you won't find a reasonable explanation of what you are going to get inside this product. They explain the whole process as follows:
Step 1 – In depth market research. They claim that their team is going to search for make money opportunities for you.
Step 2 – Once they have discovered those opportunities they start implementation and testing to provide you with the best and proven programs.
Step 3 – They claim to teach you how to implement those methods to achieve success.
I don't know what you think about this process, but based on my experience, I can say that all this looks very shady and ridiculous to me.
5. Once you get access to all these "amazing" internet marketing products, as I said above, you will have to figure out all the things on your own. There are no any exact instructions what to do. Long story short, all these products (about 100 products) are thrown on you.
If you are just starting online and have no any clue about internet marketing then IncomeEdu is definitely NOT for you. And if you are experienced, you don't need IncomeEdu at all because there are many other and MUCH better alternatives to Anthony's program.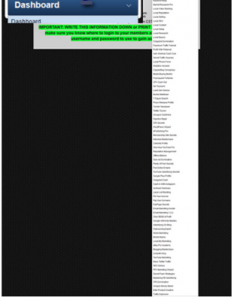 6. The major problem with IncomeEdu is that like with all other Anthony's products, there is no real support. You even can't contact the owner of this product before purchase to ask questions if you have any.
This is very similar to set and forget cash generating machines promoted across the web. Anthony's program looks like "sell and forget about your customer" type of product.
7. Inside the members area you will also be offered to buy another product "Automated Traffic Suite" which means that they will help you with the traffic to your site. This product is not recommended at all.
I've seen many similar products and trust me, they won't send you any good traffic. In most cases, it's absolutely useless.
If you want quality traffic to your site you MUST work on this yourself by creating quality content and optimizing it for search engines, by sharing your content on social media, by creating YouTube channel, by using email marketing etc.
8. Compared to IncomeEdu that will cost you $49 per month with no hosting, no sites, no live chat, no support, no quality training, YOU can get all this in one place called Wealthy Affiliate I'm a premium member of since 2013.
WA is legit and reputable program on the web that has been online since 2005. The best part of it is that you can try it for free within a week and that's really great because very few programs provide this opportunity.
Final word on Anthony's IncomeEdu
I recommend you to stay away from Anthony and his IncomeEdu program. Though it contains some useful info, it's not a complete product with poor support. I think it's a waste of time and money. I suggest that you read my review of WA and try it for free and if you have any questions I will be happy to help you out.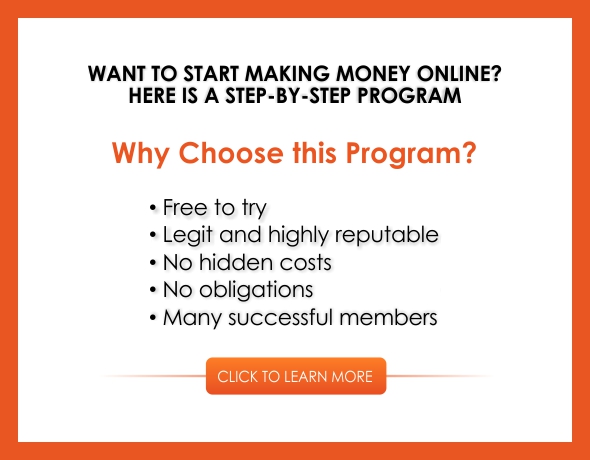 About the Author: Adam
My name is Adam. I'm the founder of Your Income Advisor. My goal is to help others succeed online, by exposing scams and reviewing top rated products. I can help you start
your own business online