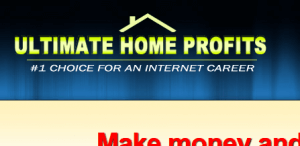 Product name: Ultimate Home Profits
Product owner: Michelle Robinson
Price: $97, after discount $47
Verdict: Not recommended
Ultimate Home Profits by Michelle Robinson follows the same pattern followed by a dozen of other poor programs using multiple tricky methods to lure people like you into buying their "amazing" product.
Michelle Robinson is most likely a fake person because this name and a few others such as Bobbie Robinson, Michelle Withrow, are associated with other bad programs such as:
Stay at Home Revenue scam – owner – Michelle Withrow
Work at Home University – owner – Michelle Withrow,
Work at Home Authority – owner – Michelle Withrow,
Work at Home EDU – owner – Michelle Robinson,
Work at Home Institute – owner -Bobbie Robinson
I think it looks very shady that Michelle is always the owner of multiple businesses associated with work from home opportunities.
Fortunately, Ultimate Home Profits offers some sort of training material and is not a complete waste of time. BUT it's far from being a perfect or complete program that I can recommend and below I'm going to explain what you can expect from the program and why I don't recommend it.

The main idea behind Ultimate Home Profits
The program is going to educate you in three directions such as drop shipping, affiliate marketing and making money through eBay.
All these business opportunities are legit and it's very possible to make money if you get trained properly and are willing to put in the time and work before you can achieve success online.
In this sense, Michelle's training is not bad but the knowledge you are going to gain is very basic and it can be very confusing for people who are new to making money online.
Pros of Ultimate Home Profits
You can learn a thing or two
Cons of Ultimate Home Profits
Association with other programs with bad reputation
Two upsells
Unrealistic promises
Inside the program
1. First off Ultimate Home Profits is associated with other bad programs mentioned above, especially Excel Cash Flow. Look at the image that you are going to see once you get access to the members area of Ultimate Home Profits.
As you can see, Excel Cash Flow team congratulates you with signing up to their program. If you read my review of Excel Cash you will realize that the program is a total waste of time and money.
It's full of surprises, such as false promises, no money back guarantee, tricky methods, many complaints. What can you expect from a program that is associated with a program such as Excel Cash?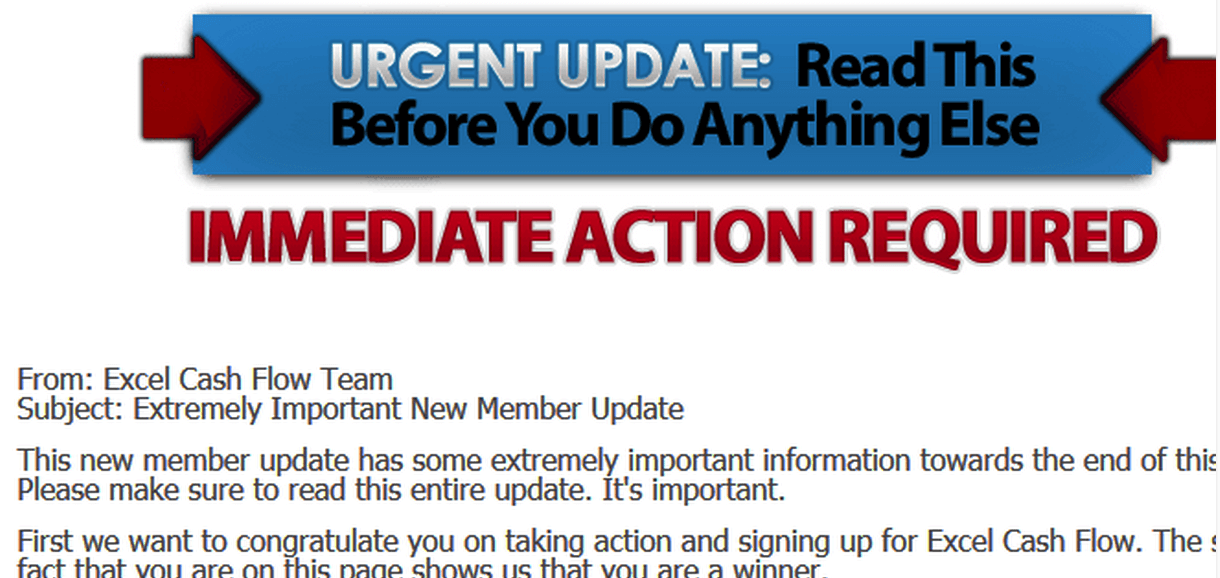 2. Ultimate Home Profits is not a complete product and you still need to buy two other products, VIP package for $147 which you can buy for $47 after discount and consultation for $20. I don't like whenever I see upsells are involved because it means that the product is not complete.
3. Michelle promises that you can start making money in 5 minutes or immediately and that the number of spots is limited. This is nothing more than a misleading statement because to start making money immediately after registration is simply impossible.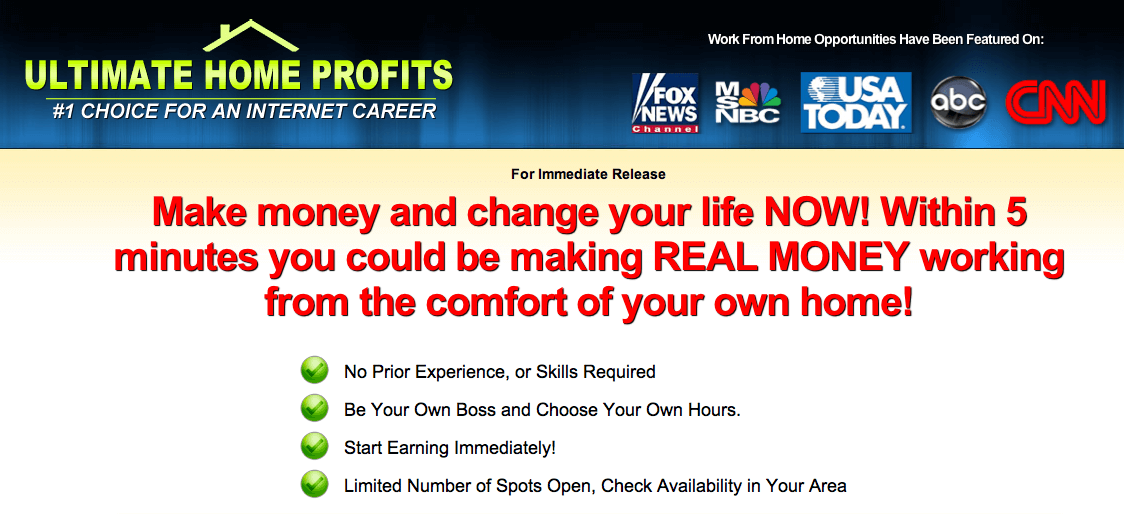 4. The website layout of Ultimate Home Profits is very similar to the layout of other websites mentioned in this article. In my opinion, it looks very shady and untrustworthy and though Ultimate Home Profits offers a decent training I wouldn't buy anything from this company.
Inside the members area you can get access to the following training modules:


Web traffic: In this module (12 videos) you will learn how to generate traffic to your website using different methods, especially through list building.
You will also learn how to use Aweber which is not so important in my opinion. You can find tons of free tutorials on Aweber.com official site for free.
In general, list building is a good and legit method but it takes time, most likely a year or two to build your own list of subscribers.
Affiliate: You will learn how to make money with affiliate marketing. This module includes 5 videos that explain how to pick products from Clickbank and sell them. You will also learn how to choose keywords in order to drive traffic to your website and how to collect emails.
eBay E-books: 3 E-books on how to make money through eBay website and plus 5 videos on the same topic. Making money though eBay is also a proven method and you can make money either by selling products or through eBay affiliate program which doesn't require having products.
You can promote someone else's stuff and earn affiliate commission. It also takes time and effort before you can build your own website, add products from eBay along with your affiliate links and start making money. There is no overnight success here and there is nothing new or revolutionary in this method.
Drop shipping E-books: Two E-books that teach you how to make money using this method which is a bit different from a traditional business. You act as a middleman between a buyer and a seller.
You sell someone else's product and if the buyer makes a purchase you inform the seller and they ship the product. For details about drop shipping business you can read my review about suppliers club.
Master list: This is actually a list of top selling Clickbank products that you can sell and make money. To be honest, it's not a big deal because you can find the same products on Clickbank website.
When it comes to selling products online top selling product doesn't always mean you can be successful and make tons of money. If you don't have any experience online this opportunity doesn't make any sense.
VIP: section is designed to throw more upsells on you for the sake of making more money out of you.
Final word on Ultimate Home Profits
1. To be honest, Ultimate Home Profits is very controversial product. Yes, it contains some helpful training modules and you can learn a thing or two but the problem is that it's very basic and points you in different directions which can be confusing for people who are new to making money online. It may result in taking no action at all.
2. It's associated with some bad programs
3. The program is not complete and you have to buy some other products, i.e. upsells
4. Unrealistic promises about making money immediately
5. There are much better programs such as one below that has been around for over 10 years now, is legit and reputable and has a much better training on how to make money online. Membership includes EVERYTHING: websites, tools, training, live chat, weekly live webinars with case studies, supreme 24/7 support and more. This program has been my choice since 2013.
Let me know if you have any questions and I will be happy to help you out.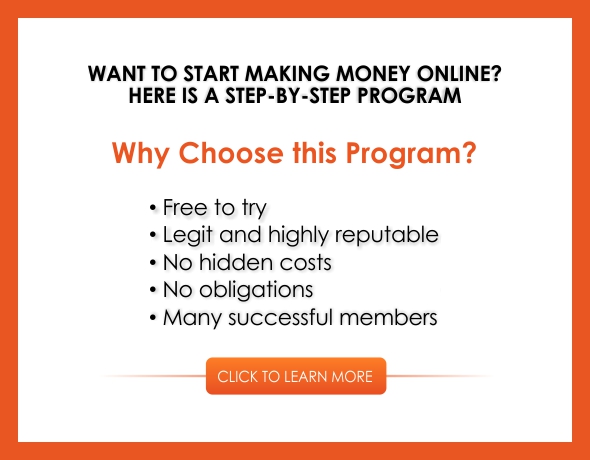 About the Author: Adam
My name is Adam. I'm the founder of Your Income Advisor. My goal is to help others succeed online, by exposing scams and reviewing top rated products. I can help you start
your own business online