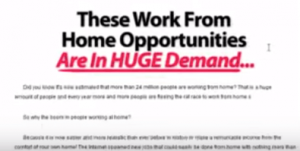 Product name: Home Job Institute
Product owner: Mary Johnson
Websites:
https://securehji.com
http://homejobinstitute.com
Price: $97, after discount $47
Verdict: Scam
There are hundreds of programs online that can help you learn and start making money on the internet the honest and legit way and there are thousands of online scams that are looking for people looking for legit ways and the truth is that in most cases these honest people fall for these scams due to lack of experience, knowledge and being unable to spot scams.
To be honest, it's not easy to spot scams because they use all kinds of deceptive tactics to make people believe that their program is genuine and money can be made with a few clicks of their mouse.
The truth is that it's not true and money can't be made on autopilot. Home Job Institute is one of those programs that can be easily called a scam because of using many lies and deceptive tactics and in my review I'm going to prove that it's a total scam.
The main idea behind Home Job Institute
Home Job Institute is a copy paste site that has been around for some time and in fact it copies other sites such as Online Profit Stream, Excel Cash Flow, Home Profit System, Work at Home Paycheck etc.
All these sites have one thing in common: they blatantly lie and promise folks to make $379 a day by posting links here and there.
They use all kinds of means to persuade you that their program is legit, that it was featured on news channels such as CNN, ABC News, USA Today etc. Of course, none of this is true.
Pros of Home Job Institute
I really can't find any positive aspect in this program
Cons of Home Job Institute
Inside the program
1. First off I would like to say that there is no such thing as link posting agent because all these programs blatantly lie to you by claiming that big companies are looking for people like you and ready to pay as much as $87 per hour or $379 a day and some of them even promise $1000 a day.
This is not true of course and no one is going to pay you so much money for posting links. If it was true it would be featured on all major news channels and everyone would be doing it now, myself first. To expose Home Job Institute I would like you to pay attention to the following detail.
Excel Cash Flow and Home Job Institute are two different programs but an amazing thing is that their claims, false promises, website design etc are absolutely identical.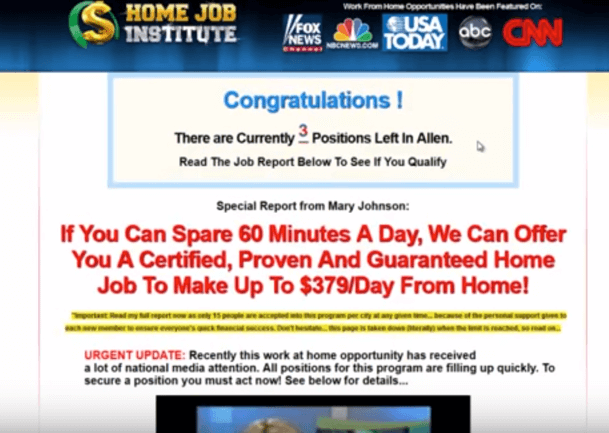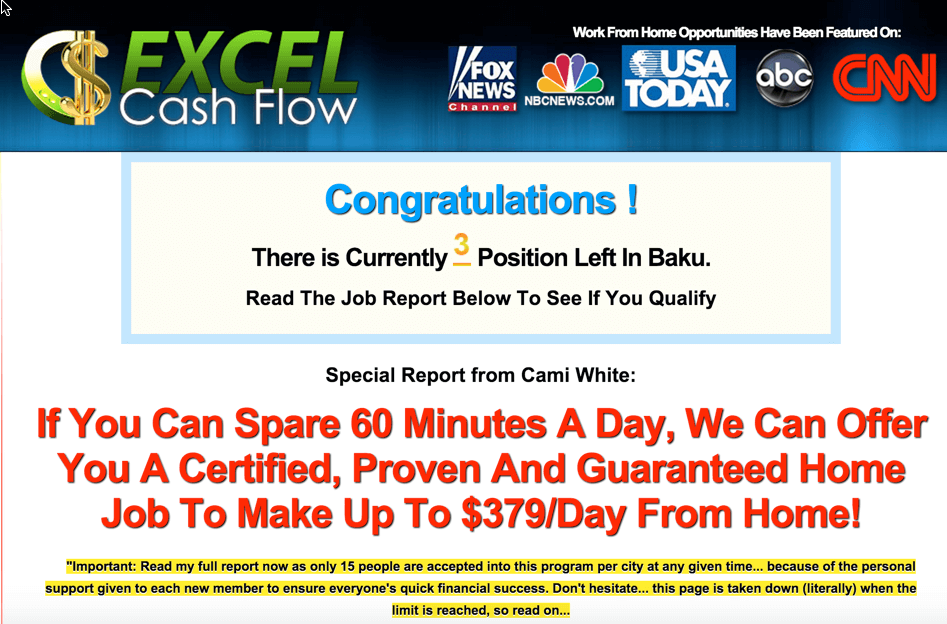 The same applies to all link posting sites mentioned above but I think it will be enough if you take a look at two sites only. I'm going to continue exposing this scam but for now please take a look at these two "amazing" websites. Doesn't it look funny ?
2. Another amazing fact is that both programs claim that the number of positions for link posting agent is limited and there are currently 3 positions left in your area. The number of positions is always the same which is another red flag to watch out for.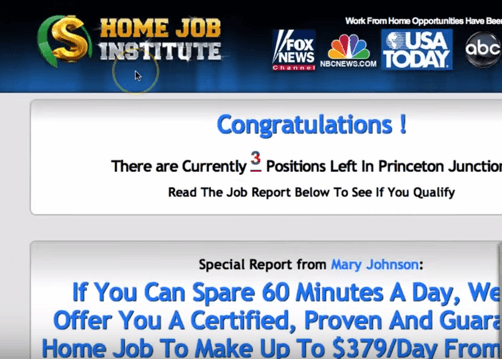 As I said above, I can show you more arguments in favor of my opinion but I don't want to put many images of the same scam side by side in my current review. But if you follow the links above you will see that all these link posting scams are using the same deceptive tactics.
3. All these programs claim that big companies are desperate for people like you and ready to pay you $15 for each posted link. Can you imagine that? Take a look at the images below. The first one is a screenshot from Excel Cash Flow and the second one is from Home Job.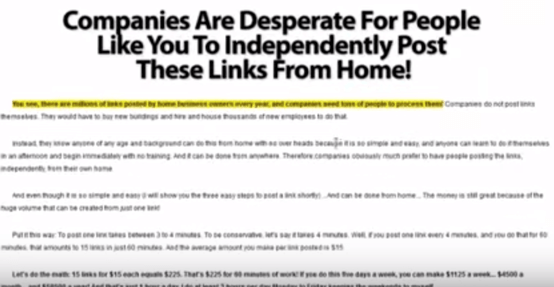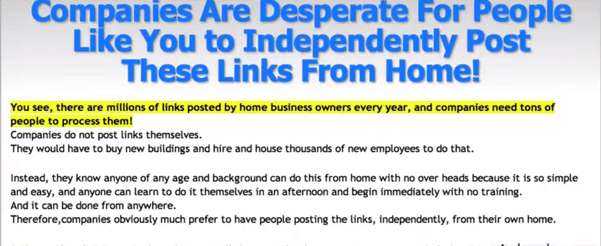 And the last image that says about $15 per link is also identical. Doesn't it look funny?

4. They use the same calculator to make the whole process easier for you so you can calculate how much money you can and want to make by posting links for big companies that are desperate for people like you 🙂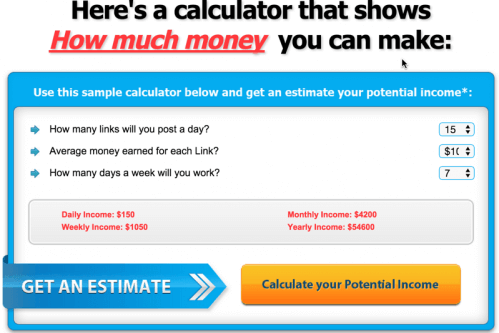 5. The truth is that you can actually make some money by posting links but you need to find a legit program first and even if you find one they will never pay you a few dollars for the posted link. NEVER.
In the best scenario you will be paid a few cents and only for those links that won't be removed from where you have posted them. In reality most of them are removed immediately by website owners and at the end of the day you will make a few bucks at best.
In most cases you will be paid within 30–60 days which makes the whole process boring and not appealing at all. If you are looking for a way to make money online as much as to replace your current regular income I can assure you that link posting "job" is not going to help you with that.
6. Another red flag to watch out for is that during the registration or payment processing they will ask you to submit your phone number which they will use later to call you every week and make ridiculous offers to make more money off of you.
7. On one of their affiliate sites (homejobinstitutes.org) they claim that Home Job Institute has changed lives of many people and they are now making enough money to quit their jobs and live the lifestyle they wanted for years.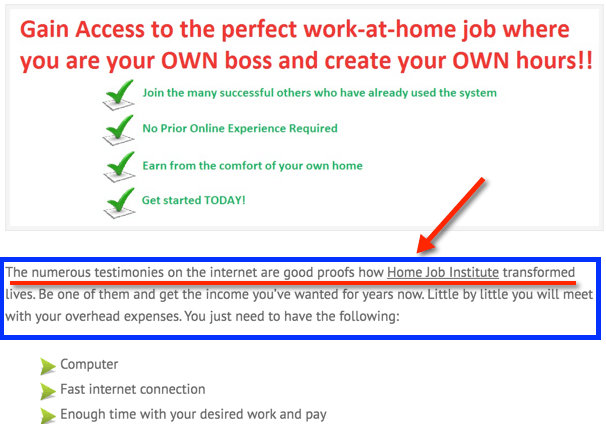 Since you know now that all these link posting scams are using the same deceptive tactics I suggest that you read complaints about two of them: Online Profit Stream and Excel Cash Flow. I think this fact alone will be enough to understand what this program is all about.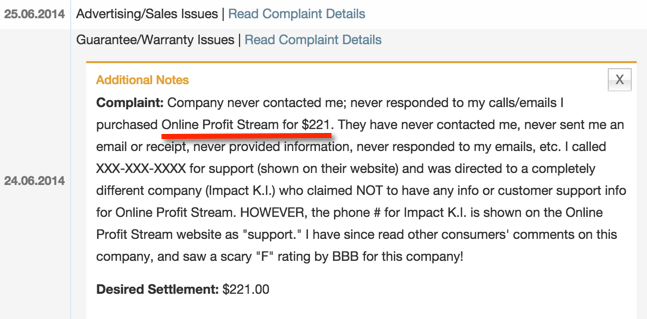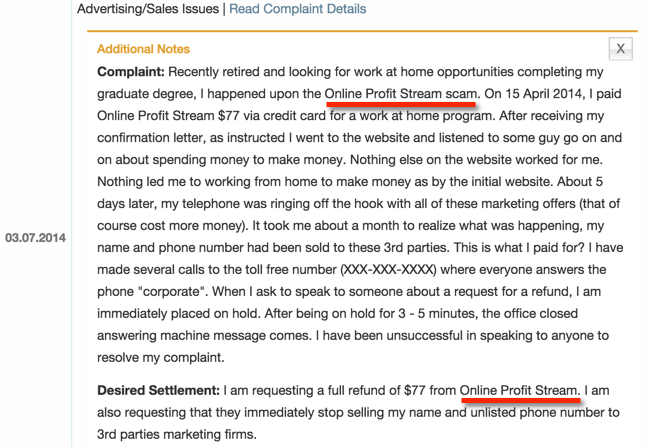 8. Here is a video by CBS News about work from home opportunities which will allow you to realize that Home Job Institute is a scam.

9. All these programs use the logos of news channels, such as USA Today, CNN, Fox News etc to make you believe that their program is legit and was featured in the news while in reality these renowned news channels have never told a single word about programs like Home Job Institute.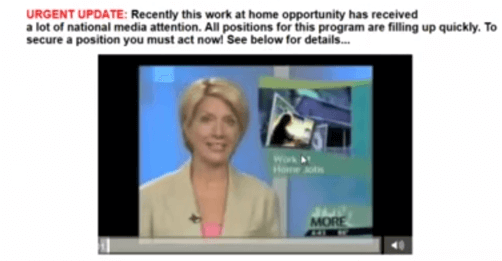 All these sites are down and the only one that is still live belongs to Excel Cash (secureonlinesite.com). If you watch the video on their site you will notice that none of these programs has ever been featured in the news.
10. There is also a warning from a trusted website BBB that clearly says that any program that promises you easy money is most likely a scam. Programs like this make you believe that you are in demand and you can take the advantage of an amazing opportunity they offer you.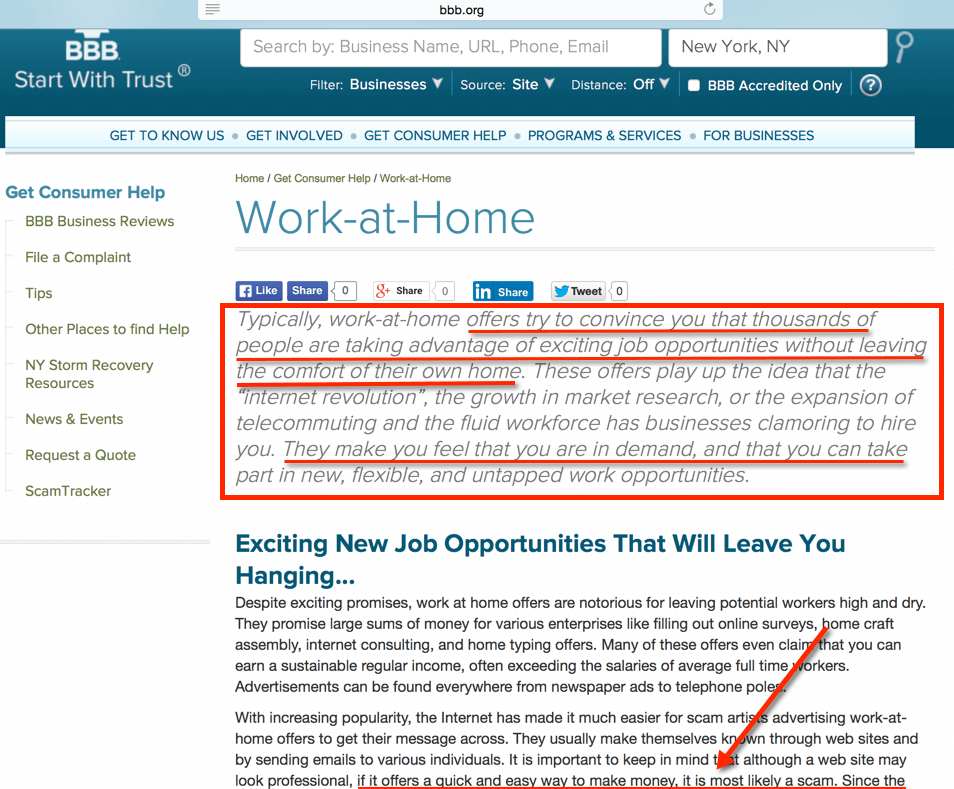 11. All these programs use fake testimonials. Look at the images below. The fist one was taken from Home Jobe Institute and the other one from Excel Cash flow. The same person Jeremy Arias has made $628,53 with both programs. Doesn't it look funny?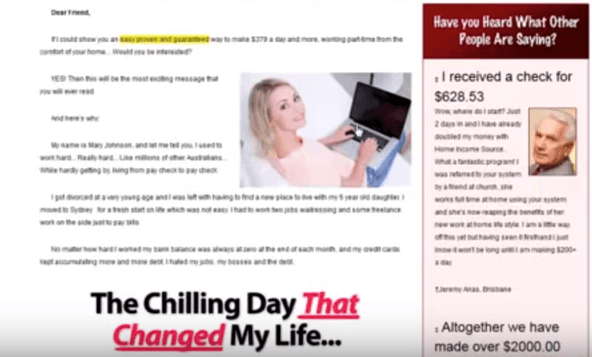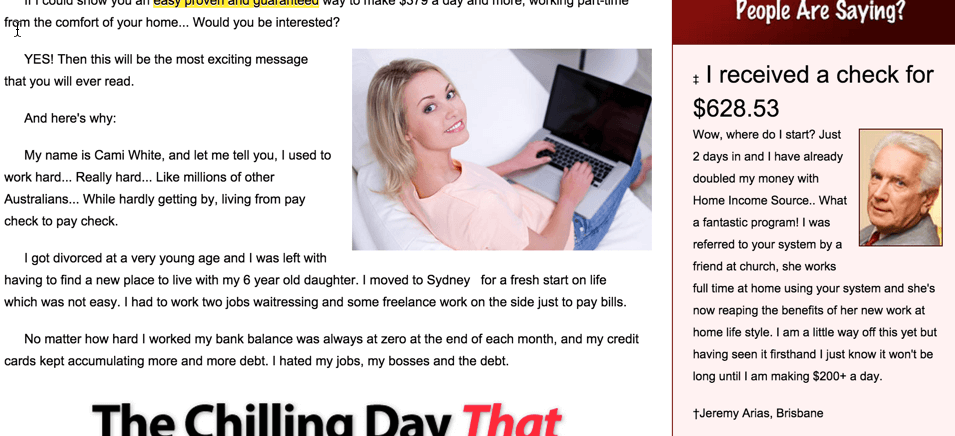 12. And of course they promise you wealth and happiness. Look at the images below. One was taken from Excel Cash Flow and the other one from Home Job Institute. Both are identical.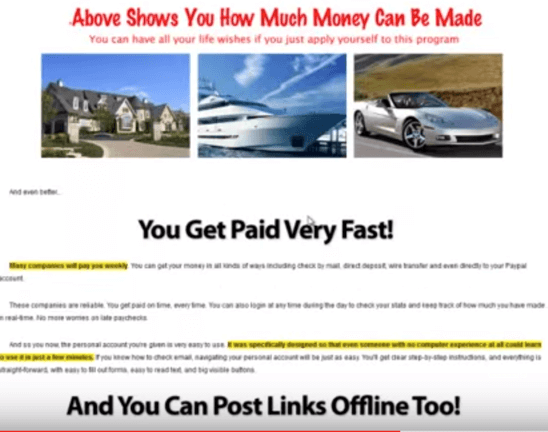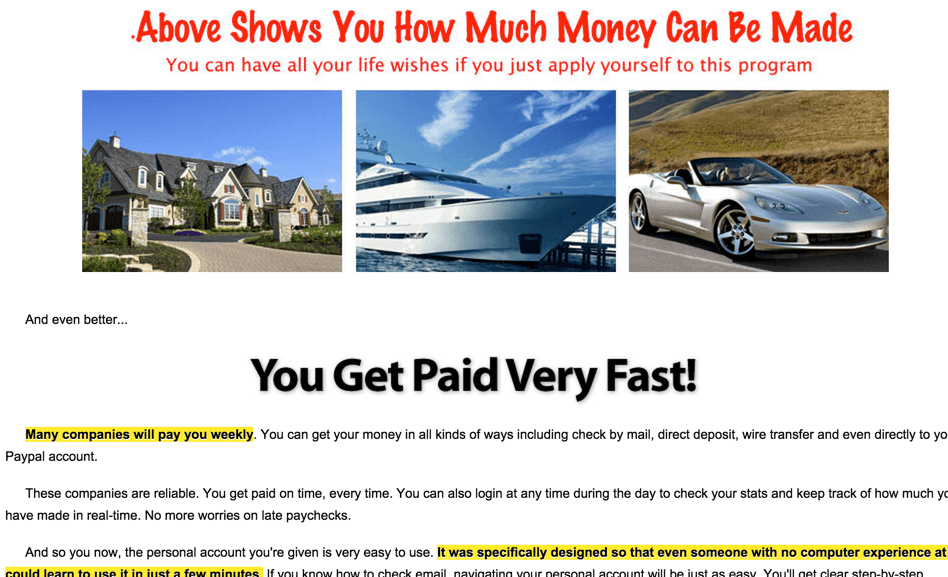 Final word on Home Job Institute
I hope I provided enough info so you can see that I'm honest with you and that Home Job Institute is a waste of time and money, not to mention a complete disappointment. As I told you above there are legit opportunities out there and you can actually make money online.
I'm making money from my website and it all became possible thanks to Wealthy Affiliate – # 1 program to make money online. I joined this program in 2013 and started making money in 2015. So, it takes time to start making money and if someone promises you easy money overnight they are simply lying to you.
I made my first buck in 2000 and only years later I found Wealthy Affiliate. I'm now making money on a regular basis and honestly recommend you this program. It's highly reputable on the internet and I'm sure you won't find any negative reviews about this program.
You don't even need a credit card to create a free account and try this program within a week. Read my review here and feel free to contact me if you have any questions.
About the Author: Adam
My name is Adam. I'm the founder of Your Income Advisor. My goal is to help others succeed online, by exposing scams and reviewing top rated products. I can help you start
your own business online