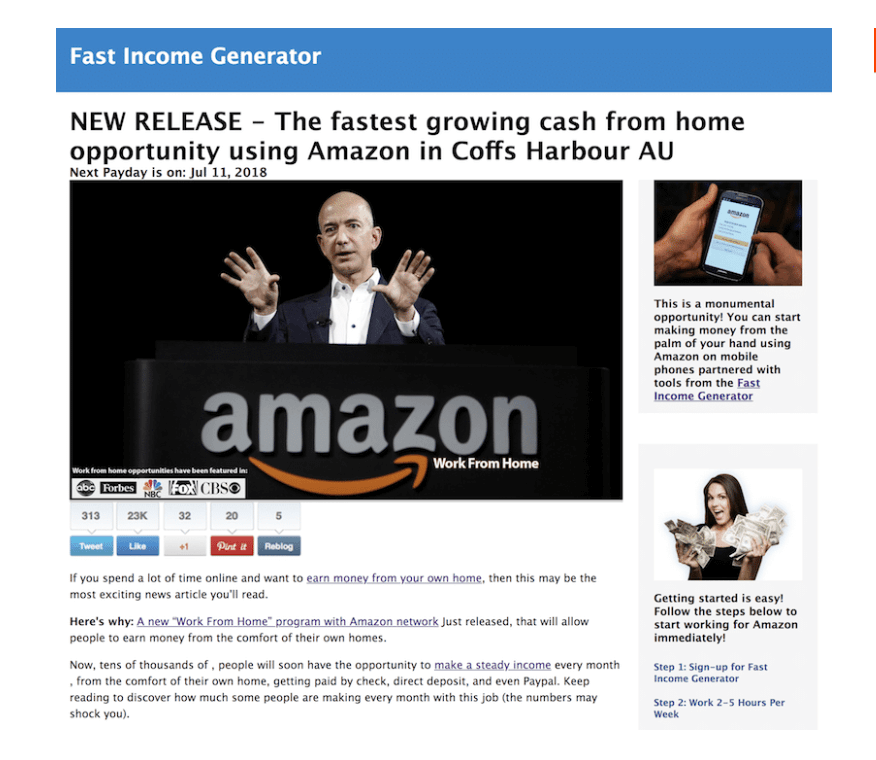 Name: Fast Income Generator
Website: multiple domain names
Founder: unknown
Price: $47 and other hidden costs up to $900
Overall score: 1 out of 10
Verdict: Scam
This is my next review of an old scam that I've already come across online multiple times.
The program is positioned as a legit work from home job opportunity with Amazon.
The founder describes it as a multi-billion industry which is not far from the truth.
The industry is really one of the fastest growing industries that from which anyone can profit.
But the problem in Fast Income Generator is that it does teach it the wrong way.
It's described as a unique opportunity that can generate you a solid income and very fast. Let's do our research and see what is Fast Income Generator?
Is it a scam or legit? Maybe it's not that bad? Let's do it.
Short review of Fast Income Generator
Fast Income Generator is a new form of an old program that has been promoted under different names and for the past 2,3 years.
This program is still functioning but I don't know the exact name of it. Because the founder of Fast Income Generator constantly changes name of his program.
Fast Income Generator teaches you how to make money through Amazon but does it using misleading methods.
Pros of Fast Income Generator
Cons of Fast Income Generator
Paid testimonials from Fiverr
Outrageous income claims
Hidden costs


Fast Income Generator Review
As I said above, in fact what Fast Income Generator tries to teach you is theoretically real and can be highly profitable provided you do it the way it must be done.
Whatever you choose, blogging or ecommerce both are highly profitable. But both require a ton of effort and time.
Blogging is more about writing articles, recording videos and monetizing your website.
Ecommerce is more about promoting physical products through paid traffic. Results depend on your effort and budget.
Even in the best scenario you need months to make it work for you and start generating an income. It doesn't work fast.
When it comes to Fast Income Generator the unknown founder claims you can make $500 a day or $15.000 per month.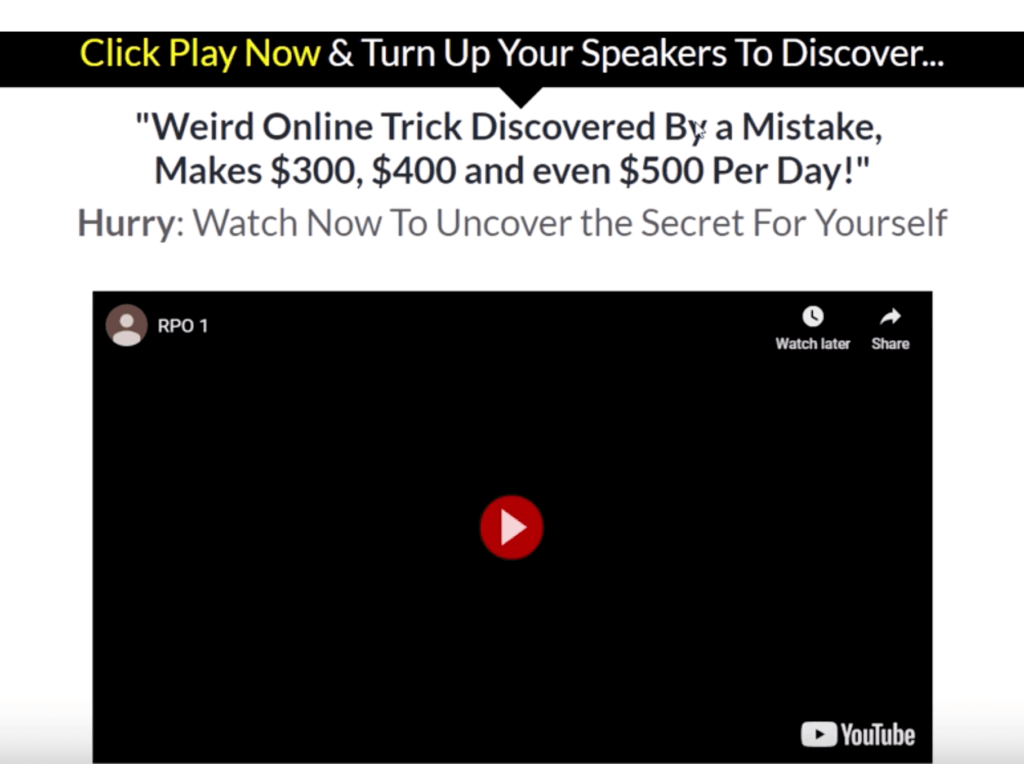 All programs with different names promote the same idea, such as Amazon work at home job opportunity.
They explain it as if you could be partnering with Amazon and making money from your home. But they don't explain it the right way.
It includes steps, such as building a website, adding content and images, affiliate links. It's a long process that is similar to opening a brick and mortar shop.
The only difference is that you don't need to pay monthly to employees or for rent.
You do all the work yourself which is a huge pro feature because it saves you a lot of money.
Unfortunately, these guys from Fast Income Generator do it the opposite way.
They give you big promises as if you could join their program and start making $500 a day immediately.
I have been in internet marketing since 2015 and I can tell you that breaking such a level is not an easy task.
I'm still struggling to make $5.000 per month but can't.
Sometimes I make $500 a day, sometimes I make $2.000 per month, sometimes $1.000 or less. It depends. Business is like a game.
You never know what to expect. That's why I hate programs like Fast Income Generator. Because of their outrageous income claims.
They don't explain the process the right way.
They describe an online business as something super easy while it is not. And people make wrong decisions based their decisions on wrong explanations.
If you read my other reviews of the same program you will see some amazing facts. They use the same payment page for different website, same design.
They only change colors and faces.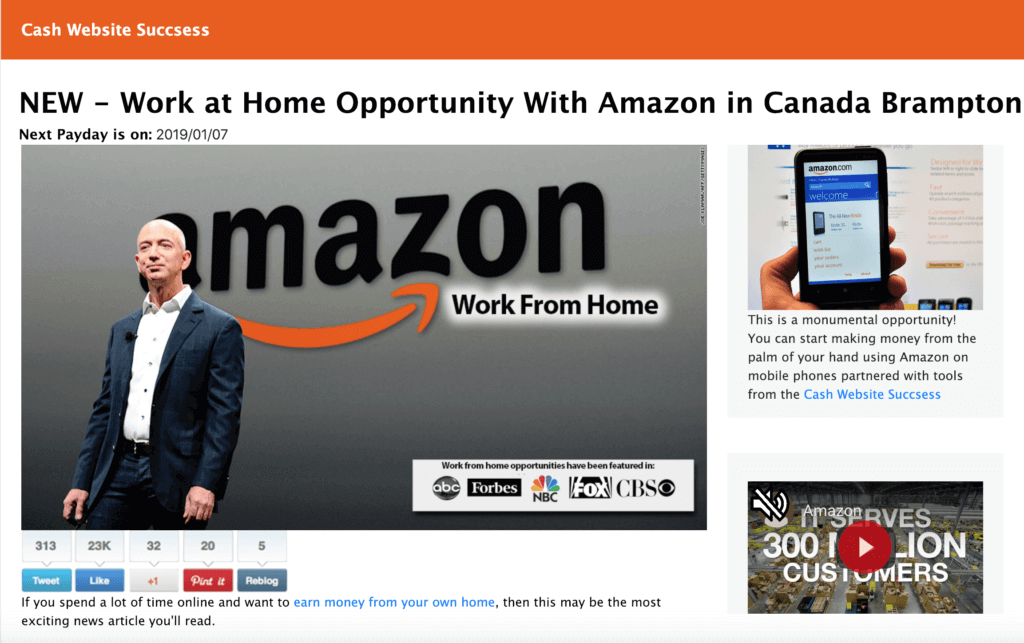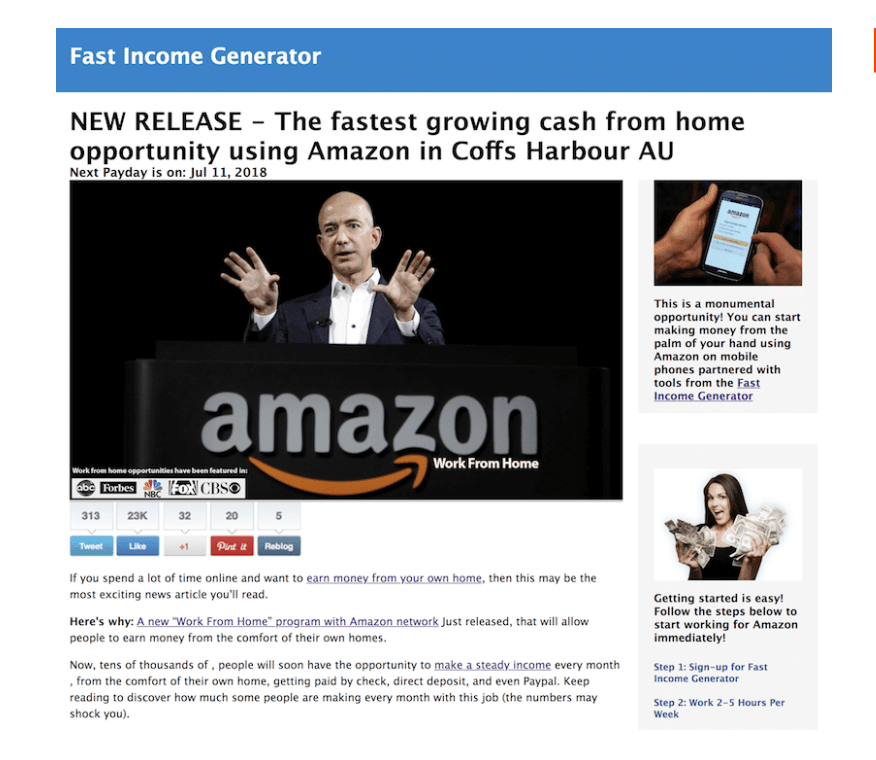 Below you can see links to reviews. I suggest that you open all those pages and compare them side by side and you will see that it's the same group of people promoting Amazon work from home opportunity.
The worst thing about Fast Income Generator is that they change websites, names, ads but don't change their approach.
Same upsells, same misleading ads, same paid actors, same email spamming.
In one of their programs they promise you to start making money as fast as in 22 minutes.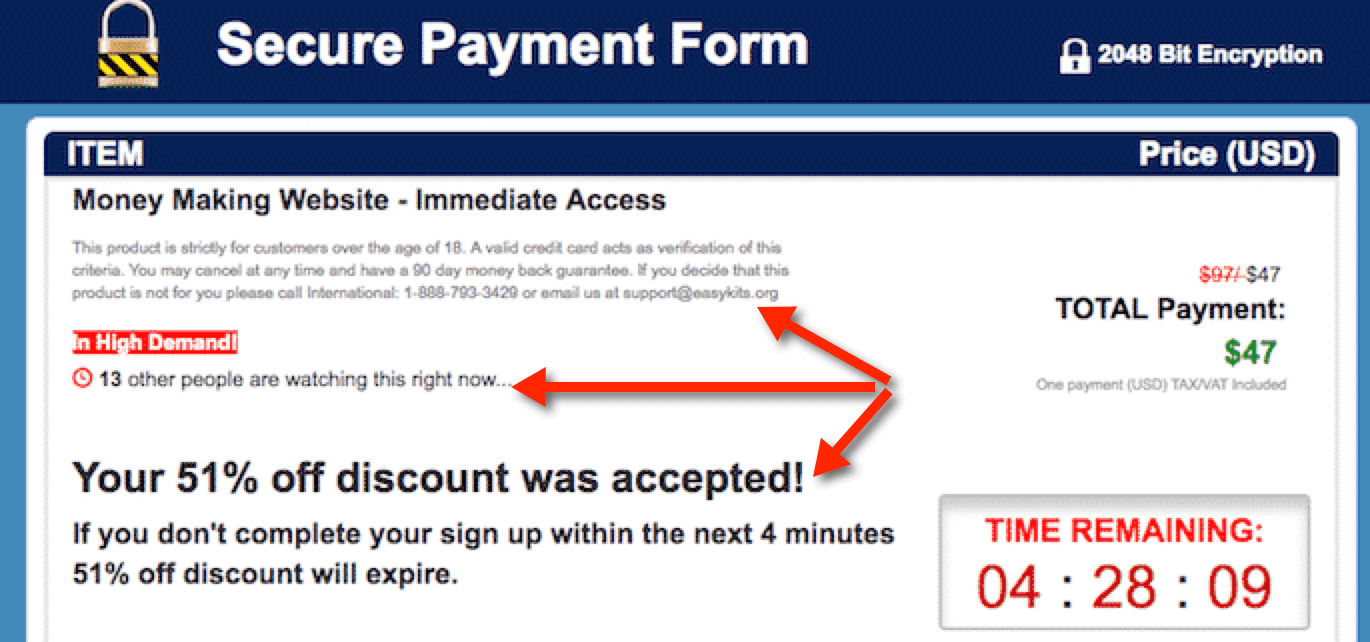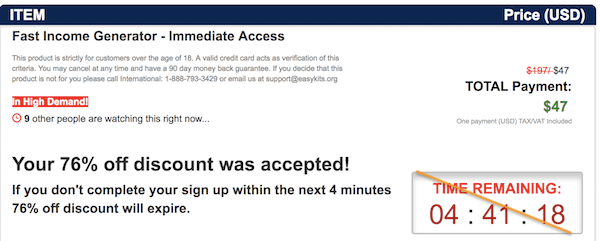 Programs involved in this project:
Amazon Cash Websites
Fast Income Generator
AmazonProfits. org
What I like about Fast Income Generator
Making money through Amazon is legit BUT not as fast as promised here.
What I don't like about Fast Income Generator
Fabricated story, Outrageous income claims, Paid actors, Upsells, Email spamming.
Can you really profit from Fast Income Generator?
I believe you can learn how to make money through Amazon and actually become successful online.
But I don't think joining Fast Income Generator is a good idea.
You have to invest way more than $47 to make it work for you.
There are programs out there that provide much better support and training, such as one recommended above.
There is no upselling BTW.
Final verdict about Fast Income Generator
In this relatively short review I tried to reveal all facts about Fast Income Generator. It's not a new program. The cover is new but content is not.
From my personal experience I can tell that any program that promises you quick money is most likely a scam.
Trust only those programs that are free from easy money claims. Trust only those programs that provide timely support and all info before you pay them.
Fast Income Generator is in my opinion a huge time waster. It's a flat out scam!
Final glance at Fast Income Generator
Paid testimonials from Fiverr
Outrageous income claims
Hidden costs
Email spamming
Overall score:

1 out of 10

Verdict: Scam
About the Author: Adam
My name is Adam. I'm the founder of Your Income Advisor. My goal is to help others succeed online, by exposing scams and reviewing top rated products. I can help you start
your own business online