Product name: 6 Figure Tool Kit
Product owner: Justin James and Steven
Website: 6figuretoolkit.com/members
Price: $47, after discount $9
Verdict: Not recommended
6 Figure Tool Kit is not out of the ordinary programs out there and it's easy to understand what you can expect from this program. The owner of the program, Justin claims that you can make 6 figure income with his program and it's really not that hard at all.
This guy has created another program called 12 minute payday and all I can say is that the program is useless and nothing more than an empty promise.
Keeping this in mind it's not hard to come to a conclusion that Justin's new program called 6 Figure Tool Kit is not going to solve your problems either and you won't make 6 figure income. In my review I will take a closer look at Justin's new program to help you make an informed decision.
The main idea behind 6 Figure Tool Kit
Justin's program is not going to teach you the basics of internet marketing and if you are looking for a program that can teach all this then 6 Figure Tool Kit is not the right option. The sales video promises to reveal you a secret to making tons of money.
If you are completely new to internet marketing you can probably believe Justin. I recommend you to be very careful because Justin's promise is just another lie.
All you are going to learn is how to sell the same product ( 6 Figure Tool Kit) to other people and make money. Their affiliate program works through Clicksure.com
Pros of 6 Figure Tool Kit
Cons of 6 Figure Tool Kit
False promises
No real support
No real training
Many upsells
Inside the program
1. First off, I would like to warn you so you don't be fooled by the sales video because they use classic deceptive methods to lure you into buying their product and make you believe that this program will finally solve all your financial problems. It's not going to happen. I have enough experience in internet marketing to be able to separate a genuine program from scams.
2. The worst part of 6 Figure Tool Kit is that the program has been designed to make more money off people instead of helping them understand how internet marketing works. They don't provide any real training and all you can learn is how to promote this product to other people.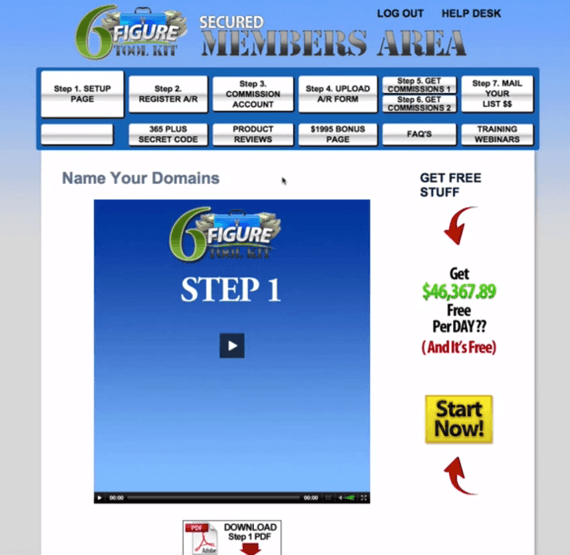 But the main problem is that before promoting it you must learn how to promote a product the right way in order to make money. Selling a product online is not easy as many people might be thinking.
It requires time, efforts and patience before you can start seeing frequent sales. Even if you buy Justin's product you can't sell it successfully simply because it's a really poor product with a very poor, limited training.
3. With this system you are not going to have your own website which is absolutely ridiculous. Anyone who has been online for some time and has some experience in internet marketing understands that if you want to build a real business online that will make you a few thousands of $ per month, you MUST have your own website filled with original quality content because it's the content that drives people to your site searching for the info on Google.
If you don't have a website and original content it means that you don't have a business. Without content you simply can't get a massive free traffic. Traffic is the foundation of any online business. How can you then sell 6 Figure Tool Kit?
4. Justin claims that 6 Figure Tool Kit will teach you how to build your list of subscribers and then sell them the same poor product on autopilot.
This is not going to happen because spamming people is not going to work and before starting email marketing campaign you must learn how to build relationships with your readers. Email marketing is very effective strategy only if you know how to use it effectively and the right way.
5. Justin claims that you can make money easily with little efforts on your part. This is not true either. The amount of money you can make online depends on the amount of time you are willing to put in.
Based on my personal experience and the experience of many other successful internet marketers that I know personally I can say that to make a few thousands of $ per month requires hard work and patience. If someone promises you to make tons of money in 2,3 months, they are lying to you.
6. The only way to promote 6 Figure Tool Kit is through paid traffic (Google adwords, Bing ads, Facebook ads) which will cost YOU money. Are you willing to spend money? If you buy traffic from Bing and you know how to make PPC campaign profitable, every 300 visitors will cost you approx. $50.
The truth is that it's not easy to make a sale from every 100 visits. You should have a good product and a strong sales letter to be able to make 2,3 sales from every 100 visits. The truth is that 6 Figure Tool Kit is not a good product. Imagine now how much money you are going to spend with a product like this one.
7. The idea of 6 Figure Tool Kit is about creating a sales funnel for you which means that you don't need to create any product because it's a done for you system. Just promote it and make money. In fact, it's not as easy as you might be thinking.
To promote it to others you need to bring tons of traffic to your site. The truth is that Justin program is not going to help you with traffic. Another way is via social media which requires time, hard work and patience and it's not about tons of traffic. As you can see, Justin doesn't want you to know all these facts.
8. There are also some upsells inside their members area. If you upgrade your account you will need to spend more money. Just an example, if you choose their autoresponder service you will pay $9.99 per month for every 10.000 subscribers.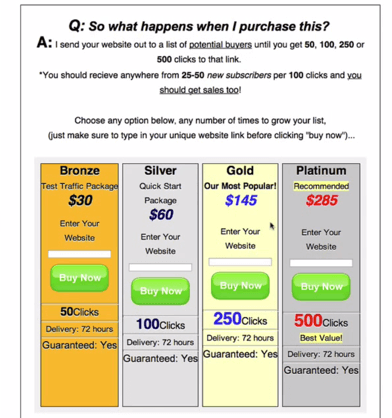 Or if you want to buy traffic then there is another upsell waiting for you inside their members area. Also, Justin sends you to buy some other poor products of a notorious internet scammer Anthony Morrison whose products are not recommended.
All I can say is that Justin's system has been designed in a way to make more money off you instead of helping you.
9. Support is another major issue with 6 Figure Tool Kit. There is no real support, no active community to ask a question or get assistance when you get stuck. There is only a FAQ section.
Final word on 6 Figure Tool Kit
My final word on 6 Figure Tool Kit is stay away from this guy if you want to be on the safe side. If you are willing to learn how to make money online the right way I can recommend you a program that wins my # 1 recommendation among all other programs.
Though there are many other legit programs I can recommend as well, such as Chris Farrell, Affilorama, Bring the Fresh, Site Build It, I recommend Wealthy Affiliate because their approach is very realistic and I've been a premium member of it since 2013.
I have my own business now thanks to this program. If you have any questions, don't hesitate to contact me and I will be happy to help.
About the Author: Adam
My name is Adam. I'm the founder of Your Income Advisor. My goal is to help others succeed online, by exposing scams and reviewing top rated products. I can help you start
your own business online