Product name: Rich Janitor
Website: www.richjanitor.com
Owner: Mike Dee
Price: Initial price – $97, then goes down to $27 and then to $7 + many upsells,
Overall rank: 40 out of 100
The Rich Janitor program by Mike Dee is one of those programs that leave me on fence when it comes to recommending it.
It actually can teach you how to make money through affiliate marketing, but at the same time Mike makes unrealistic promises and outrageous claims as if you could be making ton of money by following his system.
Because he cracked the code and now wants to give it to you for $27. I've been in making money over the past 3 years and I can tell you I've seen ton of such claims and promises, most of which are simply empty promises.
I think it is common to most MMO programs including Rich Janitor. But even with these claims and promises I can't honestly say that Rich Janitor is a scam. No, it's not.
Simply because it contains some useful training material and you can learn a thing or two from Mike and apply some of his strategies and possibly make some money.
Unfortunately, there are some major cons in the program that I think you should know about before you decide to pay Mike your hard earned money. Anyway, keep reading my honest and realistic Rich Janitor review for more details.
The main idea behind Rich Janitor
Rich Janitor is a training course on affiliate marekting and you are going to learn several methods how to make money online. The material consists of eBooks and videos you can watch and read at your own pace.
Some methods are completely outdated and even some of them can destroy your business. And there are several upsells inside the members area.
So, don't expect to get everything for $27 or $7. You still have to make several payments to "unlock" the system.
Rich Janitor is a mediocre training that provides some good value. But there are some misleading techniques taught by Mike that can destroy your business. There some complaints, refund issues, upsells and finally Rich Janitor was removed from Clickbank which is a bad sign in terms of trust. Allow me to help you and recommend a genuine program that has been around since 2005 and I'm actually a member of this program. Take a look at the comparison table to see the difference. You don't need a credit card to join my recommended program.
Pros of Rich Janitor
Some useful training material
You possibly can make some money
Cons of Rich Janitor
Rich Janitor was removed from Clickbank
Support is not as good as it's claimed to be
Some complaints
Mike makes unrealistic promises about making ton of money
Several upsells
Refund issues
Article generator can destroy your business
Rich Janitor review
First off, when you visit Rich Janitor website, i.e. landing page, you will have to watch a promotional video almost 30 minutes long. It's boring in my opinion and very few people can watch it to the end. And there is too much hype in this video.
First, Mike says that his video is strictly confidential which is ridiculous and second he promises to give you $70 just for watching his promotional video. None of this is true. It can't be confidential because everyone has access to it and can watch it.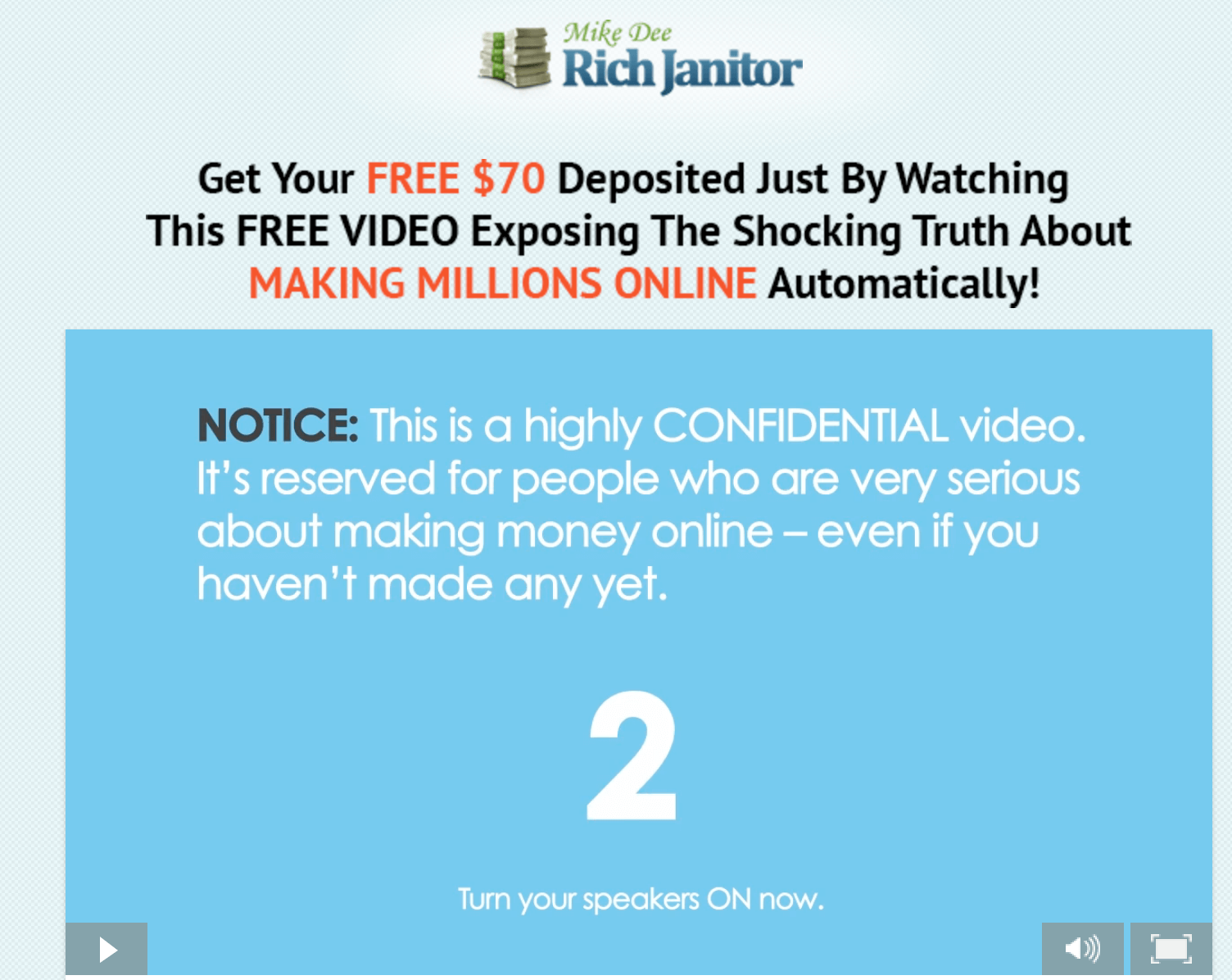 Regarding giving you $70 for watching the video is not true too. The truth is that the initial price of this product is $97 and after $70 discount you can buy it for $27. You won't actually get $70 from Mike. It's just a discount. That's it. And this is not the end of the story.
After all discounts you can buy Rich Janitor for $7. This sort of technique is very common to low quality products that I've seen so far and believe me I've seen MANY programs.
When it comes to unrealistic claims, Mike asks you to give him 7 minutes so he can show you exactly how you can make $1000 a day, i.e. $30.000 per month! A total BS in my opinion.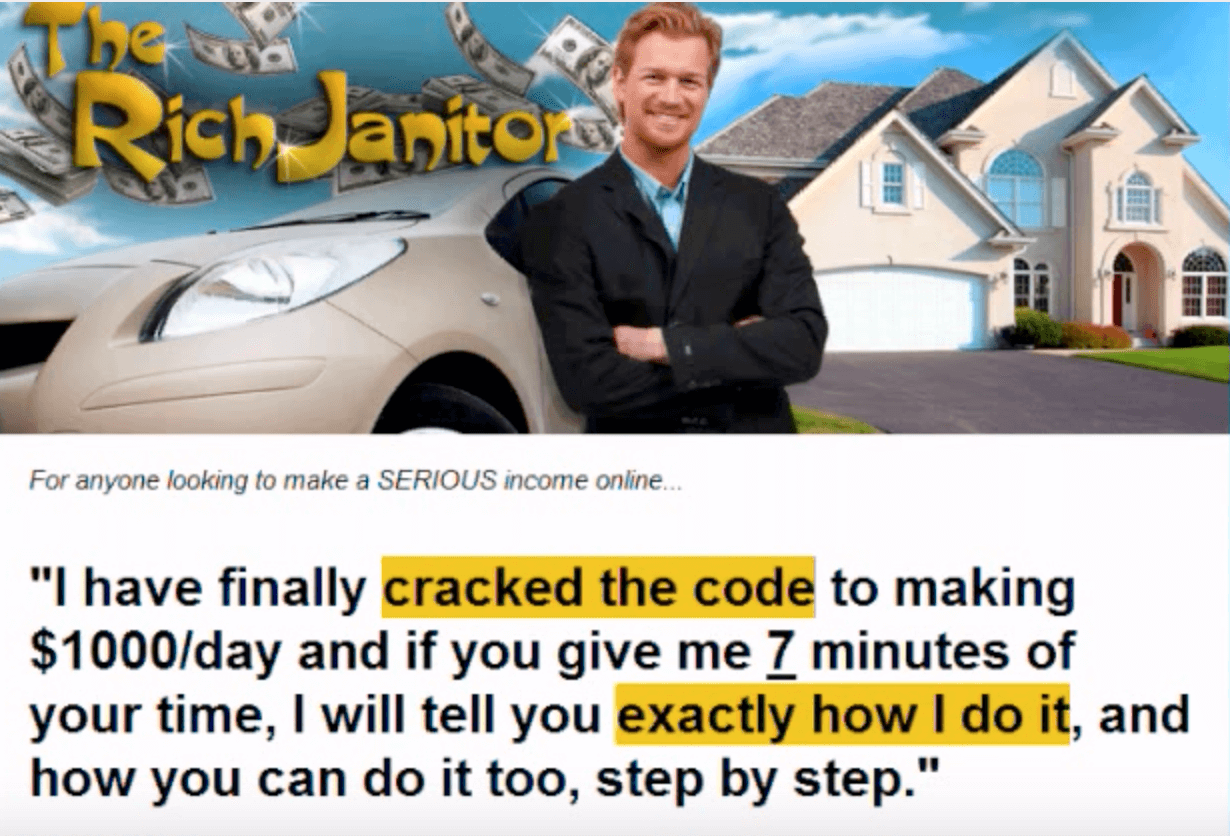 I've been involved in making money online since 2013 and still I can't reach these numbers. But this guy claims to show you his secret code to making ton of money online. This is one of the main reasons why I don't recommend Rich Janitor.
I know many people that have been online for 3,4 years and still they can't reach these numbers too. You can possibly make $5.000 per month or even $10.000, but when it comes to anything more than $10.000 per month, very few people can achieve this level.
Also, I don't like Mike's telling you his fake story about being hungry and poor, full of debts and finally he was able to crack the code. All I can say, this is a very common story used by many other scammers or creators of low quality products.
Though I don't mean that Mike is a scammer. Also, many sources point that the real creator of this program is Ankur Patel ( an Indian guy).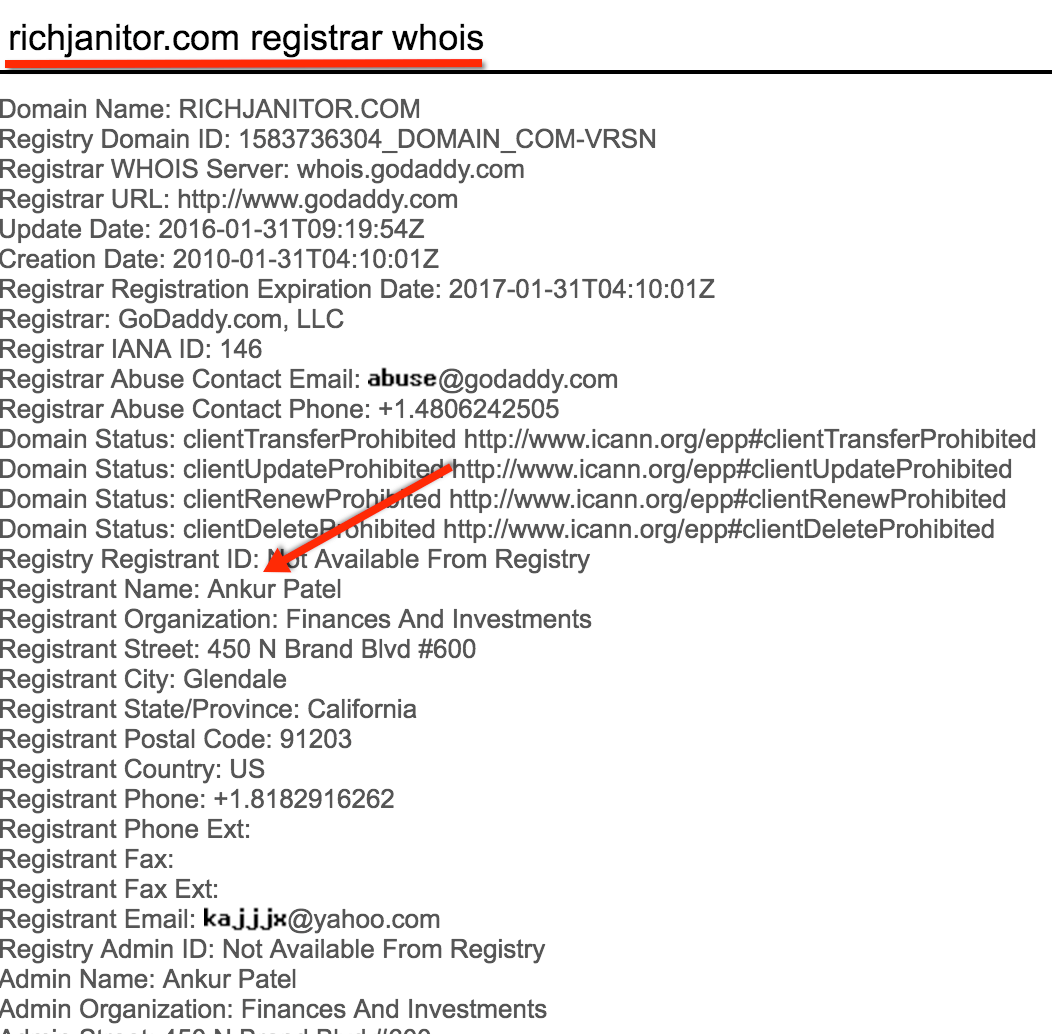 Rich Janitor training program
The training consists of videos and eBooks for download. Mike also gives you access to the article submitter which is absolutely useless piece of software in my opinion. This software allows you to scan article directories, copy the material relevant to your topic and copy it.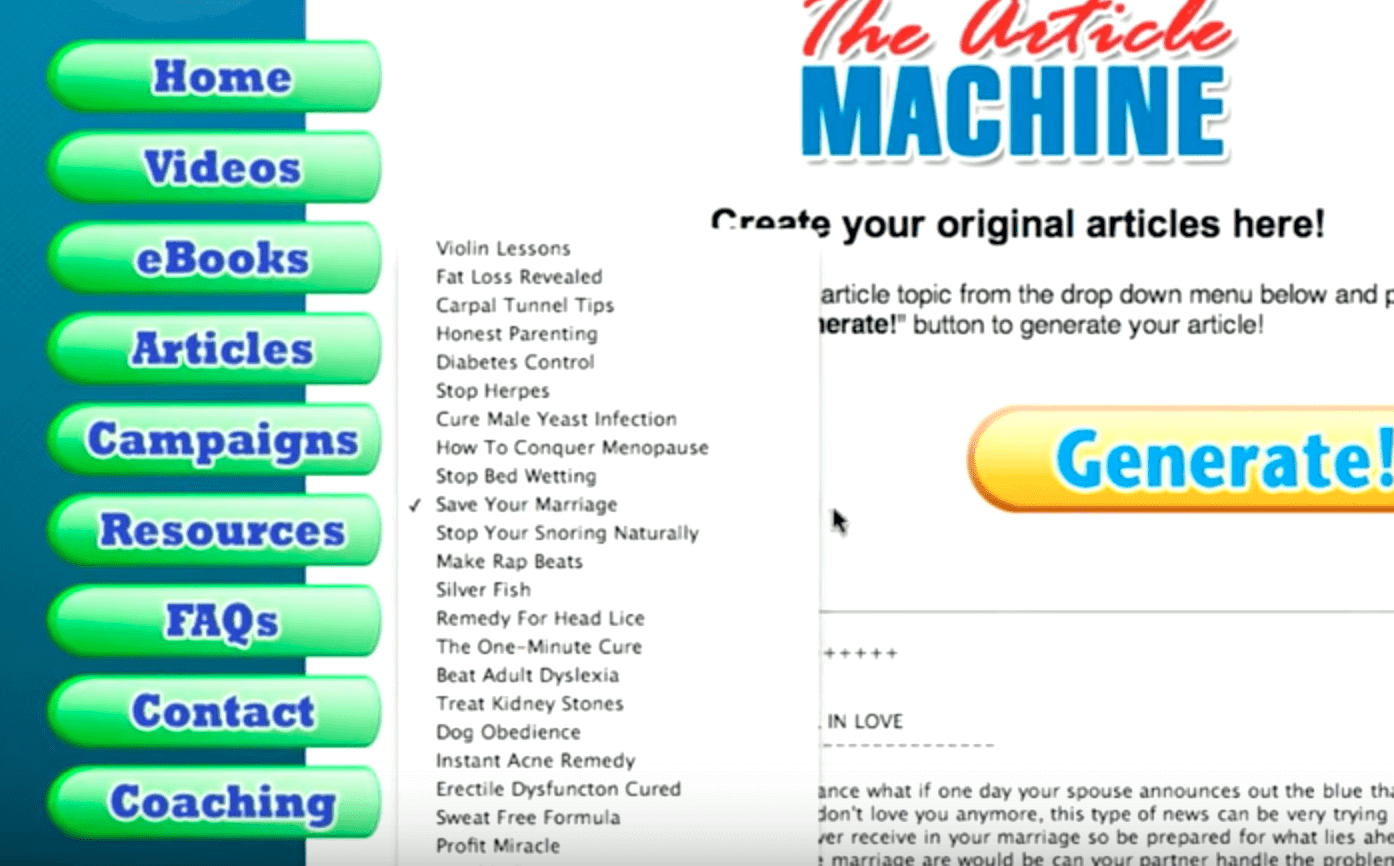 Then the software will slightly reword the material and you can then use it as your own material. First, this technique is outdated and no longer used by most internet marketers. Second, Google will penalyze you for using such material.
At least Google won't rank your article which means you won't get any traffic from Google. This means you will be wasting your time.
The only way to use this material is to change the original material very seriously which takes a lot of time. It's easier to write a new material in my opinion than changing an existing one.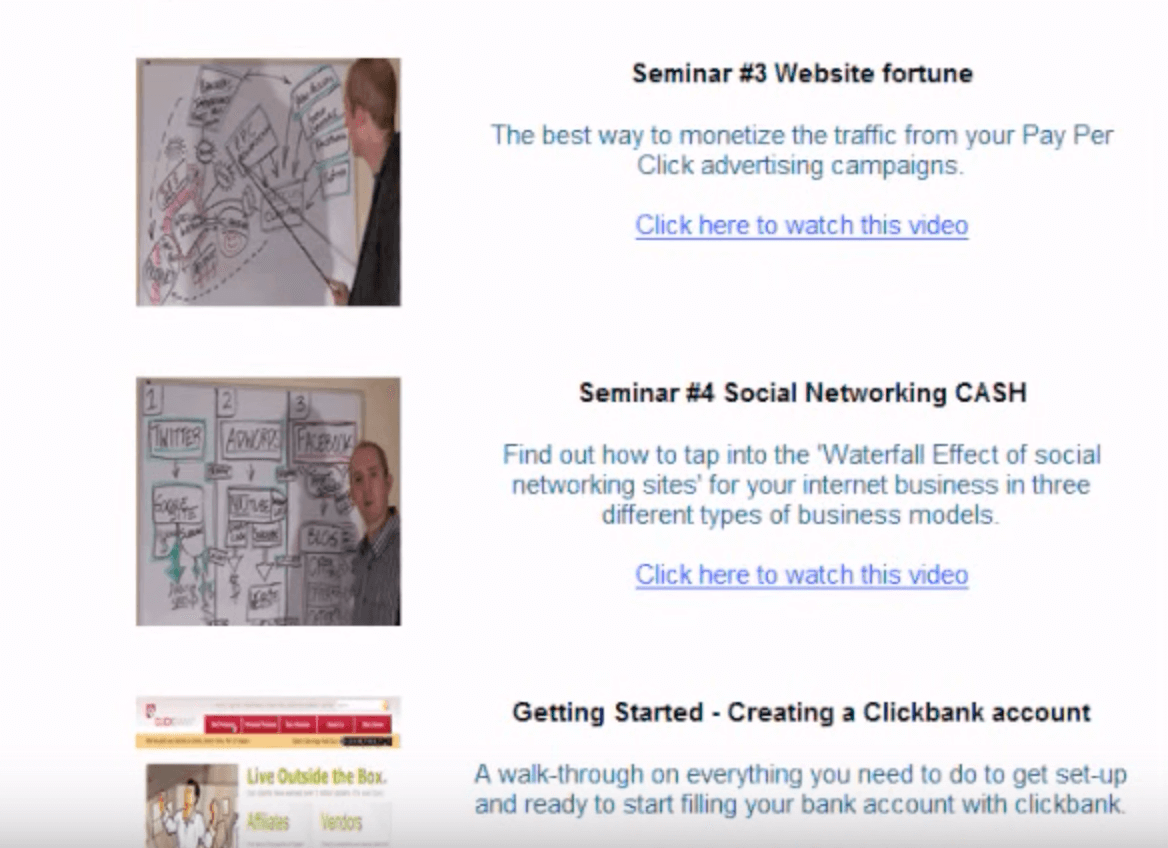 The training consists of the following modules:
Endless profits
Website Fortune
Creating a Clickbank account
Affiliate marketing blueprint for beginners
Millions made online
Social networking CASH
Email broadcast with Aweber
Article machine creator
Article submissions
Article marketing
Forum marketing
Video marketing
Product creation
Clickcash marketing
Within the members area you can also download eBooks, such as Machine Gun Marketing, The Official Copy The Blueprint Manual, The Official Profit Miracle, The Lazy Man's $1.927 Per Day Cash Formula. You can view these PDFs within the members area or you can download them. They contain some good stuff.
You will learn how to find a product online, get your affiliate link and promote it using various online marketing strategies or how to create an account with Clickbank or Amazon, promote their products and earn a commission. If you're a complete beginner to all this, you definitely can learn a thing or two from the course.
The software inside the members area allows you to build a simple website or create an affiliate link and choose a prewritten message on various topics. The program will find top videos on which you'll have to comment and add your affiliate links.
Using this strategy doesn't mean you can make ton of money. People may watch a video on Youtube, but very few people read comments under videos let alone clicking on the links in the comment section.
Or using Rich Janitor software you can get ready made videos from Janitor and add your affiliate links in the description of the video. Again, adding affiliate links doesn't mean anything.
You need to first get your videos ranked in top 10 or 20 on Youtube in order to get traffic, i.e. visitors and only then you can hope that someone will click on your links and possibly orders something and you will earn a commission.
Speaking about article marketing, Mike teaches you to copy articles and drive traffic from article directories. This strategy is outdated and is no longer used as it was a few years back.
Video marketing is a great method but like I said above, you need to get your videos ranked and start getting traffic, i.e. visitors first.
It takes time, probably weeks and months which means Mike's claims about starting making $1.000 per day within minutes after completing his training course is NOT realistic.
He also teaches you to create your own product which is great in theory. The question is: Can you create a product that others will want to buy? Plus he teaches you to steal the material from other sites and article directories which is unethical.
Of course, you can read material from other sites in order to get an idea and write your own material, but copying other's material is unethical.
Mike also shows how to earn an affiliate commission by sending people to a site that sells cars. I like the idea, but there is a problem with the strategy he teaches folks.
Sometimes he shows images of cars that are not the same cars that are promoted on the website you send people to. I don't think it's a good idea.
They also have some recommended campaigns that you can promote and possibly make some money. Again, theoretically you can make ton of money on the internet, but when it comes to practice, you can actually make a few dollars at best until you gain experience and knowledge.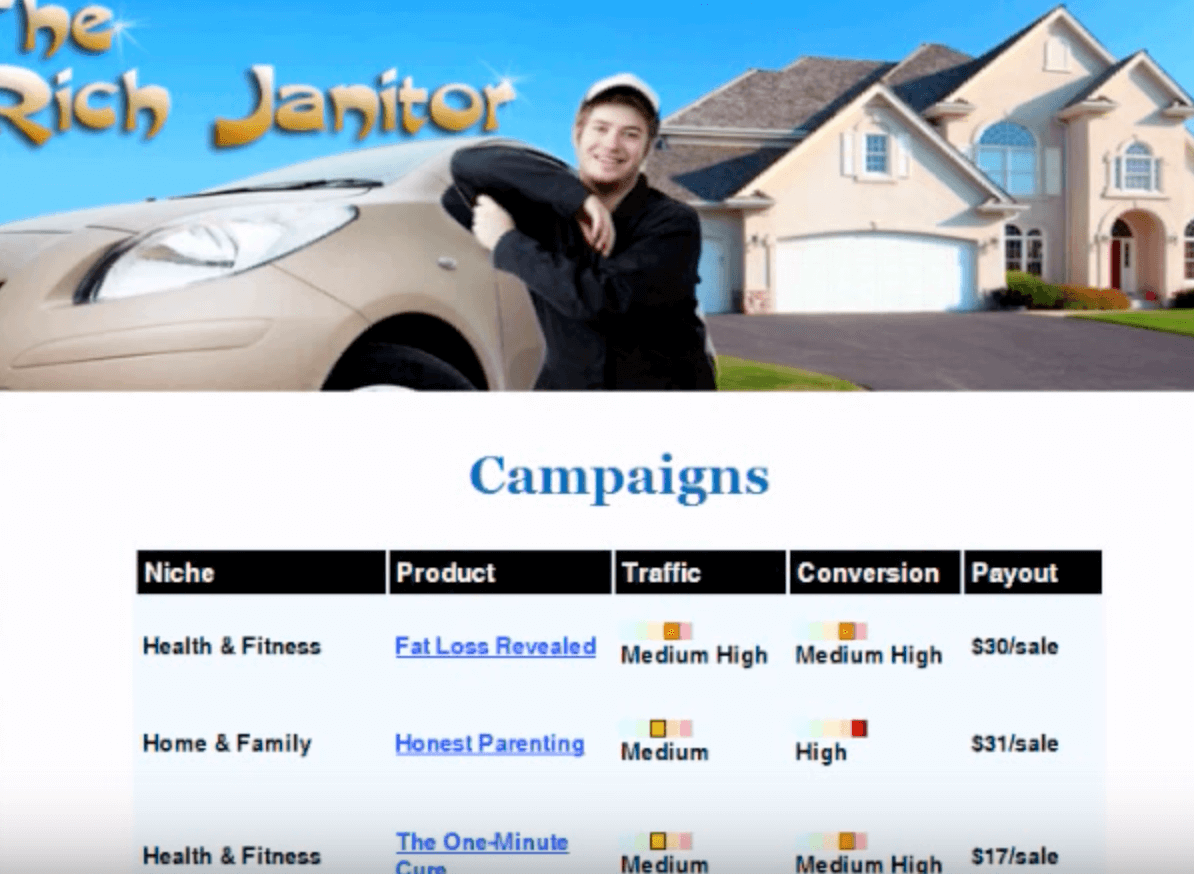 They also have an affiliate program, i.e. you can promote Rich Janitor Course to other people and possibly make money. They have some tools in place to help you in this.
But in order to benefit from their affiliate program you have to spend money on paid advertising. Keep this in mind.
There are also some free methods that require time and effort, like forum marketing, social marketing.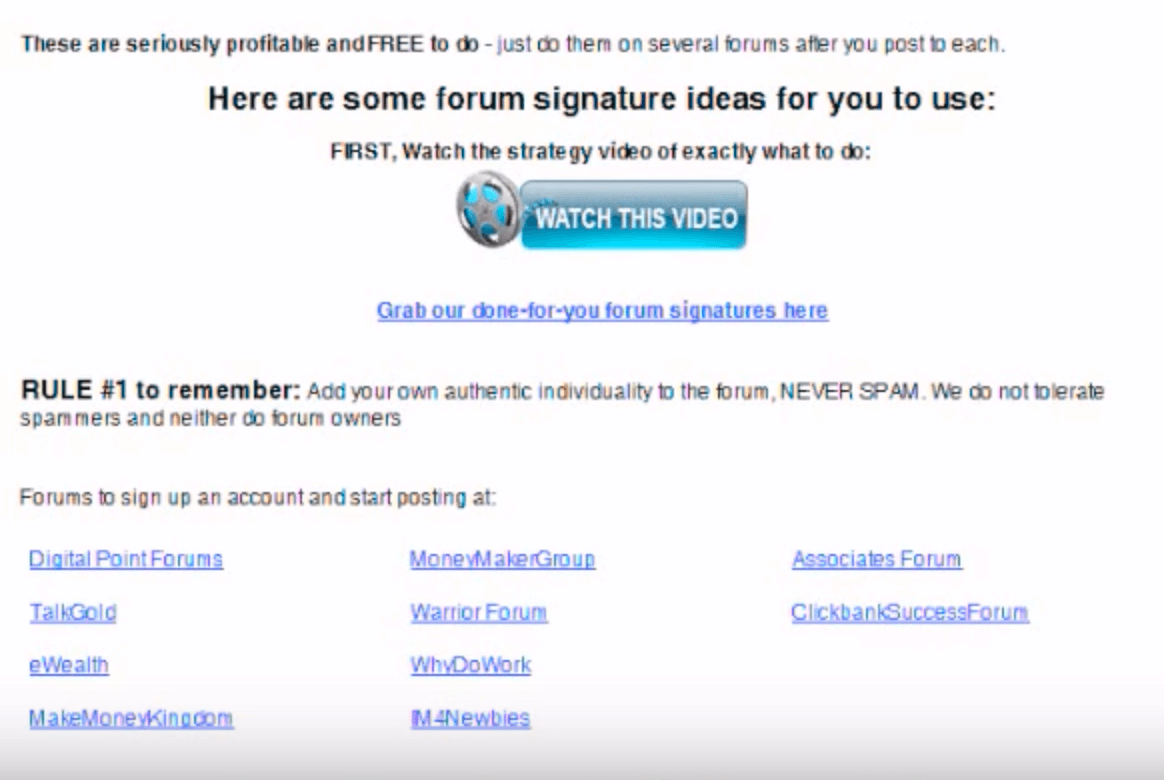 There is also a coaching module within the members area that I'm really not sure about by which I mean I don't expect anything positive from this option. I've seen such modules in many other programs and most of the time such a coaching will cost you thousands of dollars. I really don't recommend it.
Rich Janitor Upsells
Despite misleading promotional strategies mentioned above, Mike also included 3 upsells within his training program. If you expect to get everything for $27 or $7, it's not going to happen.
You have to buy three other products, upgrade for $97, bonus module for $197 and ultimate module for $497.
Almost $800. I think it's very expensive keeping in mind the fact that you don't even know if you can make a single dollar using strategies taught by Mike.
Rich Janitor complaints
First of all, you should know that Rich Janitor program was removed from Clickbank marketplace which is very bad. This proves that the product is not so good.

Normally Clickbank removes products that have too many complaints from customers. It looks like this is what has happened to Rich Janitor.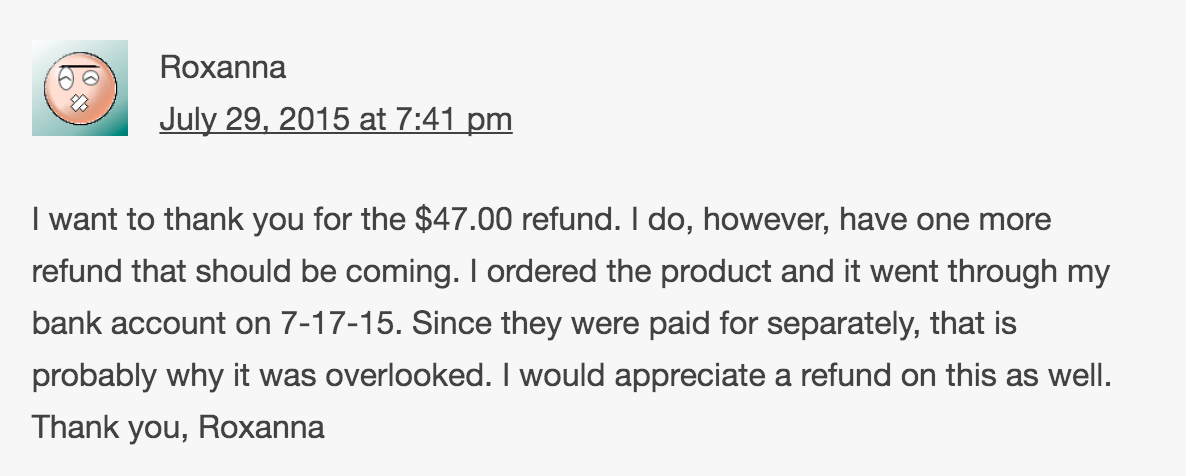 Despite being removed from Clickbank, I found some complaints about Rich Janitor. Some people complain that they can't get their money back after purchasing Rich Janitor program.
But some people can. So, I'm not really sure if you can refund your money or not. You can do it at your own risk.
Final word on Rich Janitor
If you read some other reviews of Rich Janitor you will realise that people are of different opinion on this program. Some say that Rich Janitor is a scam. I think this verdict is wrong because even keeping in mind all negative aspects of Rich Janitor, I can't say that it's a scam.
Probably those people don't have an idea of what Rich Janitor is really about. Or probably they try to promote some other programs and try to put Mike's program in an unfavourable light.
The realistic approach is as follows: Rich Janitor program does contain some good and helpful training material and if you're completely new to making money on the internet, this program can teach you some good stuff.
Rich Janitor is WAY better than many other low quality programs that I've seen so far. But unfortunately, there are several upsells which means you have to pay WAY more to Mike in order to get access to everything he wants to offer you. And it's not cheap at all.
Some strategies are absolutely outdated, such as using article generator software. This is a big no no when it comes building a solid business online. There are also some complaints, such as refund or late response from Mike's team.
Also, Mike makes some unrealistic claims and in fact can't live up to his claims and finally his program was removed from Clickbank which is very bad. I'm really on the fence about Rich Janitor. It's not a scam, BUT I can't confidently recommend it either.
Final glance at Rich Janitor
Some useful training material
You possibly can make some money
Rich Janitor was removed from Clickbank
Support is not as good as it's claimed to be
Some complaints
Mike makes unrealistic promises about making ton of money
Several upsells
Refund issues
Article generator can destroy your business
Overall rank:

40 out of 100

Final verdict: There is some value in the training, but there are several major cons too
About the Author: Adam
My name is Adam. I'm the founder of Your Income Advisor. My goal is to help others succeed online, by exposing scams and reviewing top rated products. I can help you start
your own business online