Product name: Seven-Figure List Building Secrets
Product owner: Debbie Mathieson
Website: debbiemathieson.com
Price: $4.7
Verdict: Legit. Recommended? Yes and No
I suppose you've heard about secrets to making money online many times so far and if you have some experience online and have purchased one or two of MMO products you probably know that most of these products are nothing more than gimmicks.
They all claim to reveal you the secrets to making thousands of dollars online but nothing seem to work. Though some of these products show you real methods they never tell you that behind every success story there is a hard work and patience.
Seven-Figure List Building Secrets is another MMO product that has surprisingly turned out to be a good product and I want to take a closer look at it now to help you learn if this product is worth your time and attention.

The main idea behind Seven-Figure List Building Secrets
Seven-Figure List Building Secrets is a 32 page PDF guide that teaches you email marketing and shows you some real strategies on how you can build your list of subscribers, build relationships with them and "start making" thousands of dollars using this proven method.
The course is really good though it's not the best course available on the internet. But this course is recommended to anyone looking for email marketing strategies that can help them grow their business and the price of this product is pretty affordable.

Pros of Seven-Figure List Building Secrets
The PDF guide contains pretty solid info
Price is affordable
No upsells
Cons of Seven-Figure List Building Secrets
The info contained in this guide is not enough to be successful online
There are much better alternatives to this course
No support
Inside the product
1. As I told above, Seven-Figure List Building Secrets is a good course from which you can learn some real strategies related to email marketing. Though the course contains pretty solid information it doesn't contain any secrets that other internet marketers don't know.
All internet marketers know very well that email marketing is a powerful and proven method of growing a business because it allows you to build relationships with your visitors which is very important for your online success.
It's a fact that most visitors coming to your site leave it and never come back again and that's a reality of things we can't change.
But we can keep some of our visitors by giving them a chance to subscribe to our list and through this method we can turn a one time visitor into a returning visitor that will possibly become our customer in the future. This is exactly what you will learn from Seven-Figure List Building Secrets guide.
2. Another good thing is that compared to many other products that fail to deliver even a fraction of what they promise, Seven-Figure List Building Secrets delivers exactly what Debbie promises you and that's really good because it means that Debbie is honest with you.
Debbie teaches you legit method and it's like a surprise because most of MMO products teach you wrong methods that can only destroy your business if applied. The price is really affordable compared to other MMO products that try to scam you out of your money.
3. But the course is not complete IMO and if you want to learn more about email marketing you need to buy some other products such as Autoresponder Madness. You can read about this product in my review here.
Autoresponder Madness is one of the best courses about email marketing available on the internet. But the course is not cheap compared to Seven-Figure List Building Secrets and if you are on a tight budget then you'd better buy Debbie's product.
4. Though the info contained in Seven-Figure List Building Secrets guide is legit and the methods are proven it doesn't mean that once you will learn them you will start making 7 figures.
This is simply not going to happen. I think it's a bit misleading to call the product Seven-Figure List Building Secrets. Also, Debbie uses some misleading tricks such as one you can see on the image below.


It's misleading because it's not something that anyone can easily achieve. Thousands of people use email marketing in their online business and only few are really successful with this method. This method is certainly not for beginners and before that you need to learn the basics of internet marketing.
Long story short, though this method is legit and proven it shouldn't be your first step in internet marketing world. And besides that, to be successful online you need to use different methods such as, SEO, social media, video marketing, PPC, etc.
And of course, email marketing should be certainly added to that list. It's the combination of different legit and proven methods and not just one method alone that makes you successful online.
5. I told in my other reviews and articles that one of the most obvious reasons why most people fail online is because very often they buy a product and then are left in the darkness trying to figure out how things should work alone without any support.
There is no any support from Debbie. The only way probably is contact her by email but I don't know if she is responsive enough.
6. Most MMO products online come with a lot of upsells thrown on people like you with the sole purpose of making more money off you and it's really good that there are no any upsells from Debbie. You pay only for one product.
Final word on Seven-Figure List Building Secrets
The product in itself is good and I can recommend it, especially because the price is really affordable. But if you are looking for a complete course that will teach you how to make money online then I can honestly recommend you one of the best programs available on the web I've been a member of since 2013.
They offer a top-notch training, tools and support and more. You can even try this program for free within a week and ask unlimited number of questions. Read my review below of this program and let me know if you have any questions.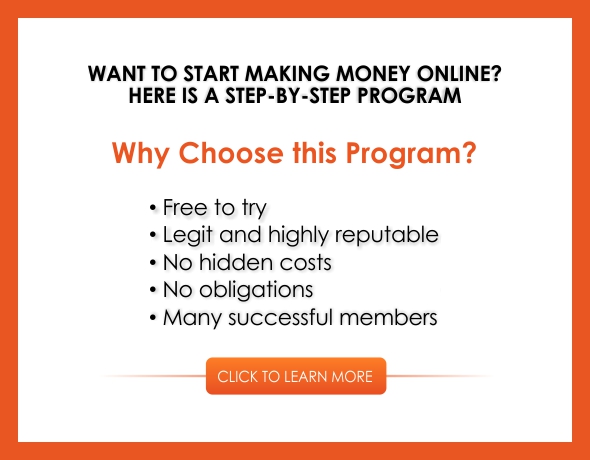 About the Author: Adam
My name is Adam. I'm the founder of Your Income Advisor. My goal is to help others succeed online, by exposing scams and reviewing top rated products. I can help you start
your own business online