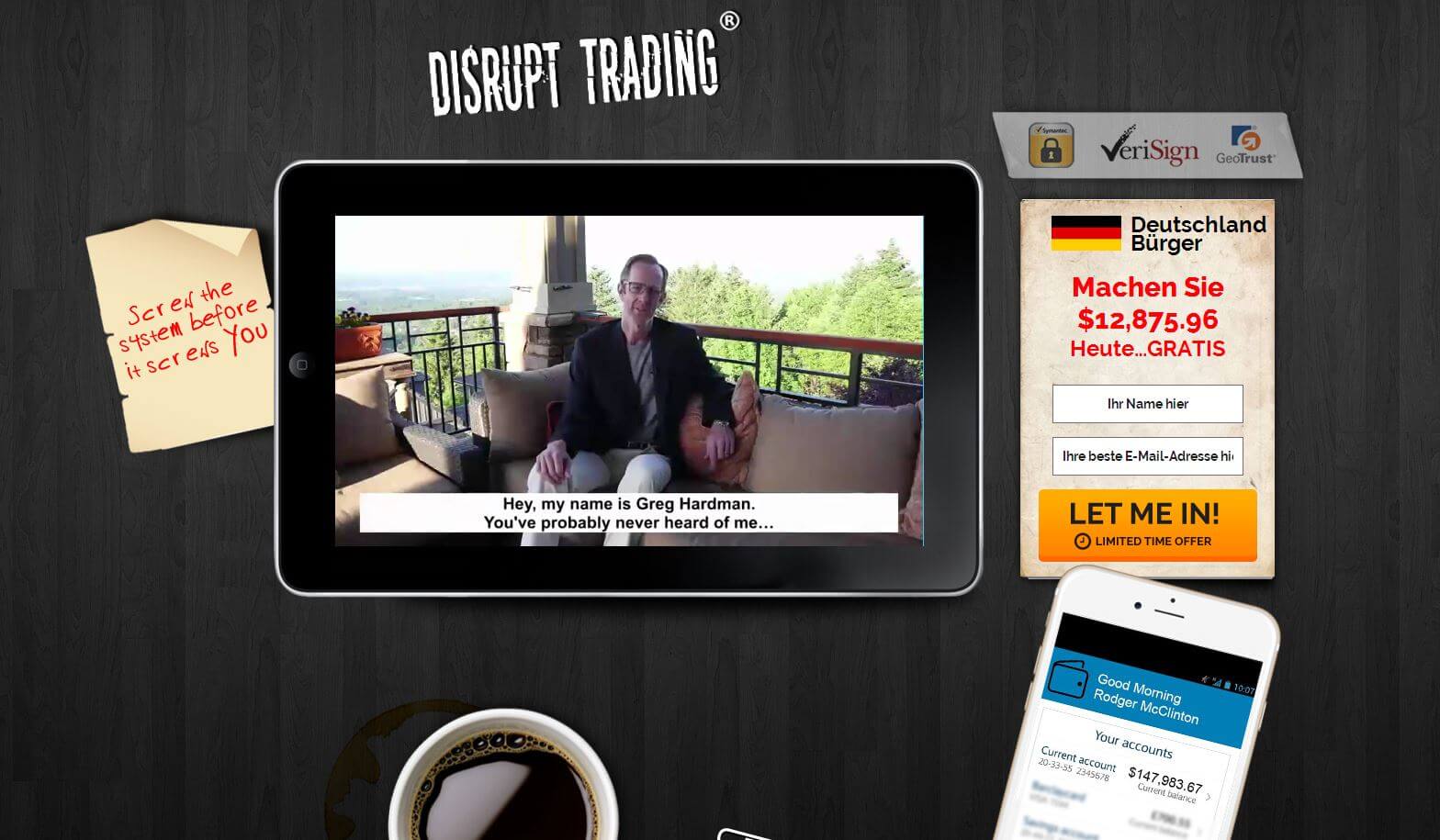 Product name: Disrupt Trading
Website: www.disrupttrading.com
Owner: Greg Hardman
Price: Free. $250 to start trading
Overall rank: 0 out of 100
Verdict: Scam
This binary options review is not the first one on my site and I already have some experience in exposing programs like this Disrupt Trading. Especially when it comes to programs like Disrupt Trading, reviewing them is a fun because it's so easy to expose them. Really easy.
Disrupt Trading is full of lies. Greg has done a "great" job and built his site in a way to scam you out of your money as easy as possible. And unfortunately, many people have fallen for this scam and lost their hard earned money.
Fortunately, his site is no longer as effective as it was a few months ago because the internet is now full of scam reviews which means most people won't fall for this scam.
And I'm also going to expose this binary options scam within the next 10 minutes so you can see for yourself all the proofs pointing to Greg Hardman being a scam artist and Disrupt Trading a scam program.
I've seen many other binary options scams and scam artists for the past 3 years, but this one is one of the worst programs I've ever seen. Keep reading and I promise my review will be very exciting and I believe reading it will be a fun.
The main idea behind Disrupt Trading
The idea of Disrupt Trading is pretty much the same as with many other binary options scam programs. The idea is to completely automate the process of making thousands of dollars daily with Disrupt Trading secret software.
But you need to invest at least $250 in order to be able to use the software. Keep in mind that once you've added $250 to your binary account you won't be able to get it back. You better part with your money IF you invested it in Disrupt Trading.
Pros of Disrupt Trading
Cons of Disrupt Trading
Deposit of $250 required
Misleading tactics
No money refund
Fake millionaire testimonials
Fake profit screenshots
No Privacy, Disclaimer pages
Fake photos of Disrupt Trading members
Disrupt Trading is not going to make you a dime not to mention $15.000 a day. Greg Hardman is a liar and his site is full of false promises and fake info. Disrupt Trading is simply not going to help you make money. Instead it will waste your money. Put your wallet back and feel free to try my recommended FREE program that is legitimate and highly reputable in online space. I'm actually a member of it. See the comparison table below.
Disrupt Trading short review
Before getting into details regarding Disrupt Trading I want to touch upon binary options in general. The idea of trading binary options is that you can make ton of money with a few mouse clicks. Is that true? Sure it's not.
I've reviewed so many binary programs for the past 3 years that when I come across a new binary options program I already know what they are talking about, what they promise and what they actually deliver. Most of them don't deliver even a fraction of what they promise.
Almost all of them claim that their program is super effective and can guarantee that you will be getting only high quality binary signals that will guarantee you a successful winning trade most of the time. In reality we see the opposite.
Their signals are not winning simply because a software can't know the market, market fluctuations and many other aspects that affect the market every day, every few hours or even minutes.
Even experienced binary options traders that have spent years in this business lose a lot of money.
And BTW, they never use any automated programs. They do it manually relying on their knowledge of the market and experience. Because they know that there is no way for an automated program to know which binary signals are winning and which are not.
Sometimes you may get a winning signal from the program and make some money, but relying on it is not reasonable. BTW I have my research on binary options (see link above) and you can get some more info if you want.
Plus within the article you will find a list of other binary options programs that you should stay away from.
Why you should stay away from Disrupt Trading
I believe you should stay away from Disrupt Trading for a number of reasons that I'm going to discuss further within my review. There is one thing that is common for almost all binary options programs. They make unrealistic claims.
For example, the Cobalt Code program claims that you can make over $12.000 a day. Smart Profits claims to show you how to make over $400.000 per month.
Your First Million claims that you can make $1000.000 in 7 weeks. 30 Day Change promises that you can make $700 a day.
Push Button Millionaire claims that you can make $400 in 60 seconds. Guaranteed Outcome claims you can make $10.000 a week. Trading Everest claims you can make $788 an hour.
As you can see, all these programs including Disrupt Trading have one thing in common. They promise ton of money with little effort.
Do you really believe you can invest $250 and start making thousands of dollars each and every month? I think you know the answer.
Can you really start trading binary options for free?
All binary options programs advertise the binary opportunity as a free way to start making money which is not true.
If you plan to invest your hard earned money in a binary program or in Disrupt Trading then you should be aware of the fact that once you've added funds to your binary account and agreed to their terms, you won't be able to take your money back until you win or lose.
Because you don't purchase anything. You invest your money in a binary opportunity. If you can achieve success you will get your investment back plus some profit. If you lose then you won't have any profit or your investment back.
Also, keep in mind that the catch here when it comes to binary trading programs is that when you invest a small amount you make a small profit. When you invest a significant amount you can lose all your money.
And this is the reality because most people when they start trading binary options and have some limited success they start investing more and more of their money and finally they lose everything. This business is very similar to gambling.
That's why I don't like this type of business and never recommend it. I have a good instructive example of my brother who lost thousands of dollars in this business.
Should you trust Disrupt Trading?
There are thousands of programs online that promise that you can make lots of money with no effort on your part and the same path is seen in Disrupt Trading as well.
But before you decide whether to join a program or not and in this case we are talking about Disrupt Trading, we should know exactly if we can trust Greg Hardman and his site Disrupt Trading.com or not.
I believe there are too many reasons to not trust Greg and there is no even a single reasonable reason why you should trust him.
Let's see if you can trust Greg and his site.
In the promotional video on Disrupt Trading site you'll see many scam artists that are paid actors trying to convince that you can make lots of money if you take Greg's advice and join his amazing team. For example, this face can be seen on many other scam videos.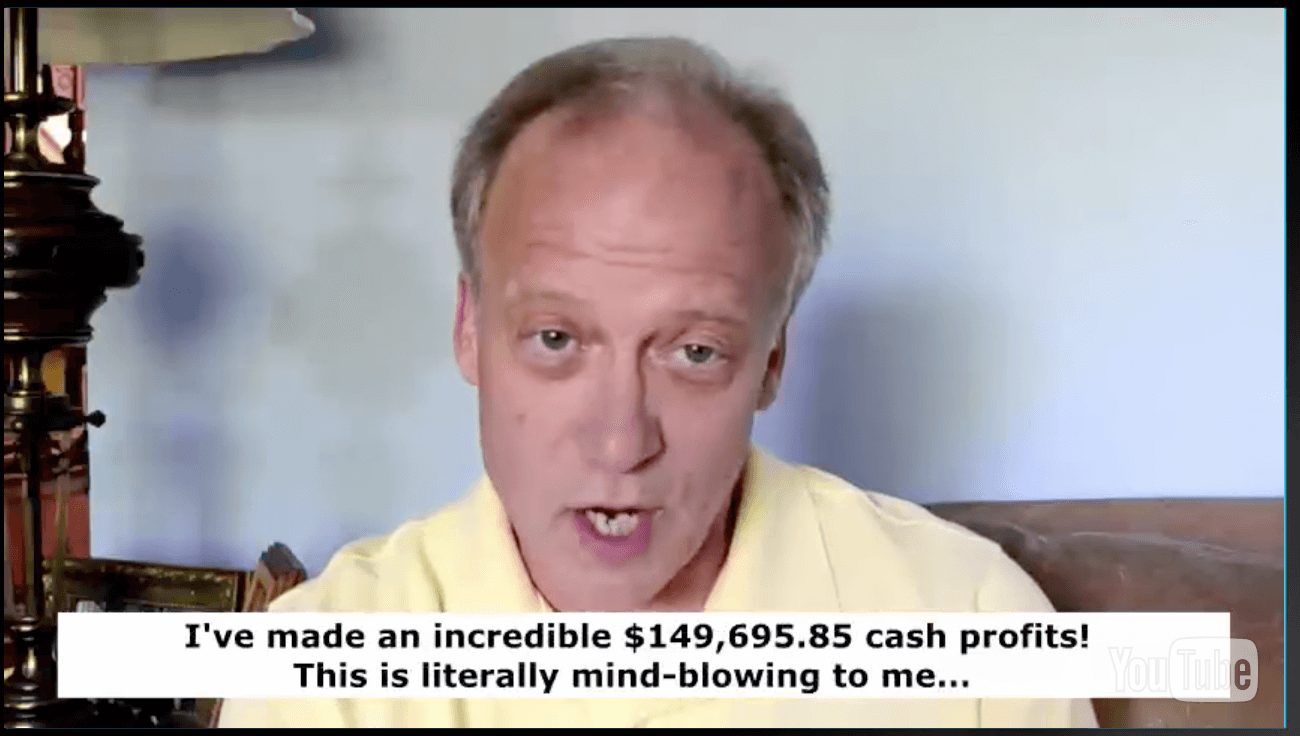 This man claims that he has made $149.695 in 10 days after using Disrupt Trading software and he is very thankful to Greg.
Then Greg himself shows you one dollar and says: "I bet you $1 I can make you $12.765 by the time this short video ends".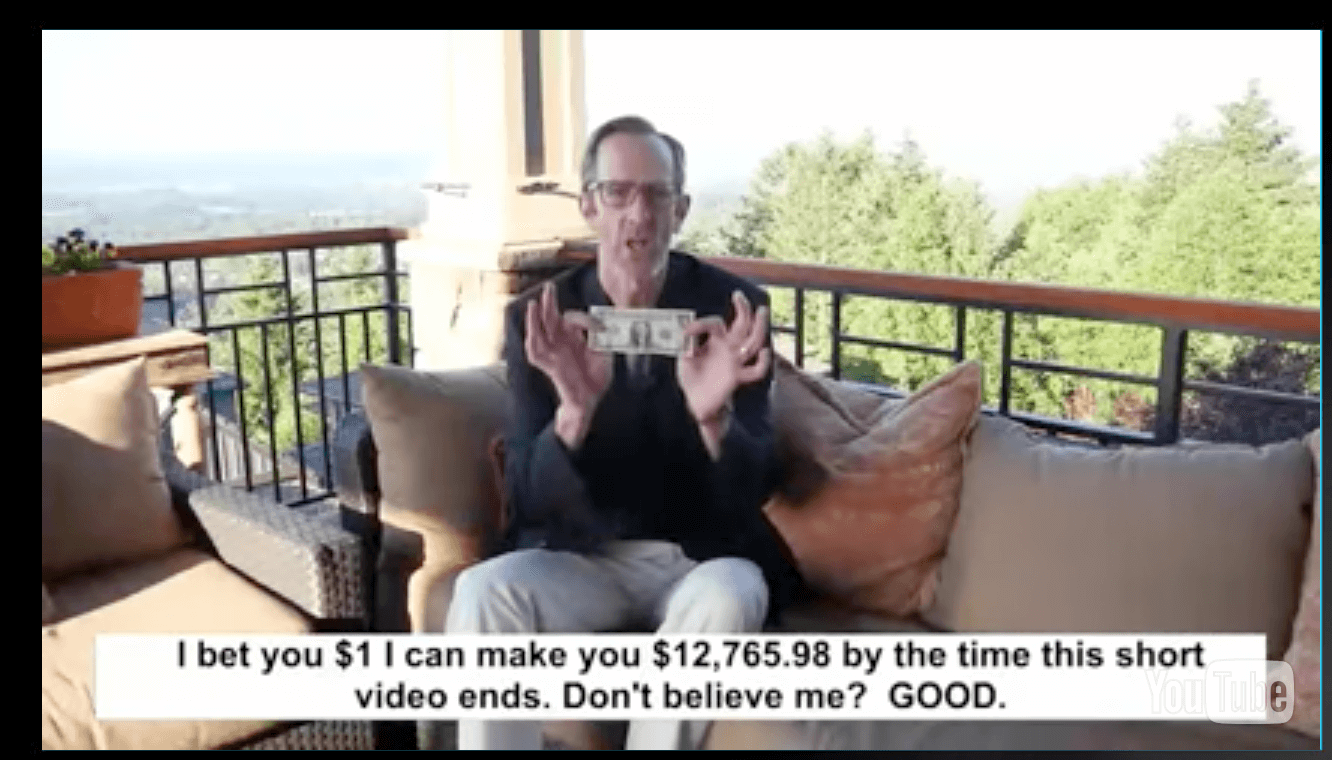 I've seen something similar in another program called Countdown to Profits when the owner promised to pay you $500 just for watching his video. From my experience I can tell you that whenever you see unrealistic claims and promises immediately run away from that program.
A binary options alert
There is also an alert from SEC and CFTC regarding binary trading programs. This alert indicates that many binary trading platforms are actually illegal because they manipulate the software in order to scam people out of their money instead of helping or teaching them how to make money through trading binary options.
Very often they refuse to reimburse money to their customers or even pay the amount their have made using their binary software.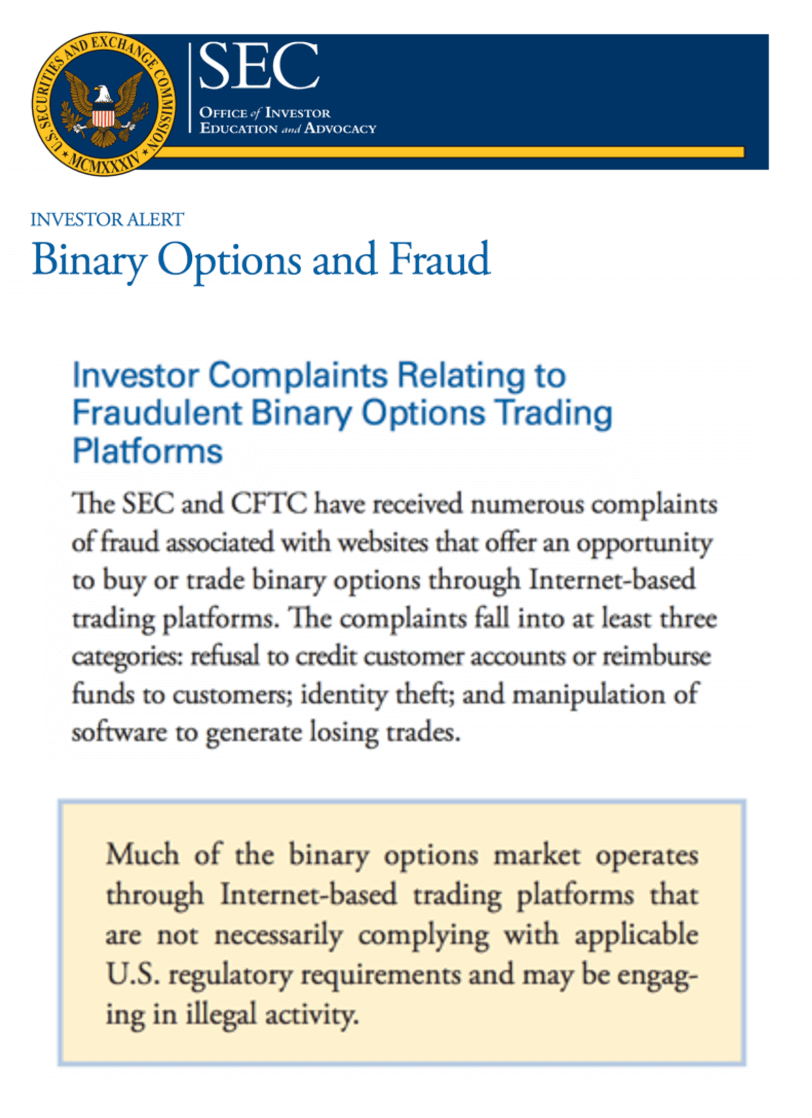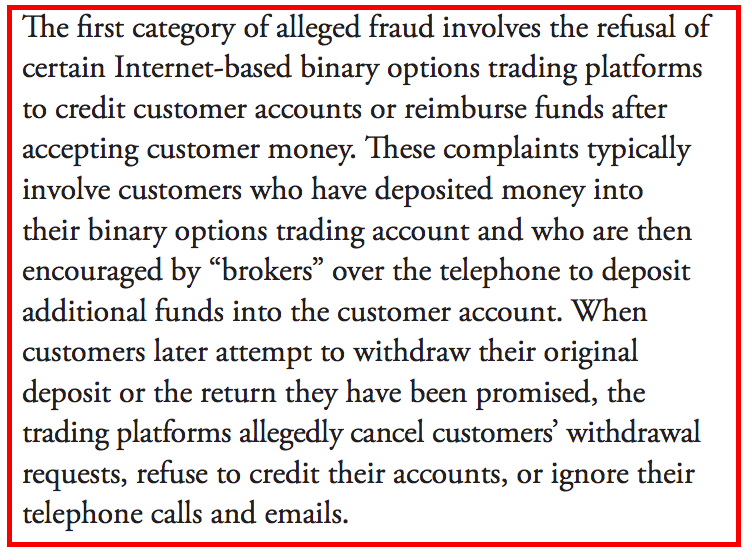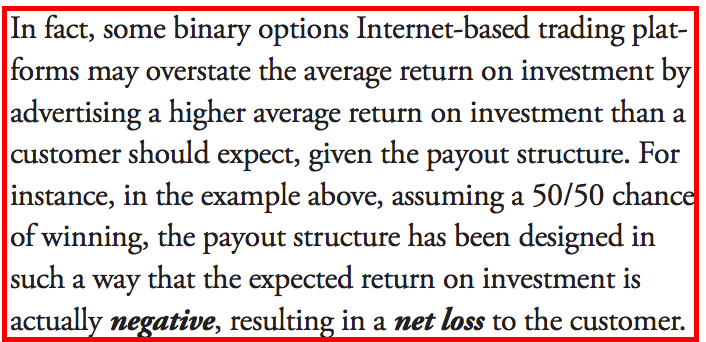 In this alert it clearly shows that some binary brokers may be operating without a license and encourage people to deposit more money into a binary account which ends up cancelling customer's request to withdraw their original deposit, not mention their profit.
They even may ignore your telephone calls or emails. This is a pretty serious alert for those that want to be safe from falling into the hands of dishonest people.
Disrupt Trading fake millionaires
On Greg's site Disrupt Trading you can see some photos of fake millionaires just to convince you that Disrupt Trading is an awesome opportunity you should take advantage of.
First off all, they are not making any money with Disrupt Trading at all. All this info is totally fake.
Let's take just one example and see how Greg manipulates the facts. A few months ago you could see on his page the photo of Disrupt Trading fake millionaire Molly Pearson. In fact, the same face can be found under different names as well. Look at the images below.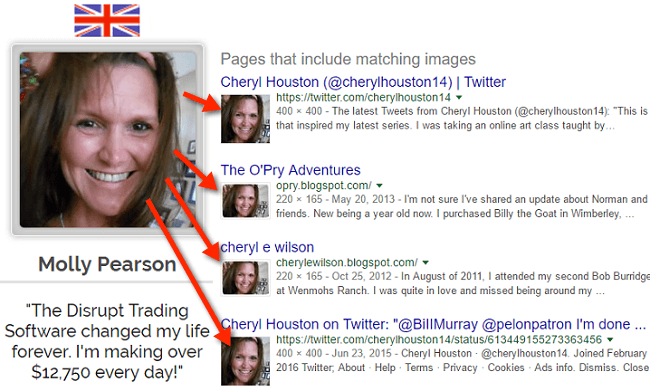 The same woman exists under different names, such as Domino Moesker, Clementine Lachance, Michelle Burger, Linda Sanders, Cheryl Houston. Doesn't it look ridiculous?
Who is the millionaire? Michelle or Lachance? Or maybe Cheryl? I think you know the answer.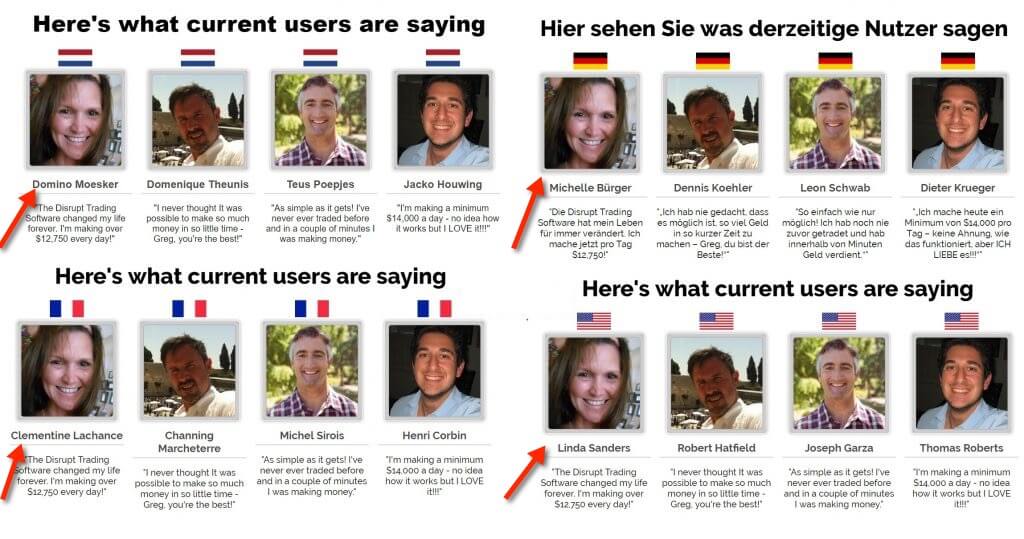 Plus all testimonials that you see in the video are fake as well. All these people are actually paid actors that are far from being millionaires. If you want to know how to get a fake testimonial for $10 on Fiverr.com take a look at the screenshot below.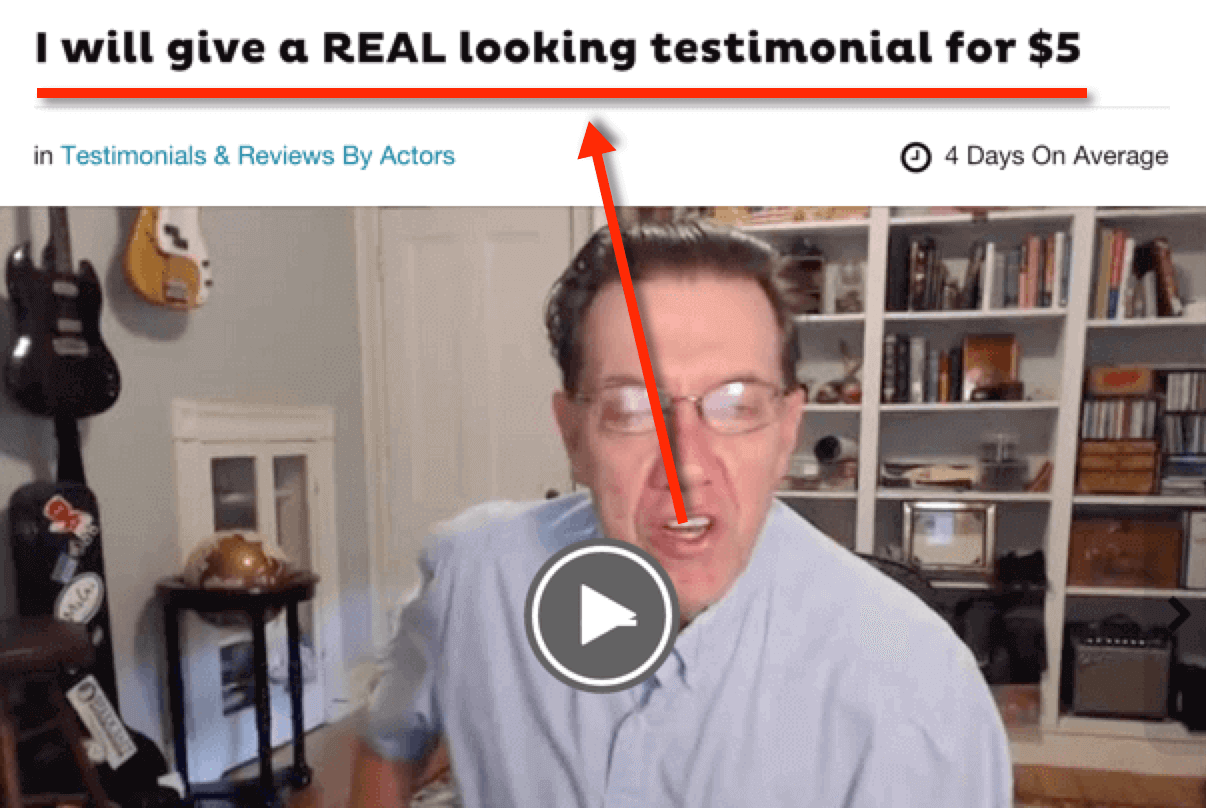 It's absolutely clear that all other photos used on Disrupt Trading website are also fake and people like Arthur Doyle, Andrew Femming, Christian Branson are not millionaires.

Plus most likely these images are used without their consent. Imagine if someone took your image and used it on a scam site. Would you like it?
Some other misleading techniques
Greg also uses VeriSign logo on their site which means his site is approved and trusted. Is that true? If so, why this logo doesn't lead us to VeriSign official website?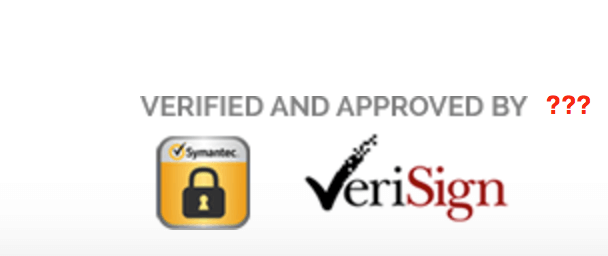 Does it look trustworthy to you? Believe me, I've seen many other binary trading programs and some of them at least put such pages like Disclaimer or Privacy policy.
This is not a matter of choice, it's the requirement of the internet cyber space. All sites should have such pages. I have them on my site. Disrupt Trading doesn't have any of them which means Disrupt Trading is a total scam.
I know many other binary trading sites that are low quality sites and are actually scams. But even those sites have such pages. And they clearly explain to their visitors that income is not guaranteed when it comes to trading binary options.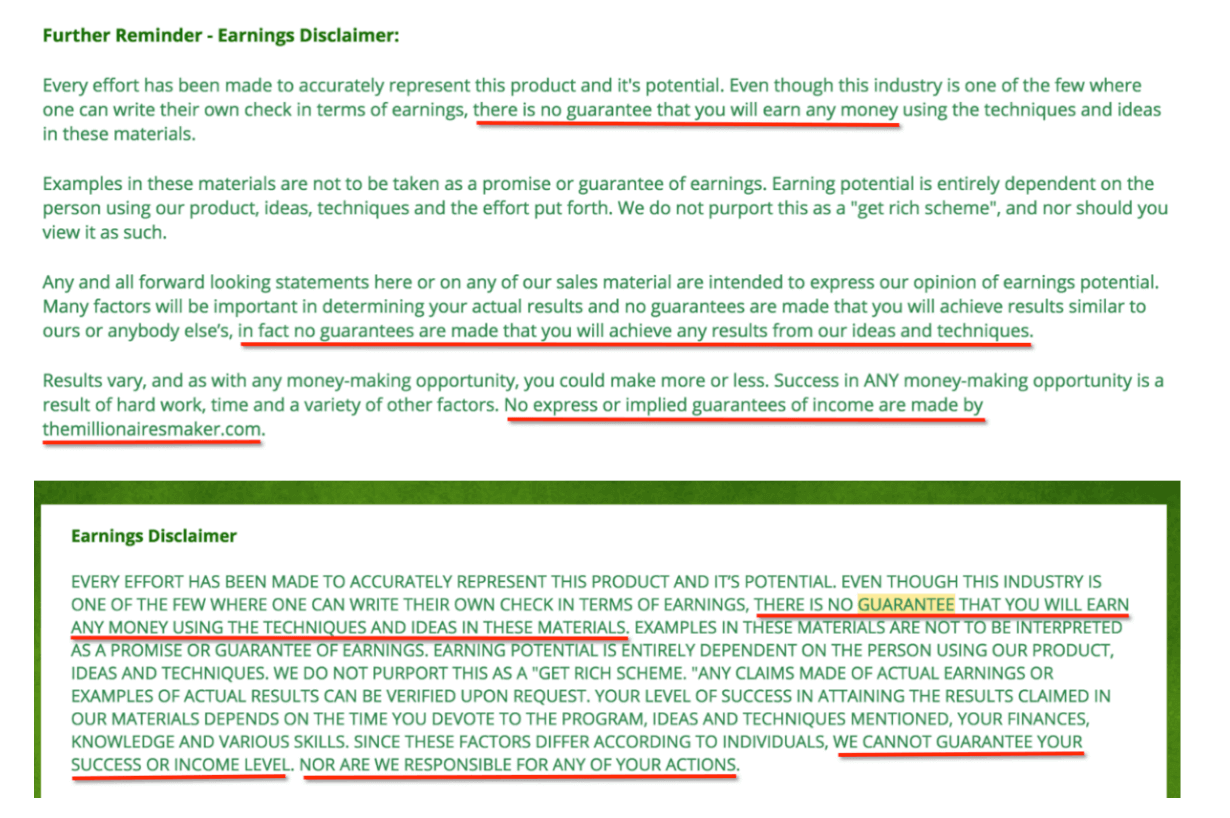 They explain that trading binary options is a risky venture and you can lose part or all your investment. Take a look at what other even low quality binary scams have on their sites. Disrupt Trading is out of game.
Money gone
Some people after using Disrupt Trading software also report that Greg sometimes credits accounts with some money and then your money disappear and the system shows your balance as $0.
Final word on Disrupt Trading
My opinion on Disrupt Trading is that this "amazing" program created by Greg Hardman is a total waste of time and money. First off all, his site is full of lies, fake millionaire photos, fake income screenshots and more. Everything that Greg has on his site is fake.
The photos of people that he uses on his site were taken from stock image sites. For example, Cindy Henderson or Molly Pearson are in fact from stock image sites. You can find them via Goole search.
These people don't even know that their photos are being used on scam sites like Disrupt Trading. Greg tells you a fantastic story about himself as if he was a worker in one of the companies from Wall Street.
Then he found a loophole in the system and created a software that allowed him to make millions of dollars. Believe me, most other binary options scam programs, such as Cobalt Code, Larry Cash System and many others tell you very similar fantastic stories.
Greg also promises that with his secret software you can make up to $15.000 a day. And it's very common for all other binary options programs. They always promise minimum investment like $250 and huge profits like $10.000 a day.
Of course, it's not true because it's simply impossible. You have to invest a lot more than $250 in order to have a chance to make more and the chances are very slim with binary automated programs like Disrupt Trading.
Also, keep in mind that all people that you see in the video on Disrupt Trading site are fake millionaires.
Like many other binary options scams, such as the Cobalt Code, Greg's site Disrupt Trading has no Earnings Disclaimer, Privacy Policy pages on their site.
This is very bad because it's a requirement for any site and if it doesn't have such pages it means you shouldn't trust it. Disrupt Trading has all the signs that point to this program being a complete scam and I honestly recommend you to not invest even a dime in this program.
Final glance at Disrupt Trading
No pros
Deposit of $250 required
Misleading tactics
No money refund
Fake millionaire testimonials
Fake profit screenshots
No Privacy, Disclaimer pages
Fake photos of Disrupt Trading members
Overall rank: 0 out of 100
Verdict:

Scam
About the Author: Adam
My name is Adam. I'm the founder of Your Income Advisor. My goal is to help others succeed online, by exposing scams and reviewing top rated products. I can help you start
your own business online