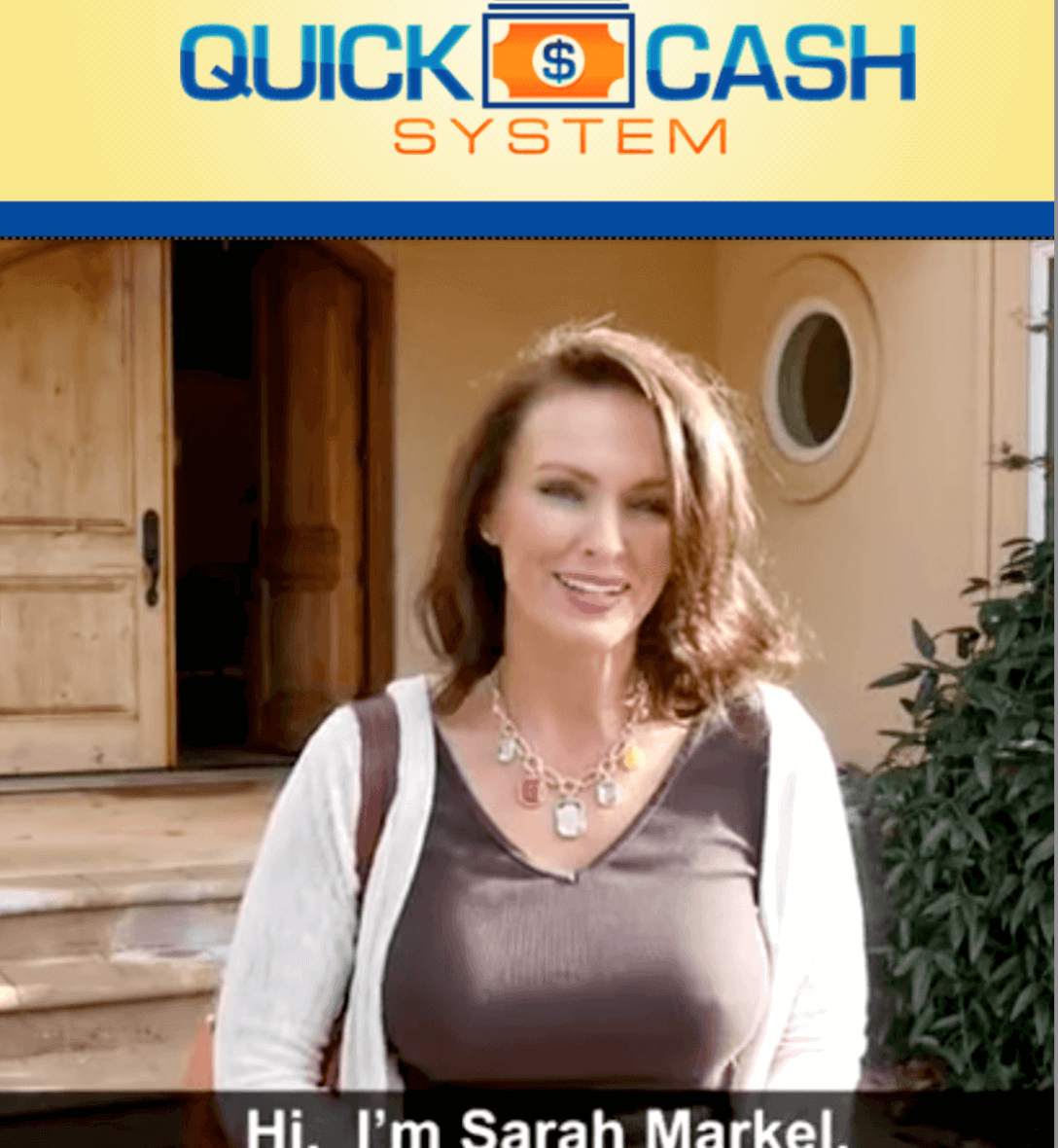 Product name: Quick Cash System
Website: http://quickcashsystem.biz
Owner: Sarah Markel
Price: Free. $250 to start trading
Overall rank: 0 out of 100
Verdict: Scam
Welcome to my site and today I'm going to review an "amazing" program called Quick Cash System by Sarah Markel. She is the CEO of the Quick Cash System and claims to be a successful woman, a millionaire who made millions thanks to Quick Cash System software.
And of course, like with many other similar binary trading programs, she now wants to give you this software for free.
Because she wants to see you rich and be able to quit your job in 24 hours. She wants to help you become a millionaire in 3 months and enjoy the rest of your life.
She claims anyone can use this system with zero knowledge and experience. So, she promises that with Quick Cash System you can quit your job in 24 hours and become a millionaire in 3 months. Such a big claim!
She tells in the video that she doesn't believe in promises. She believes in results. But doesn't it sound ridiculous? She tells she doesn't believe in promises yet she in fact tries to make you believe in her promises. What is the logic behind such an approach? The logic is simple.
Sarah Markel wants to scam you out of your money. In fact, there is no evidence that Sarah Markel is a real person that stands behind this piece of software. What I'm sure about is that the woman you see in the video is not Sarah Markel.
She is a paid actor who got a few hundred bucks or maybe less for creating Quick Cash System promotional video. Anyway, let's take a look at this program and see what we can expect from Sarah.
My Quick Cash System Scam Review will be a bit long because I'm going to get into details to help you with the right decision.
The main idea behind Quick Cash System
If you watch Quick Cash System promotional video you can get an impression as if Sarah has created this software in order to help people like you to safely trade binary options with maximum profit and minimum loss.
But in reality Quick Cash System is an automated software that is going to waste all your money and leave you completely frustrated. Sarah claims Quick Cash System works with 99% accuracy.
Believe me, it's not true. There is no way to earn money on autopilot either through binary trading programs or any other program out there.
Pros of Quick Cash System
Cons of Quick Cash System
Trading requires $250 deposit
The woman in the video is a paid actor
No money back guarantee
Fake testimonials
Fake binary accounts' screenshots
No evidence that someone has made at least $100 using Quick Cash System
False promise that you can quit your job in 24 hours
Sarah's false promise that you'll be a millionaire in 3 months
Manipulating facts regarding Intuit.com website
No quality customer service
In my humble opinion, Quick Cash System is a complete waste of time, money and effort. A quick look at the cons of Quick Cash System within my Quick Cash System scam review will show you that this program is NOT something I would recommend. Instead of wasting your time, effort and money on Quick Cash System I suggest that you take a look at my recommended FREE to join program that allows you to create a free account and see the program from inside. Feel free to ask questions if you have any. And I forgot to mention that you don't need a credit card to try my recommended program.
Quick Cash System short review
First of all, let me explain to you that though Sarah Markel promises to give you a free bonus just for registration on Quick Cash System site, it doesn't make much sense. Before it was just a free bonus and now it's up to $1000 upon registration.
I'm not sure if it's true. I'm afraid it's one of their empty promises. Anyway, once you've funded your account with $250 from your own pocket, you will have to click on the wheel to get the bonus and your bonus will be tied to your $250 and you won't be able to get your $250 back in case you decide to take your money back.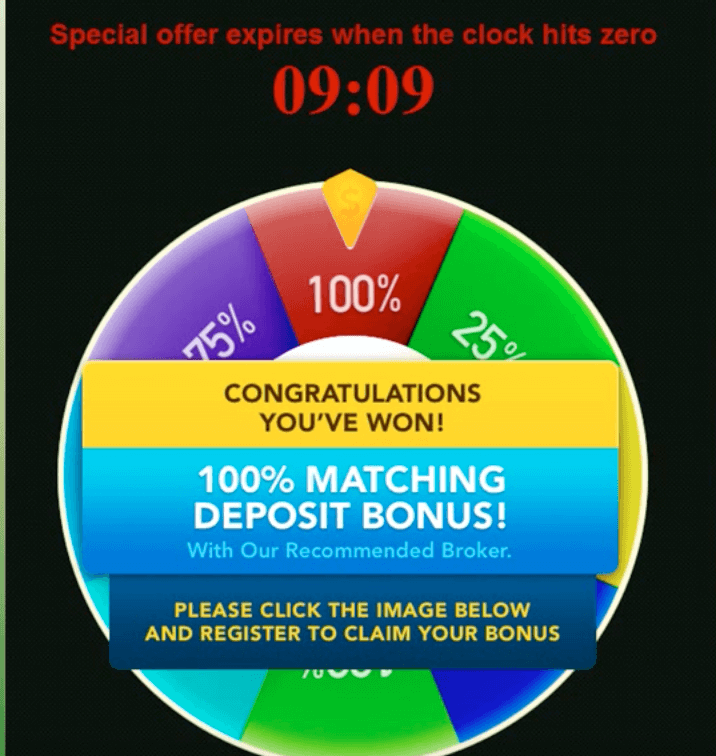 You can only start trading binary options in the hope that you will make some money and if you will have some profit then you can withdraw your money. The truth is that there are many complaints on the internet regarding internet binary scams that lure people like you into investing money.
People invest and then these programs create problems when people want to withdraw their profit. This is not my fantasy.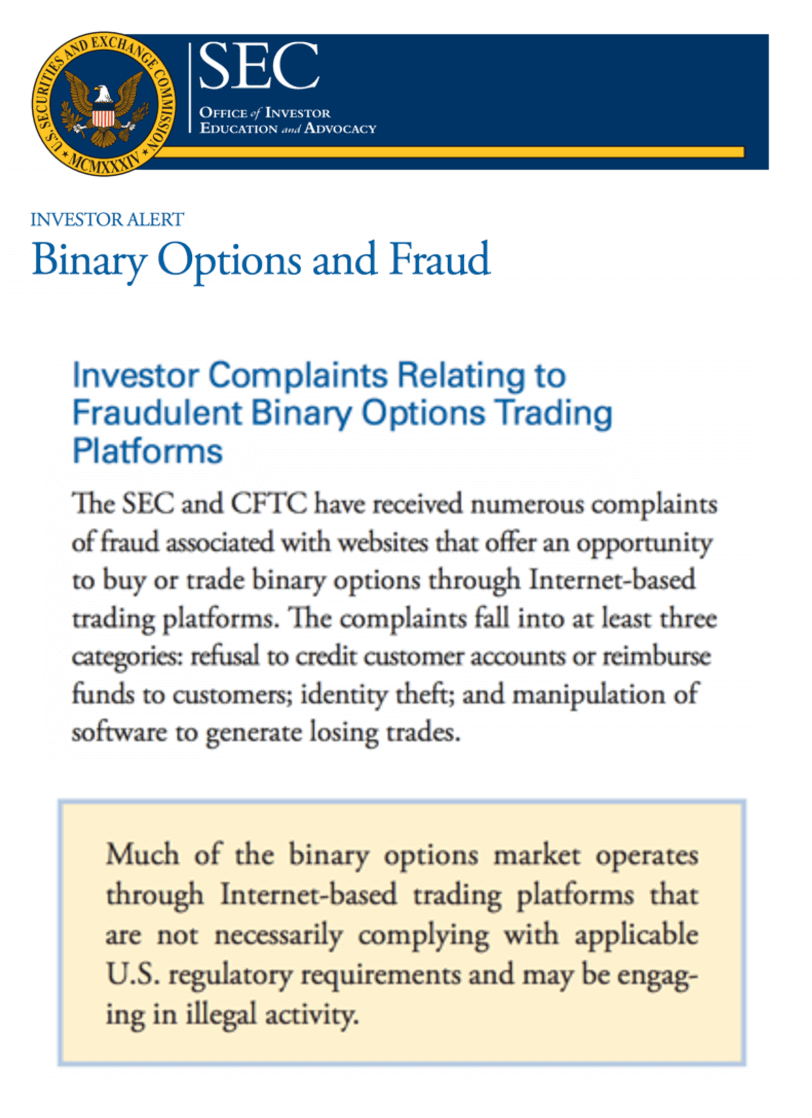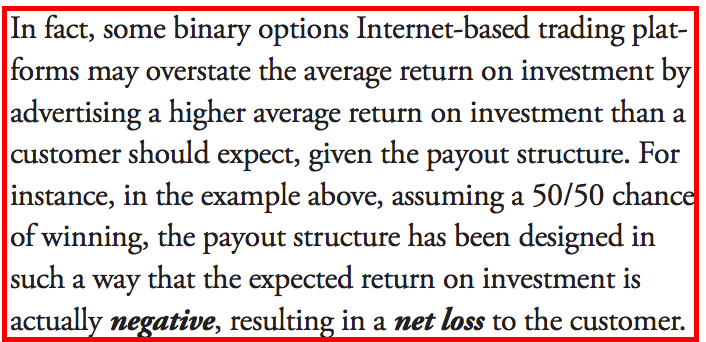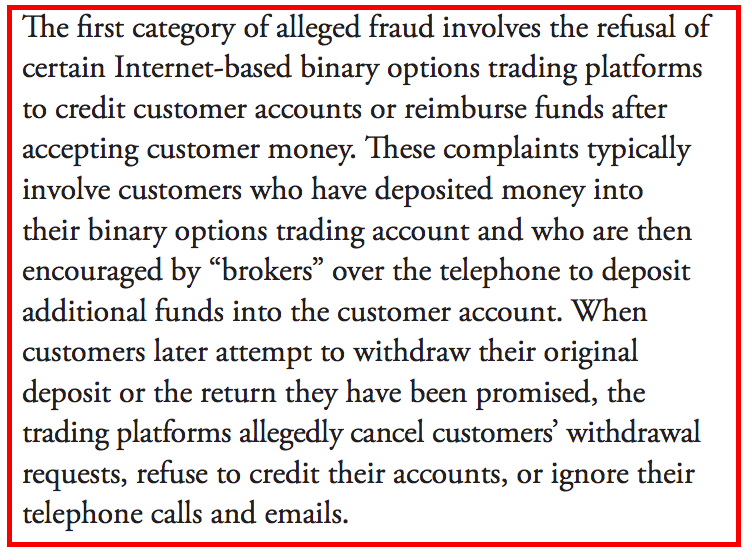 This info is based on real facts that you can see on the screenshot taken from the official website. Take a look at what CFTC and SEC say about internet binary scams.
The warning clearly says that binary scams cancel people's withdrawal requests and even ignore their calls. That's why you really need to be very careful before investing money in internet binary scams like Quick Cash System.
Sarah Markel's inconsistency
Sarah Markel doesn't look trustworthy because like many other binary options scam actors she claims that Quick Cash System software works with 99% accuracy and you can completely rely on Quick Cash System binary signals without any fear of failure.
It works on a complete autopilot and can allow you to quit your job in 24 hours. It's not new. All binary scams make the same claim.
They promise you 100% accurate predictions of the market, but still people lose lots of money in binary options programs.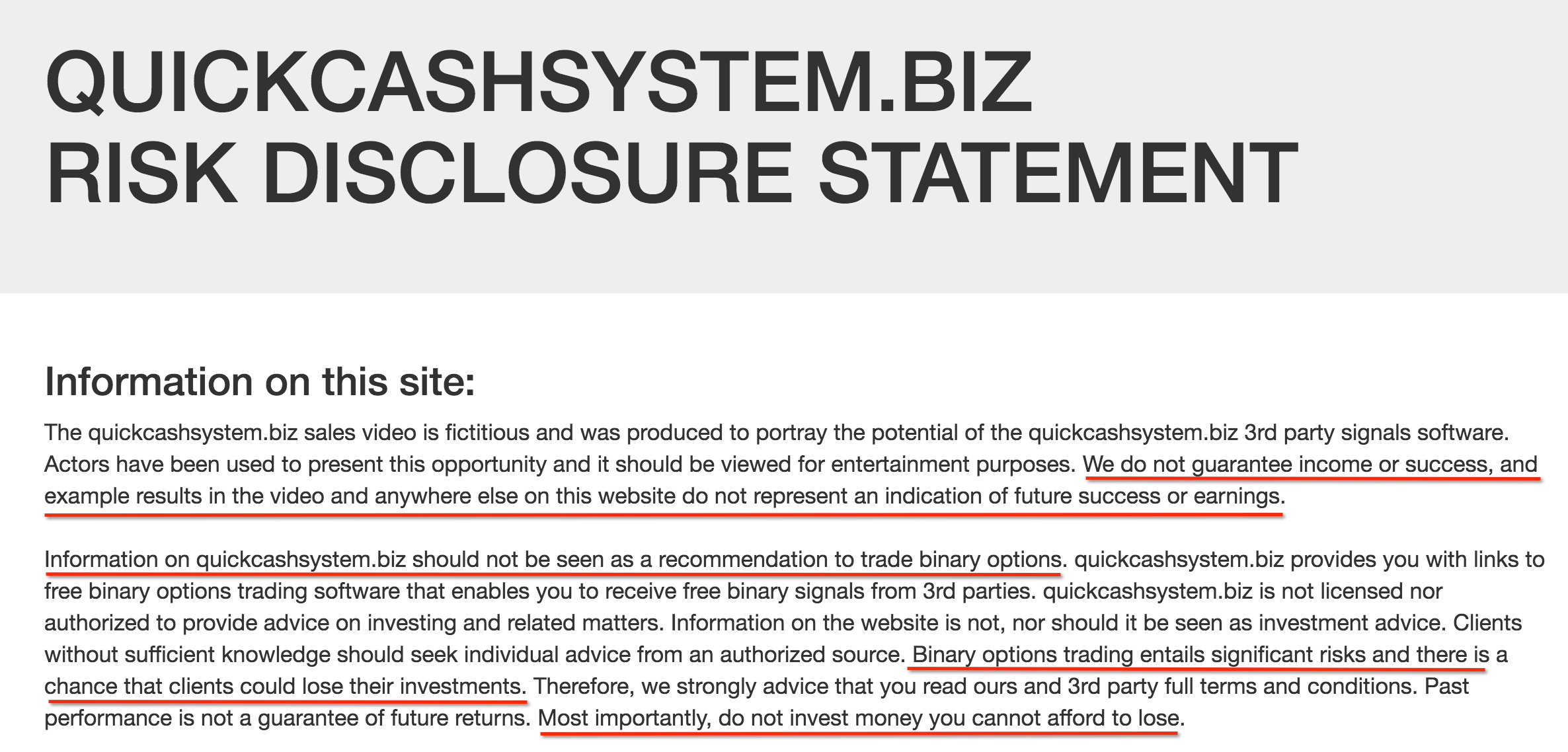 I recommend you to pay attention to "earnings disclaimer" pages when visiting binary options sites. Most of the time they warn people about high level of risk involved in trading binary options.
This is in conflict with what they promise to folks. In this particular case Quick Cash System promises to help you quit your job in 24 hours AND at the same time they say on their website that they don't guarantee any income and that you shouldn't invest your last money because you can lose your entire investment.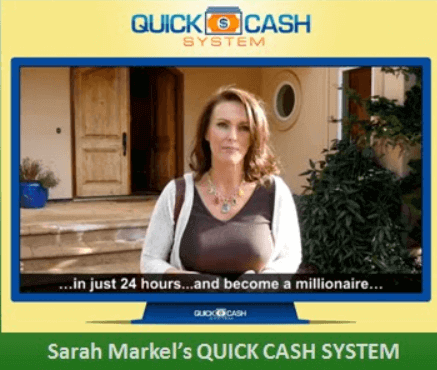 Income proof
The best way to prove that your program works and makes folks a lot of money is to show real proofs. I don't see any proofs that Quick Cash System makes people a lot of money.
Do you know any binary options trader who tried Quick Cash System and made a lot of money?
Do you know any trader who could quit their job in 24 hours? There are no any proofs to prove that fact.
Instead you can find too many negative reviews that expose Quick Cash System and explain why this program is a scam and why you should avoid it. There are too many negative reviews both on Google and Youtube.
Is knowledge required to start trading binary options with Quick Cash System?
It's true that some people that have knowledge and experience are making money through binary options. But the question is: how do they make money? Do they rely on automated software or they trade manually?
The answer: Of course they trade manually because they have knowledge and experience. Relying on the software doesn't make any sense because when you receive binary signals and need to make the right decision and choose from two available options "Yes" or "No" you need to know and understand how market works which includes many aspects.
It means there is no way for a software to make the right decision instead of you. Market can change within a few seconds and that's why those who rely on the software very often lose lots of money.
There is also another interesting fact with Quick Cash System. When you're inside the program you will see that they try to sell you an ebook that can teach you how to trade binary options.
The book will cost you $500. To your surprise it won't be free. And of course, this price is unfair.
The book can't cost $500. I think that's a huge investment without any guarantee that you will make any money at all. A few years ago my brother bought a book about Forex from a reliable website and started trading currency at Forex and ended up losing over $20.000.
By this I mean you definitely need knowledge and experience before getting into binary options business, but even with knowledge and experience there is no guarantee that you will be successful. Before getting in this business you need to know that it involves a high risk of losing your entire investment.
Support
It's also reported that when you join internet binary options scams like Quick Cash System you get a good support until you make some profit. Once you start losing money support becomes non existent. This is very normal for programs like Quick Cash System
Major drawbacks of Quick Cash System
As I said above, you have to invest $250 first in order to be able to start trading. Sarah claims that you can make ton of money with her program. However, there are many reports from traders that tried Quick Cash System and they lost considerable amounts of money.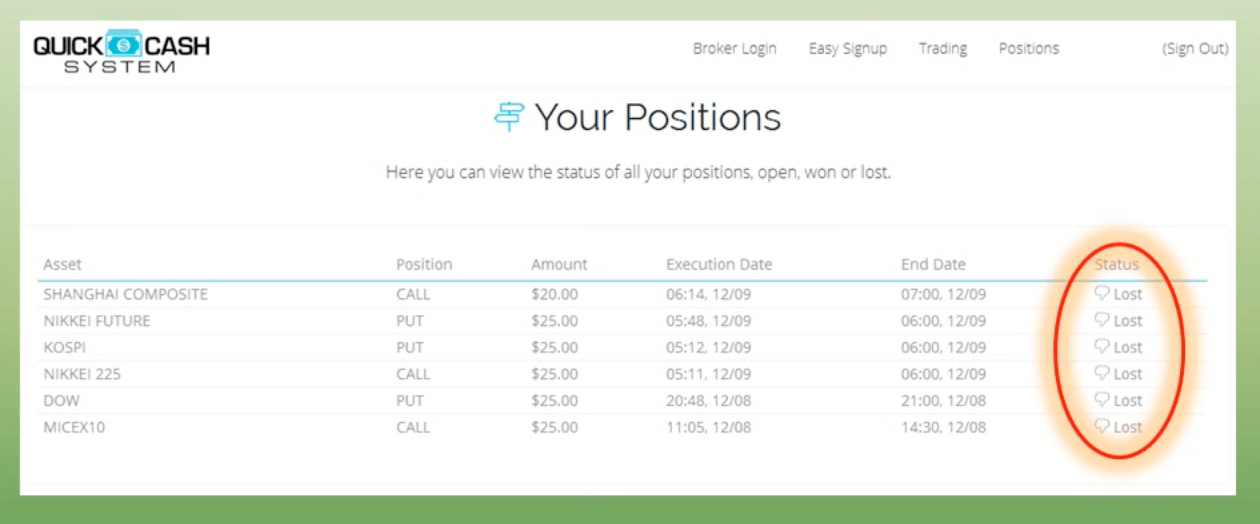 Many of them received phone calls from so called brokers asking them to invest more money. This path is very dangerous and you can easily lose all your money.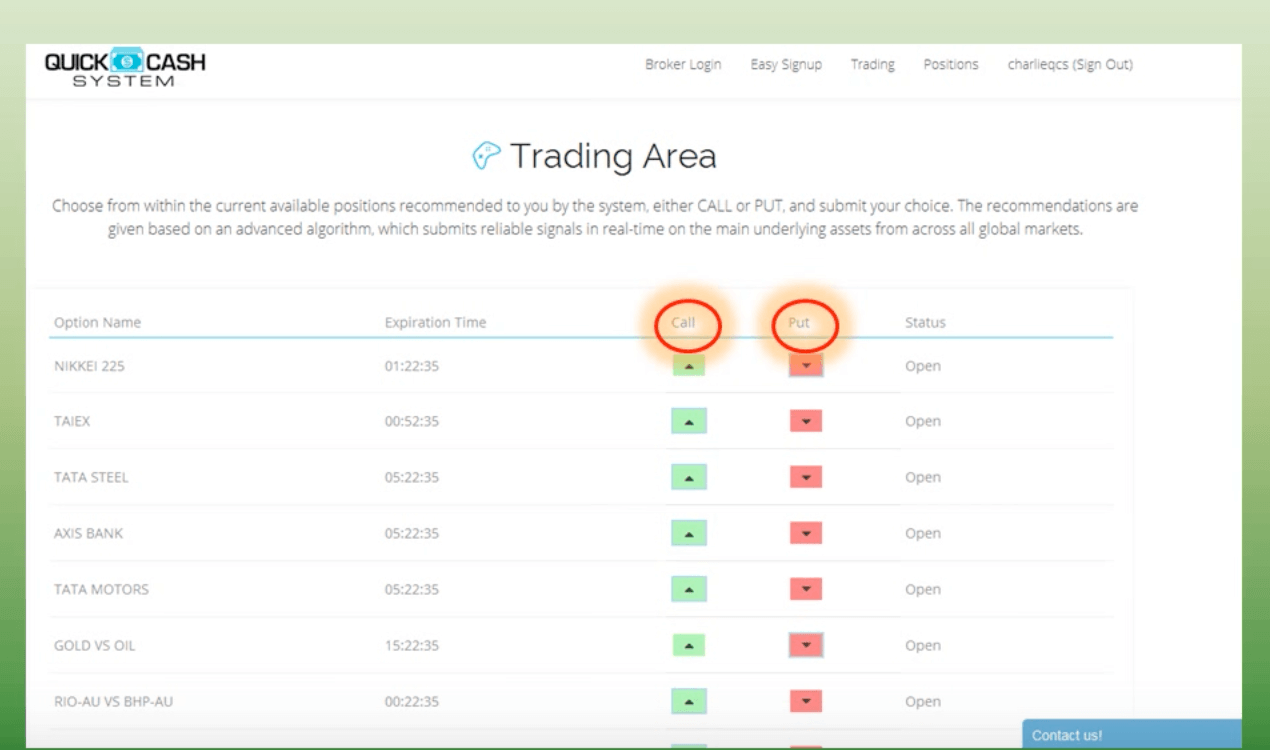 When you sign up to Quick Cash System and get access to Quick Cash System trading area you will be offered to choose one of three binary options brokers: Bloombex options, Beeoptions or Titantrade. These sites are not bad, not scams at least.
You can even learn some basic rules on how to trade binary options through Bloombex options education center. There is no need to buy $500 ebook from Quick Cash System which is a waste of money in my opinion.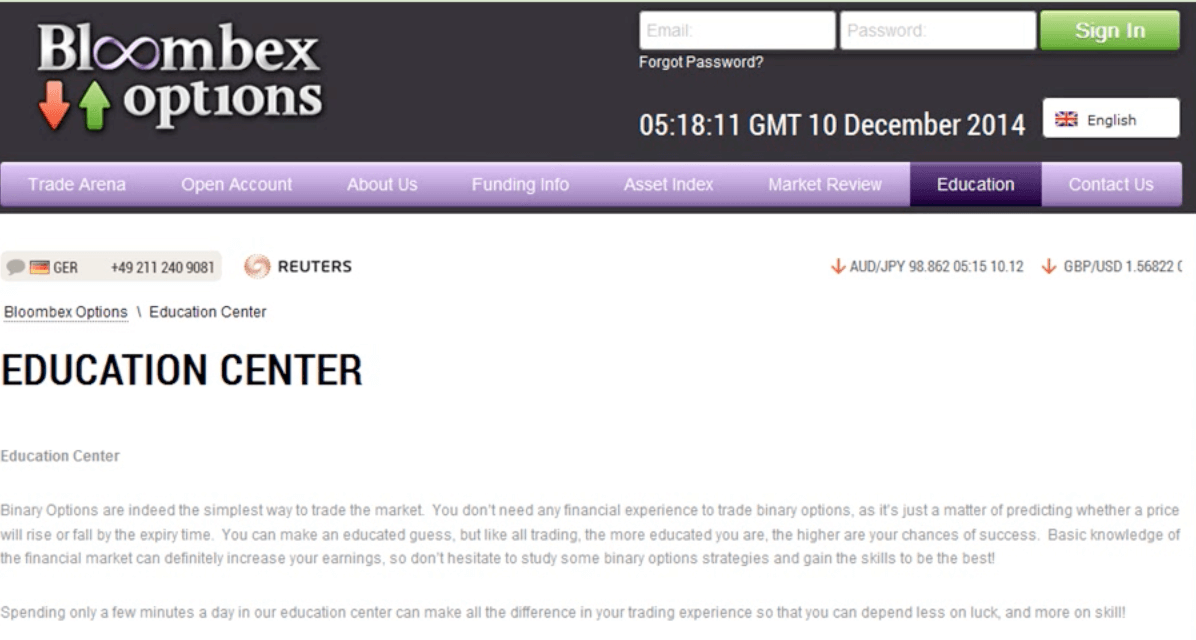 The main problem with Quick Cash System is that Sarah's system simply doesn't work. What a paid actor promises you in the promotional video is NOT going to happen.
Sarah also shows you some fake data about their fake Quick Cash System members. She shows you Brian Davidson who I'm sure doesn't exist at all and she claims he's made $953.298 in 3 months.

Again, there is no proof! Believe me, I've seen this type of crap in many other binary options scams over the past 3 years.
Sarah also manipulates some other facts. She claims that you can get your earnings through Intuit.com website but in fact this is not true. Intuit.com site provides services for companies that need to pay their employees.
Intuit doesn't send international money transfers. You can visit Intuit.com website and get more details about their services.
Quick Cash System software doesn't have manual trade option. It only has auto-trade option which seriously limits your trading actions. This means you have only one option which is to rely on Quick Cash System software. This is very dangerous for your investment.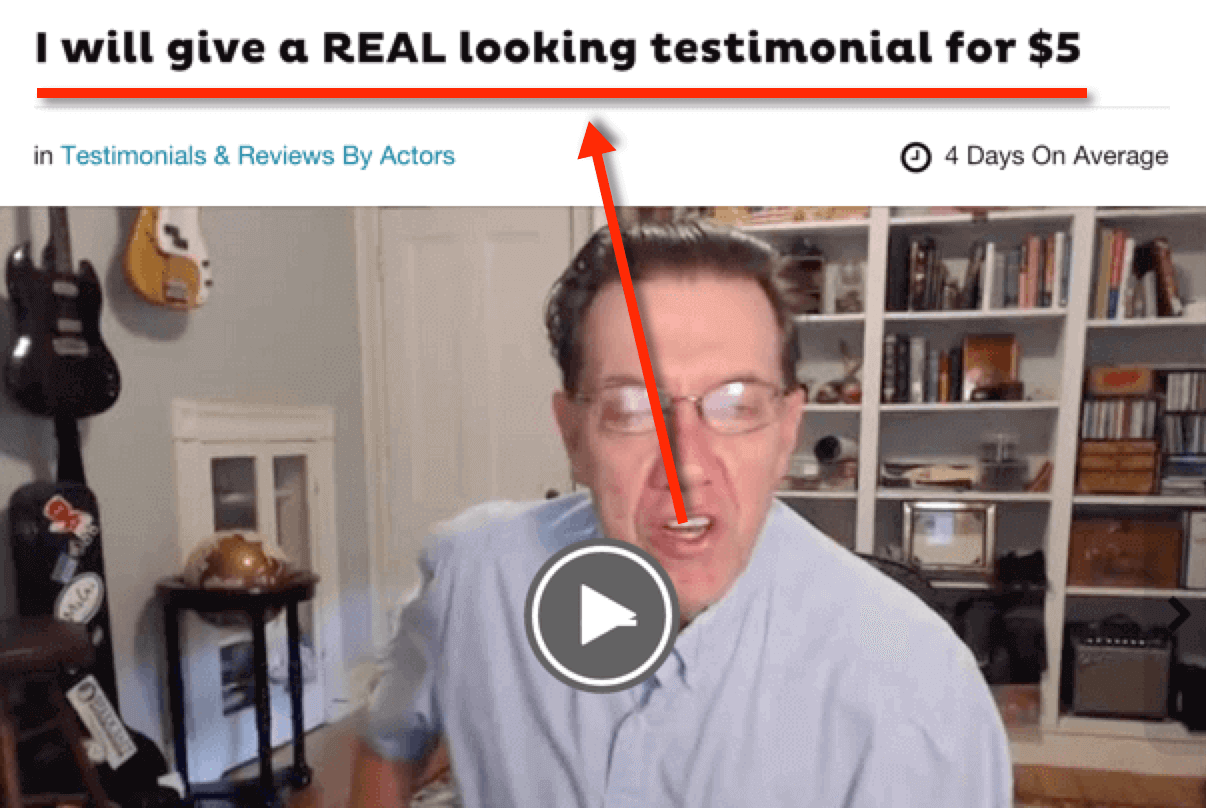 Also, keep in mind that all video testimonials that you can see in Quick Cash System promotional video are fake. They may look real and trustworthy, but in fact in order to get such fake stuff for your own business you can visit sites, such as Odesk.com, Fiverr.com.
Don't get me wrong. I don't recommend to do it. I'm just trying to explain what lies behind such real looking testimonials.
What can you expect from Quick Cash System?
I'm not going to say that making money through trading binary options is impossible. It's possible. But there are two main questions here: Which program to choose?
There are some programs out there that you can use but you need to be extremely careful because you can easily lose lots of money with a few mouse clicks.
At least Quick Cash System is NOT the right program. Stay far from it! Second question is: How much can you make through binary options?
The truth is that you can make some money just to supplement your main income. But you can hardly ever make a full time income through binary options. It's simply unrealistic.
Plus, like I said, it involves a high risk of losing your entire investment in seconds which may vary from $250 up to thousands of dollars depending on the amount of your investment. And you can lose it in no time.
I'm not a risky person and that's why I never participate in such programs nor do I recommend binary options to anyone.
Unfortunately, people like Sarah Markel never show you screenshots of their customers that lose their money. They show you only fake screenshots of their fake millionaires.
Final word on Quick Cash System Scam
I think in order to get a better idea of what Quick Cash System is about, it would be enough to take a look at their earnings disclaimer page. On that page they clearly explain that trading binary options gives you only two options based on "Yes" or "No" approach.
This is based on assets like commodities, currencies and your success hugely depends on your decisions. The software provides you with signals and you choose "Yes" or "No" option.
If your decision is right you will make some money. If your decision is wrong you will lose your money. The more you invest the more you can lose. Some people even lose all their investments.
To my surprise, Quick Cash System clearly and honestly explains on their website that trading binary options through Quick Cash System or any other binary system involves a high level of risk and you can lose part or all your investment and Quick Cash System is not responsible for that.
You should understand all the risks involved in this business. Sometimes, some internet binary platforms clearly explain that you shouldn't invest money you can't afford to lose.
Unfortunately, most of the time they don't warn people. I wouldn't give Quick Cash System a scam verdict for being honest on their disclaimer page.
But I decided to give such verdict because of too many lies that I've found in their promotional video. That's why I don't recommend to invest your hard earned money in Quick Cash System.
I believe from my Quick Cash System scam review it becomes evident that this program is not going to help you quit your job in 24 hours nor it's going to make you a millionaire in 3 months.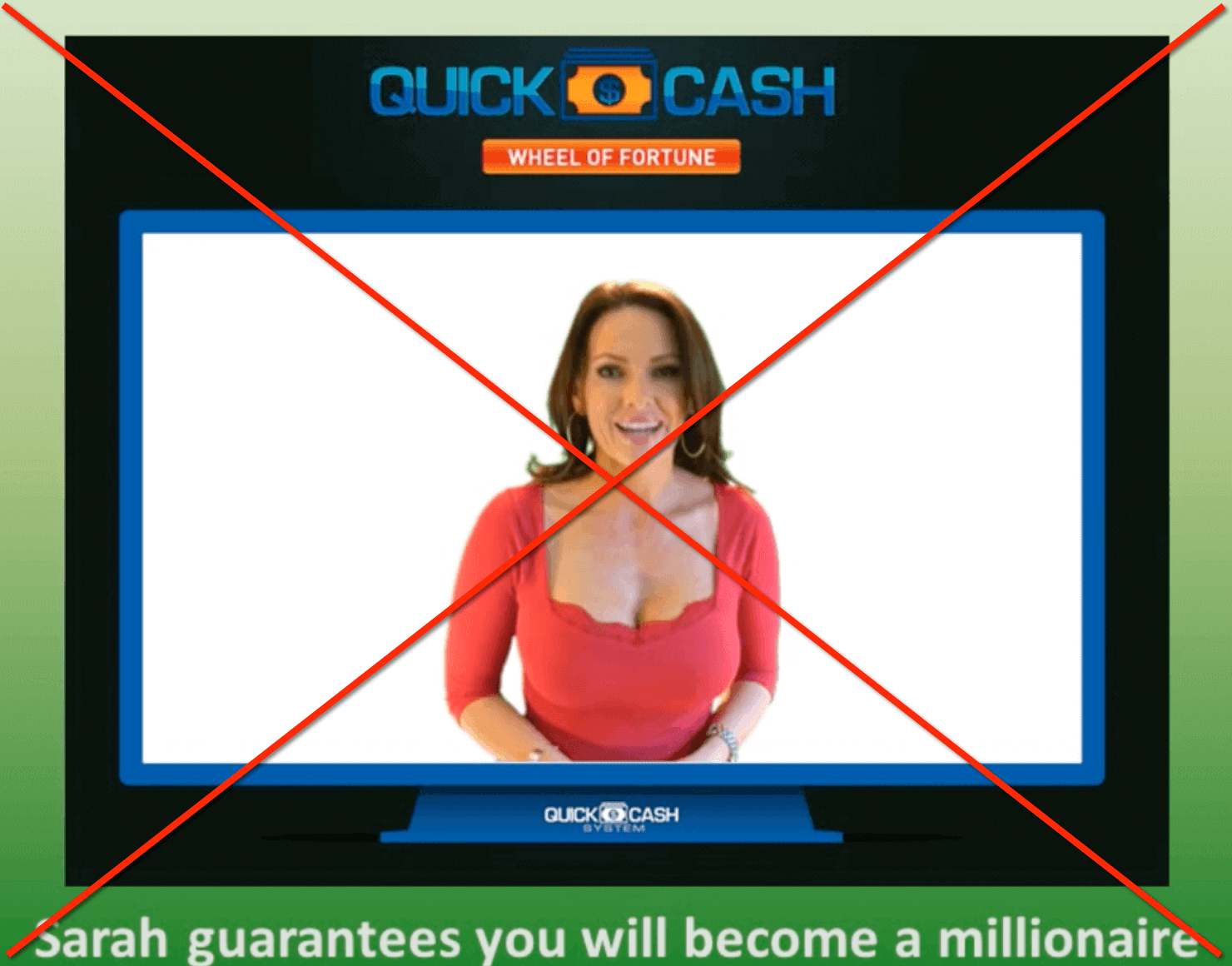 Final glance at Quick Cash System Scam
No pros
Trading requires $250 deposit
The woman in the video is a paid actor
No money back guarantee
Fake testimonials
Fake binary accounts' screenshots
No evidence that someone has made at least $100 using Quick Cash System
False promise that you can quit your job in 24 hours
Sarah's false promise that you'll be a millionaire in 3 months
Manipulating facts regarding Intuit.com website
No quality customer service
Overall rank: 0 out of 100
Verdict:

Scam
About the Author: Adam
My name is Adam. I'm the founder of Your Income Advisor. My goal is to help others succeed online, by exposing scams and reviewing top rated products. I can help you start
your own business online