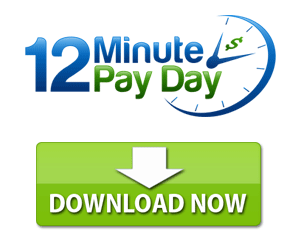 Product name: 12 minute payday
Website: http://12minutepayday.com
Product owner: Justin James
Price: advertised price $49, discount price $9 + many upsells
Verdict: Scam
If you ask me, if 12 Minute Payday a sam, my answer is YES. Every product/program related to making money online that we come across on the web tries to be different in some way.
Most of them use deceptive techniques, such as promotional videos, some use fake bank cheques or fake testimonials, anything what can make people believe that their product is legit.
The main goal here is to convince you that you can become rich in no time with little to no efforts from your side. 12 Minute Payday also tries to be different from other programs, but unfortunately it's not different at all. Same bold claims, same false promises, again a lot of upsells, same approach.
The main idea behind 12 Minute Payday
The main idea behind 12 Minute Payday is that you can sell other peoples stuff and make tons of money. Selling other peoples stuff is an affiliate marketing which is legit and proven method of making money online.
Justin claims that with his program you will be able to earn over $2000 per day in 12 minutes. That sounds really great!
But unfortunately, I have to disappoint you simply because it's impossible. Can you really imagine or believe that you can pay Justin $9 and he will reveal you the secret how to make that much money? Keep reading and I will show you exactly what you can expect from this guy.

Pros of 12 Minute Payday
Cons of 12 Minute Payday
A lot of false promises
Many upsells
No real strategies on how to drive high quality traffic to your site
It's not a good business opportunity
Inside the program
1. Affiliate marketing is absolutely proven and legit way of making money on the internet but it all depends on what approach you apply to that business. If you apply proven techniques, you can build a sustainable business over time, on average 1,2 years. But it's not about making over $2000 in 12 minutes every day. This is absolutely impossible and laughable.
2. Justin promises that once you complete the order they will set up a website for you and you can start driving traffic to your website and start making money instantly.
You don't need to pay for a website hosting. You will be provided a complete system that will allow you to build your list of subscribers in order to sell them your products.
The problem here is that in the initial stage you don't need it all because before selling stuff to your subscribers you must learn certain skills to know how to communicate with your audience.
You must be able to offer your audience some value, communicate with them to know what their interest is and only then when you understand your audience you probably can sell them some good stuff. Justin is not going to teach you all these things.
3. Another thing that I don't like about 12 Minute Payday website is that their website is a locked system which you can't enter until you submit your email. This is of course not a good signal because it's pretty obvious that after getting your email address they will start spamming you with their offers.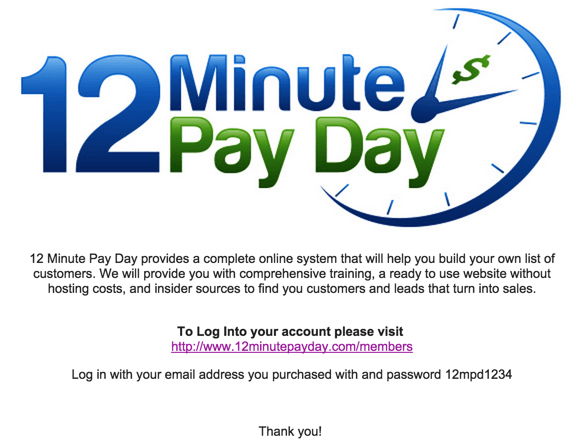 4. The sites Justin is going to set up for you are squeeze pages and though most internet marketers use them, they are a useless asset for those who are new to internet marketing. The reason is because squeeze pages don't get ranked on Google since there is no actual content they can offer people.
To be able to rank well on Google or Yahoo you need to write quality, original content for your site because it's the content that leads to traffic and success online.
Justin is not going to teach you either how to write quality content or give you a site filled with content that you can get ranked and benefit for yourself.
5. Also, though it's being advertised as a $9 program, it's not true. Once you've made your first payment, you will be offered a few upsells for $49, $100 per month. This is of course not cheap for that type of product, i.e. squeeze pages with no content.
Though Justin says that they are very high converting pages, it doesn't really matter simply because they can't be perfect for all types of products.
6. Justin provides you a basic training on how you can add affiliate links to your zero value "sites", i.e. products from Clicksure.com or you can promote 12 Minute Payday system to other people.
Though Clicksure is legit place to pick a product from but they have many poor products and the support is not that good. I would rather choose a product from Clickbank.com because it's a better place with better support.
7. To be able to drive traffic to your zero value "websites" you need to buy the upsells Justin prepared for you. This is of course another spending you should be aware of before getting into the program.
8. There are five modules in the program, where 5th module is the support. The first module is just an introduction to their whole thing and then you need to create your autoresponder account to be able to catch emails from your future visitors. Subscription will cost you around $10 per month.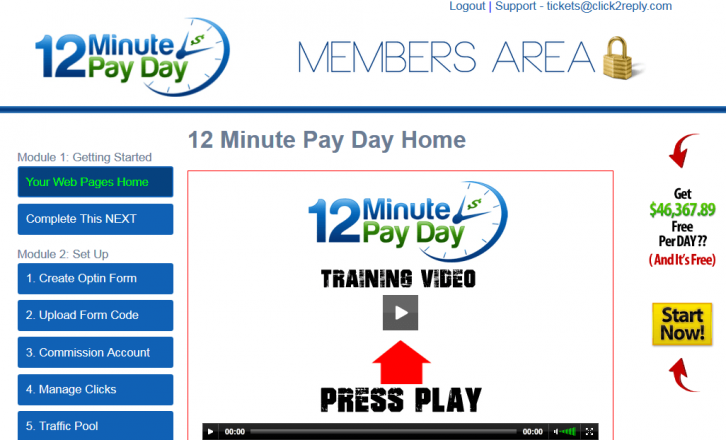 9. In the second module you will be shown how to create your own account with Clicksure, then pick a product and start promoting it and make tons of money in every 12 minutes 🙂
10. In the traffic pool module you need to spend another $34.95 per month to start getting traffic from Justin. This is absolutely useless traffic and trust me, you never know where those visitors come from.
Most probably from traffic exchange networks whose traffic is absolutely useless simply because those people are being paid to click ads and they are not interested in buying any stuff.
11. Remember that the best traffic is the traffic that comes from search engines such as Google, Bing and Yahoo. Because it's a massive and free traffic, but to be able to drive that traffic you must have content on your site first.
Search engine traffic is out of Justin's control and I hope you are smart enough to understand it.
Or you can buy traffic (PPC) through Google or Bing but before spending money on PPC (paid advertising) you must learn certain things to know how to organize your PPC campaign to make it profitable, or otherwise you will be spending tons of money with little or no results at all. Justin is not going to teach you all this stuff.
12. He also offers you another traffic packages that are absolutely useless and I recommend you to pay little attention to them. Totally wasted money. Plus very expensive.
13. In module 4 you again are required to spend money on Peer Network which will cost you from $29 for one month or $199 for six months and all this for the sake of driving poor quality traffic from questionable websites.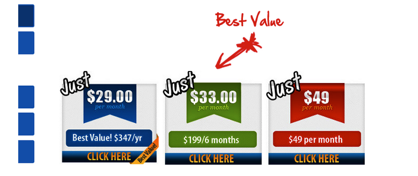 Final word on 12 Minute Payday
With all that being said above I really don't know what to add more to the facts I've already mentioned above. The program is really not a good option to start an online business because you are going to start it on the wrong foot.
Real business starts with a website, not a squeeze page, a website that has helpful content to provide a value to readers. If you are new to internet marketing you probably will not understand what I'm talking about. Anyway, I honestly don't recommend you 12 Minute Payday. To me, it's a complete waste of time.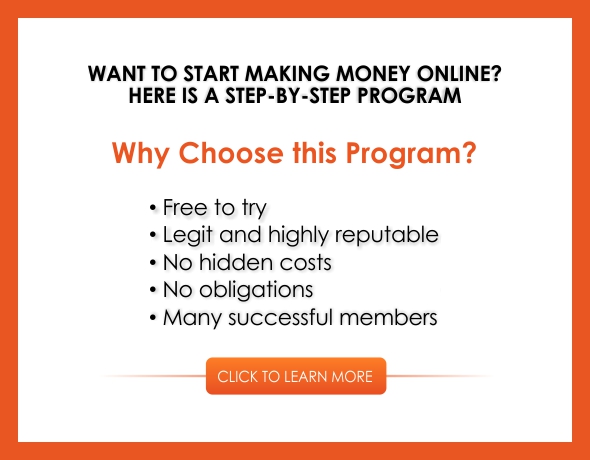 About the Author: Adam
My name is Adam. I'm the founder of Your Income Advisor. My goal is to help others succeed online, by exposing scams and reviewing top rated products. I can help you start
your own business online